Every incorporated business — a limited liability company (LLC) or corporation (INC) — must appoint a registered agent. That's a legal requirement.
A registered agent (also called a statutory agent) is a person or legal entity designated as your company's main point of contact. Their main job is to accept and process all incoming business correspondence.
It sounds like an easy job, right? Hold that thought.
Apart from sorting general mail, a registered agent must also accept the service of process of legal documents such as lawsuits or subpoenas.
They also must ensure compliance with the state business and tax laws. Dealing with tax notices and admin procedures such as annual report submissions or business license renewals.
Mishandling any of such documents can lead to negative consequences for your business — fines, penalties, and, in some cases, court action.
Soundly, you don't have to navigate all of the above yourself.
Instead, you can hire a professional registered agent service provider to deal with business compliance and correspondence and guarantee your privacy.
---
Table of contents
---

Last updated:
May 2023
Start your LLC the easy way
Forming your LLC is a checkbox that needs to be ticked. Easy, fast and worry-free. We reviewed the 13 most popular LLC formation services to figure out who truly understands what new founders need. Our recommendation:
LLC Formation: $39 + state fees
Pricing:
Turnaround Time:
Help & Support:
Customer Satisfaction:
Ease of use:
Best LLC Service 2022

Formed 1,000,000+ LLCs
$39 formation includes registered agent service
Fast formation & same day filing
Exceptional customer reviews

Last updated:
May 2023
Types of registered agent service providers
A commercial registered agent service provider is a company authorized to render registered agent services by state authorities.
Commercial registered agents must be:
An incorporated legal entity — LLC or INC
Authorized to do business in the state
Your service provider must also have a physical street address in the state, not a P.O. box.
It's a legal requirement since your agent will have to accept the service of process personally.
For the same reason, they must be available during standard business hours (9 am – 5 pm) during all workdays at the registered office address listed with the state.
On the other hand, a commercial registered agent service provider keeps a rotation of staff who'd be around at all times to accept legal documents.
Obtaining a commercial registered agent registration is relatively easy for service providers. The demand for such services is high.
Therefore, different businesses offer registered agent services:
Specialized registered agent providers
LLC formation services
Law firms
Professional service providers
Let's look at each option.
1. Specialized registered agent services providers
Many providers offer exclusive registered agent services and nothing else. These are primarily local operators with a small office of staff responsible for accepting, scanning, and forwarding business correspondence.
Some also offer extra services like digital document scans, assistance with annual report filings, and other compliance procedures. Yet, most specialize just in one service — and keep their pricing low because of that.
Mono-service providers operate in one state (not nationwide).
It can be an inconvenience if you plan to register a foreign LLC in another state. But if you are a bootstrapping small business owner, you get a bargain price for domestic service.
Examples
Pros
Very affordable
Good service levels
Local laws knowledge
Cons
State-specific operations
Limited staff
No added-value services
2. LLC formation services
Many LLC formation services also double as registered agents.
You have two types of providers:
Local incorporation service providers
Nationwide company formation service providers
In each case, you can get help with a broader range of corporate procedures — from state incorporation document filings to tax ID registration.
Some offer standalone registered agent services. Others bundle them into "formation packages" where your first year of service is added to the LLC registration cost.
The latter can be less cost-effective. LLC formation services often charge a hefty premium on top of state filing fees to make a profit.
On the other hand, many sweeten the deal by offering a free business registration address, unlimited mail forwarding, or streamlined state corporate filings.
Overall, you pay higher annual registered agent fees for fast, convenient, and reliable digital services.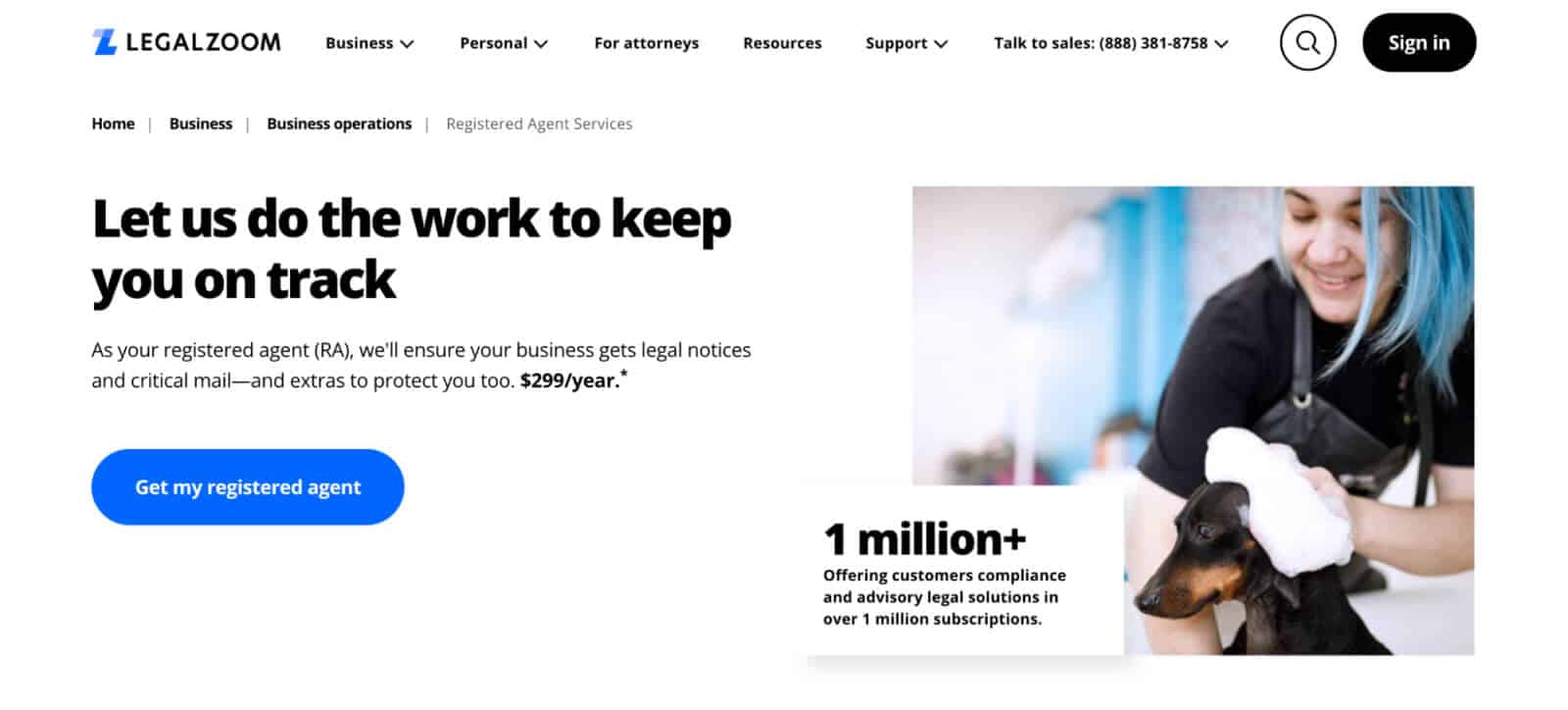 Most providers also have nationwide service coverage, meaning you can appoint a registered agent with them in any state.
Examples
Pros
Convenient online account
Fast service speed
Nationwide coverage
Cons
Higher pricing
Hidden fees
Mixed reviews
3. Law firms
Since registered agents have to handle legal documents, many corporate attorneys also double as registered agent services providers.
Choosing a law firm as your registered agent makes sense for companies operating in regulated industries such as construction, finance, or healthcare.
In other words, for companies prone to malpractice, product liability cases, and personal injury lawsuits.
Many professional limited liability companies (PLLCs) prefer to partner with law firms because of the increased legal risks.
You don't have to be the firm's client to request their registered agent services. Though some may prioritize existing clients.
Examples
Pros
Corporate law knowledge
Discounted legal advice
Assistance with other filings
Cons
Less structured fees
Limited service
Lack of online services
4. Professional services providers
Many business services providers also offer registered agent services.
These include:
Accounting firms and CPAs
Tax preparers and advisors
UCC search and filing service providers
Virtual office services providers
Business compliance specialists
Separately, multi-national information services companies offer a comprehensive range of legal entity maintenance, compliance, and administration services.
For example, CT Corporation or CSC Global. They primarily work with larger enterprises and global firms, which reflects in their registered agent service prices.
Smaller business service firms, in turn, are more affordable. Some also offer attractive discounts if you opt for several services, e.g., a tax prep package plus registered agent service.
Outsourcing several tasks to one service provider is also more convenient from the management perspective.
Examples
Pros
Access to adjacent services
High-quality service
Discounted service packages
Cons
Lack of state-specific expertise
Specialization in larger businesses
How to choose the best registered agent service provider
Having many options is good. But how do you decide what's best for your business?
To find the best registered agent service provider, structure your research using these six tips.
1. Determine your needs
First, decide if you need a local or a national registered agent provider.
If you plan only to operate a domestic LLC — a legal entity registered in one state — go for a local provider.
You can support a fellow small business owner, plus have a local registered office address. It means mail forwarding will take less time (and cost less!). You can even come to pick up the post yourself when driving around town.
Hiring a nationwide registered agent service makes more sense for growing businesses, considering foreign LLC registration.
This way, you don't have to rent a local office or get a virtual office address to get a "Certificate of Authority" from a local Secretary of State. That's another cost shaved off your startup budget.
Some national service providers also offer volume discounts if you use them as registered agents in several states.
Choose a digital service provider if you value speed and flexibility. Digital-only players are extra convenient and let you handle all correspondence from your phone. That's great if you're constantly on the move and don't want to keep a stack of papers.
Most charge premium prices. Essentially, they subcontract local providers to act as local registered agents for them. So prepare to pay 2X-3X of what a local provider would charge you.
2. Start searching locally
Legally, a registered agent must have a physical street address in your incorporation state and be authorized to do business there. Therefore, it's best to start your search locally.
Check if there are any registered agents in your town first. Then look at the state level.
Finding a local provider can be tricky as many are small business owners and often operate without a website (or big marketing budgets). That's why you'll often see nationwide providers even when you google locally.
Likewise, many companies lack reviews or public endorsements. So you may be reluctant to use them.
To help you out, our team started creating a database of verified professional registered agent services.
We have details for the following states:
3. Analyze pricing structure
Cost is a significant factor in every decision. Most commercial registered agent service providers have public prices, so it's easy to shop around.
Still, the rates vary a lot — from $35/annually to $350/annually.
The price spread exists for several reasons:
Difference in demand
Service levels
Add-ons
Monoline providers — those offering just registered agent services — charge the lowest rates. Usually, about $35-$59 per year.
For that price, they agree to receive all incoming correspondence. Then forward a set number of documents per year and send an unlimited number of scanned document versions.
When reviewing prices or asking for a registered agent services price quote, clarify if limited or unlimited mail forwarding is included in the price.
Some providers give price guarantees.
For example, they promise not to surge the service prices for the next 3,5,10 years. Others, on the contrary, offer a heavily discounted first year but then ask you to pay more. It's common with LLC formation services.
Next, pay attention to volume discounts. Many national providers and those operating in several adjacent states will often discount services if you appoint them for your domestic and foreign LLC.
Lastly, take stock of all freebies.
Based on our research, some registered agent service providers offer free:
Unlimited online document scans
Business address (for a limited time)
Access to pre-populated state forms
Compliance calendars and alerts of state deadlines
All of them are cool nice-to-haves.
4. Verify operational compliance
Commercial registered agent providers are subject to state laws.
Every provider must have a physical state address and necessary registration with the state (as a commercial provider).
The good idea is to look up the selected registered agent provider in the state's corporate database. Check if the company itself is in good standing with the state.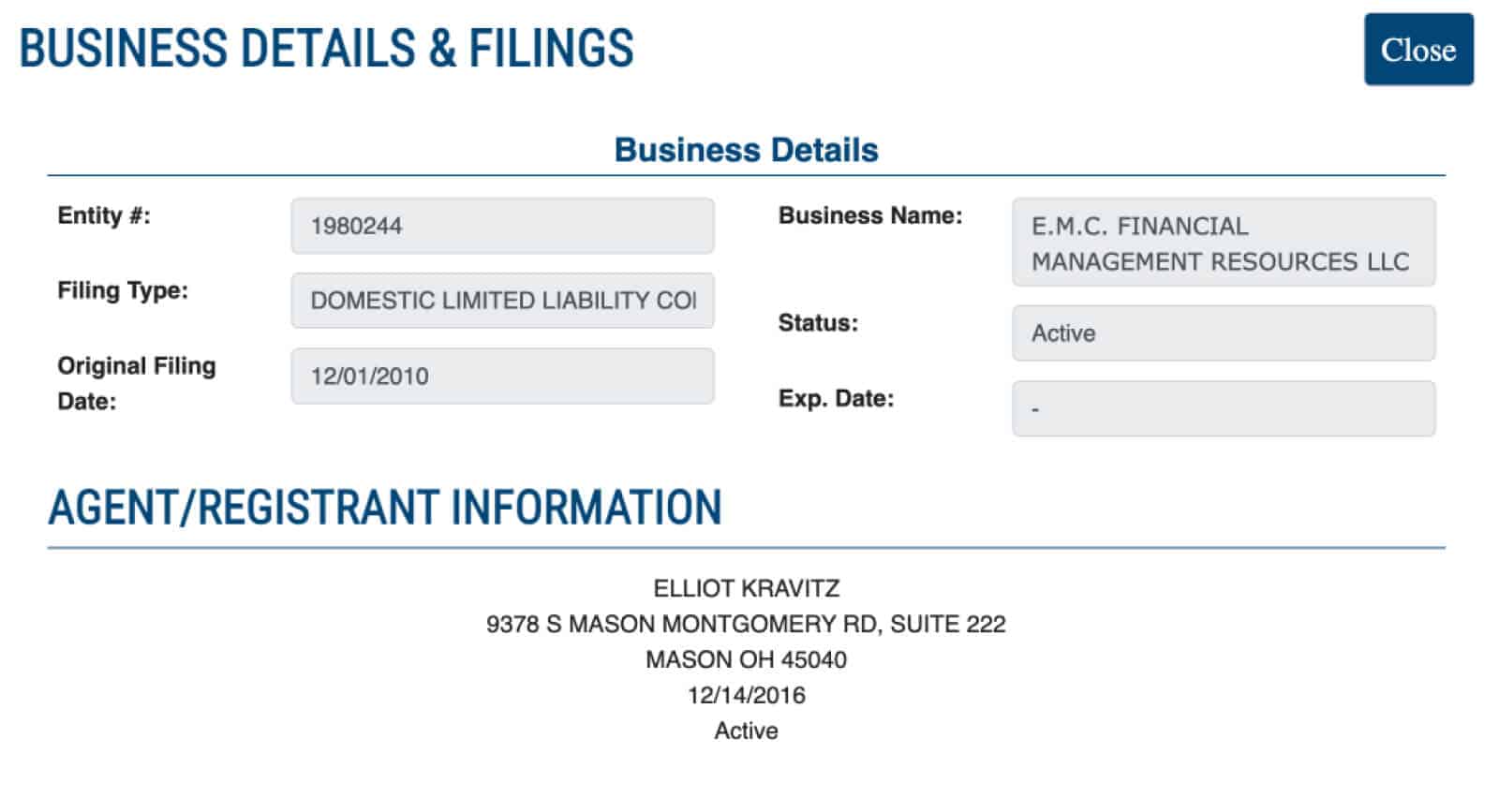 This way, you can also check the company's formation date and other incorporation details, signaling its status.
You can also verify the provider's reputation by looking up reviews on Google Maps or their Better Business Bureau listing.
5. Evaluate service levels
Once you've found a trustworthy provider within your budget range, check their service level.
The general scope of services is standard across the providers. But there are some caveats in terms of service speed and coverage.
Check if a commercial registered agent offers:
Same or next-day mail forwarding. Some documents may be time-sensitive, so you'd want to be notified fast.
Local document scanning and account uploads. Likewise, this increases the document processing speed.
Email or phone alerts on new uploads to your account or new mail ready for forwarding.
Annual compliance services such as access to state forms for filing annual reports or pre-populated documents.
Good customer support through multiple channels to always reach out with your questions.
Secure payments, especially if they bill you automatically by storing your credit card or debiting your bank account.
Also, when evaluating a provider, research if they'd been using the same registered office address for a long time.
If your provider decides to move, you would be paying state fees for changing your registered office address with the Secretary of State.
Some professional registered agent services providers explicitly state that they own the building or guarantee "no address changes" for years.
6. Check for extra features
It feels nice to get more for your money. Many providers offer a host of free and paid complementary services for clients.
Common value-adds from registered agent service providers include:
Virtual or physical business office address
Phone answering services
Accounting or bookkeeping services
Tax preparation and advisory services
Business document management
Web design or marketing services
Federal and tax ID registrations
Business license applications and renewals
UCC search and filing
Corporate records lookup and requests
Small business financing
You can do many of these tasks yourself. But if you have some extra cash to spare, enlisting a pro who's already familiar with your business is a good investment.
Key takeaways
Laws in every state require all LLCs and corporations to appoint a registered agent.
Four types of businesses offer registered agent services — specialized providers, law firms, LLC formation services, and general business services providers.
The average cost of a commercial registered agent service is $120 per year.
You can find the cheapest providers for $35-$40 annually. The most expensive ones cost $299-$350 annually.
When selecting a professional service provider, pay attention to service rates, volume discounts, and free features.
How much does a registered agent cost?
Based on our price data sample from 75 agents in 10 states, commercial registered agent providers charge an average of $120 annually. The cheapest registered agent provider we found costs $35 annually.
The average price range for different types of providers is as follows:
Cheapest monoline service providers charge $39-$59 annually.
LLC formation services charge $120-$200 per year for registered agent services.
Law firms charge $150-$250 annually for registered agent services.
National business service providers charge $250-$250 per year for registered agent services.
Extra state fees
Apart from agent's fees, you should also factor in state filing fees.
You don't need to pay a separate fee when appointing a registered agent. The cost is factored into the state fee for "Articles of Organization" for LLCs and "Articles of Incorporation" for INCs.
But if you decide to change your registered agent details, only a few states allow you to do so for free. Others ask to submit a state form and pay a processing fee.
For example, California charges $20 for changing registered agent details — name or office address. But in Michigan, you pay just $5.

Last updated:
May 2023
Start your LLC the easy way
Forming your LLC is a checkbox that needs to be ticked. Easy, fast and worry-free. We reviewed the 13 most popular LLC formation services to figure out who truly understands what new founders need. Our recommendation:
LLC Formation: $39 + state fees
Pricing:
Turnaround Time:
Help & Support:
Customer Satisfaction:
Ease of use:
Best LLC Service 2022

Formed 1,000,000+ LLCs
$39 formation includes registered agent service
Fast formation & same day filing
Exceptional customer reviews

Last updated:
May 2023