Starting an LLC in Missouri is an excellent step for new business owners, so long as they understand the correct requirements and costs of setting up this type of business entity.
An LLC is a type of business structure that combines limited liability with the flexibility of a partnership or sole proprietorship. Federal and state pass-through tax treatment also makes it an attractive business entity choice for many Missouri business owners.
Additionally, setting up an LLC is an easy setup process and comes with low annual maintenance costs. So it's an attractive option for cash-strapped startups and small business owners.
Whether you plan to operate out of this state physically or just register a legal entity, here are the step-by-step instructions to form an LLC in Missouri.
5 Steps to Start an LLC in Missouri
---
Step 1: Pick a name for your new LLC
You should first check if a Missouri LLC name you want is available. Remember, your LLC name has to:
Be distinguishable from other MO-registered business names.
Include the words Limited Liability Company or an abbreviation like LLC at the end.
You can conduct a business name availability search on the Missouri State of Secretary website using their name search tool. Found an unregistered name? Excellent, to prevent others from registering it, you may want to reserve the name.

Note:
Foreign LLCs will also need to search to see if the name that they use is available in Missouri. If not, they will need to
register an assumed name
and include it in the company formation documents.
An assumed name doesn't have to be a fictitious name, "provided that the foreign corporation's actual name shall be used together with its assumed name on documents filed with the Secretary of State. See Section 351.584, RSMo."
Fictitious name
Domestic LLCs may want to register a fictitious name if they plan to run a Missouri business under a name other than its official corporate name.
It's also called "Doing Business As" or DBA name. To register a fictitious name, you must submit a filing and pay a $7 state filing fee.
Name reservation for your LLC name
By filing a name reservation form online or by mail, you can reserve the business name for 60 days. The filing fee is $25.
It lets business owners reserve the LLC business name before completing and filing the other documents needed to form an LLC in Missouri.
The business name can be reserved for two additional 60-day periods, up to a maximum of 180 days total. But if the business name reservation runs out, your LLC can still use that name if it is not later used by another business entity.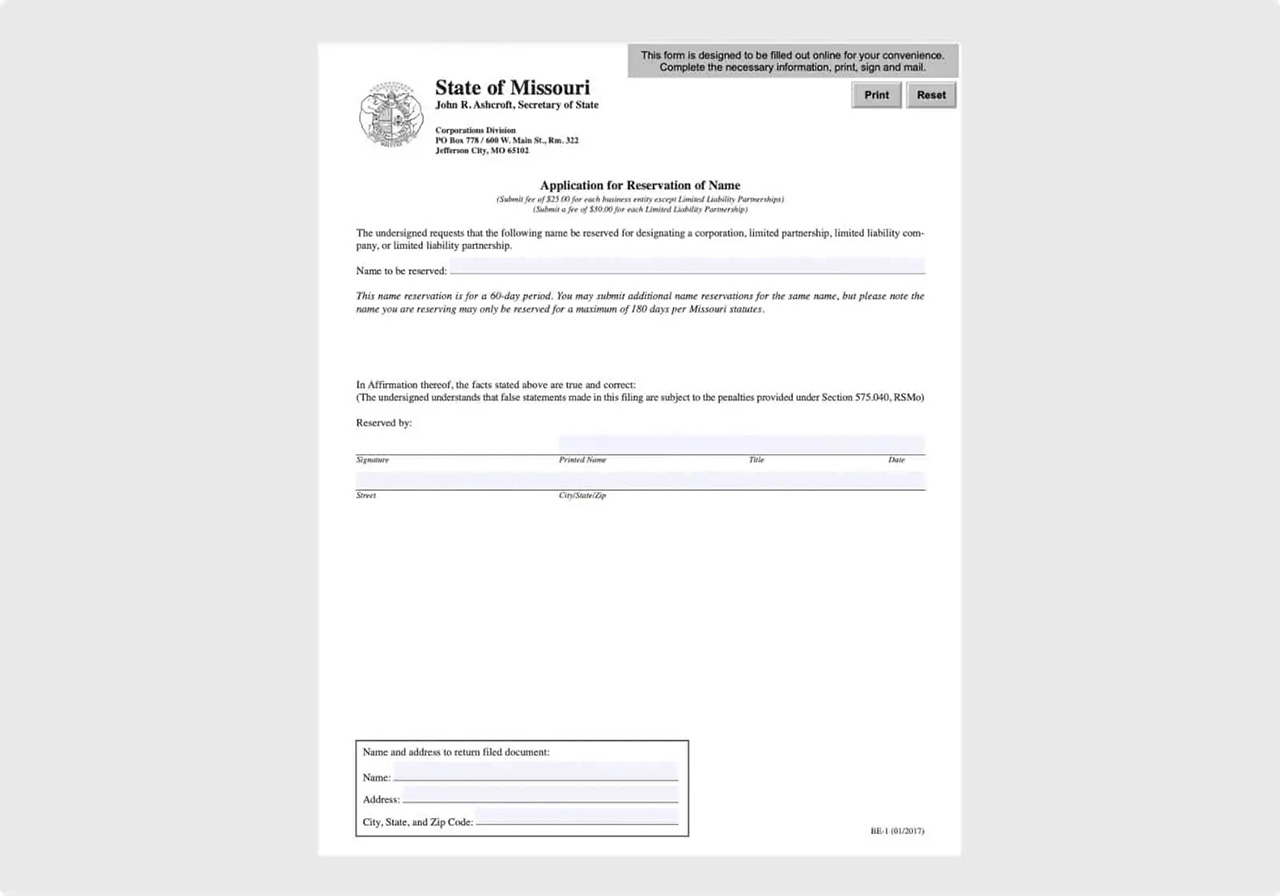 Step 2: Choose a registered agent
All Missouri LLCs must appoint a registered agent as part of the LLC registration process. The job of a registered agent is to receive service of process documents on behalf of the LLC. Thus, they must be available during regular business hours.
Your registered agent must be a resident in Missouri (or authorized to conduct business in the state of Missouri), have a physical street address in the state, and be capable of handling legal documents.
Business entities can be Missouri registered agents if authorized to conduct business in the state, so long as they meet the other registered agent requirements. You can also be your own registered agent if you meet these requirements.
Missouri lets you use a P.O. Box as the registered office if a physical street address in the same city as what is also listed for the physical street address.
Registered agent service
You may choose to hire a registered agent service to perform the duties of the LLC's registered agent. It's helpful for foreign LLCs and LLC owners who don't meet the state requirements. It also may make sense from a cost perspective if someone is not available to receive legal documents during regular business hours.
The costs range from about $40 to $250. Registered agent services are also helpful for business owners who want to keep the privacy of a registered agent's name and physical street address.
Step 3: File for articles of organization with Missouri Secretary of State & Obtain a Certificate of Registration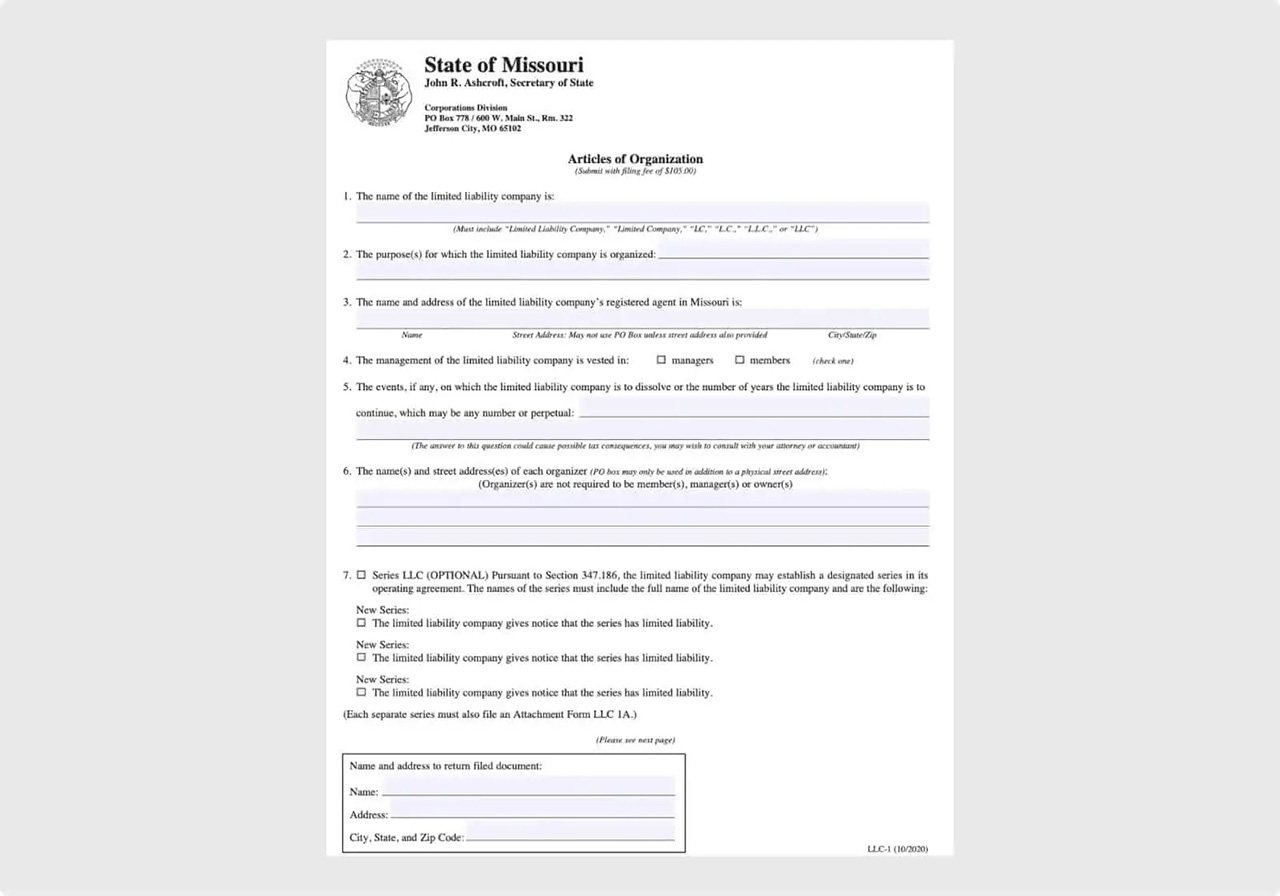 Articles of organization is a cornerstone document indicating the formation of your LLC to the Missouri Secretary of State. Foreign LLCs must also register with Missouri authorities to conduct business in the state.
Articles of Organization costs are the same for domestic and foreign LLCs:
$105 if filed by paper
$50 if filed online
There is not an official processing time in business days provided at this moment. However, as of October 2021, the state indicates that they are experiencing a longer processing time than normal for online submission. They also state that paper filings will be processed longer than online applications.
Submitting the filing
To register your LLC online in Missouri, use the Business Registration Online Portal. Paper filings should be sent to:
State of Missouri, Secretary of State
Corporations Division, P.O. Box 778
600 W. Main St., Rm. 322
Jefferson City, MO 65102
Information to include
The articles of organization should include the following details:
LLC's business name (and an assumed name, if applicable)
LLC's purpose(s)
The principal business address of the LLC and its registered agent
Name of the registered agent;
LLC's duration
Whether the LLC is member-managed or manager-managed
Name(s) and address(es) of each LLC organizer
The Application for Registration of a Foreign LLC must include similar information, with a few additions. It must also list the principal address and jurisdiction in which the LLC is organized and a certificate of good standing from that jurisdiction no more than 60 days old.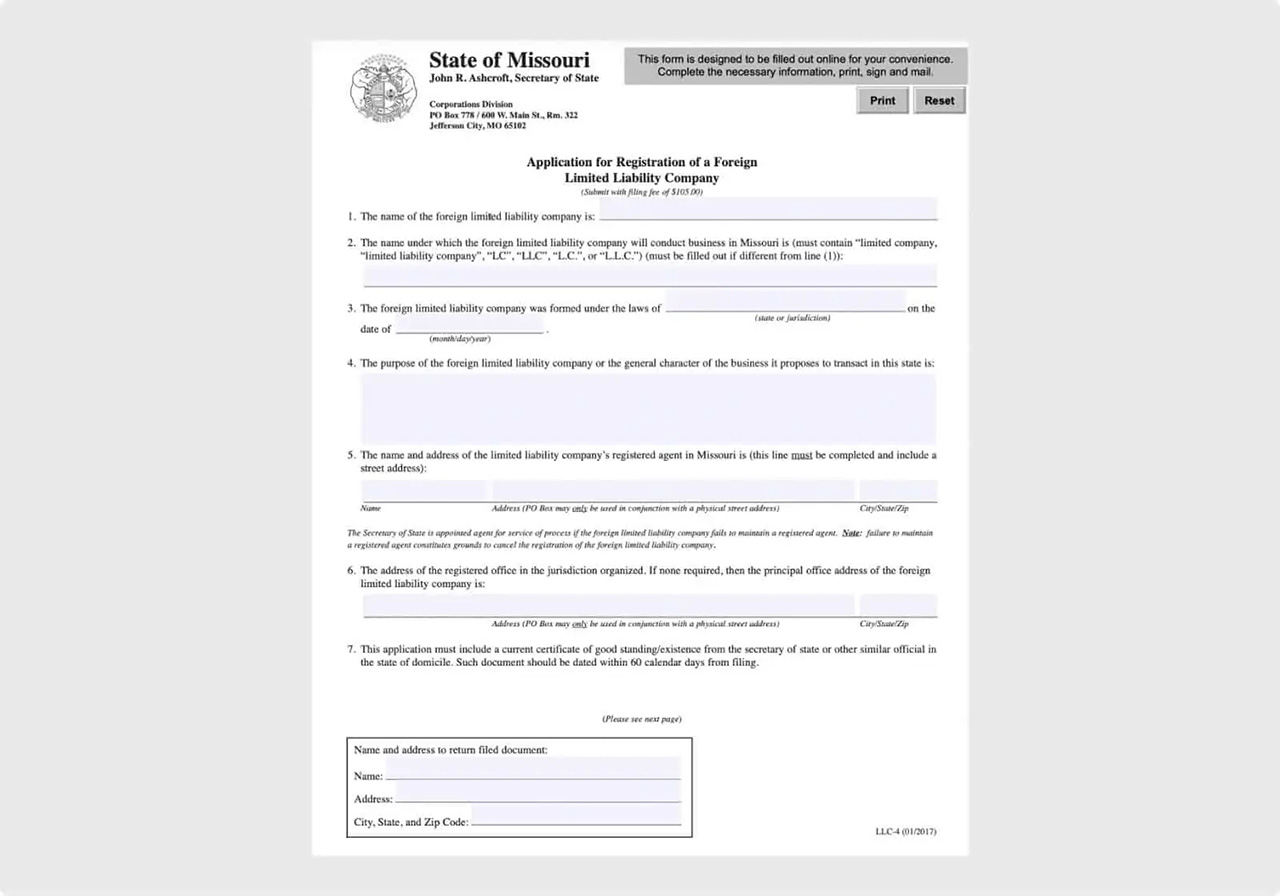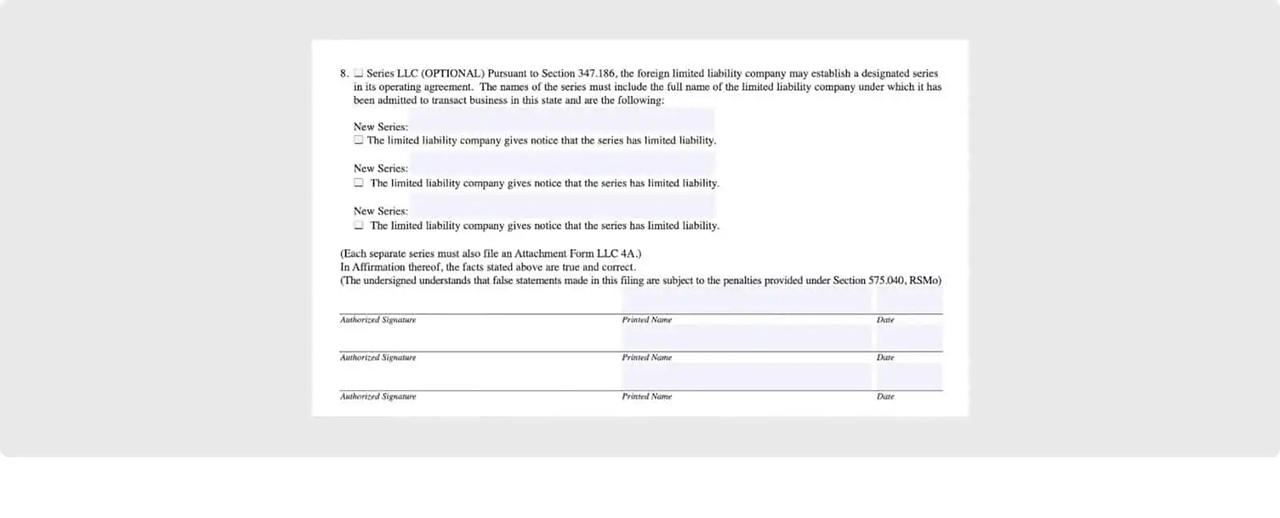 Once your LLC application has been approved by the State of Missouri, you should request a Certificate of LLC Registration from the state. This only costs $10 and is an important document that shows your business is real and in good standing.
Step 4: Create an Operating Agreement 
Missouri statute requires that all LLCs formed or registered in its state have an operating agreement. However, it's not filed with the Missouri SOS. It's an internal document for business records.
An operating agreement is an important document for defining your LLC's operations. An operating agreement explains:
Roles and responsibilities of anyone participating in the LLC.
Tax treatment elections.
Membership interests and transferability of such.
Profit and loss allocations.
Rules for the conduct and operations of the LLC.
Voting rules and procedures.
Other operational matters.
Step 5: Secure an EIN (Employer Identification Number) from the IRS
An Employer Identification Number (EIN) is a unique tax ID used to identify the LLC on federal tax filings to the Internal Revenue Service (IRS). It may be required to file certain business tax forms with the state of Missouri too.
Not every LLC will need an EIN. Single-member LLC owners can use their social security numbers to file federal and state business taxes. However, if your LLC will have at least one employee, you must have an EIN to submit federal tax filings for employment.
Also, your LLC needs an EIN for sales/excise taxes filings and filings for employee-related withholdings or plans.
You can apply for an EIN online for free. Upon verification of submitted information, you'll get your LLC's EIN immediately.
Costs to Set Up an LLC in Missouri
Forming an LLC in Missouri is cost-effective. The costs to reserve a name ($25), create a fictitious name ($7), and submit the Articles of Organization ($105 paper, $50 online) are either in line with other states or below other states.
The real cost savings come in the form of no annual filing fee, which adds up over time.
Last Steps
It's a good business practice to open a business bank account when you are spending and receiving money on behalf of your LLC.
It simplifies accounting, member profit/loss allocation calculations, and taxes. Also, business bank accounts usually provide additional protections beyond personal bank accounts.
Rates and fees will vary based on features and asset holdings. Some of the common documents you'll need to open a bank account include your LLC's EIN, formation documents, business license, and ownership agreements.
Another best step is to apply for any local business licenses or professional licenses needed to operate your business in Missouri. Many of the business license requirements occur at the city or county level and not the state level.
Advertisement
LLC Formation Service
LLC Formation: $39 + state fees
Pricing:
Turnaround Time:
Help & Support:
Customer Satisfaction:
Ease of use:
Best LLC Service 2023

Formed 1,000,000+ LLCs
$39 formation includes registered agent service
Fast formation & same day filing
Exceptional customer reviews

Last updated:
Dec 2023