One of the trickiest things about starting a limited liability company (LLC) is choosing a registered agent.
In Wisconsin, it's legally required that your business appoints a registered agent who will serve as the point of contact between your LLC and the state government.
Your Wisconsin registered agent plays a crucial role in receiving legal documents on your business's behalf, such as service of process (lawsuits), tax forms, and court summonses.
But choosing the best registered agent service is easier said than done, as you'll need to consider multiple factors like the agent's experience, reputation, and pricing.
Let's take a look at the top registered agents in Wisconsin, as well as go over some common questions you might have.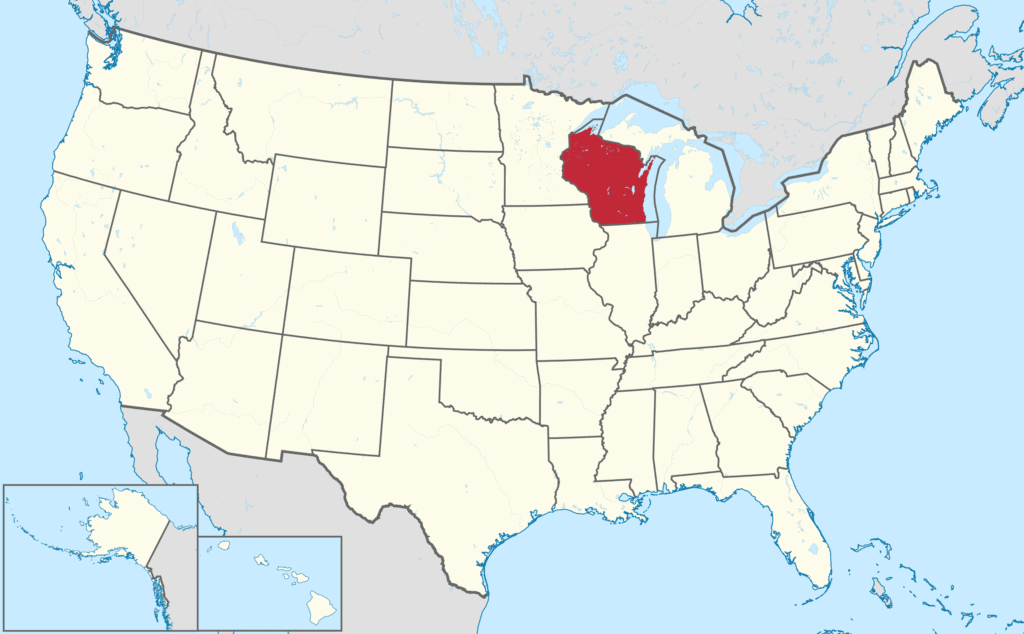 ---
What are the requirements for a Wisconsin registered agent?
According to Wisconsin state law, all registered agents must fulfill the following requirements:
If they're an individual, they must be at least 18 years old and reside in Wisconsin. If they're a company, then that company must be authorized to do business in Wisconsin.
They must have a physical street address (called the registered office or principal office) in Wisconsin. Mail drop services or P. O. boxes aren't acceptable.
They must be available during regular business hours to receive service of process from the Wisconsin Secretary of State on your business's behalf.
What are the advantages of using a Wisconsin registered agent?
There are several reasons why you might consider hiring a Wisconsin registered agent service, including:
Flexibility: What happens if you're a one-person LLC and you need to go on a vacation? You'll still need someone at the registered office to sign the service of process on delivery during normal business hours. A registered agent service ensures that someone is always there to receive these important legal documents on your Wisconsin business's behalf.
Simplicity: Managing legal documents and notices in one place, especially in digital form, is easier than storing them in a cabinet. You won't need to worry about allocating physical space or losing important documents when your Wisconsin registered agent does that for you.
Privacy: The registered agent's address is a matter of public record. That means that if you use your home address, it'll be out there for anyone to find. Using a registered agent service ensures your address remains private. Plus, it guarantees that no one else but you will receive your business's service of process.
Can I be my own Wisconsin registered agent?
Yes, you can be your own Wisconsin registered agent, provided you fulfill the requirements we mentioned above. However, you may still want to hire a registered agent service to manage your business's state correspondence for you. As you can imagine, being your own registered agent can be impractical, as you'll be expected to always be at the registered office during regular business hours.
Using a registered agent service, on the other hand, allows you to come and go as you please without having to worry about missing service of process or other important state notices.
Top 7 registered agent services in Wisconsin
Now that you're familiar with what a registered agent is, it's time to take a look at the best registered agent services in Wisconsin.
Please note: the prices were quoted at the time of publication and are subject to change.
1. Northwest Registered Agent (Our Partner)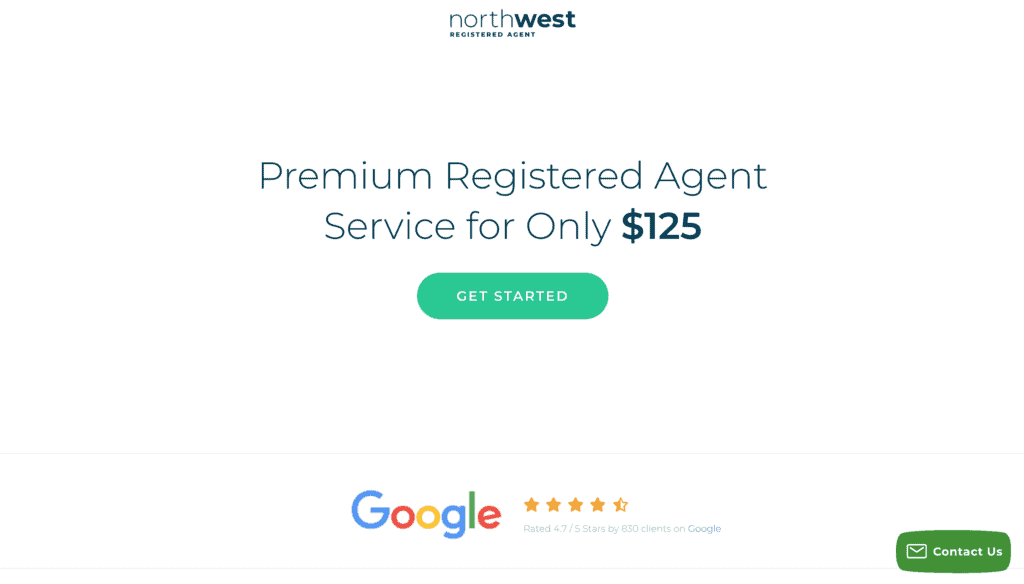 If you are looking for a skilled, experienced, and caring registered agent in the state of Wisconsin, Northwest Registered Agent is the right choice to make.
You will be able to see all of your documents in a client portal that is updated regularly, and correspondence that needs immediate attention is always called out. The team at this registered agent service is always on hand to help you out if you have questions about anything from your application to the required actions to take for the documentation you receive. NorthWest Registered Agent will generate annual reports for you without reminders, and all of your documents will be available in convenient PDF format.
Cost: $125/year
Address: Appleton, WI 54913 Outagamie County
2. Harbor Compliance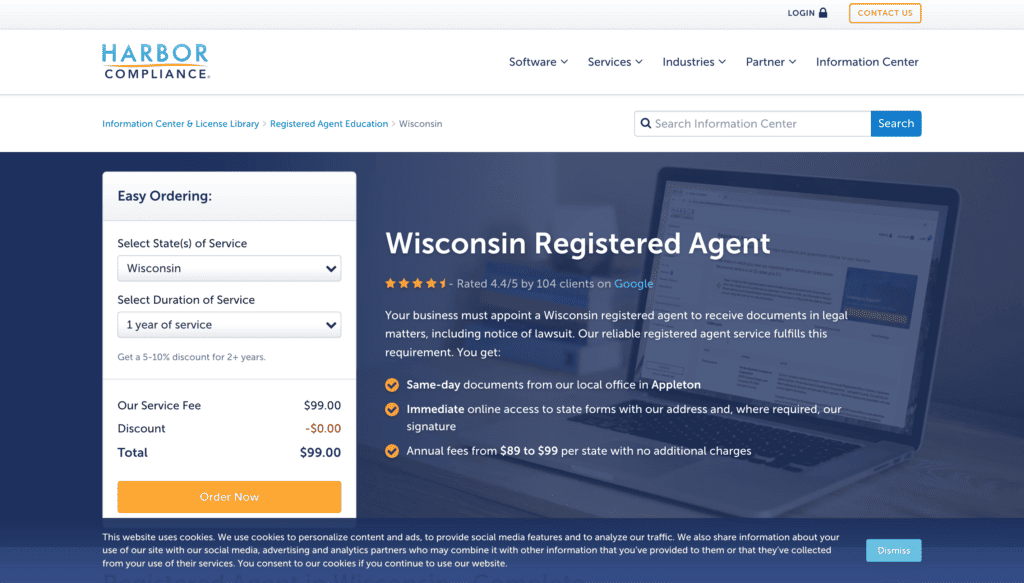 If you need a very affordable Wisconsin registered agent to take care of your business documentation, this is a great option.
This service charges a flat-rate fee for each year of service. You can trust the team at Harbor Compliance to handle all of your business documentation and notify you about time-sensitive items right away. You will also get the benefit of same-day document handling and immediate access to state forms with the right address and signature on them as needed.
Cost: $99/year
Address: 1830 Colonial Village Lane, Lancaster, PA 17601
3. Dane County Title Company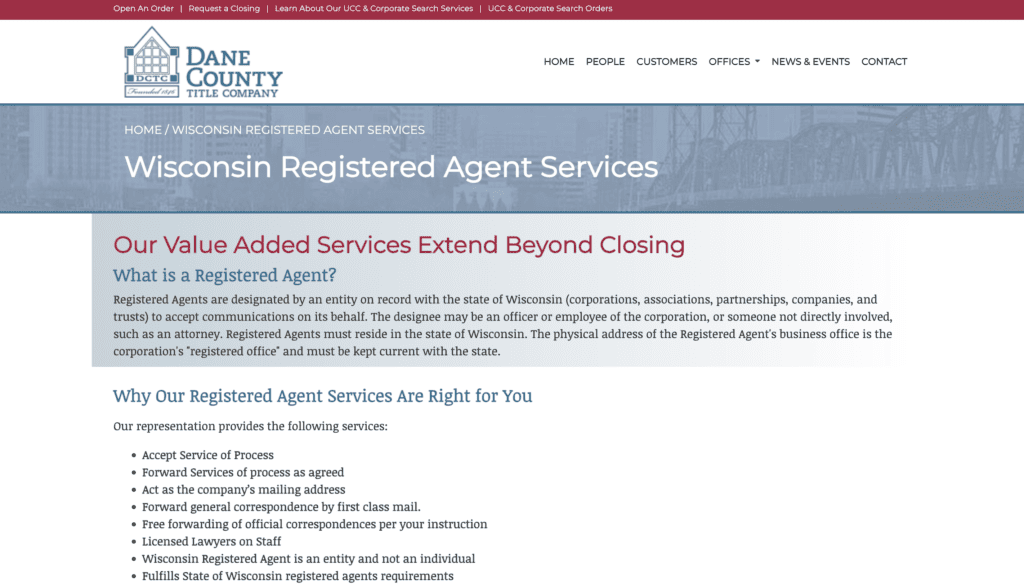 Dane County Title Company can tackle all of your business needs with ease. They will act as your company's mailing address, can help you with service of process requests, and forward general correspondence via first-class mail.
There are no added fees for the services that they offer, and you will be able to call the help desk at any time if you run into issues. This is a really good choice to select if you get a lot of business correspondence that needs to be forwarded within 1-2 days throughout the year.
Cost: $50/year
Address: 500 Main St, Friendship, WI, 53934
4. SL Debarros Law Firm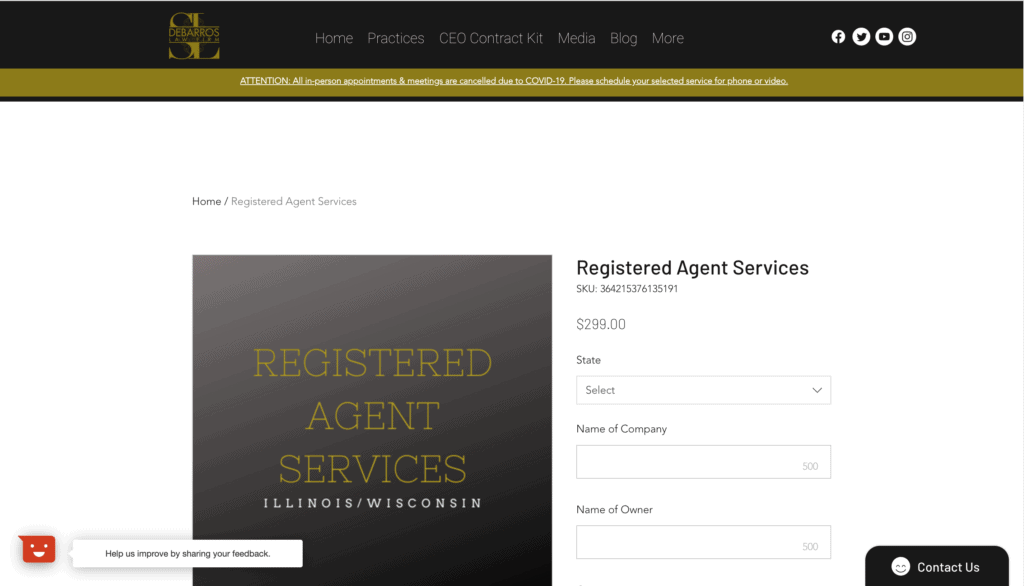 This law firm will represent your business as a registered agent for a simple, flat rate cost.
You will be able to get expert guidance about legal documentation, and lawsuits that are filed against you will be handled with speed and attention to detail. The team at the SL Debarros will also send other mail that comes to your business address in a timely manner. If you do happen to need representation related to a legal matter, the team at this law firm will be happy to provide these services for an extra cost.
Cost: $299/ year
Address: 720 S Eastwood Dr. #298, Woodstock, IL, 60098
5. Torvinen, Jones & Saunders, S.C.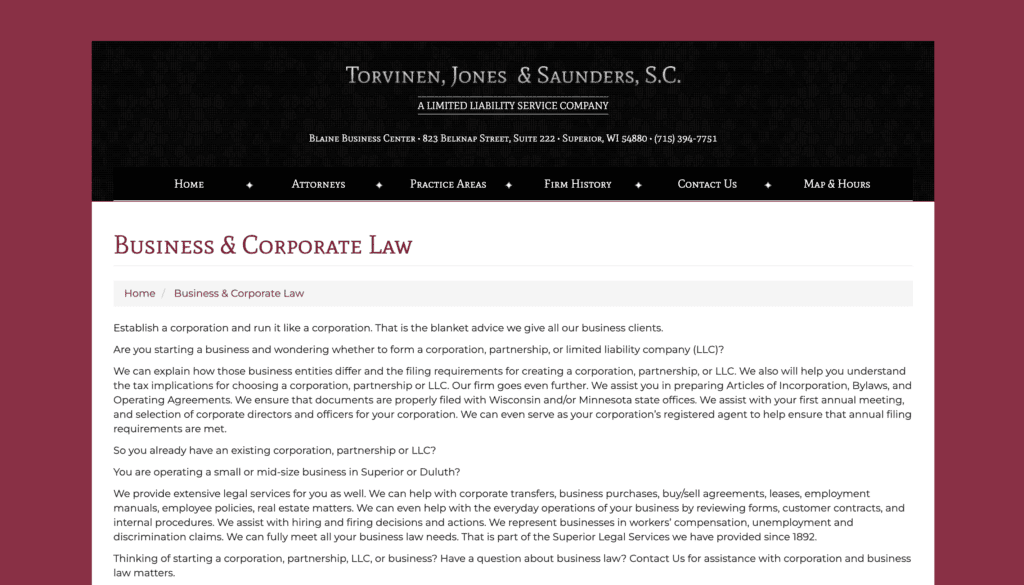 This legal team will be happy to serve as your registered agent each year. They are experts in LLC formation and management and can readily handle things like legal mailings and company mail for your business.
The team here offers superior legal services of all kinds and will be happy to explain the ins and outs of any legal process documentation that is delivered to your address.
Cost: Request a quote
Address: 823 Belknap Street, Suite 222, Superior, WI, 54880
6. Schwartz Law Firm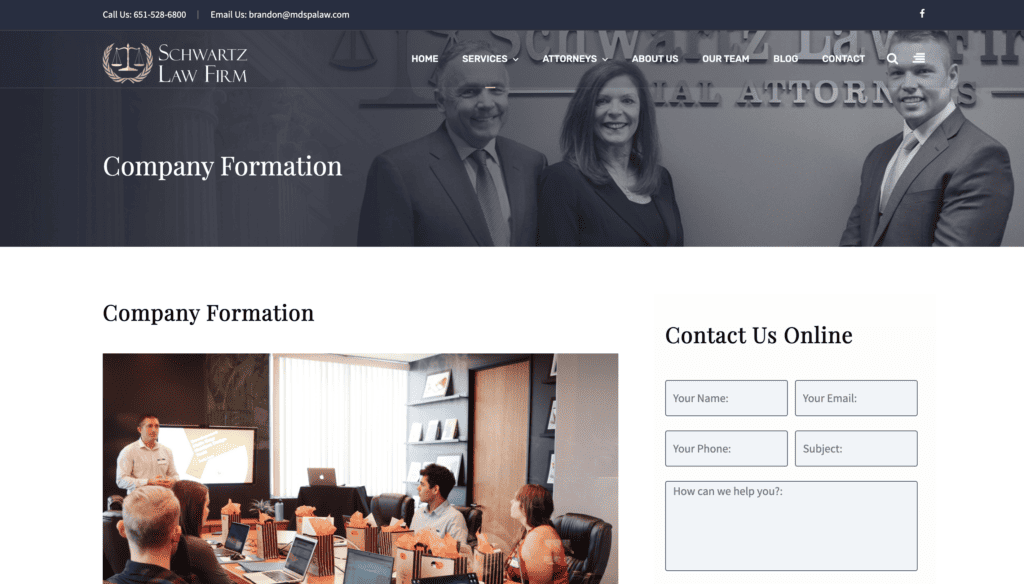 The Schwartz Law Firm specializes in everything related to business formation and management.
Whether you need help to just get your business set up or you only need guidance and support related to registered agent services, the team at this law firm will be happy to help you out. This is a great choice for those who are looking for some added guidance and support related to the management of their business alongside registered agent services.
Cost: Request a quote
Address: 600 Inwood Avenue North, Suite 130, Oakdale, MN, 55128
7. Heritage Law Office LLC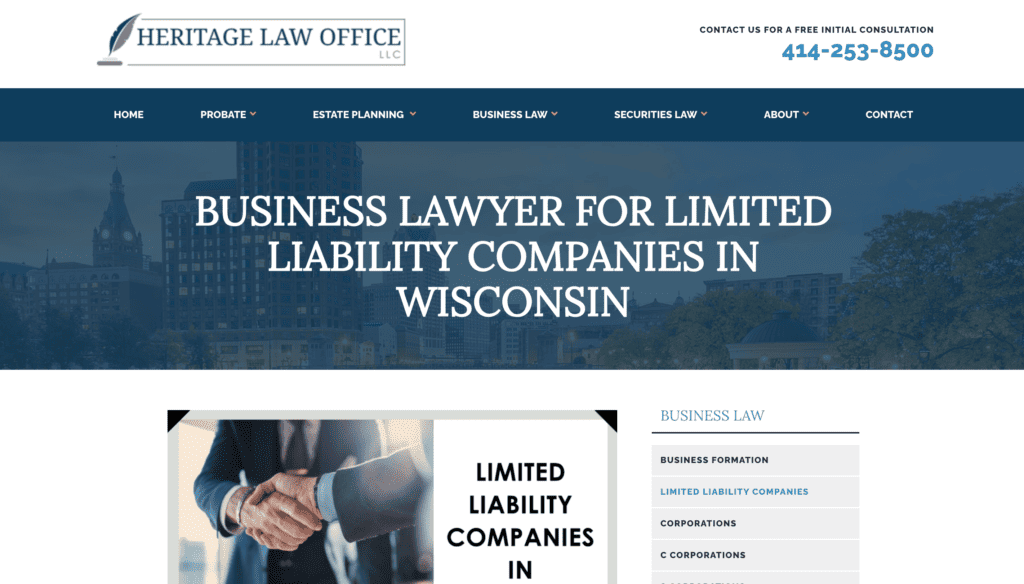 For comprehensive legal support of various kinds related to business formation and management, the Heritage Law Office is a great choice.
Not only can they serve as your registered agent and advise you about legal documents you receive each year, they can also help you to form your LLC and manage it properly. There are so many reasons that this legal team is the right choice for your business management and registered agent needs. If you are looking for a complete experience that includes guidance and expert advice on a wide array of topics, this is the right registered agent service to select.
Cost: Request a quote
Address: 757 N. Broadway, Suite 300, Milwaukee, WI, 53202
Advertisement
LLC Formation Service
LLC Formation: $39 + state fees
Pricing:
Turnaround Time:
Help & Support:
Customer Satisfaction:
Ease of use:
Best LLC Service 2023

Formed 1,000,000+ LLCs
$39 formation includes registered agent service
Fast formation & same day filing
Exceptional customer reviews

Last updated:
Dec 2023