One of the trickiest things about starting a limited liability company (LLC) is choosing a registered agent.
In Wisconsin, it's legally required that your business appoints a registered agent who will serve as the point of contact between your LLC and the state government.
Your Wisconsin registered agent plays a crucial role in receiving legal documents on your business's behalf, such as service of process (lawsuits), tax forms, and court summonses.
As you can see, it's crucial that you choose a reliable and trustworthy registered agent to protect your business's confidentiality.
But choosing the best registered agent service is easier said than done, as you'll need to consider multiple factors like the agent's experience, reputation, and pricing.
Let's take a look at the top registered agents in Wisconsin, as well as go over some common questions you might have.
What are the requirements for a Wisconsin registered agent?
According to Wisconsin state law, all registered agents must fulfill the following requirements:
If they're an individual, they must be at least 18 years old and reside in Wisconsin. If they're a company, then that company must be authorized to do business in Wisconsin.
They must have a physical street address (called the registered office or principal office) in Wisconsin. Mail drop services or P. O. boxes aren't acceptable.
They must be available during regular business hours to receive service of process from the Wisconsin Secretary of State on your business's behalf.
What are the advantages of using a Wisconsin registered agent?
There are several reasons why you might consider hiring a Wisconsin registered agent service, including:
Flexibility: What happens if you're a one-person LLC and you need to go on a vacation? You'll still need someone at the registered office to sign the service of process on delivery during normal business hours. A registered agent service ensures that someone is always there to receive these important legal documents on your Wisconsin business's behalf.
Simplicity: Managing legal documents and notices in one place, especially in digital form, is easier than storing them in a cabinet. You won't need to worry about allocating physical space or losing important documents when your Wisconsin registered agent does that for you.
Privacy: The registered agent's address is a matter of public record. That means that if you use your home address, it'll be out there for anyone to find. Using a registered agent service ensures your address remains private. Plus, it guarantees that no one else but you will receive your business's service of process.
Can I be my own Wisconsin registered agent?
Yes, you can be your own Wisconsin registered agent, provided you fulfill the requirements we mentioned above. However, you may still want to hire a registered agent service to manage your business's state correspondence for you.
As you can imagine, being your own registered agent can be impractical, as you'll be expected to always be at the registered office during regular business hours.
Using a registered agent service, on the other hand, allows you to come and go as you please without having to worry about missing service of process or other important state notices.
Top registered agent services in Wisconsin
Now that you're familiar with what a registered agent is, it's time to take a look at the best registered agent services in Wisconsin.
Please note: the prices were quoted at the time of publication and are subject to change.
1. Northwest Registered Agent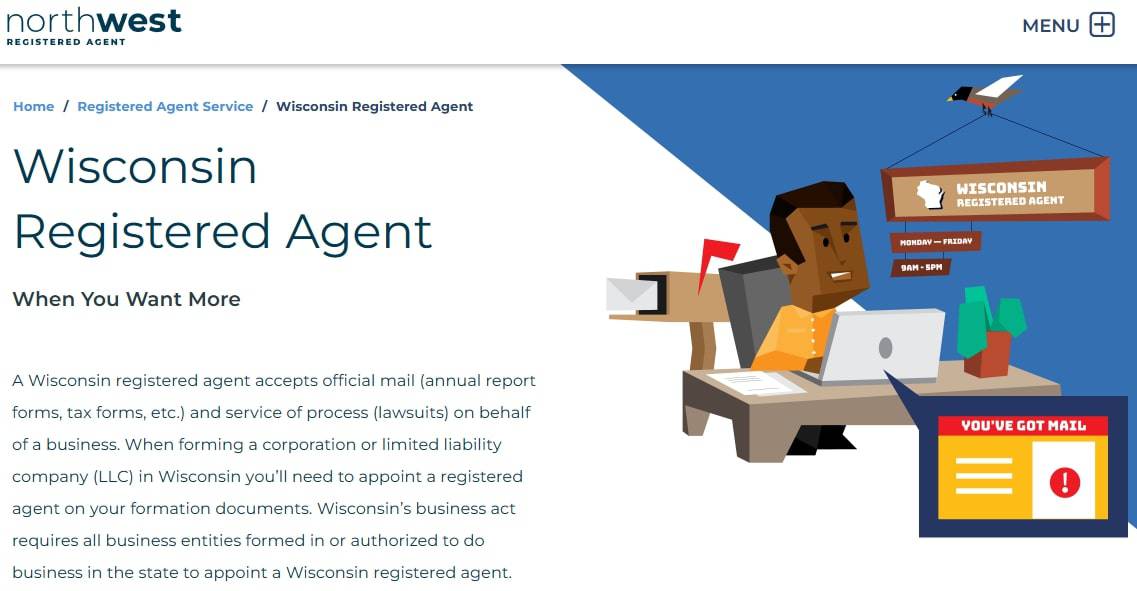 Our top pick is Northwest Registered Agent, a trustworthy, reliable, and established registered agent service.
Signing up with Northwest is quick and easy, and its customer support team is ready to answer any questions you might have.
After you've set up your account, Northwest will provide a Wisconsin-based business address where your service of process and other documents can be delivered. Northwest guarantees that scans of these documents will be available same-day.
If you're still working on forming your Wisconsin LLC, Northwest can help you with that for $355. What's great about this price is that it already includes the annual fee for the registered agent service.
If you've already hired an agent and you are dissatisfied with its service, Northwest will complete the change of agent form for you at no additional cost and file it with the Wisconsin Department of Financial Institutions.
Price: $125/year
Address:2800 E Enterprise Ave, Suite 333, Appleton, WI 54913
2. Wisconsin Registered Agent LLC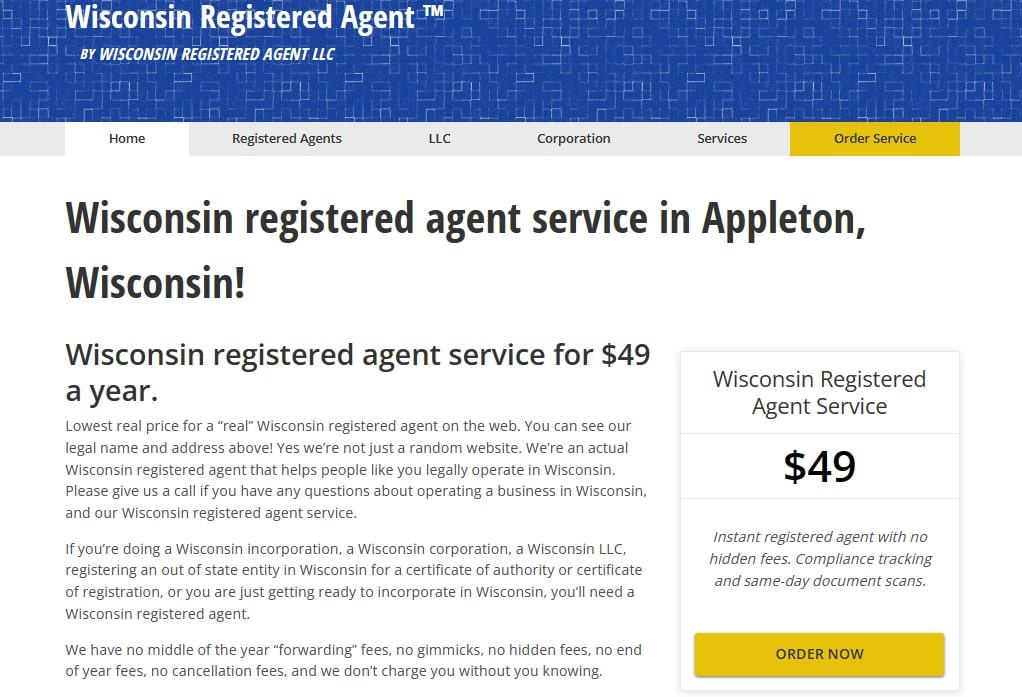 If you're looking for a low-cost, local registered agent service, Wisconsin Registered Agent LLC is a great pick.
It offers compliance tools and auto-reminders that alert you about important deadlines, like filing annual reports. That way, you're never in doubt about what documents need to be submitted to the state.
What's more, when you sign up for its registered agent services, Wisconsin Registered Agent LLC provides you with the necessary filing forms pre-filled, making it all that much easier to file your paperwork.
All the documents Wisconsin Registered Agent LLC receives will be uploaded to its online account, so you can access them whenever and wherever you want.
Price: $49/year
Address: Appleton, WI 54913, Outagamie County
3. Dane County Title Company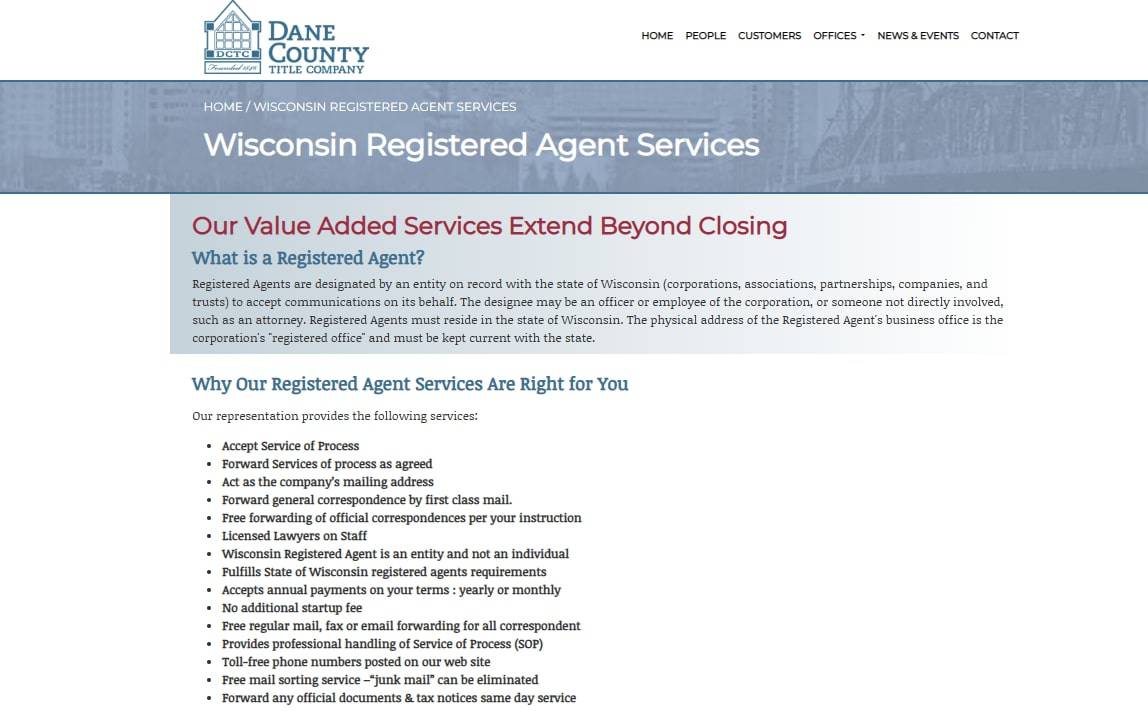 Serving hundreds of clients in Wisconsin for over 20 years, Dane County Title Company is a dependable and affordable registered agent service.
It'll accept service of process and general mail on your business's behalf, which is a nice perk. And the general correspondence it receives will be forwarded to your business address via first-class mail.
In addition, the registered agent's on-staff attorneys are ready and available to answer your state compliance-related questions.
Another thing that's great about Dane County Title Company is that there aren't any additional startup fees, so you're always clear on the cost of its services.
Plus, the choice is yours whether you want to pay monthly or annually to retain its services. That's a great option that not many other registered agents in Wisconsin can match.
Price: $50/year
Address: 901 S Whitney Way, Madison, WI 53711
4. Harbor Compliance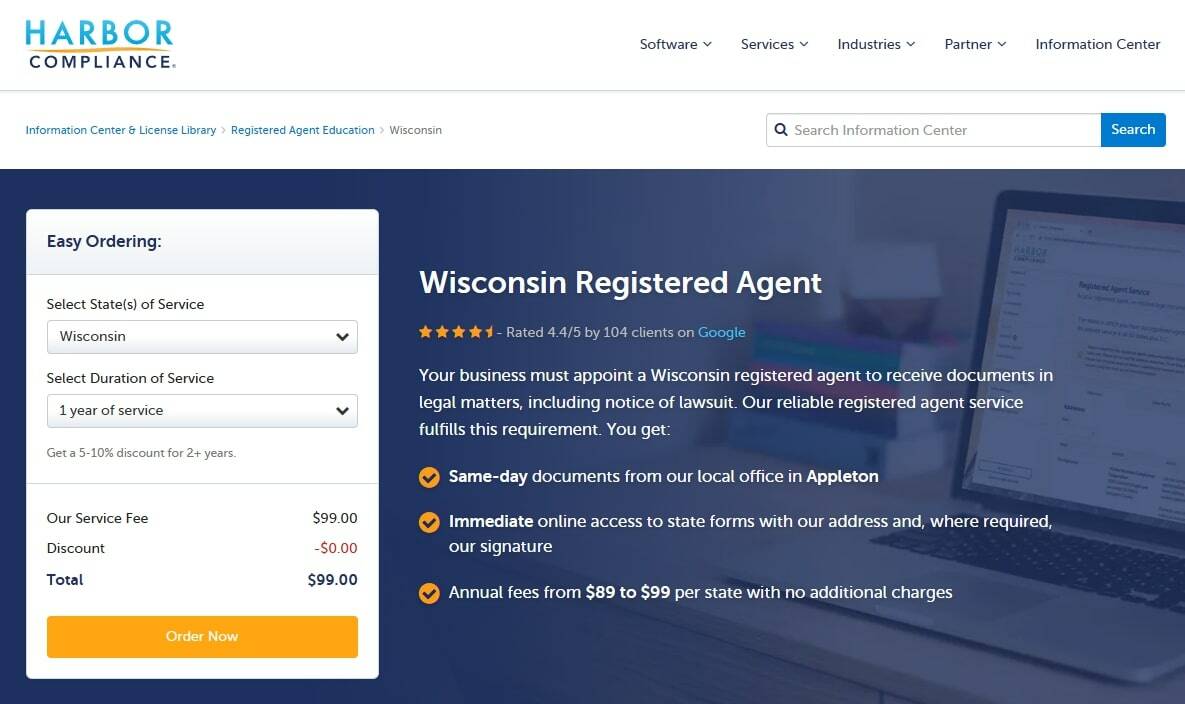 If you're on the hunt for a nationwide registered agent service, then Harbor Compliance ought to be on your list. It offers transparent pricing, discounts for multi-year contracts, and quite a few customizable services at no extra charge.
These customizable services can be tailored to your business's preferences and include things like annual report deadline notifications. Filing annual reports timely is critical for maintaining business compliance, so we can't overemphasize how important this feature is.
Documents received at its Wisconsin address are scanned and uploaded same-day, so you're always in the loop when it comes to what's been received.
If you're a small business owner who wants to keep costs low but anticipates expanding across state boundaries, then Harbor Compliance is an excellent option.
Cost: $99/year
Address: Appleton, WI 54913, Outagamie County
5. ZenBusiness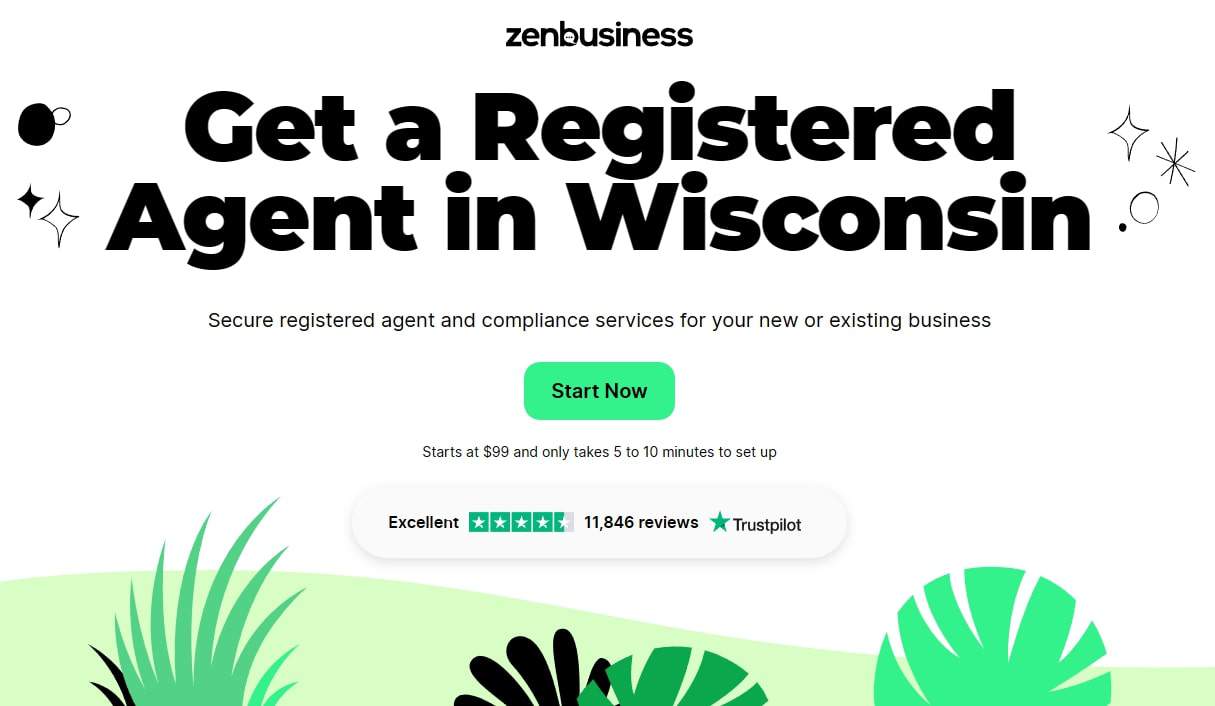 ZenBusiness offers registered agent services, financial solutions, and assistance with LLC formation, such as filing the articles of organization.
Once you hire ZenBusiness, it'll take care of receiving and processing legal correspondence at its Wisconsin-based physical address during regular business hours. Its team will promptly upload the official correspondence to its secure online portal.
ZenBusiness helps you stay on top of state regulations with its built-in compliance system. To make sure your company is always in good standing, ZenBusiness will notify you of any legal changes or upcoming due dates.
Cost: $99/year (renews at $199/year)
Address: Appleton, WI 54913, Outagamie County
6. Rocket Lawyer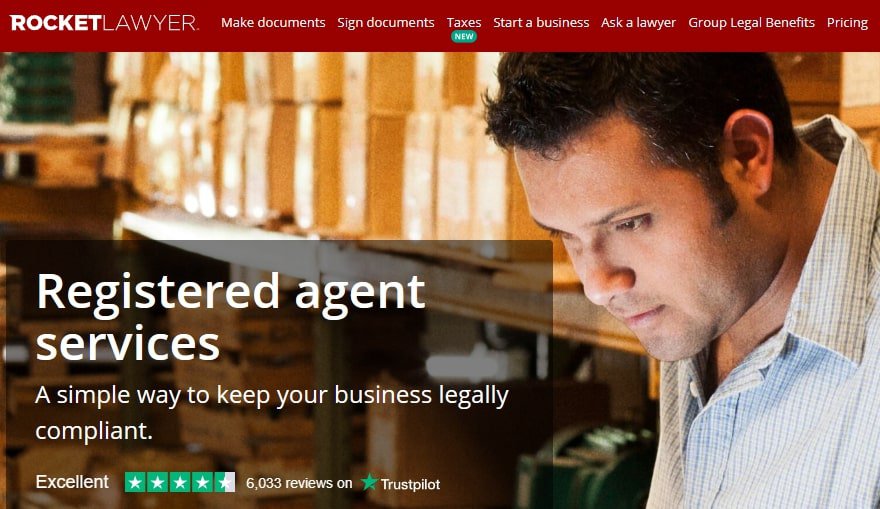 While Rocket Lawyer's foremost offering is legal solutions, it does provide registered agent services.
The price for these services is quite high, especially considering that it only offers the essentials, like receiving service of process documents.
Nevertheless, many business owners and entrepreneurs will benefit from the broad range of legal and business services Rocket Lawyer provides.
Also, due to the variety of its offerings, Rocket Lawyer makes for an excellent partner throughout all stages of your business's growth, from setting up your LLC to filing your taxes.
Price: $149.99/year
Address: Madison, WI 53711, Dane County
7. SunDoc Filings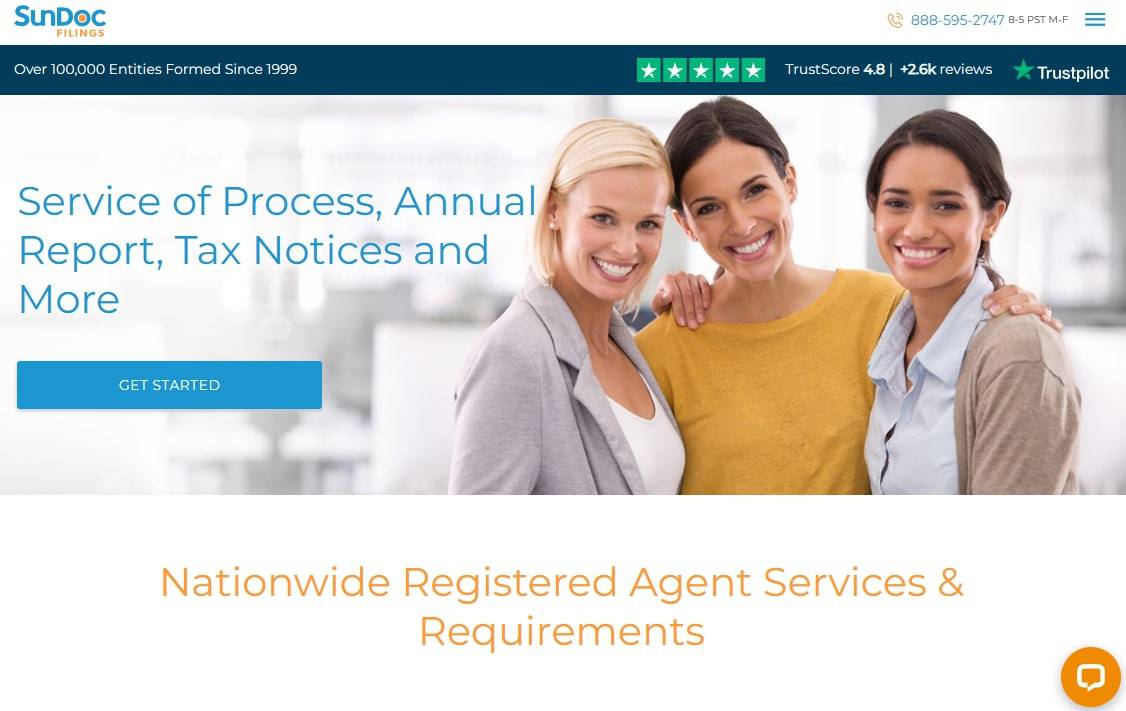 Last up on our list of top Wisconsin registered agents is SunDoc Filings, a reliable nationwide professional registered agent service.
Like all registered agents, SunDoc Filings maintains a physical address in Wisconsin where it will receive service of process documents for your business. These and other official correspondence from the state will be uploaded to its online portal within a few hours of receipt.
Have a question? No problem.
You can contact SunDoc Filings through any one of its multiple support channels, including via phone, email, and website tools.
Partnering with SunDoc Filings also gives you access to its extensive knowledge base, which includes things like online forms and guidelines for creating all types of business entities.
Price: $159/year
Address: 301 S Bedford Street, Suite 1, Madison, WI 53703
Verdict: The best registered agents in Wisconsin
Forming an LLC in Wisconsin comes with a number of legal obligations, including choosing a registered agent. While you could serve in this capacity yourself, it's more practical to hire a professional registered agent service.
There are a lot of registered agents in Wisconsin, so picking the one that's right for you might feel overwhelming.
To help make things easier, we created this list of the top seven choices. And while any of them are up to the task, the best option by a longshot is Northwest Registered Agent.
For over 20 years, Northwest has provided top-notch customer service and support to its clients at a reasonable price. If you're starting a new LLC in the state of Wisconsin, Northwest is, without a doubt, the right registered agent to partner with.