Thinking of starting a limited liability corporation (LLC) in Pennsylvania? It's an exciting idea, but the paperwork is anything but exciting.
Part of the legal requirements for forming an LLC in Pennsylvania is to set up a registered office, and it functions similarly to registered agents in other states. Like other states, you have to have a physical address for service of process delivery rather than listing a registered agent's name.
You can name a Commercial Registered Office Provider (CROP), which in simpler terms, is a company providing registered agent services. A registered agent can provide a registered office address, helping you keep your own address off the public record while meeting the regulatory requirements.
A registered agent acts as the point of contact between the state and your business.
Appointing a registered agent service ensures privacy, convenience, and peace of mind by ensuring you have access to all delivered documents and that any legal notices will be handled with care and due diligence. While the market is filled with registered agent service providers, you should take the time to identify service providers that are reliable and trustworthy since they'll be handling your legal documents. Some registered agents also offer other services like LLC formation.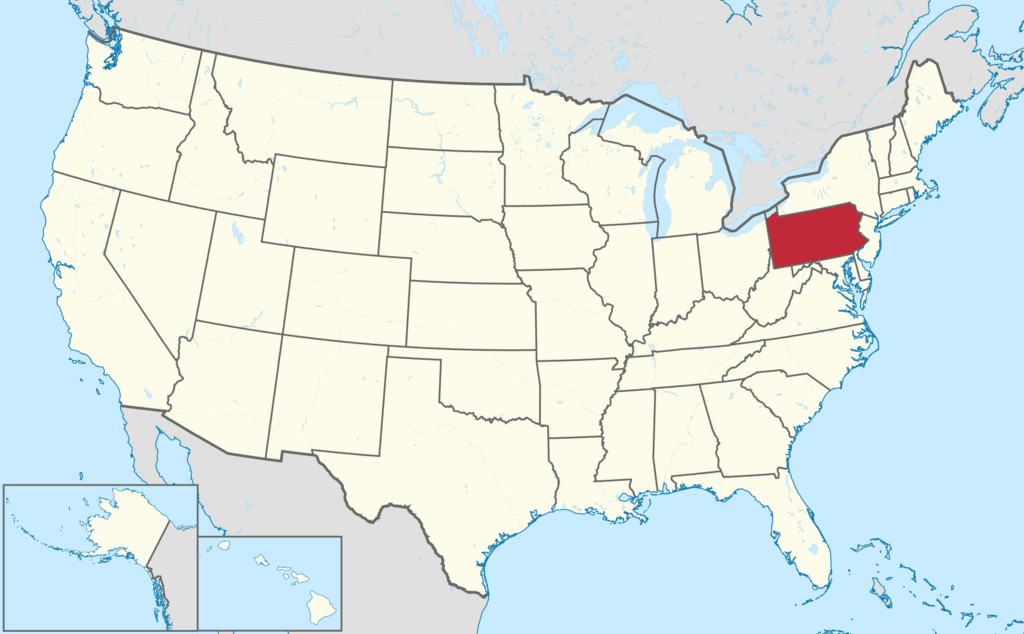 List of top 5 registered agent services in PA
How do you know which Pennsylvania registered agent service to trust? We've researched available registered agent services and gathered our top picks to help you choose the best registered agent service for you.
Prices were quoted at the time of publication and are subject to change.
1. Northwest Registered Agent (Our Partner)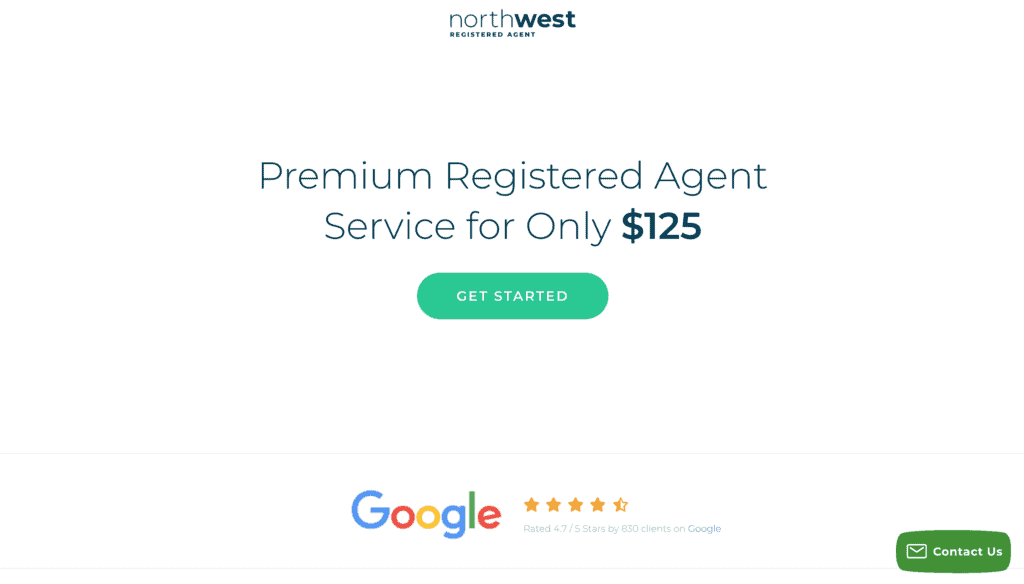 If you are looking for a registered agent who will offer you access to a portal where documents are stored and who can give you expert customer support as needed, this is the right company to choose. You will be able to see all of your documents online and print from PDF as needed. The team at Northwest Registered Agent will also prepare your annual reports and communicate with you if you receive legal documents that are time-sensitive.
This registered agent will never charge you added fees. You get all of the services that you need for one simple, flat fee.
2. Clarion Law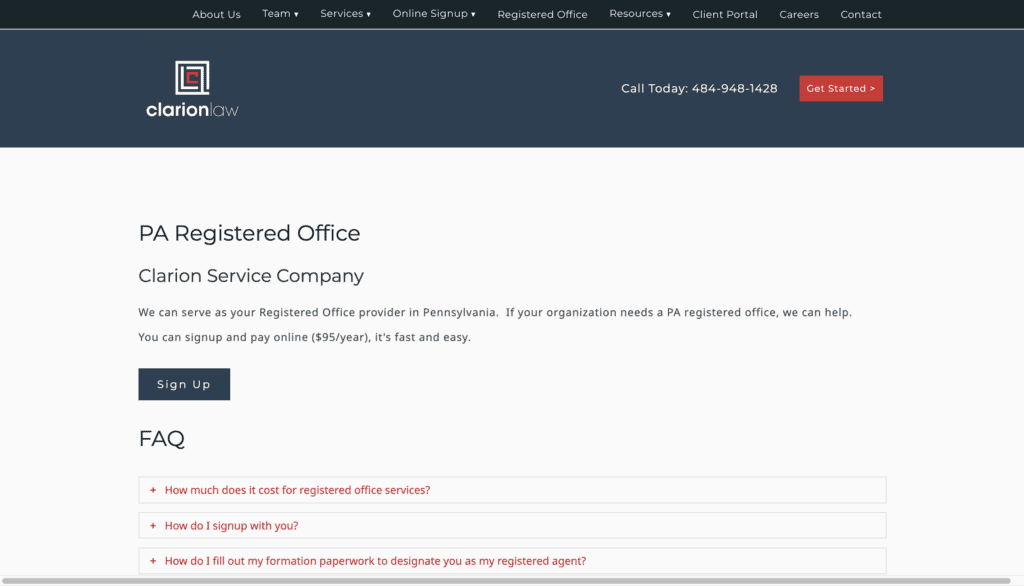 If you are looking for a quick and easy signup process for a registered agent, this is the right company to work with. You can head to this legal team's website and sign up for a flat annual fee in no time.
All of your documents will be submitted for viewing electronically, and you will be notified if you receive legal notifications that require immediate action. This is an affiliate of Clarion Law, LLC, so if you need additional legal advice or support, you can access that kind of assistance through the parent company.
3. Sebring and Associates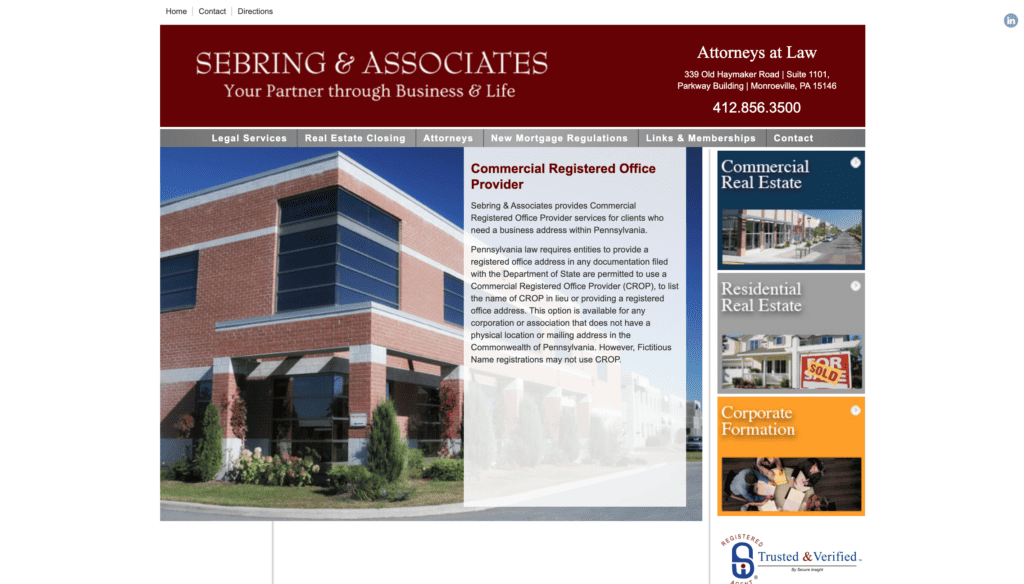 Providing quality registered agent services is just one of the many business entity support services that Sebring and Associates can offer.
Whether you need help with every step of the business formation process or you are just looking to have a quality registered agent tracking the documents that are mailed to your company, this is the right law office to select.
4. Creenan & Backowski, PC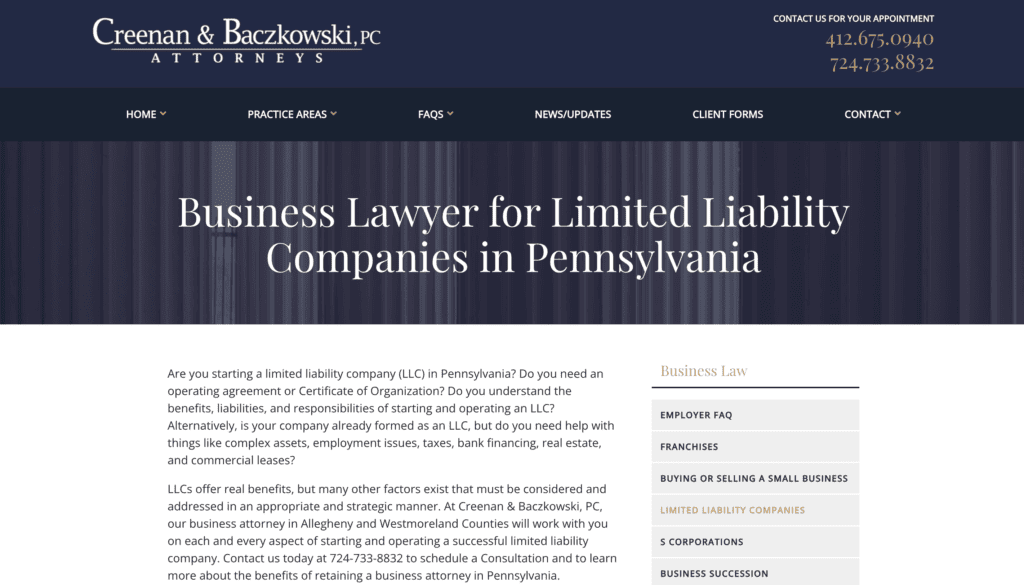 From starting your LLC to helping you with taxes and reporting to serving as your registered agent every year, Creenan & Backowski, PC offers the services that you are looking for.
This law firm has years of experience representing Pennsylvania-area businesses as a registered agent. The team can also advise clients about what to do in response to legal documentation and more. This company offers registered agent services per quote, which means that you will only pay for the services that you are going to utilize rather than being charged a flat rate for all kinds of services that you might not ever need.
5. Anderson Legal, Business & Tax Advisors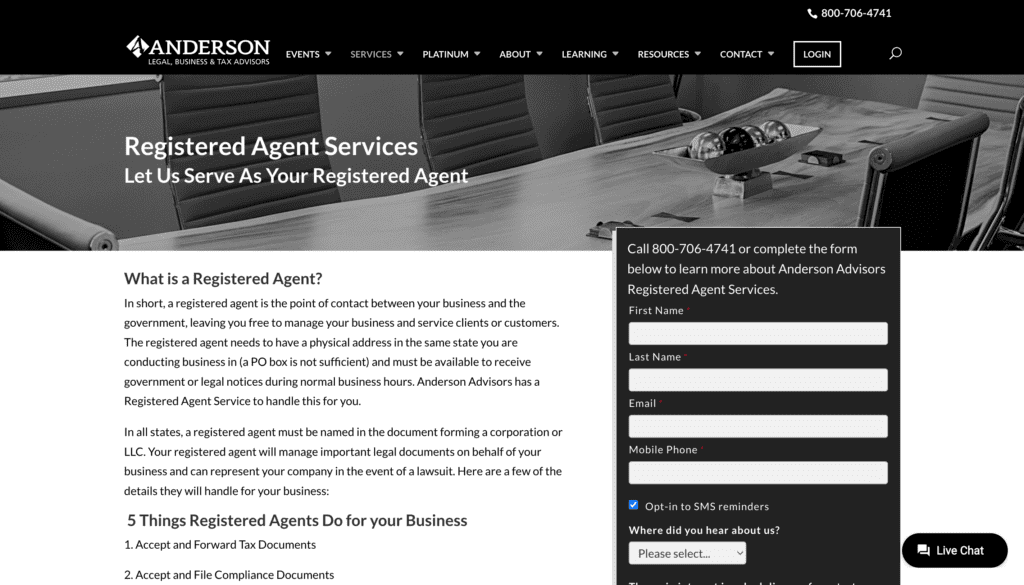 Letting a skilled expert handle your company's correspondence can allow you the time that you need to run your business with peace of mind.
This registered agent will make sure that all of your business mail is handled promptly and correctly and that legal documentation is flagged for immediate attention. The company can also accept and forward tax documents, handle compliance documentation, and respond to service of process notifications.
Advertisement
LLC Formation Service
LLC Formation: $39 + state fees
Pricing:
Turnaround Time:
Help & Support:
Customer Satisfaction:
Ease of use:
Best LLC Service 2023

Formed 1,000,000+ LLCs
$39 formation includes registered agent service
Fast formation & same day filing
Exceptional customer reviews

Last updated:
Dec 2023