Thinking of starting a limited liability corporation (LLC) in Pennsylvania? It's an exciting idea, but the paperwork is anything but exciting.
Part of the legal requirements for forming an LLC in Pennsylvania is to set up a registered office, and it functions similarly to registered agents in other states. Like other states, you have to have a physical address for service of process delivery rather than listing a registered agent's name.
You can name a Commercial Registered Office Provider (CROP), which in simpler terms, is a company providing registered agent services. A registered agent can provide a registered office address, helping you keep your own address off the public record while meeting the regulatory requirements.
A registered agent acts as the point of contact between the state and your business. Appointing a registered agent service ensures privacy, convenience, and peace of mind by ensuring you have access to all delivered documents and that any legal notices will be handled with care and due diligence.
While the market is filled with registered agent service providers, you should take the time to identify service providers that are reliable and trustworthy since they'll be handling your legal documents. Some registered agents also offer other services like LLC formation.
List of top 8 Pennsylvania registered agent services
How do you know which Pennsylvania registered agent service to trust? We've researched available registered agent services and gathered our top picks to help you choose the best registered agent service for you.
Prices were quoted at the time of publication and are subject to change.
1. Northwest Registered Agent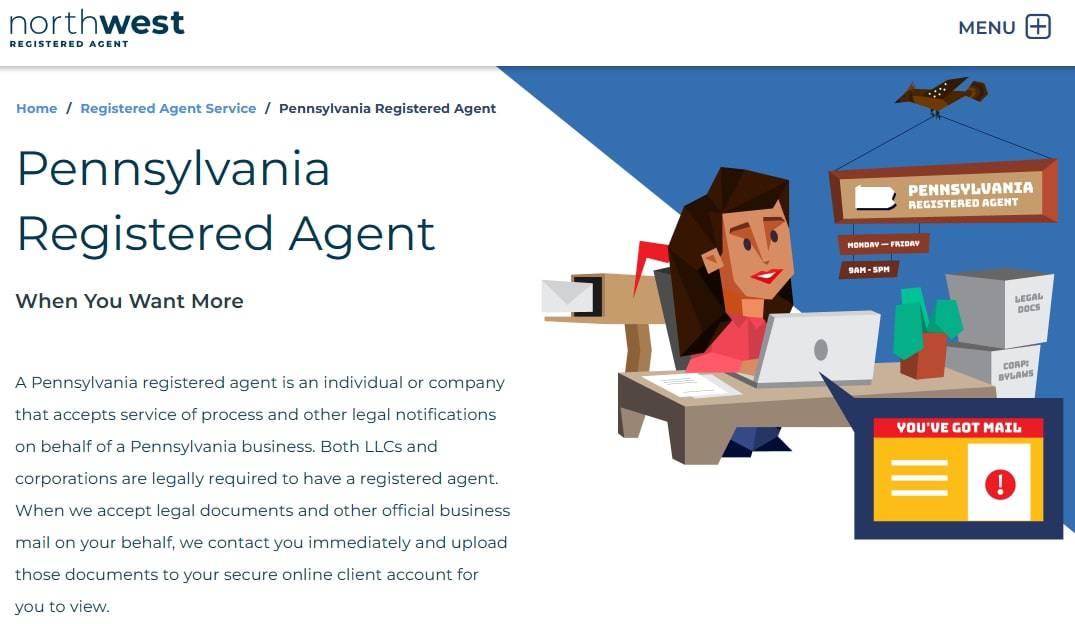 Northwest Registered Agent is a reliable, trustworthy registered agent with a great established reputation. If you're looking for a company with a strong track record of delivering great service, Northwest is a great registered agent service provider.
When you sign up with Northwest Registered Agent, you get a Pennsylvania street address that you can use in your articles of organization and receiving documents during regular business hours.
Northwest Registered Agent offers mail forwarding and scans your mail onto a powerful online portal so you can access it quickly.
A big advantage of selecting Northwest Registered Agent is that it's committed to delivering excellent service and backs it up with a 90-day satisfaction guarantee. So, in the unlikely event you don't like the service, you can claim a refund during the first 90 days.
Cost: $125/year
Address: 502 West 7th Street, Suite 100, Erie, PA 16502
2. Pennsylvania Registered Agent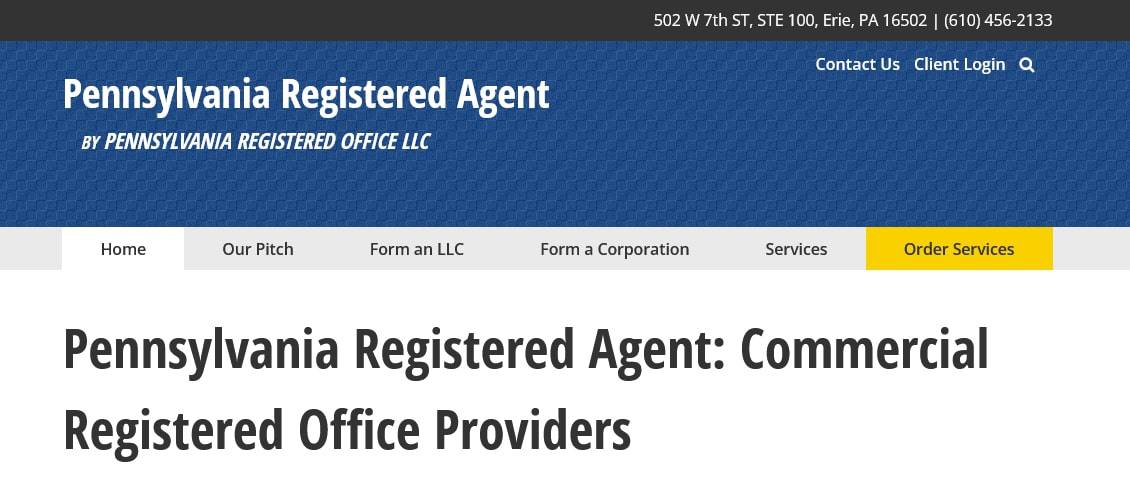 Pennsylvania registered agent by Pennsylvania registered office LLC is a local registered agent service provider.
The company uploads service of process documents and other mail to an online portal the same day it is received. When a document is uploaded to your account, you receive a notification so you can access the document remotely.
The service is best suited for small business owners who want to minimize the cost of registered agent service. While Pennsylvania Registered Agent provides a physical address where you can receive documents during normal business hours, it doesn't offer as many extras as other businesses on this list.
Cost: $49/year
Address: 502 West 7th Street, Suite 100, Erie, PA 16502
3. AAAgent Services LLC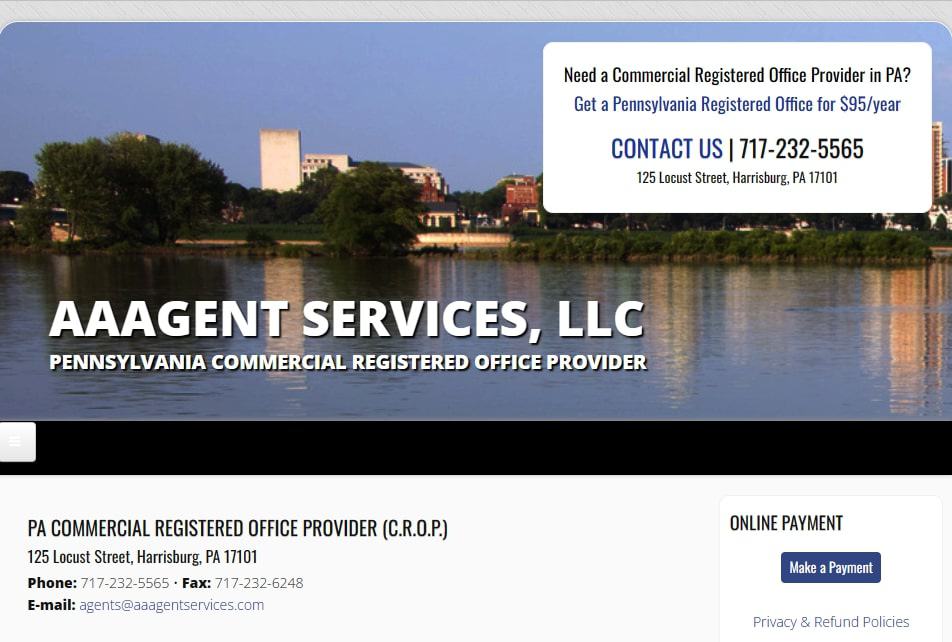 AAAgent Services, LLC is a local registered agent service that only serves clients in Pennsylvania. The company can also help file forms at the Pennsylvania Bureau of Corporations and Charitable Organizations.
The company's office is located in downtown Harrisburg, a few blocks away from the Pennsylvania Bureau of Corporations and Charitable Organizations. This allows the company to complete registration filings faster and, in case of rejection, help you address the problem and resubmit the application quickly.
Unlike other services on the list, AAAgent Services, LLC doesn't upload documents to an online account. Instead, it relies on physically forwarding documents to the primary contact at your business via regular mail. Signing up for an account also requires downloading and returning a form via fax or email instead of faster online account activation.
Cost: $95/year
Address: 125 Locust Street, Harrisburg, PA 17101
4. ZenBusiness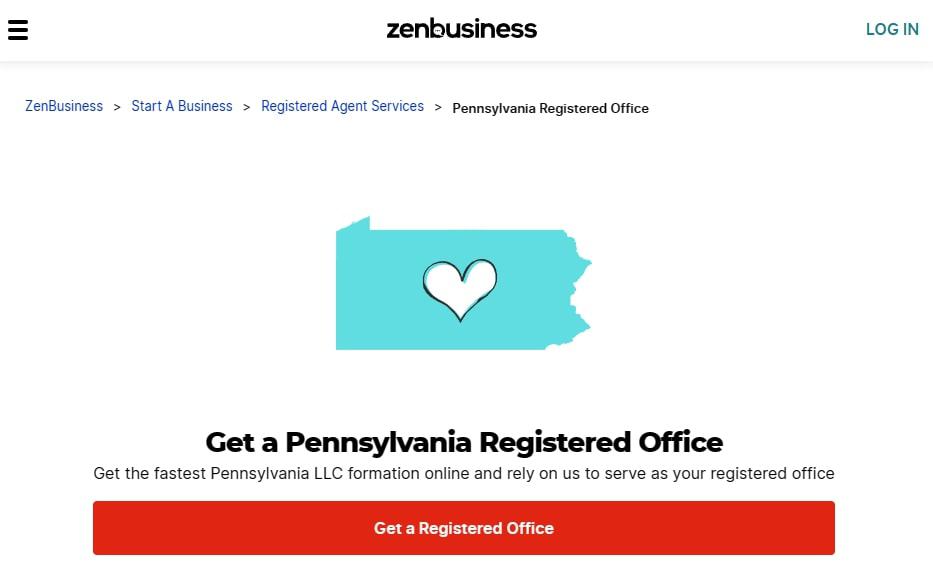 ZenBusiness offers registered agent services, LLC formation, and much more.
In addition to receiving your documents at the registered office address during normal business hours, ZenBusiness uploads documents to the online portal quickly.
It also has a built-in compliance alerts system option that notifies you about important compliance-related tasks, such as filing your annual report. And ZenBusiness has a 4.5/5 star rating on Trustpilot with nearly 12,000 reviews to back up their quality of service claims.
Overall, ZenBusiness is an easy option for entrepreneurs who want to start an LLC in Pennsylvania.
Cost: $99 for first year, $199 for renewal
Address: 2040 Linglestown Road, Suite 109, Harrisburg, PA 17110
5. Harbor Compliance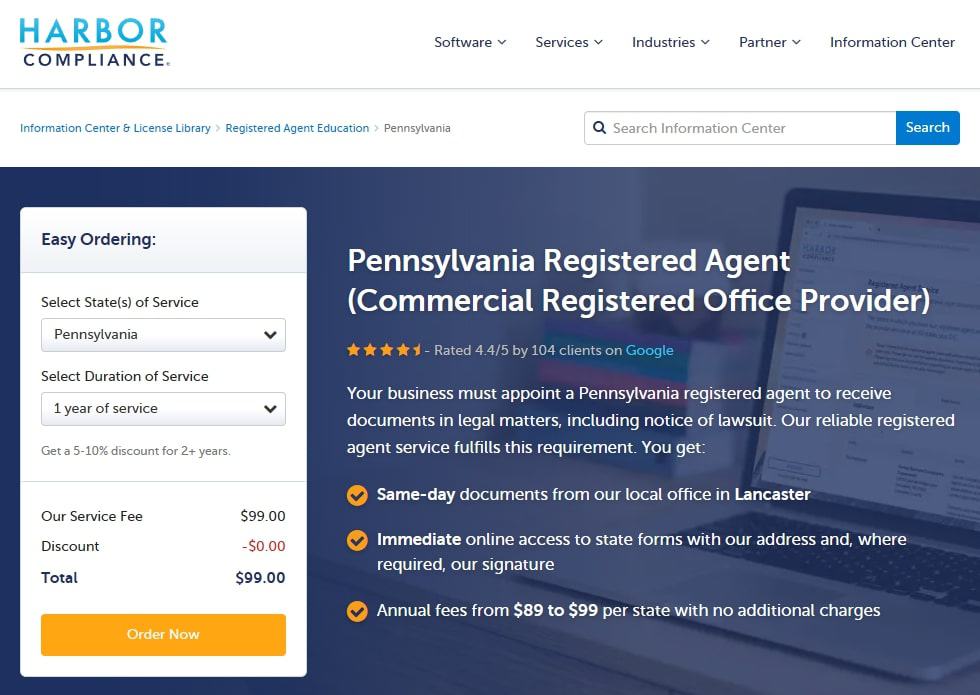 Harbor Compliance is an excellent service that offers a physical address to receive documents during business hours at a nominal cost. With Harbor Compliance, you get all the basics, including a Pennsylvania physical street address and the ability to access your documents remotely via an online portal.
Its service includes voice notifications when service of process documents are received and uploaded to the portal to ensure you receive the information quickly. And the company's compliance tracking system makes sure you don't forget your annual reporting deadlines.
While Harbor Compliance doesn't offer a lot of bells and whistles, it offers excellent registered agent service at a pocket-friendly price.
Cost: $99/year
Address: 1830 Colonial Village Lane, Lancaster, PA 17601
6. LegalZoom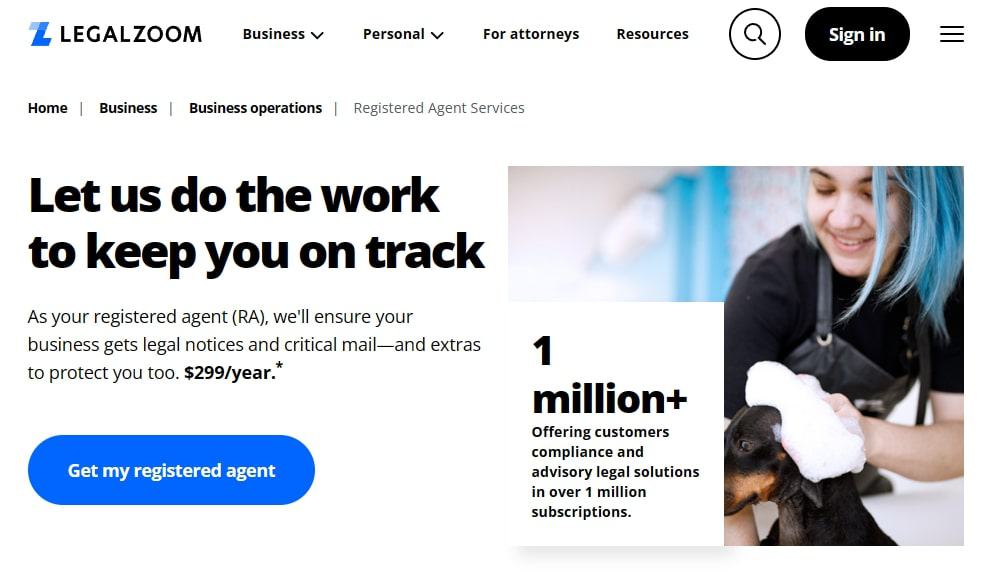 LegalZoom is a premium service, and it's reflected in its pricing. The company offers a broad range of legal services, including registered agent services and assistance in filing your certificate of organization with the Pennsylvania Department of State.
If you need a service that helps you with legal questions, lets you file taxes, and offers great resident agent service, LegalZoom might be a great fit. Once you've signed up, you'll receive email notifications whenever tax and annual filings are due so you never miss deadlines. The service's price also includes unlimited cloud storage, where the company stores your legal documents.
While LegalZoom is more expensive than others on this list, they offer more additional services than others. And you also get a $1,000,000 identity theft insurance policy with LegalZoom.
Cost: $299/year
Address: 122 Schweitz Road, Fleetwood, PA 19522
7. Registered Agents Inc.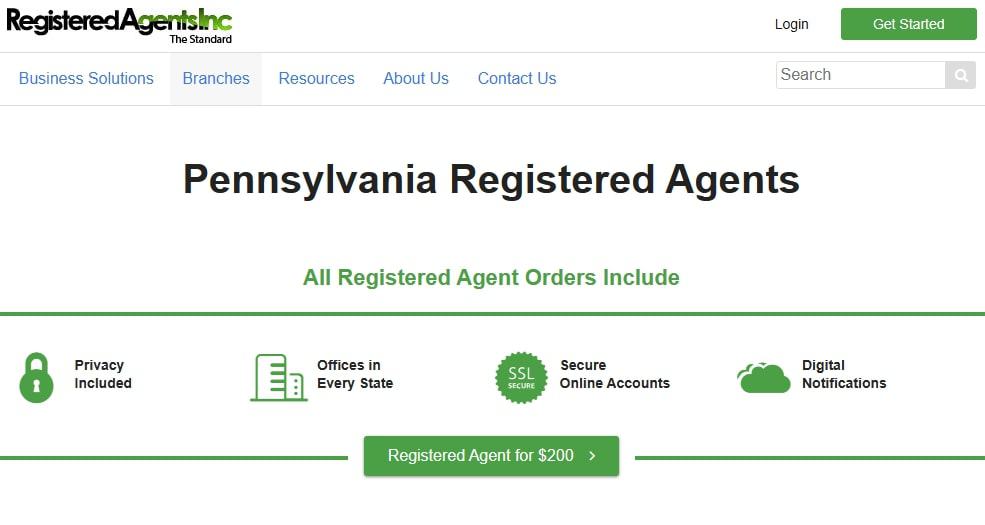 Registered Agents Inc., offers registered agent services nationally and specializes in companies doing business in multiple states.
A great perk the company offers is personalized customer service representatives, called Corporate Guides, for every customer. They help you get answers faster without having to go back and forth over email.
If you sign up with Registered Agents, Inc., you get basic registered agent services plus compliance reminders and a large library of state business forms. And received documents are uploaded to your online account on receipt, so you'll have all the paperwork at your fingertips quickly.
Unlike many others on the list, Registered Agents Inc. doesn't provide LLC formation services, but they offer guidance on setting up your business and provide all of the forms you'll need.
Cost: $200/year
Address: 502 West 7th Street, Suite 100, Erie, PA 16502
8. SunDoc Filings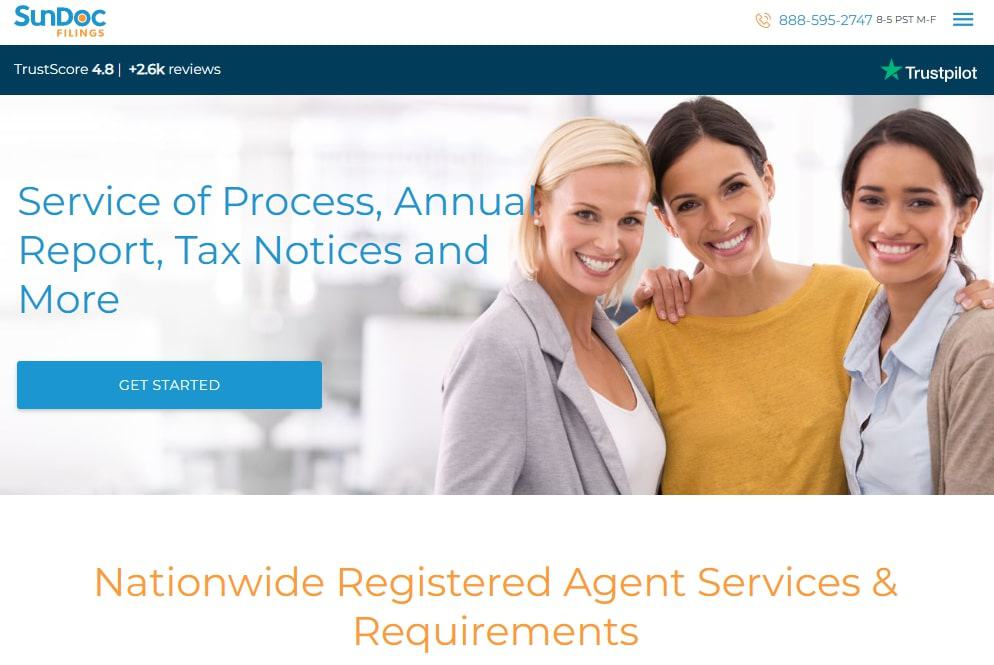 SunDoc is a Pennsylvania commercial registered office provider that also operates across the U.S. The company has an excellent reputation with a 4.9/5 star Trustpilot rating.
As a SunDoc Filings user, you'll have a physical address in Pennsylvania to receive service of process and other documents and access to online forms for creating various types of business entities in Pennsylvania. Documents received by 2 p.m. are scanned into your online account the same day.
SunDoc Filings also offers free add-ons like process history summaries and customized reporting tools.
Cost: $159/year
Address: 600 North Second Street, Harrisburg, PA 17101
FAQs about Pennsylvania registered agents
How much does it cost to change my registered agent in Pennsylvania?
Changing your commercial registered agent in Pennsylvania is simple, especially if you use the online change service. You can file the Change of Registered Office form via mail, fax, or in person with a $5 filing fee. The Secretary of State's office takes up to a week to process the change. Expedited service is available only on a limited basis and limited by the time of day you submit your form.
$100 for same-day service (for forms received before 10 a.m.)
$300 for three-hour service (for forms received before 2 p.m.)
$1,000 for one-hour service (for forms received before 4 p.m.)
Who can be a Pennsylvania registered agent?
Pennsylvania uses Commercial Registered Office Providers (CROPs) instead of registered agents. You can also act as your own registered agent by using the physical location of your home or office as your registered office location. Requirements are:
Must have a physical street address or rural route box number in Pennsylvania. Addresses may not be P.O. Boxes.
If the registered agent is a person, they must be 18 years or older and a Pennsylvania resident. If the registered agent is a company, it must be authorized to do business in Pennsylvania if the registered agent is a company.
Someone must be available at the registered address during normal business hours to receive the legal documents.
While you don't have to hire a registered agent in Pennsylvania, most Pennsylvania businesses find the privacy and security of using a Pennsylvania registered agent for your business address to be well worth the cost.
How much does registered agent service in Pennsylvania cost?
The cost varies significantly based on the registered agent you select. However, typically the annual price ranges between $45 to $300. The pricing difference usually depends on the number of services the registered agent offers beyond receiving mail at the agent's address.