Illinois state laws are relatively straightforward. To start a new business, you need to prepare and submit company incorporation documents to the Illinois Secretary of State.
And among other things, you have to appoint a registered agent, sometimes referred to as "statutory agent" or "resident agent," for an LLC.
In this guide, we unpack who can be a registered agent for Illinois LLCs and provide a list of well-rated commercial registered agent providers in the Land of Lincoln.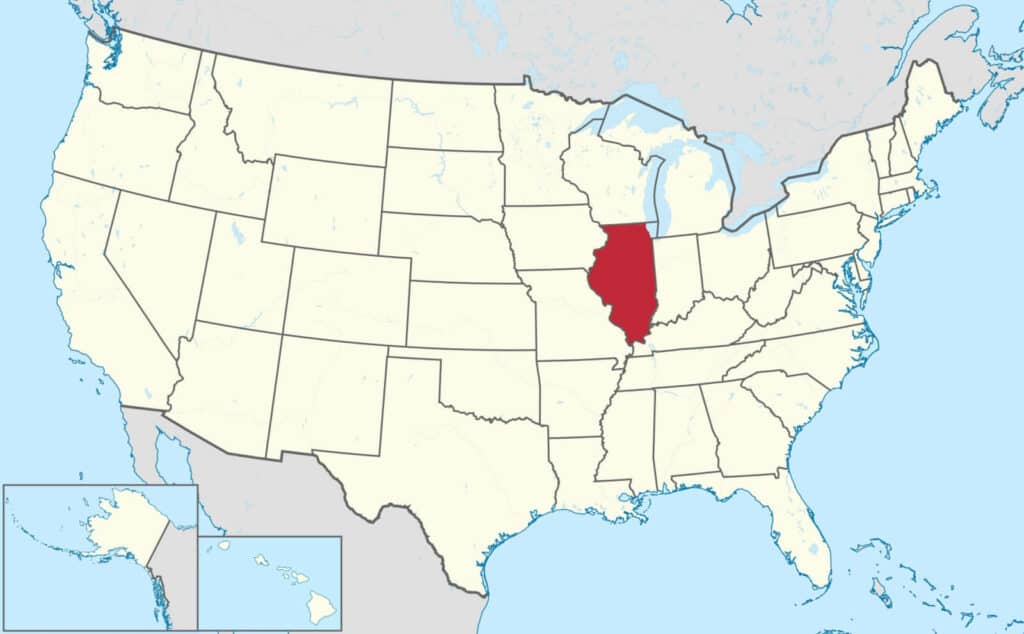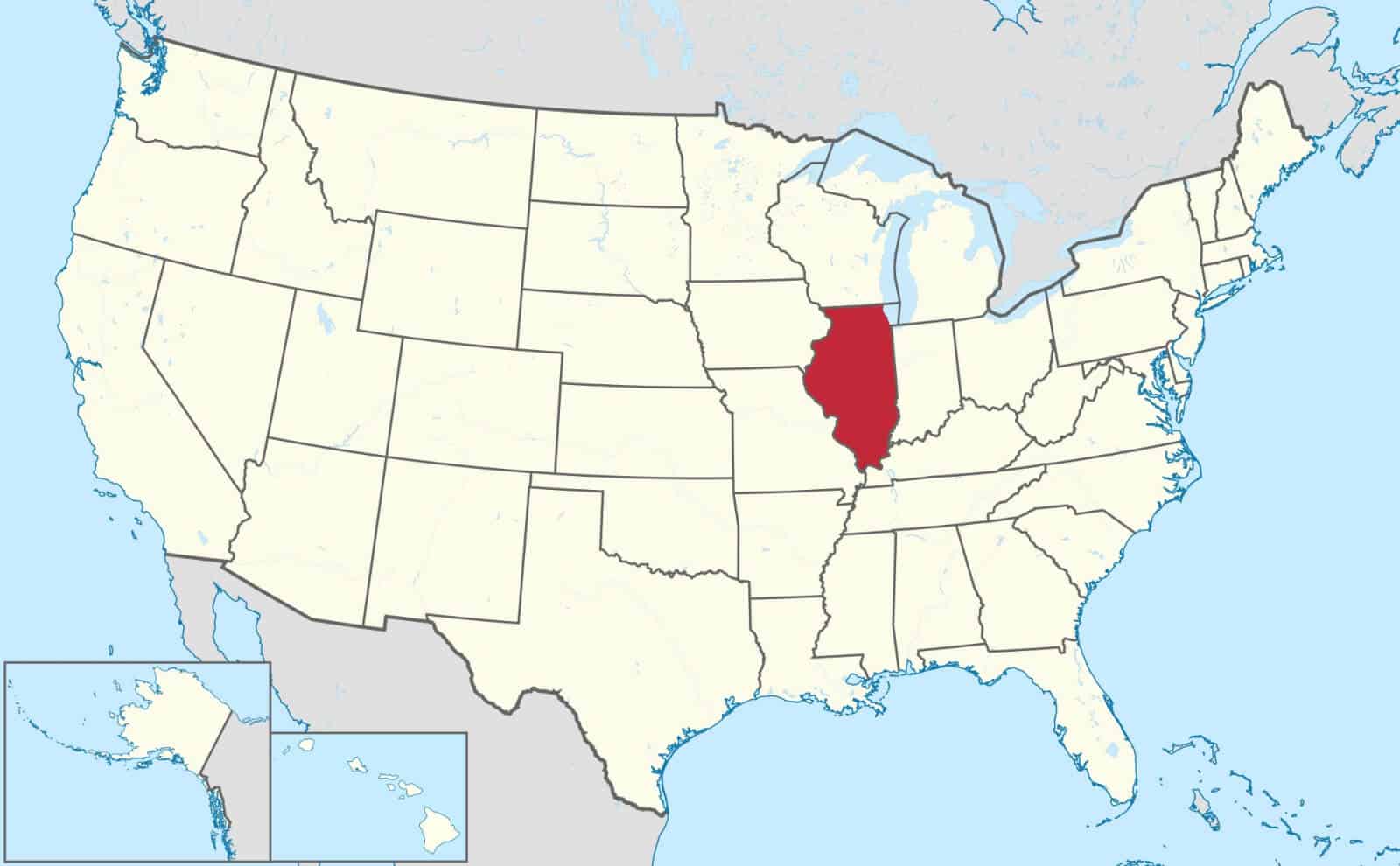 ---
Table of contents
---
Who can be a registered agent for an LLC in Illinois?
A registered agent is a person or business entity you appoint to receive official correspondence and legal documents on behalf of your LLC.
The incoming correspondence can include tax notices, compliance reminders from the Illinois Secretary of State, and legal notices (including service of process).
Any private person can be a registered agent for an Illinois LLC provided that they are:
Above legal age (over 18).
A resident of Illinois and has a street address in the state (it needs to be a physical address, not a P.O. box).
Committed to being available at the registered office during normal business hours year-round in case service of process arrives.
If you don't fit the above criteria (or prefer not to take this obligation), you can appoint a commercial registered agent service provider instead.
Your LLC is required by law to maintain a registered agent — failure to do so may result in losing good standing with the state. You will also need to update your registered agent information every year when you file an annual report for your LLC.
Top 7 Registered Agent Services in Illinois
Wondering how much outsourcing registered agent duties will cost you and if there are any worthy extras you could get?
We collected the main competitive points and pricing information from 7 reputable registered agent service providers in Illinois.
1. Northwest Registered Agent (Our Partner)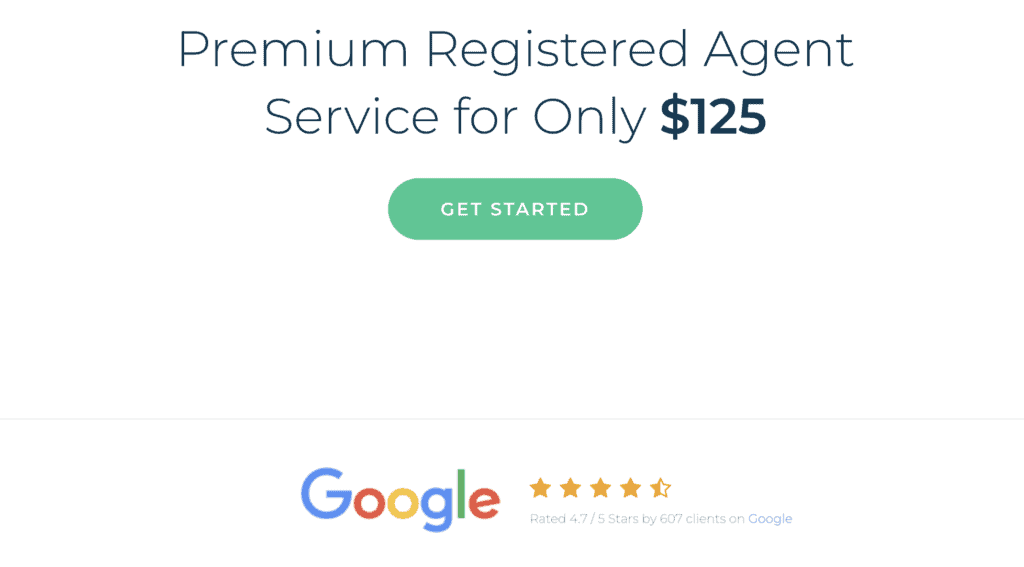 Northwest Registered Agent is our top recommendation for anyone looking for a registered agent service in Illinois.
They offer a complete, well-rounded registered agent service with excellent customer support, favorable conditions, good privacy, and an easy, straightforward sign-up process.
Northwest Registered Agent also distinguish themselves with a customer-friendly 90-day return policy. Should you decide to cancel your service, Northwest will offer you a prorated refund of the fees and costs you paid.
2. G&G Law LLC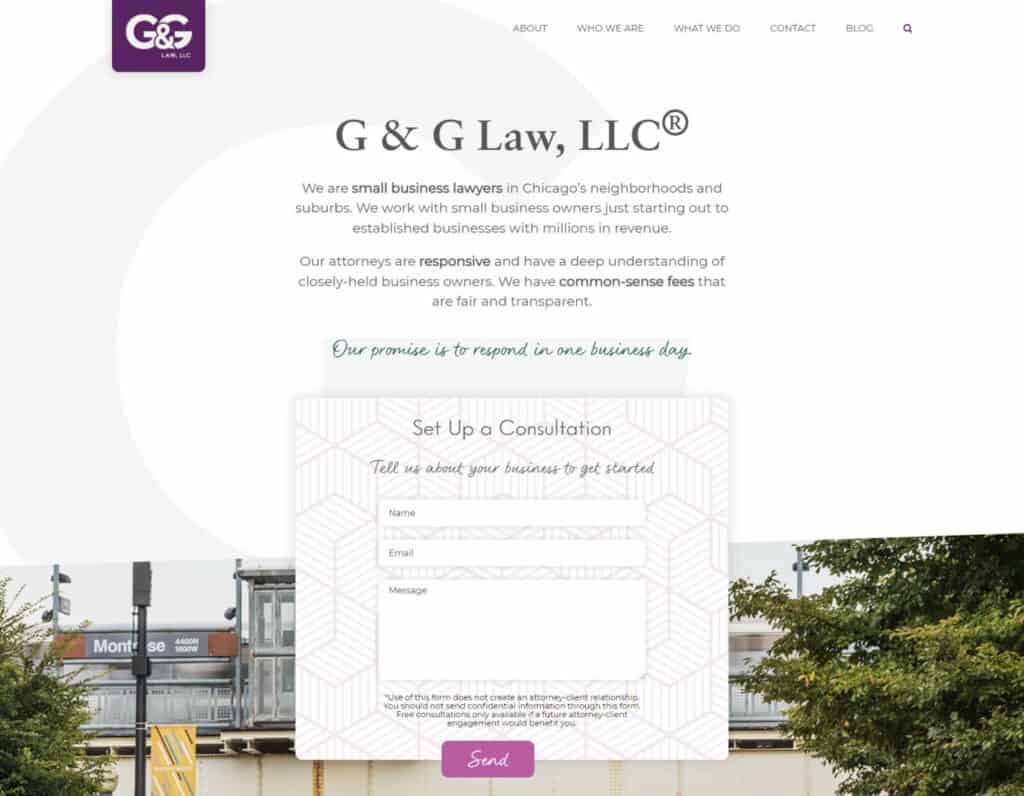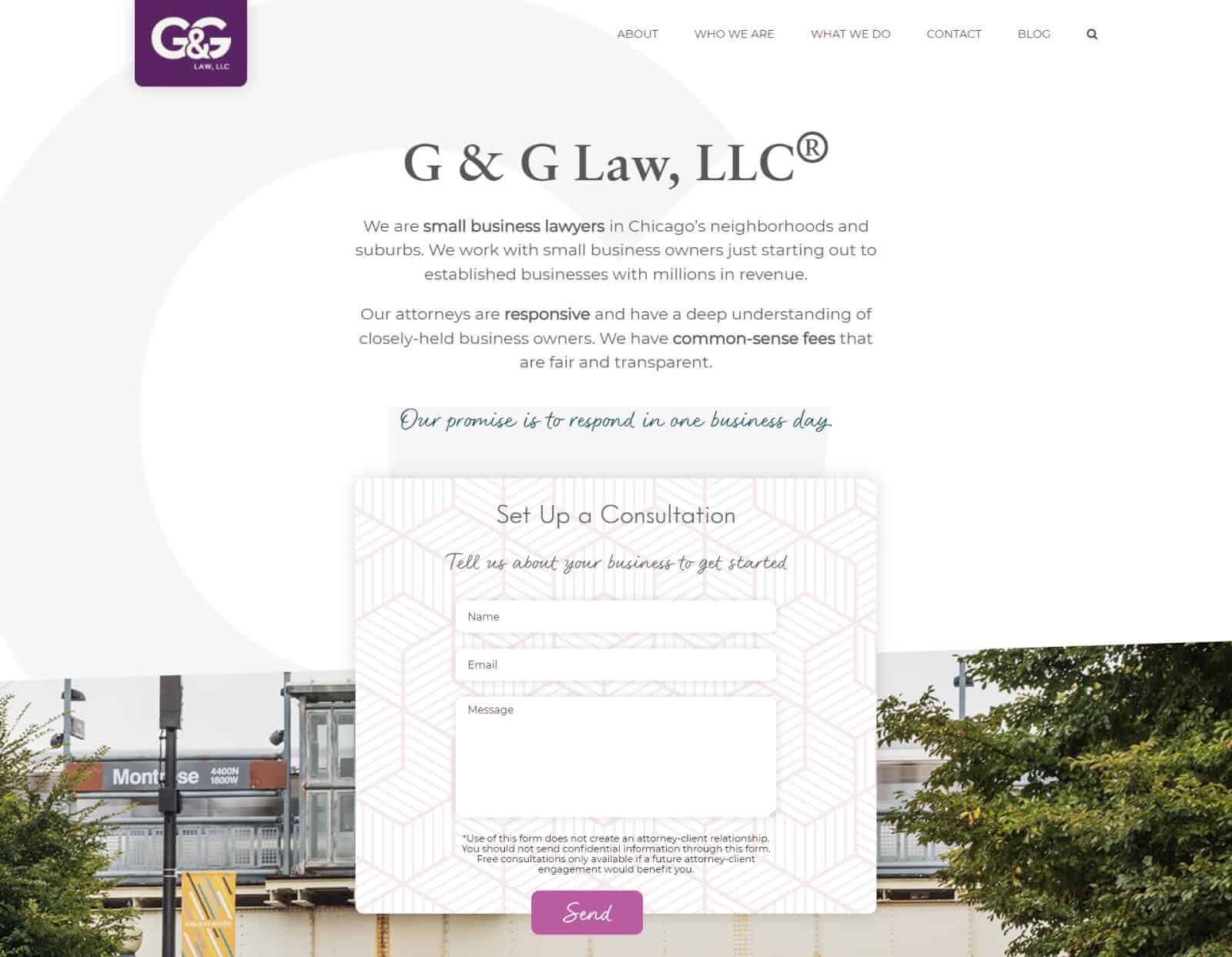 G&G Law LLC is a Chicago law firm specializing in small business law. It also offers LLC formation and incorporation services.
The firm takes pride in its responsiveness and promises to respond to inquiries in one business day.
They also provide a range of legal services for business owners, such as operating agreement creation, contract law, and intellectual property consultations.
3. R&D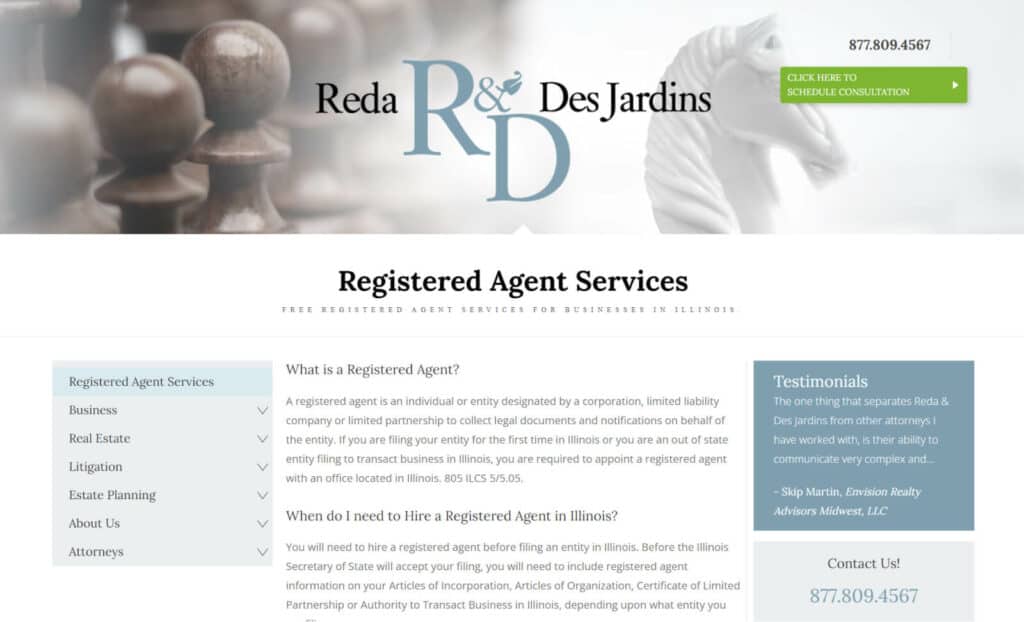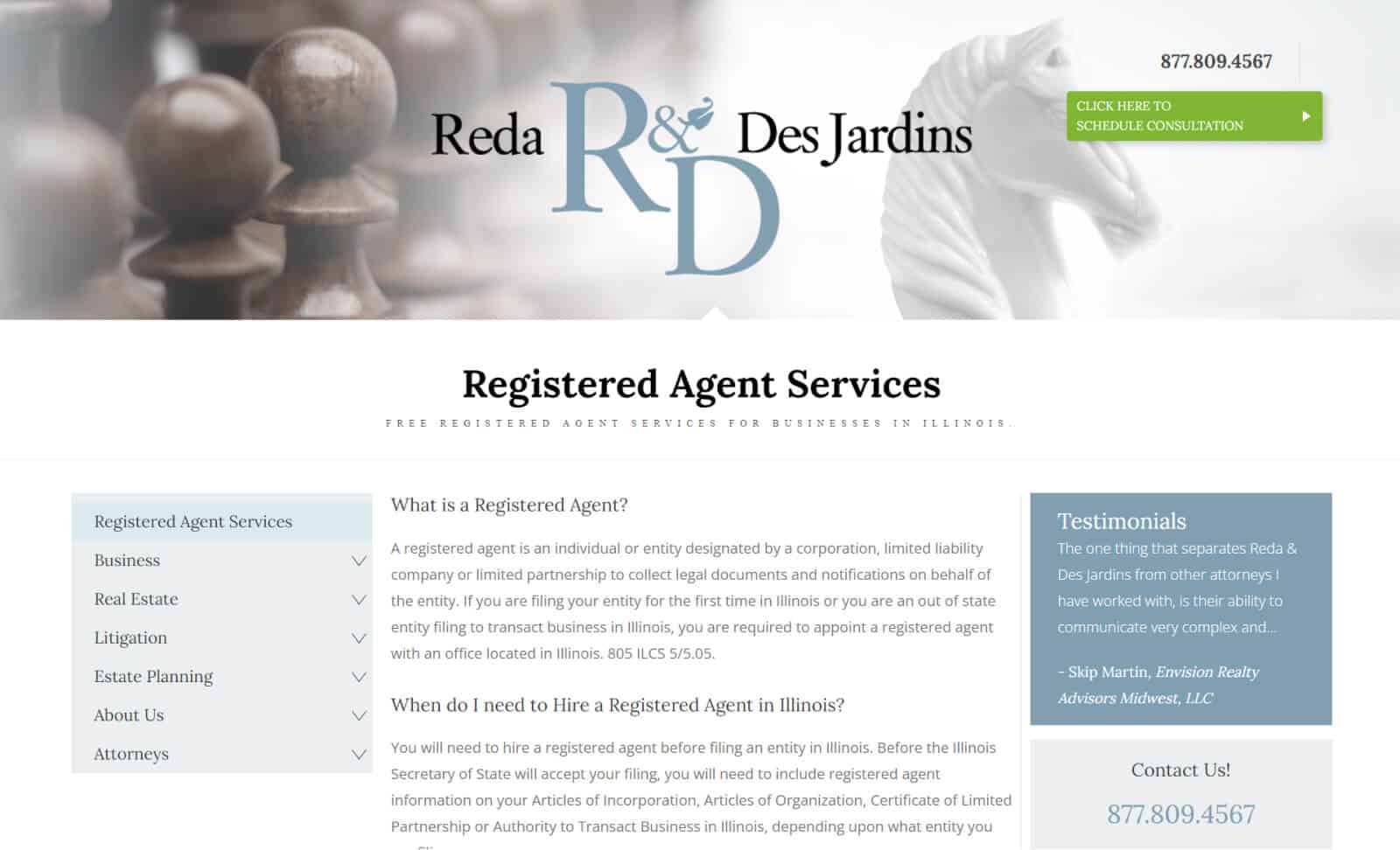 Reda & Des Jardins (R&D) is a law firm that specializes in business law, real estate, and estate planning, as well as litigation. The team also offers registered agent services.
This firm was founded in 1958, making it one of the most established registered agent service providers on this list.
4. Reda | Ciprian | Magnone, LLC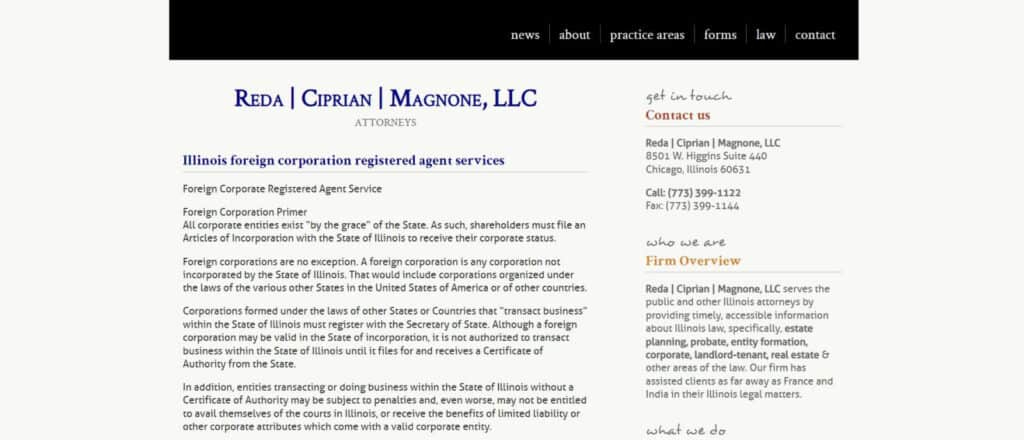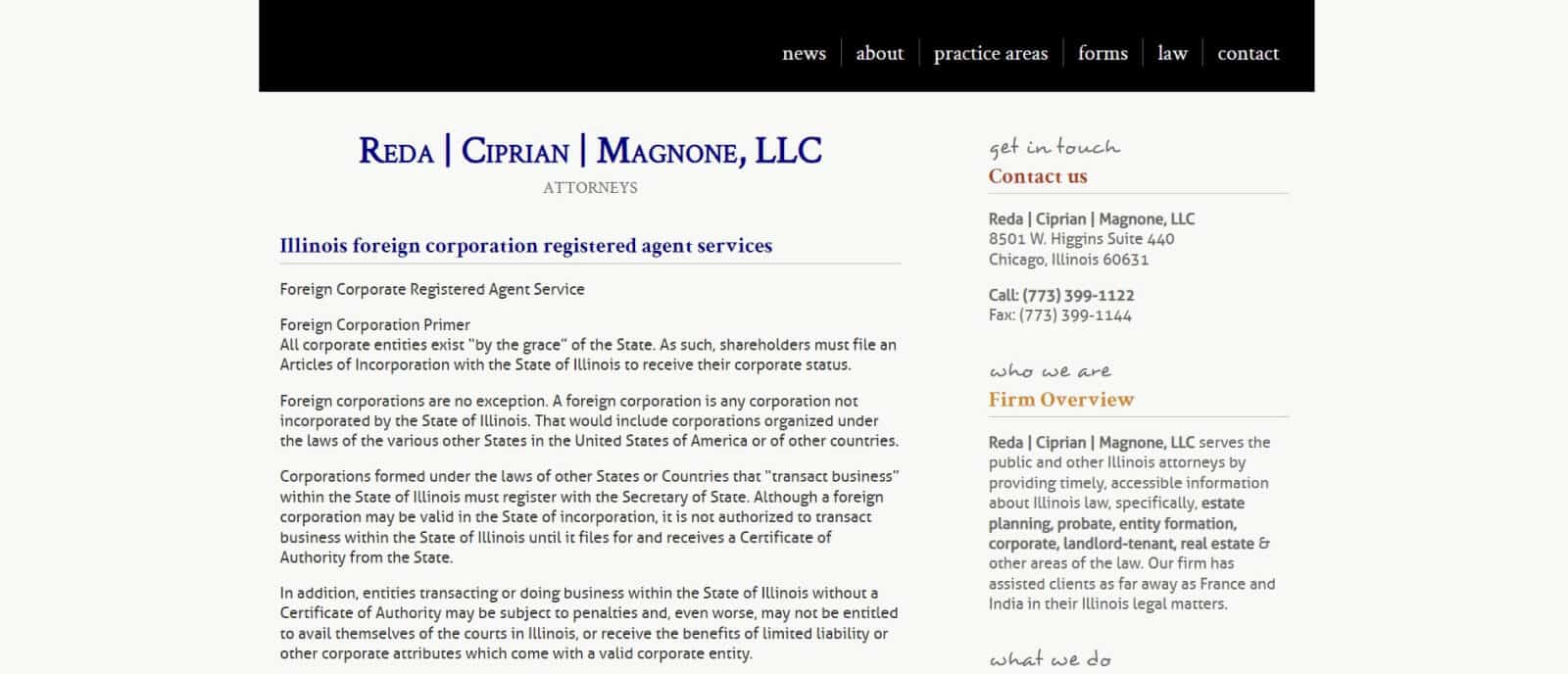 Reda Ciprian Magnone LLC is a Chicago law firm that specializes in probate guardianship, estate planning, wills and trusts, commercial and residential real estate, and corporate law.
The firm also offers a registered agent service to foreign corporations rather than domestic ones. If that's your case, they are worth considering.
5. Sosin, Arnold & Schoenbeck Ltd.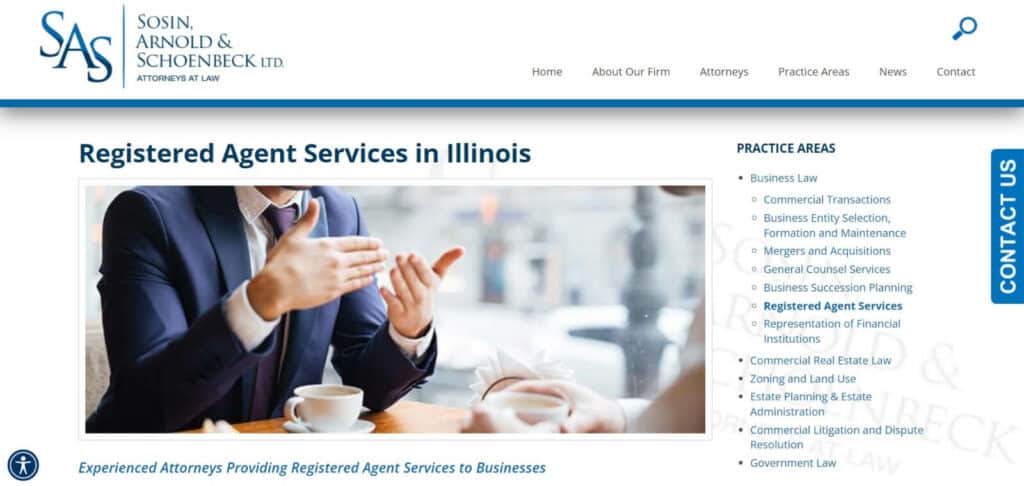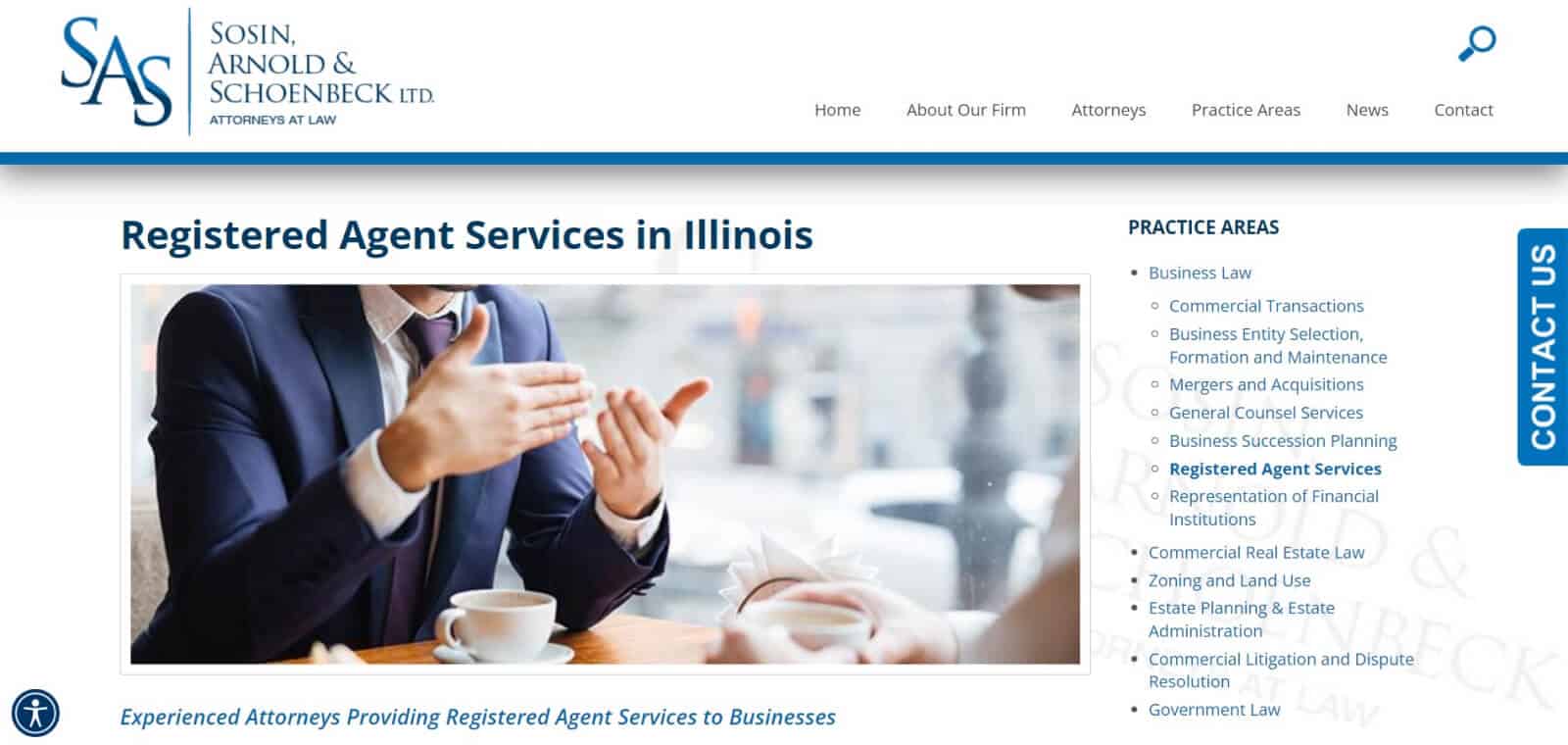 Sosin, Arnold & Schoenbeck Ltd is a law firm specializing in business law, estate planning, and commercial real estate. The firm also provides a registered agent service.
Choosing a law firm as your registered agent makes sense if you operate in a sensitive industry, where malpractice or operational mishaps can have major legal implications.
6. Collander Law Offices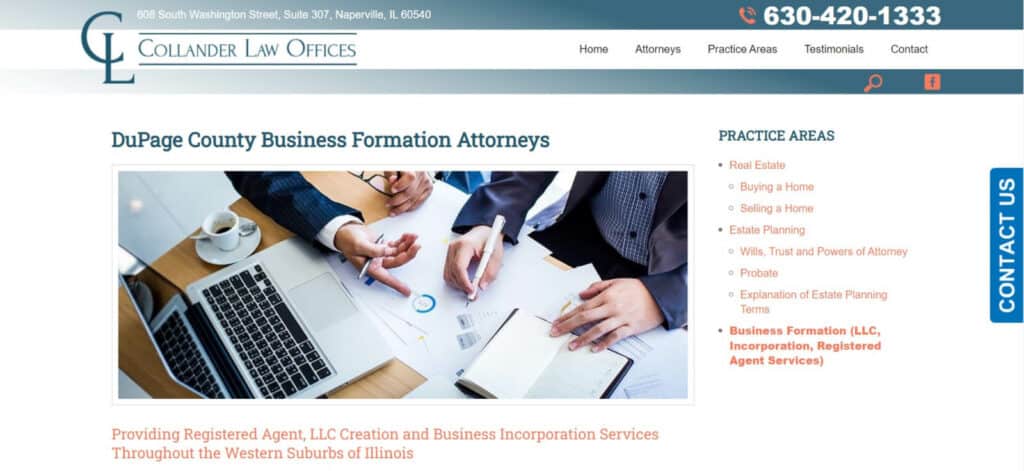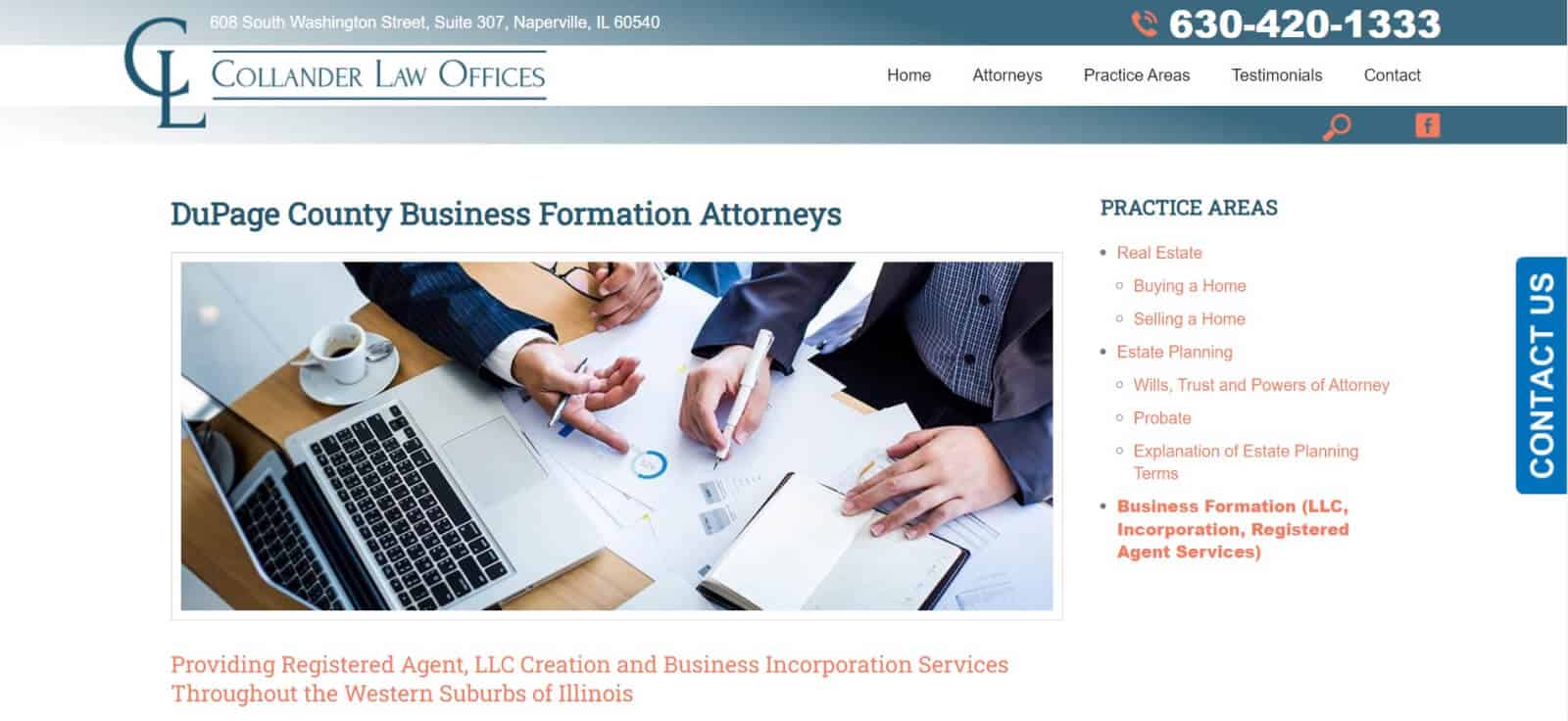 Collander Law Offices is a Naperville law firm specializing in real estate, estate planning, and business formation. They have been in business for over 35 years.
It also offers a registered agent service, though its price isn't specified on the firm's website.
You can reach out to one of their specialists' by phone or via the website for more details.
7. Alliance Corporate Solutions LLC


Alliance Corporate Solutions LLC is a business services provider that has partnered with Universal Registered Agents (URA) to offer registered agent services in all 50 states.
The company doesn't disclose the price of this service on its website, but it says that its rates are competitive.
Volume discounts are available if you need to designate a registered agent for several foreign LLCs.
How do I appoint a registered agent in Illinois?
Registered agent appointment has to be done during company formation. You have to list your registered agent's name and address on the Articles of Organization.
Then file the form (plus state fee) with the Illinois Secretary of State. After it's approved, your registered agent appointment becomes official.
How do I change my registered agent in Illinois?
To change your registered agent details, you'll need to download the Statement of Change of Registered Agent And/Or Registered Office form. Add new agent details and send the form back to the state with a $25 filing fee. Once processed, the state will list your new registered office in their database.
FAQs about Illinois registered agents
Here are the frequently asked questions about registered agent services in Illinois.
Advertisement
LLC Formation Service
LLC Formation: $39 + state fees
Pricing:
Turnaround Time:
Help & Support:
Customer Satisfaction:
Ease of use:
Best LLC Service 2023

Formed 1,000,000+ LLCs
$39 formation includes registered agent service
Fast formation & same day filing
Exceptional customer reviews

Last updated:
Dec 2023