If you are reading this, you are probably elbow-deep into the limited liability company (LLC) formation process.
Illinois state laws are relatively straightforward. To start a new business, you need to prepare and submit company incorporation documents to the Illinois Secretary of State.
And among other things, you have to appoint a registered agent, sometimes referred to as "statutory agent" or "resident agent," for an LLC.
In this guide, we unpack who can be a registered agent for Illinois LLCs and provide a list of well-rated commercial registered agent providers in the Land of Lincoln.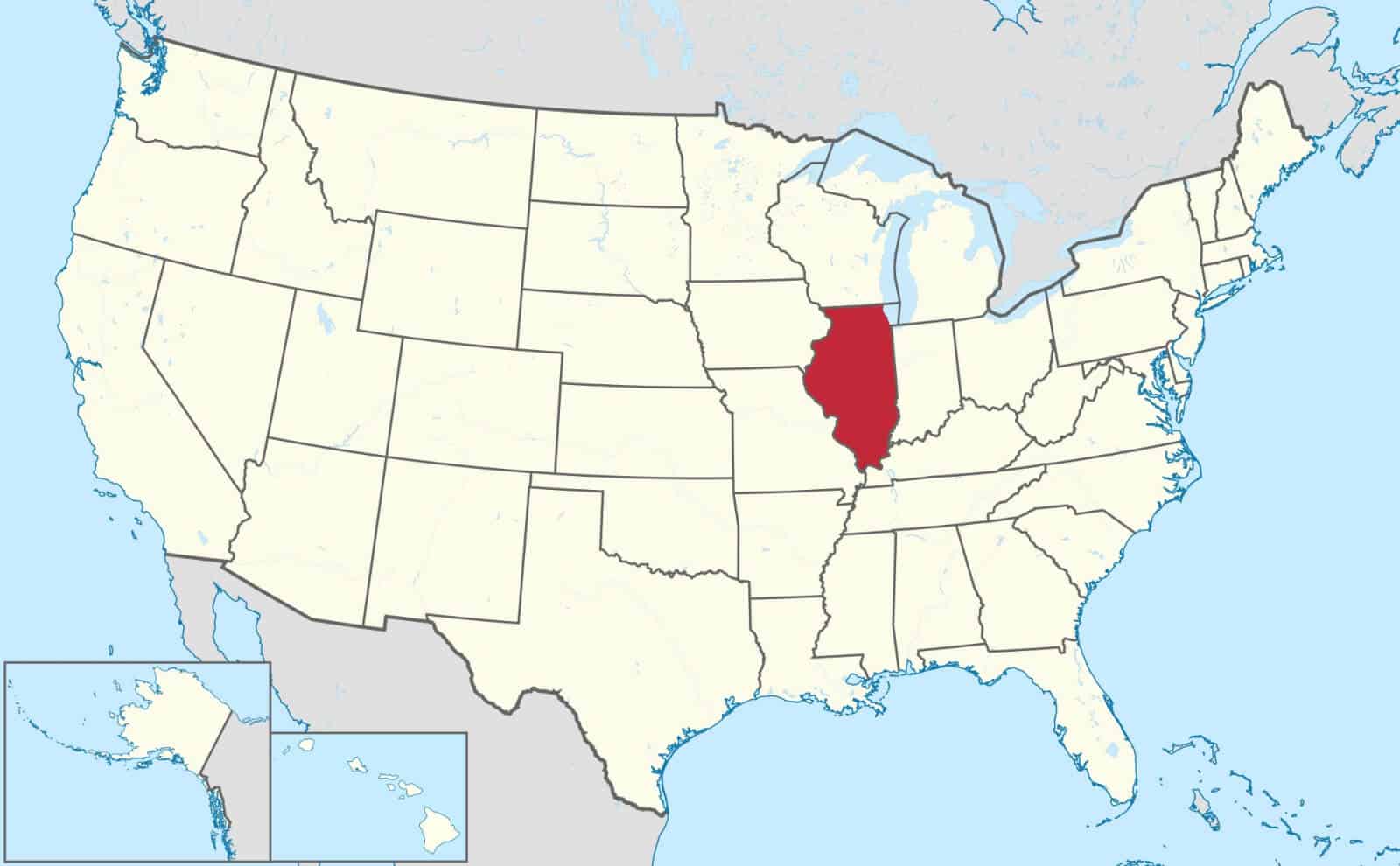 ---
Table of contents
---
Who can be a registered agent for an LLC in Illinois?
A registered agent is a person or business entity you appoint to receive official correspondence and legal documents on behalf of your LLC.
The incoming correspondence can include tax notices, compliance reminders from the Illinois Secretary of State, and legal notices (including service of process).
Any private person can be a registered agent for an Illinois LLC provided that they are:
Above legal age (over 18).
A resident of Illinois and has a street address in the state (it needs to be a physical address, not a P.O. box).
Committed to being available at the registered office during normal business hours year-round in case service of process arrives.
If you don't fit the above criteria (or prefer not to take this obligation), you can appoint a commercial registered agent service provider instead.
Your LLC is required by law to maintain a registered agent — failure to do so may result in losing good standing with the state. You will also need to update your registered agent information every year when you file an annual report for your LLC.
Why use a professional Illinois registered agent service
"Why pay someone when I can do this myself?" – a frugal small business owner may be thinking.
Yes, you save money, but you also get added "responsibilities" in return. As a registered agent for your company, you have to:
Stay on top of your correspondence at all times and potentially deal with sensitive legal matters.
Accept that your business address becomes a public record as you designate it as a registered office address. It hinders your privacy, especially if you work from home.
Be available at your registered office during regular business hours year-round in case service of process. In other words: you are tied to one physical location.
Of course, you can also appoint another LLC member or an employee as your registered agent, but they may be reluctant to deal with the above issues too. Moreover, if your registered agent doesn't take their duties seriously, you might find yourself in legal trouble.
That's why many Illinois business owners choose to pay for a commercial registered agent service instead.
Then your registered agent service provider:
Becomes your point of contact with authorities and process servers. They take care of all the important documents and send them to you by mail or digitally scanned copies.
Designates their address as your LLC's registered office and saves you from any address disclosures.
Ensures that someone is always available at the registered office during the regular business hours year-round.
All this means that you don't have to worry about missing important correspondence, compromising your privacy, or being tied to your registered office.
Considering how much hassle being your own registered agent can be, it makes sense to save yourself the headache and simply pay for a registered agent service instead makes sense.
Want to learn more about forming an LLC in Illinois? Check out these resources:
Illinois registered agent services list
Wondering how much outsourcing registered agent duties will cost you and if there are any worthy extras you could get?
We collected the main competitive points and pricing information from 15 reputable registered agent service providers in Illinois.
1. Alliance Corporate Solutions LLC

Alliance Corporate Solutions LLC is a business services provider that has partnered with Universal Registered Agents (URA) to offer registered agent services in all 50 states.
The company doesn't disclose the price of this service on its website, but it says that its rates are competitive.
Volume discounts are available if you need to designate a registered agent for several foreign LLCs.
Address: 15560 Lakeview Drive, Manhattan, IL 60442
2. Parcorp Services Ltd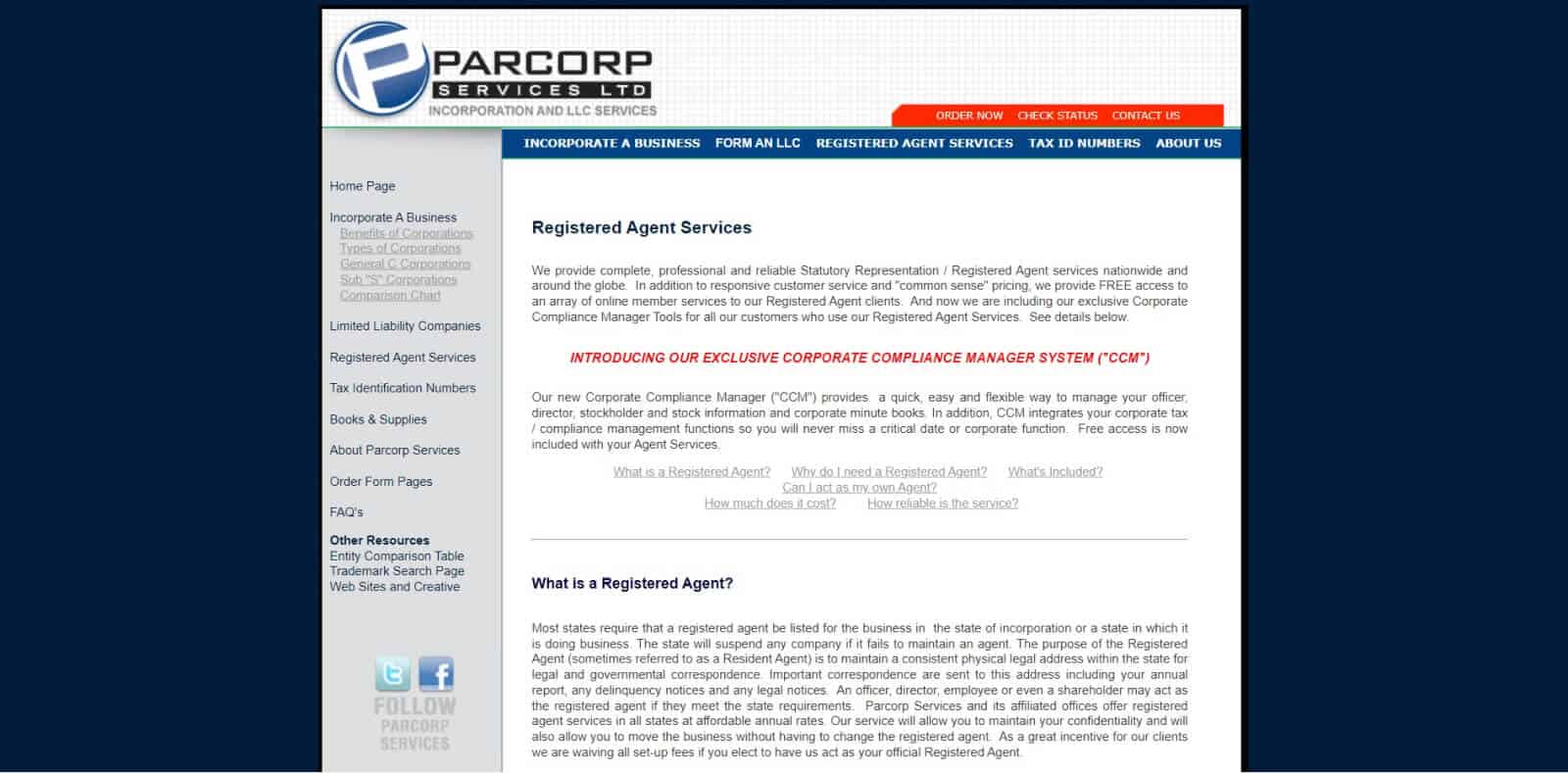 Parcorp Services Ltd offers LLC formation and registered agent services.
The company has affiliate offices in every state and the District of Columbia. It represents thousands of businesses, both domestic and international.
Apart from RA services, the team also helps with federal and state tax ID registration and ongoing business compliance.
Costs: $189/year
Address: 931 W 75th St, Naperville, IL 60565
3. Illinois Registered Agent, Inc.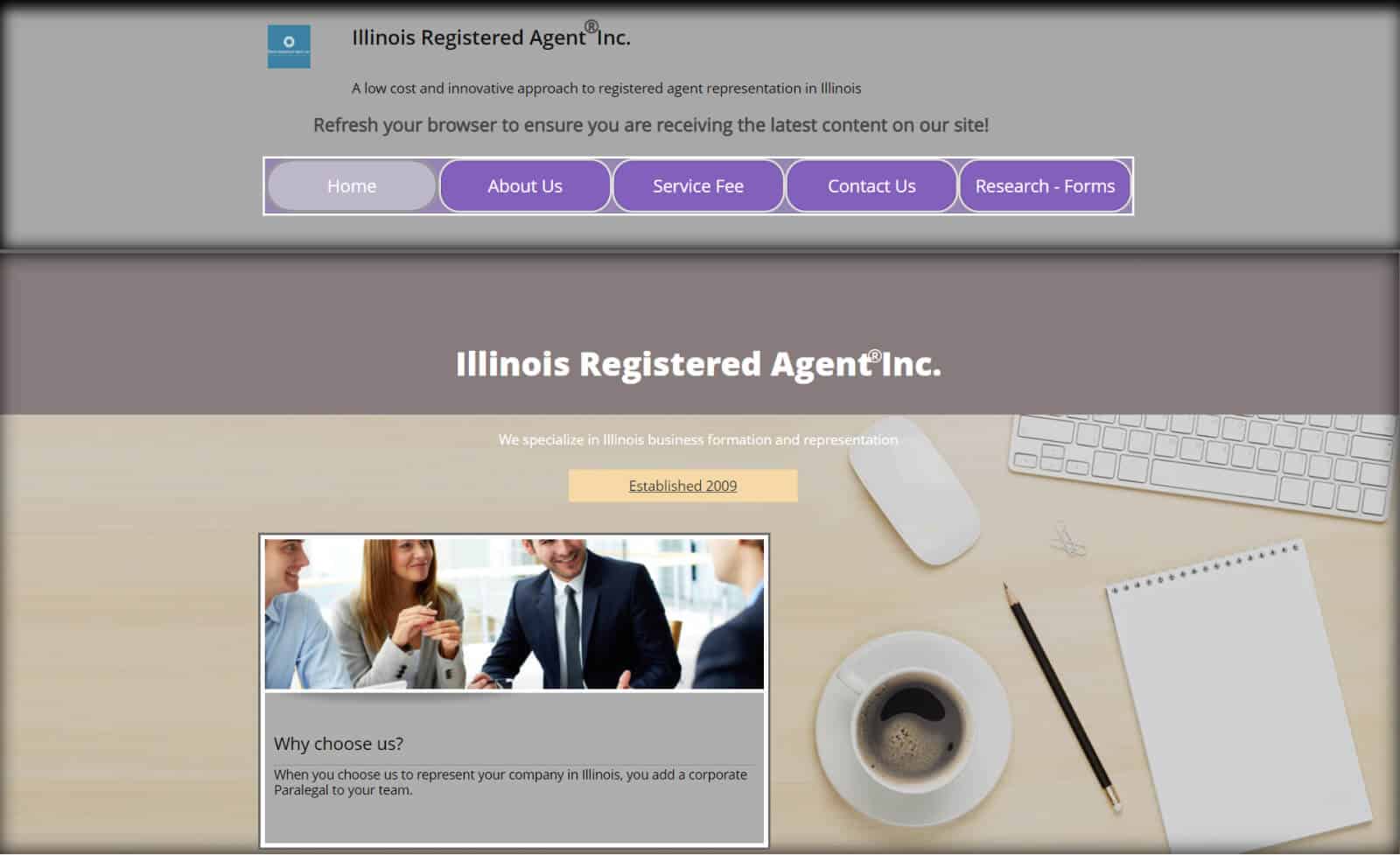 Illinois Registered Agent Inc. has been servicing domestic and international clients since 2009.
Their experienced team provides registered agent services to LLCs, limited partnerships, corporations, and non-profit organizations. The latter benefit from a discounted service fee.
The company offers a two-tier service:
Standard mail delivery
Mail delivery + online account access
For both, the costs have remained the same for the last ten years.
Costs: $95-$107
Address: P.O. Box 383, Monee, IL 60449
4. Colander Law Offices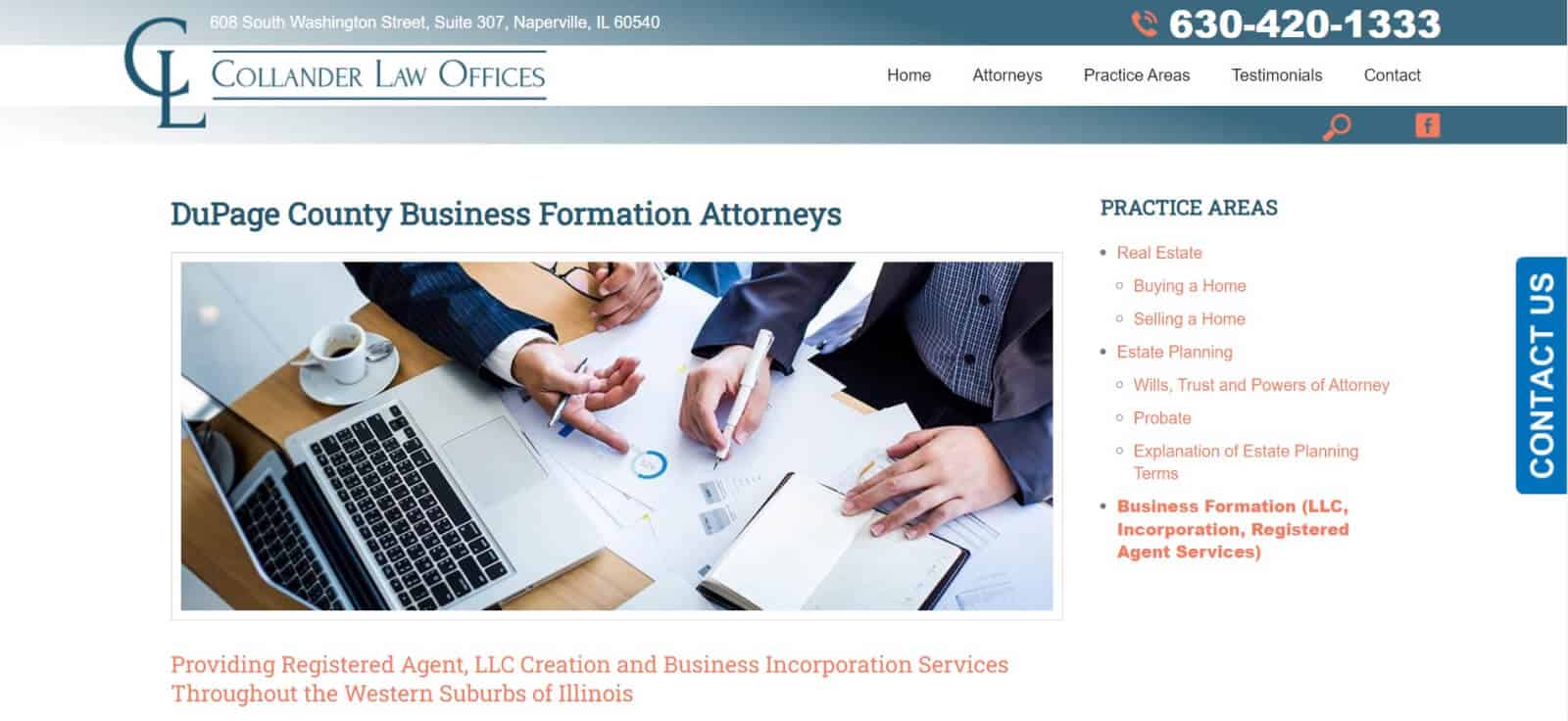 Collander Law Offices is a Naperville law firm specializing in real estate, estate planning, and business formation. They have been in business for over 35 years.
It also offers a registered agent service, though its price isn't specified on the firm's website.
You can reach out to one of their specialists' by phone or via the website for more details.
Address: 608 South Washington Street, Suite 307, Naperville, IL 60540
5. G&G Law LLC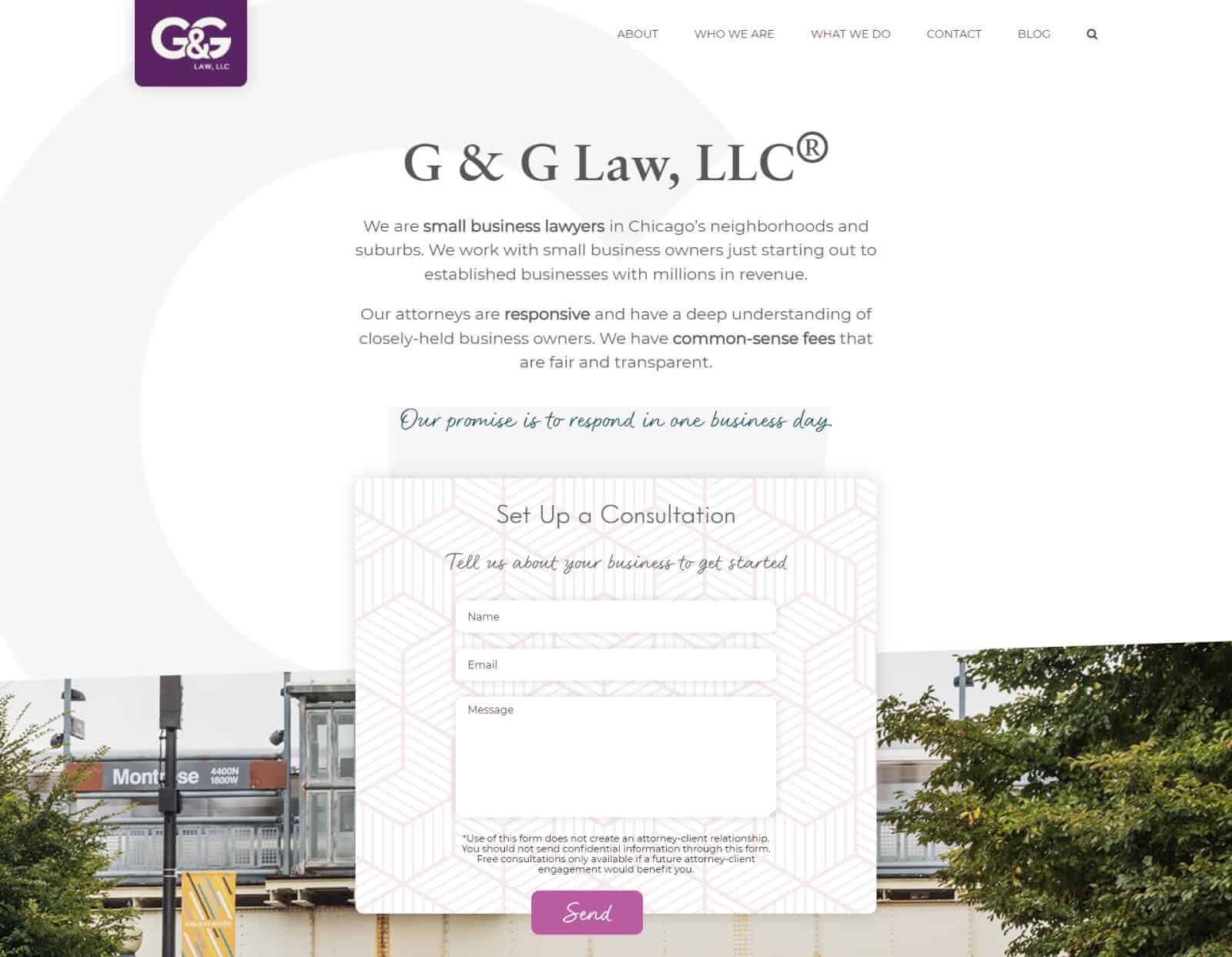 G&G Law LLC is a Chicago law firm specializing in small business law. It also offers LLC formation and incorporation services.
The firm takes pride in its responsiveness and promises to respond to inquiries in one business day.
They also provide a range of legal services for business owners, such as operating agreement creation, contract law, and intellectual property consultations.
Address: 4619 N Ravenswood Suite 205A, Chicago, IL 60640
6. My Business Advocate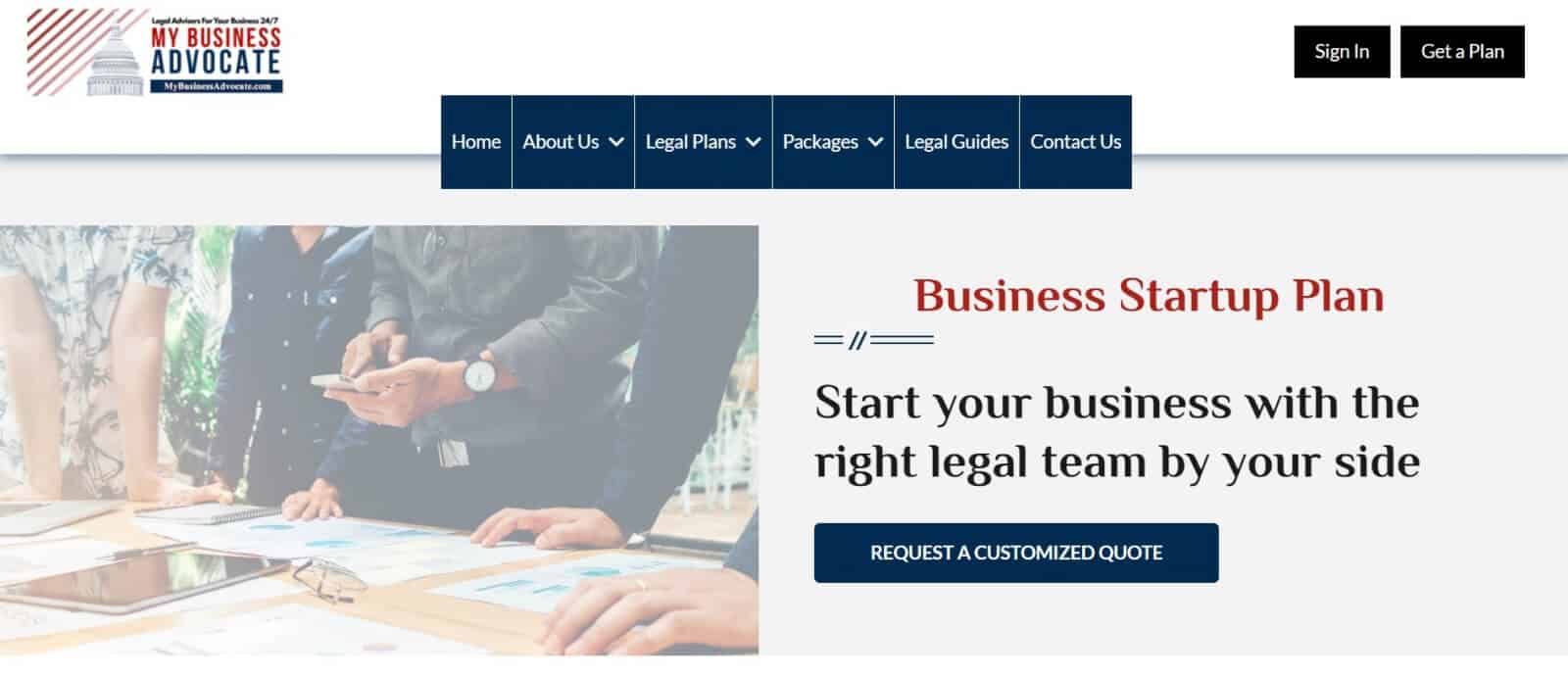 My Business Advocate is a multi-line provider that offers company incorporation, legal consulting, and accounting services. All of these are bundled into "packages" you can also choose to customize.
It currently works with Law Offices of Kameli & Associates, P.C, a full-service corporate and immigration law firm in Chicago.
Address: 17 N State Street, #1700, Chicago, IL 60602
7. Illinois Registered Office LLC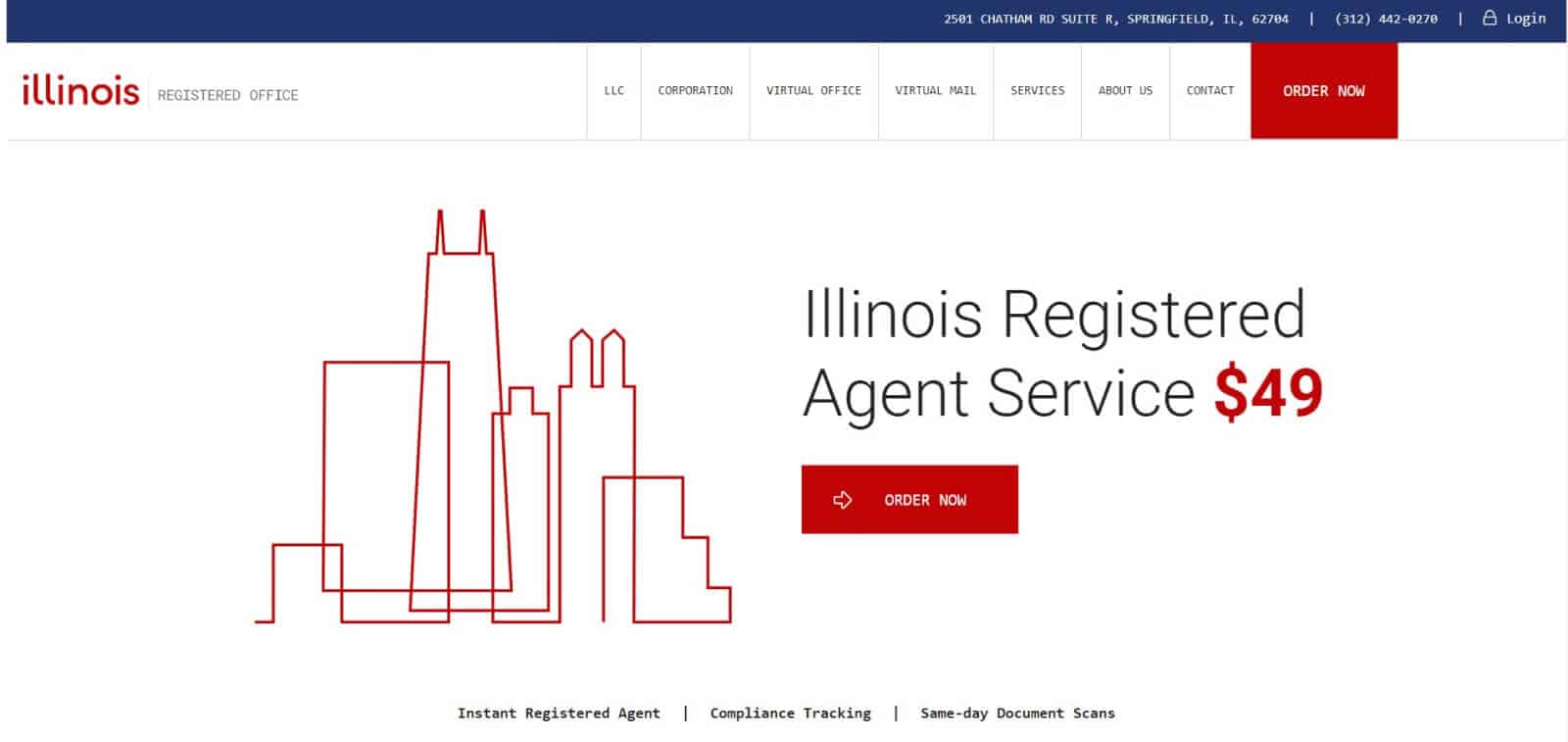 Illinois Registered Office LLC is one of the most affordable registered agent services on our list. They charge only $49/year.
For that fee, you get access to same-day scans and a convenient compliance tracking tool that keeps you posted about important deadlines.
Costs: $49/year
Address: 2501 Chatham Rd Suite R, Springfield, IL 62704
8. RASi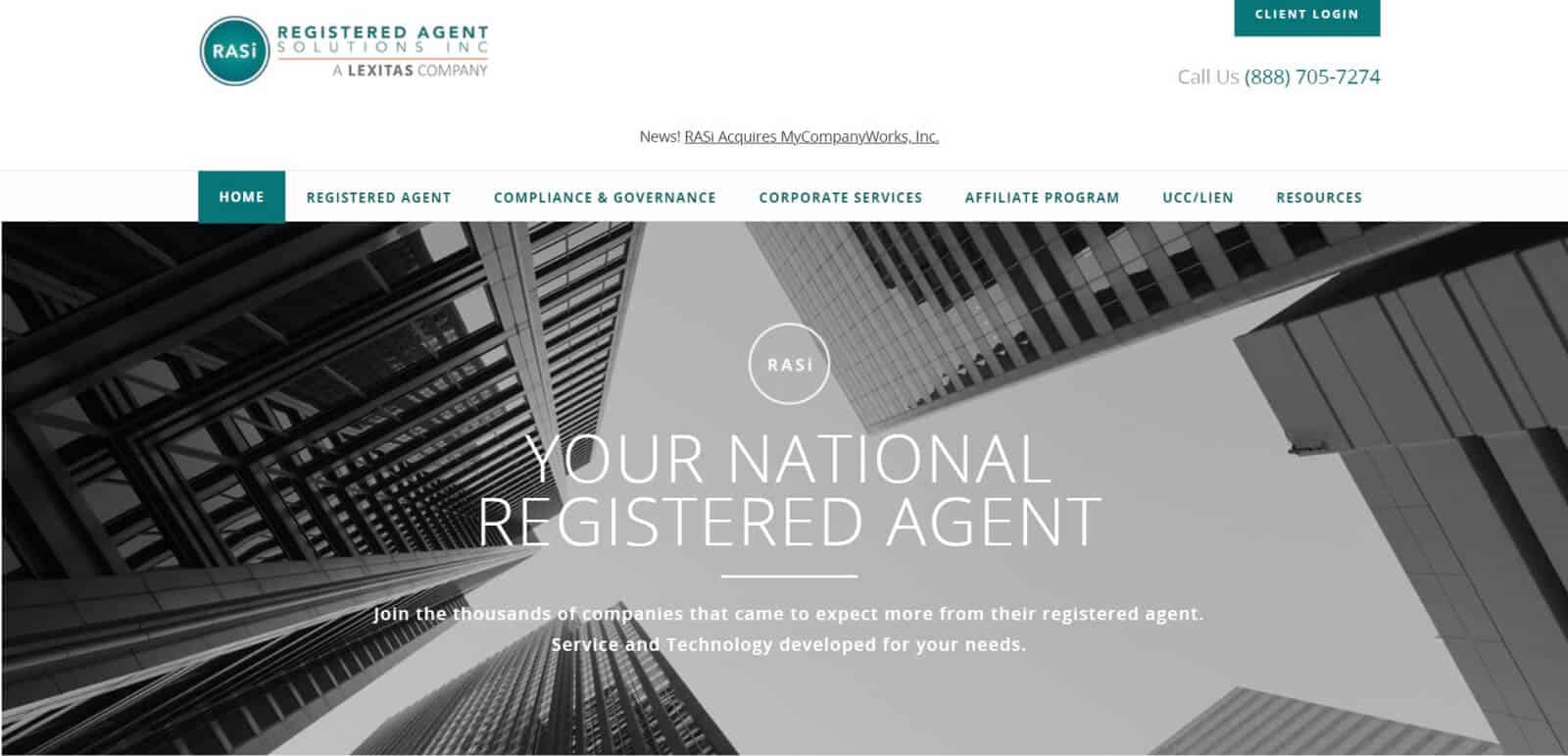 Registered Agent Solutions Inc. (RASi) is a nationwide business services provider that offers a collection of company incorporation, legal compliance, and company governance services. Registered agent services are on the menu too.
RASi has been in business for more than 20 years and has offices in all 50 states, including Illinois. They are a reliable provider with a solid reputation.
Costs: $175/year
Address: 901 S. 2nd Street Suite 201, Springfield, IL 62704
9. SPI Corporate Solutions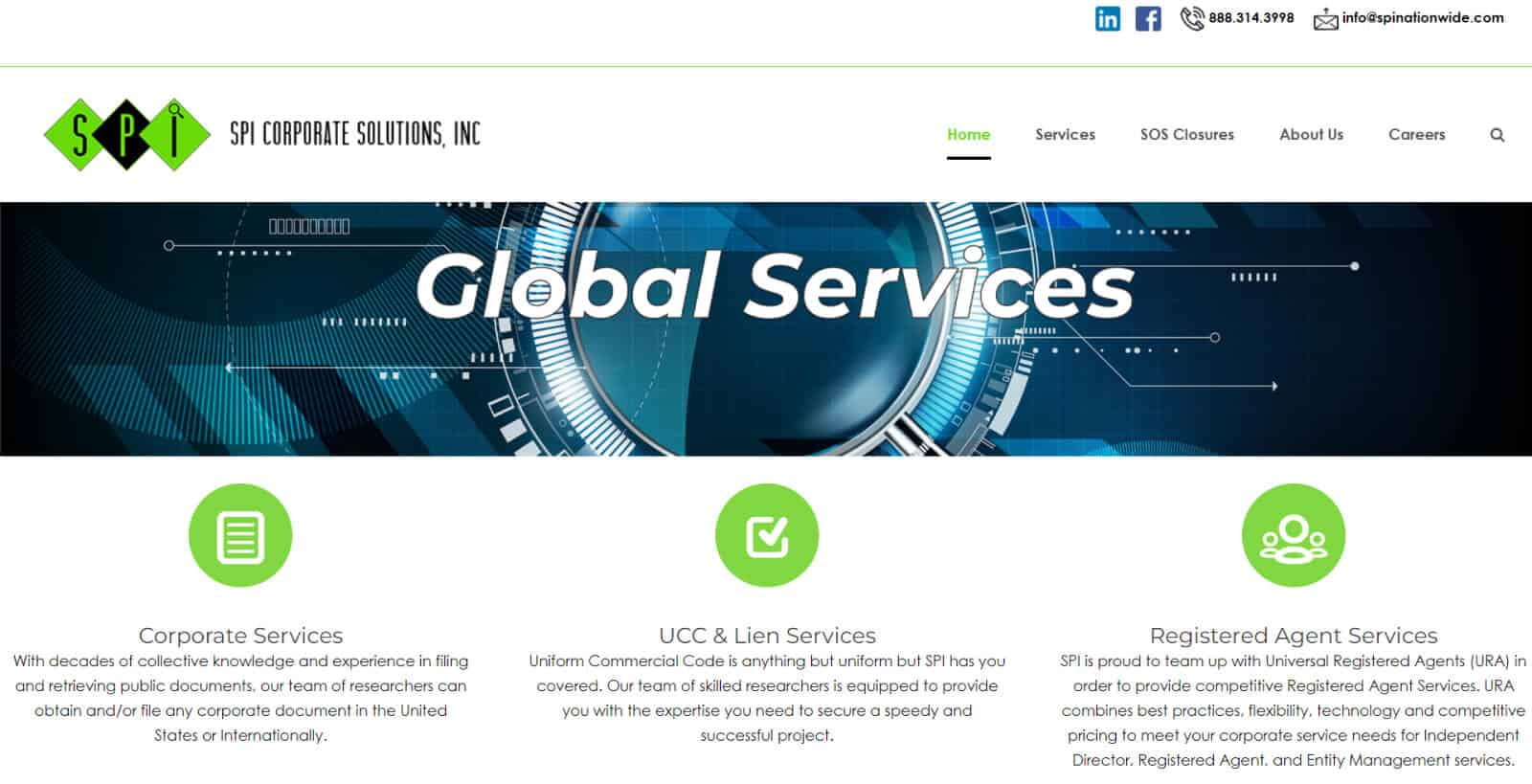 SPI Corporate Solutions offers corporate, UCC, and lien services, plus registered agent services.
It's another company that uses Universal Registered Agent (URA) as its business partner. The add-on, however, is that they provide a convenient online account for accessing incoming documentation and provide instant notifications about new document uploads.
Address: 524 S 2nd St #505, Springfield, IL 62701
10. Sosin, Arnold & Schoenbeck Ltd.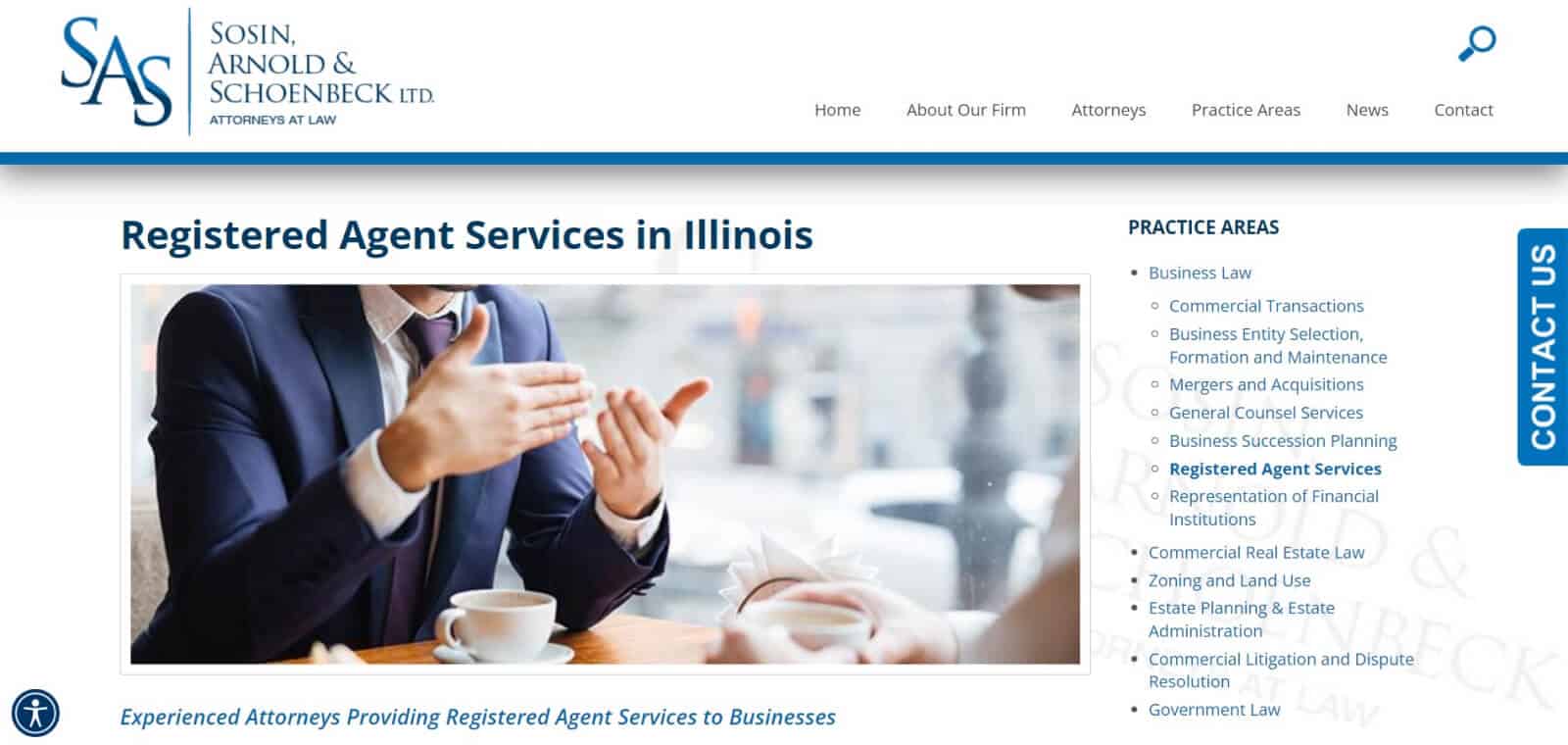 Sosin, Arnold & Schoenbeck Ltd is a law firm specializing in business law, estate planning, and commercial real estate. The firm also provides a registered agent service.
Choosing a law firm as your registered agent makes sense if you operate in a sensitive industry, where malpractice or operational mishaps can have major legal implications.
Address: 9501 W. 144th Place, Suite 205, Orland Park, IL 60462
11. R&D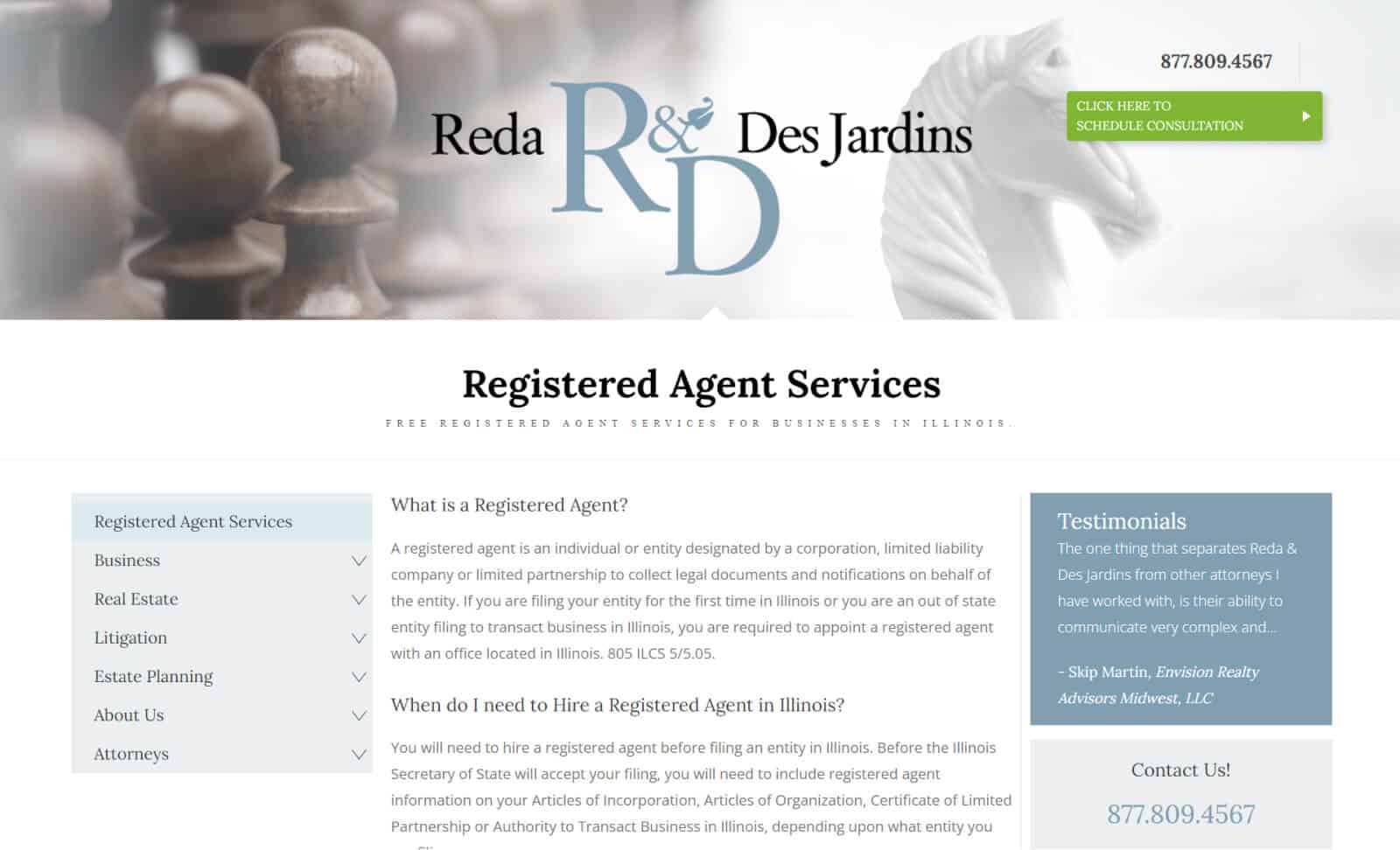 Reda & Des Jardins (R&D) is a law firm that specializes in business law, real estate, and estate planning, as well as litigation. The team also offers registered agent services.
This firm was founded in 1958, making it one of the most established registered agent service providers on this list.
Address: 736 N Western Ave Suite 353, Lake Forest, IL 60045
12. IncSmart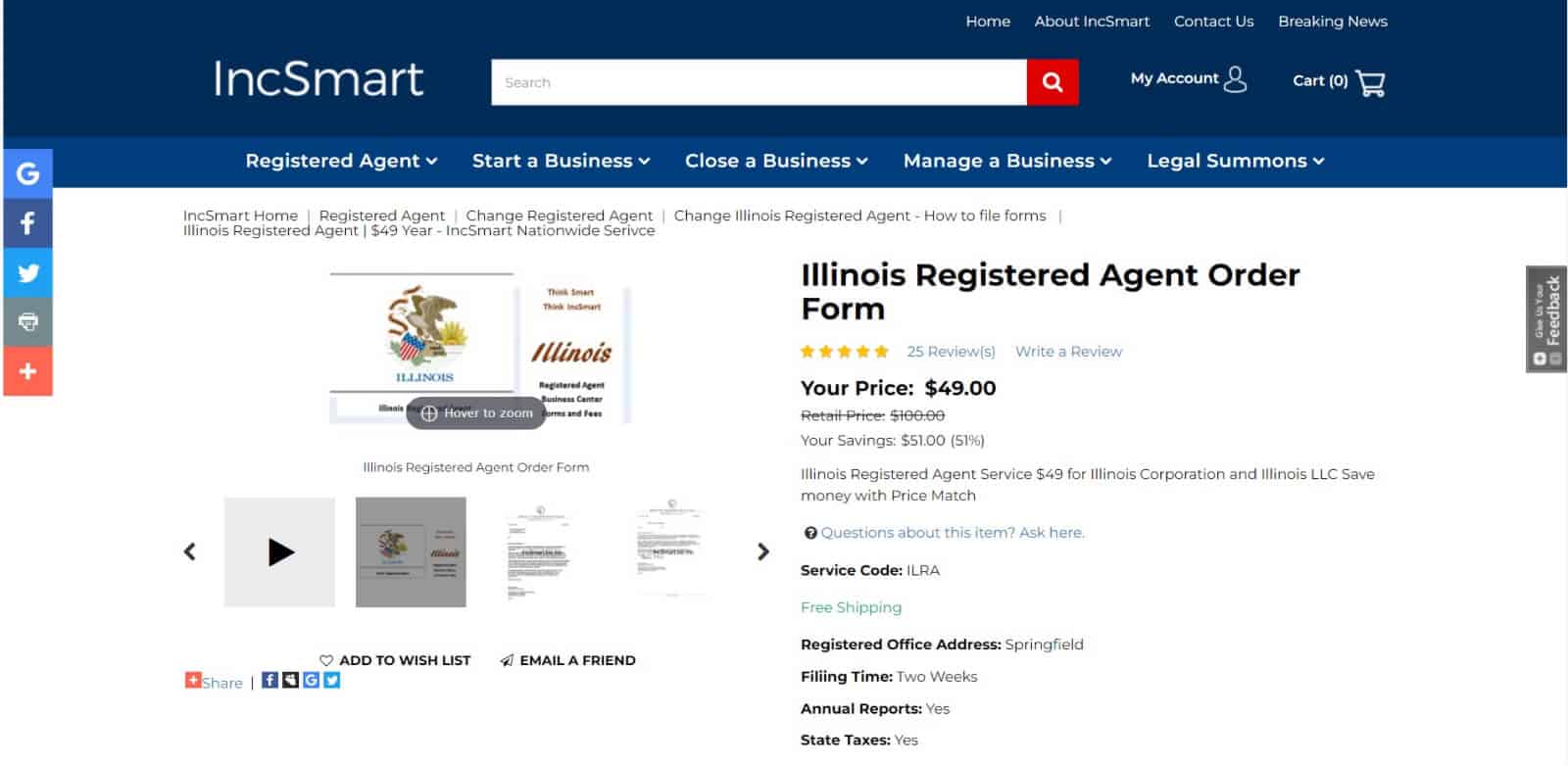 IncSmart specializes in company incorporation and business management services.
They have one of the best pricing schemes. The standard rate is $49/year.
But you can also get a 10% discount if you pay for 2 years and a 20% discount if you pay for 3 years in advance.
13. URS Agents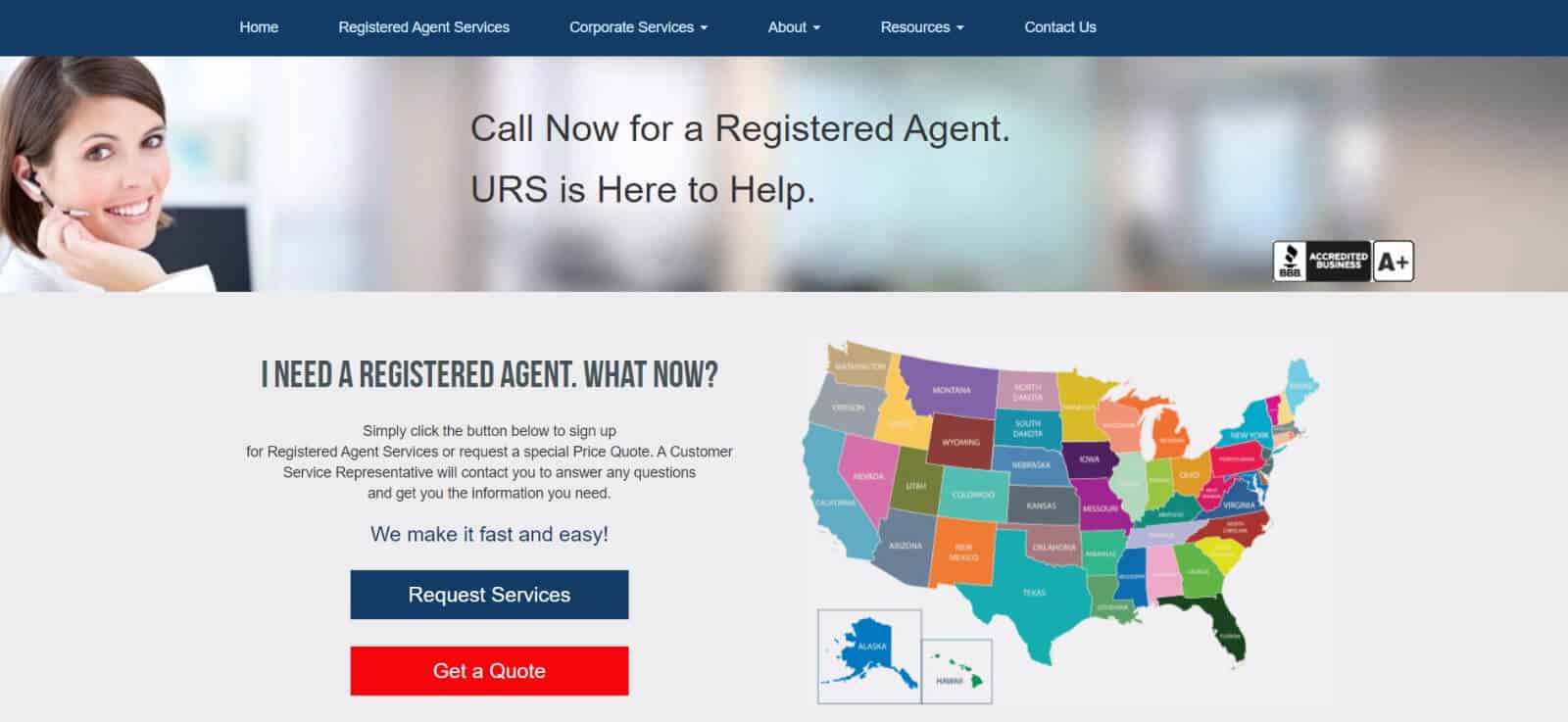 URS Agents is a corporate services provider headquartered in Georgia. But they have national service coverage and an established presence in Illinois.
The company takes pride in its customer service and promises that you will never hear a recorded message asking you to "leave your name and message" during business hours.
The customer service team answers every call, and emails get replies or callbacks within 30 minutes. That's some stellar commitment to customer excellence!
Address: 3675 Crestwood Parkway Suite 350, Duluth, GA 30096
14. Reda | Ciprian | Magnone, LLC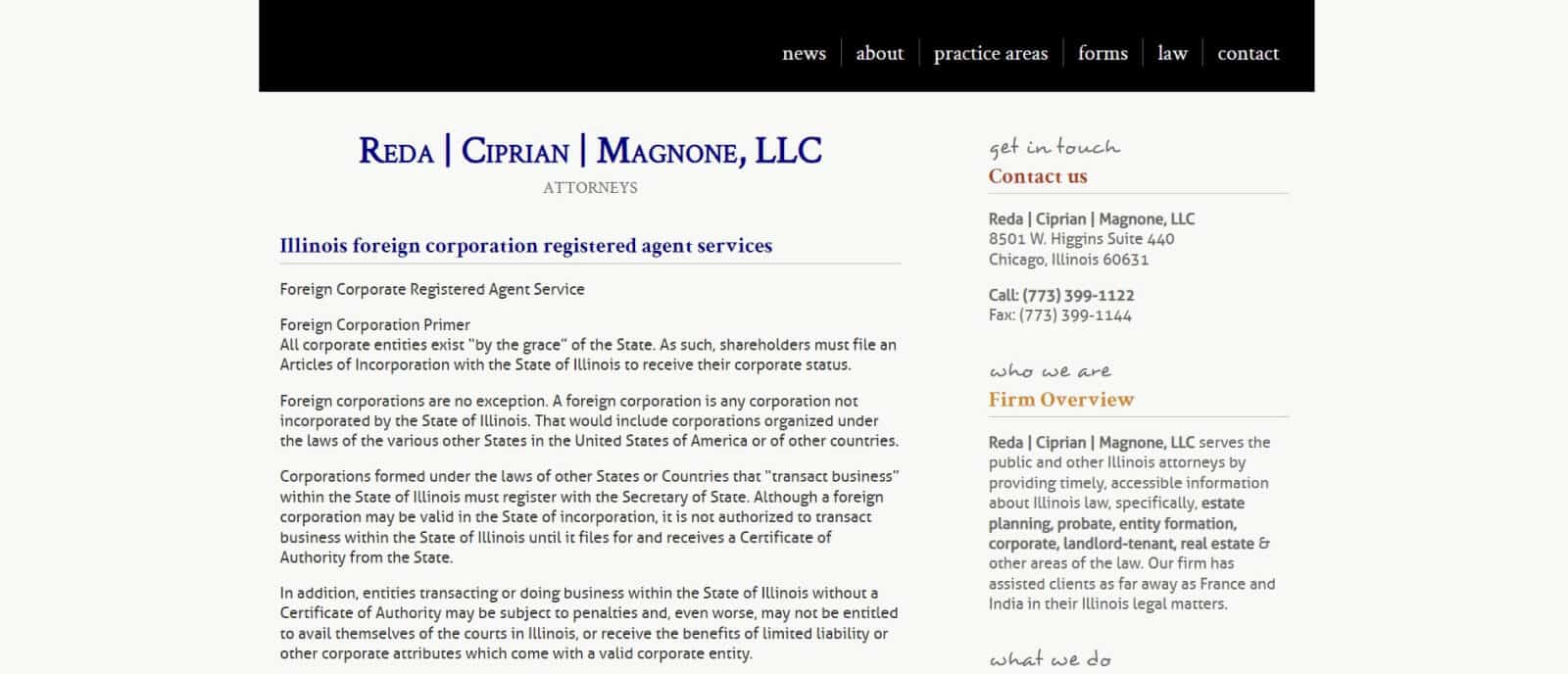 Reda Ciprian Magnone LLC is a Chicago law firm that specializes in probate guardianship, estate planning, wills and trusts, commercial and residential real estate, and corporate law.
The firm also offers a registered agent service to foreign corporations rather than domestic ones. If that's your case, they are worth considering.
Address: 8501 W. Higgins Suite 440, Chicago, Illinois 60631
15. Advanced Corporate Agent Services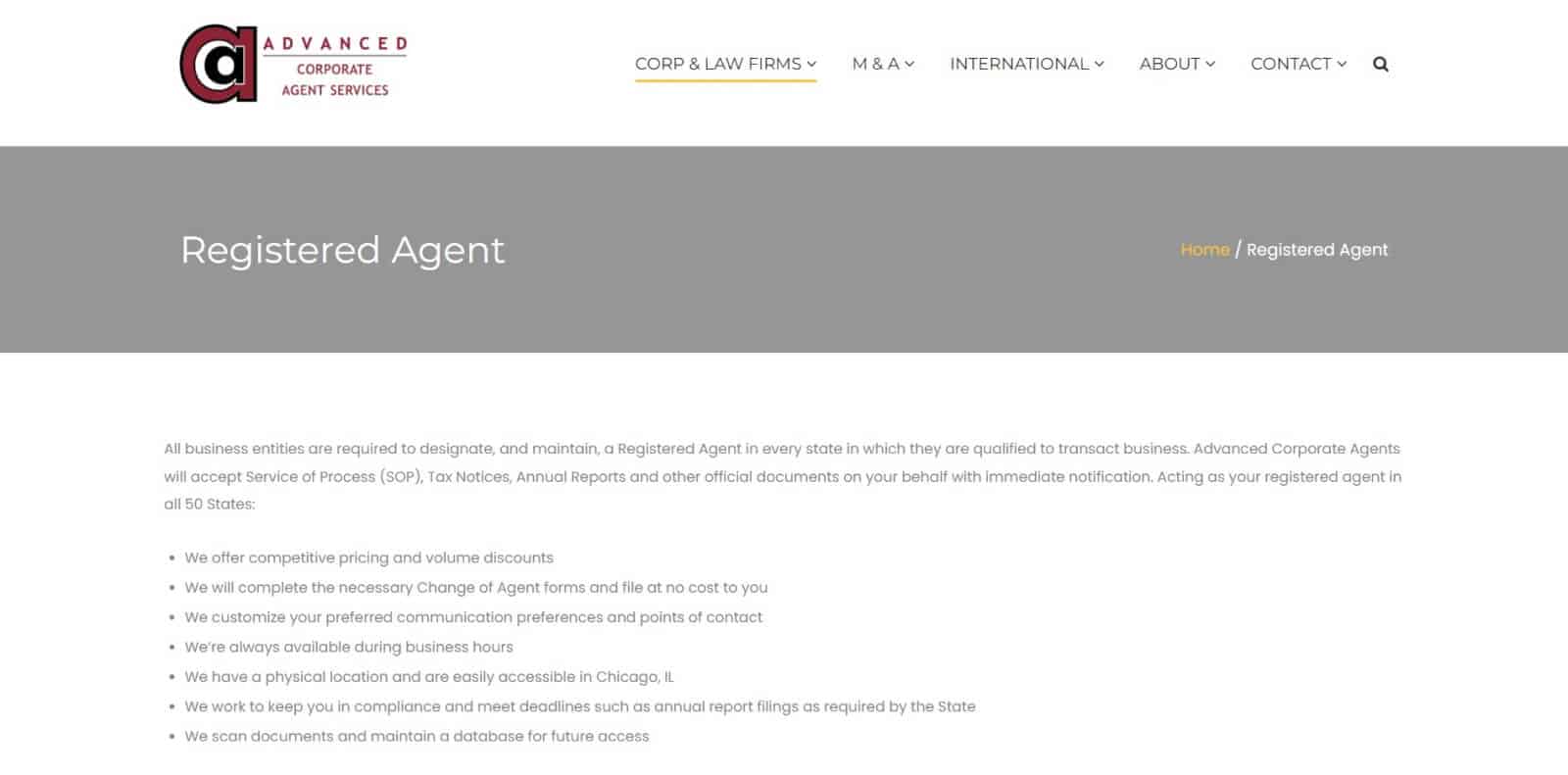 Advanced Corporate Agent Services offers various business services — ranging from tax consulting to M&S support — including a registered agent service available in all 50 states.
The company has been in business for over 13 years and has more than 400 happy clients in their books.
If you are looking for someone comfortable with local and international business laws, this is a strong contender.
Address: 100 N LaSalle, Ste 500 Chicago, IL 60602
National registered agent service providers
Finally, you can always opt for a digital registered agent service provider, offering coverage nationwide. The two four most-popular services many entrepreneurs recommend are
How do I appoint a registered agent in Illinois?
Registered agent appointment has to be done during company formation. You have to list your registered agent's name and address on the Articles of Organization.
Then file the form (plus state fee) with the Illinois Secretary of State. After it's approved, your registered agent appointment becomes official.
How do I change my registered agent in Illinois?
To change your registered agent details, you'll need to download the Statement of Change of Registered Agent And/Or Registered Office form. Add new agent details and send the form back to the state with a $25 filing fee. Once processed, the state will list your new registered office in their database.
FAQs about Illinois registered agents
Here are the frequently asked questions about registered agent services in Illinois.