Are you planning to form a limited liability company (LLC) in California?
Then you should keep in mind that every California LLC needs a registered agent (also known as a statutory agent). So you're probably on the market for one.
In this guide, we explain the state requirements for appointing your agent and provide a list of 15 professional registered agent services providers in California.
---
Table of contents
---
Who can be a registered agent for an LLC in California?
Any private person can be a registered agent for a California LLC provided that they meet three criteria:
They're over 18.
Have a physical street address in the state (a P.O. box won't do).
Can be available at their registered office during regular business hours every working day of the year in case a service of process notice arrives.
If you personally (or your business associate) don't fit this box, you can appoint a commercial registered agent service provider instead.
Any legally registered California business entity can serve as a registered agent for another business.
The other rule to remember is that you'll need to update your LLC's registered agent information every two years when filing your biennial Statement of Information with local authorities.
Note: California doesn't require LLCs to file an annual report.
If you don't maintain a registered agent for your business, you can lose good standing with the state.
Why use a professional California registered agent service
A registered agent is a private person or a business entity that receives various legal documents on behalf of your LLC.
That includes service of process legal notices such as lawsuits and subpoenas and correspondence from the California Secretary of State and the IRS.
The drawbacks of appointing yourself as a registered agent are as follows.
More admin work: You'll need to stay on top of all the correspondence addressed to your LLC. It may not sound like a big deal. But it's easy to overlook something vital if you're a busy business owner with a lot on your plate.
Availability: You'll need to be present at your registered office during regular business hours year-round, which means that you'll be tied to that location.
Privacy issues: Your business address will become a public record. That compromises your privacy.
You can also appoint another private person as your registered agent, but they will have to deal with the same issues.
Also, when you ask a family member, a friend, or an employee to become your registered agent, you risk them not taking their duties seriously, which could get your LLC in trouble.
That's why many California business owners chose to use commercial registered agent service providers.
That way, the service provider:
Receives all the correspondence addressed to the LLC and notifies the designated representative of that LLC about each document.
Ensures that someone is always available at the registered office during regular business hours.
Lists their address as the LLC registered office address, thus protecting the privacy of the business owner.
If you want to have more peace of mind, you should consider paying for a registered agent service.
Yes, this will increase your annual LLC costs in California. But the investment is well worth it!
California registered agent services list
We have made a list of professional registered agent service providers based in California.
1. California Registered Agent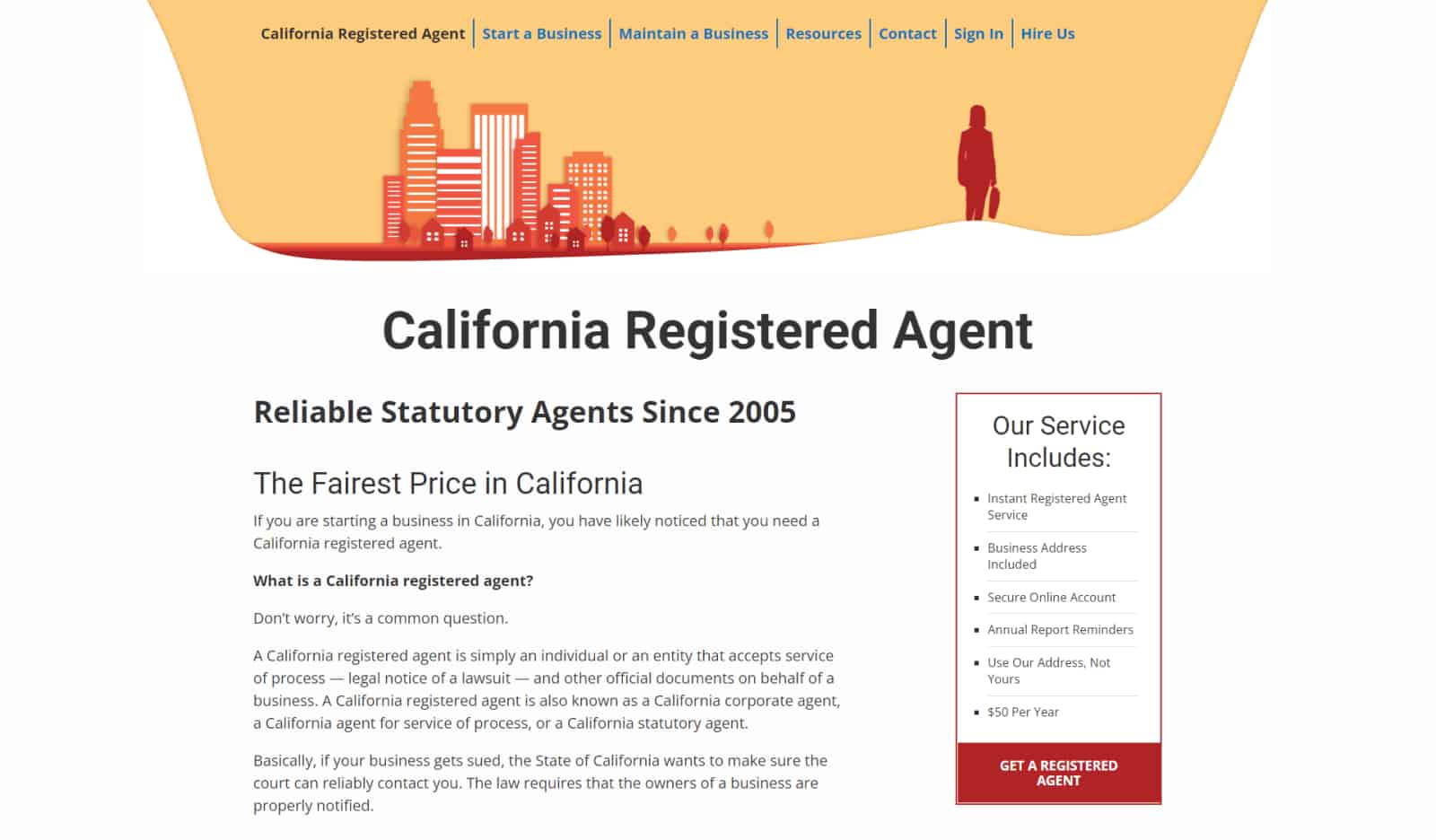 California Registered Agent provides LLC formation and incorporation services and registered agent service.
The company has been operating since 2005 and has glowing reviews from other business owners on their Google Business profile.
Costs: $50/year
Address: 1401 21st Street STE R, Sacramento, CA, 95811
2. California Corporate Agents (CCA)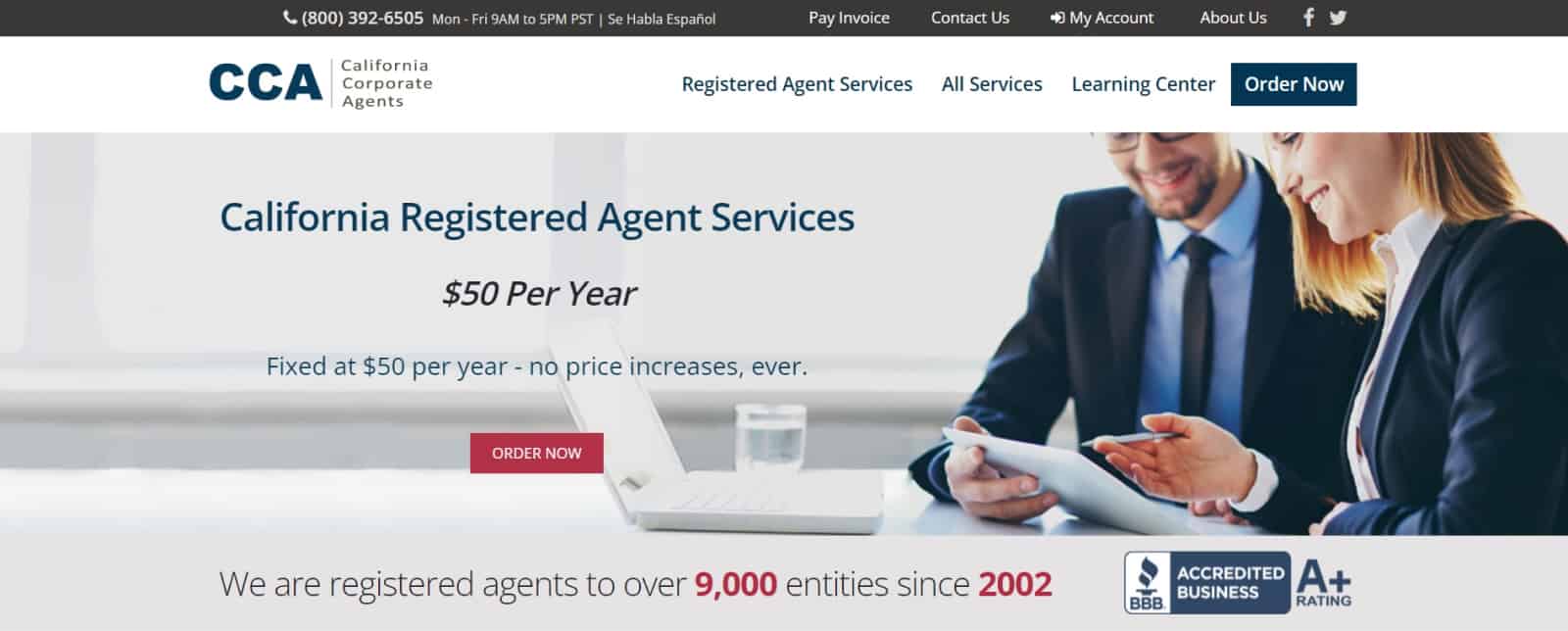 California Corporate Agents also provides incorporation services and registered agent services.
All packages include CorpWatch Compliance software designed to help business owners keep track of important compliance deadlines.
The company has been in business since 2002 and is the registered agent of over 9,000 entities.
Costs: $50/year
Address: 16830 Ventura Blvd., Suite 360, Encino, CA 91436
3. ECS Registered Agent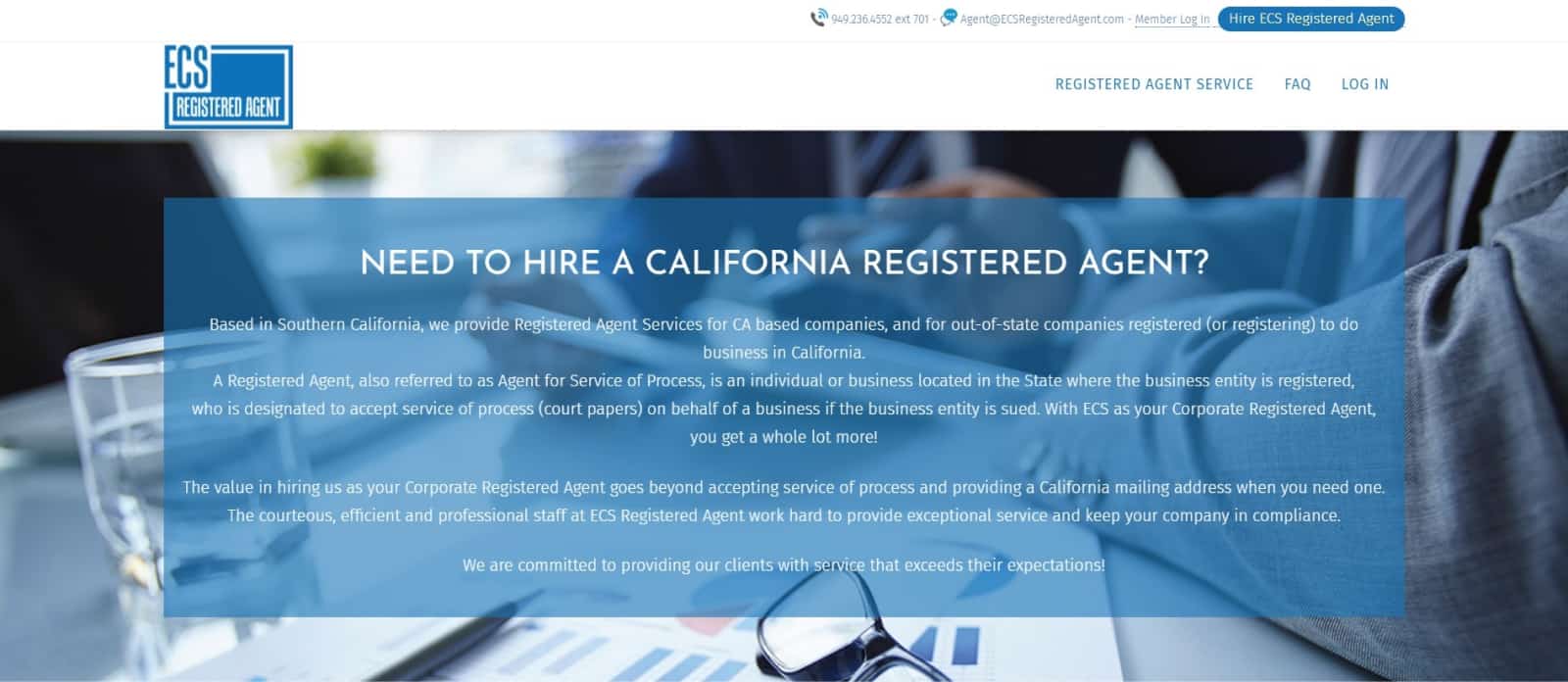 ECS Registered Agent services both domestic Californian LLCs and out-of-state businesses. They provide online access to all documents received on your behalf and have effective customer support.
You can also order additional services such as preparation and filing of your initial Statement of Information as well as preparation and filing of your Biennial Statement of Information.
4. Parasec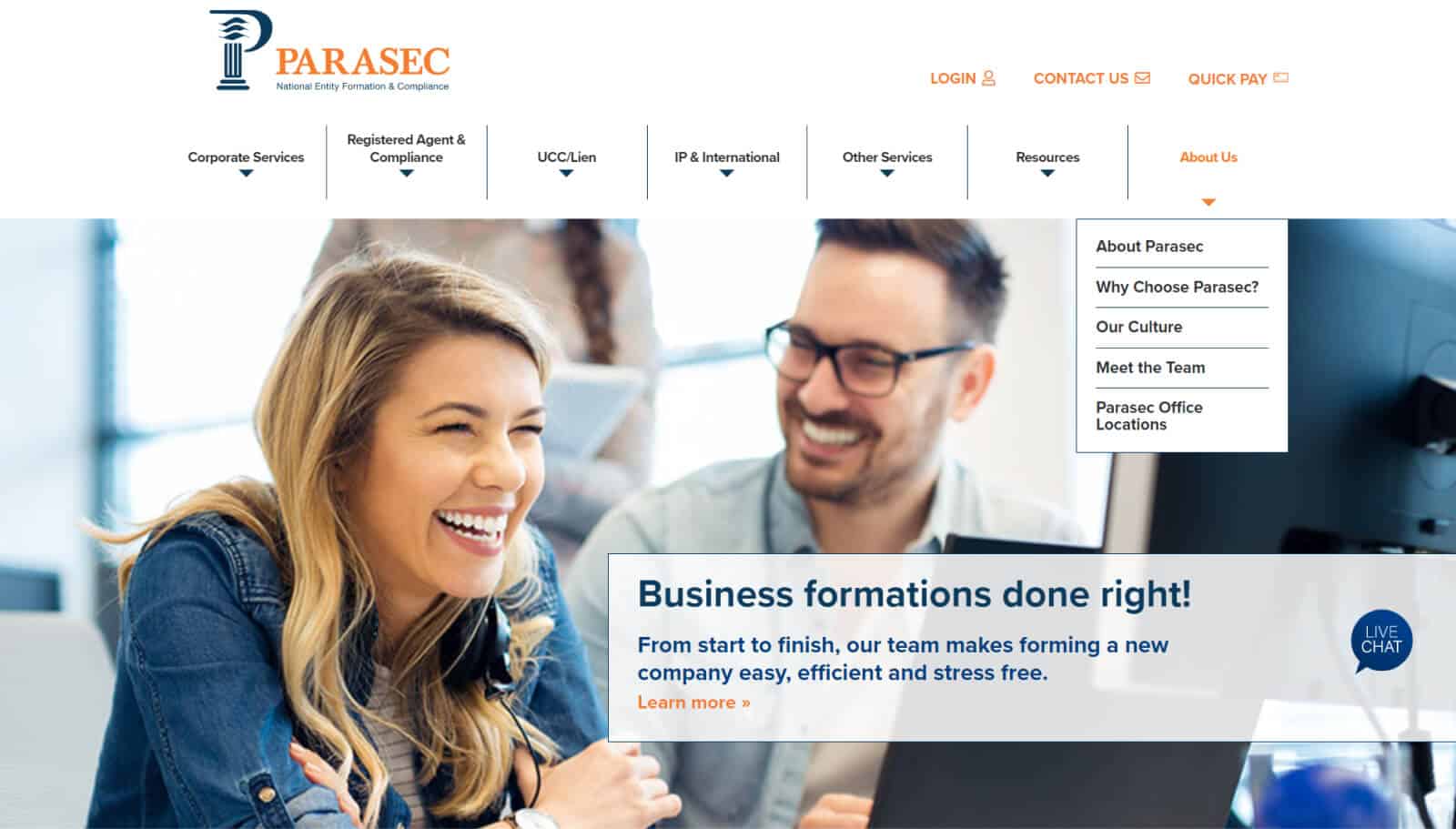 Parasec provides a wide range of corporate services, including entity formation, compliance, UCC/lien, intellectual property law consultations, and registered agent services.
It was founded in 1978 and has since served as a registered agent to hundreds of thousands of entities across the nation.
Parasec has offices in California, Nevada, Texas, and Delaware.
Address: 2804 Gateway Oaks Drive, Suite 100, Sacramento, CA 95833
5. MyCorporation

MyCorporation also provides a spectrum of business services for corporations and LLCs. Apart from registered agent services, you can also request their help for a trademark application, operating agreement creation, or new tax class election for federal tax purposes.
Or you can opt for a consolidated "Maintain My Business" service package that includes 4 business filings every 12 months.
Costs: $120/year
Address: 26025 Mureau Rd, Suite 120, Calabasas, CA 91302
6. MyTaxFiler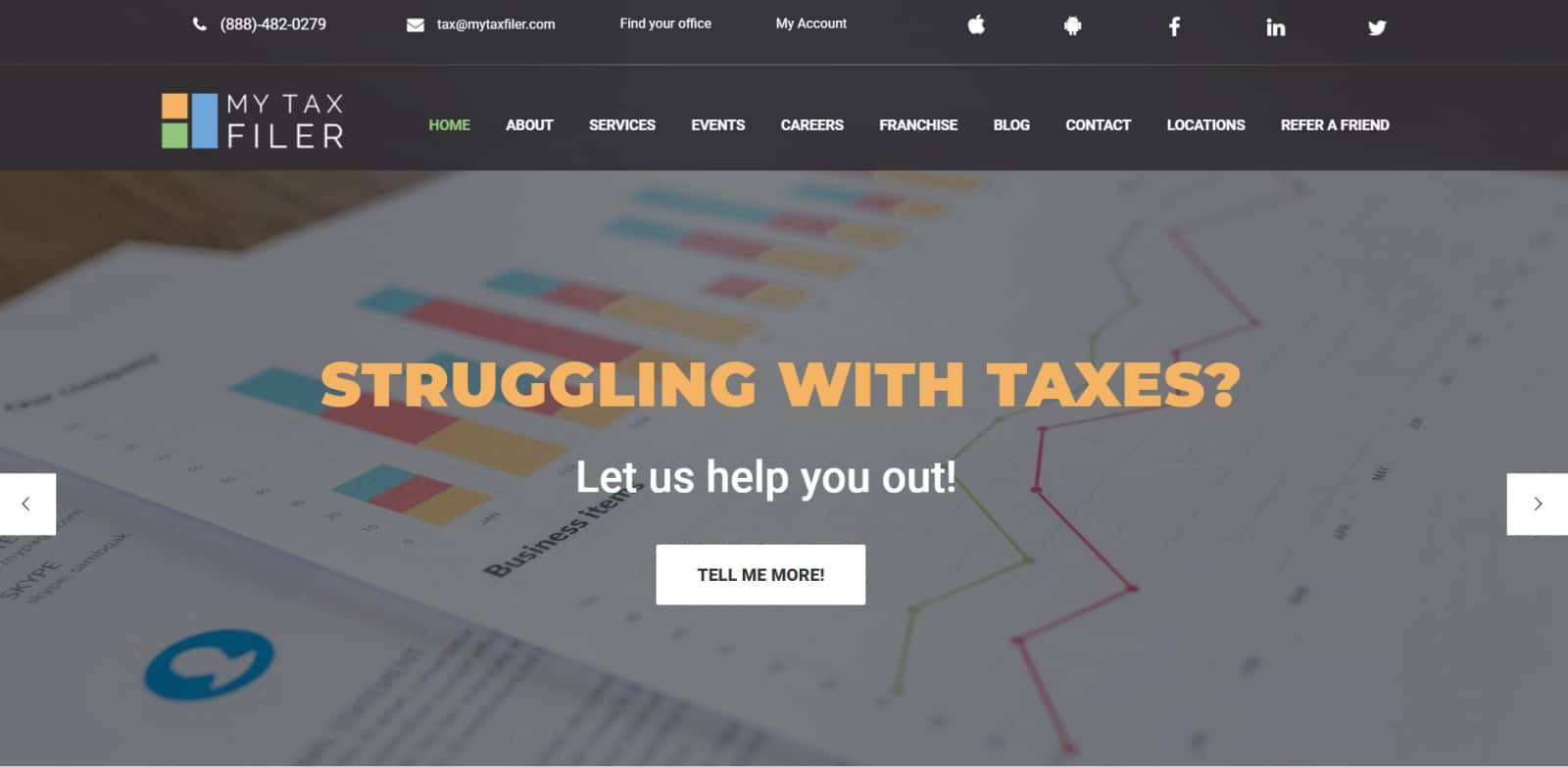 As the name implies, MyTaxFiler provides various tax and consulting services and can be appointed to serve as your point of contact with the state.
The company has offices in Texas, California, Georgia, North Carolina, Pennsylvania, and New Jersey.
It may be a good choice if you operate companies in several locations.
Address: 38359 Freemont Blvd Suite 203 Fremont, CA 94535
7. Corpgate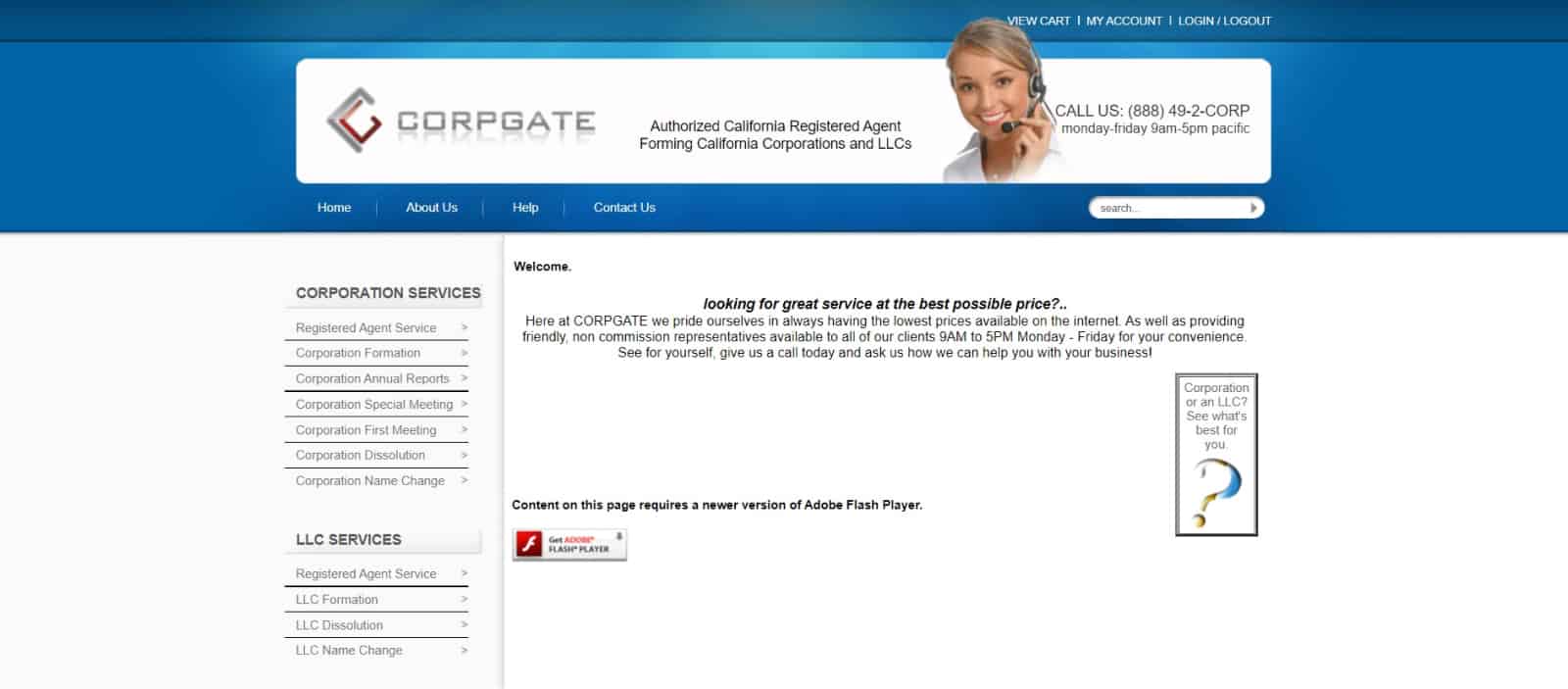 Corpgate is another affordable California registered agent service provider with glowing customer reviews.
For an extra fee, they can also ensure biannual business filings to the Secretary of State and provide other business maintenance services.
Costs: $49/year
Address: PO Box 66290, Scotts Valley, CA 95067
8. Doola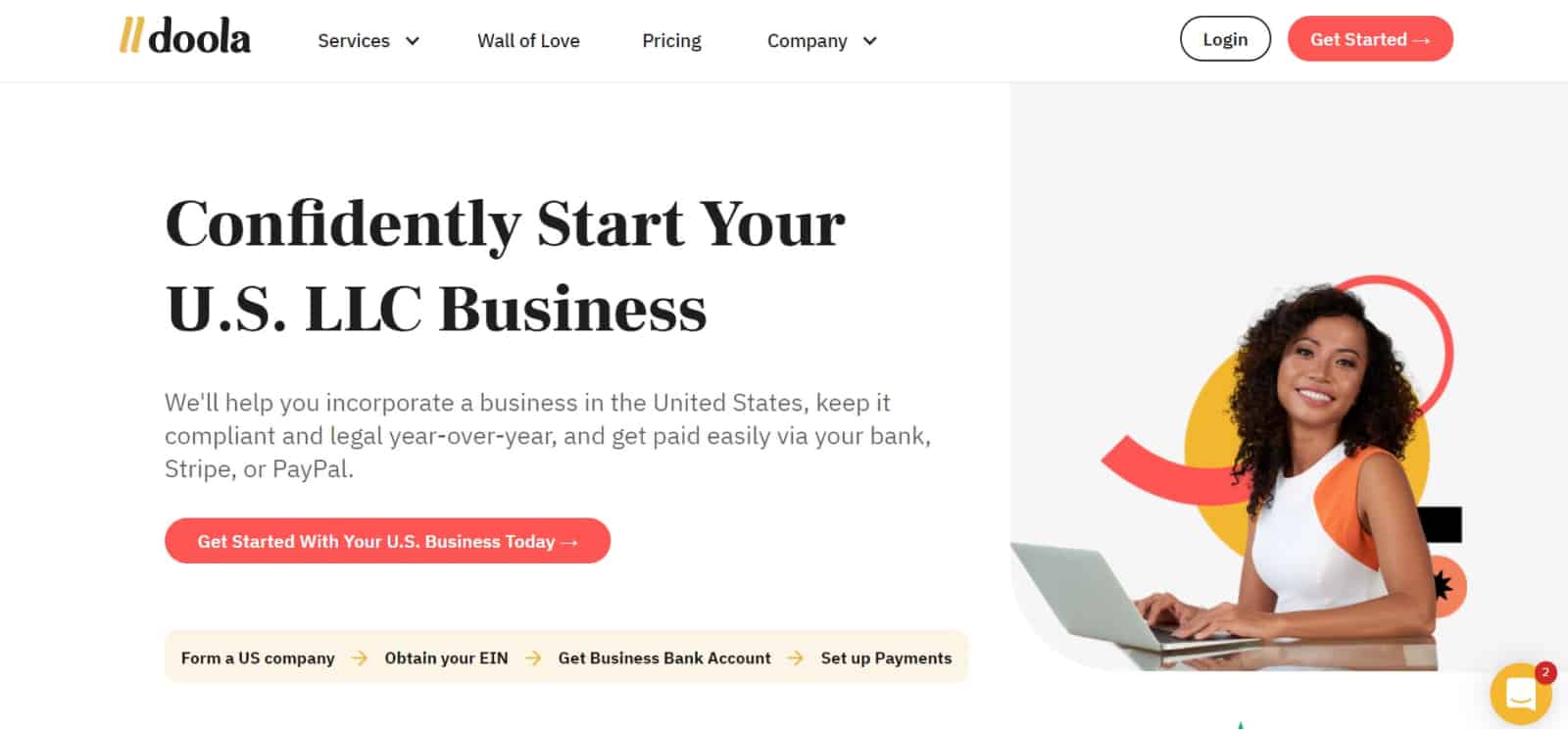 Doola, formerly known as StartPack, provides LLC formation, tax compliance, and registered agent services.
The company's head office is in New York, but it serves clients nationwide. They primarily specialize in helping non-US nationals navigate all the company formation steps in the startup state.
Its LLC formation package for California costs $1999/year + $70 California fee. Registered agent services are bundled into the price.
Costs: $1999/year for a service package
Address: 245 8th Ave #1102, New York, NY 10011
9. Bend Law Group

Bend Law Group serves as outside general counsel for small businesses and startups.
The firm also offers a California registered agent service. If you'd rather have professional lawyers handling important documents, this is a good choice!
Costs: $99/year
Address: 2181 Greenwich Street, San Francisco, CA
10. Cogency Global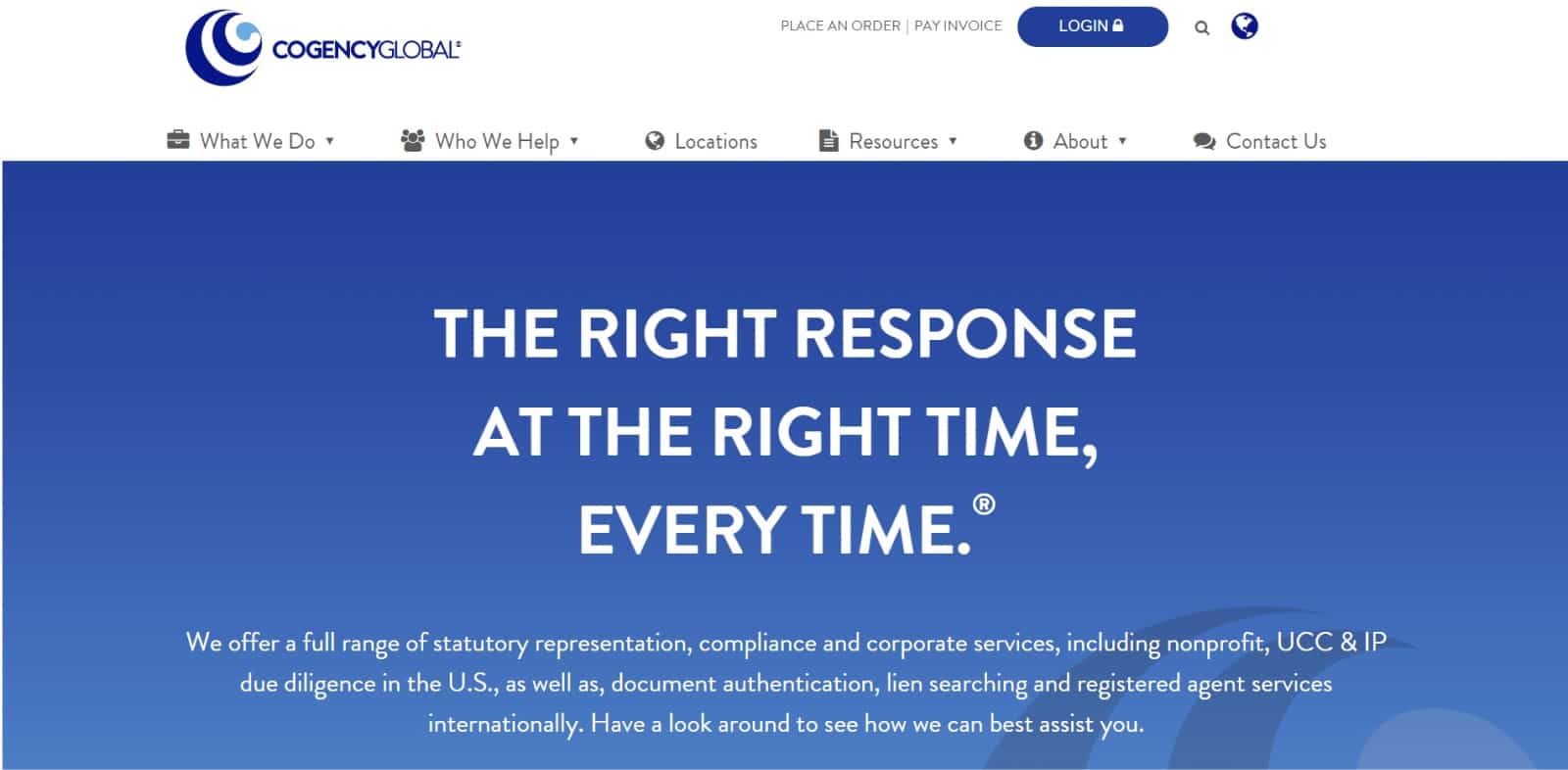 Cogency Global provides representation, compliance, and corporate services as well as a registered agent service.
It works with domestic and international clients and has offices in the United States, Europe, and Asia.
They are mainly marketing to larger enterprises rather than small businesses. But if you plan to grow your business, signing up with them provides you access to many services at once.
Address: 600 Wilshire Blvd, Suite 980, Los Angeles, CA 90017
11. Telos Legal Corp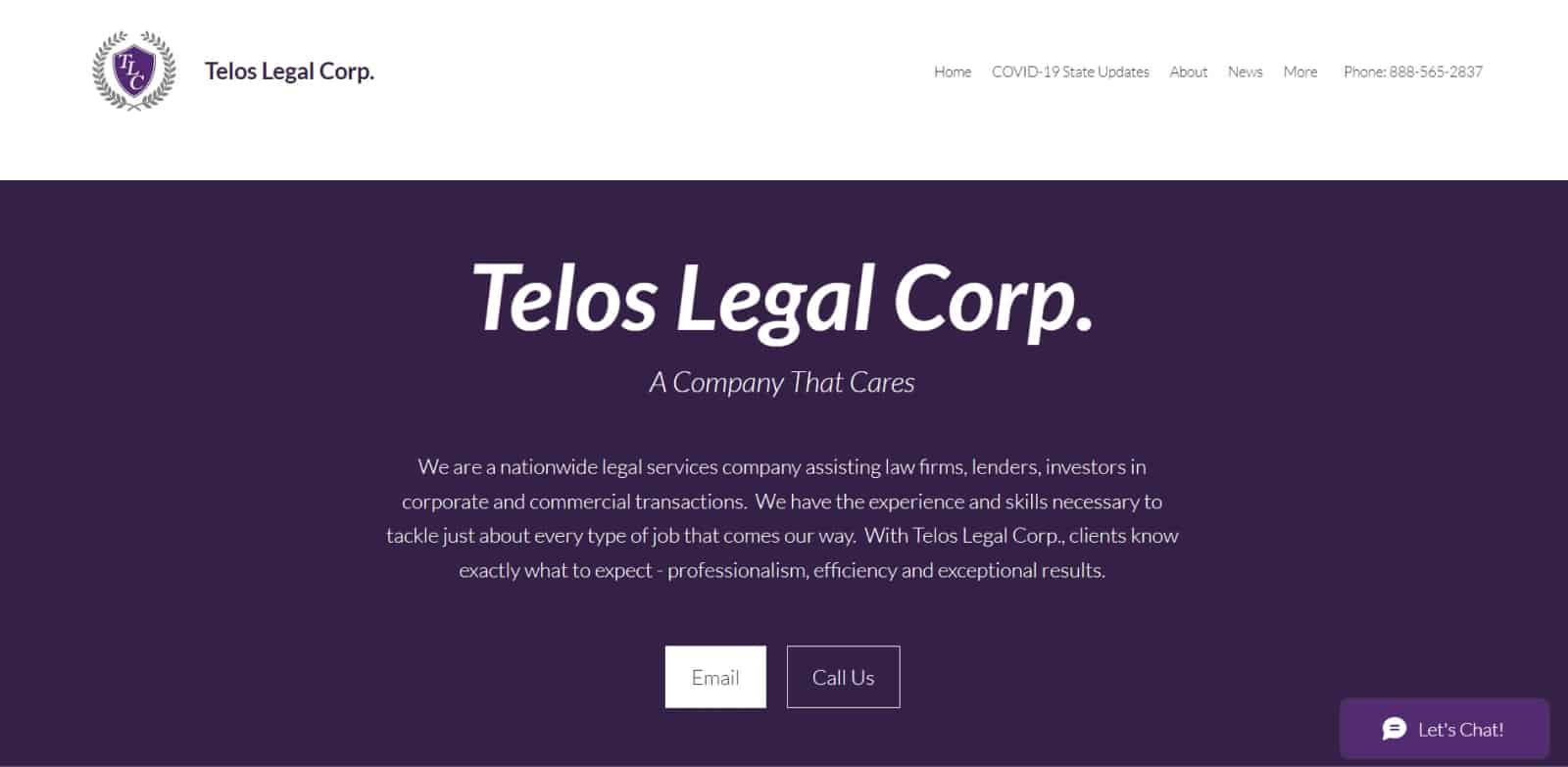 Telos Legal Corp is a nationwide legal services company that assists law firms, lenders, and investors in corporate and commercial transactions.
It offers corporate, due diligence, authentication, registered agent services, and various global services aimed at international clients.
Costs: $150/year
Address: 510 W. 6th St., Ste 320, Los Angeles, CA 90014
12. PFSS

PFSS provides business filing, document search, and document retrieval services in all 50 states.
The company also offers a registered agent service through its partnership with Registered Agent Solutions, Inc. (RASi) for California-based businesses.
Costs: $120/year
Address: 3511 Del Paso Road #160-104, Sacramento CA, 95835
13. MyUSACorp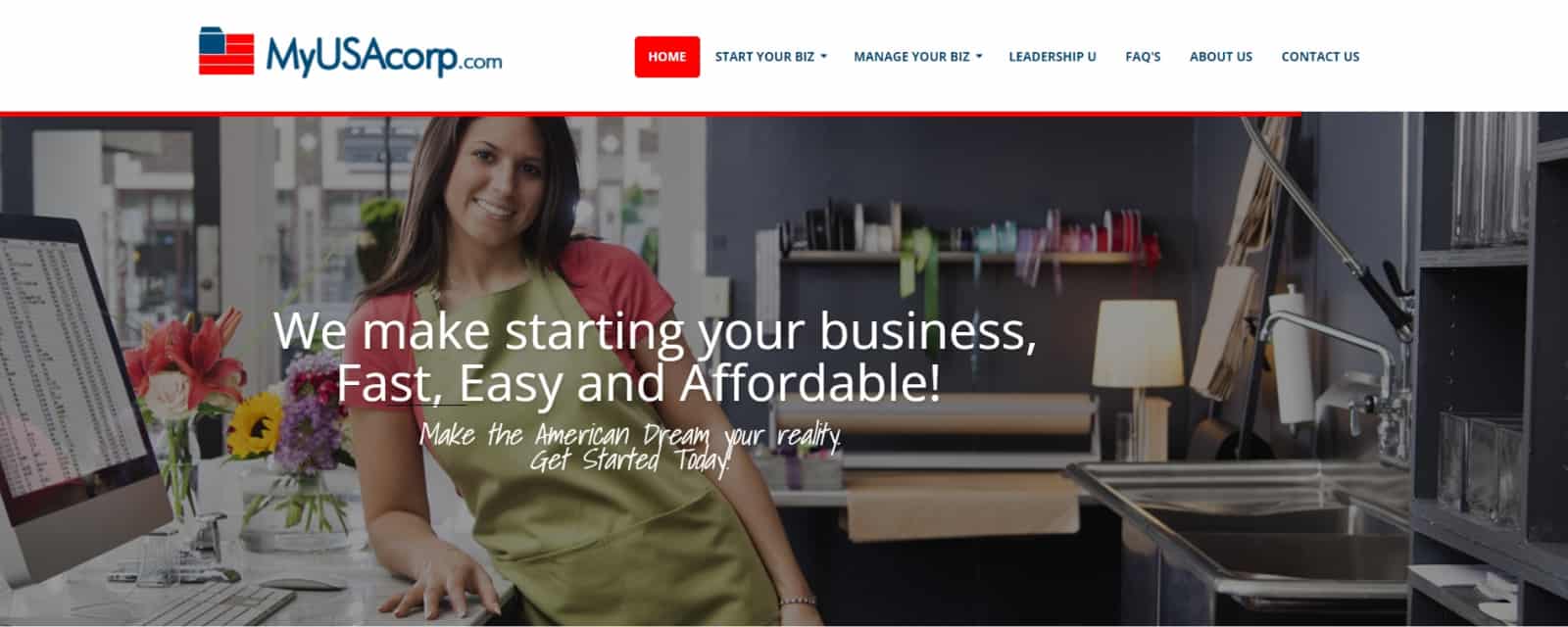 MyUSACorp provides LLC formation, incorporation, compliance, and business management services on top of registered agent service.
The company works with both domestic and international clients. Its mission is to "guide our fellow entrepreneurs around the world to start their own businesses in the United States."
If you're a recent transplant, the team can help you navigate all the ropes.
Address: 333 N. Lantana Street, Suite 110 Camarillo CA 93010
14. Bay Area Accounting Solutions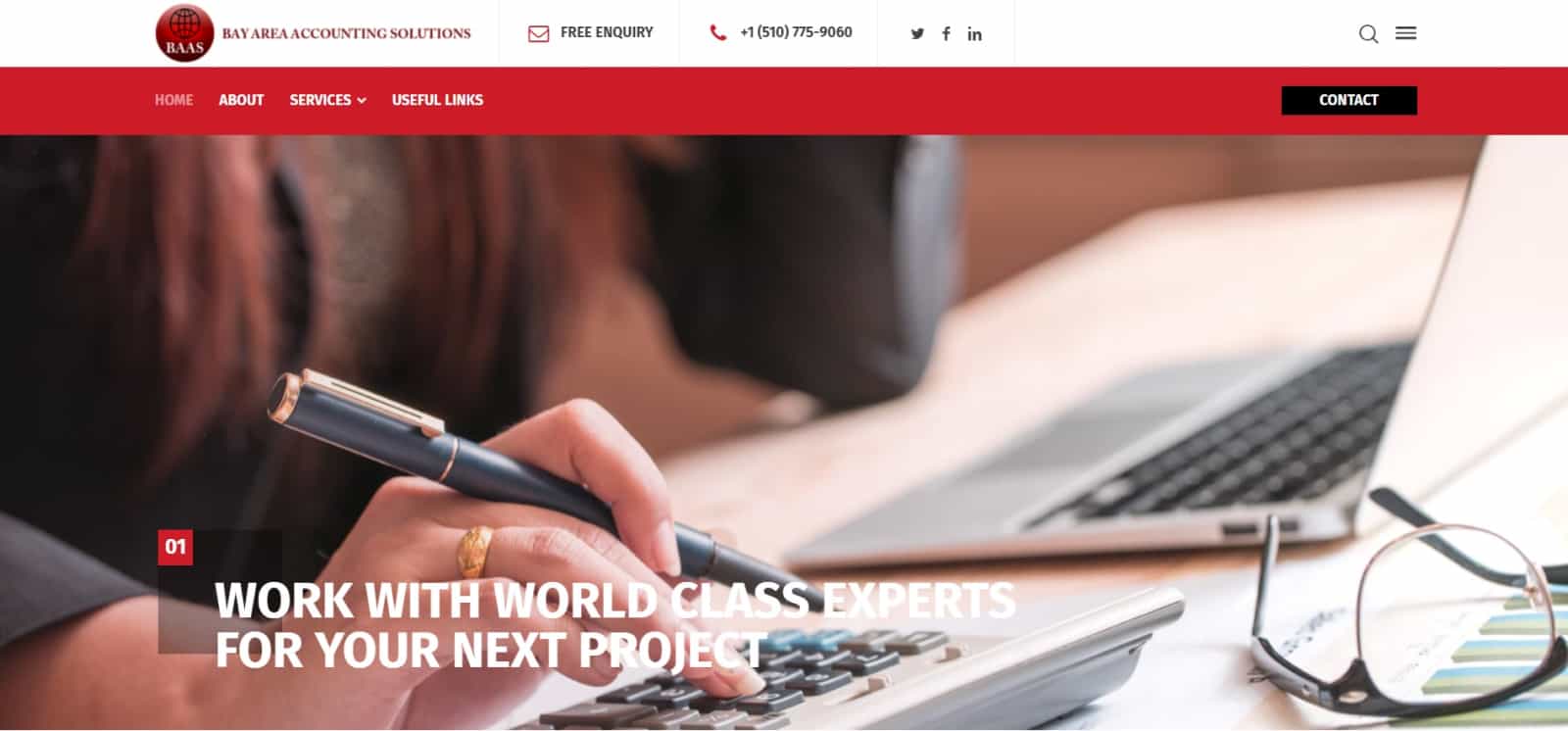 Bay Area Accounting Solutions provides various accounting services to small and medium-sized businesses.
Their accounting team also offers a California registered agent service, should you like to bundle things up.
The costs are affordable, and the quality of services is high!
Costs: $60/year
Address: 39159 Paseo Padre Pkwy STE 115, Fremont, CA 94538
15. Pacific Health Law Group
Pacific Health Law Group specializes in transition, governance, and regulatory compliance services. But they are also open to serving as a registered agent for their clients.
The company primarily works with physicians, dentists, optometrists, veterinarians, and healthcare businesses that operate as PLLCs and face slightly different requirements.
Address: 1999 Avenue of the Stars, Ste. 1100, Los Angeles, California 90067
National registered agent service providers
You might also want to consider these popular national registered agent service providers that offer fully digital services:
How do I appoint a registered agent in California?
Registered agent appointments are easy. You simply need to list their details — registered agent's name, registered agent's address, and contact information — in the Articles of Organization.
Then file the company formation documents with the California Secretary of State. Once these are approved, your registered agent appointment becomes valid.
How do I change my registered agent in California?
There's no particular "registered agent name/address" change form in California.
Instead, you name your new registered agent in a Statement of Information filing. You can submit it via your online account or by mail.
The filing fee for the mandatory biennial Statement of Information is $20.
No state fees are required for submitting a Statement of Information to update your LLC record in between filing periods.
FAQs about California registered agents
Here are the frequently asked questions about registered agent services in California.