Every limited liability company needs a registered agent.
Without one, you won't be able to form your LLC in Michigan or any other US state.
Who should you appoint as a registered agent?
We discuss your options in this post and list ten top-rated commercial registered agent service providers in Michigan.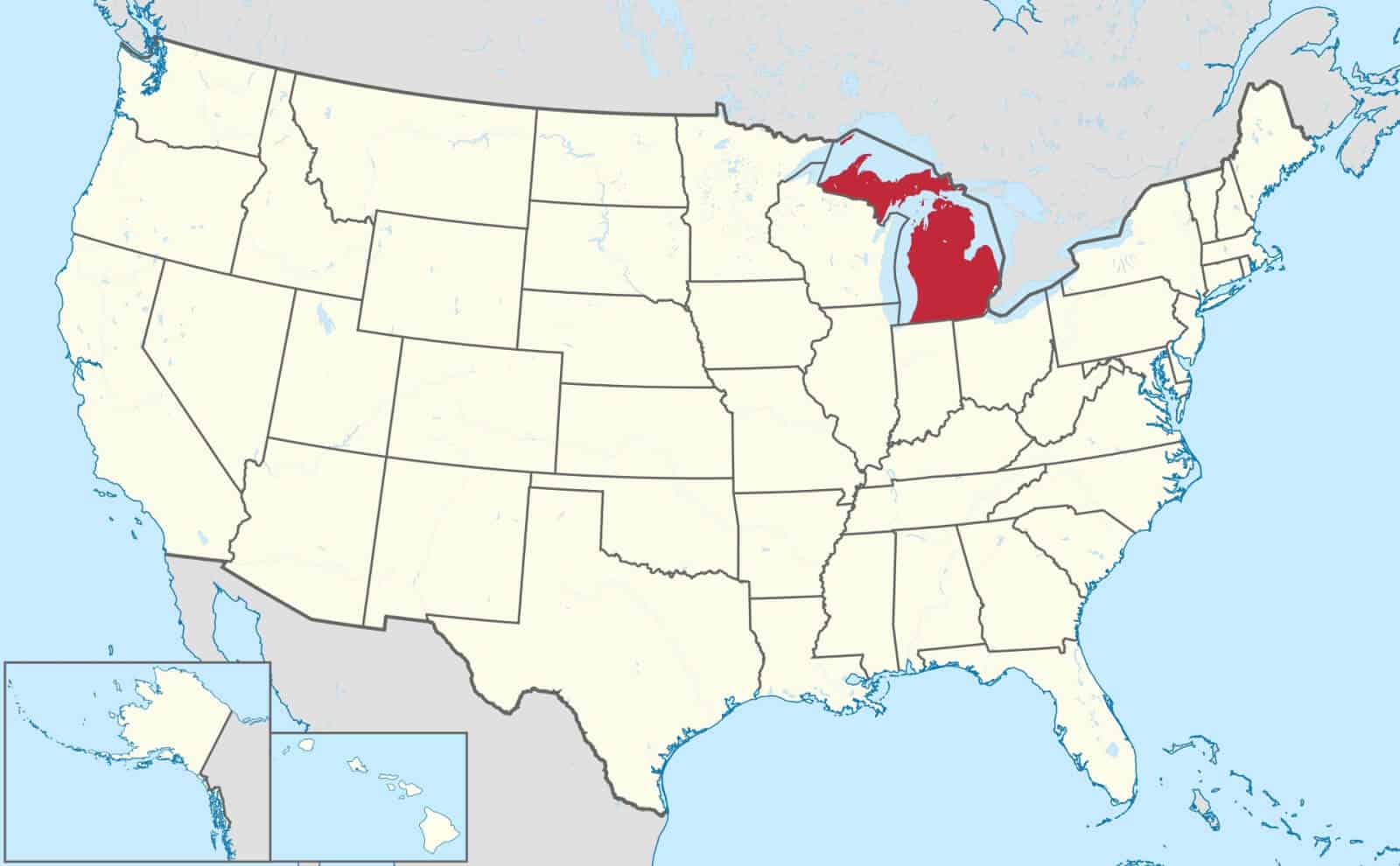 ---
Table of contents
---
Who can be a registered agent for an LLC in Michigan?
You can either appoint a private person or a business entity as the registered agent for your Michigan LLC.
A private person needs to be over 18, be a Michigan resident, and have a physical street address in the state. You can't list the P.O. box as your registered office address.
A business entity needs to be either a Michigan LLC or a Michigan corporation. Alternatively, foreign LLCs and foreign corporations can also serve as registered agents in Michigan, provided they have the authorization to operate in the state.
Registered agent appointment for your LLC isn't a set-it-and-forget-it process.
You will be required to update your registered agent information every year when you file your LLC's annual report, known as the "Annual Statement," with the Michigan Secretary of State.
You must continuously maintain a registered agent for your LLC to stay compliant and remain in good standing with the state. Read more on Michigan LLC formation and maintenance costs.
Why use a professional Michigan registered agent service
A registered agent, also known as a resident agent or a statutory agent, acts as the main point of contact for your company. Their primary responsibility is to receive various legal documents on behalf of your LLC, including legal notices and service of process.
Three important things to remember about a registered agent:
Your registered agent's name and their registered office address are public records.
A registered agent must be present at their registered office every working day of the year during normal business hours.
A process server can arrive at the registered office during normal business hours.
So before you name yourself as your registered agent, you should consider the implications for your privacy, lifestyle, and reputation. Getting served in front of people you know can be embarrassing!
Meanwhile, appointing a family member or a friend as your registered agent can strain the relationship, especially if you are not compensating them for their trouble.
Also, can you trust just about anyone to be available at their registered office during regular business hours every working day of the year? And is that a fair expectation to place on someone close to you? Not really.
Commercial registered agent service providers offer the level of stability a private person simply can't match.
A professional provider allows you to protect your privacy, prevent potentially embarrassing situations, and avoid strain on personal relationships.
Moreover, they lend extra peace of mind. This is priceless given how hectic entrepreneurship can be.
Michigan registered agent services list
A commercial registered agent mostly accepts and forwards important legal documents for your LLC.
But some service providers offer extra professional services, ranging from accounting to legal advice. So be sure to shop around and compare the 'add-ons'!
Our list of Michigan resident agent service providers offers a mix of 'mono-service' providers and companies with more diverse service portfolios.
1. CorporationRA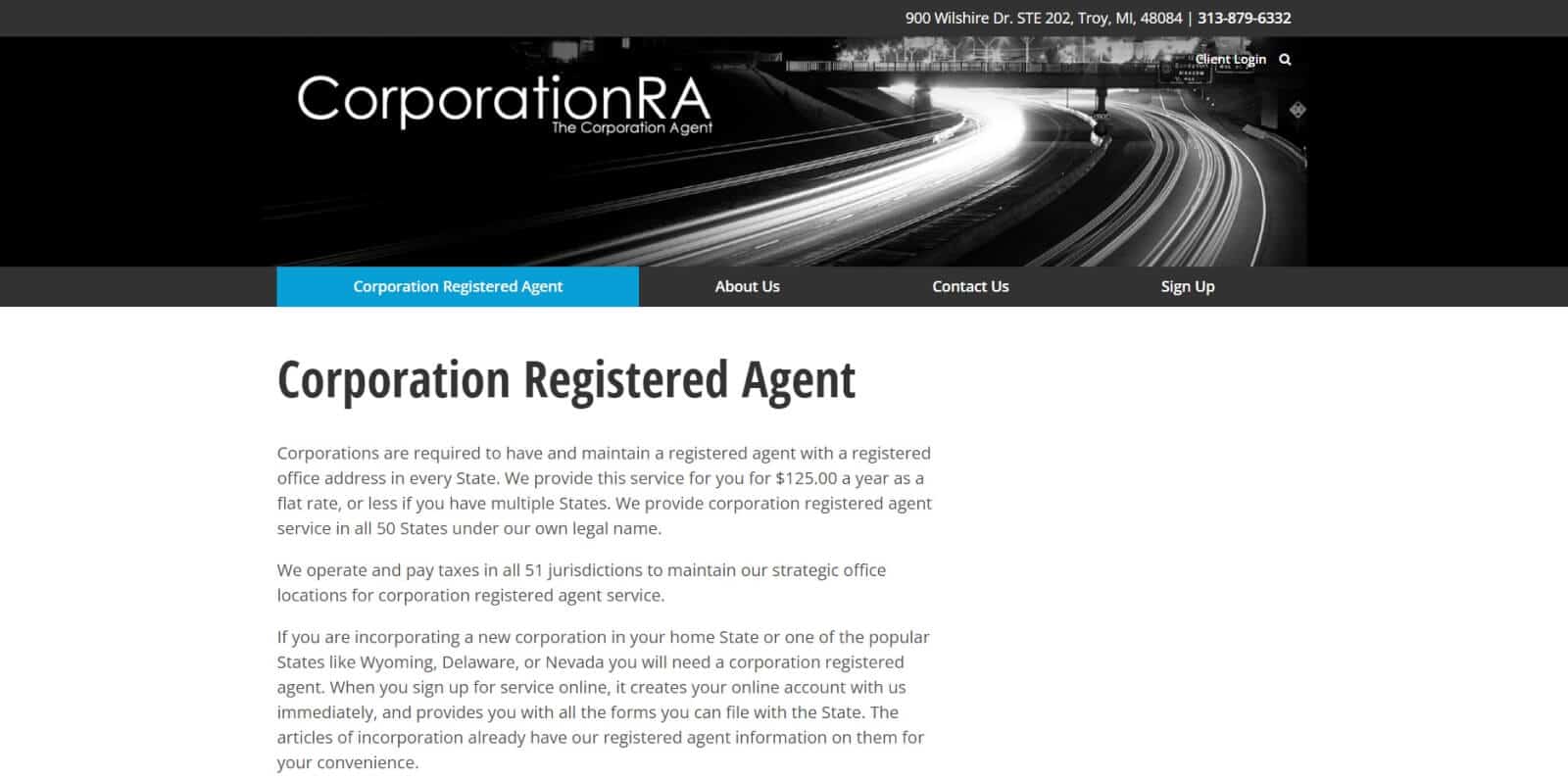 CorporationRA provides a registered agent service to LLCs and corporations in all 50 states.
You get an online account after signing up. It includes all the state forms you might need to file and instructions on how to do it.
CorporationRA also helps you stay compliant. The company monitors your annual report dates, then sends you reminders to file them together with filing instructions.
This provider charges $125/year, but you might be eligible for a discount if you need a registered agent in more than one state. The price goes down to $115/year after four states and to $100/year after 10 states.
Multistate business owners may find this to be a great option.
Costs: $125/year
Address: 900 Wilshire Dr. STE 202, Troy, MI, 48084
2. Quik Fillings LLC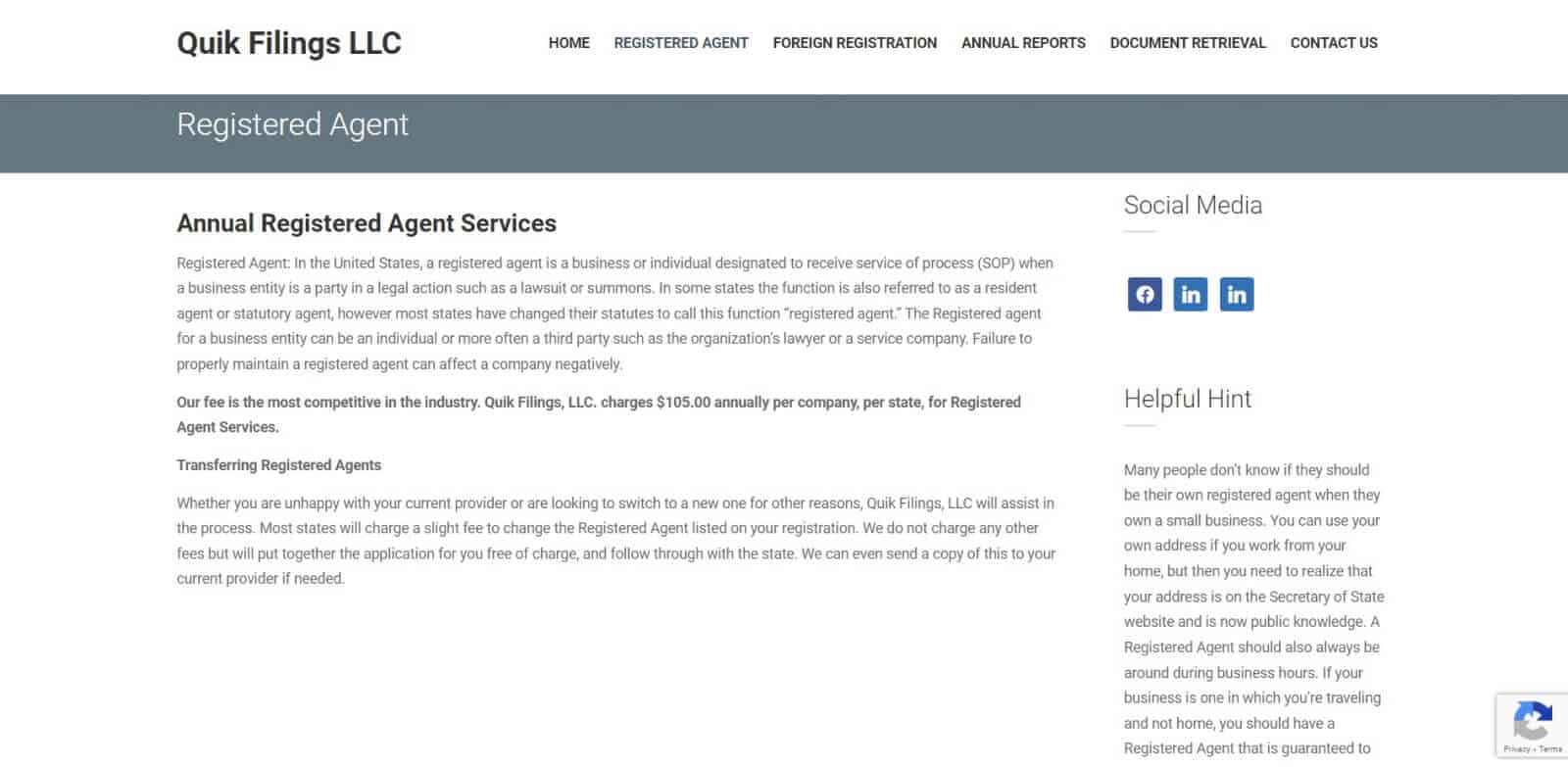 Quik Filings LLC is based in Kalamazoo, Michigan but offers registered agent services nationwide.
This provider can help you set up a new business in Michigan and expand into other states.
Also, if you already have a registered agent but are looking for a new one, Quik Filings is an option worth considering.
The company will help you switch to them free of charge. Most states charge a fee for changing registered agent details, but Quik Filings will cover that cost.
Costs: $105/year
Address: 9789 Springwood Dr, Kalamazoo, MI 49009
3. CT Corporation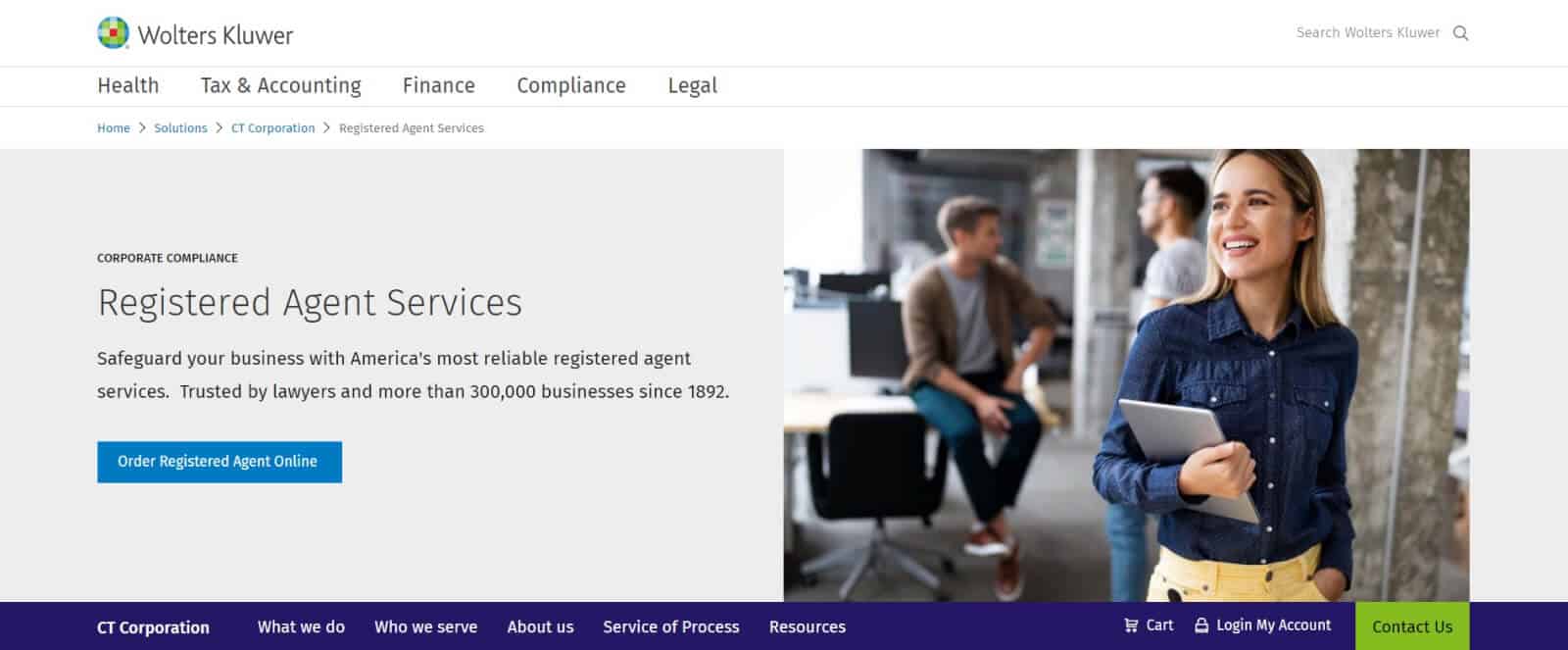 CT Corporation is a massive corporate services provider that offers a registered agent service nationwide, along with other business administration services.
This is one of the most established organizations on this list. The company was founded in the 19th century and has operated continuously ever since.
Yet, its registered agent service is the most expensive one on this list. It costs $320/year.
Costs: $320/year
Address: 40600 Ann Arbor Road East Suite 201 Plymouth, Michigan 48170
4. ASK Services

ASK Services is a company based in Plymouth, Michigan. They primarily specialize in public records look-ups and various title services.
The company also offers a registered agent service, but it doesn't provide much information on its website.
This provider prides itself on its consistent quality, reliable service, and efficient delivery.
So if that resonates with you, reach out to ASK Services to learn more.
Address: 40600 Ann Arbor Rd East, Suite 200, Plymouth, Michigan 48170
5. IncParadise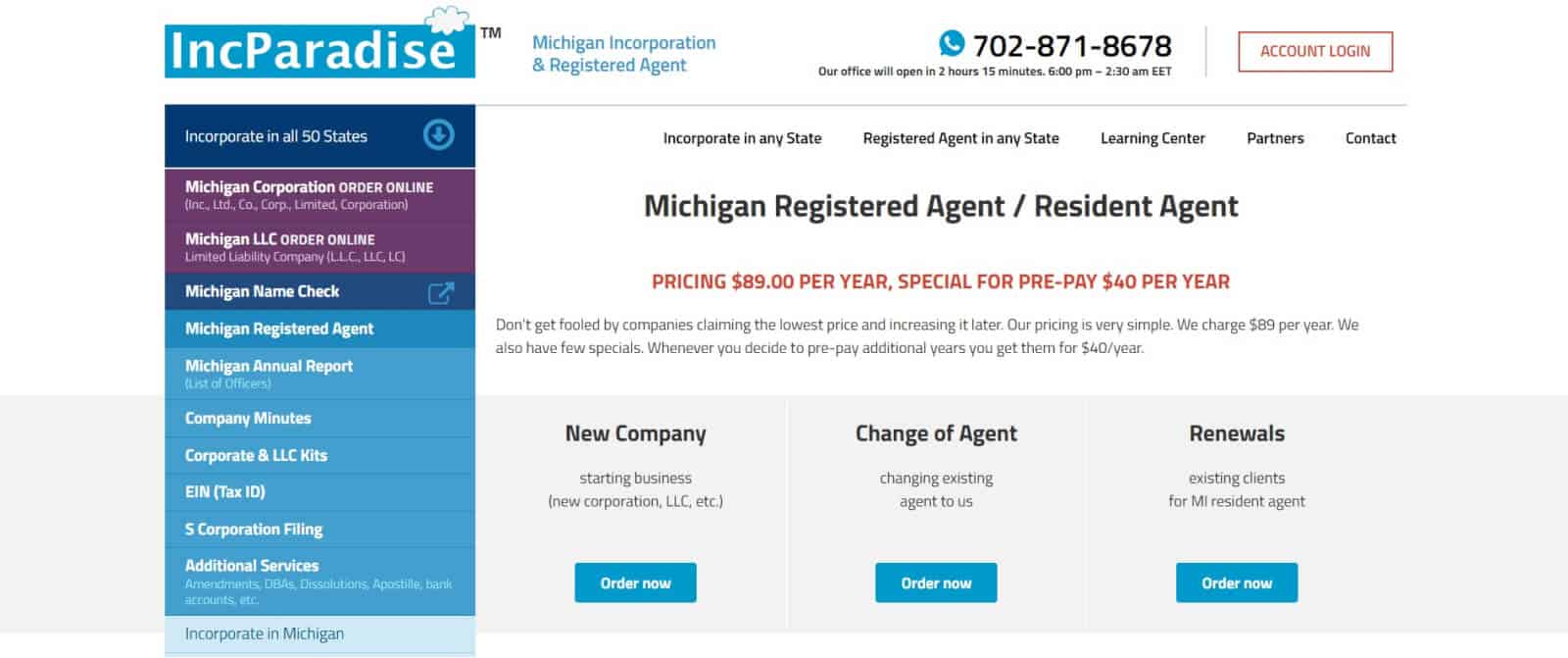 IncParadise offers a registered agent service in all 50 states.
Its Michigan registered agent service costs $89 per year, but every additional year you pre-pay will only cost you $40.
This makes IncParadise the most affordable Michigan registered agent provider on this list.
Costs: $89/year
Address: 1611 E 2nd St, Casper, WY 82601
6. RASi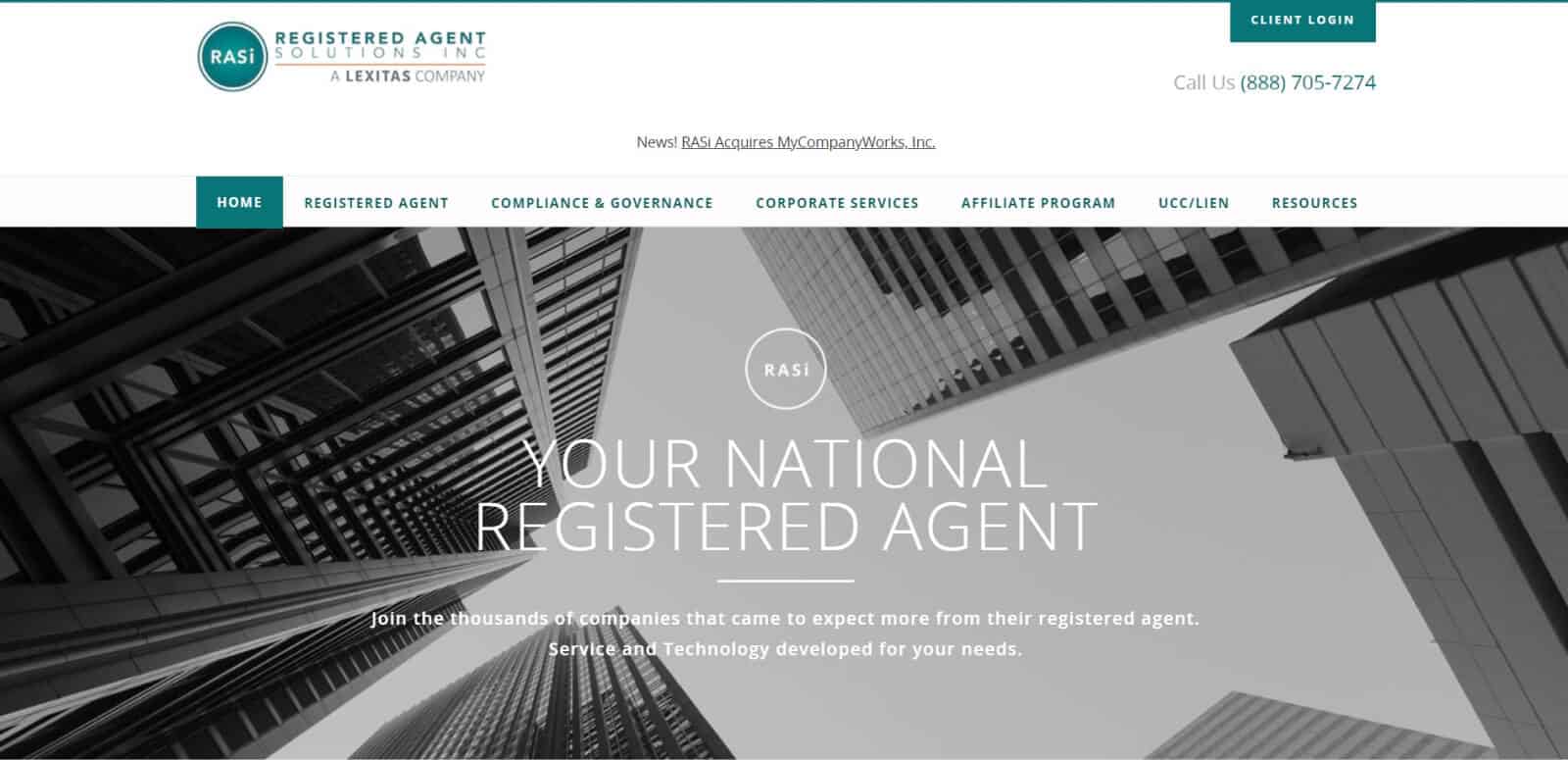 Registered Agent Solutions Inc., also known as RASi, is a massive nationwide registered agent service provider that serves thousands of businesses across the country.
The company has offices in all 50 states, the District of Columbia, and various international locations. It works with both domestic and foreign clients.
Its registered agent service costs $175/year, but you might be eligible for a volume discount if you need a registered agent in more than one state.
Cost: $175/year
Address: 2285 South Michigan Road, Eaton Rapids, MI 48827
7. Blumberg

Blumberg is a business services and supplies provider. You can count on them for everything from business entity formation services to custom stationery.
The company offers a registered agent service in all 50 states, the District of Columbia, Puerto Rico, and the Virgin Islands.
Spanish-speaking customers may find this option convenient since Blumberg has customer support agents who speak the language.
Costs: $139/year
Address:100 Wall Street, Suite 503, New York, NY 10005
8. Registered Agents Inc.

Registered Agents Inc. is one of the country's largest registered agent service providers. It serves tens of thousands of large and small businesses.
They also offer a white-label registered agent service, used by over 200 registered agent service providers.
Its Michigan registered agent service costs $200/year and includes an online account, immediate access to state forms, annual report reminders, and more.
Registered Agents Inc. takes great pride in its high-end security.
Costs: $200/year
Address: 30 N Gould St STE R, Sheridan, WY 82801
9. CSC Global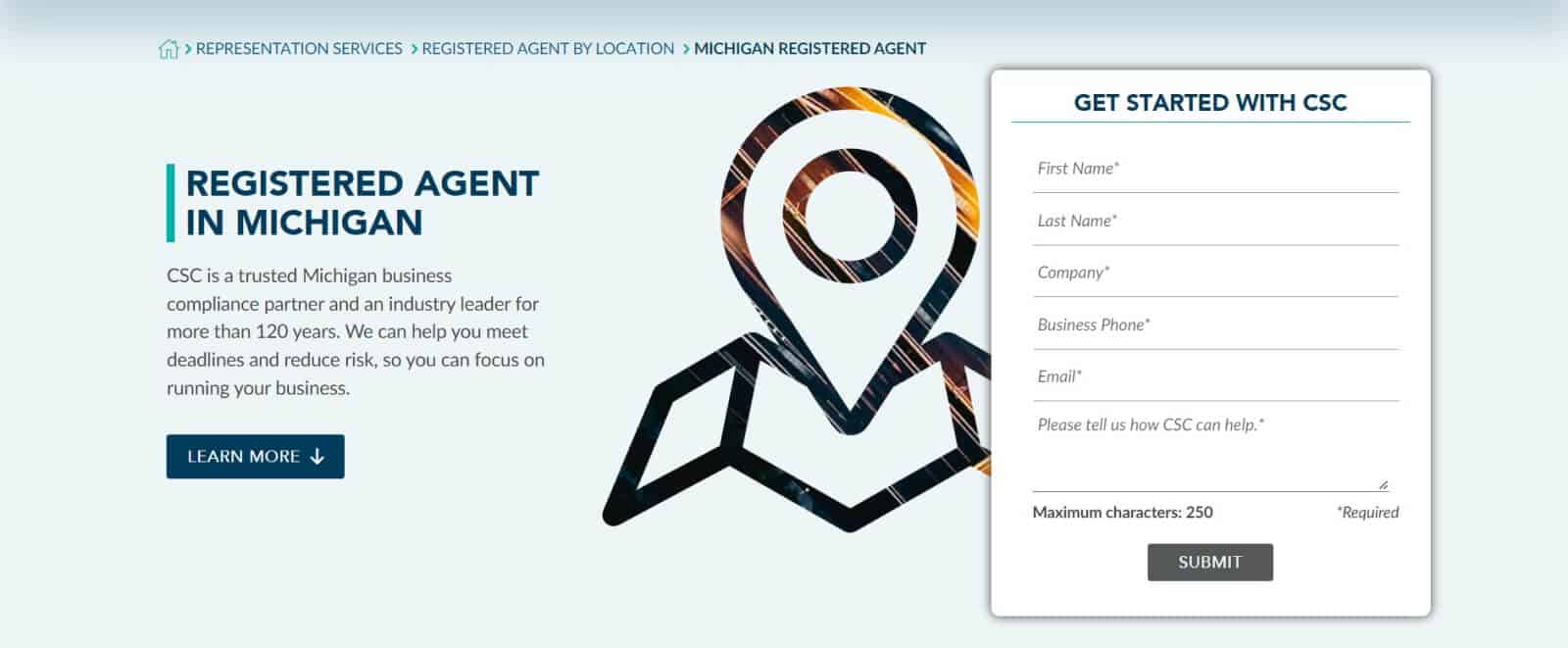 CSC Global has been in business for over 120 years and serves 180,000+ customers, including 90% of the Fortune 500 list.
The company offers a registered agent service in all 50 states, the District of Columbia, and various international jurisdictions.
Their registered agent service includes same-day scanning and electronic delivery of service of process, automatic compliance alerts for annual reports, and access to the CSCNavigator compliance dashboard.
CSC Global also promises advanced data security and total privacy.
Address: 251 Little Falls Drive, Wilmington, DE, 19808
10. InCorp

InCorp was founded in 1998 and has served over 250,000 customers since then.
The company provides a nationwide registered agent service that includes all 50 states and the District of Columbia, and the U.S. territories of Puerto Rico and the Virgin Islands.
The RA services cost $129 per year. But if you pay several years in advance, you will get a substantial discount. If you prepay for 5 years, each year will cost only $87.
It's another provider catering to Spanish speakers.
Costs: $129/year
Address: Eaton Rapids, MI 48827, Eaton County
National registered agent service providers
Finally, you can select one of the popular digital service providers offering services to Michigan LLCs:
How do I appoint a registered agent in Michigan?
Michigan asks you to provide your registered agent details in your Articles of Organization (for an LLC) or Articles of Incorporation (for a corporation). Once the state approves the document, your appointment becomes effective.
How do I change my registered agent in Michigan?
If you need to change your registered agent's name, address (or both), you'll have to complete a state filing. Download the "Certificate of Change of Registered Office and/or Change of Registered Agent" form.
Add the new details. Then file it with the Michigan Department of Licensing and Regulatory Affairs (LARA). Note that there's a $5 filing fee.
FAQs about Michigan registered agents
Here are the frequently asked questions about registered agent services in Michigan.