Colorado, the Centennial State, is home to many prospering corporations and small businesses alike.
If you want to join these ranks and form a limited liability company (LLC) in Colorado, you'll need to mind the registered agent requirement.
According to Article 90 Colorado Corporations and Associations Act, all locally incorporated entities — LLCs, Limited Partnerships (LPs), corporations, and nonprofits — must designate a registered agent (also known as a statutory agent).
Being a registered agent for a company is a serious responsibility. It's important to choose someone trustworthy and reliable.
To help you with that, we've prepared a quick explainer of local registered agent requirements, followed by a list of 10 Colorado commercial registered agent service providers.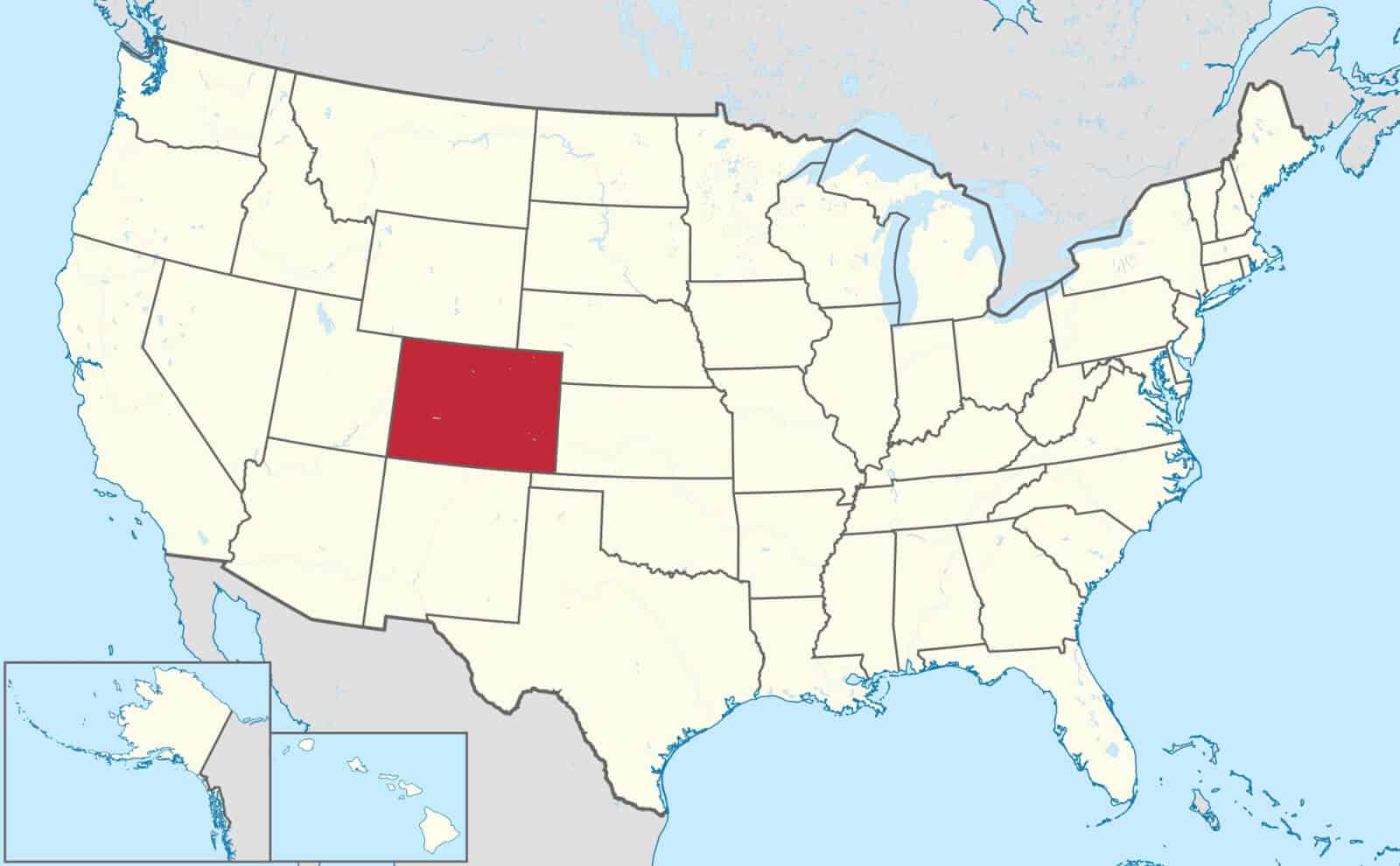 ---
Table of contents
---
Advertisement
LLC Formation Service
LLC Formation: $39 + state fees
Pricing:
Turnaround Time:
Help & Support:
Customer Satisfaction:
Ease of use:
Best LLC Service 2023

Formed 1,000,000+ LLCs
$39 formation includes registered agent service
Fast formation & same day filing
Exceptional customer reviews

Last updated:
Sep 2023
Who can be a registered agent for an LLC in Colorado?
The Colorado Secretary of State lists clear eligibility requirements for local registration.
A private person of legal age or business entity can act as a registered agent for Colorado LLC. In both cases, the appointee must have a physical address in the state — a P.O. box won't do.
If you appoint another business entity, it must:
Have a usual place of business in Colorado
Have authority to do business in Colorado (if it is a foreign entity)
Unlike other states, Colorado allows the LLC itself to serve as its own registered agent.
You will need to name a registered agent in your LLC's Articles of Organization, then update that information every year when you file your annual report (also known as a periodic report).
You must continuously maintain a registered agent for your LLC. Otherwise, you can lose good standing with the state.
Top 7 Registered Agent Services in Colorado
Here's our list of 7 professional registered agent service providers that operate in Colorado.
We selected top-rated companies with a stellar community reputation!
1. Northwest Registered Agent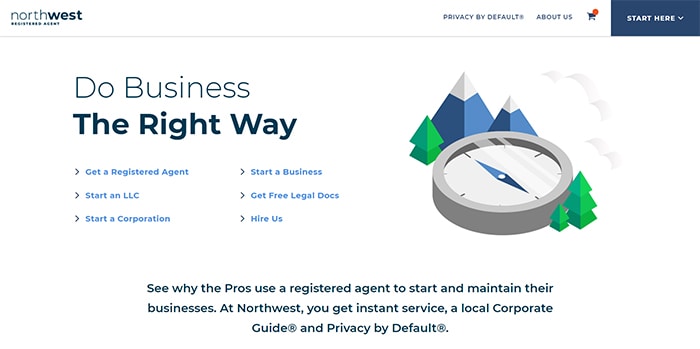 Northwest Registered Agent is our top recommendation for anyone looking for a registered agent service in Colorado.
They offer a complete, well-rounded registered agent service with excellent customer support, favorable conditions, good privacy, and an easy, straightforward sign-up process.
Northwest Registered Agent also distinguish themselves with a customer-friendly 90-day return policy. Should you decide to cancel your service, Northwest will offer you a prorated refund of the fees and costs you paid.
If you are interested in a more detailed assessment of the company and the services they offer, consider reading our in-depth review of Northwest Registered Agent.
Costs:

$125/year

Address:

1942 Broadway Street, SUITE 314C, Boulder, CO, 80302
2. Colorado LLC Attorney

Colorado LLC Attorney provides LLC formation and registered agent services, as well as legal services such as estate planning and establishing trusts.
This provider might be worth considering if you intend to hire someone to form your LLC. If you choose Colorado LLC Attorney for the task, you will get one free year of registered agent service.
Costs: $49/year
Address: Colorado LLC Attorney, 901 Pennsylvania Street, Denver, CO 80203
3. Registered Agent Solutions Inc.
Registered Agent Solutions Inc., also known as RASi, is one of the largest registered agent service providers in the country.
The company has offices in all 50 states and the District of Columbia and represents thousands of businesses across the nation.
The price of its registered agent service within the U.S. is $175/year, but volume discounts are available if you need a registered agent in several states.
It's a good option if you have several foreign LLC registrations.
Costs: $175/year
Address: 36 South 18th Avenue, Suite D, Brighton, CO 80601
4. Registered Agents Inc.

Registered Agents Inc. is another major registered agent service provider.
Not only does this company offer a registered agent service in all 50 states (+DC), but it also powers more than 200 other registered agent service providers with its white-label service.
Unlike some of its competitors, Registered Agents Inc. scans all mail in its local offices instead of sending them to a second location. That allows the company to upload important documents to your online account immediately after receiving them.
Also, one of its regional offices is in Wyoming, so if you ever need help, you won't have to deal with time zone differences.
Costs: $200/year
Address: 30 N Gould St STE R, Sheridan, WY 82801
5. Colorado Registered Agent LLC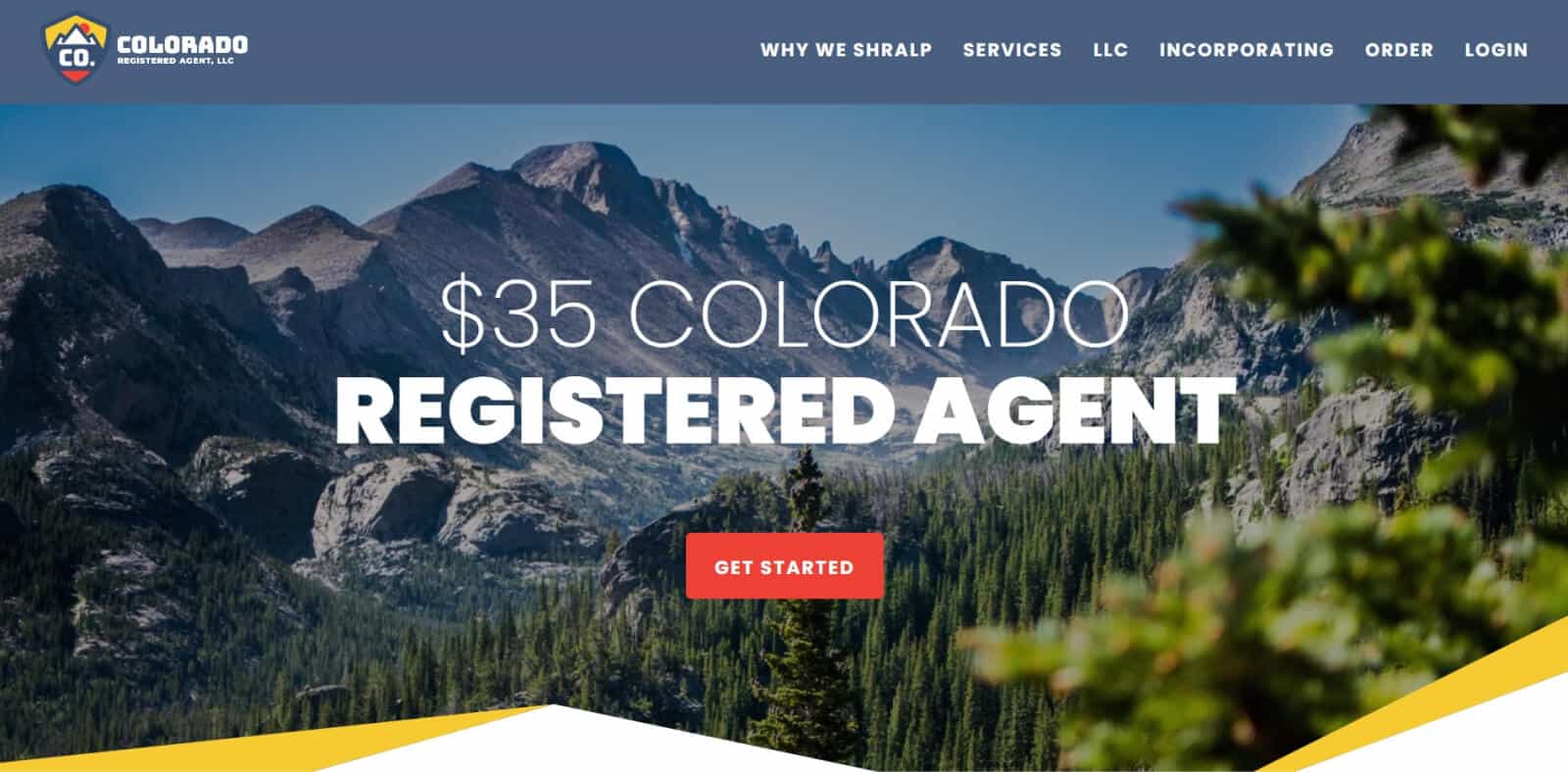 Colorado Registered Agent LLC specializes in company incorporation and registered agent services.
The owners of the company are hiking enthusiasts who started this business to fund their mountain hobbies. 17 years later, they still run the business with a "we work to play" philosophy:
"Our goals are to be as good at working as possible, so we can work as little as possible and get outside and play," explain the owners.
It's the most affordable Colorado registered agent service on this list. It's probably safe to say that you can expect the price to remain the same for the foreseeable future.
Costs: $35/year
Address: 1942 Broadway Street, Suite 314C, Boulder, CO, 80302
6. Frontier Registered Agent Services LLC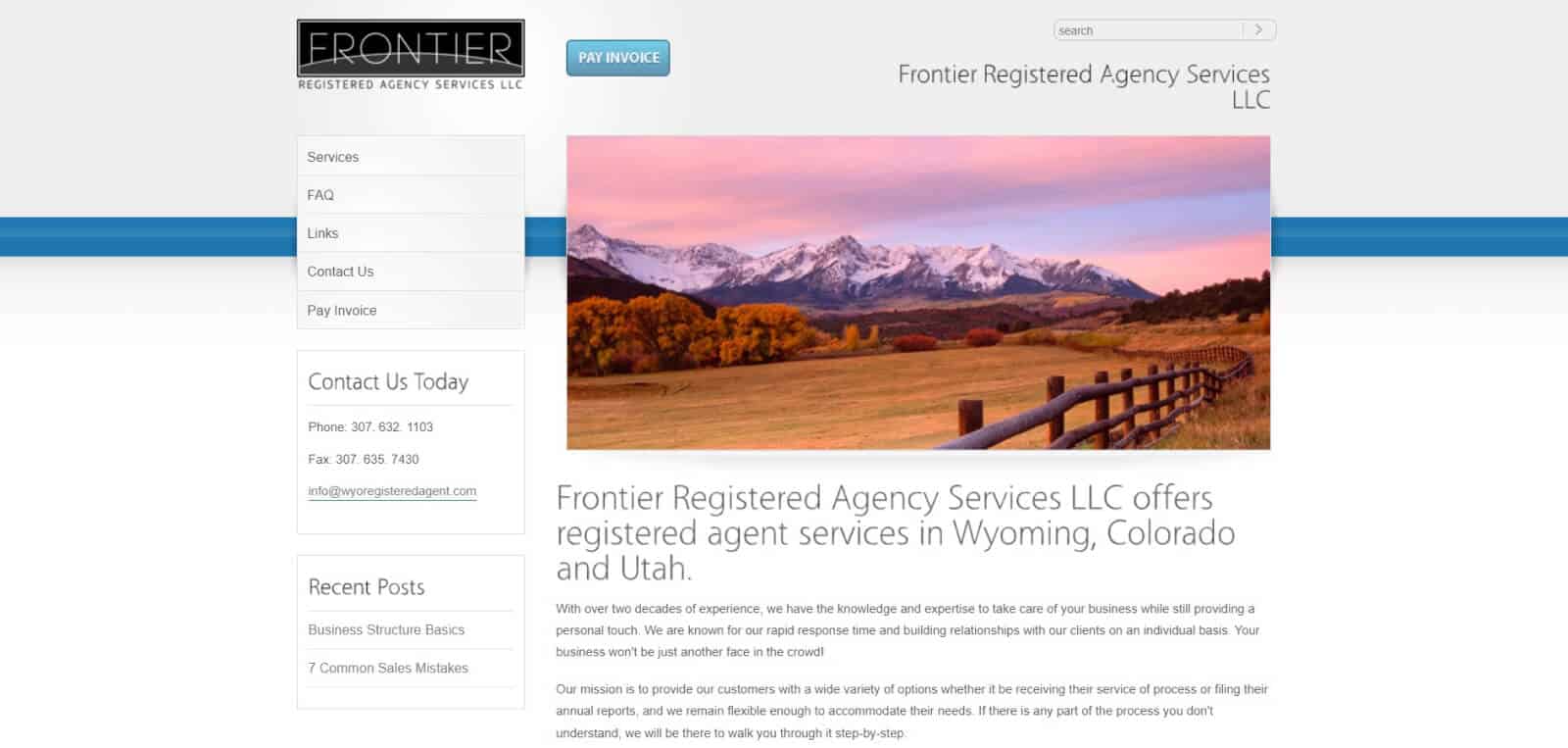 Frontier Registered Agent Services LLC provides a registered agent service in Wyoming, Colorado, and Utah.
The company has been in business for more than two decades and takes pride in building individual relationships with its clients.
This provider is also known for its quick response time when dealing with customer support requests.
Costs: $125/year
Address: 2120 Carey Avenue, Cheyenne, WY 82001
7. Corp1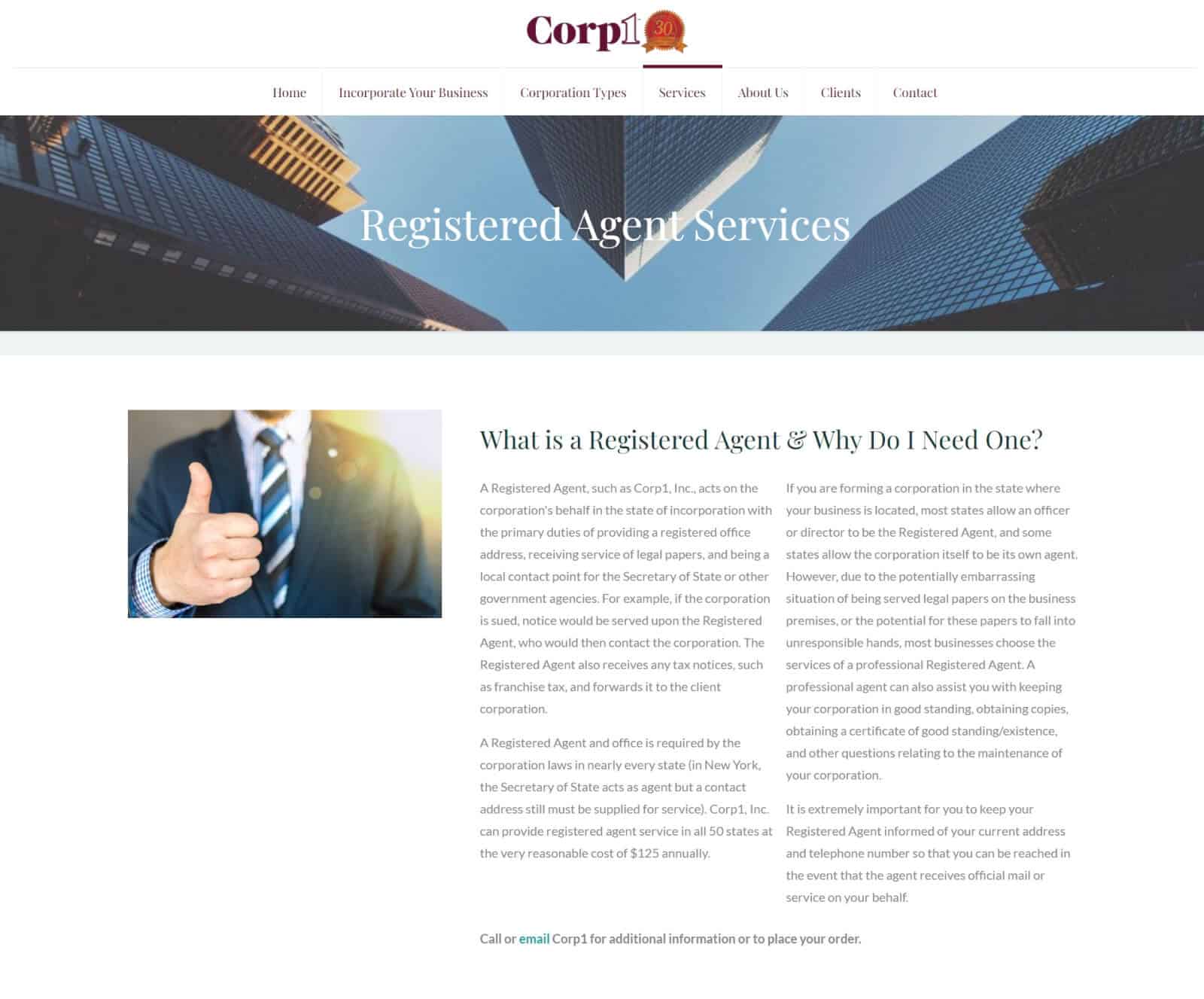 Corp1, previously known as Del Corp America, was founded in 1989 and has been providing incorporation services ever since.
The company has offices in Colorado, Delaware, and Wyoming but serves businesses nationwide.
The team also offers other professional services EIN registration, corporate searchers and fillings, and wholesale correspondence services.
Costs: $125/year
Address: 7700 E Arapahoe Rd Suite 200, Centennial, CO 80112
National registered agent service providers:
Didn't find an ideal fit? Then you can also look into these popular national registered agent service providers with fully digital services:
How do I appoint a registered agent in Colorado?
You need to name your registered agent in the Articles of Organization (for an LLC) or Articles of Incorporation (for a corporation). In both cases, you'll need to add:
Registered agent name
Registered office address
Consent to appointment
How do I change my registered agent in Colorado?
Registered agent details changes have to be recorded with Colorado officials.
Complete the "Statement of Change Changing the Registered Agent Information" form and send it to the Colorado Secretary of State.
Note that there's a $10 filing fee.
FAQs about Colorado registered agents
Here are the frequently asked questions about registered agent services in Colorado.
Advertisement
LLC Formation Service
LLC Formation: $39 + state fees
Pricing:
Turnaround Time:
Help & Support:
Customer Satisfaction:
Ease of use:
Best LLC Service 2023

Formed 1,000,000+ LLCs
$39 formation includes registered agent service
Fast formation & same day filing
Exceptional customer reviews

Last updated:
Sep 2023