Are you planning to form a limited liability company (LLC) in Missouri?
You must appoint a registered agent (also known as a statutory agent).
Being a registered agent is a serious responsibility, so you should carefully weigh your options.
In this post, we explain who can be a registered agent for a Missouri LLC and provide a list of seven reputable commercial registered agent service providers operating in the state.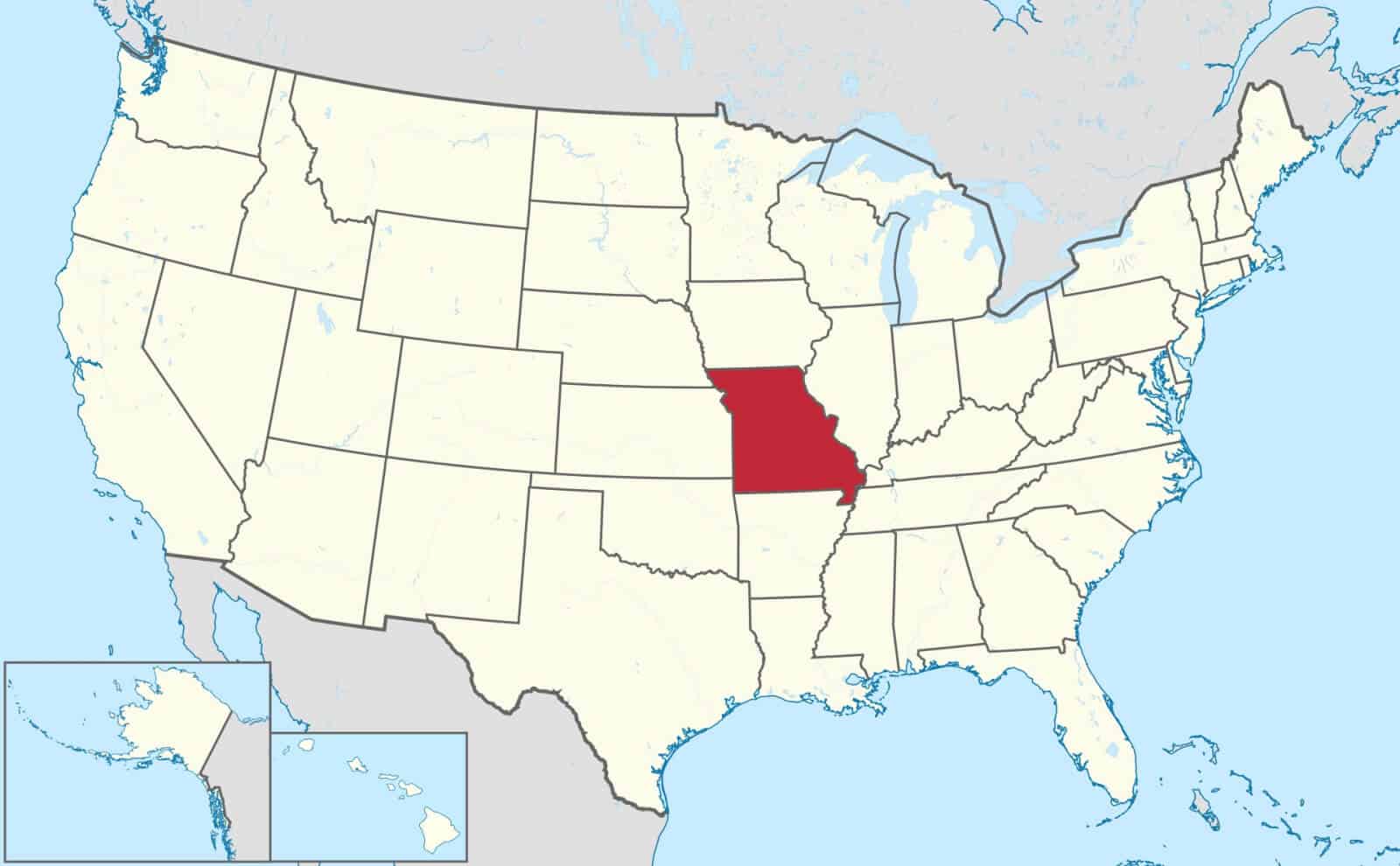 ---
Table of contents
---
Advertisement
LLC Formation Service
LLC Formation: $39 + state fees
Pricing:
Turnaround Time:
Help & Support:
Customer Satisfaction:
Ease of use:
Best LLC Service 2023

Formed 1,000,000+ LLCs
$39 formation includes registered agent service
Fast formation & same day filing
Exceptional customer reviews

Last updated:
Sep 2023
Who can be a registered agent for an LLC in Missouri?
A registered agent is a private person or a business entity that receives official correspondence and legal documents on behalf of an LLC or a corporation.
That includes legal notices such as service of process and correspondence from the Missouri Secretary of State.
Missouri requires a resident agent to meet the following qualifications:
Be a resident of Missouri of legal age (18 or older)
Or a legal entity authorized to do business in the state
Have a physical street address in the state (a P.O. box won't do)
You will need to name your registered agent in your Articles of Organization when you file them with the Missouri Secretary of State to form your LLC.
Missouri registered agent services list
Registered agents are at the front line of your company's compliance. This means you must have a reliable and qualified professional services provider.
We analyzed and compiled a list of seven professional registered agent service providers you can fully rely on in Missouri.
1. Northwest Registered Agent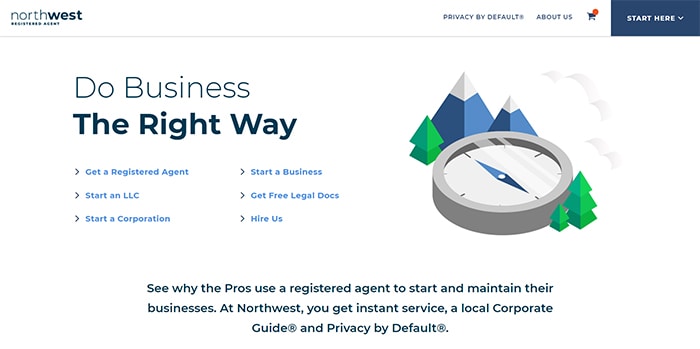 Northwest Registered Agent is our top recommendation for anyone looking for a registered agent service in Missouri.
They offer a complete, well-rounded registered agent service with excellent customer support, favorable conditions, good privacy, and an easy, straightforward sign-up process.
Northwest Registered Agent also distinguish themselves with a customer-friendly 90-day return policy. Should you decide to cancel your service, Northwest will offer you a prorated refund of the fees and costs you paid.
If you are interested in a more detailed assessment of the company and the services they offer, consider reading our in-depth review of Northwest Registered Agent.
Costs:

$125/year

Address:

117 S. Lexington St., #100, Harrisonville, MO, 64701
2. Campbell Law & CPA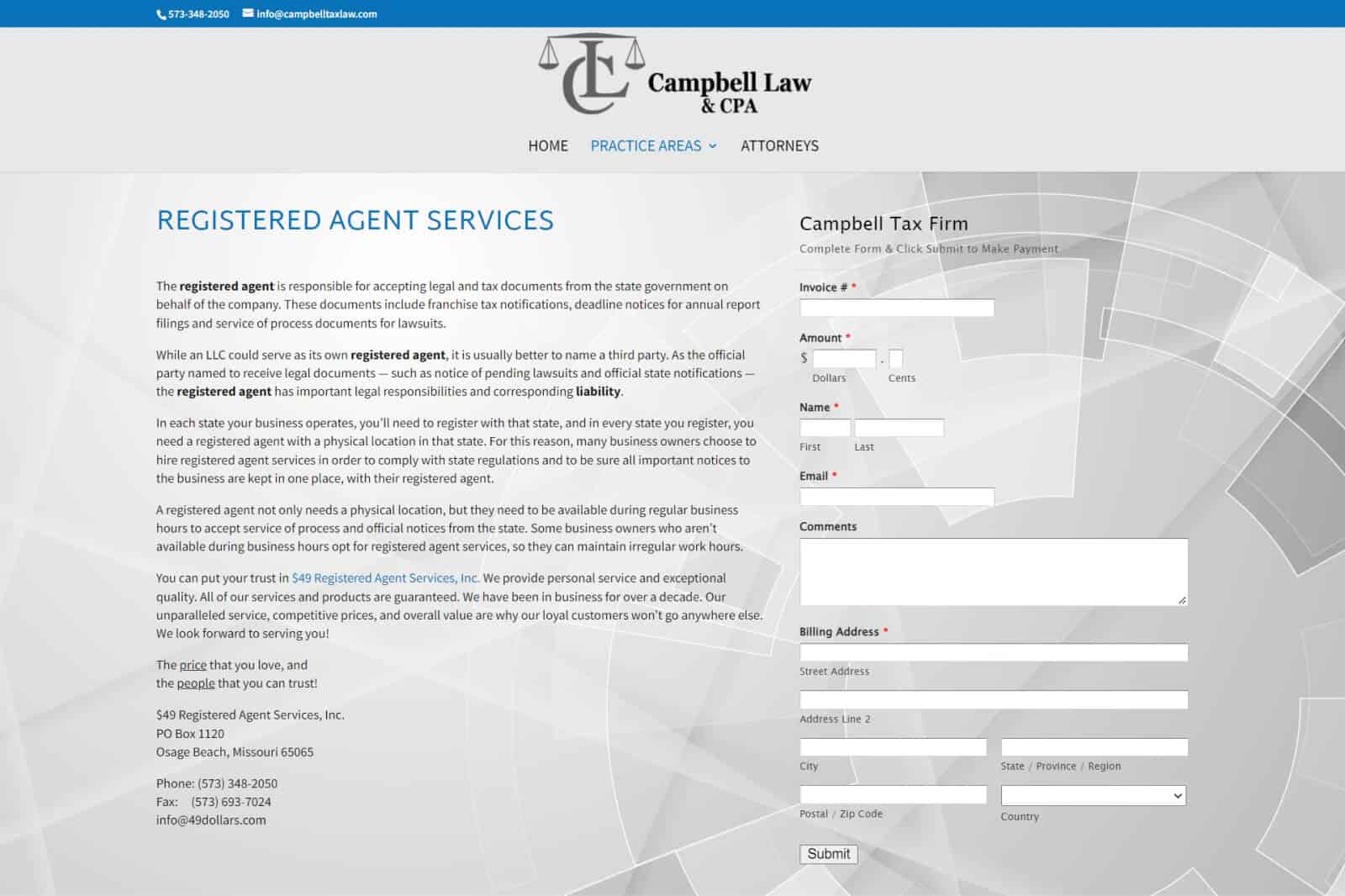 Campbell Law & CPA office is a mix of legal and accounting services. Plus, they also specialize in registered agent service.
The company owns a separate brand called $49 Registered Agent Services, Inc. which is solely focused on providing a registered agent service in Missouri.
But you can contact them directly if you also need additional legal or financial advice.
Costs: $49/year
Address: 5740 Osage Beach Pkwy., Suite 1005, Osage Beach, MO 65065
3. St. Thomas Legal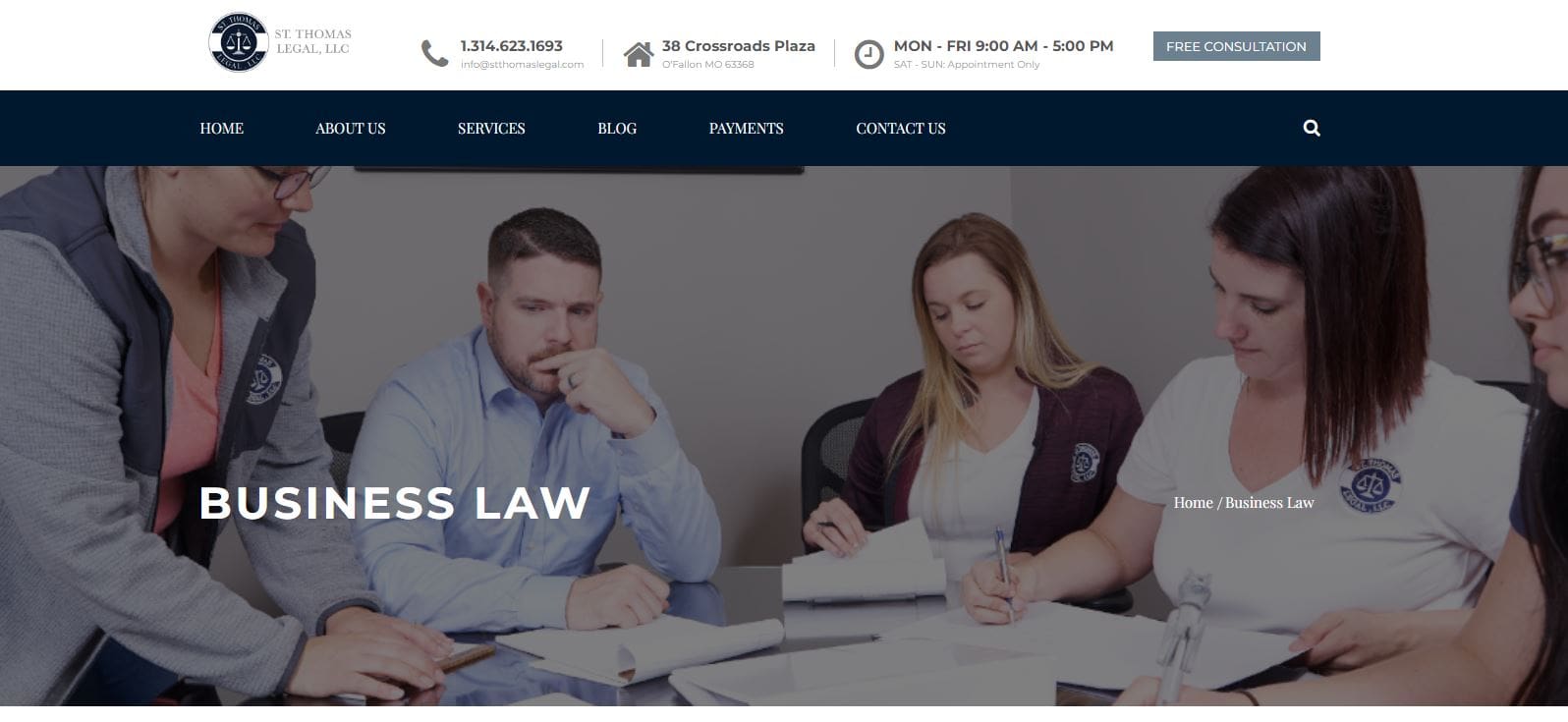 St. Thomas Legal is one of the cheaper options on this list and a great value for having attorneys act as your registered agent.
They also provide company formation assistance and can help with all areas of business law if the need arises.
Costs: $50/year
Address: 38 Crossroads Plaza, O'Fallon, MO 63368
4. Missouri Business Services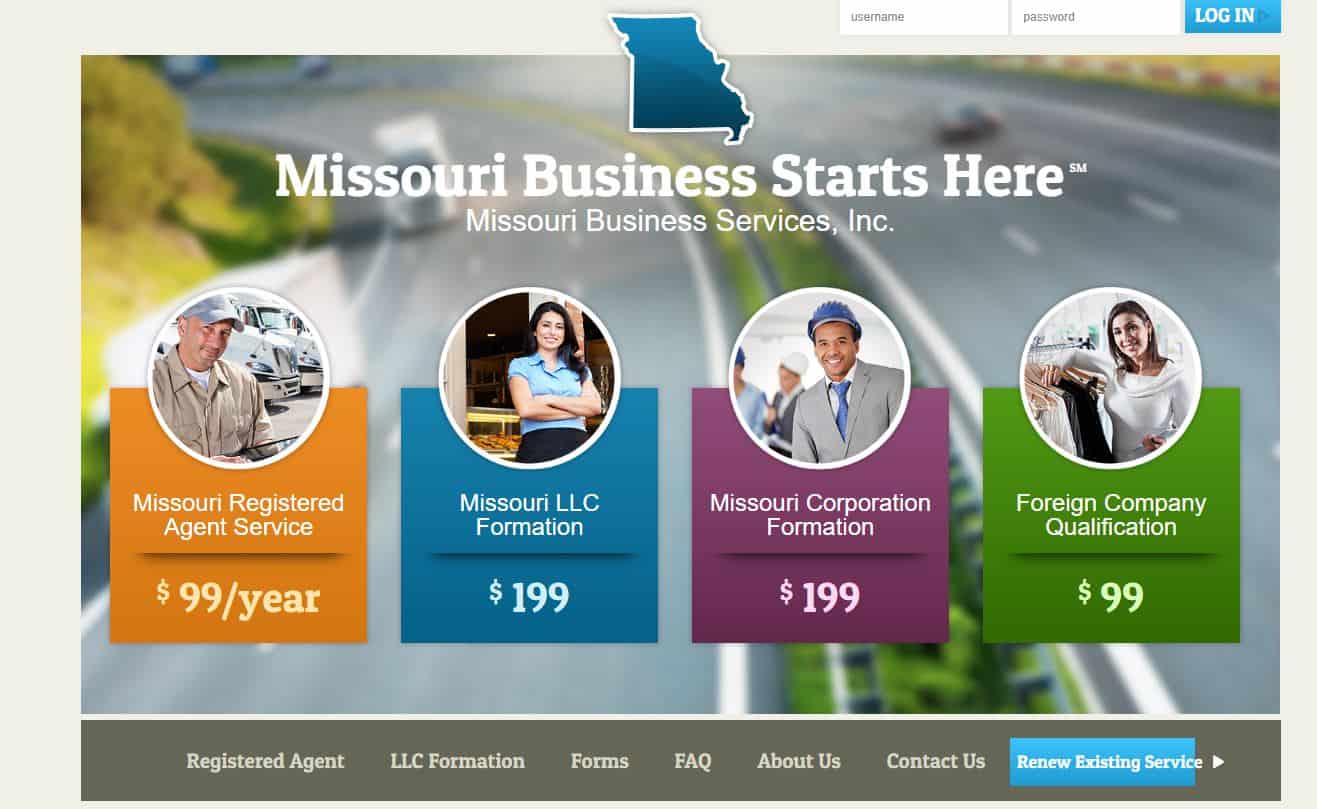 Missouri Business Services provides LLC formation services for domestic and foreign LLCs for $199. It also provides registered agent services for a reasonable price.
The company was founded by a Missouri business attorney with more than 25 years of experience advising business clients.
Costs: $99/year
Address: 9666 Olive Blvd., Suite 690, St. Louis, MO 63132
5. Lex Launch

Lex Launch was founded by Tim Denker, an attorney specializing in business law and estate planning.
The company provides LLC formation services in Missouri, Oregon, and Kansas.
The team also offers a registered agent service at two tiers. Plus, you can get a 10% discount on any attorney consultations as their client.
Costs: $95/year (Basic) or $149/year (Elite)
Address: 229 SE Douglas St., #210, Lee's Summit, MO 64063
6. Missouri Registered Agent LLC
Missouri Registered Agent LLC provides company incorporation and registered agent services. They boast to issue your registered agent details in just 3 minutes.
The company works with domestic and international clients who want to operate businesses in Missouri.
It's the most affordable registered agent service provider on this list. They are also among the few who instantly provide clients with an online account.
Costs: $40/year
Address: 117 South Lexington St., Suite 100, Harrisonville, MO 64701
7. Law Office of Mark McMullin

The Law Office of Mark McMullin offers flat free business formation packages to start a Missouri LLC. They also offer stand-alone registered agent services.
Costs: Call for quote
Address: 2007 Independence St., Cape Girardeau, MO 63703
How do I appoint a registered agent in Missouri?
You need to name your registered agent in your Articles of Organization. The state form has a specific line for adding your registered agent's name and address. No agent signature is required.
Once your LLC's Articles of Organization are approved by the Missouri Secretary of State, the registered agent appointment becomes official.
How do I change my registered agent in Missouri?
Since Missouri doesn't have an annual report requirement, you must communicate any changes in registered agent details to the state in a separate form called "Statement of Change of Registered Agent."
You need to add new information there, then send it to the Missouri Secretary of State Corporations Division by mail or via an online business portal. There's a $10 filing fee.
FAQs about Missouri registered agents
Here are the frequently asked questions about registered agent services in Missouri.
Advertisement
LLC Formation Service
LLC Formation: $39 + state fees
Pricing:
Turnaround Time:
Help & Support:
Customer Satisfaction:
Ease of use:
Best LLC Service 2023

Formed 1,000,000+ LLCs
$39 formation includes registered agent service
Fast formation & same day filing
Exceptional customer reviews

Last updated:
Sep 2023