If you're looking to start a new business in Georgia, there's one important step you need to remember: appointing and maintaining a registered agent.
This is a legal requirement according to Georgia state law, and it's crucial to keeping your business running smoothly.
But what exactly does a registered agent do? For starters, they act as your official point of contact for legal matters in the state of Georgia, including accepting mail, legal notifications, and service of process (lawsuits) on behalf of your business.
Without a registered agent, you run the risk of missing critical deadlines, such as filing your annual report and articles of organization and the payment of state fees — which can cause your business to lose its good standing.
That's why it's so important to choose a reliable registered agent for your business. Not only will they ensure that you stay compliant with state regulations, but they'll also give you peace of mind knowing that your legal obligations are being taken care of by professionals.
Who can be a registered agent for an LLC in Georgia?
In Georgia, there are certain requirements that a person or entity must meet to serve as a registered agent for an LLC (limited liability company). These requirements are outlined by the Georgia Secretary of State Business Division and include the following:
Individual or entity: A registered agent can be either an individual or a business entity that is authorized to do business in Georgia.
Georgia business address: The registered agent must have a physical street address in Georgia. This physical address is known as the registered office and will be the location where legal documents and notices are delivered. A P.O. box is not acceptable as a registered agent's address.
Availability: The registered agent must be available during regular business hours to receive service of process and other official documents at the registered office address.
List of top 6 registered agents in Georgia
Now that you're familiar with the requirements for a registered agent, let's take a look at the six best registered agents in Georgia that you should consider.
1. Northwest Registered Agent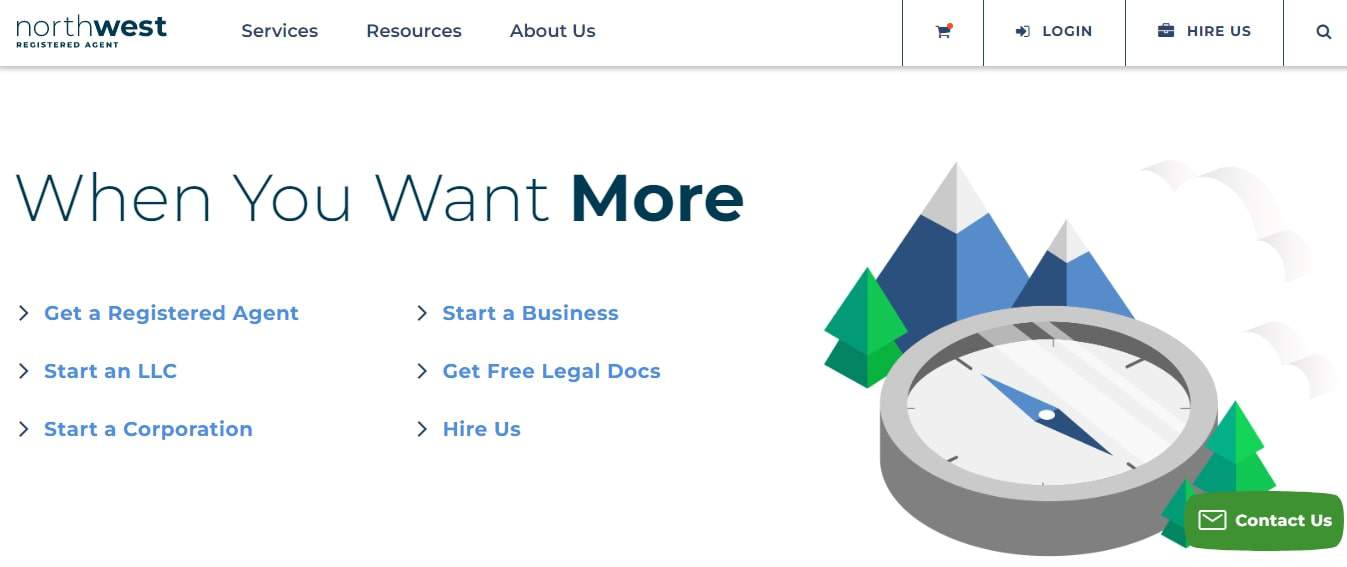 Northwest Registered Agent is our top choice for the best registered agent in Georgia.
Founded in 1998, Northwest Registered Agent has earned a solid reputation in the industry for its top-notch customer support and human-first approach to problem-solving.
Instead of dealing with a generic customer service representative, Northwest ensures that you'll have access to dedicated corporate guides who are experts in their field and can provide knowledgeable, consistent, and efficient support tailored to your business's needs.
Northwest Registered Agent offers many valuable services, including mail forwarding and comprehensive privacy protection, as well as help with business formation.
Plus, its team goes above and beyond by accepting and scanning your documents on the same day and providing notifications to keep you in the loop.
Price: $125/year
Address: 300 Colonial Center Parkway, Suite 100N, Roswell, GA 30076
2. TRUE Georgia Registered Agent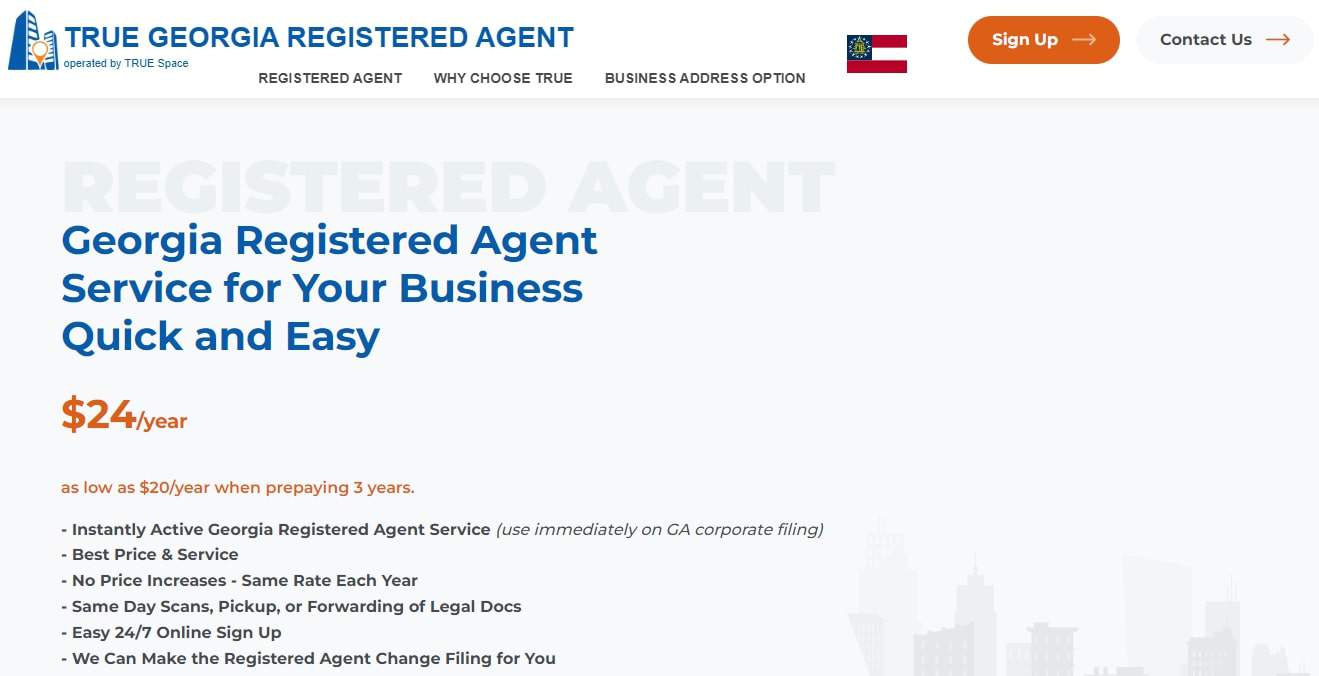 TRUE Georgia Registered Agent is an excellent registered agent in Georgia for budget-conscious small business owners.
Located in the Atlanta Metro Area, this registered agent service offers a range of benefits to help with your LLC formation. One of the most attractive of these is TRUE's competitive pricing.
With annual fees starting at just $24/year (or as low as $20/year if you pay for three years in advance), TRUE is an affordable solution for those just beginning their entrepreneurial journey.
With TRUE Georgia Registered Agent, you'll have access to a variety of services, including:
Document scanning, pickup, and forwarding
Emailing services for legal documents
24/7 online signup
Ultimately, TRUE is a reliable and cost-effective registered agent in Georgia.
Price: Ask for quote
Address: 2400 Herodian Way SE, #224, Smyrna, GA 30080
3. Georgia Registered Agent, LLC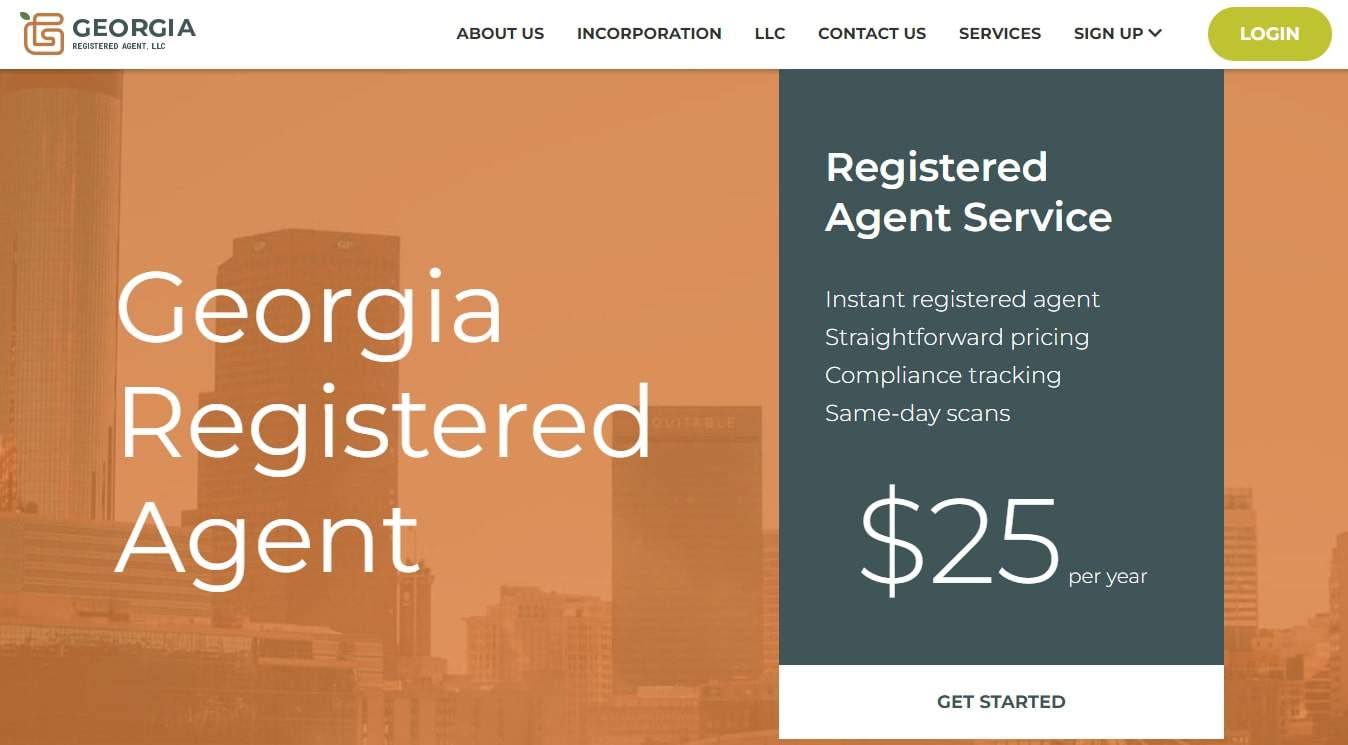 Georgia Registered Agent, LLC stands out as a top-quality registered agent in Georgia for a number of reasons.
First, it offers competitive rates: costing just $25/year + fees.
Next, its reliable delivery service ensures that you'll receive your documents via email within an hour.
And when you sign up with Georgia Registered Agent, you'll receive an online account with a personal secure login, making it easy to check and manage your business documents from anywhere.
It also doesn't hurt that Georgia Registered Agent sends out annual registration reminders to help your business stay compliant.
With its affordable pricing, attentive customer service, and reliable support, Georgia Registered Agent is an excellent choice for small business owners in need of a registered agent in Georgia.
Price: $25/year + fees.
Address: Roswell, GA 30076, Fulton County
4. Harbor Compliance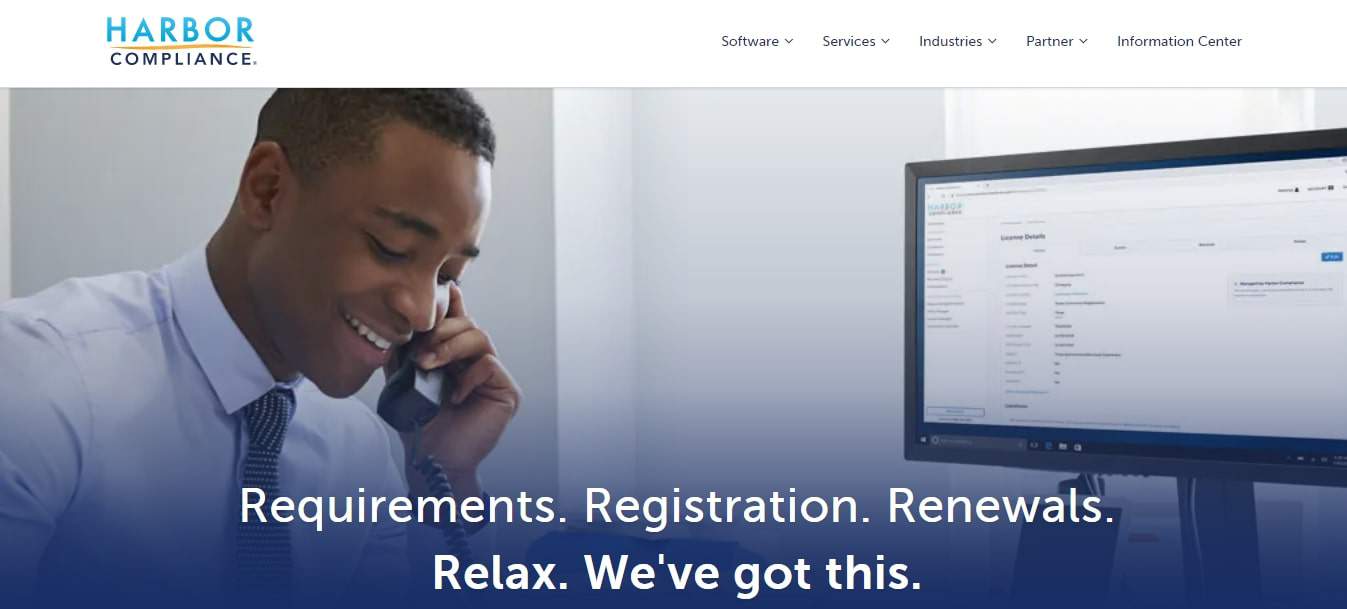 Founded in 2012, Harbor Compliance offers registered agent services in Georgia for just $99/year. And if you pay for multiple years in advance, you could receive a discount of up to 10%.
Not bad. Especially considering that Harbor Compliance provides personalized customer support by assigning dedicated compliance specialists to its clients.
These specialists are experts in their field and have strong working relationships with government agencies, enabling them to offer tailored guidance and assistance based on your business's requirements.
Harbor Compliance's registered agent service comes with same-day scanning and email notifications, so you're always aware of when new documents have been delivered.
As an added bonus, your main contact will receive a phone call if Harbor Compliance receives service of process (notice of a lawsuit) on your business's behalf.
Price: $99/year
Address: Roswell, GA 30076, Fulton County
5. CSC Global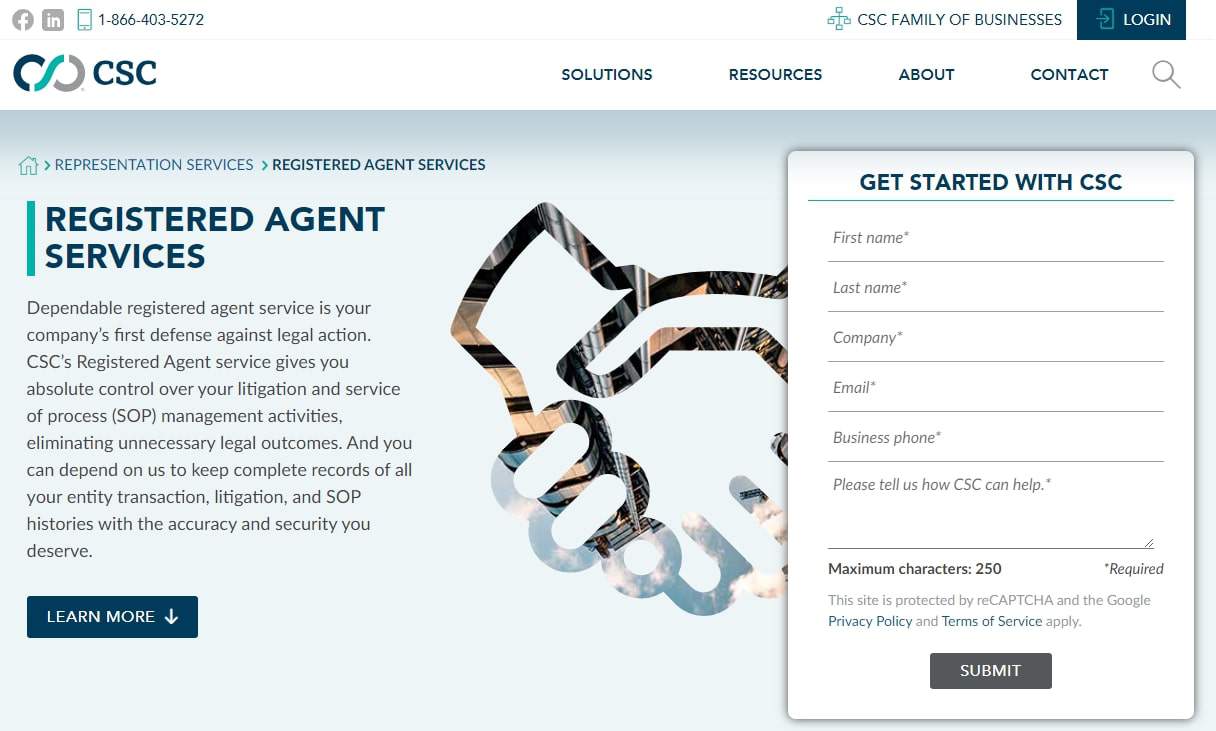 With over 120 years of experience in the industry, CSC Global is one of the most well-established and dependable registered agent service providers in the United States.
Secure is the first word that comes to mind when reviewing what CSC has to offer. This registered agent takes your business's private information seriously, following strict data protocols to protect your interests.
In addition, CSC handles all scanning, indexing, and delivering of service of process documents in-house on its world-class servers, so you can rest easy that your sensitive business information and documents are well-protected against potential threats.
CSC also offers clients access to its online compliance dashboard, CSCNavigator. This intuitive platform allows you to track service of process documents, view details about your business entity, and stay on top of important compliance dates.
Price: Custom pricing
Address: 2 Sun Court, Suite 400, Peachtree Corners, GA 30092
6. Triumph Research Specialists (TRS)

Triumph Research Specialists (TRS) is not only known for its public record search expertise but also for being an outstanding registered agent in Georgia. To date, it provides accurate, convenient, and efficient registered agent services to hundreds of Georgia businesses.
What really shines about TRS is its customer support team. These well-train professionals work hard to ensure that all essential legal documents and correspondence are scanned and delivered promptly according to the client's preferences.
Customers consistently praise TRS for its attentiveness, professionalism, and commitment to providing top-notch registered agent services. It's easy to see why TRS's streamlined processes and user-friendly approach have made it a standout choice for Georgia businesses.
Price: Contact for price
Address: 279 W. Crogan Street, Lawrenceville, GA 30046
Can you be your own registered agent in Georgia?
Yes, you can be your own registered agent in Georgia. However, you may still want to consider hiring a professional registered agent service provider, as there are a couple of drawbacks to being your own registered agent:
Privacy: By serving as your own registered agent, your personal information will be publicly available.
Availability: As your own registered agent, you must be present at your registered address during normal business hours to receive service of process, which can be challenging due to work, vacations, or other commitments.
While it doesn't cost anything to act as your own registered agent, many people prefer to use a professional registered agent service to avoid these potential issues and maintain a separation between their personal and business lives.