A Utah registered agent (also called a resident agent, statutory agent, or commercial registered agent) is critical for all businesses.
It's a legal requirement for registering an LLC (limited liability company) according to the Utah Model Registered Agents Act. You'll need a registered agent as part of getting your certificate of good standing for your company.
In addition to the legal requirement, a registered agent acts as a point of contact and receives legal and confidential documents on your behalf. Their physical location becomes your business address.
For example, what happens if you receive a legal notice or tax notice from the IRS, and one of your staff members receives the mail at your office?
A professional registered agent service can save you embarrassment and gossip. They provide a registered office away from your physical location to receive sensitive documents. Their staff receives documents on your behalf and discretely delivers them to you or a designated person on your team. Moreover, you won't have to put your address on public record.
It's important to select the right agent to ensure good quality service. They'll be handling your legal documents, so you want to partner with a trustworthy, credible, and well-established registered agent.
Who can be the registered agent of an LLC in Utah
The eligibility criteria for becoming a registered agent in Utah are straightforward and uncomplicated.
To be a registered agent of an LLC in Utah you must:
Have a physical address in Utah (not a P.O. Box).
Be reachable at the registered office address during standard business hours.
Be 18 years or older. A company that wants to become a registered agent must be authorized to do business in Utah.
Top registered agent services in Utah
Finding a registered agent service in Utah can seem tricky if you've never hired one before and might be unsure of which company to trust with your confidential documents.
Our top picks for Utah registered agents summarize their services to give you an overview of what to expect from each.
1. Northwest Registered Agent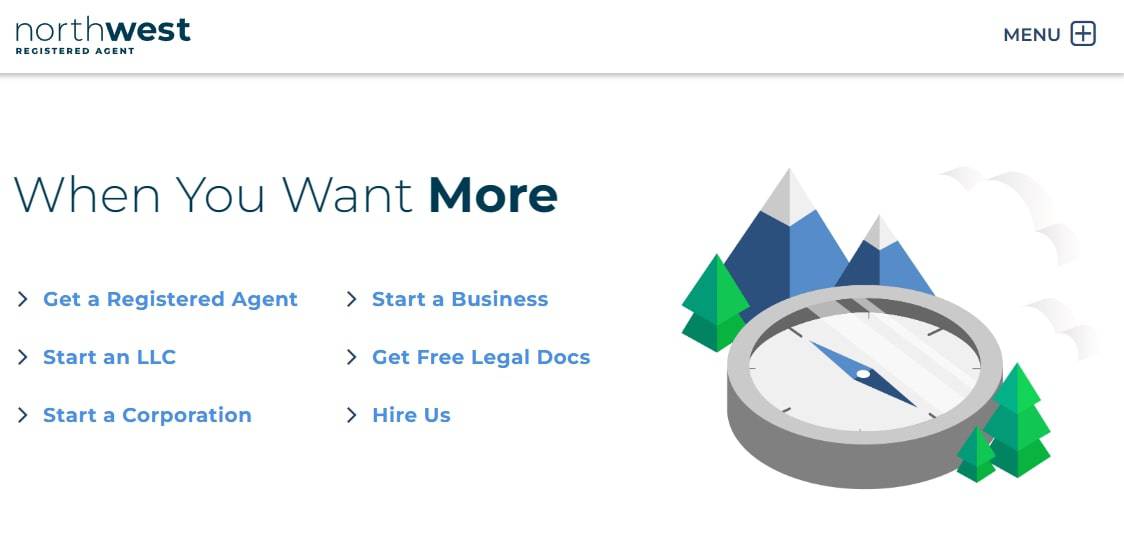 Northwest is an established and credible registered agent service provider. If you're looking for a go-to registered agent service with a history of exemplary service, Northwest is an excellent choice.
Getting started with Northwest is easy, thanks to the quick and simple sign-up process. And if you need help, you can reach out to Northwest's excellent customer support team.
Once you've signed up, Northwest will provide you with an Utah street address to use as your address of record. The company receives all documents on your behalf and sets up mail forwarding per your instructions. Online document retrieval services with same-day scanning are also offered.
Northwest can also help with LLC formation service in Utah for $279. That price includes $125 for a year of registered agent service and state fees.
The best part is Northwest's 90-day satisfaction guarantee. If you aren't 100% satisfied with their service, you can claim a partial refund calculated based on the number of days you've used the service. This means you don't take any significant risk if you just want to try Northwest before signing up for the long term.
Cost: $125/year
Address: 881 Baxter Drive Suite 100, South Jordan, UT 84095
2. Ogden Tax Services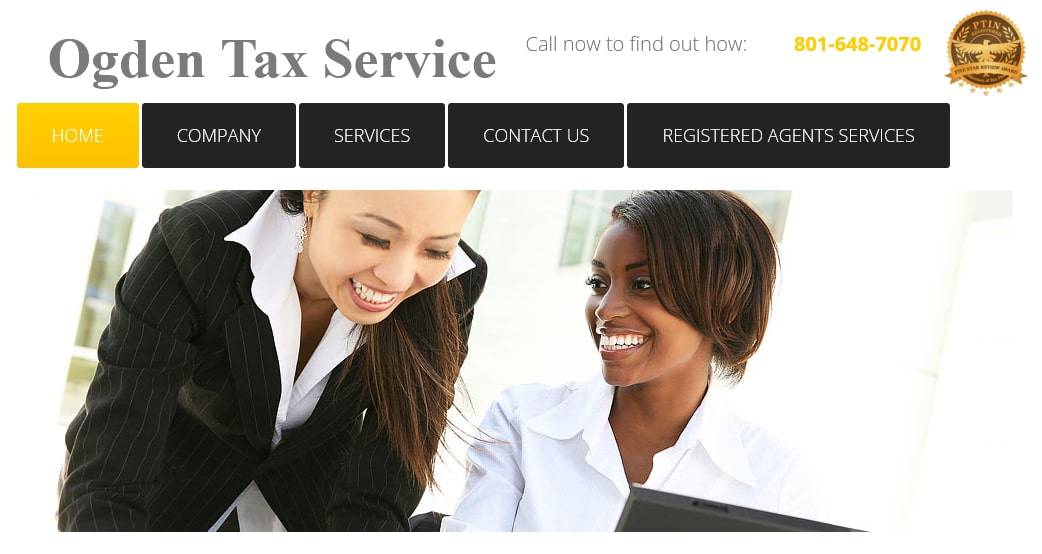 Ogden Tax Services is a Utah company based in Ogden County that handles tax filing, tax planning, bookkeeping services, and registered agent services. A benefit of working with a local company is that it is more likely to be up to date with the intricacies of Utah laws.
Ogden Tax Services has been operating for 23 years in Utah. Their registered agent services are basic but local. Like other agents, Ogden Tax Services provides a physical address for your public notices, receives service of process, state filings, and other documents.
While it offers a flat fee for registered agent services, LLC creation filing fees may vary if your primary location is out of state.
Ogen scans all received documents and emails them directly to you.
Cost: $45/year
Address: 2637 N Washington Blvd Suite 236, North Ogden, UT 84414
3. Utah Registered Agent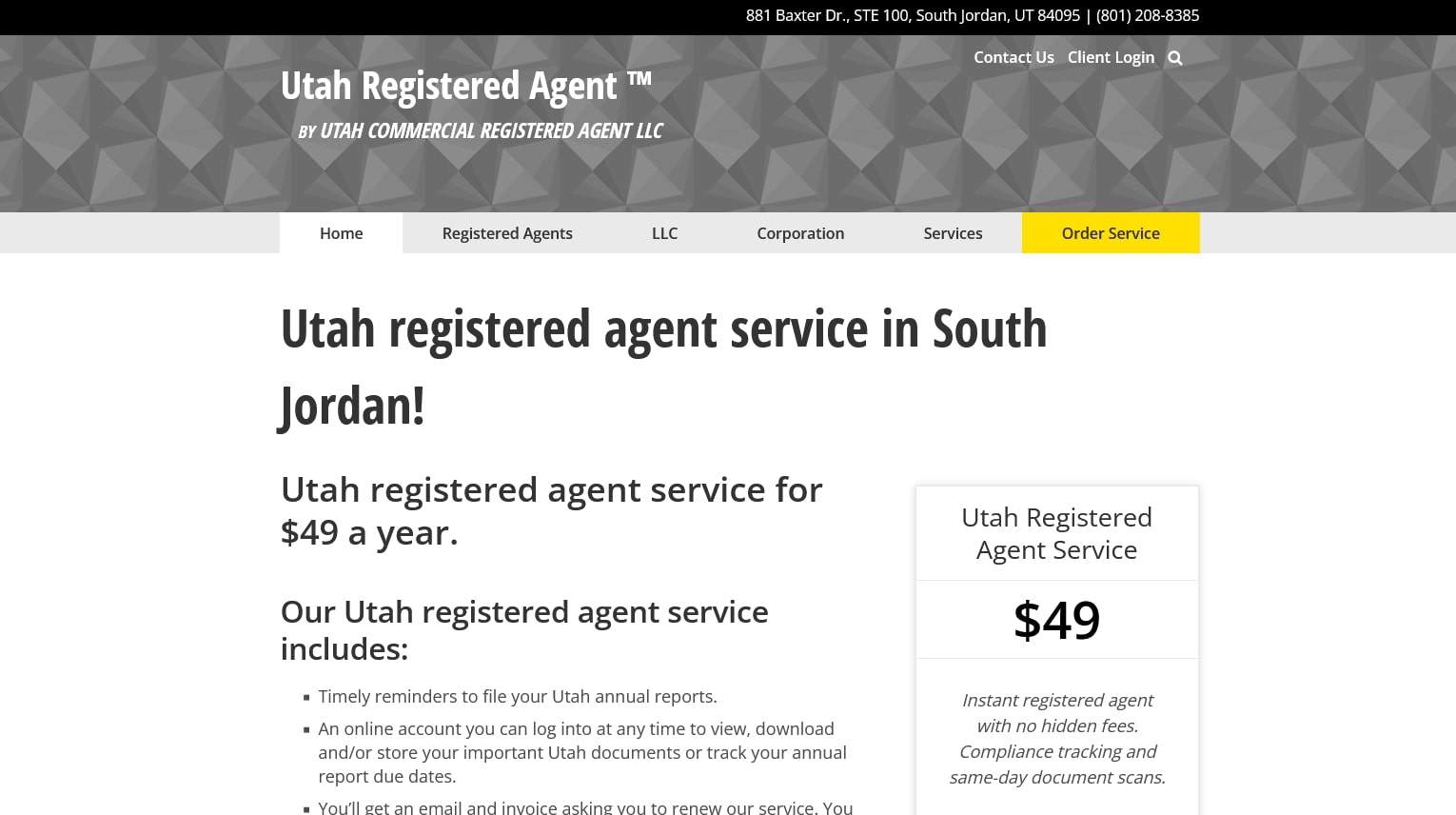 Utah Registered Agent not only acts as the registered agent for many local companies; the company is also the commercial registered agent for many national companies that offer registered agent services nationwide.
Registration is streamlined with Utah Registered Agent, and you get access to the online portal immediately after signing up that contains all the forms you need from the state, already prefilled with Utah Registered Agent details.
The registered agent services include a compliance tracker and same-day document scanning so you can access your files quickly on the secure portal. If your company needs legal assistance, Utah Registered Agent partners with Law on Call to offer legal help for an additional $9/month.
Cost: $49/year
Address: 881 Baxter Drive Suite 100, South Jordan, UT 84095
4. Harbor Compliance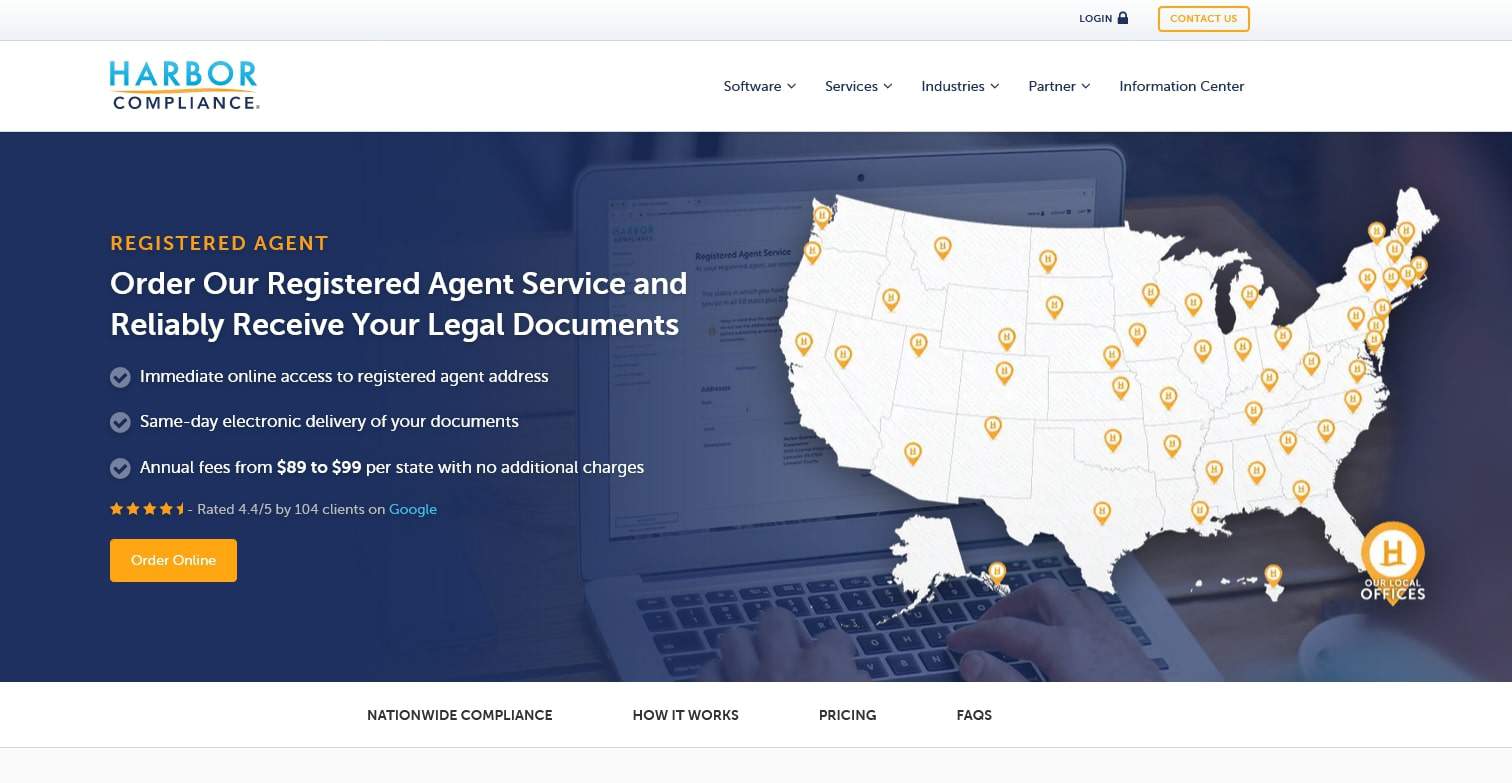 If you're just starting your business and need to keep costs to a minimum, consider a pocket-friendly service like Harbor Compliance.
Harbor Compliance offers all the basics, including a physical address in Utah and the ability to receive service of process. All documents are uploaded to an easy-to-navigate online portal.
Voice notification of any service of process documents is provided to ensure you are notified quickly. And compliance tracking software keeps track of annual reporting deadlines for you.
If you're a startup or small business that needs to keep expenses to a minimum, Harbor Compliance is an excellent service.
Cost: $99/year
Address: 881 Baxter Drive Suite 100, South Jordan, UT 84095
5. ZenBusiness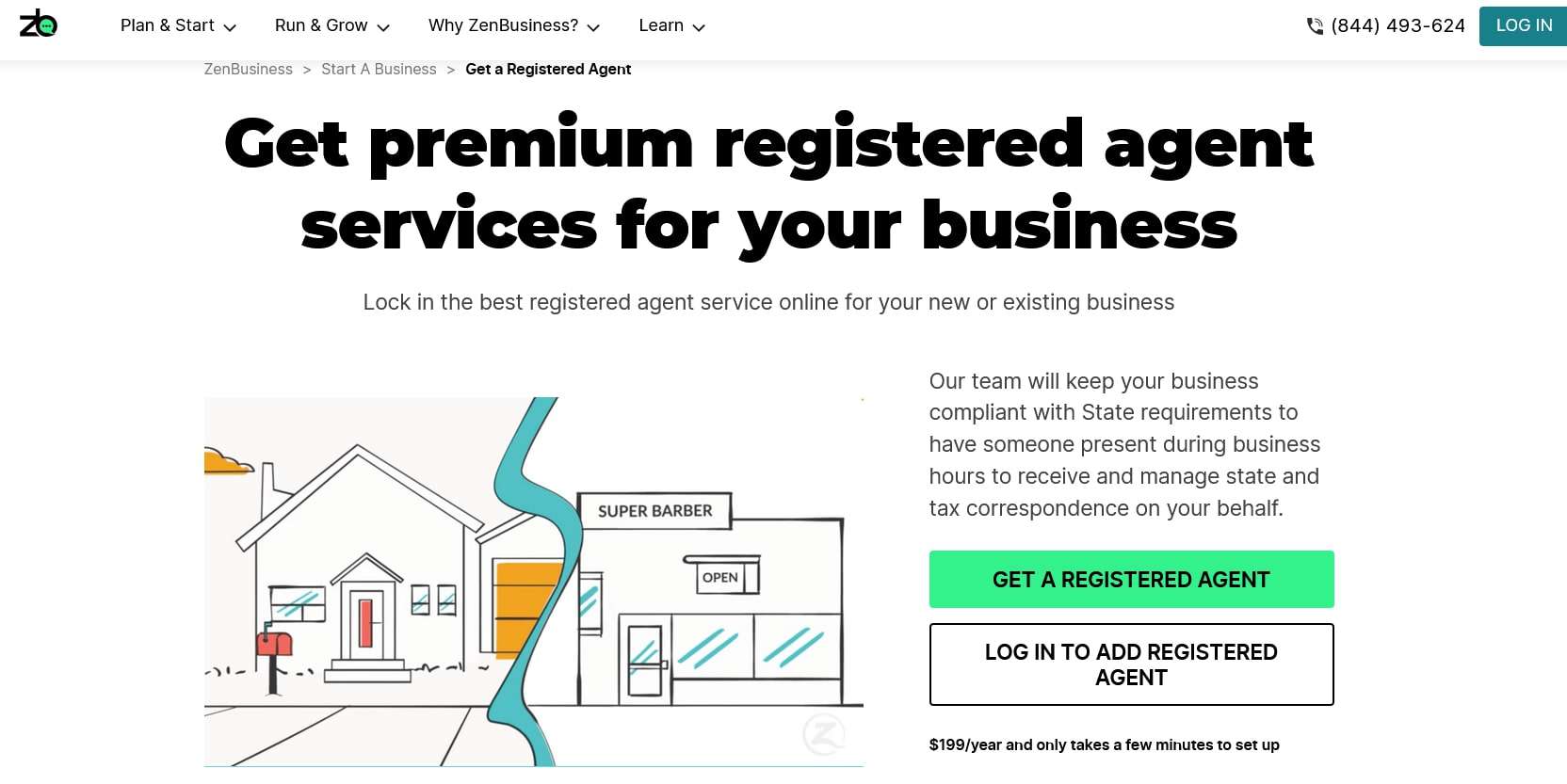 ZenBusiness offers multiple services, including registered agent service and help with filing your articles of organization to form an LLC.
You can hire ZenBusiness to receive documents during regular business hours at its Utah-based physical address. Documents are immediately uploaded to your online account on receipt.
ZenBusiness also sends notifications to keep you updated about any legal changes through its built-in compliance alert system. This means you never need to actively monitor for any changes in the legal framework for being a registered agent.
However, ZenBusiness does not offer registered agent services for Professional Limited Liability Companies (PLLCs) or Non-Profit Organizations (NPOs).
Cost: $199/year
Address: 881 Baxter Drive Suite 100, South Jordan, UT 84095
6. LegalZoom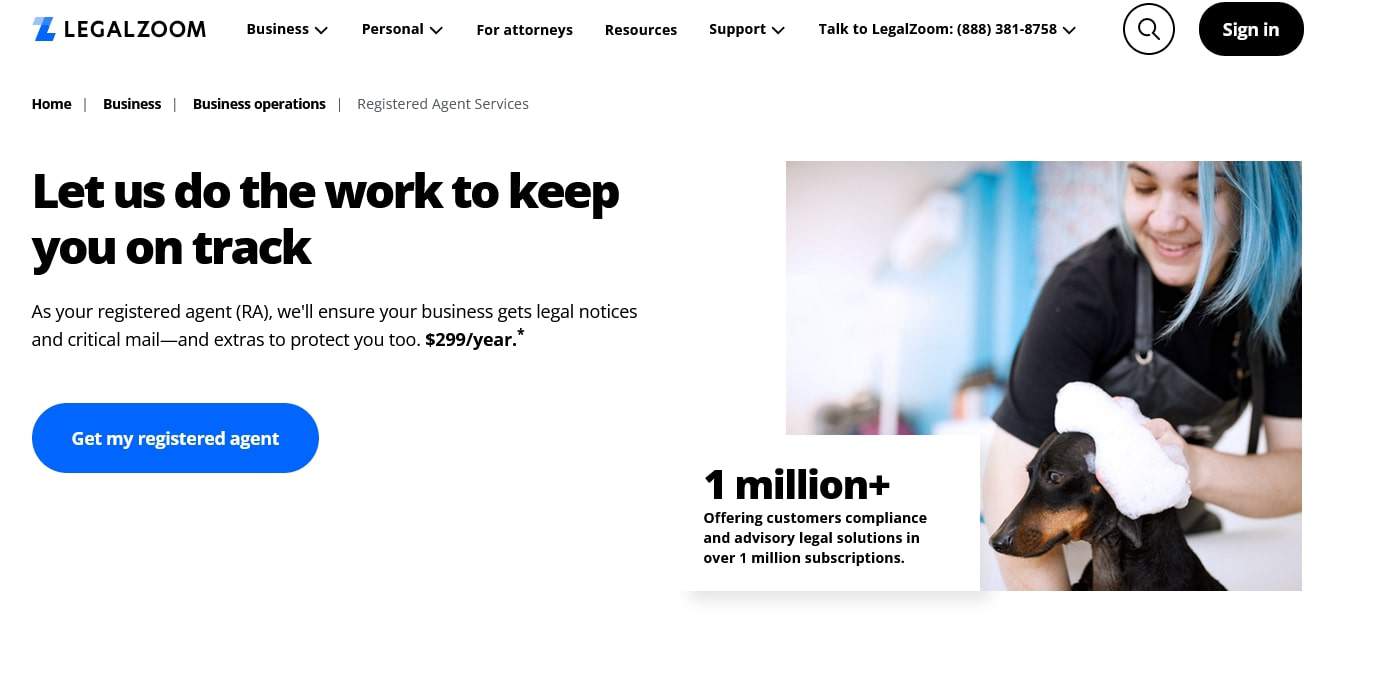 LegalZoom is a premium service, offering a broad range of services, including the drafting of Articles of Organization and Articles of Incorporation and receiving Service of Process documents.
If you're looking for a service with a great reputation that helps you with multiple parts of your business, such as Utah LLC formation and acting as a registered agent, LegalZoom is an excellent choice. Email notifications of tax and annual filing deadlines and unlimited cloud storage for scanned documents are also provided.
The wider range of services reflects in LegalZoom's pricing. But a great thing about LegalZoom is that the price includes a $1,000,000 identity theft insurance policy. If you like the idea of hiring a premium service that offers identity theft insurance as an add-on, LegalZoom might be a great fit for your business.
Cost: $299/year
Address: 299 S Main Street Suite 1300, Salt Lake City, UT 84111
7. SunDoc Filings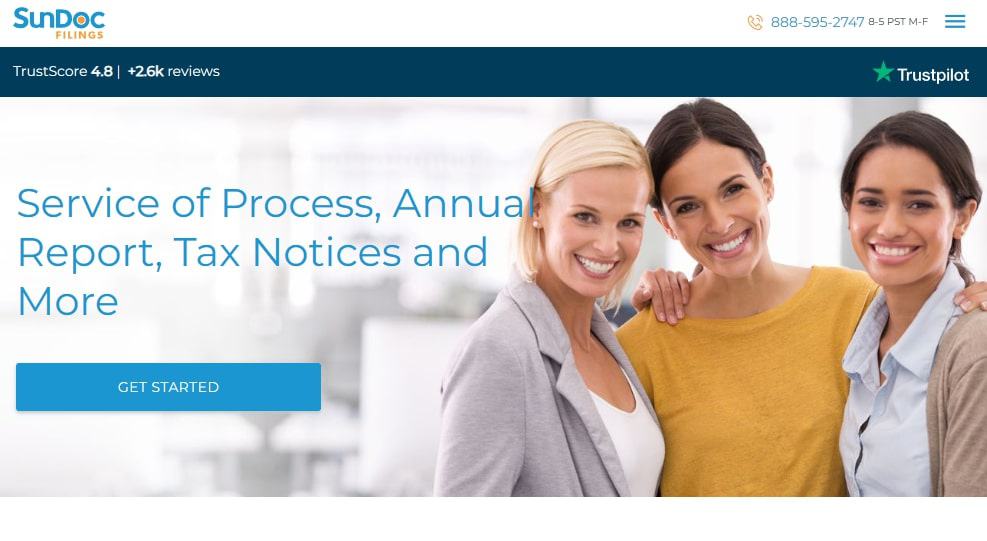 SunDoc Filings offers nationwide registered agent services.
In addition to providing a physical address in Utah, it provides automatic emails for service of process, online forms and guidelines for all types of entities, and support through phone, email, and website tools.
Additional services include service of process history summaries and customized reporting tools. Received documents are scanned and placed online within a few hours of receipt.
Cost: $159 per year
Address: 1108 E South Union Ave, Midvale, UT 84047
FAQs about Utah registered agents
How can I appoint a registered agent in Utah?
The name of the agent must be included in the Certificate of Organization form when you register your corporation or LLC.
This means you'll need to select a registered agent service and get their written consent to act as your registered agent before you apply to register your Utah business entity.
If you don't list a registered agent, the Utah Secretary of State will reject your application.
How can I change my registered agent in Utah?
The Utah Division of Corporations & Commercial Code website allows changing the registered agent online. When you need to change your registered agent in Utah, log into the online portal and make the change. Alternatively, you can request your new registered agent service to fill out the form for you — most will do it for free.
Can I become my own registered agent in Utah?
You can become your own registered agent in Utah if you're 18 years or older, have a physical address in Utah, and have the ability to receive documents at that address during normal business hours.
How to find a registered agent service in Utah?
This guide lists the best Utah registered agent services based on their service offerings, pricing, and trustworthiness. If you have another service in mind and need to verify if it operates in Utah, you can search for the agent using the Business Search page on the Utah Corporations and Commercial Code website.
How much does a registered agent in Utah cost?
While prices vary, most registered agent services cost between $50 and $200/year. Prices often vary based on the services offered and extra perks that other companies may not offer.