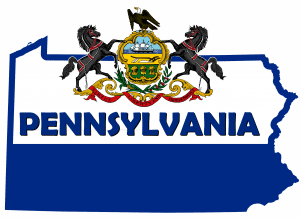 Starting an LLC in PA is an administrative procedure that involves choosing a business name, providing a registered office address, and filling the articles of organization with the Pennsylvania Department of State, alongside applicable state filing fees.
Afterward, you'll also need to apply for an EIN with an IRS, set up a business bank account, and look into obtaining any necessary licenses, local or industry registrations, and insurance. You may also want to prepare an operating agreement, but this step is optional if you register a single-member LLC.
To begin with, it seems like a lot to handle. But in reality, you'll whizz through all these steps and start an LLC in Pennsylvania in no time!
Table of contents:
---
Step 1: Pick a name for your LLC
When brainstorming a business name for your LLC, make sure that it's distinct from other businesses registered with the Pennsylvania Department of State (DOS). The easiest way to do so is to run your list of ideas through a name search on the PA DOS website.
Remember that you must add one of the following designators to the end of your LLC business name:
"Limited Liability Company"
"Limited"
"Company"
Or one of these abbreviations:
Name reservation
If you're not planning to register an LLC immediately, it makes sense to reserve the selected name. To do so, file a Name Registration form to DOS and secure your name for 120 days. The filing fee is $70.
Step 2: Choose a business location for your LLC formation
In Pennsylvania, you must designate a business address as the Registered Address for your LLC. This physical address must be a street address located in Pennsylvania where your company representative (or yourself) can be reached at any time.
All the process of service documents and other correspondence from the authorities will arrive at this address. Options for business owners include the main office of operations, a home address, or a commercial registered office provider.
Step 3: Appoint a registered agent
Most states require a registered agent that's listed by name and physical address. It's where service of process, or legal documents, and other business mail are sent.
You can appoint yourself as a registered agent.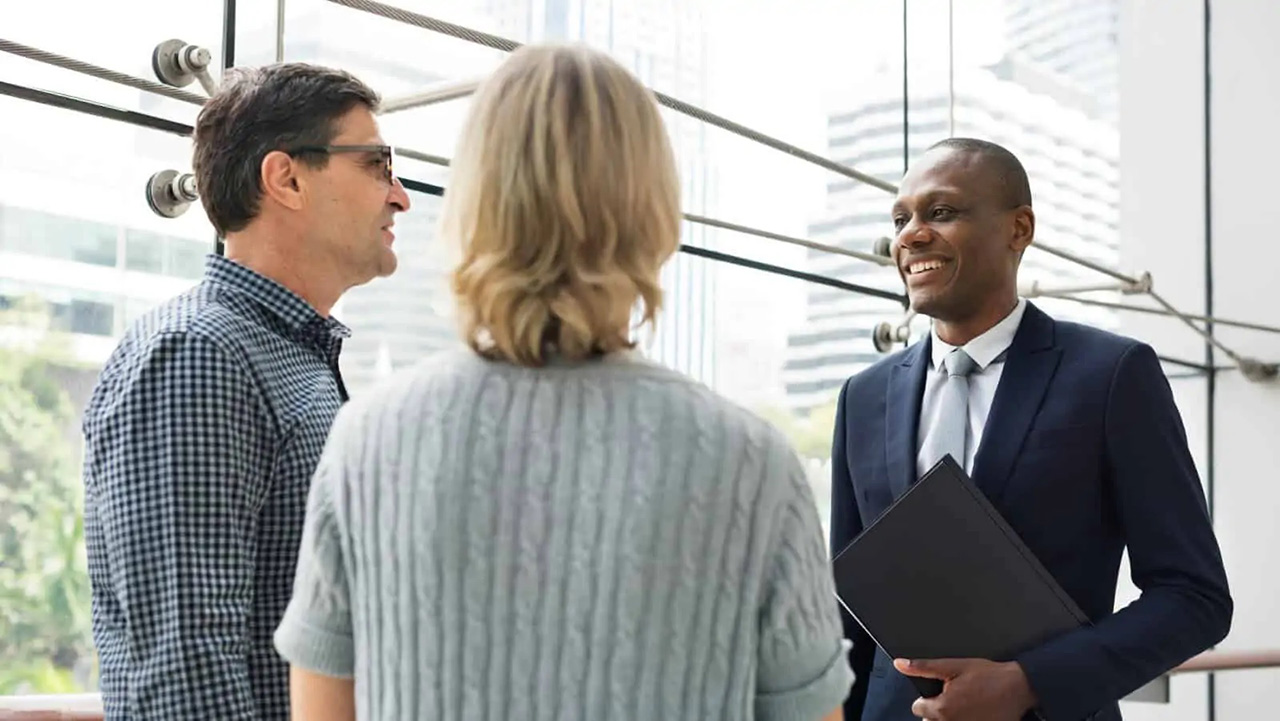 However, Pennsylvania only requires new businesses to list the physical address of the registered office. It serves the same purpose as a registered agent. The difference is a person's name is not required.
If you choose to have the registered office be your primary office location or a home office, you may not need to hire anyone. Some business owners hire a third party known as a Commercial Registered Office Provider (CROP). In other states, this is often known as a Commercial Registered Agent. Note that you can't use a P.O. box. Professional registered agent service is also beneficial for business owners that may not be available at the registered office location during business hours or travel a lot for work.
Hiring a CROP has an additional cost of about $60-$250 per year. You can find an array of service providers online. But be sure to check reviews. After all, you don't want to entrust sensitive legal documents to just about anyone.
Step 4: File the Pennsylvania LLC articles of organization
Forming a Pennsylvania LLC requires filing two documents and getting approval from the department of state. These are the Certificate of Organization and a Docketing Statement.
Certificate of Organization
The Certificate of Organization must include the following information:
Your LLC's business name
The Registered Office Address or the name and address of the Commercial Registered Office Provider
Names of the LLC's organizers
The effective date of the Certificate
Any restricted professional services information
Information for LLCs organized as benefit companies
Signatures of the members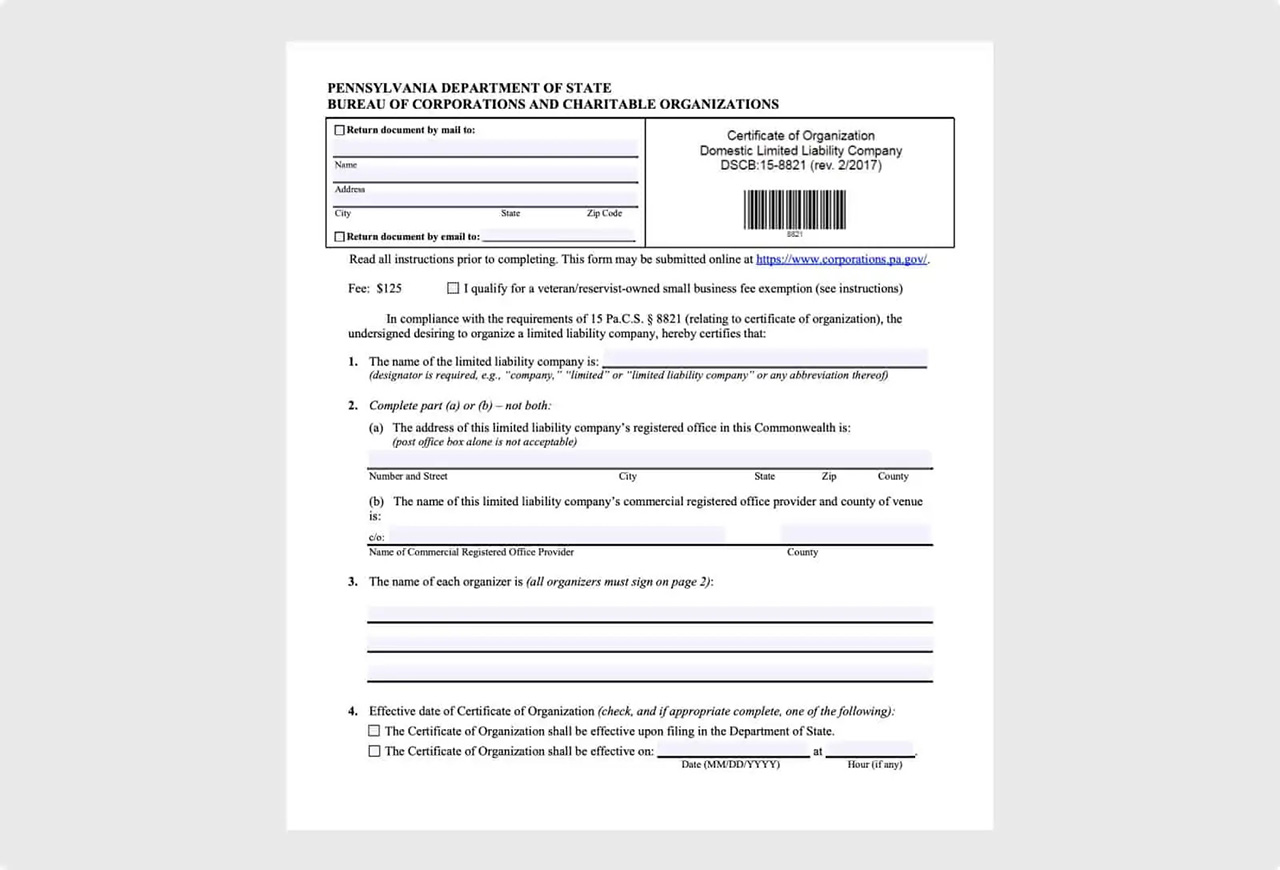 Docketing Statement
The Docketing Statement must be attached to the Certificate of Organization. It must include:
Your LLC's entity name
The responsible tax party
A description of LLC's business activity
A federal Employer Identification Number (EIN)
The LLC's fiscal year
The Certificate of Organization Form and accompanying Docketing Statement can be filed online or sent by mail to the Pennsylvania Department of State. The mailing address is:
Pennsylvania Department of State
Bureau of Corporations and Charitable Organizations
P.O. Box 8722
Harrisburg, PA 17105-8722
The Certificate of Organization and Docketing Statement are processed in about 7-10 business days. The date is upon receipt by the Department of State.
Step 5: Get an Employer Identification Number from the IRS
An Employer Identification Number (EIN) is needed for multi-member LLCs, a single-member LLC with any employees, or an LLC that elects to be treated as a corporation for tax purposes. To obtain an EIN for your LLC, file an application with the Internal Revenue Service (IRS).
Most business entities will need an EIN for identifying the business with federal income tax and state tax filings, employee tax forms, and opening a business bank account.
The IRS website has a questionnaire to help understand if your LLC may need an EIN.
Obtain an EIN
A Limited Liability Company (LLC) must submit a request through the IRS using a Form SS-4 to obtain an EIN.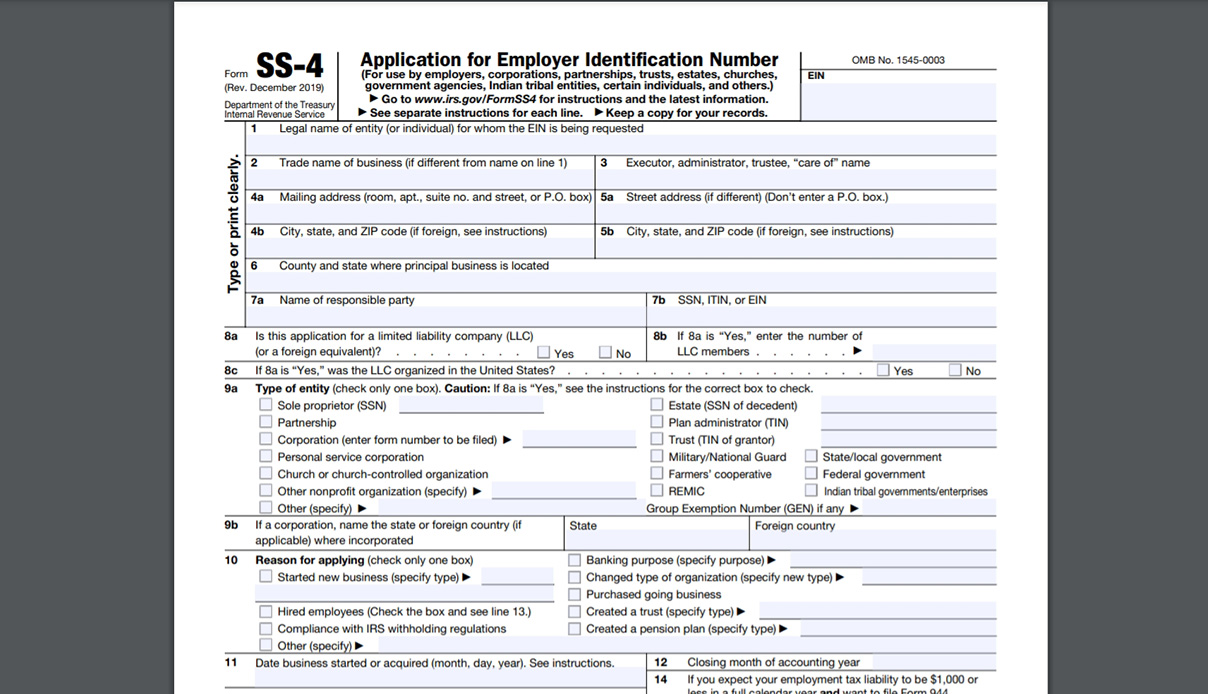 The IRS offers this as a free service. The application can be made online, through the mail, via fax, or by phone. The telephone option is for international applicants.
Applications for an EIN that are filed online are processed immediately. Applications with a fax number usually receive a response in about four business days. The processing time for mail applications is about four weeks.
Do sole proprietors need an EIN?
If you were doing business as a sole proprietorship, then you may still use your social security number on tax forms. However, if you later change to a multi-member LLC or hire employees, you'll need an EIN.
Step 6: Draft an LLC operating agreement
An operating agreement is an internal business document. It lays out the members' roles, capital contributions, salaries, ownership percentage, and profit and loss sharing agreement. Additionally, LLC operating agreements may include terms on liability, business taxes, and other general business operations.
So what are Pennsylvania law requirements on operating agreements?
Pennsylvania law doesn't require that a Pennsylvania LLC have an operating agreement. However, it's advised to have one. The operating agreement provides liability protection for the LLC and its members. It also defines the roles and obligations of the limited liability company's owners. It's crucial when personal assets are invested in the business entity.
One or more of your Pennsylvania LLC's members can prepare the LLC operating agreement. Since it's an internal document, there is no filing fee cost. However, many new businesses may hire legal help to draft their limited liability company operating agreement. The fees for legal service will vary.
Step 7: Open a Pennsylvania business bank account
A Pennsylvania business bank account helps keep personal funds separate from business funds, which is required under PA law. The fees and timeline for getting a business bank account will depend upon the bank used.
Some banks will provide a fast turnaround time, especially if a member has strong credit or your LLC has raised a lot of capital. But some business owners may need to shop around.
The cost to maintain a bank account is minimal. On average, it may run about $14 a month. If loans or checks are required, then the fees will be more.
Step 8: Obtain business insurance
The type of insurance your LLC may need will depend on the nature of your business. Some common types of business insurance include:
General liability insurance to protect in lawsuits brought against your LLC
Workers' compensation insurance
Professional liability insurance for LLCs providing professional services
Again, shop around and compare the terms, costs, and coverage among different providers. Also, some business bank accounts come with discounted insurance plans.
Formation Cost
Pennsylvania Bureau of Corporations and Charitable Organizations, a local equivalent of the secretary of state, charges the following fees to form an LLC:
$125 for a Certificate of Organization (Form DSCB:15-8821) for a domestic LLC.
$250 for a Foreign Registration Statement (Form DSCB:15-412) for a foreign LLC.
A domestic LLC is a business entity headquartered in Pennsylvania. A foreign LLC is headquartered in another state but wants to extend its business to Pennsylvania.
Pennsylvania will waive the filing fee for an LLC owned by a U.S. military veteran or reservist. However, proof of military status is required at the time of application.
If that's your case, you'll also need to submit the following legal documents:
A Federal DD-124 form (must be a MEMBER – 4 form, showing Character of Service)
A Federal NGB-22 form
A valid Federal Veteran's Administration card or
A valid Department of Defense-issued military identification card
You can file your LLC registration documents online or as a paper copy via mail. Regular processing times can take up to three weeks for paper-based submissions.
However, Pennsylvania offers expedited processing for all company formation documents submitted in person. The fees are as follows:
$100 for same-day service. Only applicable to documents received before 10 am.
$300 for 3-hour service. Only applicable to documents received before 2 pm.
$1,000 for one-hour service. The papers must be submitted before 4 pm.
Once you receive your Certificate of Organization (Articles of Organization), you're officially open for business!
You can then follow up with other steps of registering a Pennsylvania LLC:
Create an LLC operating agreement. You can use a template or have an attorney draft one.
Apply for an employer identification number (EIN) from the Internal Revenue Service (IRS). This step is essential if you plan to hire employers and pay local sales taxes.
Open a business bank account with a trusted local provider.
Optional LLC Costs in Pennsylvania
All businesses need to file their Certificate of Organization to be allowed to do business in Pennsylvania.
But many companies will also incur other costs when starting a new company, such as the following.
1. Registered agent fees: $50+
There are no extra state fees involved in designating a registered agent for your Pennsylvania LLC. But if you wish to change your registered agent, you'll have to file a separate form and pay a $5 fee.
In Pennsylvania, you can be your own registered agent, or you can hire a professional service. Using a registered agent service in PA means that you don't have to handle any service of process events personally or disclose your street address (if you operate a home-based business).
You'll need a professional registered agent if the LLC is a foreign company without a physical presence in Pennsylvania.
Registered agent fees range from $50 to $200 per year, depending on the services they provide.
2. Trade name registration: $70
Pennsylvania lets businesses register fictitious names when they want to use an alternative name to the one registered with the Pennsylvania Department of State.
Fictitious names are also known as trade names, assumed names, or DBA names (doing business as). Getting one makes sense when a company's formal name is vague or doesn't describe the type of service it provides.
For example, suppose an LLC's legal name is Tom Greene Ventures, LLC, and it's an auto repair shop servicing German automobiles. In that case, it may want to register the fictitious name Greene's German Car Repairs to let customers know what they do.
3. LLC name reservation: $70
The first step to forming your Pennsylvania LLC is choosing a business name.
You'll need a name that's not already in use, and you can search the state's business registry to find out if your LLC name is available.
If your LLC name is available, but you're not quite ready to file your incorporation documents, you can reserve the name for 120 days.
You'll need to fill out a form and pay the state filing fee of $70.
4. Certified document copies: costs vary
Record searches, document copies, and certified documents aren't free in Pennsylvania. If you want the state to complete a record search listing the entity name, address, file date, and state identification number, it will cost you $15.
Plain copies of documents start at $15 plus $3 per page, and certified copies are $55 plus $3 per page.
5. Business permits and licenses: costs vary
Pennsylvania doesn't require a general business license. Depending on the industry, you may also need to obtain specific permits.
For example, breweries need to have a license from the state's Liquor Control Board.
Local cities or municipalities may also impose additional licensing requirements. Check with your regional government offices to find out if you'll need a local permit or license.
You can register to get one online or by filing a mail-in form. All you'll need is to provide your business details, federal tax ID number (EID), or personal social security number if you don't have EID.
There's no cost to obtain a sales tax license in Pennsylvania.
Do LLCs pay taxes in Pennsylvania?
Depending on your line of business and company structure, you may be required to pay the following types of state taxes in Pennsylvania.
Sales and Use Tax
State-wide, Pennsylvania collects a 6% sales tax. All counties charge the same tax rate except for Allegheny County (7%) and Philadelphia City, where the sales tax rate is 2%.
Employment taxes
If your LLC decides to hire employees, you'll need to pay state unemployment tax (on top of federal employer taxes).
Rates for new employers: 3.5% or 9.7% on the first $10,000 of each employee's pay per year.
Cost Chart for LLC in Pennsylvania
Annual costs for Pennsylvania LLC (1st year)
Description
State fees
Certificate of Organization

$125 or $250

Registered agent service (if needed)

$50 – $200

Fictitious name registration (if needed)

$70

Name reservation (if needed)

$70

Trademark registration (if desired)

$50
Specific permits or licenses (if needed)

$20+

Certified documents (if desired)

$55 + $3 per page
Annual costs for Pennsylvania LLC (2nd year & after)
Description
State fees

Annual report for restricted professionals

$560+

Registered agent service (if needed)

$50 – $200

Change registered agent (if needed)

$5

Specific permits or licenses (if needed)

$20+
Decennial report (every ten years)

$70
Advertisement
LLC Formation Service
LLC Formation: $39 + state fees
Pricing:
Turnaround Time:
Help & Support:
Customer Satisfaction:
Ease of use:
Best LLC Service 2023

Formed 1,000,000+ LLCs
$39 formation includes registered agent service
Fast formation & same day filing
Exceptional customer reviews

Last updated:
Sep 2023