Starting a business and limited liability company (LLC) can be exhilarating. But the paperwork? Not so much.
One of the legal requirements for all business entities in the state of North Carolina is a registered agent. In case of any legal incidents, your agent will be the first point of contact.
Choosing a reliable, registered, and reputable agent ensures legal matters are handled with care and diligence. While you can act as your own registered agent in North Carolina, you'd have to compromise on privacy.
Unless you have an office or business address where you can accept mail in person, you would have to use your residence address in public records.
That's why hiring a registered agent to handle your business documents for your North Carolina business is much easier and more convenient for you.
What is a registered agent for an LLC in North Carolina?
A registered agent in North Carolina is the designated person or entity that receives legal documents and notices for your business entity. These documents include tax notices, lawsuits, and other legal notices. The agent's job is to send these documents to you as soon as they receive them.
The North Carolina Secretary of State legally requires a registered agent. The state requires all registered businesses to have a physical address to receive documents.
A failure to receive these documents can result in penalties or fines, making a registered agent a vital part of your business for good standing. An excellent service provider will supply notifications, annual reports, and portals to pay filing fees.
What are the advantages of using a registered agent in North Carolina?
Using a registered agent streamlines how your business receives documents. This process helps you avoid late state fees or penalties, saving you money.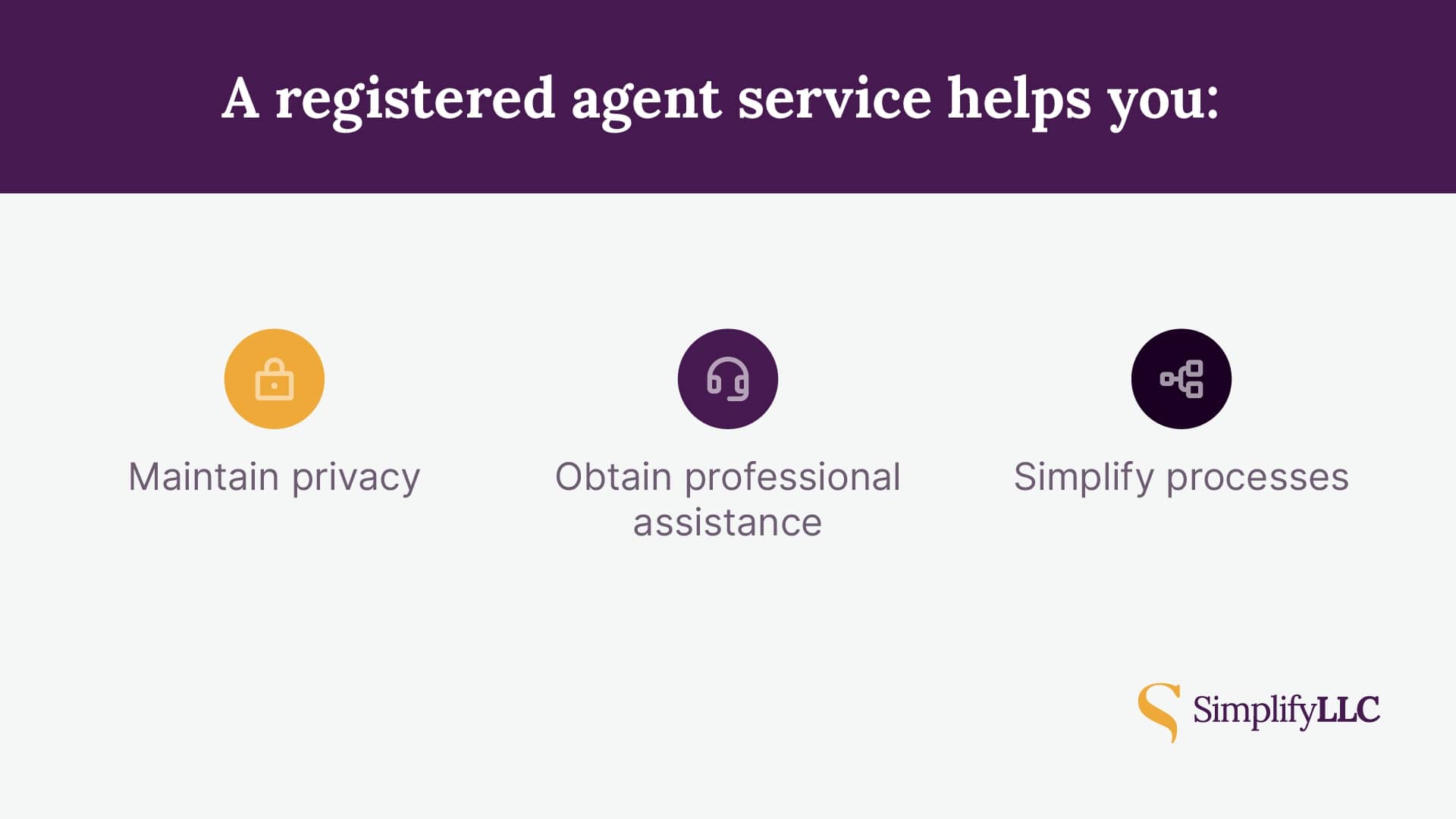 Here are other benefits:
Top 7 registered agent services in North Carolina
Here are North Carolina's top seven registered agent services:
Note: Prices were quoted at time of writing and are subject to change.
1. Northwest Registered Agent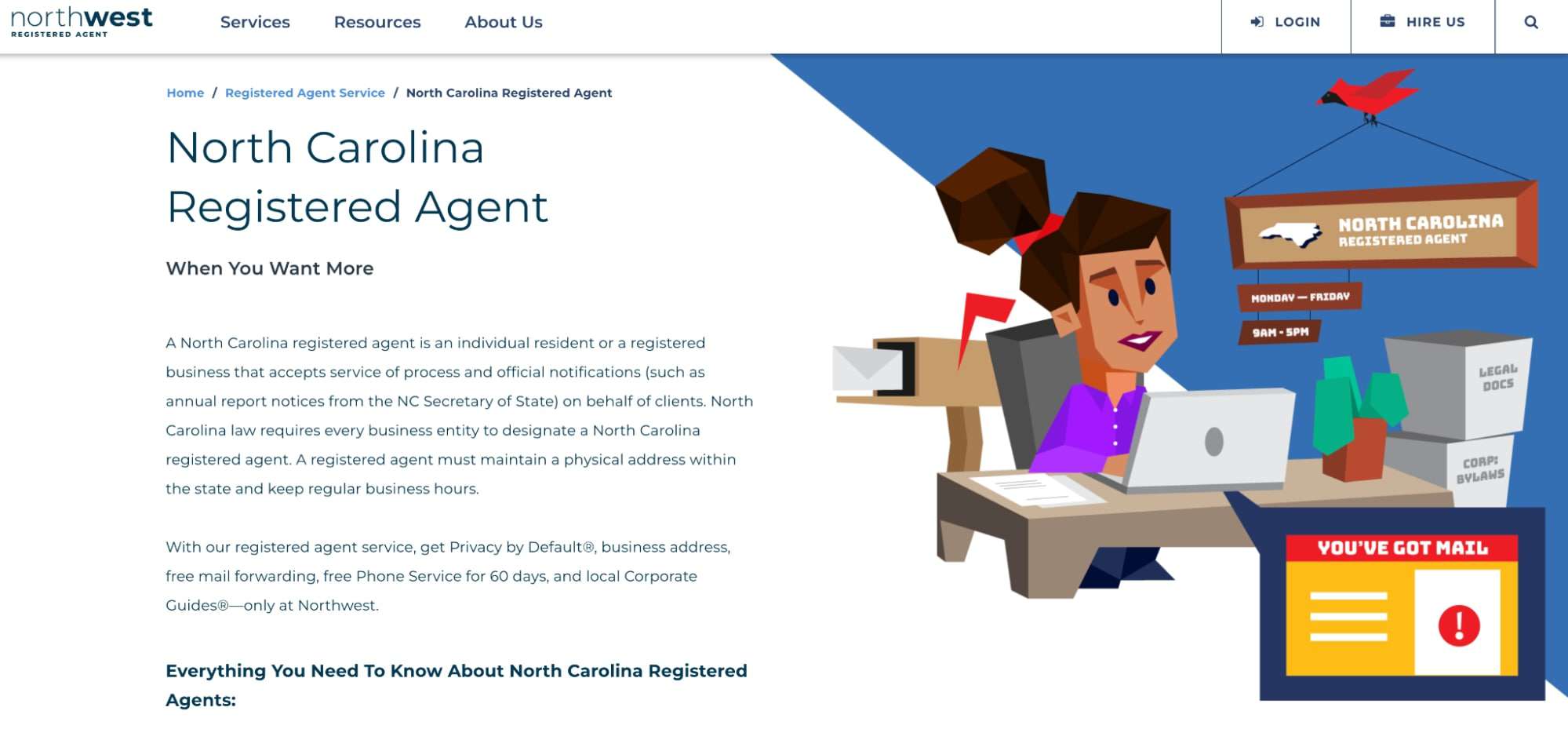 Northwest Registered Agent doesn't top our list for one reason alone. Overall, it's the best North Carolina registered agent because of its excellent customer service, affordable prices, and comprehensive service offerings.
When you choose Northwest Registered Agent, you'll receive a physical street address in NC, so your business can abide by North Carolina law. Additionally, your agent will scan all your mail — not just legal documents — and upload them to a user-friendly online portal.
Northwest's online account system makes signing up and hosting a business in multiple states easy. But what really sets the company apart is its customer service.
With a team filled with former lawyers, business owners, and customer service professionals, they'll take care of any questions or concerns you may have.
2. Incfile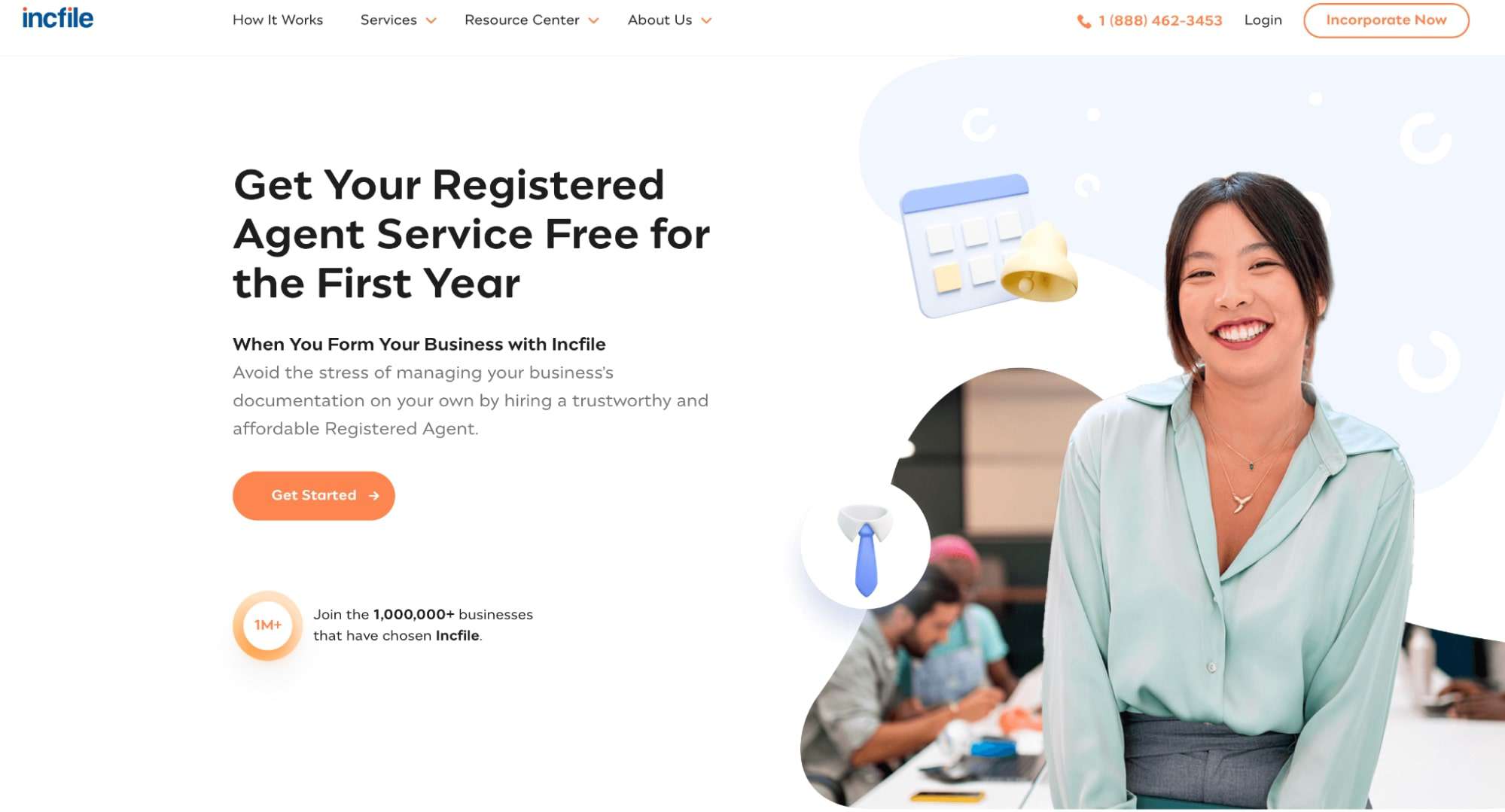 If you're looking for a company that can handle the essentials of your business, consider Incfile. It provides the services a registered agent needs to offer — a physical street address, mail forwarding, and service of process during regular business hours.
Incfile has competitive pricing. And if you use its LLC formation services, you'll receive your first year of registered agent services for free.
While Incfile may not have the extensive list of premium services like some other providers, it still delivers reliable, professional service that will meet your core needs.
3. North Carolina Registered Agent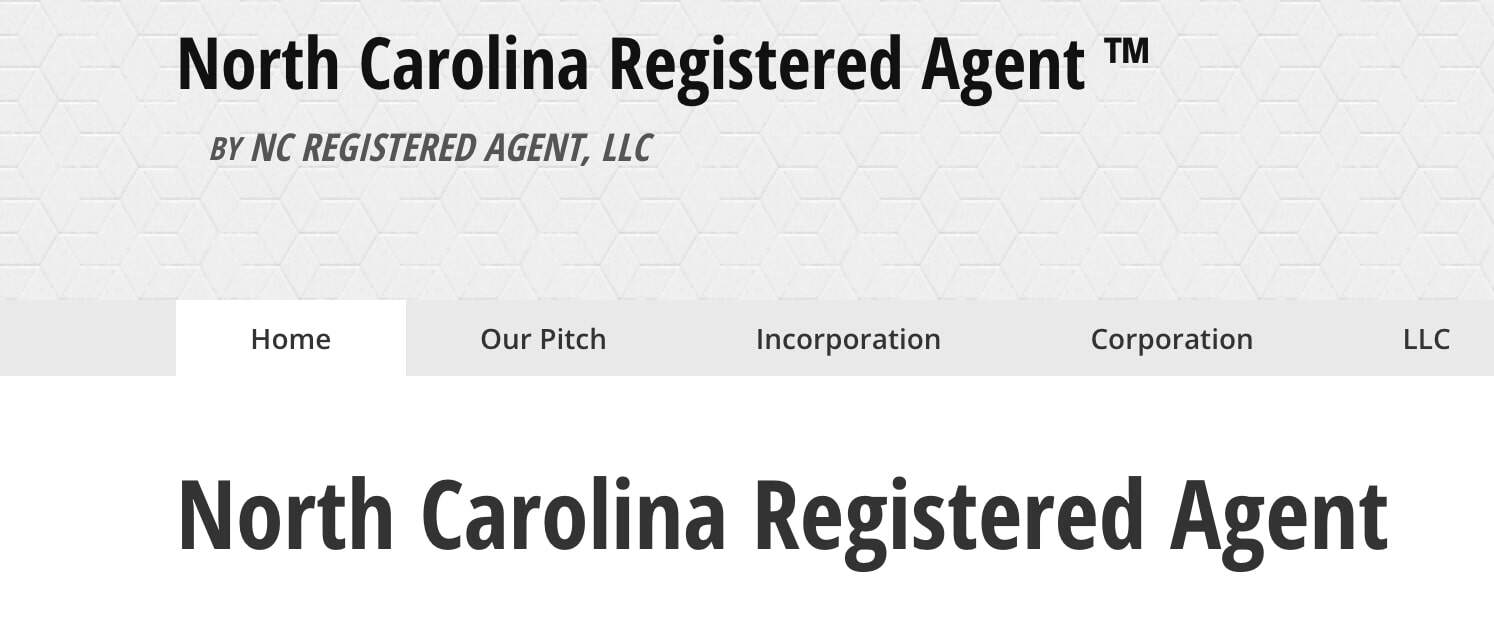 North Carolina Registered Agent is a local service provider that offers a personalized approach to your business. With local experience and affordable fees, it's hard to go wrong with this registered agent.
While the company offers additional services like North Carolina LLC formation and perks like business filing guides, its customer support options aren't as strong as other businesses on this list.
4. Rocket Lawyer

If you're a business owner seeking long-term legal support, Rocket Lawyer might be the right choice for you. The company is renowned for estate planning software that includes services like LLC formation and registered agents.
And having helped 25 million people, you can expect high satisfaction from Rocket Lawyer's services.
Rocket Lawyer is slightly different from other companies on this list. It offers online legal services, meaning its prices are less affordable when compared to other companies. But it makes up for that in the value it offers.
5. ZenBusiness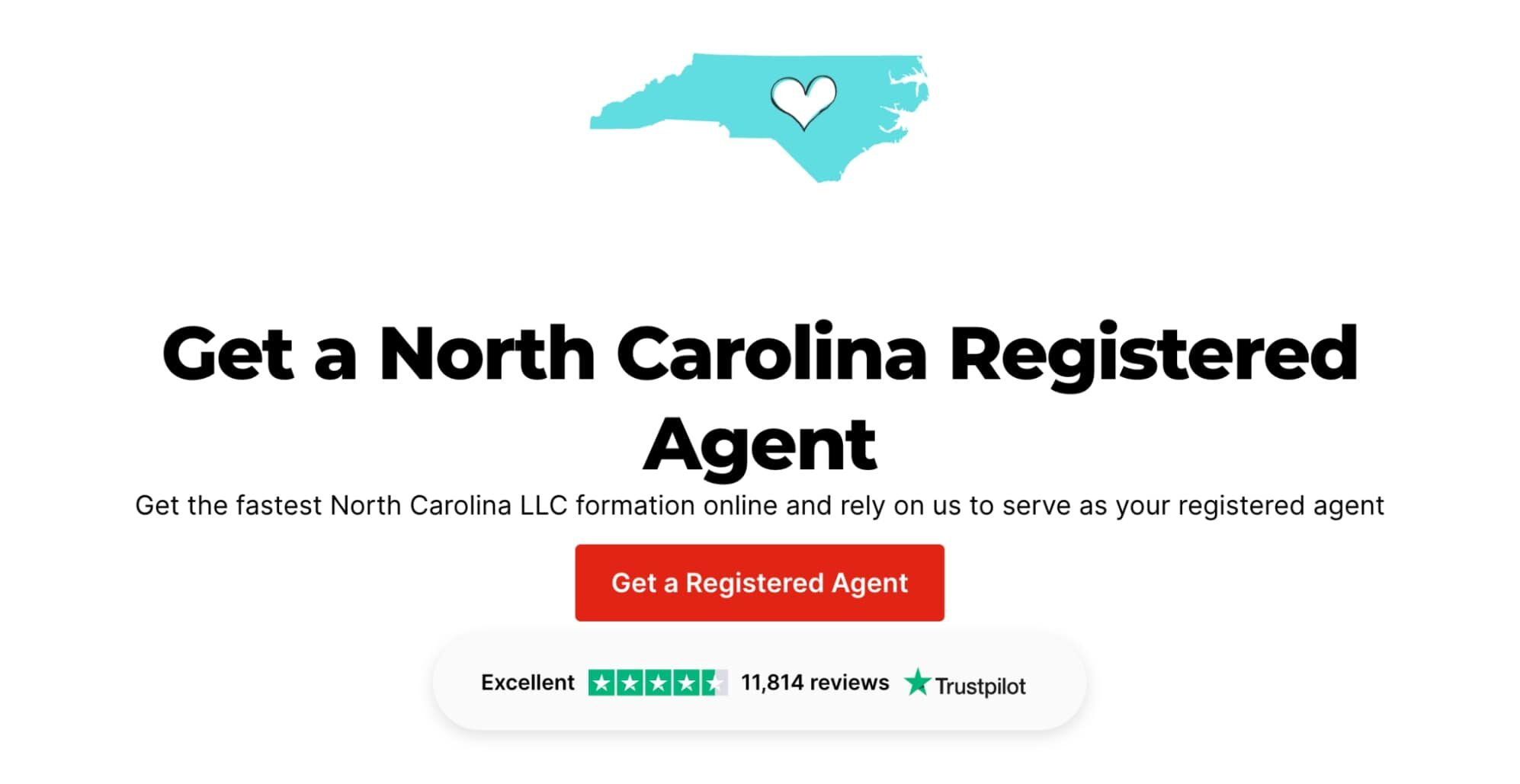 With nearly 12,000 reviews and a 4.5/5 star rating on Trustpilot, ZenBusiness knows how to get the job done. Its support staff is keen and available to help you with questions about legal or financial questions.
Additionally, ZenBusiness doesn't stop at registered agent services or LLC formation. It offers combination packages with faster filing speeds, name searches, compliance reviews, and more.
If you're looking for an easy, quick way to file an LLC and get a North Carolina registered agent, ZenBusiness is an excellent choice for small businesses.
6. LegalZoom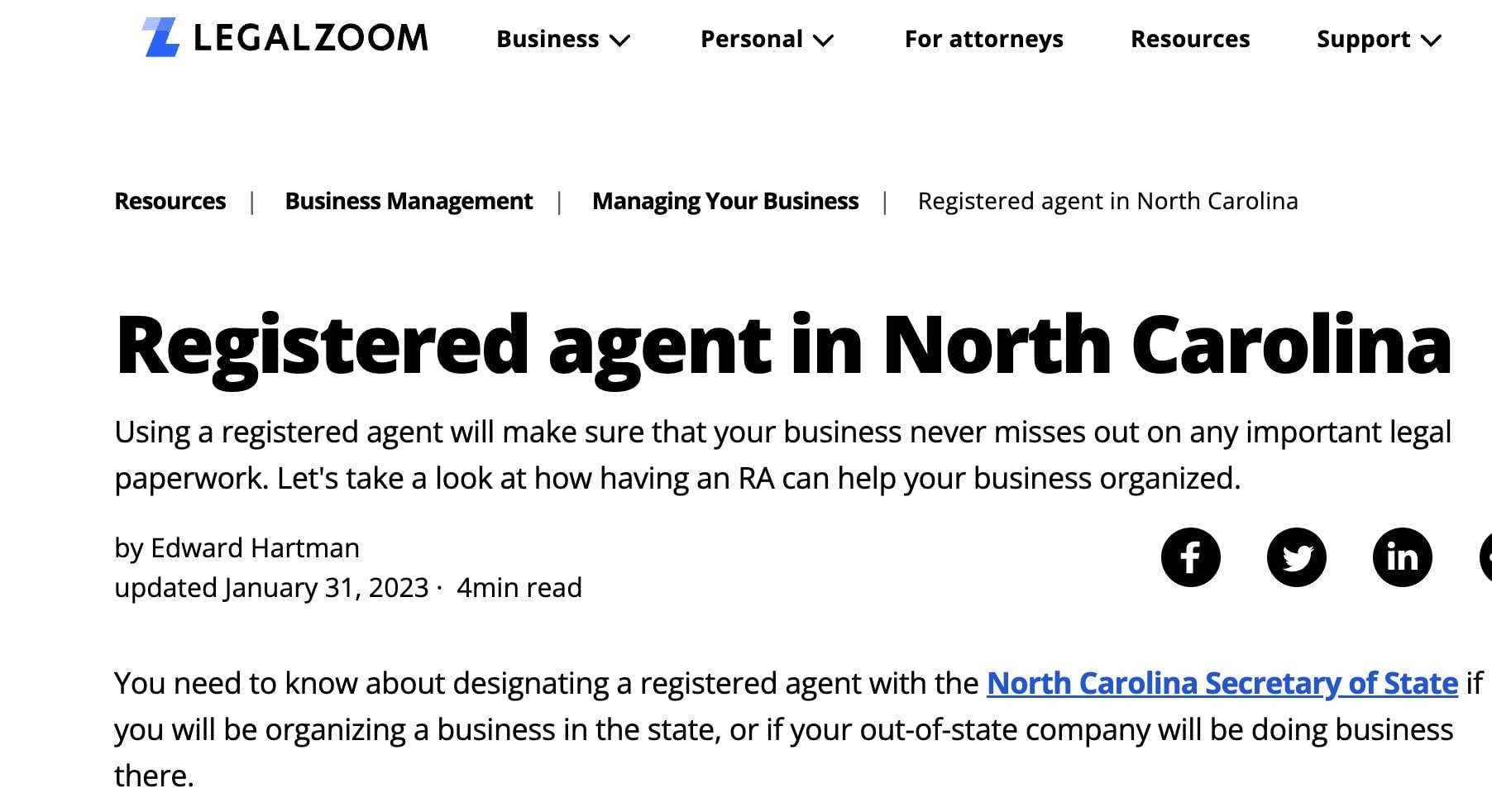 Looking for legal services centralized in an online platform? Look no further. With LegalZoom, you can file taxes, use a registered agent, and get full legal assistance. Its templated legal documents make it a great choice for larger, more corporate businesses.
While LegalZoom prices itself on the upper end, customers receive additional services. Plus, its prestigious reputation means you'll get top-end business services and high-quality customer support.
7. Harbor Compliance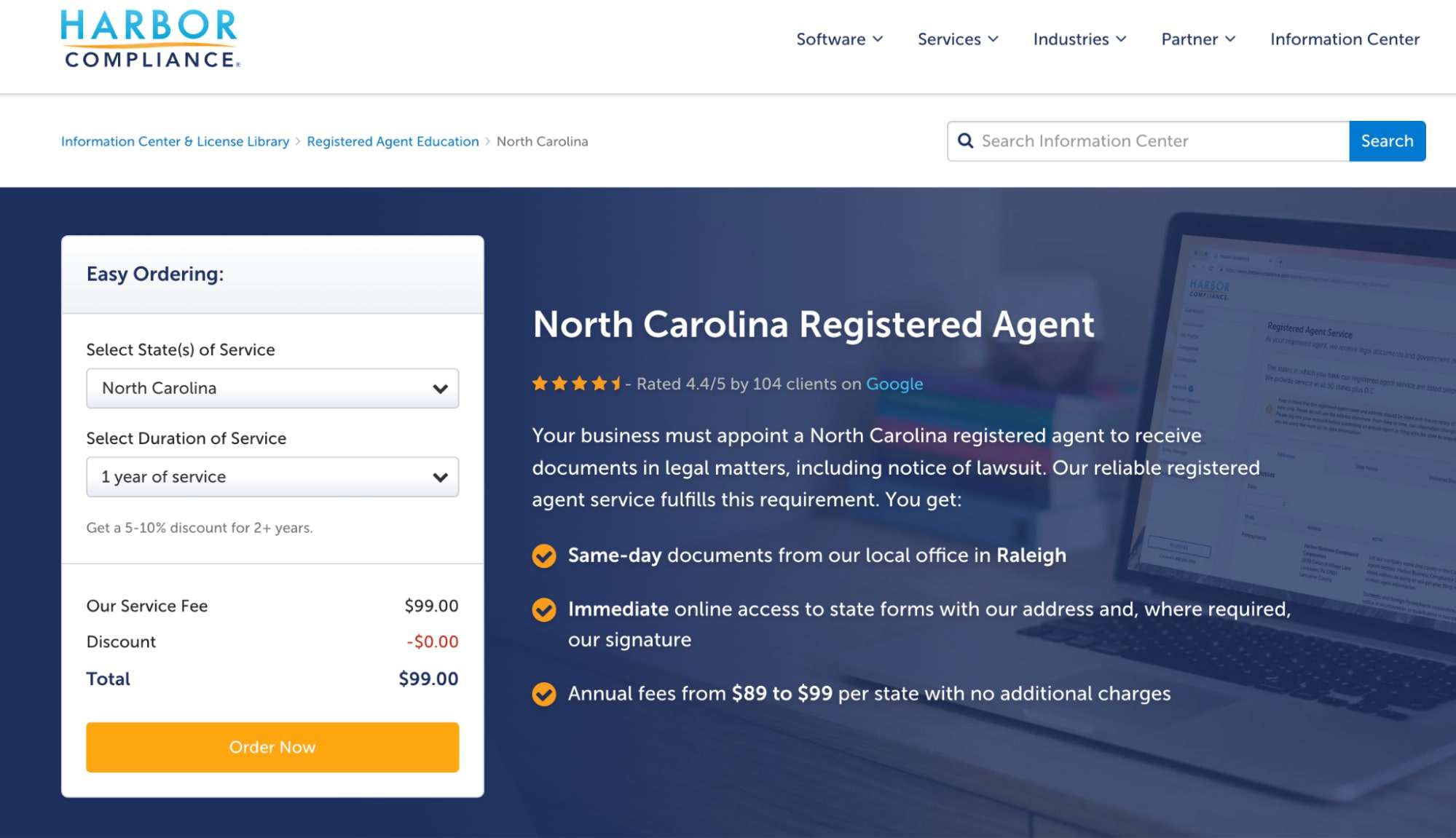 Harbor Compliance's A+ rating from the Better Business Bureau means its North Carolina registered agent services are top-notch. Plus, it's tailored to your needs and offers LLC formation services.
Harbor Compliance may not offer the bells and whistles other companies on this list boast, but it offers a value-packed service at an affordable price.
Can I be my own registered agent for my LLC in NC?
Yes, it's possible for you to be your own registered agent in North Carolina. However, it comes with certain disadvantages that are worth mentioning.
First, you'll need a physical address to receive documents during normal business hours. A home mailing address will work, but a P.O. box won't.
Next, if you decide to expand your business to other states, you'll need to appoint registered offices. If you find yourself in this situation, we recommend hiring a registered agent service.
Lastly, it's important to note all business records are public. If you use your home address, it will be public for anyone to find.
Verdict: The 7 best registered agent services in North Carolina
Starting a new business in North Carolina comes with legal requirements, including appointing a registered agent. While you can serve as your own agent, hiring a registered professional agent service offers numerous benefits, including privacy protection, expertise, and simplifying your legal responsibilities.
After carefully considering the seven best registered agent services in North Carolina, our top choice is Northwest Registered Agent.
Its services walk the perfect line between cost-effective and quality-assured. If you're opening a business and need a North Carolina registered agent, look no further than our editor's choice: Northwest Registered Agent.