One of the legal requirements for all business entities in the state of North Carolina is a registered agent. In case of any legal incidents, your agent will be the first point of contact.
Choosing a reliable, registered, and reputable agent ensures legal matters are handled with care and diligence. While you can act as your own registered agent in North Carolina, you'd have to compromise on privacy.
Unless you have an office or business address where you can accept mail in person, you would have to use your home address in public records.
That's why hiring a registered agent to handle your business documents for your North Carolina business is much easier and more convenient for you.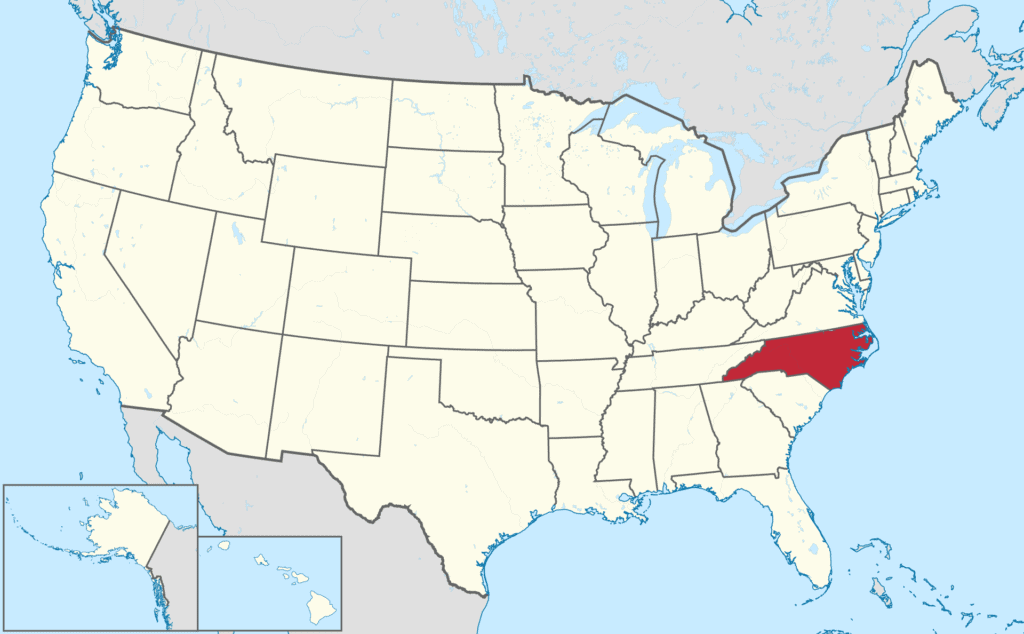 What is a registered agent for an LLC in North Carolina?
A registered agent in North Carolina is the designated person or entity that receives legal documents and notices for your business entity. These documents include tax notices, lawsuits, and other legal notices. The agent's job is to send these documents to you as soon as they receive them.
The North Carolina Secretary of State legally requires a registered agent. The state requires all registered businesses to have a physical address to receive documents.
A failure to receive these documents can result in penalties or fines, making a registered agent a vital part of your business for good standing. An excellent service provider will supply notifications, annual report reminders, and portals to pay filing fees.
Top 9 registered agent services in North Carolina
Here are North Carolina's top nine registered agent services:
Note: Prices quoted at the time of writing and are subject to change.
1. Northwest Registered Agent (Our Partner)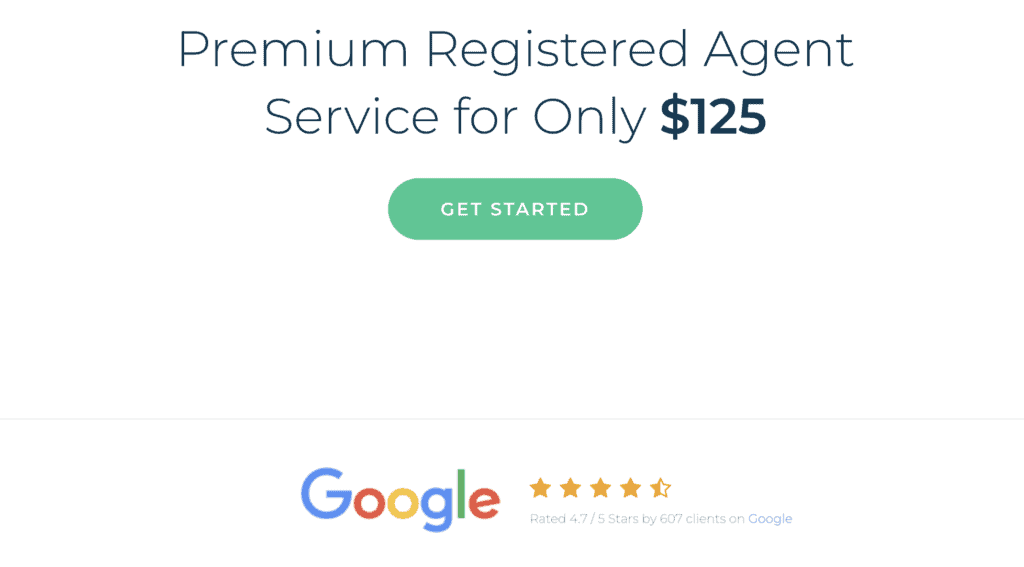 Northwest Registered Agent doesn't top our list for one reason alone. Overall, it's the best North Carolina registered agent because of its excellent customer service, affordable prices, and comprehensive service offerings.
When you choose Northwest Registered Agent, you'll receive a physical street address in North Carolina, so your business can abide by North Carolina law. Additionally, your agent will scan all your mail — not just legal documents — and upload them to a user-friendly online portal.
Northwest's online account system makes signing up and hosting a business in multiple states easy. But what really sets the company apart is its customer service.
With a team filled with former lawyers, business owners, and customer service professionals, they'll take care of any questions or concerns you may have.
Cost: $125/year
Address: 4030 Wake Forest Rd., Suite #349, Raleigh, NC 27609
2. Nosal & Jeter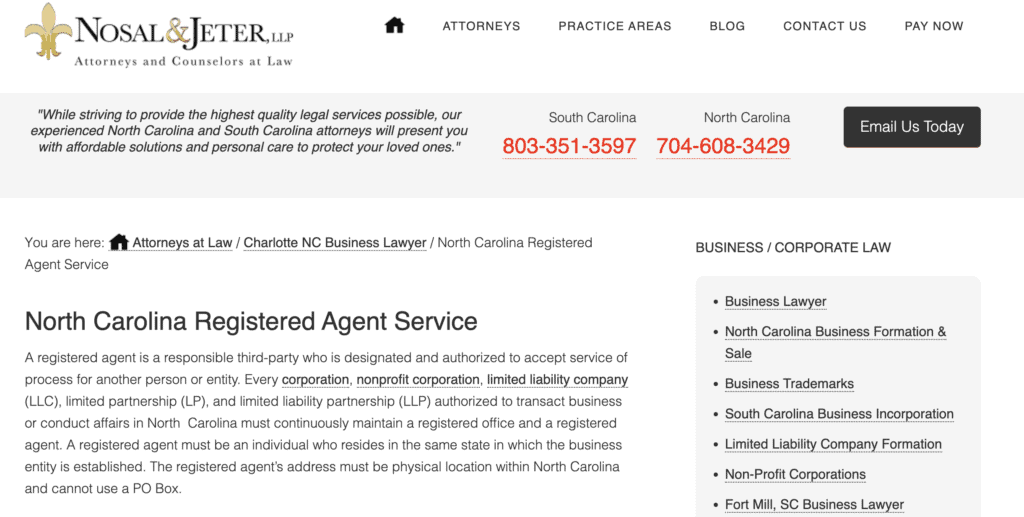 Nosal & Jeter are attorneys operating in both North and South Carolina. These attorneys help new business owners with business entity formation, employment concerns, and contract review. It also offers registered agent services for all North Carolina companies looking for professional help.
Its flat fee is a good value for having an attorney looking after your important business documents.
Cost: $200/year
Address: 18525 Statesville Rd., Suite D-02, Cornelius, NC 28031
3. ASK (Allen Stahl + Kilbourne) Law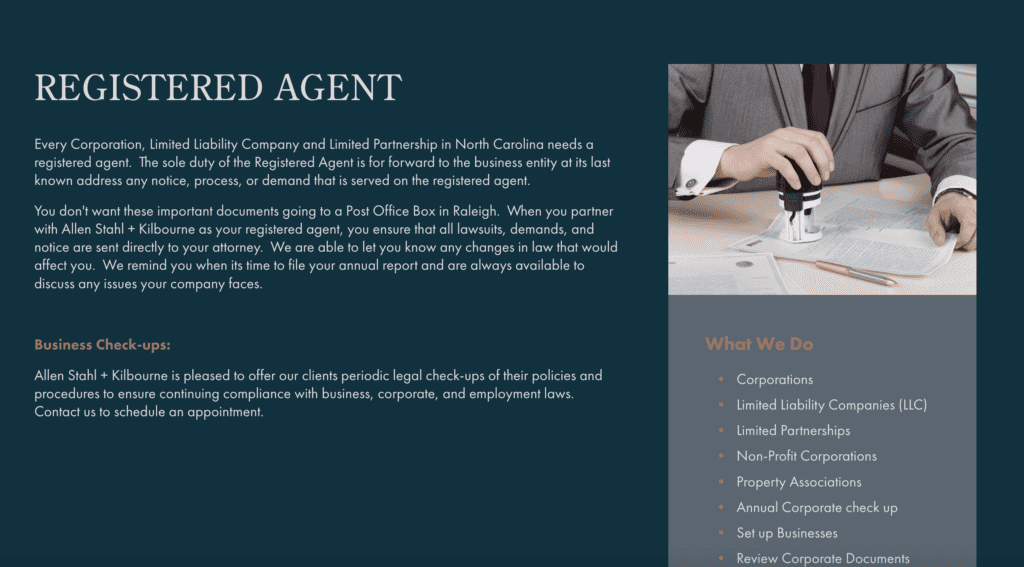 ASK Law is a full-service law firm serving North Carolina business owners since 1982. Along with providing business formation services, it also provides registered agent services to North Carolina LLCs.
Using ASK Law as your LLC's registered agent means that you'll be notified by a lawyer if laws change that would impact your business structure. While hiring an attorney to be your registered agent might not be the cheapest option, you'll likely gain invaluable peace of mind.
Cost: $199/year
Address: 20 Town Mountain Rd., Suite 100, Asheville, NC 28801
4. BossLady Corporate Services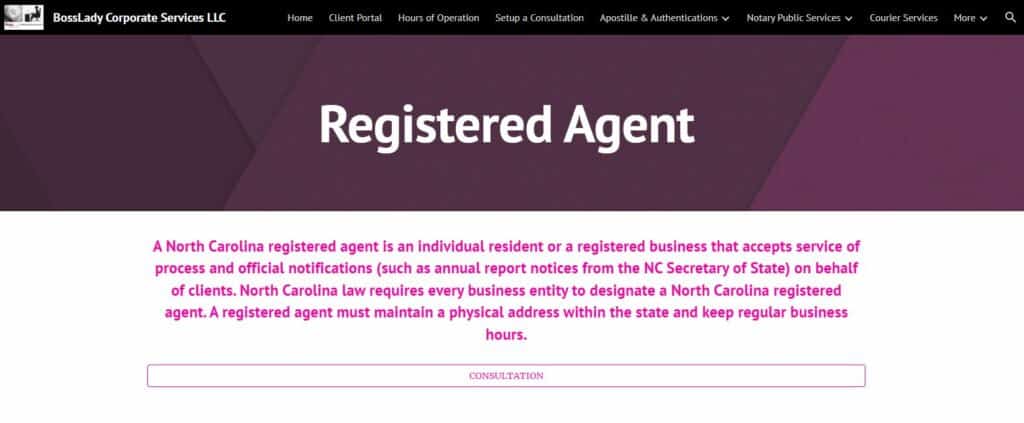 If you're looking for a company that can handle the essentials of your business, consider BossyLady Corporate Services. It provides the services a registered agent needs to offer — a physical street address, mail forwarding, and service of process during regular business hours.
BossLady has competitive pricing and offers additional business services, like notary and employment verification, if you'll be hiring employees.
Cost: $125/year
Address: 429 Person St., Suite 1-A, Fayetteville, NC 28301
5. Hawthorn Law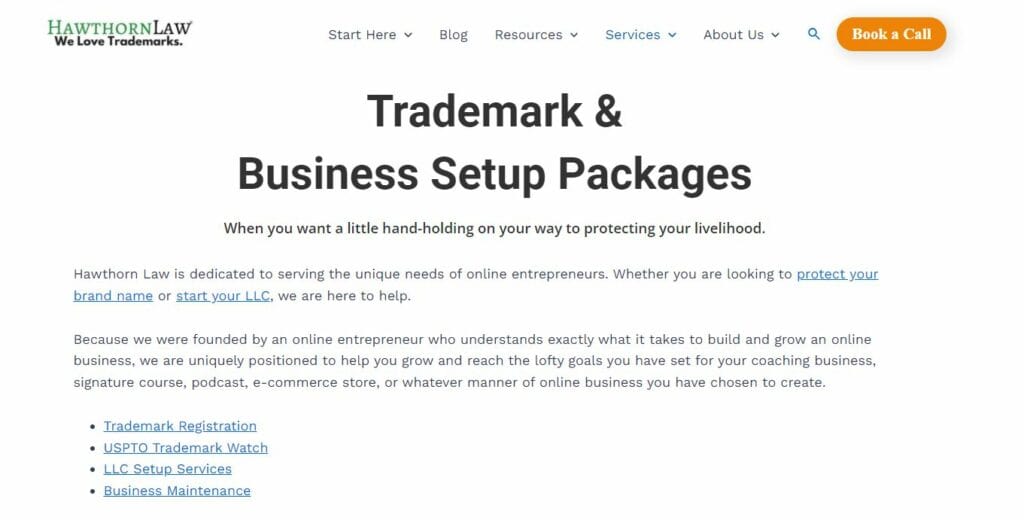 While Hawthorn Law is best known for its trademark registration services, it also specializes in helping online entrepreneurs get their North Carolina LLC registered with the state.
Hawthorn offers a flat-fee single-member LLC setup package for $997. But you can also use their registered agent service for $159/year. That's a good price for a legal firm registered agent service. And Hawthorn is licensed to practice law in Florida.
Cost: $159/year
Address: 5540 Centerview Dr., Suite 204, Raleigh, NC 27606
6. McGrath & Spielberger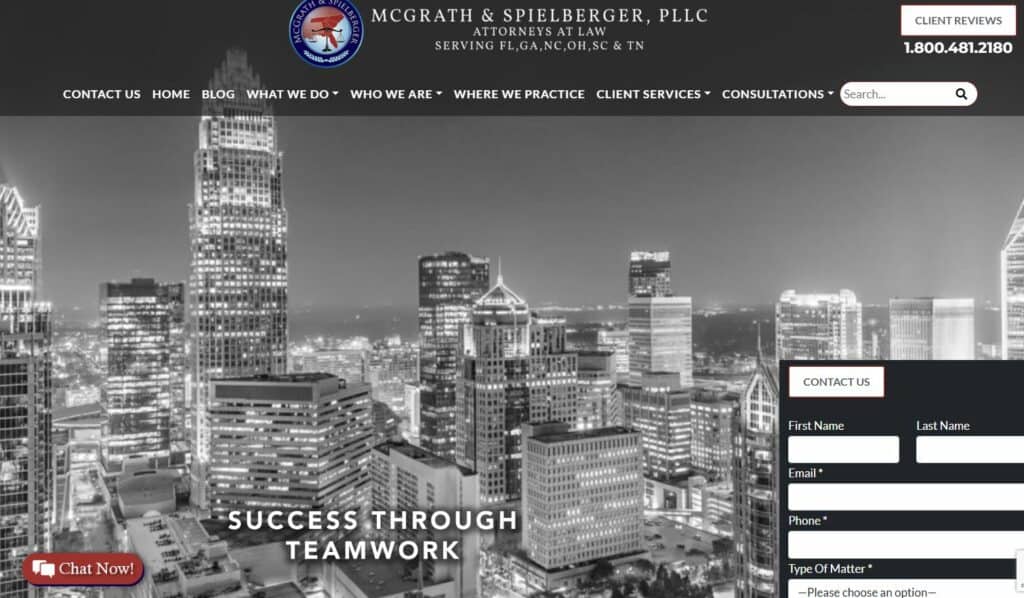 The attorneys at McGrath & Spielberger practice in all areas of business law. And that includes providing registered agent services for North Carolina companies. The firm also has an office in South Carolina to offer registered agent services. It would be a great option if you planned to operate in neighboring South Carolina.
This law office also has attorneys licensed to practice law in Florida, Georgia, Ohio, and Tennessee–another perk if you need legal advice about surrounding states.
With its depth of knowledge, McGrath & Spielberger is a good option for larger LLCs.
Cost: Request a quote
Address: 6201 Fairview Rd., Suite 330, Charlotte, NC 28210
7. Casey & Robbins

Serving the North Carolina Outer Banks, Casey & Robbins is a law firm providing real estate and corporate legal services. Although it's located out on the barrier islands, its attorneys service all North Carolina businesses.
It currently acts as the registered agent for over 200 North Carolina business entities. If you're looking for a small boutique firm, contact Casey & Robbins for a quote.
Cost: Request a quote
Address: 110 W. Gray Eagle St., Suite 101, Nags Head, NC 27959
8. Fisher Stark

The legal team at Fisher Stark has over 50 years of experience and providing registered agent services to North Carolina businesses.
As a Better Business Bureau-accredited law firm, Fisher Stark has an excellent reputation for superior customer service.
Cost: $299/year
Address: 99 McDowell St., Asheville, NC 28801
9. MHC (Mullen Holland & Cooper)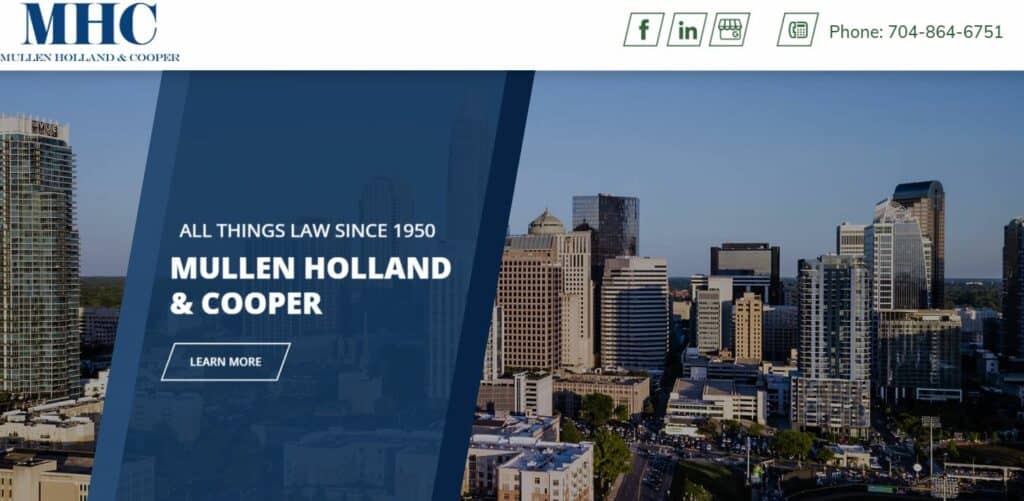 Mullen Holland & Cooper focuses on the needs of businesses and their owners in Gastonia and Gaston County, as well as Western North Carolina. It is an award-winning law firm and a community leader in supporting small businesses.
When a law firm acts as a registered agent, not only can it notify you immediately about the lawsuit or summons, but it may also provide legal advice to help you through the situation.
Building a relationship with a reputable law firm can be invaluable when operating your North Carolina LLC.
Cost: $149/year
Address: 301 S. York St., Gastonia, NC 28052
What are the advantages of using a professional registered agent in North Carolina?
Using a registered agent streamlines how your business receives documents. This process helps you avoid late fees or penalties, saving you money.
Here are other benefits:
Privacy: Business information is publicly available. Using a registered agent service keeps your home address confidential and protects your business from unwanted visitors.
Professional assistance: Using a professional takes the headache out of registering your business. You can request legal or financial assistance as add-on services.
Simplicity: A North Carolina registered agent keeps your business documents organized, making it simple to hit deadlines and keep track of business information.
Can I be my own registered agent for my LLC in NC?
Yes, it's possible for you to be your own registered agent in North Carolina. However, it comes with certain disadvantages that are worth mentioning.
First, you'll need a physical address to receive documents during normal business hours. A home mailing address will work, but a P.O. box won't.
Next, if you decide to expand your business to other states, you'll need to appoint registered agents in those other states. If you find yourself in this situation, we recommend hiring a registered agent service.
Lastly, it's important to note all business records are public. If you use your home address, it will be public for anyone to find.
Advertisement
LLC Formation Service
LLC Formation: $39 + state fees
Pricing:
Turnaround Time:
Help & Support:
Customer Satisfaction:
Ease of use:
Best LLC Service 2023

Formed 1,000,000+ LLCs
$39 formation includes registered agent service
Fast formation & same day filing
Exceptional customer reviews

Last updated:
Dec 2023