Congratulations on starting your own LLC in Maryland.
To ensure a smooth company formation process, it's essential to designate a registered agent for your Maryland LLC.
This article will not only guide you on whom you can appoint as a registered agent but also present a selection of registered agent providers to consider.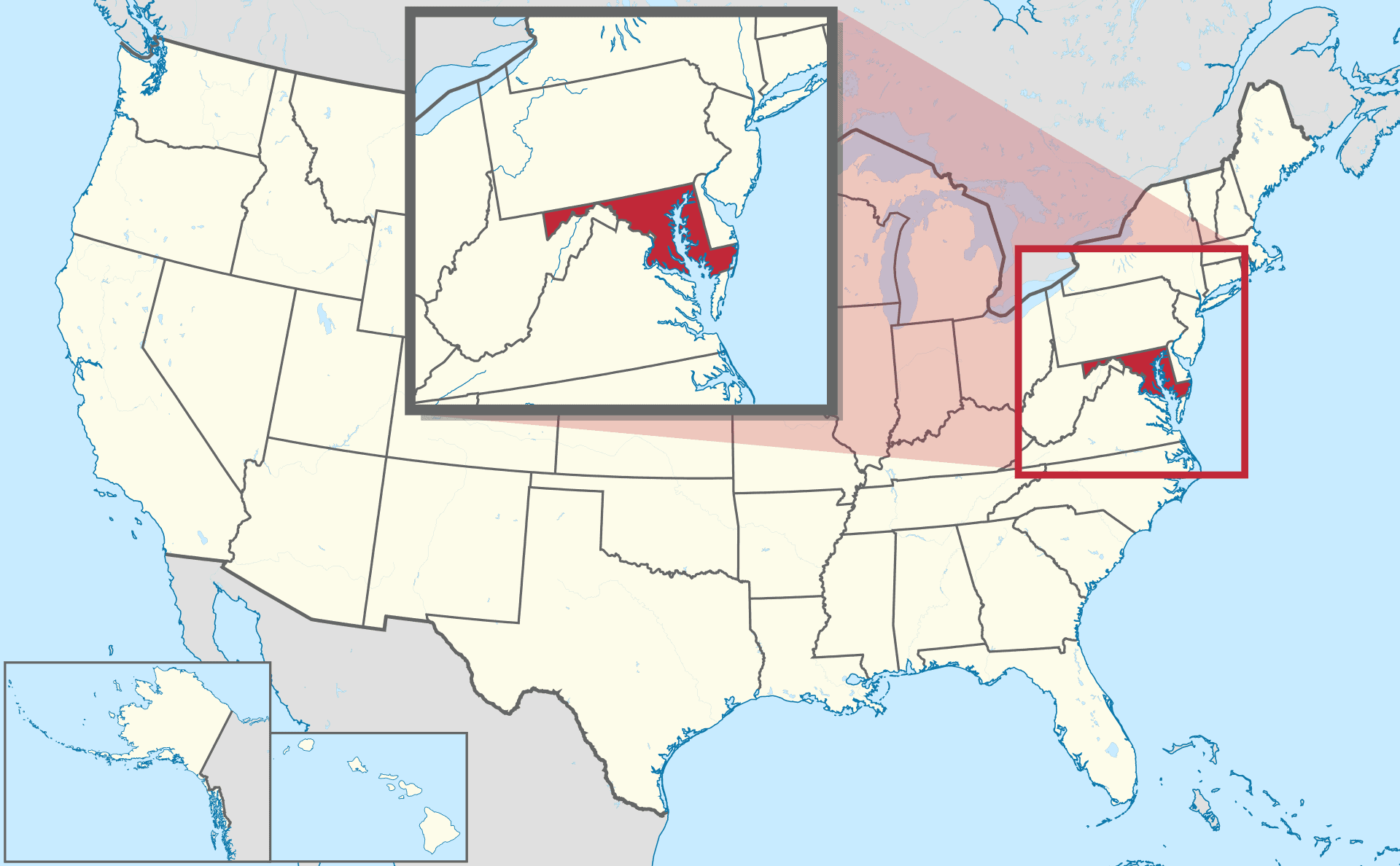 Who can be a registered agent for an LLC in Maryland?
Maryland Code for Corporations and Associations provides a clear-cut definition of who can serve as a registered agent for a limited liability company (LLC), limited partnership (LP), or corporation (INC):
An individual of legal age with a street address in Maryland (P.O. boxes are not accepted).
A legal entity allowed to do business in the state of Maryland.
This means that you can appoint either yourself or another close person, such as an LLC member or company employee, to act as a Maryland resident agent (registered agent).
Or you can hire a professional company for this role.
Top 9 Registered (Resident) Agent Services in Maryland
1. Press, Dozier & Hamelburg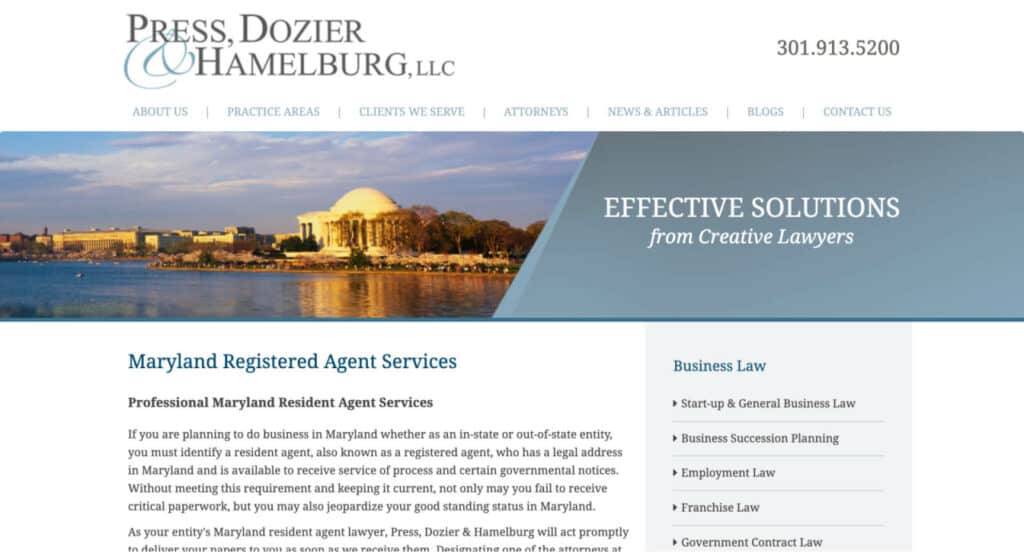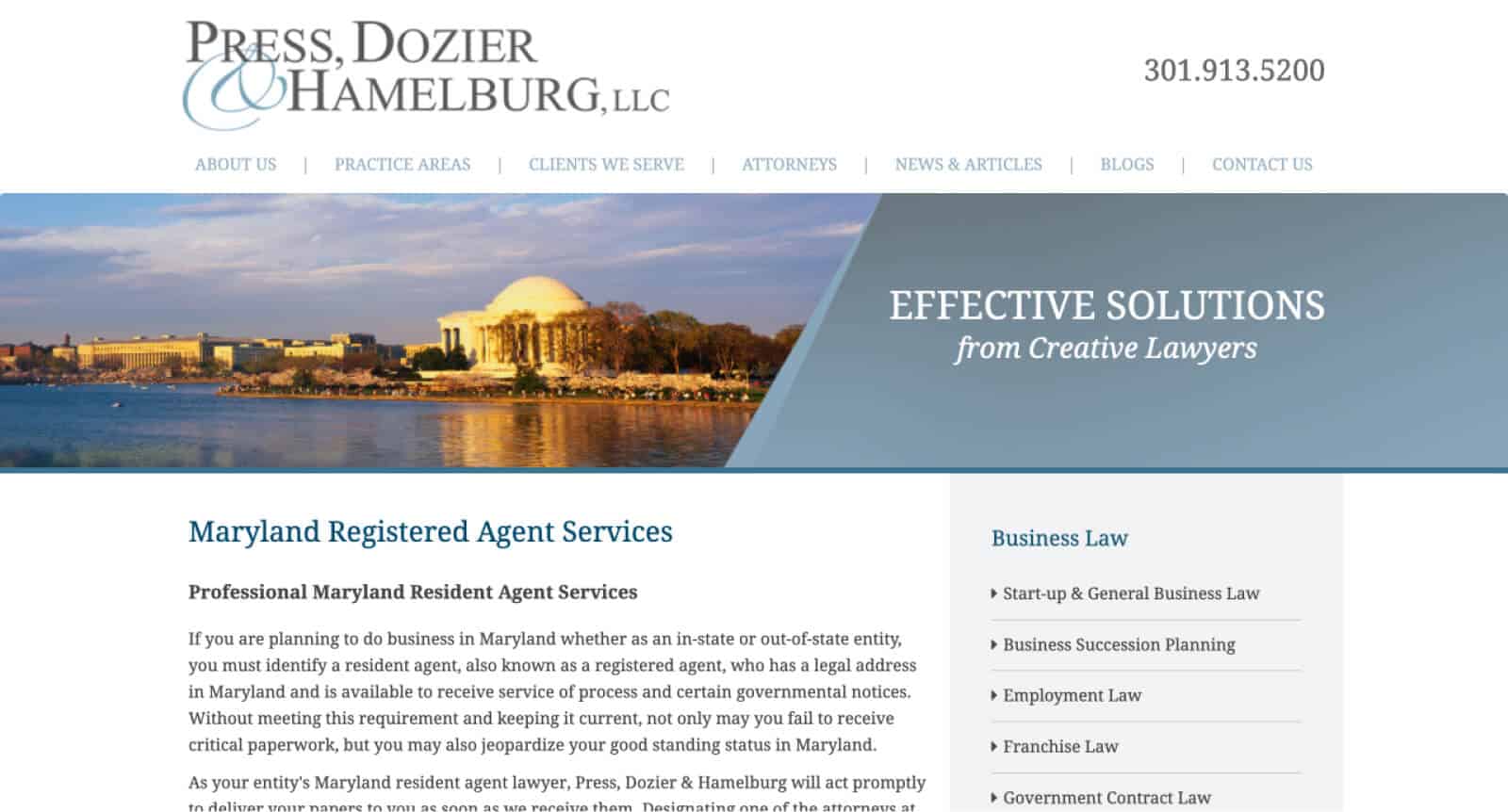 Press, Dozier & Hamelburg, LLC is a Maryland-based law firm with extensive experience in startup and business law, labor laws, government contracts, and business succession planning.
Thanks to an amazing bench of staff, they can provide a full range of legal and business services for your LLC, including professional registered agent services.
You can also appoint them as a domestic representative if you're based abroad but hold registered patents with the United States Patent and Trademark Office (USPTO).
Cost: $195/year
Address: 7910 Woodmont Ave., Suite 1350, Bethesda, Maryland 20814
2. Northwest Registered Agent (Our Partner)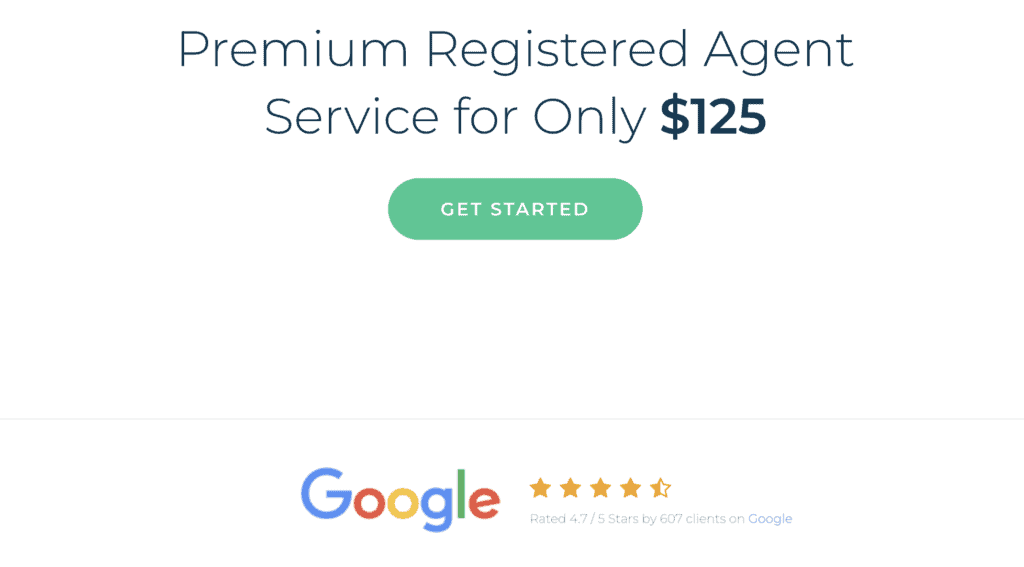 Our top recommendation for individuals seeking a registered agent service in Maryland is Northwest Registered Agent. They provide a comprehensive and versatile registered agent service accompanied by exceptional customer support, advantageous terms, strong privacy measures, and a user-friendly registration process.
One notable aspect that sets Northwest Registered Agent apart is their customer-oriented 90-day return policy. If you choose to end your service, Northwest will offer a prorated refund for the fees and expenses you have already paid.
Cost:

$125/year

Address: 5000 Thayer Center, Suite C, Oakland, Maryland 21550
3. Law Office of Stephen J. Reichert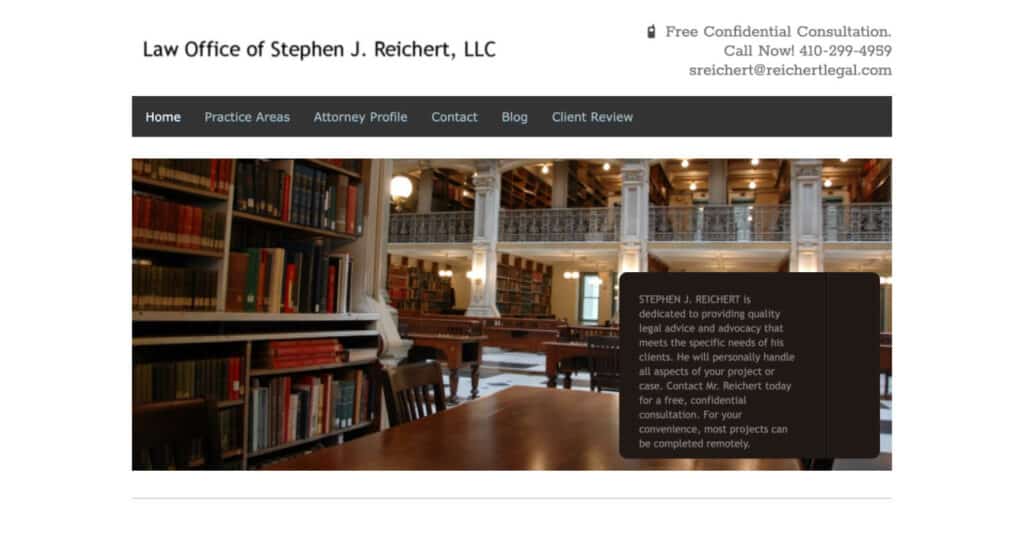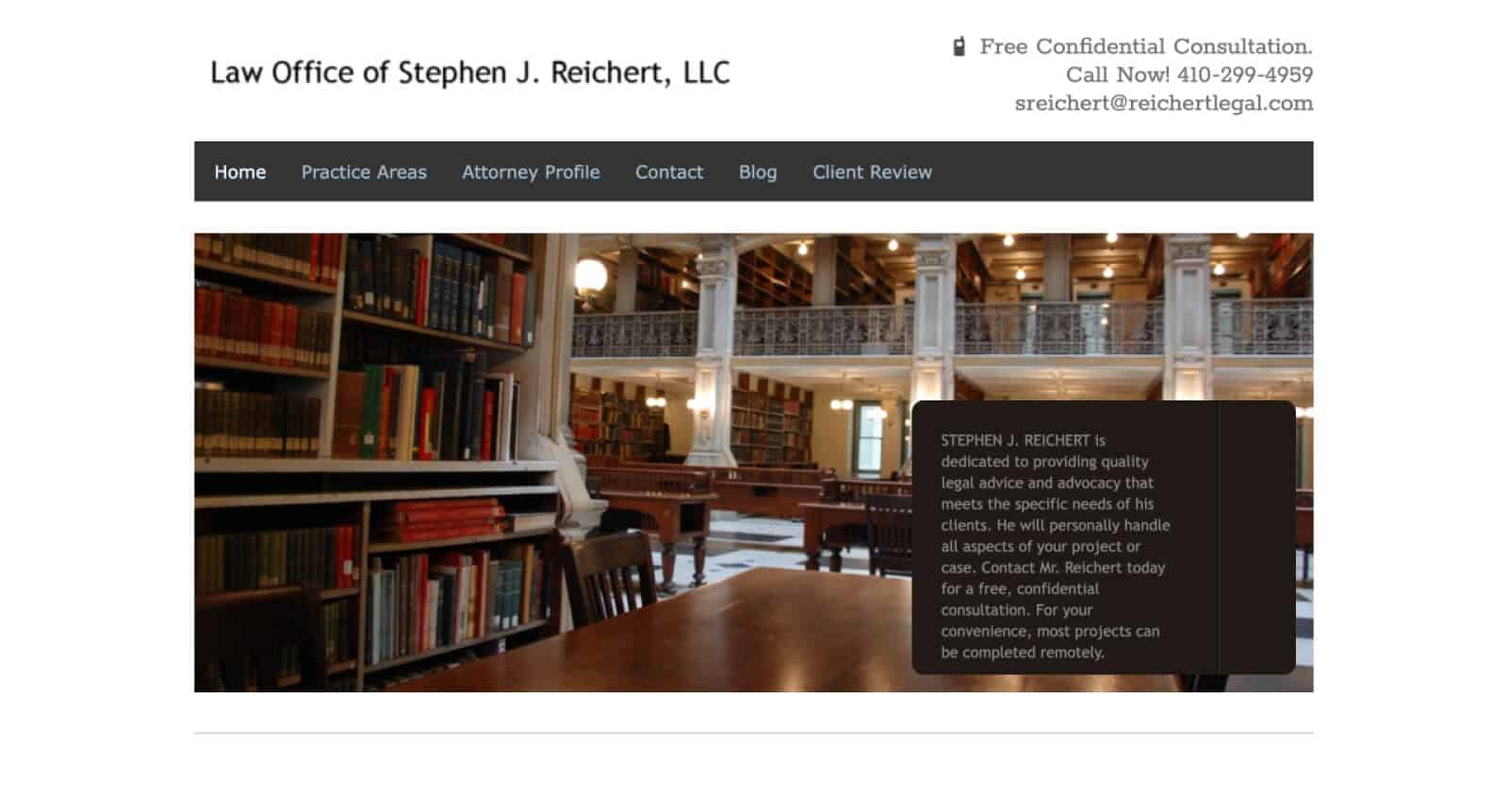 If you're looking for a true Maryland local with deep community ties, Stephen J. Reichert is the person to turn to.
Mr. Reichert is a graduate of the University of Maryland School of Law and served as an attorney for local non-profits, legal firms, and government bodies before opening his practice.
The firm's website has glowing reviews from clients. They also charge reasonable rates and provide coverage across all counties.
Cost: Request a quote
Address: 2221 Lake Ave., Baltimore, Maryland 21213
4. Advice Alliance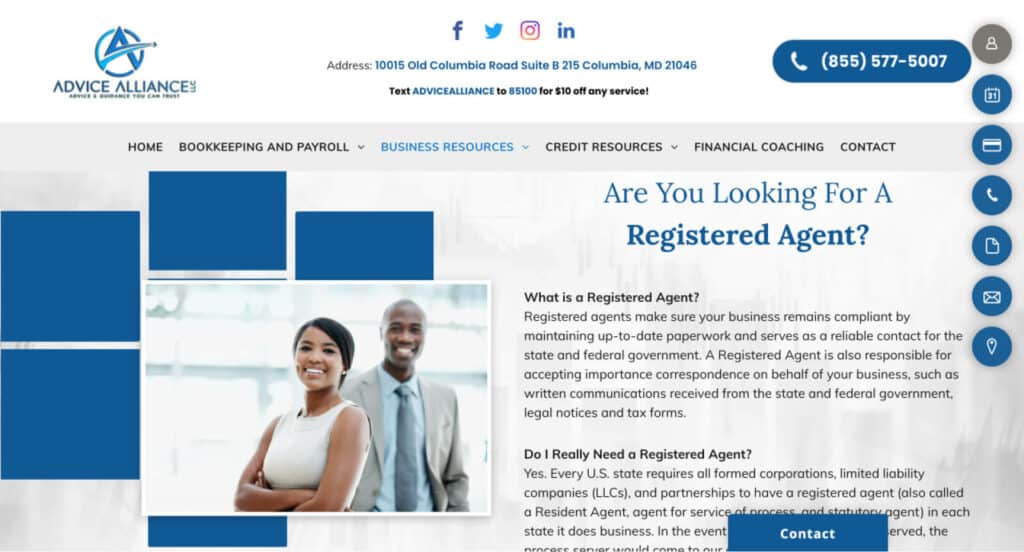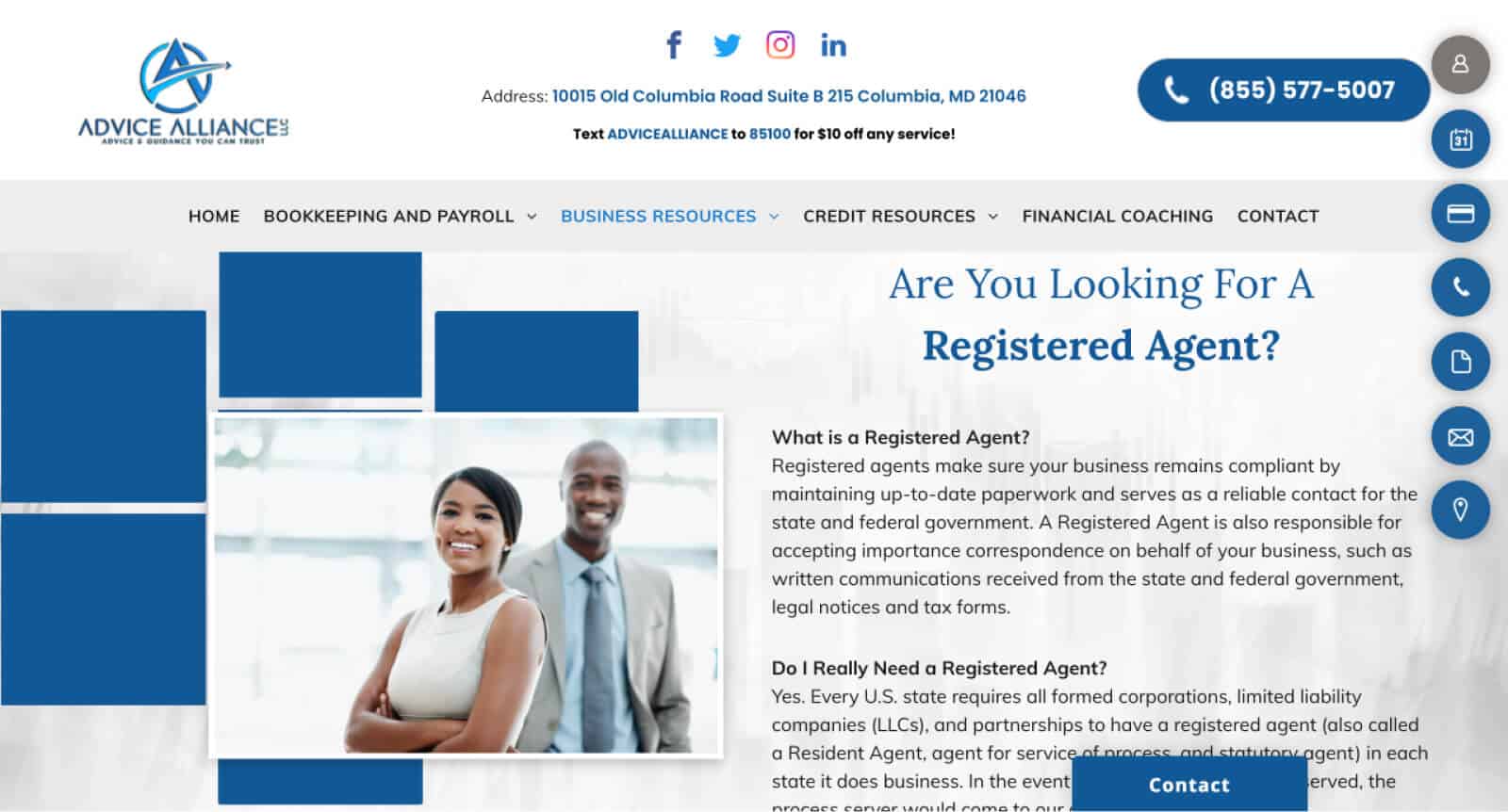 Unlike the previous companies, Advice Alliance LLC specializes in accounting and payroll services for businesses.
They also provide virtual office services, tax return preparation services, company incorporation services, and registered agent services for Maryland businesses.
As a client, you get access to a convenient online portal where you can review all the important documents, check due dates for compliance, and find any state form you may need.
Cost: Request a quote
Address: 10015 Old Columbia Rd., Suite B 215, Columbia, Maryland 21046
5. Simms Showers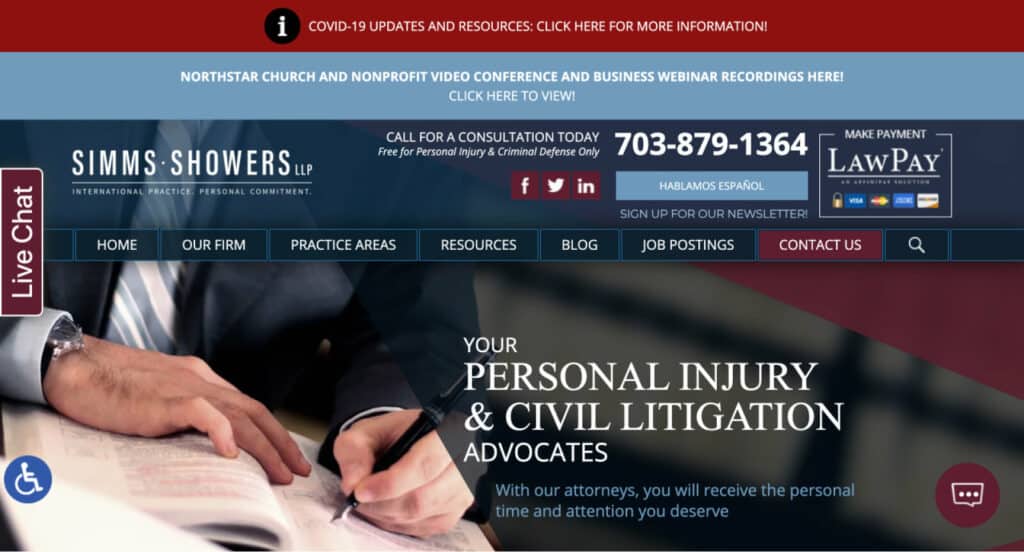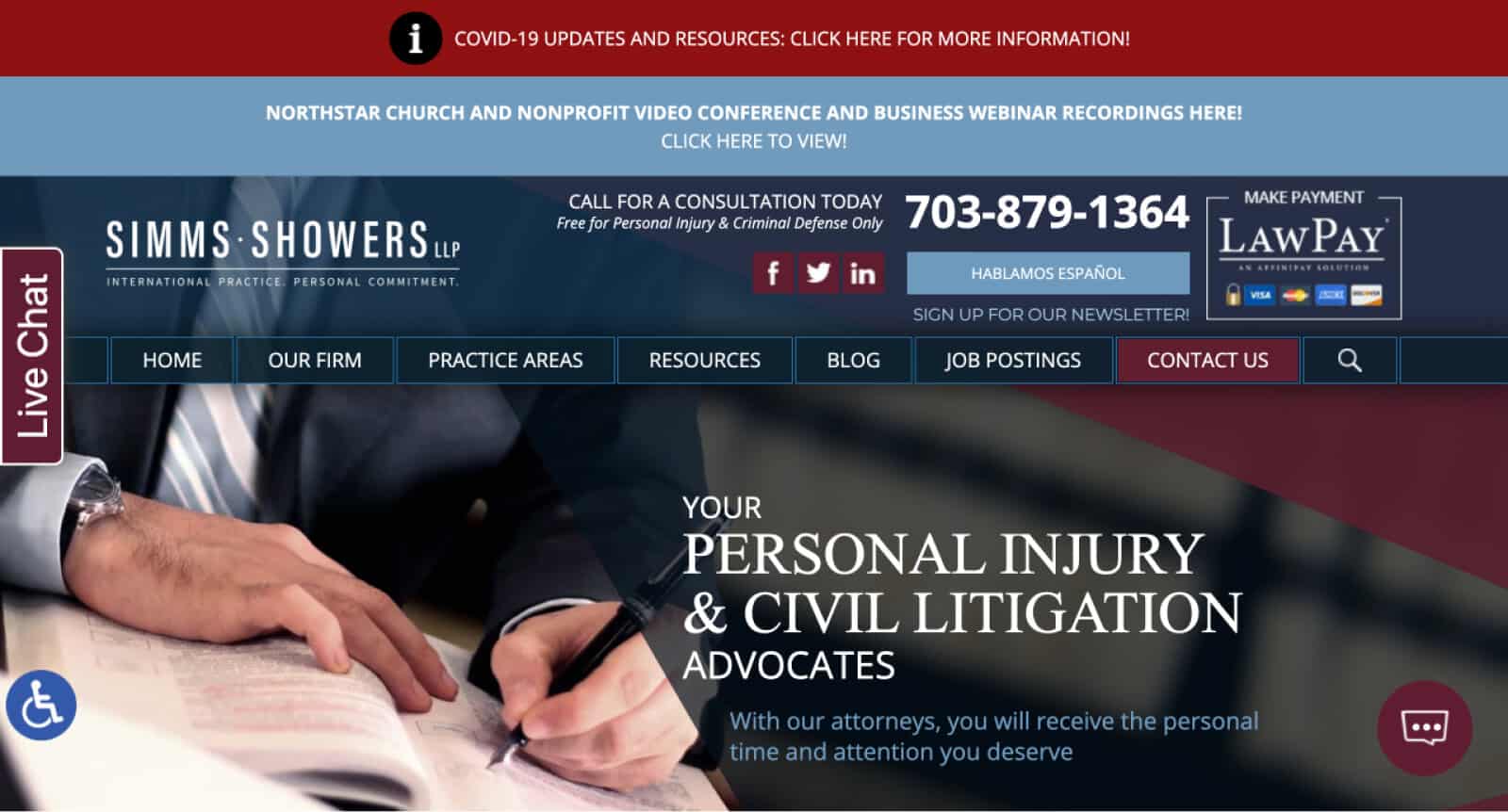 Simms Showers LLP is a legal firm with 140 years of collective legal experience under its belt.
They specialize in several legal practice areas, including criminal defense, business law, estate planning, church law, intellectual property, and family law.
On top, the team has been providing resident agent services to Maryland legal entities for the last 15 years. They are seasoned legal pros and have a strong community reputation in the two states where they operate—Virginia and Maryland.
Cost: Request a quote
Address: 201 International Circle, Suite 230, Hunt Valley, Maryland 21030
6. Taylor Legal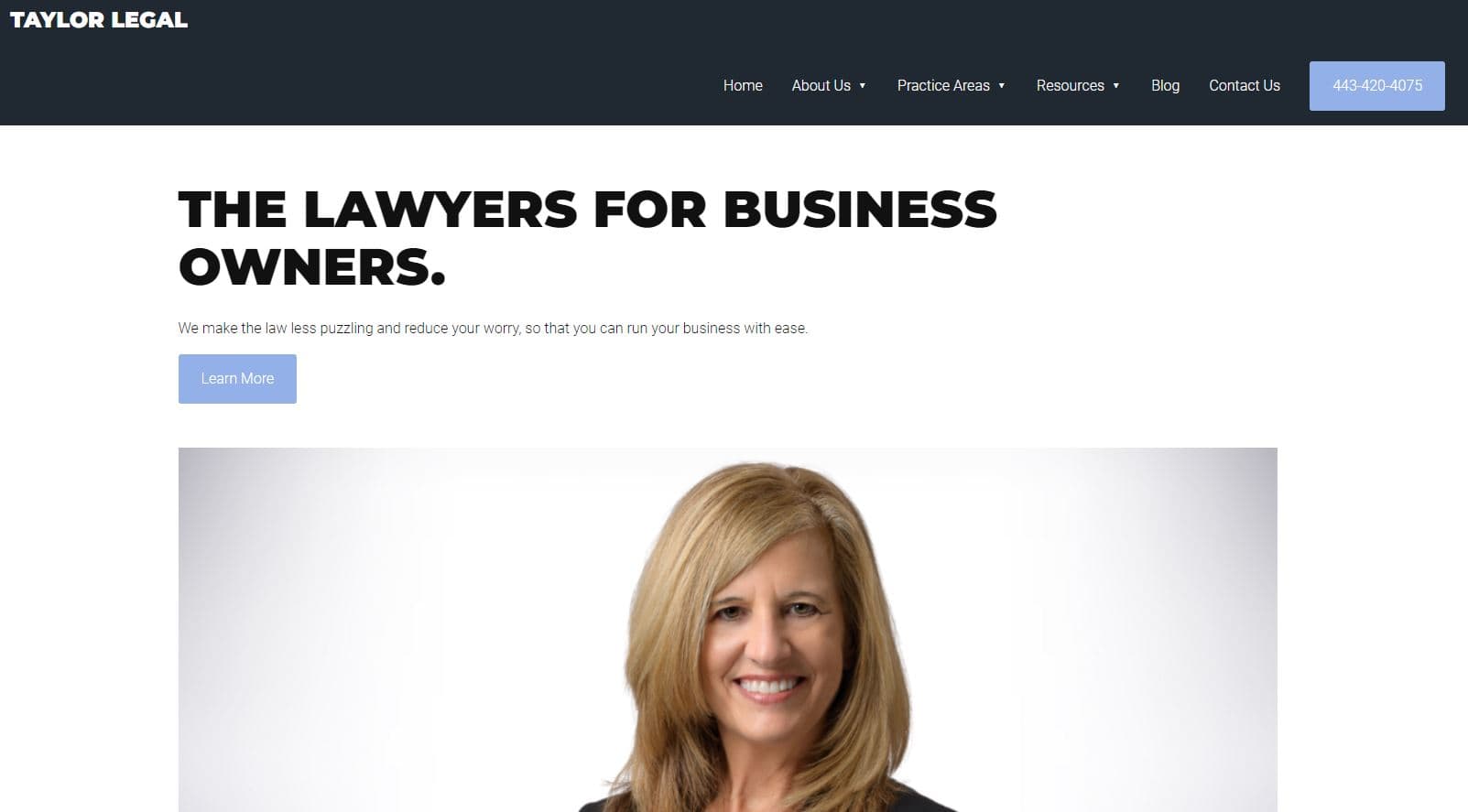 Taylor Legal is a Maryland law firm that provides a wide range of legal services to businesses and individuals, including business law, litigation, and estate planning. The firm is known for its experienced and knowledgeable attorneys, as well as its commitment to providing excellent customer service.
The firm provides company formation services along with registered/resident agent services. And two of their attorneys have specialized tax knowledge. So it could be your one-stop place for legal and tax advice.
Cost: $100/year
Address: 5850 Waterloo Rd., Suite 140, Columbia, Maryland, 21045
7. Lusk Law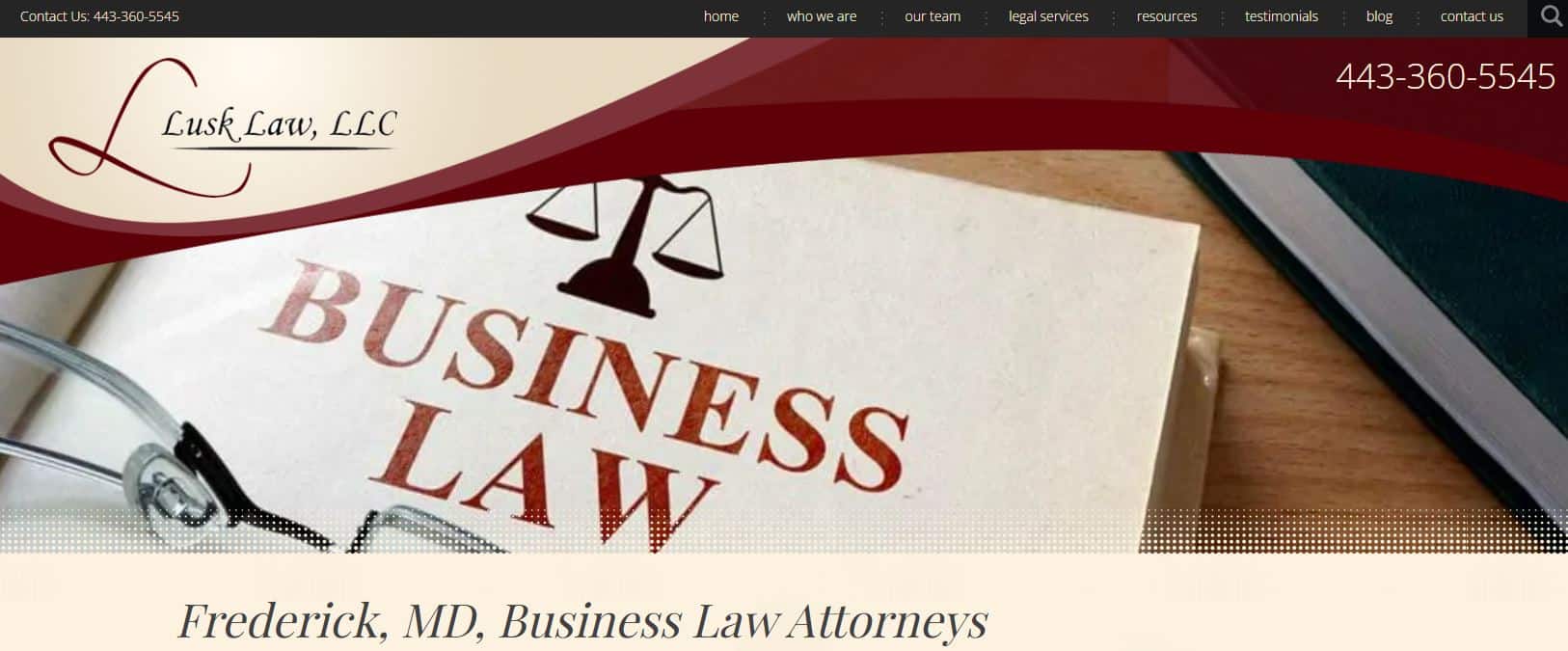 Lusk Law is a Maryland law firm that provides a wide range of legal services, including litigation, business law, landlord/tenant law, family law, and real estate law.
This firm focuses on small businesses and has a strong local reputation for outstanding client support.
Cost: Request a quote
Address: 113 E. Church St., Frederick, Maryland 21701
8. Officense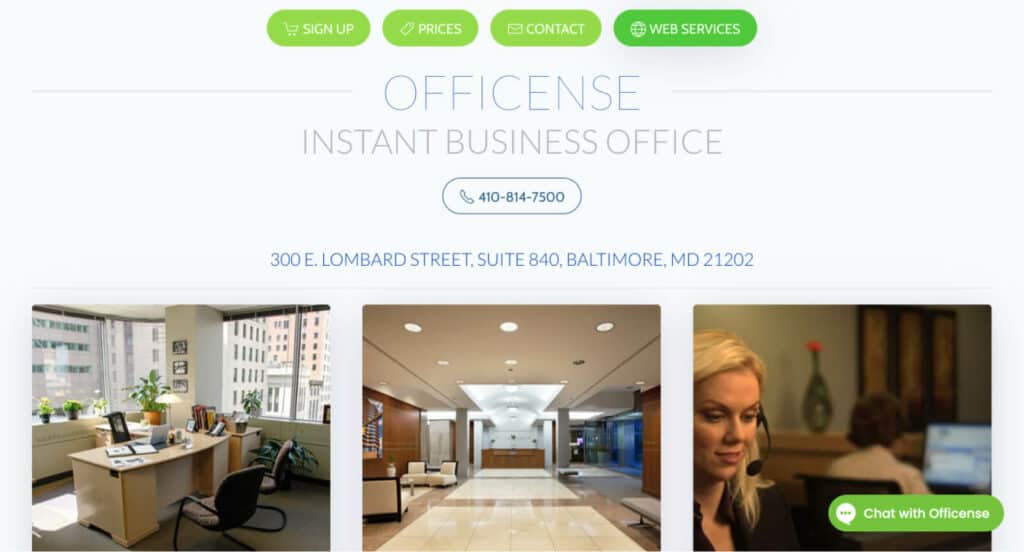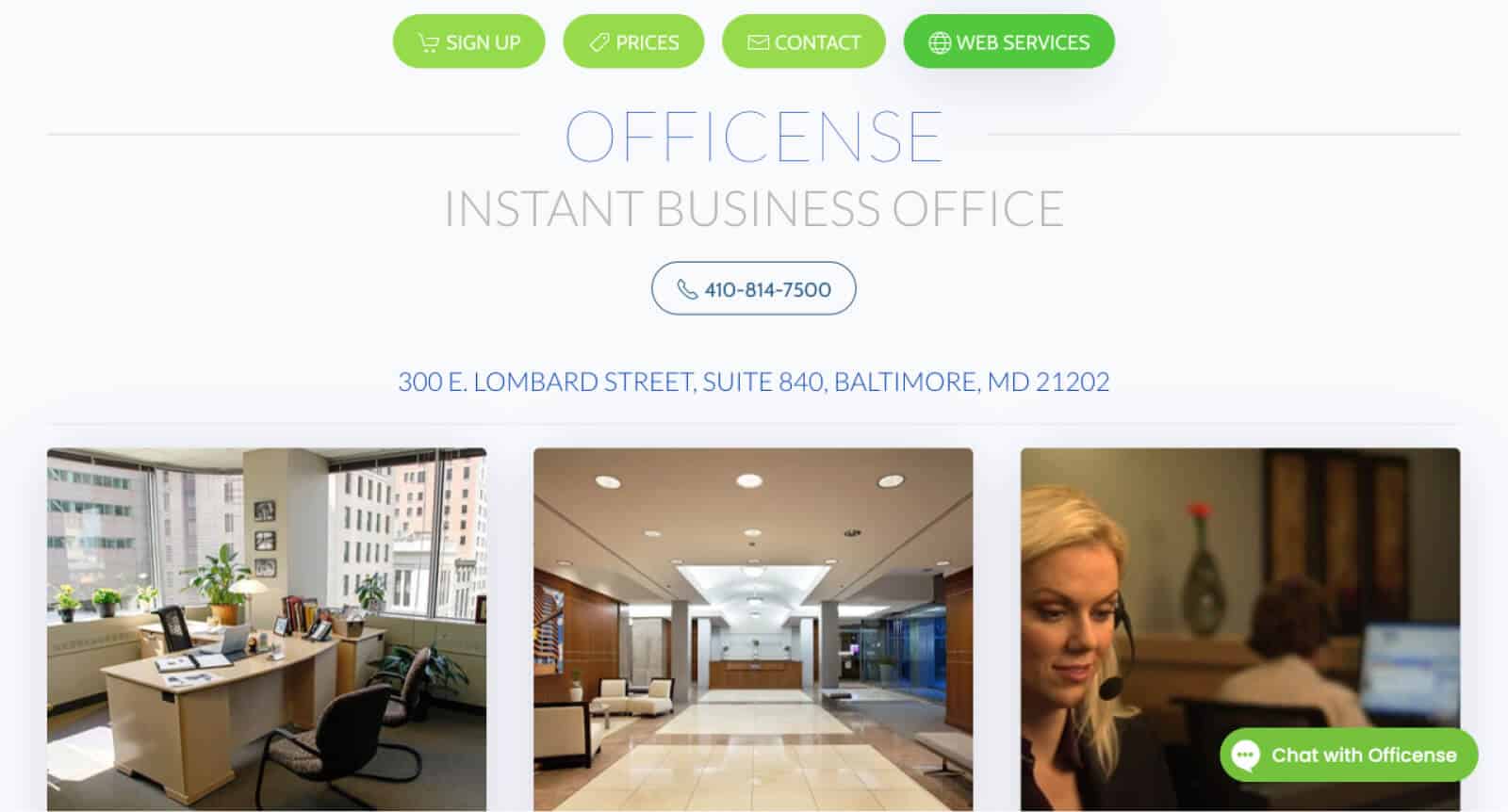 Officense helps you set up a virtual office or operate in hybrid mode. You can rent business office rooms from them in a prime Baltimore location or request just a business address.
The team also provides virtual answering services, on-demand admin support, web design services, virtual paralegal services, bookkeeping and payroll services, plus registered agent services.
They can run all your back-office processes while you focus on your core business.
Cost: Request a quote
Address: 300 E Lombard St., Suite#840, Baltimore, Maryland 21202
9. Arden Law Firm


Arden Law Firm in Crownsville is known for its flat-fee services. No hourly billing or surprise bills.
The firm offers business formation services for Maryland LLCs and corporations that start at $750. While Arden isn't the cheapest, you'll be serviced by a staff with 20+ years of legal experience catering to small business owners.
Cost: Starts at $750 for business formation
Address: 1028 Generals Hwy., Crownsville, Maryland 21032
How do I appoint a registered agent in Maryland?
You must appoint a registered agent on the Maryland Articles of Organization form, a document that signifies your intention to form an LLC.
In line 4 of the form, you'll need to type in the registered agent's name and address. Then have them sign the document. The agent's signature serves as the validation of their consent to the appointment.
Then submit the completed form and state filing fee to the Maryland Department of Assessments and Taxation (DAT). Once your Articles of Organization are approved, the appointment becomes official.
How do I change my registered agent in Maryland?
If you decide to change your registered agent's address, you'll have to complete the Resolution to Change the Principal Office or Registered Agent form.
In this form, you'll have to include:
The old and new resident agent address
The old and new resident agent name (if that changed)
Registered agent signature
Then file this form by mail, online, or in-person to Maryland DAT with a $25.00 state fee. All the requests are processed within several business days.