You're all set to start your new business in Maryland.
You've selected the optimal business structure, have an operating plan ready and are eager to begin the company formation process.
But there's a tiny nuance you can't figure out: what's all the fuss about resident agent appointments?
This post explains whom you can appoint as a registered agent for your Maryland LLC – and provides a list of commercial registered agent providers to choose from!
Who can be a registered agent for an LLC in Maryland?
Maryland Code for Corporations and Associations provides a clear-cut definition of who can serve as a registered agent for a limited liability company (LLC), limited partnership (LP), or corporation (INC):
An individual of legal age, with a street address in Maryland (P.O. boxes are not accepted).
A legal entity authorized to do business in the state of Maryland.
Essentially, the above means that you can appoint either yourself or another close person such as an LLC member or company employee to act as a Maryland resident agent (registered agent).
Or you can designate a professional company for this role.
Why use a professional Maryland registered agent service
A registered agent serves as a point of contact for your business. They must be available at the listed address to accept all incoming correspondence and service of process of legal documents, specifically.
This means that anyone you'll appoint must be available during normal business hours at the registered office. Or else you can face legal penalties if you fail to accept the service of the process on time.
Likewise, if you misplace an important state document or tax notice, you can be in trouble – and even lose good standing with the state in some cases.
The listed address also becomes a public record, which can be inconvenient for many business owners.
Therefore, you need someone reliable for the registered agent role.
Using a professional registered agent service, you get many benefits, such as:
A dependable representative to be available instead of you for any legal correspondence.
Fast access to pre-sorted business mail and timely notifications about important notices.
A greater degree of privacy as process servers won't come to your business address or show up at your personal property (if you work from home).
Moreover, many registered agent service providers also have complementary business services, ranging from accounting to virtual office support.
Some also pitch LLC formation services, but this is something you can do for less on your own. Check these guides for details:
Maryland registered agent services list
Ready to find your new business partner?
Below is our list of verified registered agent service providers. All companies either have an HQ in Maryland or operate a local business office branch.
1. Simms Showers, LLP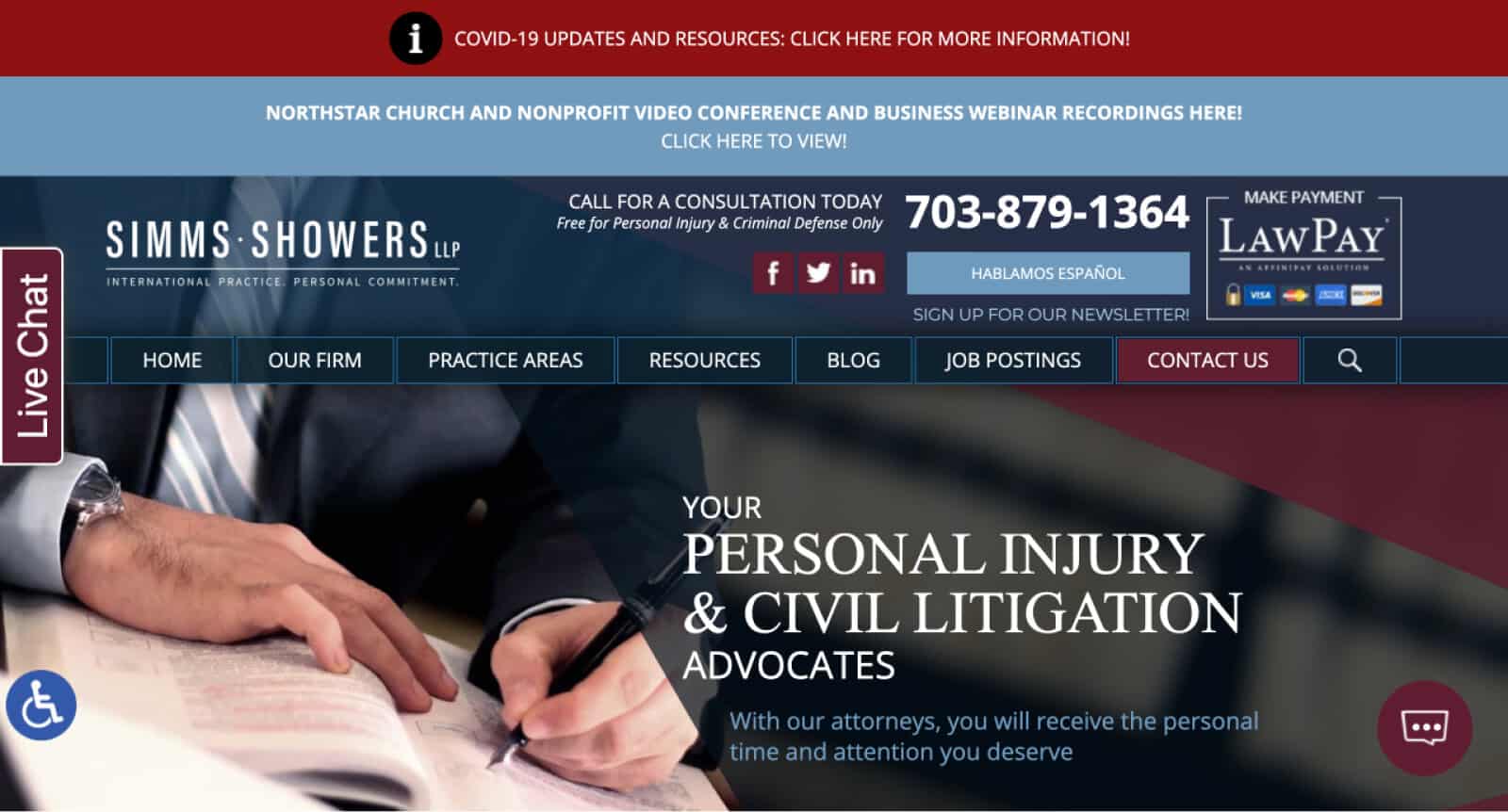 Sims Showers LLP is a legal firm with some 140 years of collective legal experience under its belt.
They specialize in several legal practice areas, including criminal defense, business law, estate planning, church law, intellectual property, and family law.
On top, the team has been providing resident agent services to Maryland legal entities for the last 15 years. They are seasoned legal pros and have a strong community reputation in the two states where they operate – Virginia and Maryland.
Address: 201 International Circle, Suite 230, Hunt Valley, Maryland 21030
2. Press, Dozier & Hamelburg, LLC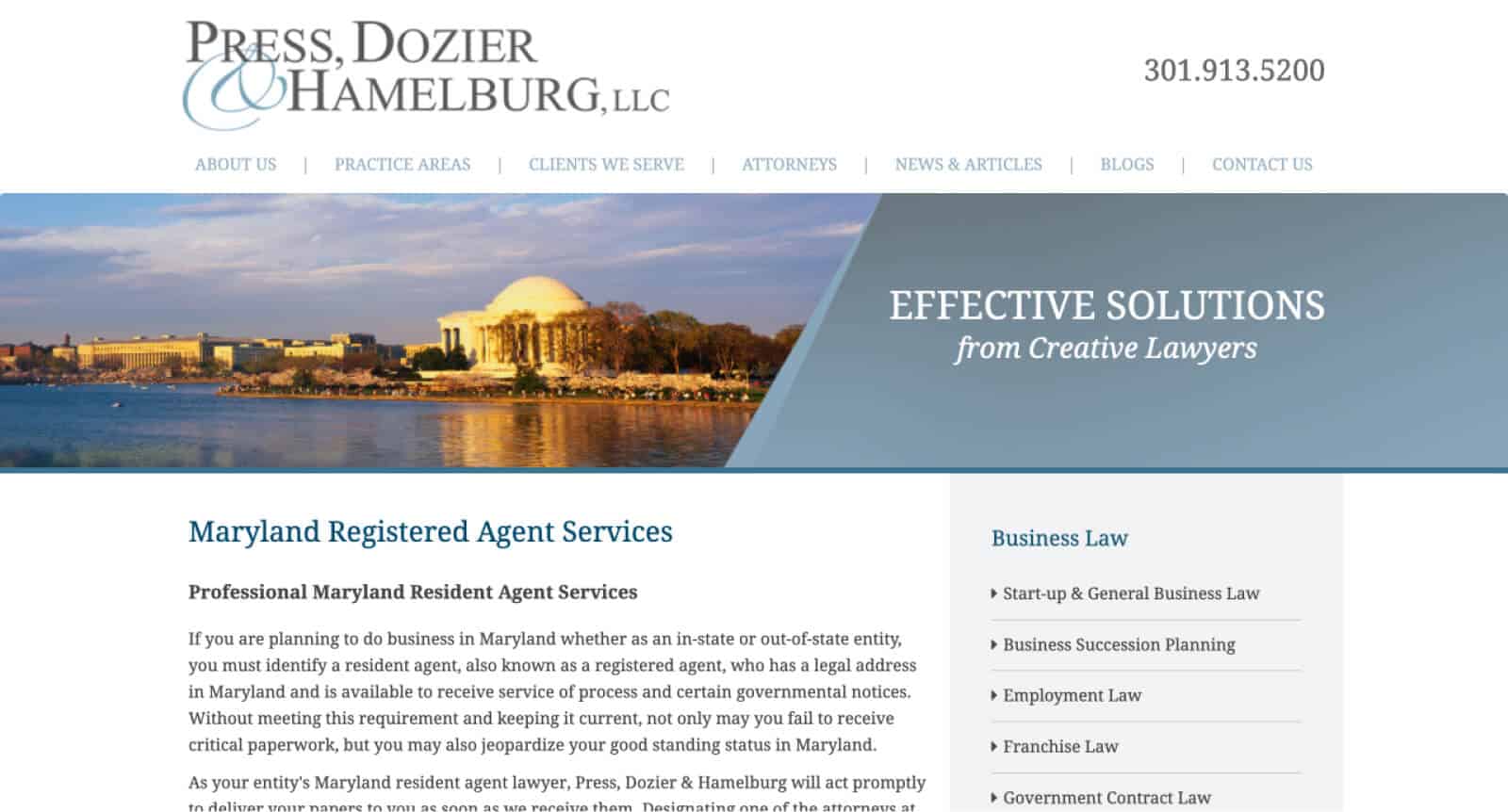 Press, Dozier & Hamelburg, LLC is another Maryland-based legal firm with profound experience in startup and business law, labor laws, government contracts, and business succession planning.
Thanks to an amazing bench of staff, they can provide a full range of legal and business services for your LLC, including professional registered agent services.
You can also appoint them as a domestic representative if you're based abroad but hold registered patents with the United States Patent and Trademark Office (USPTO).
Costs: $195/year
Address: 7910 Woodmont Avenue, Suite 1350, Bethesda, MD 20814
3. Advice Alliance LLC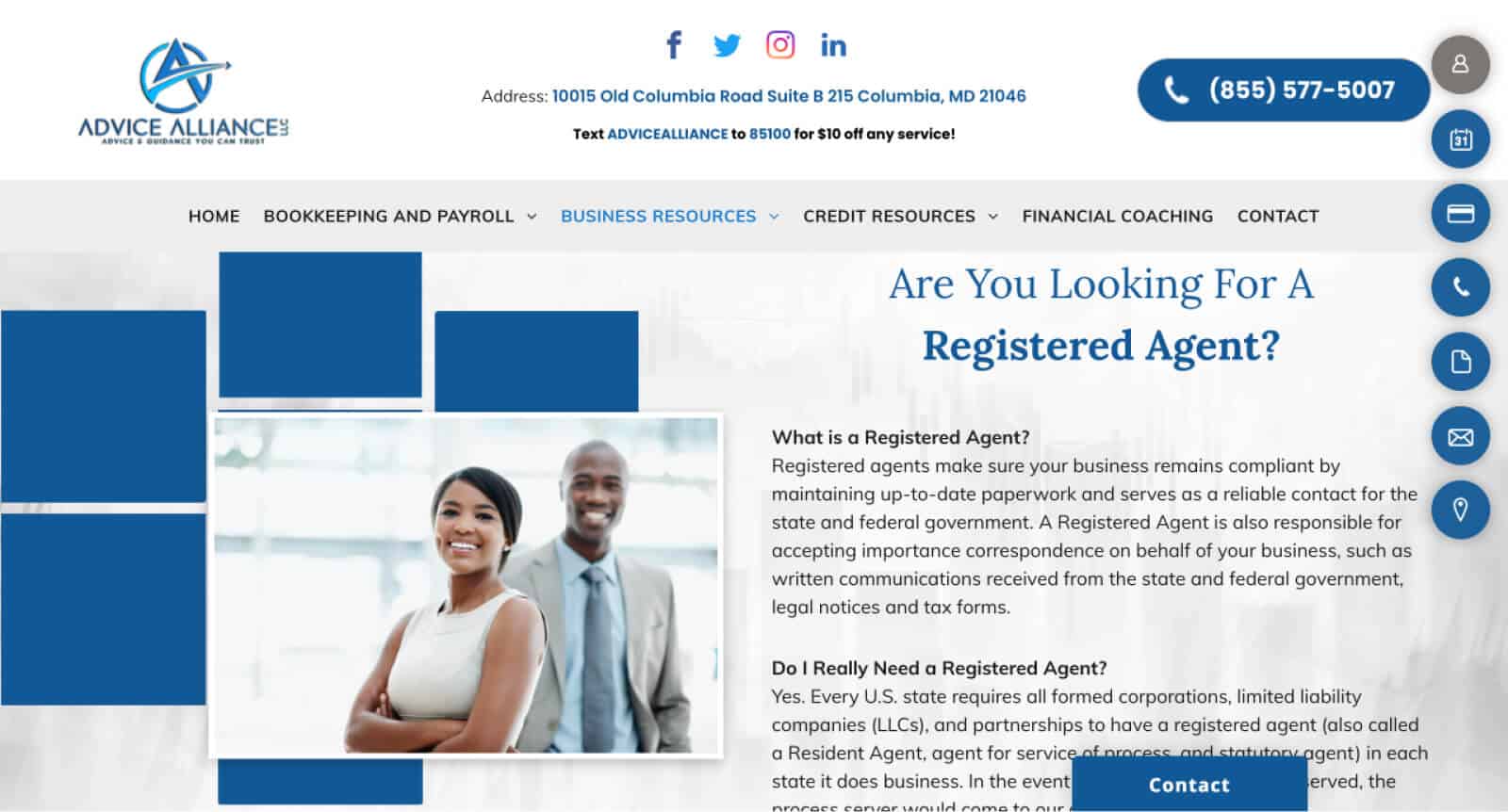 Unlike the previous two companies, Advice Alliance LLC specializes in accounting and payroll services for businesses.
They also provide virtual office services, tax return preparation services, company incorporation services, and registered agent services for Maryland businesses.
As a client, you get access to a convenient online portal, where you can review all the important documents, check due dates for compliance, and find any state form you may need.
Address: 10015 Old Columbia Road Suite B 215 Columbia, MD 21046
4. BlumbergExcelsior Corporate Services, Inc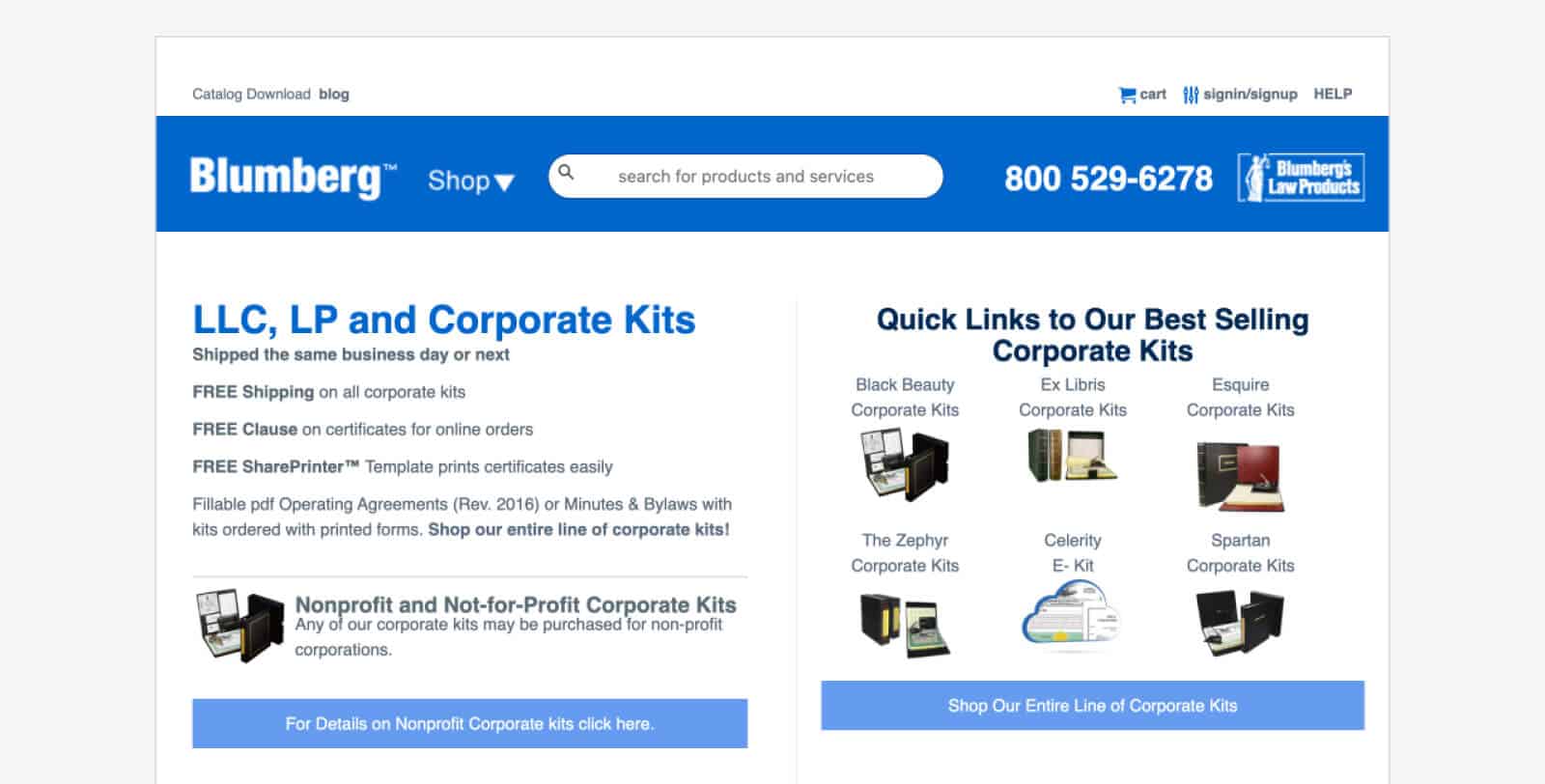 BlumbergExcelsior Corporate Services doubles as a product firm and a business service provider. They sell attractive "corporate kits" featuring stationery, printed forms, and custom seals for companies.
Also, they provide a range of essential business services to limited liability companies, limited partnerships, and corporations. These include company incorporation, recordkeeping, filing services, legal advice, and registered agent services.
They also offer handy add-on services such as custom LLC operating agreement creation and annual report filing services.
If you're looking for a one-stop-shop provider, Blumberg is worth considering!
Costs: $125 for the first year if you incorporate with them, and then $139/year
Address: 100 Wall Street, Suite 503, New York, NY 10005
5. Law Office of Stephen J. Reichert, LLC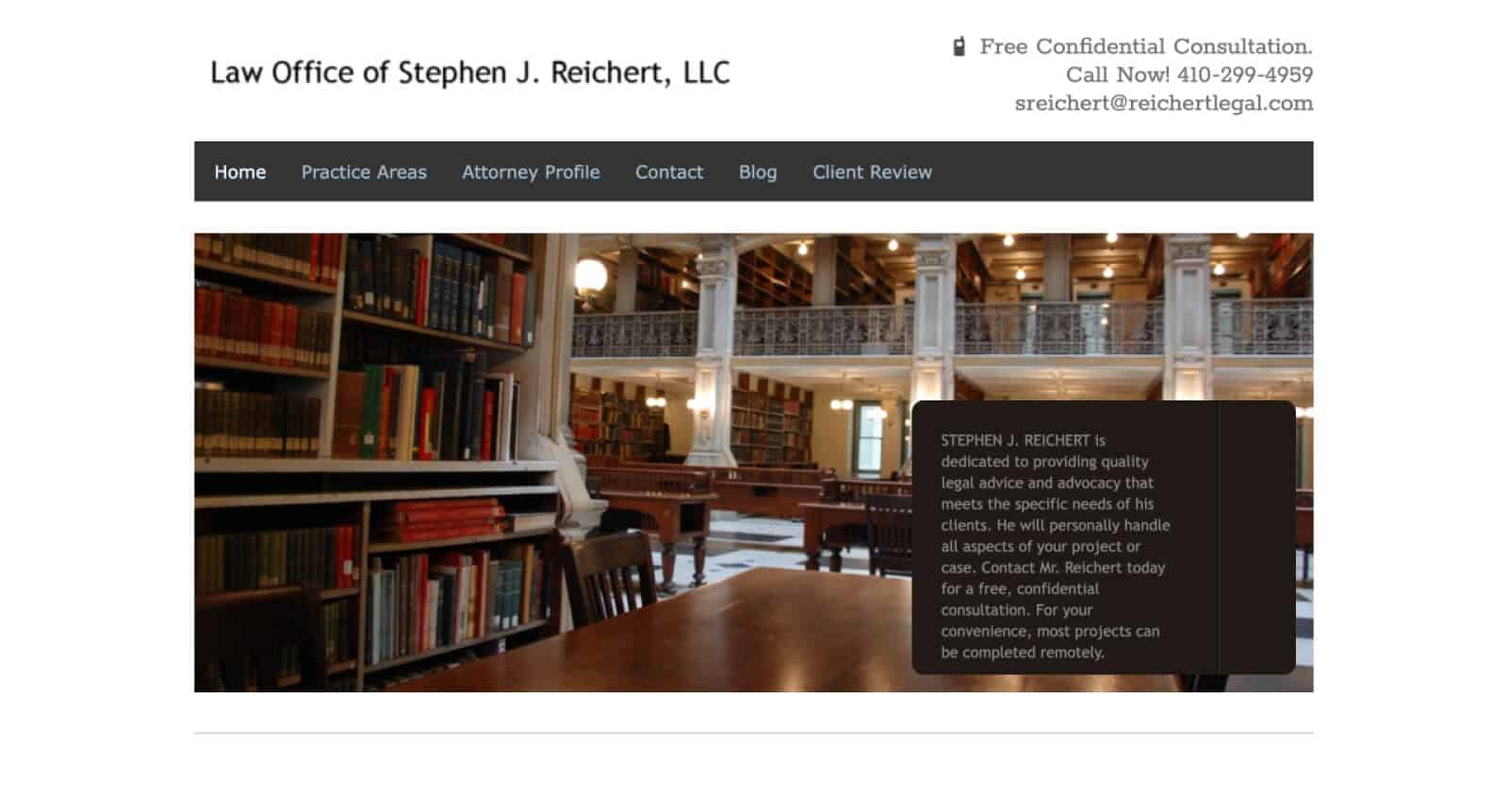 If you're looking for a true Maryland local with deep community ties, Stephen J. Reichert is the person to turn to.
Mr. Reichert is a graduate of the University of Maryland School of Law and served as an attorney for local non-profits, legal firms, and government bodies before opening his practice.
The firm's website has glowing reviews from clients. They also charge reasonable rates and provide coverage across all counties.
Address: 2221 Lake Ave, Baltimore, MD 21213.
6. HSC Agent Services, Inc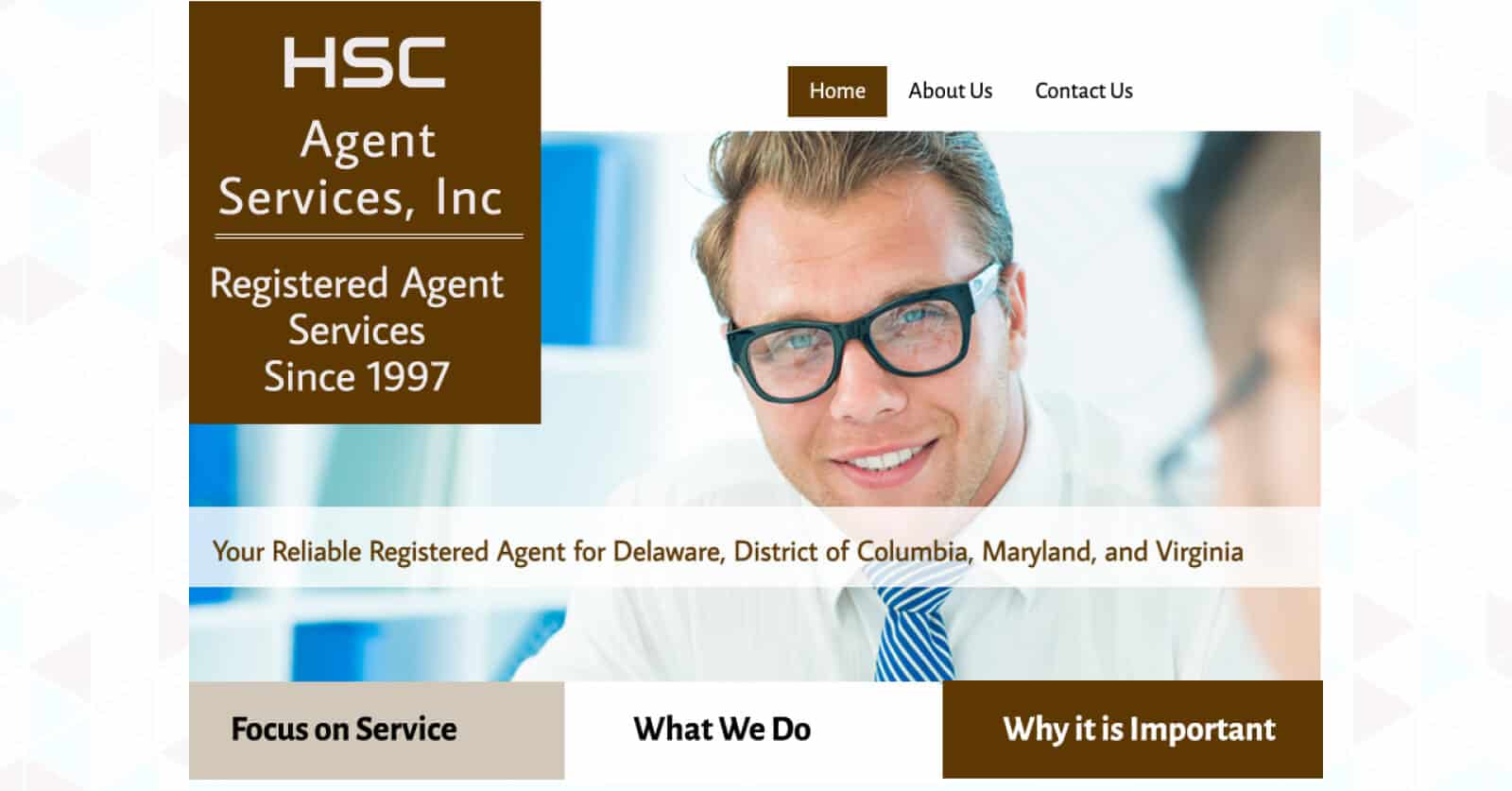 HSC Agent Services provides commercial registered agent services in Maryland, Virginia, Delaware, and Washington, DC.
So if you have business entities incorporated in these bordering states, it can be convenient to use the same provider.
The company has been operating since 1997 and harnessed a strong reputation of excellence and flexibility in service levels.
Address: 245 W Chase St, Baltimore, MD 21201
7. TRAC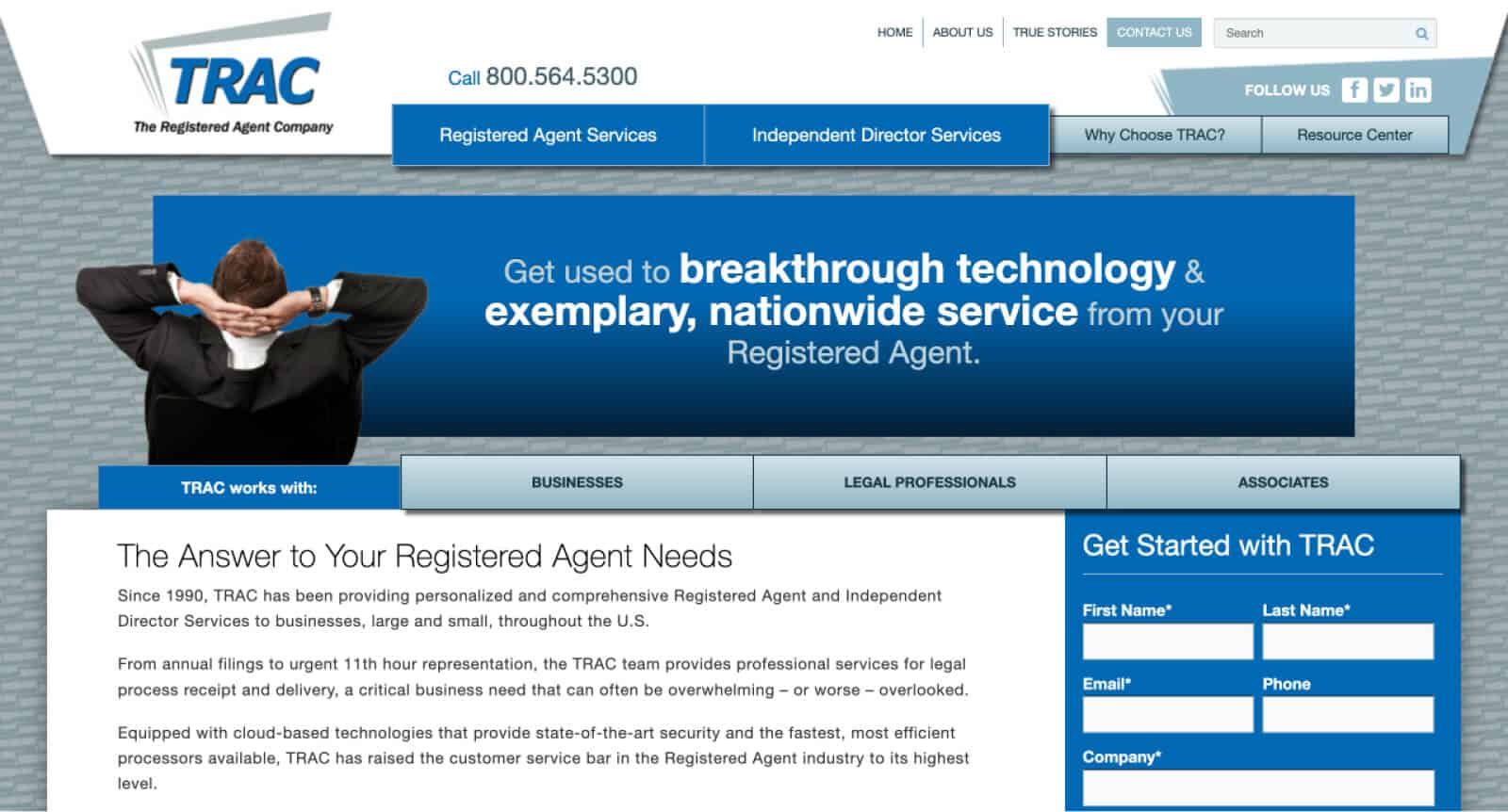 TRAC registered agent service is a nationwide operator with an HQ in Baltimore.
Since 1990 the team has been exclusively specializing in registered agent services for LLCs, corporations, and as a white-label service provider for other registered agent service providers.
Through established operational processes and top-notch technology, the team delivers reliable services at warp speed.
This is a good choice if you have both domestic and foreign LLC registrations in other states.
Address: 715 St. Paul Street, Baltimore, MD 21202.
8. Officense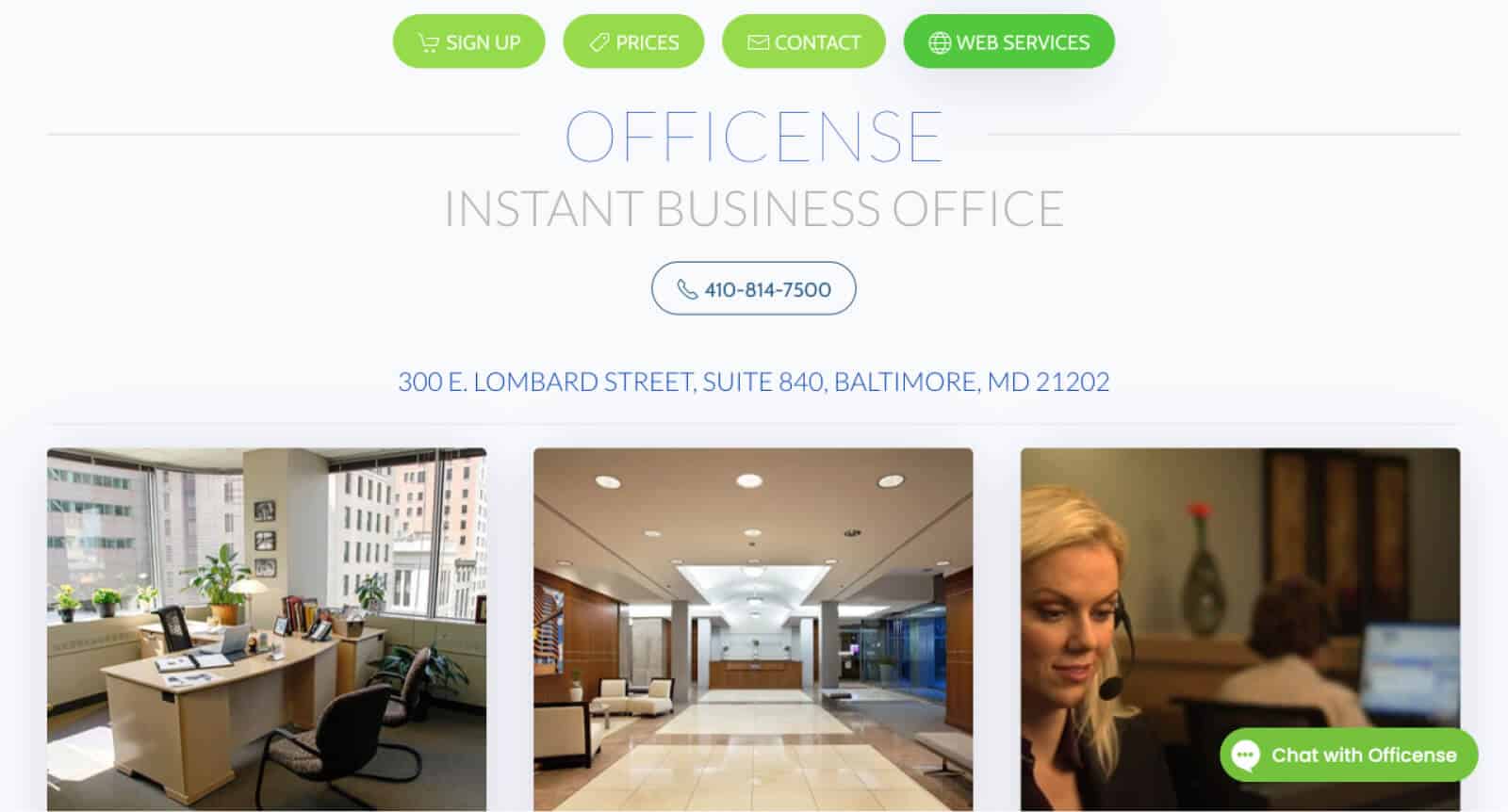 Officense helps you set up a virtual office or operate in hybrid mode. You can rent business office rooms from them in a prime Baltimore location or request just a business address.
The team also provides virtual answering services, on-demand admin support, web design services, virtual paralegal services, bookkeeping, and payroll services, plus registered agent services.
Essentially, they can run all your back-office processes while you focus on your core business.
Address: 300 E Lombard St #840, Baltimore, MD 21202
9. Maryland Registered Agent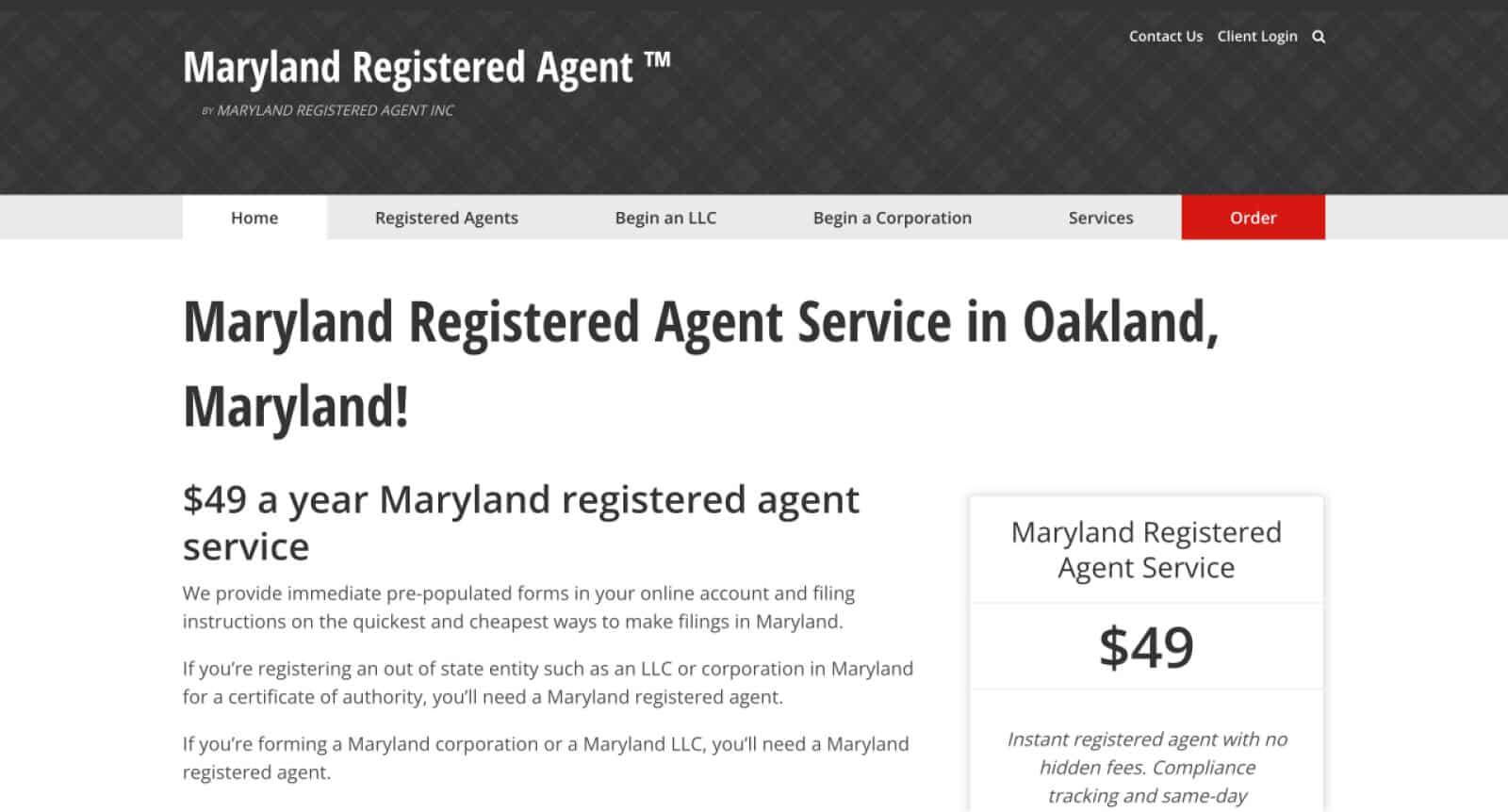 Maryland Registered Agent™ is the most affordable resident agent service provider on this list.
They are a small firm specializing exclusively in registered agent services – no extra services available.
Still, this is an excellent option for a single-member LLC owner looking for a way to maintain their privacy.
Costs: $49
Address: 5000 Thayer Center Suite C, Oakland, MD, 21550
10. Computershare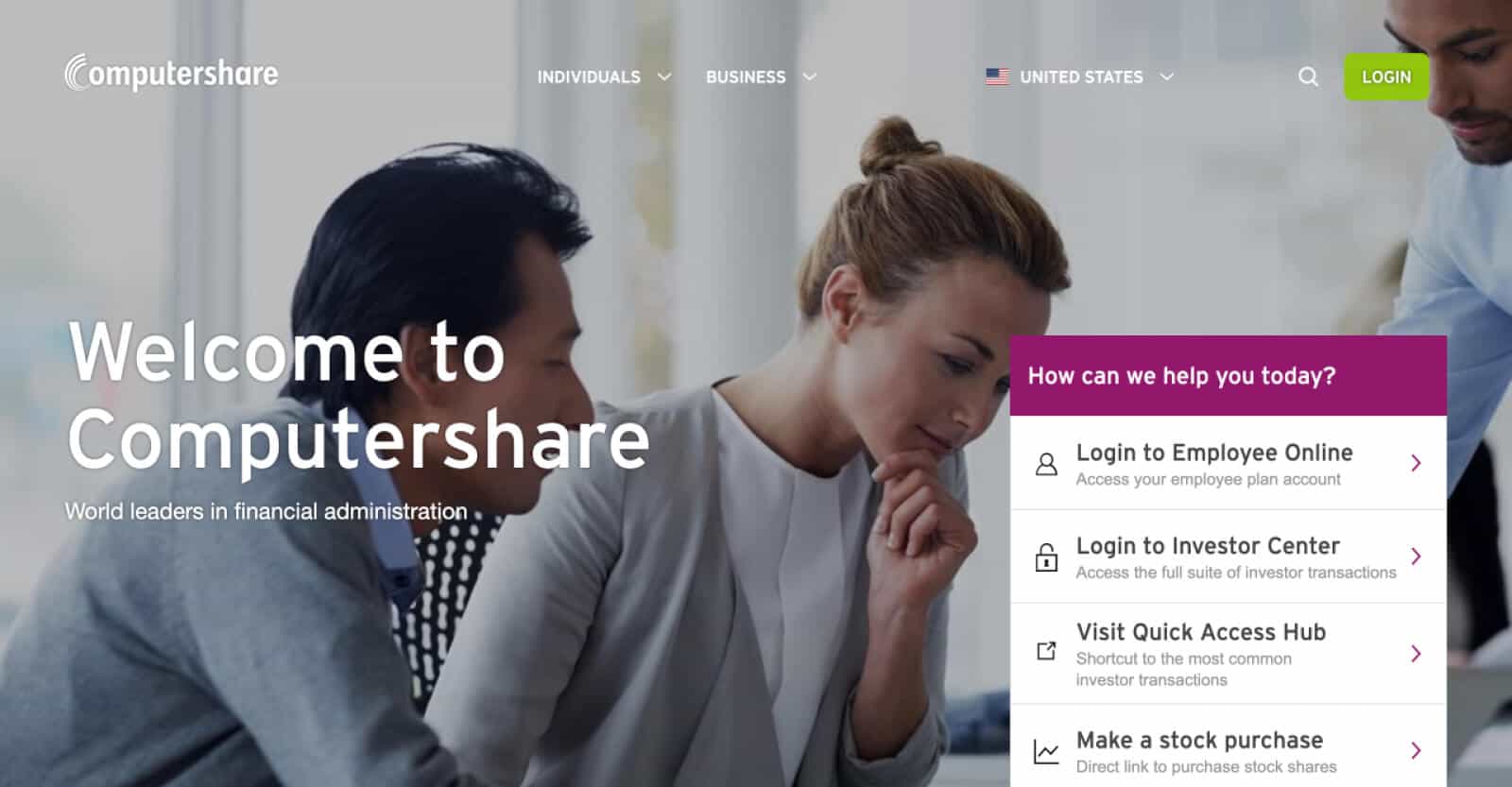 Computershare is an international provider of financial services for individuals and businesses with an office in Columbia, MD.
They also specialize in corporate governance and proxy services. In this capacity, they offer commercial registered agent services as part of their Global Entity Management System (GEMS).
Their service levels include service of process document acceptance, data reconciliation with state records, on-demand state document filings, and timely reminders for annual report filings.
Address: 9062 Old Annapolis Rd, Columbia, MD 21045
11. Maryland Agent Service, Inc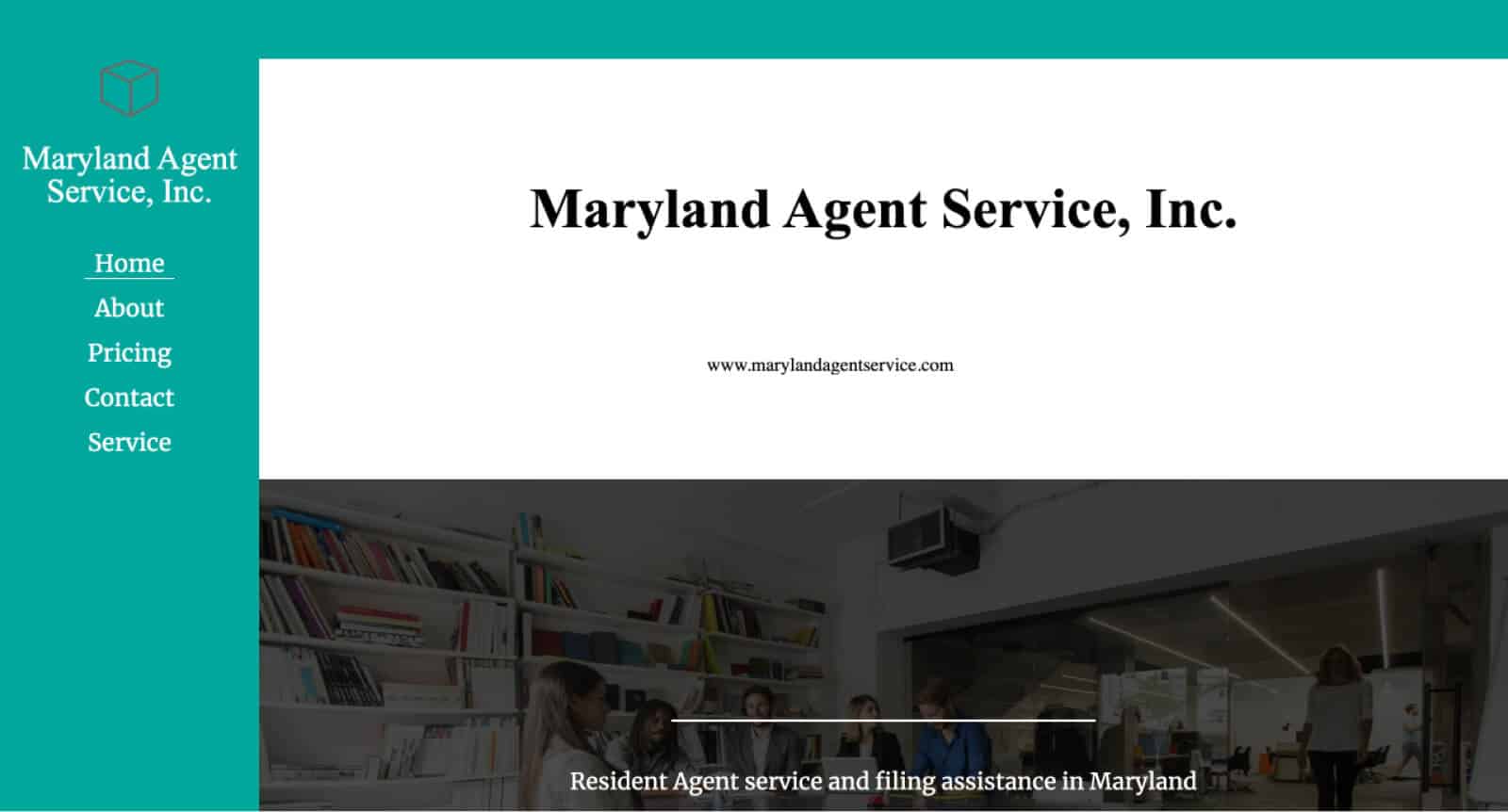 Maryland Agent Service, Inc is a monoline service provider specializing only in resident agent service and fillings assistance.
They'll take care of all the incoming correspondence for an affordable fee. The team can also assist you with any Secretary of State filings or document retrievals.
Costs: $50
Address: 8007 Baileys Lane, Pasadena, Maryland 21122
12. United Corporate Services Inc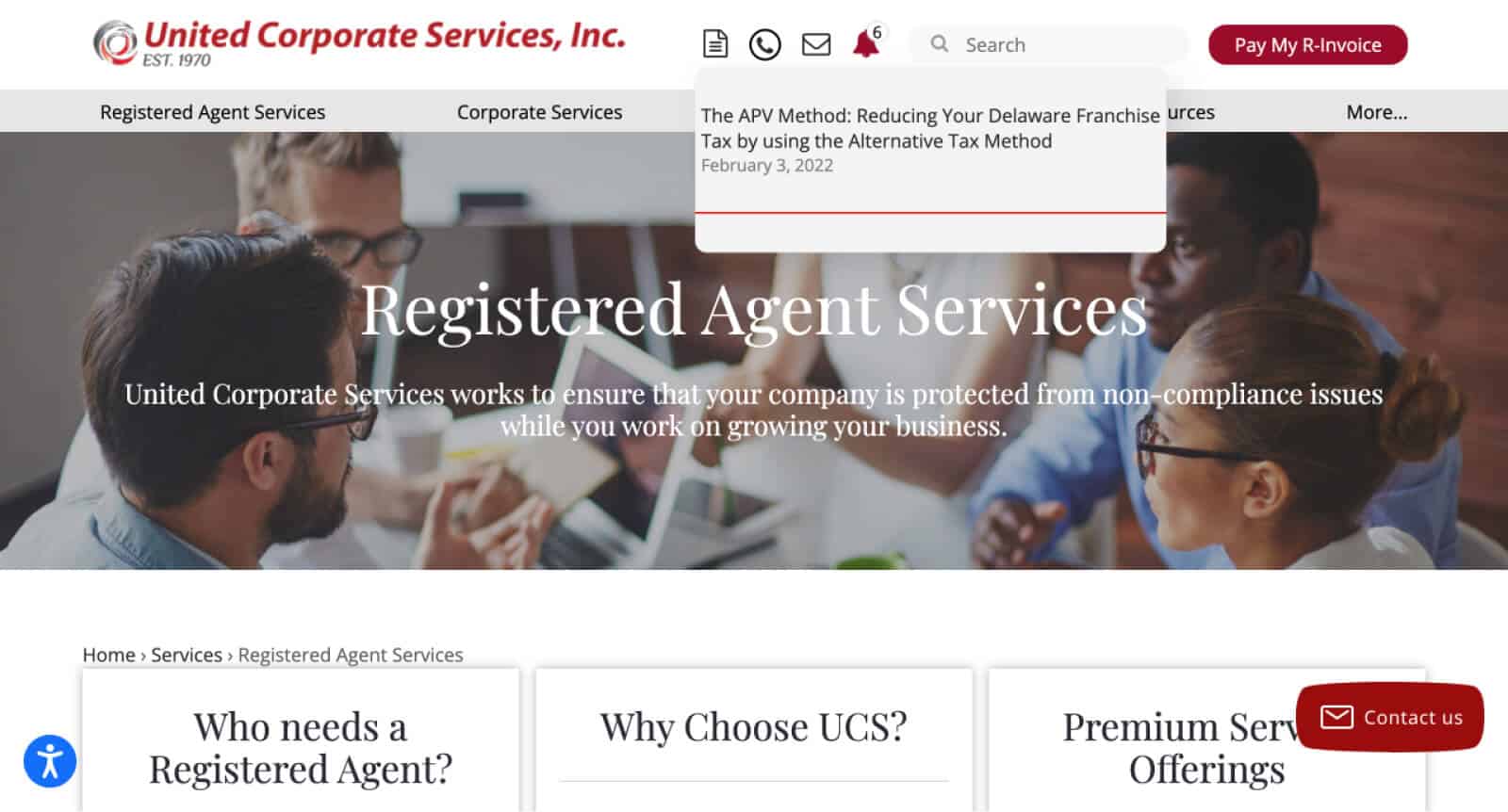 United Corporate Services Inc offers various corporate services, ranging from business structure incorporation to trademark applications and ongoing compliance.
They operate in all 50 states (plus DC and Puerto Rico). This is convenient if you have several LLC registrations across the country.
Additionally, you can request mail forwarding services from them. Or appoint an experienced administrator from their team to act as a manager for your LLC.
Address: 20 South Charles St, Baltimore 21201, MD
13. HIQ Corporate Services, Inc.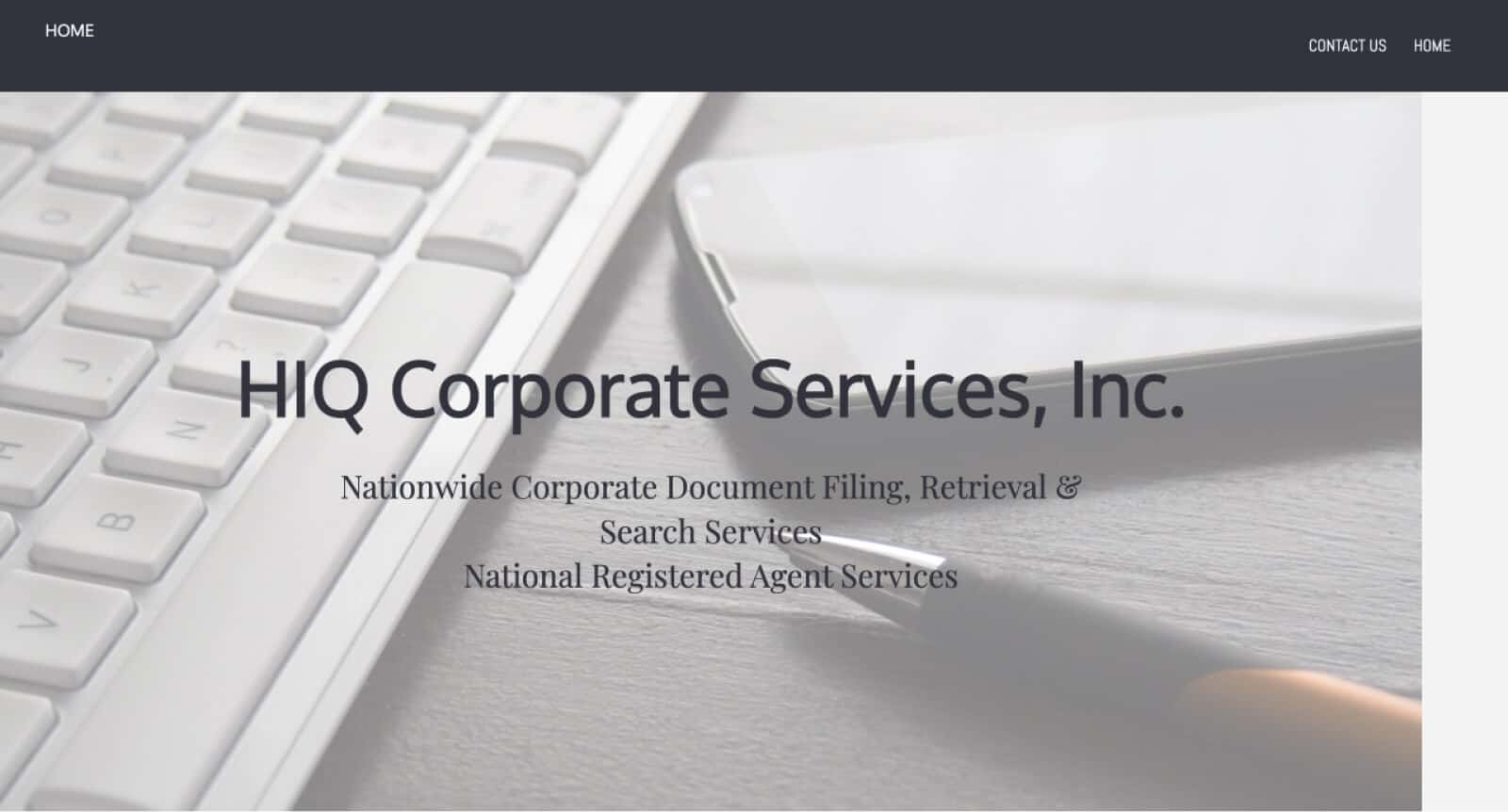 HIQ Corporate Services is another accredited provider of registered agent services in Maryland.
Founded in 1990, the organization is well-known for its effectiveness, speed, and discretion in handling legal notices on behalf of its clients.
You can also count on them for UCC & Lien Search Services, plus all company filings.
Address: 715 Saint Paul Street, Baltimore MD 21202
14. CSC Global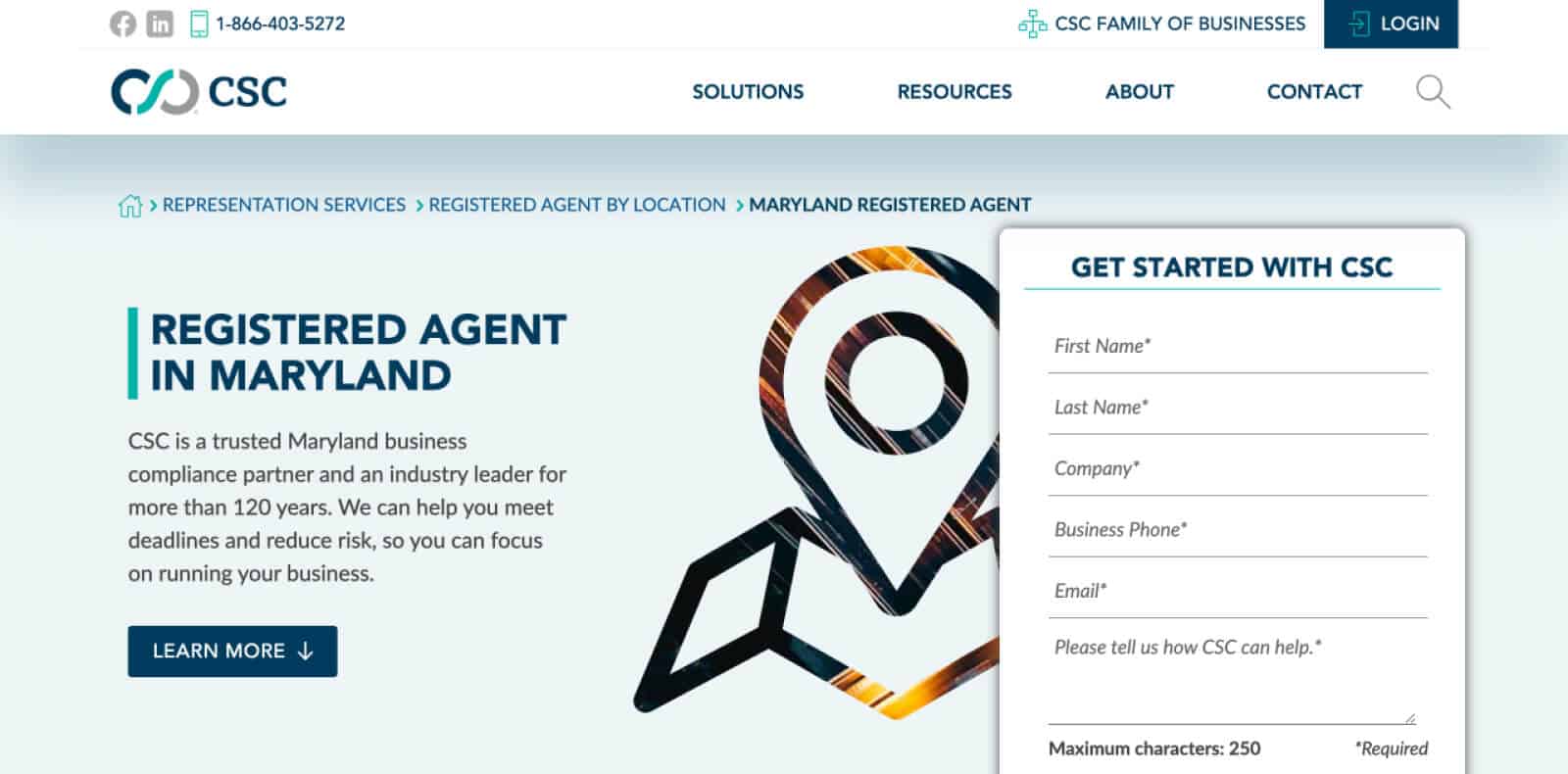 CSC Global has been around since 1899!
They're an acclaimed national corporate services provider for larger enterprises and mid-market companies alike.
With CSC Global, you can expect the highest professionalism when it comes to registered agent services deliveries. Moreover, they have loads of add-on services such as entity management, business licenses application, digital brand management, and more.
Their expertise, however, comes at a steep price that not all small businesses can afford.
Costs: Starting at $194/year
Address: 7 St. Paul Street, Suite 820 Baltimore, MD 21202
National registered agent service providers
If you need more options for your Marland LLC, you can also consider an online registered agent service providers like these top-4 companies:
How do I appoint a registered agent in Maryland?
You have to appoint a registered agent on the Maryland Articles of Organization form, a document that signifies your intention to form an LLC.
In line 4 of the form, you'll need to type in the registered agent's name and address. Then have them sign the document. The agent's signature serves as the validation of their consent to the appointment.
Then submit the completed form and state filing fee to the Maryland State Department of Assessments and Taxation (DAT). Once your Articles of Organization are approved, the appointment becomes official.
How do I change my registered agent in Maryland?
If you decide to change your registered agent's address, you'll have to complete the Resolution to Change the Principal Office or Registered Agent form.
In this form, you'll have to include:
The old and new resident agent address
The old and new resident agent name (if that changed)
Registered agent signature
Then file this form by mail, online, or in-person to Maryland DAT with a $25.00 state fee. All the requests are processed within several business days.
FAQs about Maryland registered agents
Here are the frequently asked questions about registered agent services in Maryland.
Can I be my own registered agent in Maryland?
Yes, you can as long as you're a legal resident of Maryland and have a physical street address. But you must remember that by appointing yourself, you agree to be available at the listed address year-round during standard business hours.
Also, if you run a home-based business, this means your personal address becomes public.
How do I become my own registered agent in Maryland?
You don't need to complete any complex formalities to serve as a registered agent for your LLC. To appoint yourself, you just have to list your name and personal/office address on the company formation documents such as Articles of Organization for LLC or Articles of Incorporation for an INC. Then sign the form and file it with the state authorities.
How to find a registered agent for service of process in Maryland?
To find a legit registered agent you can trust to properly handle the acceptance of service of process, you should first decide what you're looking for: affordable rates, legal expertise, convenient online account access?
Once you figure out your priorities, shop around to compare the prices, reviews, and add-on services, pitched by different providers.
Who can be a registered agent of a corporation in Maryland?
A Maryland corporation can appoint either an individual or another legal entity to serve as its registered agent. In both cases, the appointee must be of legal age, have a physical address in the state, and agree to the appointment on the respective company incorporation document.
How much does a registered agent in Maryland cost?
Our research found that Maryland registered agents providers charge between $49 and $200 annually. So the average cost is $125/year.
In many cases, however, registered agent services are bundled together with add-ons such as company formation assistance, payroll/bookkeeping services, virtual office administrations, and more. You can often get a better price by opting for several services at once.