Want to form an LLC in Florida?
Then you will need to appoint a registered agent (also known as a statutory agent).
Without one, you won't be able to legally establish your business in the Sunshine State, or anywhere else for that matter.
So let's take a look at whom you can choose to act as your registered agent in Florida. In this post, we provide a list of vetted providers with some extra information on state laws around appointing and changing a registered agent.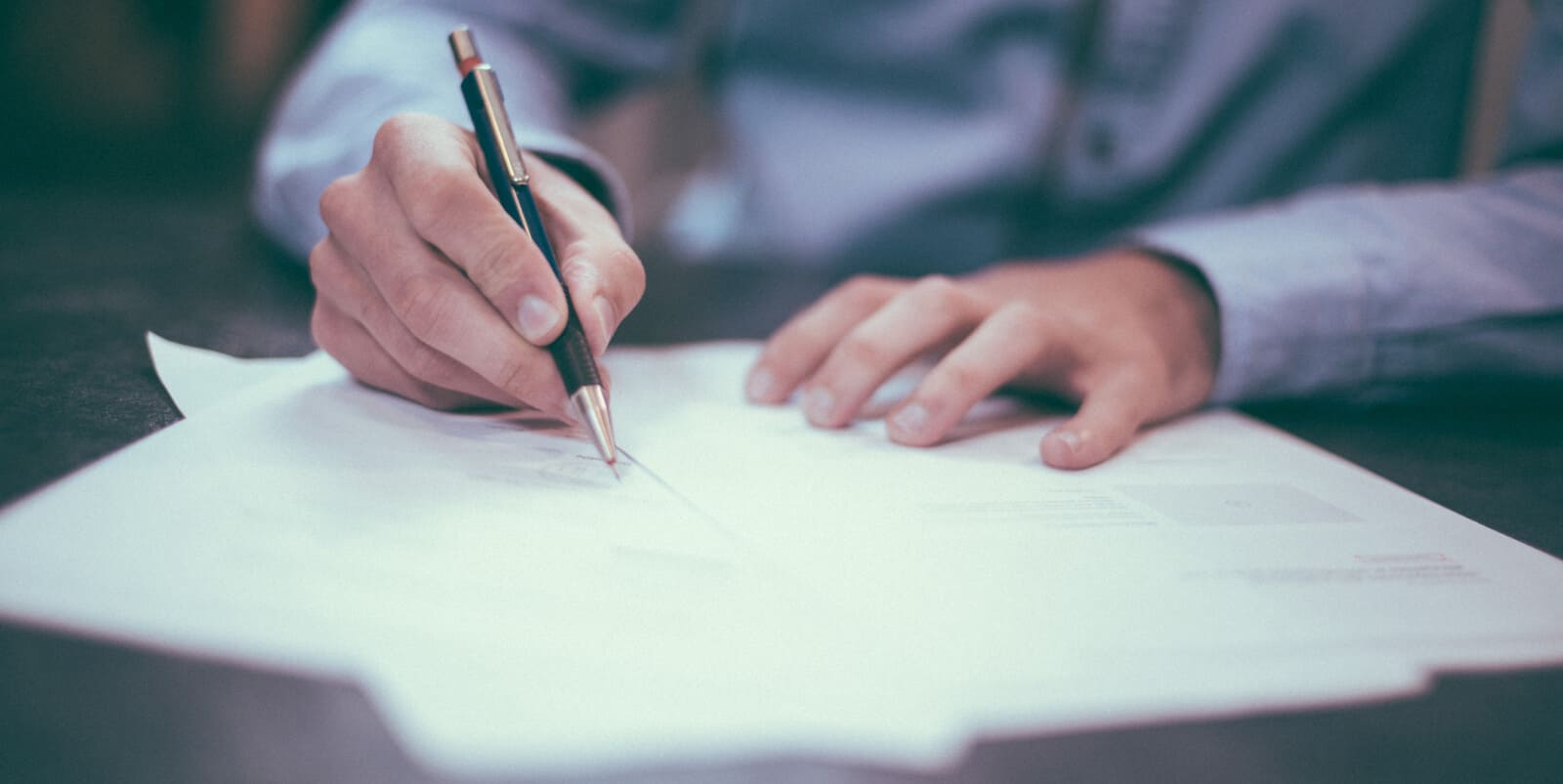 ---
Table of contents
---
Who can be a registered agent for an LLC in Florida?
A private person needs to meet these requirements to be a registered agent for a Florida LLC:
Be over 18.
Have a street address in Florida. It has to be a physical address, a P.O. box won't do.
Be available during normal business hours (9 am – 5 pm on weekdays) year-round.
You can be your own registered agent if you meet the above requirements.
You can also appoint a family member, a friend, or an employee as your Florida registered agent as long as they tick all the boxes.
Alternatively, you can pay for a registered agent service. Then another business entity (an LLC or Inc) will serve as your LLC's registered agent and receive important documents on its behalf.
Your registered agent information must be updated every year when you submit your annual report if you want your LLC to remain in good standing with the state.
Why use a professional Florida registered agent service
A registered agent is appointed to receive legal documents on behalf of your limited liability company.
You need to name this person or business entity in your articles of organization when forming an LLC (and a corporation too). The Secretary of State will reject your application.
After the appointment, your registered agent will receive correspondence from federal government organizations such as the IRS, as well as from state governmental bodies such as the Florida Department of State.
They will also receive legal notices such as service of process notices for lawsuits and subpoenas, launched against your business.
Legally, you can be your own registered agent. For one, it's affordable. Secondly, this prevents other people from accessing sensitive business information.
But you should also consider the cons of going this route:
You will need to stay on top of all the correspondence addressed to your LLC.
You won't be able to use your home address as your business address unless you are okay with your home address becoming a public record.
You won't be able to travel for extended periods because you will need to be available during regular business hours year-round.
That's why you might want to consider appointing a registered agent service provider as your point of contact.
In this case, all correspondence addressed to your LLC will be delivered to their registered office address. Then they will either forward the mail to your business address or scan it and email you digital copies.
Paying for a registered agent service allows you to:
Never miss important correspondence.
Protect your privacy as well as that of people who live with you.
Not be tied to one location, live wherever you want, and travel whenever you want.
Registered agent service fees vary, but you can expect to pay somewhere between $35 and $300+ per year.
Want to learn more about establishing an LLC in Florida? Check out these resources first!
Florida registered agent services list
We have compiled a list of commercial registered agent service providers based in Florida.
Since you have to update the registered agent information every year when you submit your annual report, registered agent service providers will charge you a yearly fee.
Also, you don't have to be a Florida resident to use these services, but if you are based outside the US, you might want to check whether the company in question caters to international customers.
With that in mind, let's compare your options!
1. AmeriLawyer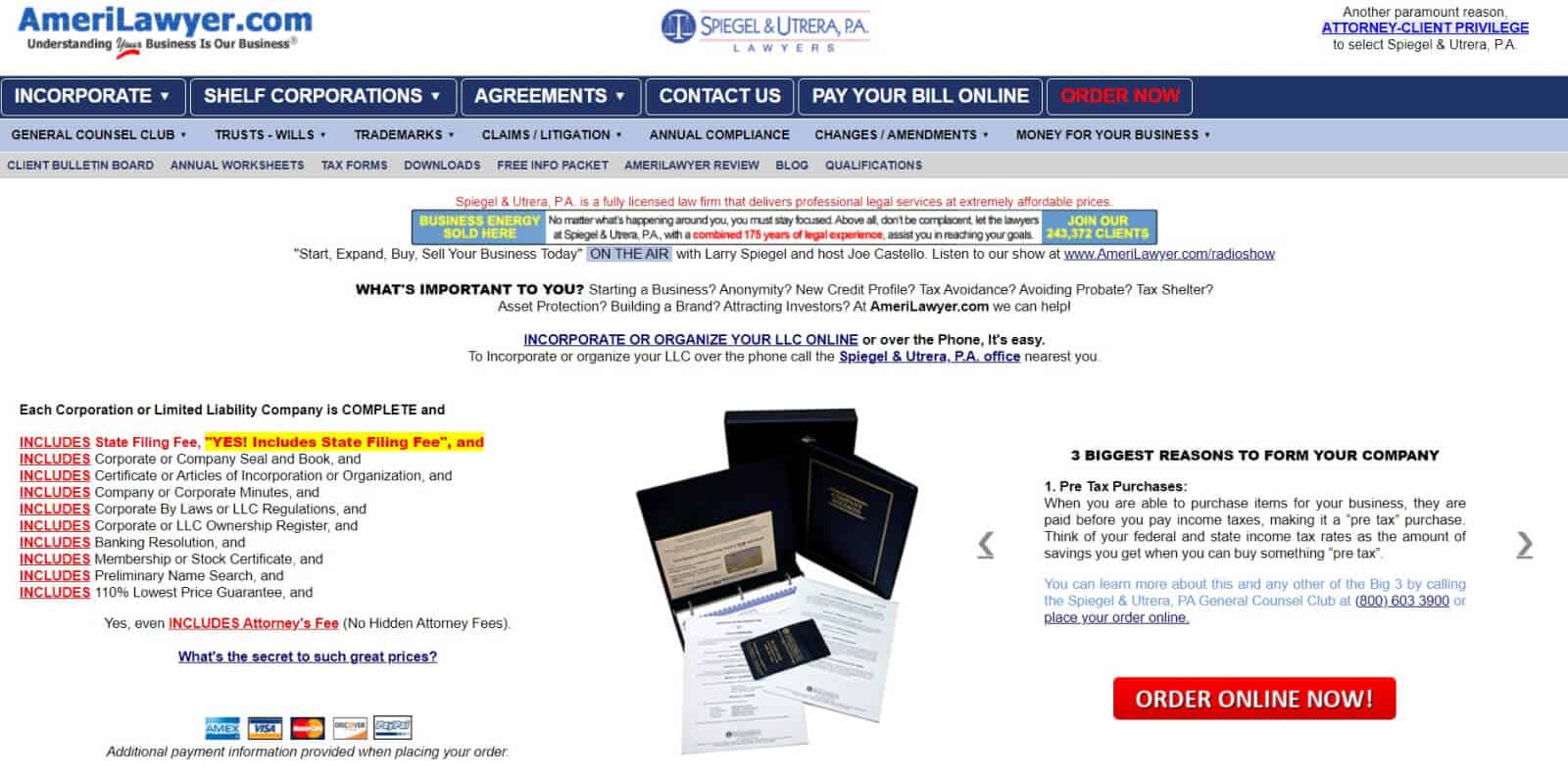 AmeriLawyer is a brand name the Spiegel & Utrera, P.A law firm uses to advertise their business-related services. The firm offers a roaster of legal and compliance services — from company formation service to trademark registration. Plus reliable registered agent services too for Florida-based entities.
Costs: $139.95/year
Address: 1840 Coral Way, 4th Floor, Miami, FL 33145
2. Corporate Creations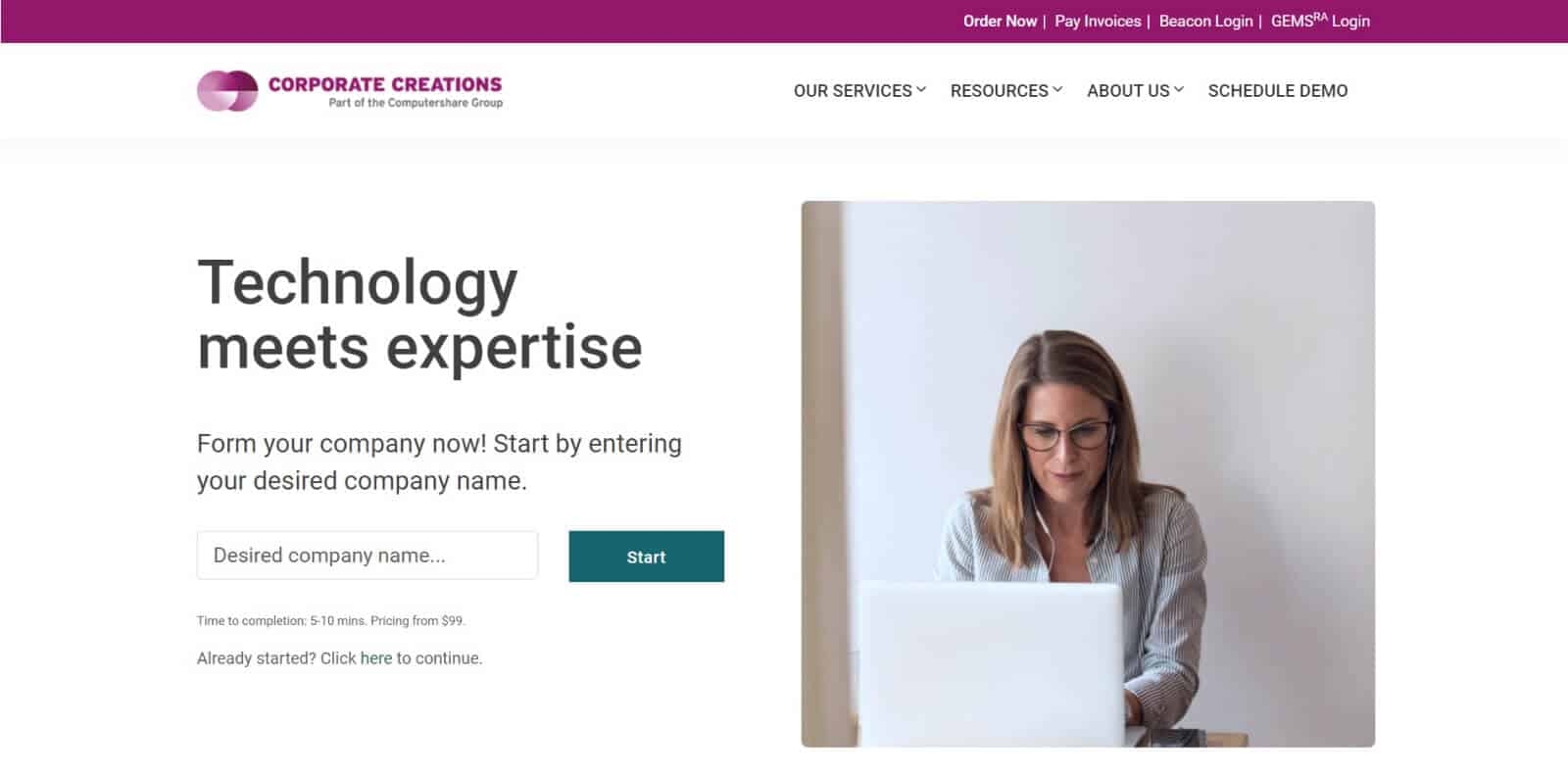 Corporate Creations provides incorporation, registered agent, compliance, and document retrieval services. It was founded in 1993 and has served over 14,000 small, medium, and large U.S. corporations.
Their main pitch is to help you achieve business compliance across the board. That's an excellent offer if you are also on the market for admin assistance.
Costs: $299.00/year
Address: 801 US Highway 1, North Palm Beach, FL 33408
3. Active Filings

Active Filings provides LLC formation, incorporation, and registered agent services.
The company was established in 2000 and claims to be "America's most reliable incorporation service." Based on reviews we found online, they offer superior and reliable services for an affordable price.
Costs: $99/year
Address: 3030 N. Rocky Point Dr., Suite 150A, Tampa, Fl 33607
4. IncNow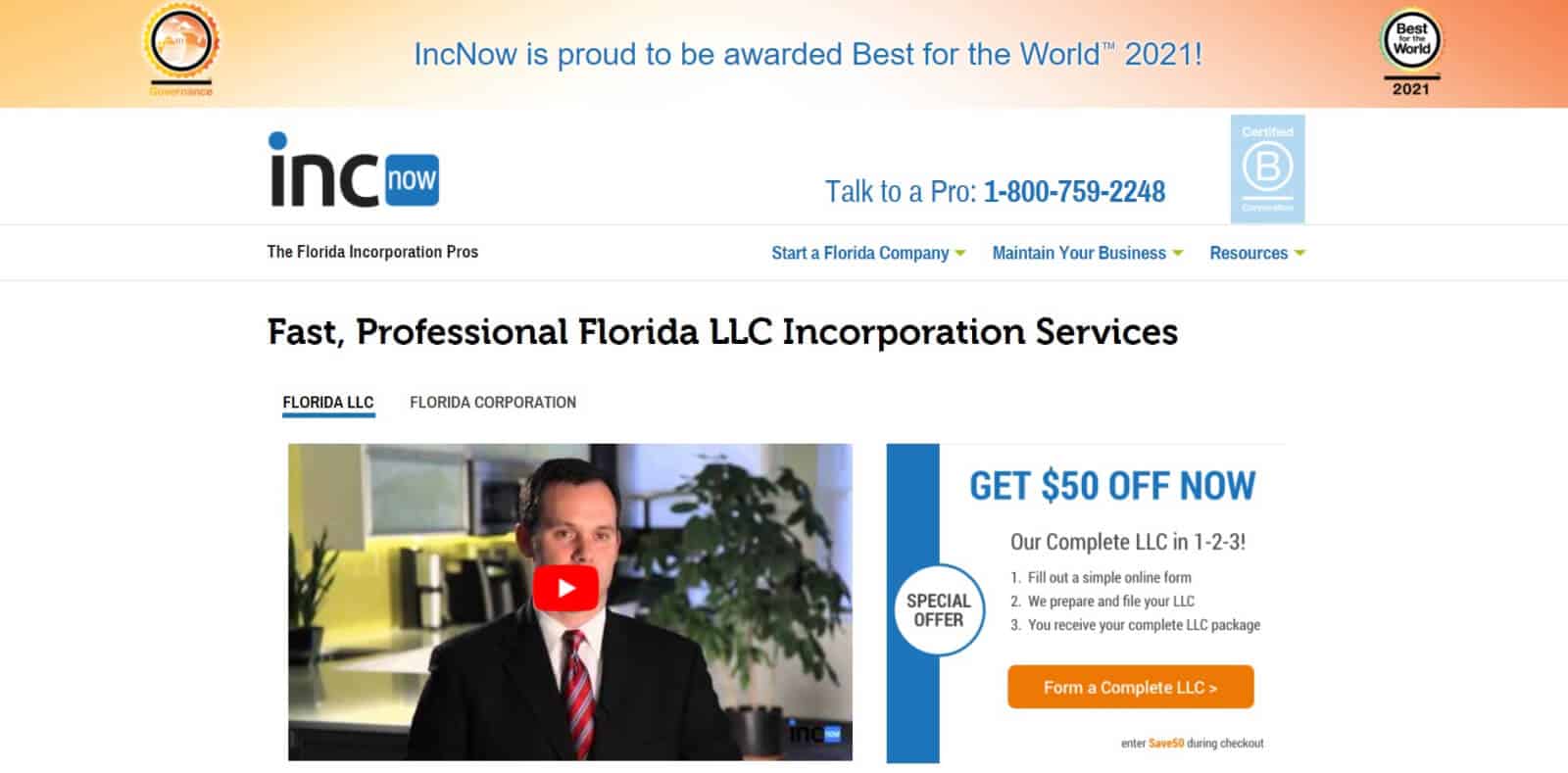 IncNow provides various incorporation and business maintenance services, including a registered agent service.
It's a family-owned business established in 1974 and has been in operation for more than 45 years. So if you are looking to support a truly local provider, IncNow is a good candidate.
Costs: $90/year
Address: 539 Fifth Avenue South, Suite 330, Naples, Florida
5. Florida Registered Agent LLC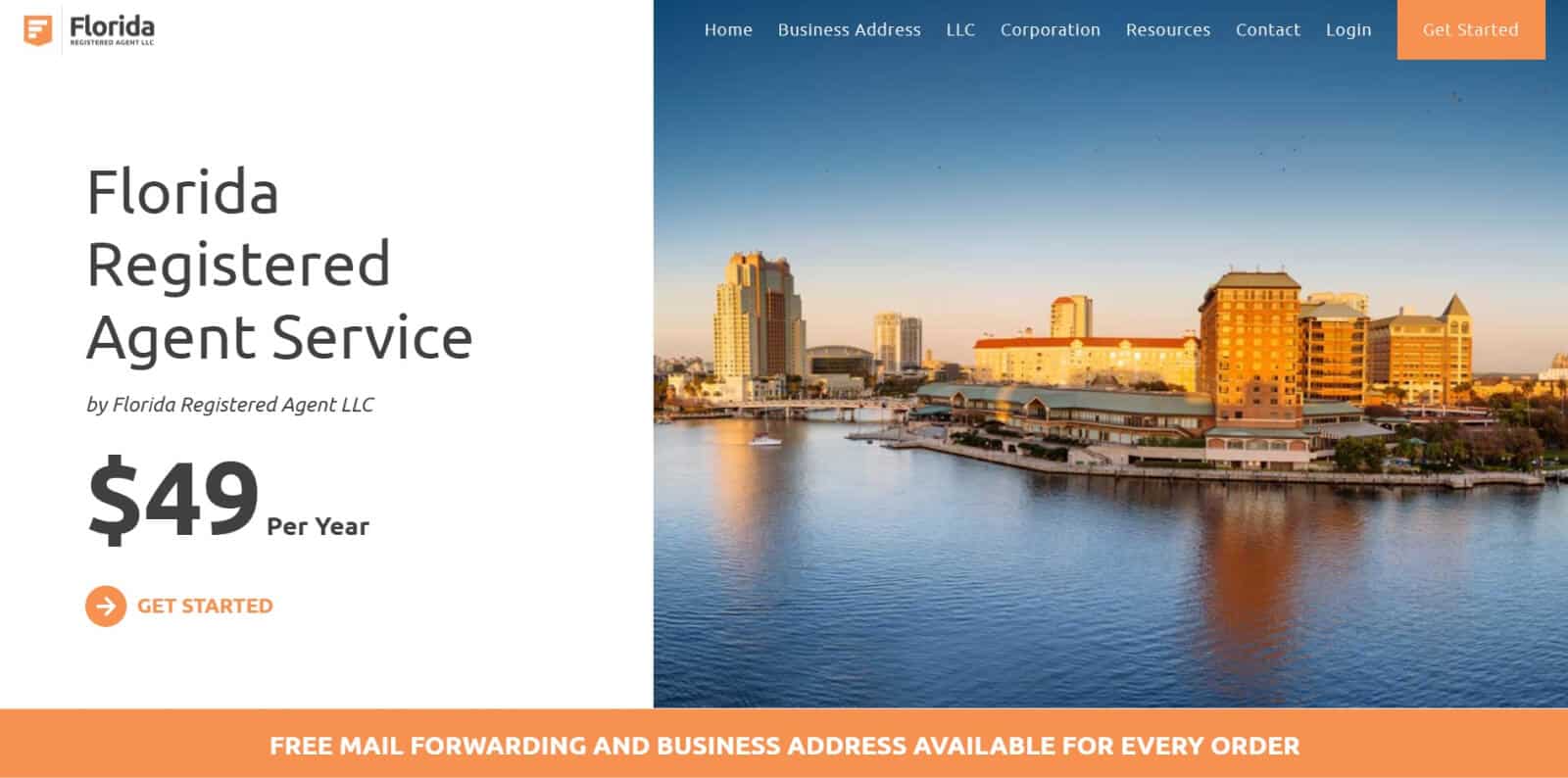 The company's domain name matches what the company does. But despite having a generic name, Florida Registered Agent LLC has quite a unique offering:
Registered agent services
Free mail forwarding
Free business address
Interestingly, the company not only owns its own building and has made a public promise never to leave or move. This means you won't have to pay extra state fees for registered agent office change. Also, they can provide you with an actual lease and a suite number in that building for an extra fee.
Costs: $49/year
Address: 7901 4th St N STE 300, St. Petersburg, FL 33702
6. Wolters Kluwer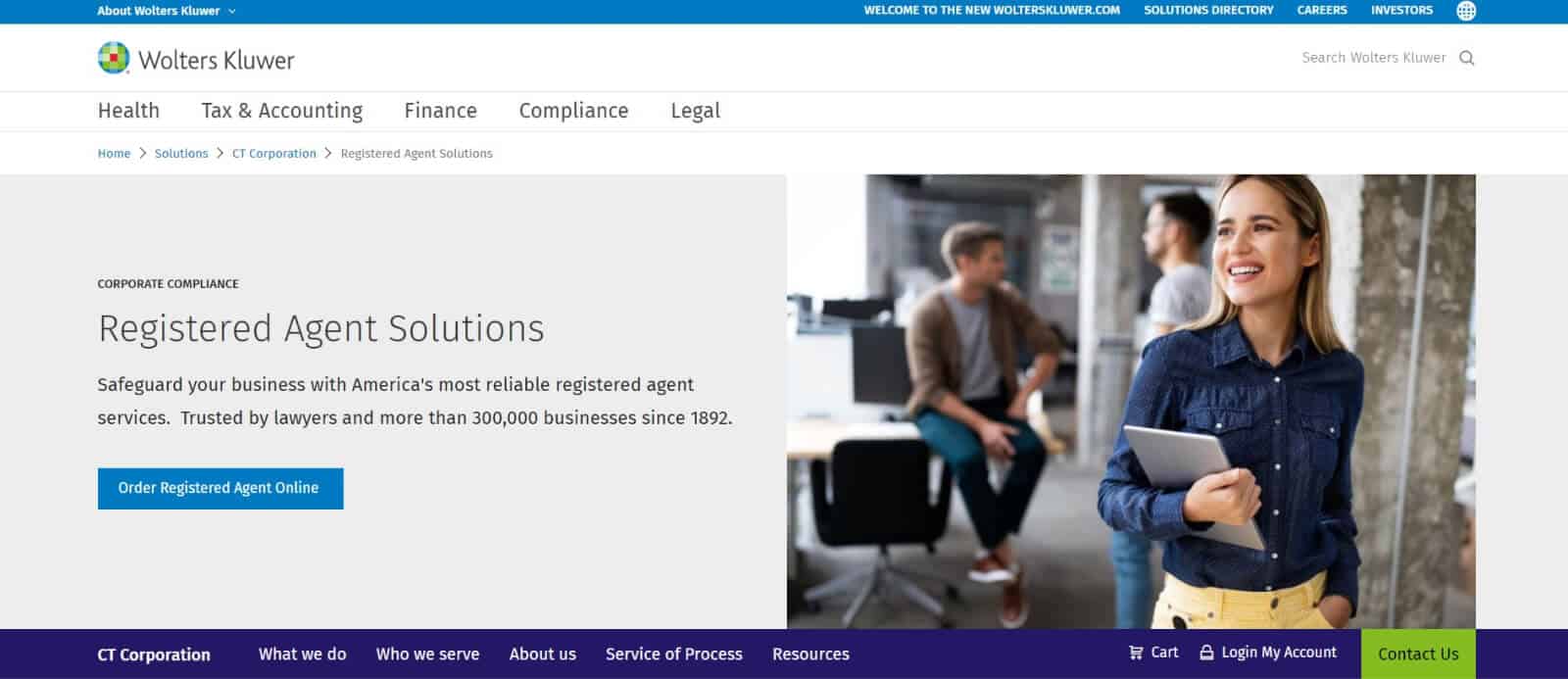 Wolters Kluwer (CT Corporation) is a global provider of professional information, software solutions, and business services for various sectors.
This company was established in 1836 and has serviced over 300,000 businesses since 1892.
Small business owners, however, may find their pricing a bit steep.
Costs: $320/year
Address: 4221 W. Boy Scout Blvd #500, Tampa, Florida 33607
7. Legal Edge Services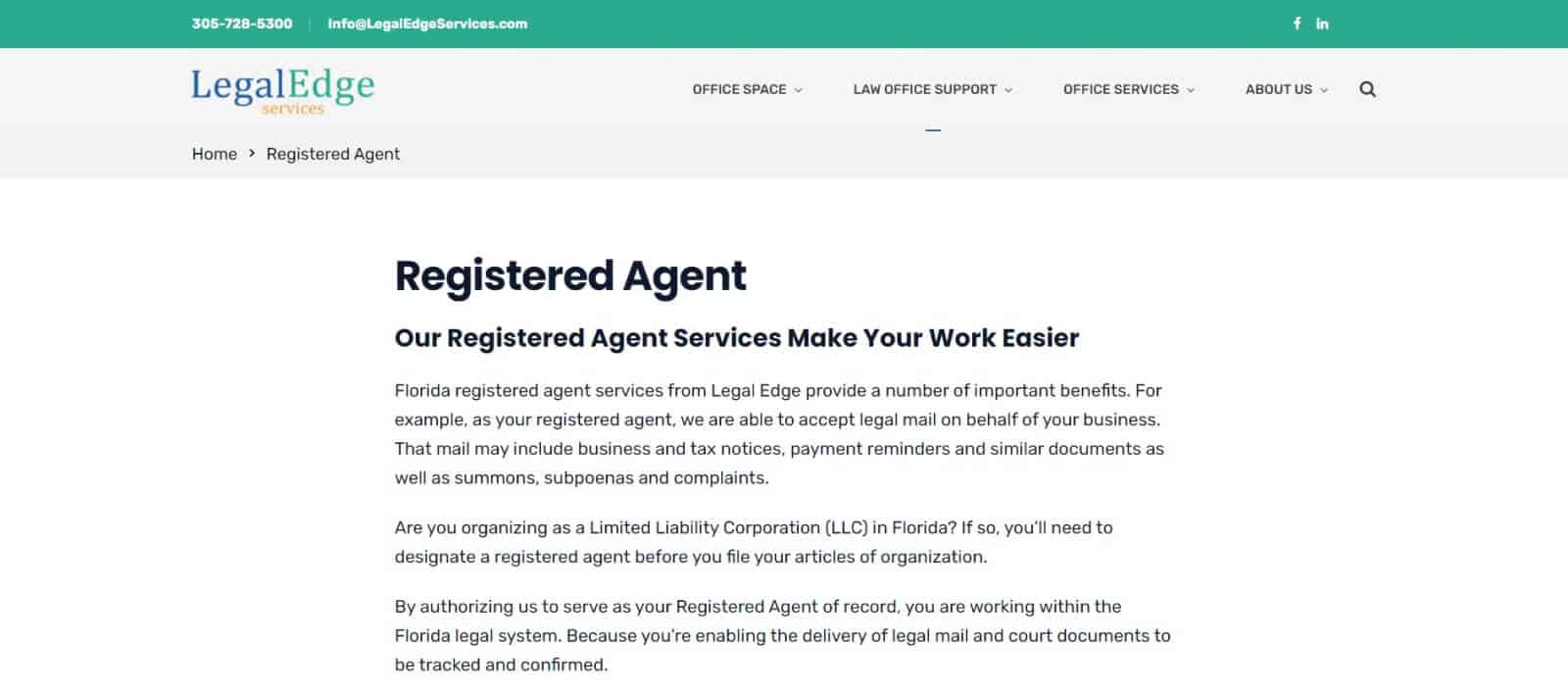 Legal Edge is a boutique legal service provider based in South Florida. They offer registered agent services to private clients and other law firms.
You can also order mail processing and administrative services from them for an extra fee.
Address: 701 Brickell Avenue, Suite 1550, Miami, FL 33131
8. Company Express

Company Express provides various business services to companies within and outside the US. It has branches across the US, Lithuania, Russia, and Ukraine. So if you prefer having a provider with a global presence (and affordable pricing), they are worth a shot.
Costs: $160/year
Address: 601 Heritage Dr., Suite 207, Jupiter, FL 33458, USA
9. SMTMB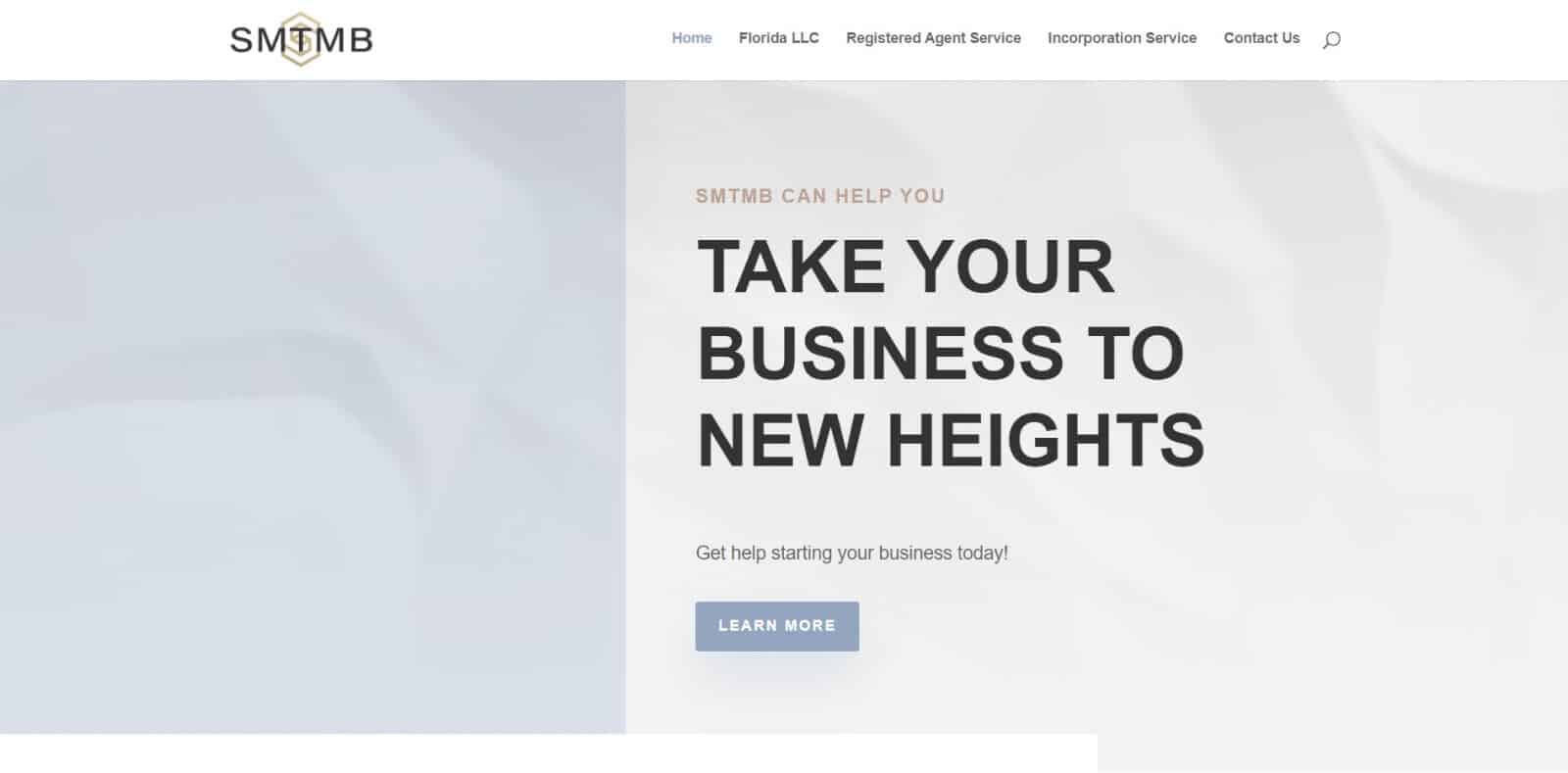 SMTMB offers LLC formation, incorporation, and registered agent services in Florida. The company works with a roster of domestic and international clients.
Apart from registered agent services, the team can also help you with necessary business license applications, corporate entity tracking, and global subsidiaries establishment.
Address: 2432 SW Waikiki St, Port Saint Lucie, FL 34953
10. Form a Corp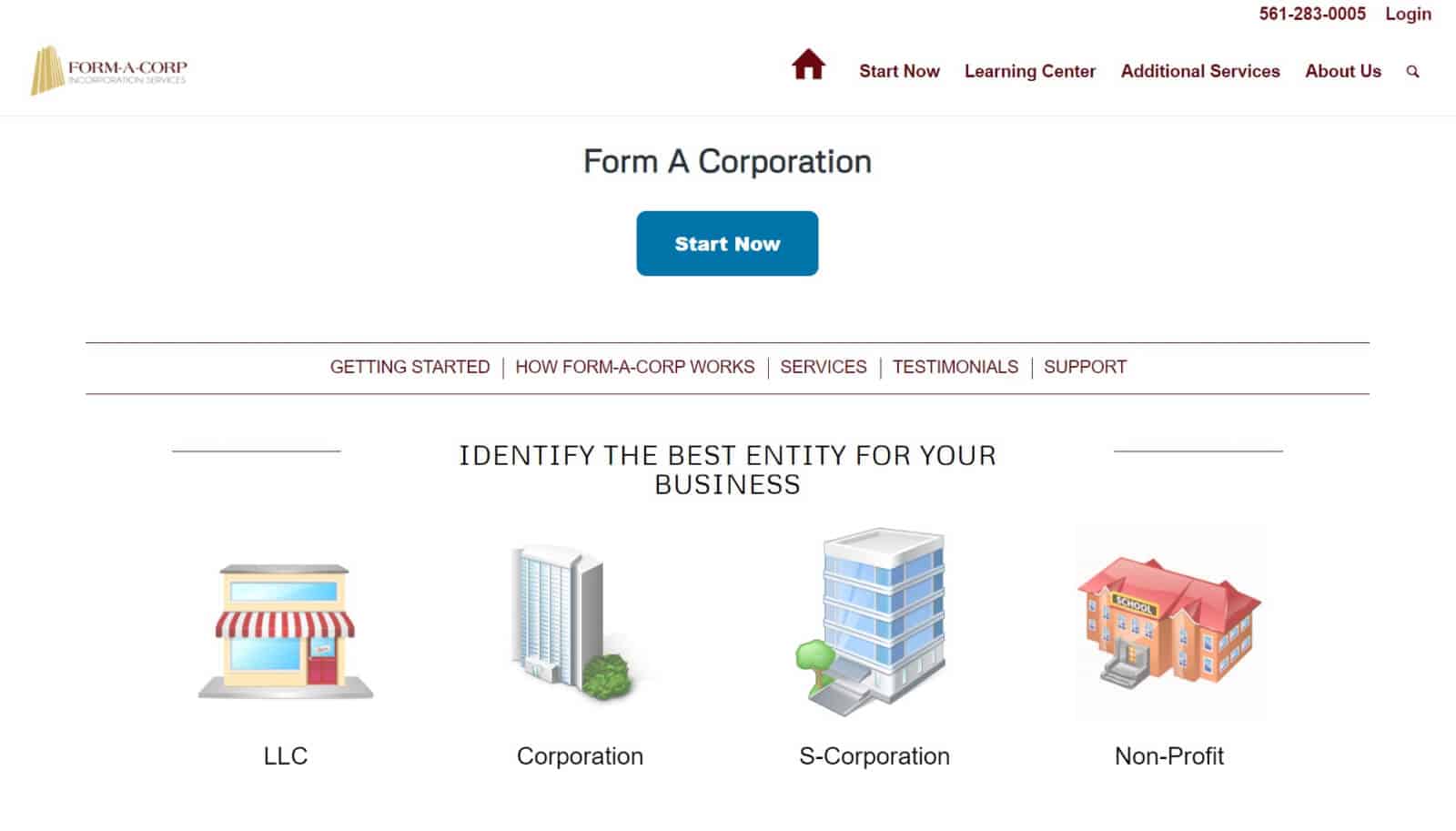 Form a Corp provides various incorporation services — from LLC formation to non-profit registrations.
It was established in 1998 and has helped form over 20,000 business entities. Most of their clients left glowing reviews.
Costs: $129/year
Address: 3030 N. Rocky Point Dr. Ste 150A, Tampa, FL 33607
11. Tennex Tax Solutions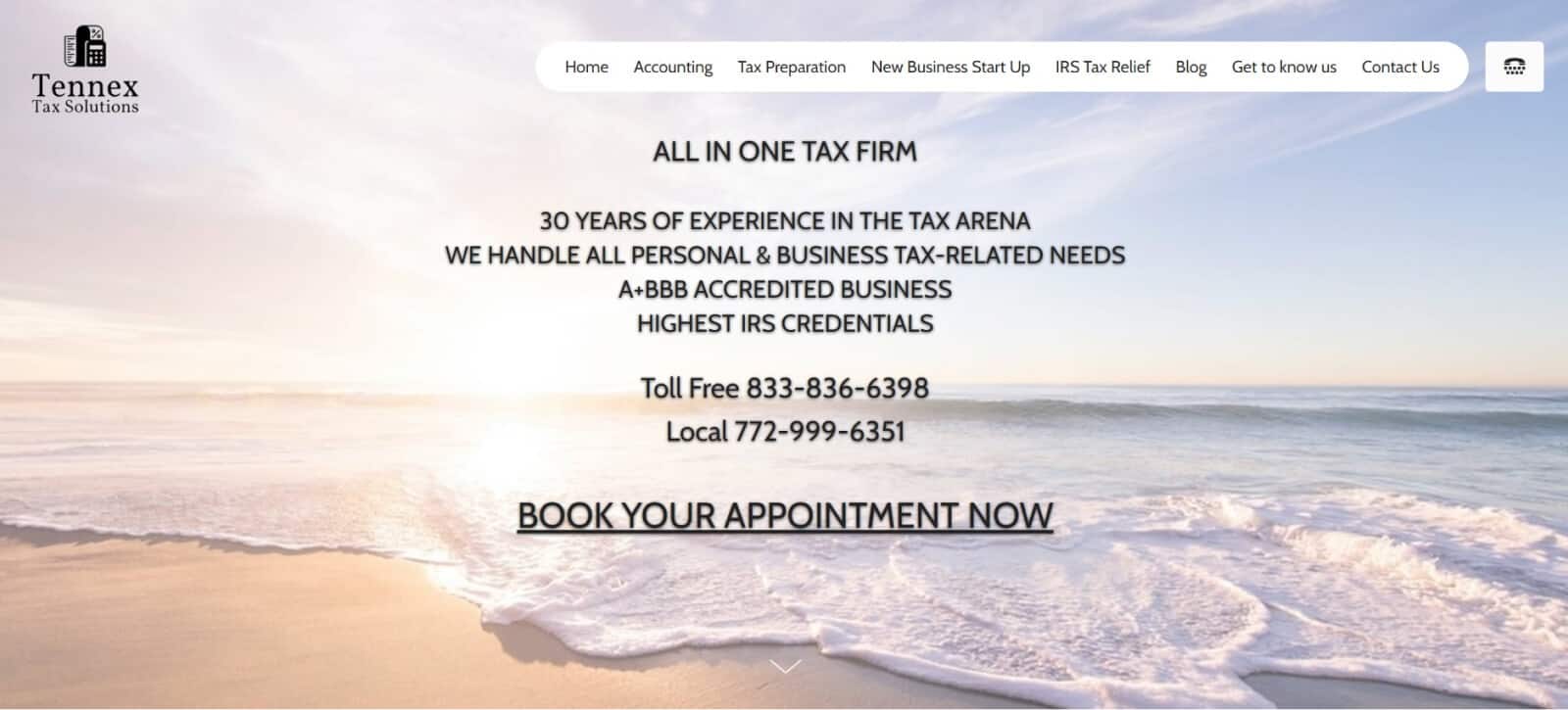 Tennex Tax Solutions is an all-in-one tax firm that provides various accounting, tax, and business services. It's a family-owned company established in 2012 and is run by a husband-and-wife duo.
Apart from serving as your registered agent, they can also help you prepare your taxes and stay atop your accounting.
Address: 1203 US Highway 1, Sebastian, FL, 32958
12. Merritt USA

Merritt USA provides incorporation, registered agent, and business advisory services.
The company primarily caters to French speakers based in Florida and abroad and looking to start a new company in the US.
Rather than selling standalone services, they offer comprehensive LLC formation and LLC maintenance packages. The latter starts at $1,980/year.
Address: 8865 Commodity Circle, Orlando, FL 32819
13. Ready2File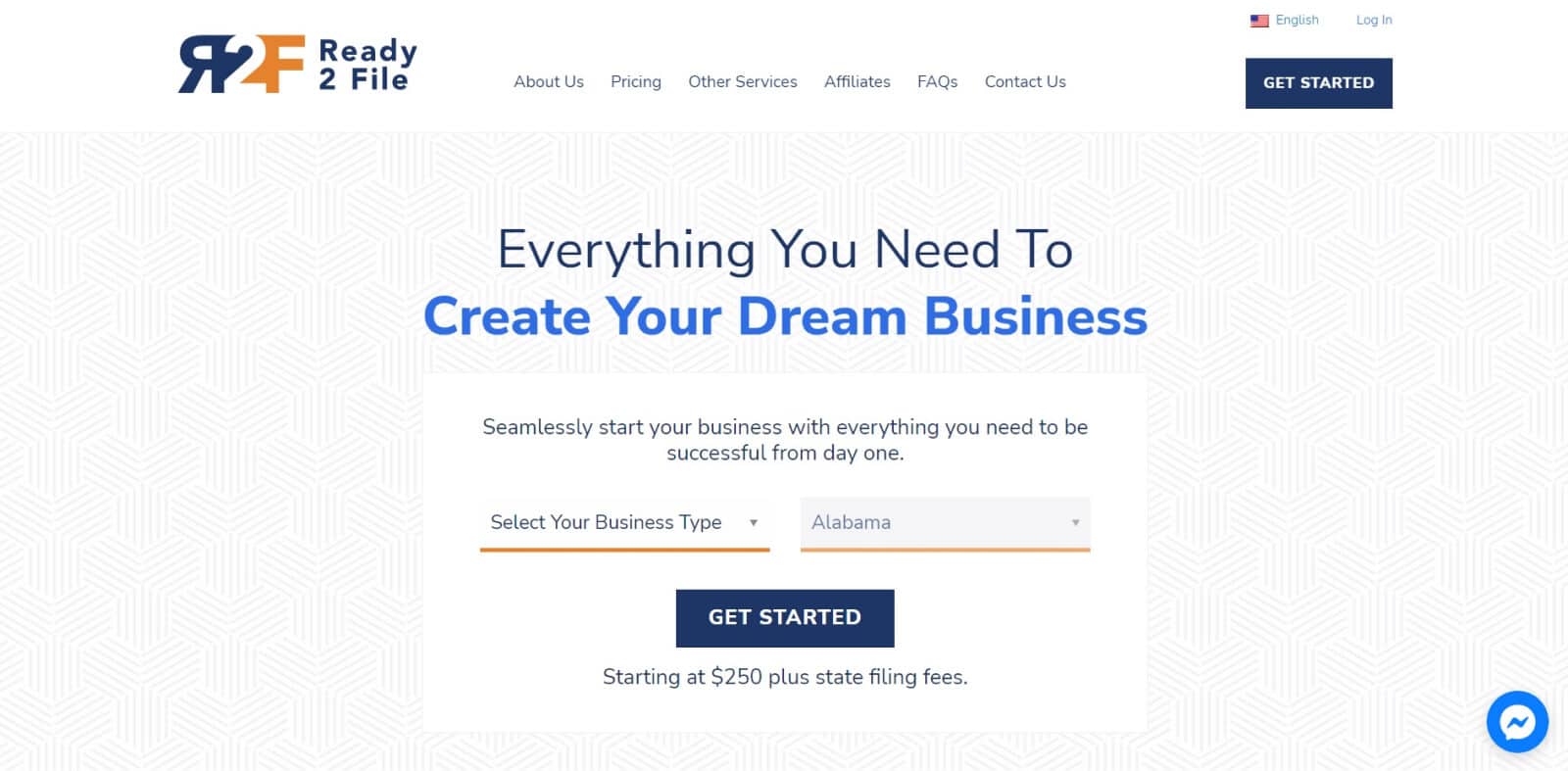 Ready2File provides various business services. The company's primary focus is incorporation, but it also offers a registered agent service in all 50 states, which is convenient if you also plan to operate a foreign LLC.
Costs: $199/year
Address: Orlando, FL 32801
14. Gulati Law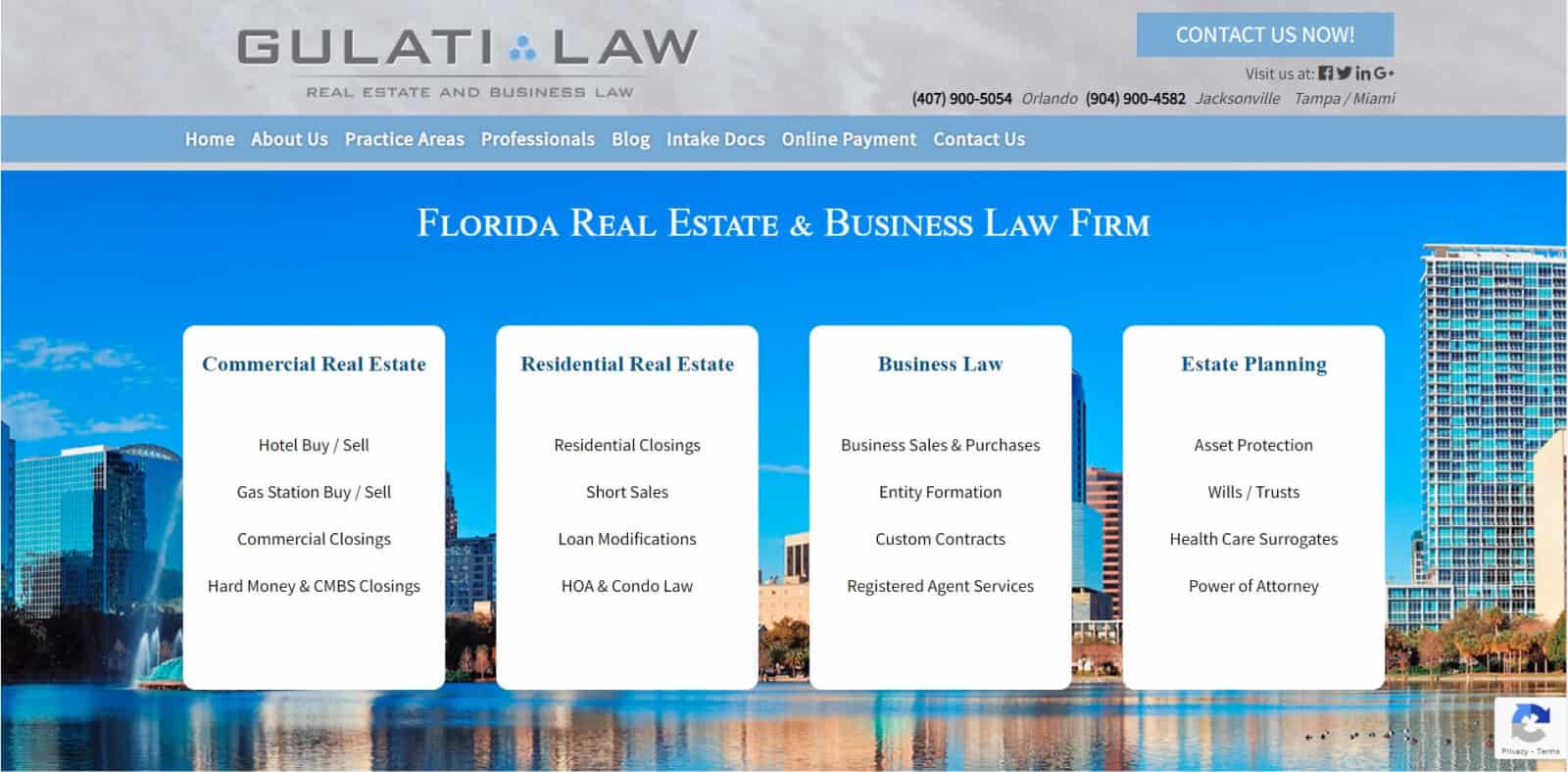 Gulati Law specializes in real estate and business law. It serves as a general counsel for many Florida businesses and doubles as a registered agent.
Address: 479 Montgomery Place, Altamonte Springs, FL
15. Sunshine Corporate Filings LLC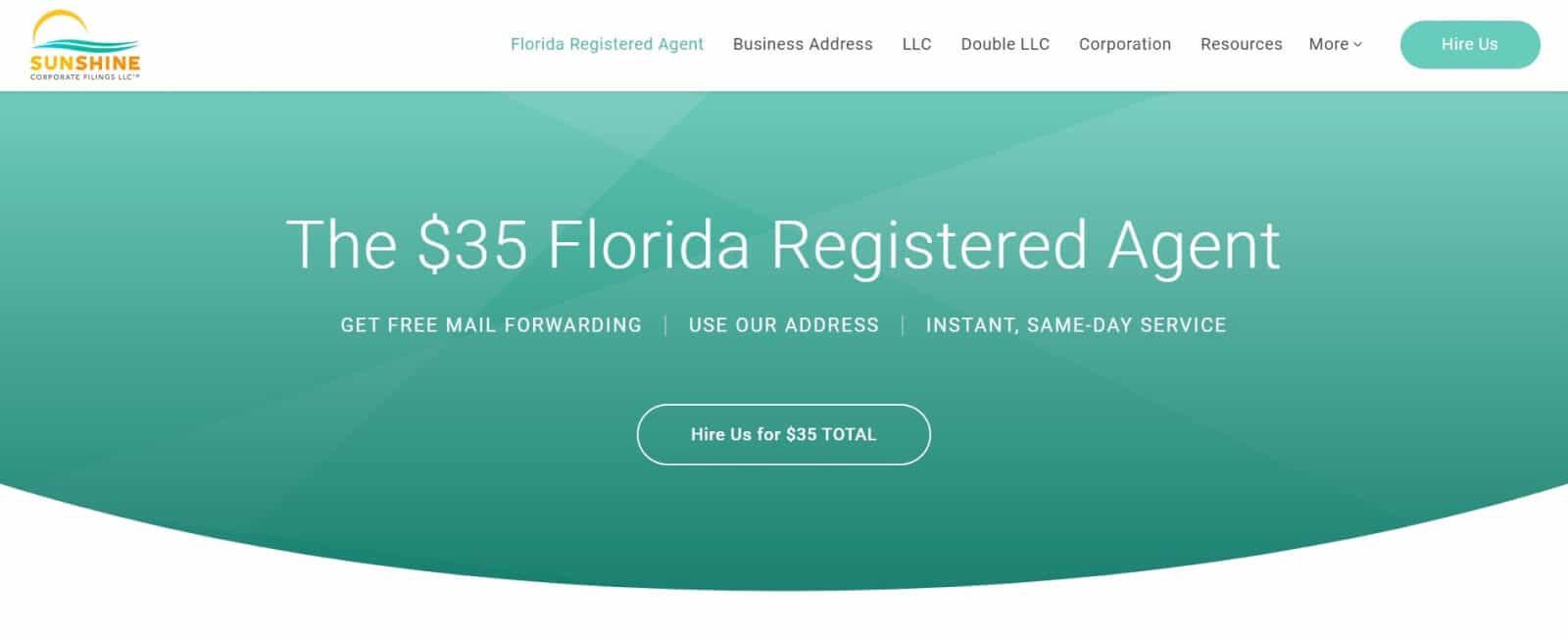 Sunshine Corporate Filings LLC offers incorporation, business address, and registered agent services. This is the most affordable option on this list.
Costs: $35/year
Address: 7901 4th St N STE 300, St. Petersburg, FL 33702
National registered agent service providers:
Didn't find a provider you fancy? You've got more options! Partner with one of the following digital nationwide providers:
How do I appoint a registered agent in Florida?
You should name your registered agent in your Articles of Organization when you file them with the Florida Division of Corporations to form your LLC. There's a special line where you need to add the registered agent name and address. Then request their signature.
For online filings, the agent has to type their name in the signature block to accept the appointment.
How do I change my registered agent in Florida?
Complete these three steps to change your registered agent in Florida:
Choose a new appointee — a person or business entity.
Complete the Statement of Change of Registered Office or Registered Agent or Both form.
Mail the completed form together with a $35 cheque (filing fee) to the Amendment Section of the Division of Corporations (the address is included in the form). Or file the form digitally using the Sunbiz Florida portal.
FAQs about Florida registered agents
Here are the frequently asked questions about registered agent services in Florida.