Looking to form an LLC in Florida?
Then, you will need to appoint a registered agent (also known as a statutory agent).
Without one, you won't be able to legally establish your business in the Sunshine State, or anywhere else for that matter.
So, let's take a look at whom you can choose to act as your registered agent in Florida.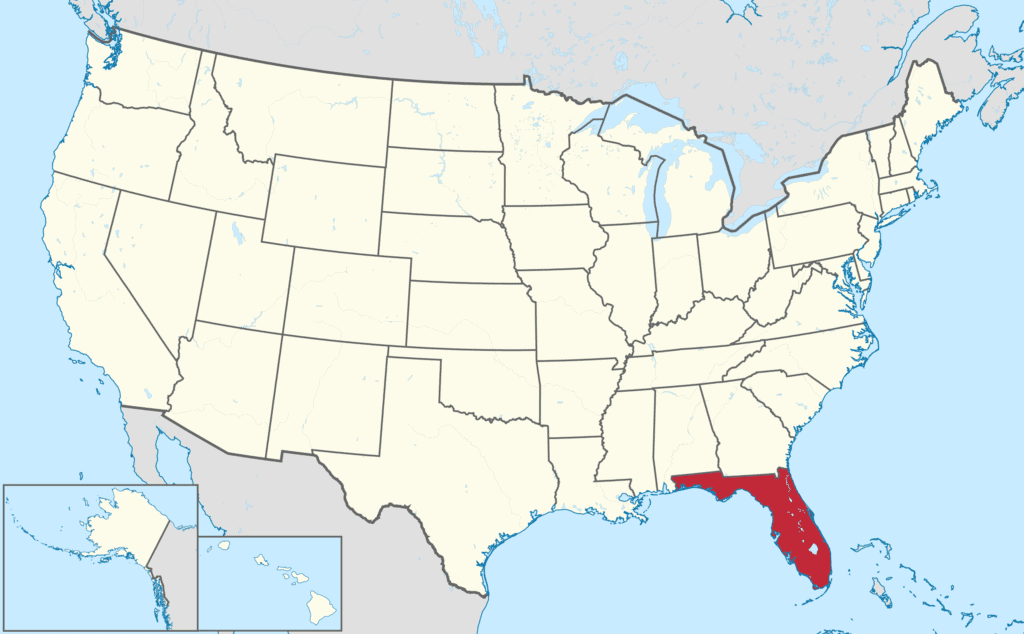 ---
Top 8 Registered Agent Services in Florida
We have compiled a list of registered agent service providers based in Florida. Since you have to update the registered agent information every year when you submit your annual report, registered agent service providers will charge you a yearly fee.
Also, you don't have to be a Florida resident to use these services, but if you are based outside the US, you might want to check whether the company in question caters to international customers. With that in mind, let's compare your options.
1. Northwest Registered Agent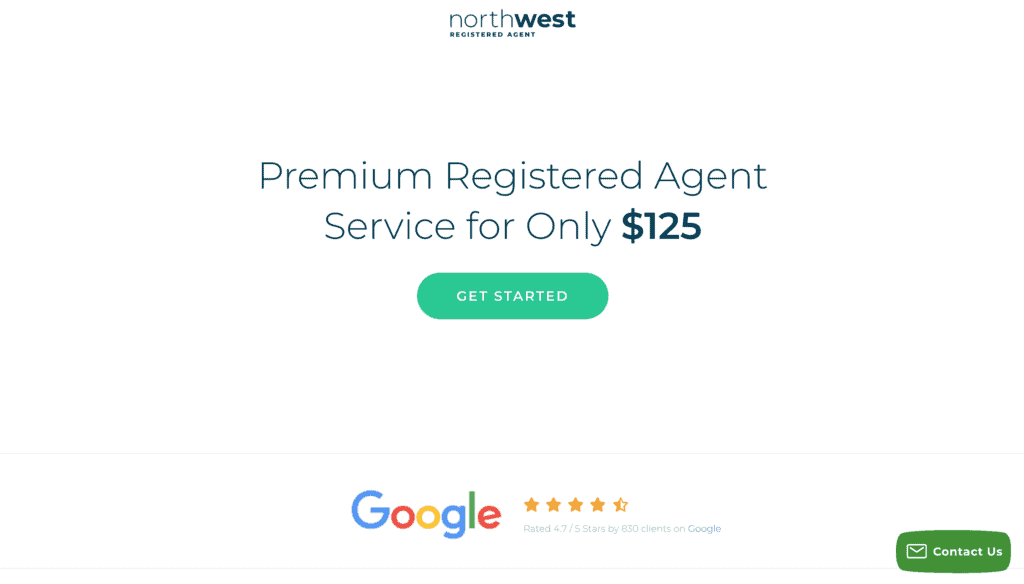 If you are looking for a qualified and affordable registered agent in Florida, Northwest Registered Agents is the perfect option for your needs.
You will get access to a well-crafted and easy-to-use client portal when you choose this agent, and you can count on your documents being uploaded into PDF form promptly after receipt. This is one of the best ways to make sure that your business gets the registered agent support that it needs without breaking the bank.
There are no added fees to pay each year for the help of NorthWest Registered Agents, and you will be able to access the client portal as soon as you sign up.
2. Jimerson Birr Firm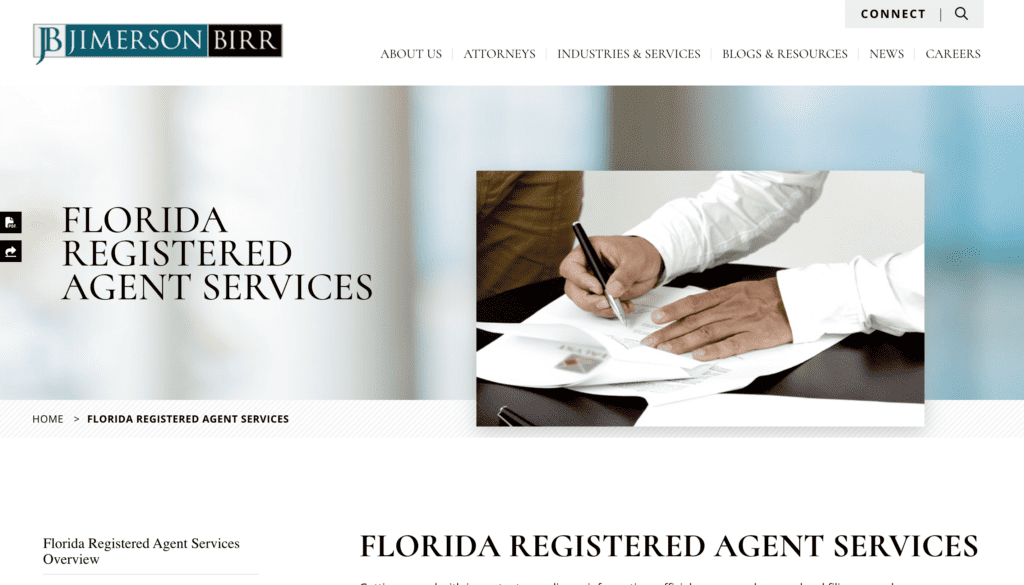 For comprehensive registered agent services that you can count on, Jimerson Birr is the right law firm to pick.
You will be able to access additional legal counsel if necessary and the team at the firm is always happy to help with document requests and any confusion that you might have about your business documentation. Received documents are sent the day they arrive and legal documents generate notifications so that they don't slip through the cracks. This is one of the best all-inclusive service options that you can select for your Florida registered agent needs.
3. Inc Now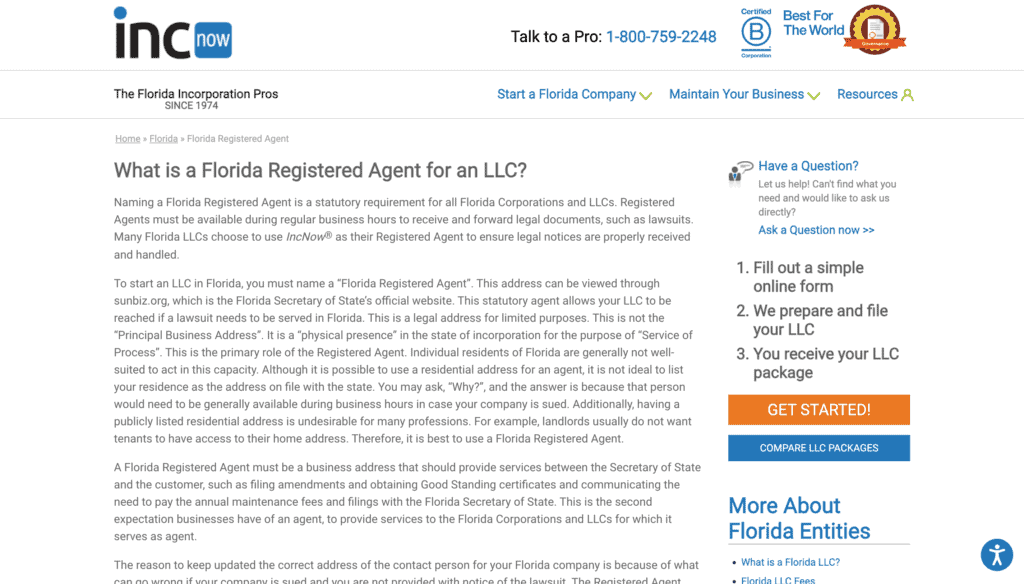 Whether you want access to a full-service registered agent or you just need help with specific documents and reports, Inc Now can help.
You will be able to speak with your assigned registered agent about your specific needs and create a support plan that is tailored just for your needs. You can also get assistance with filing your LLC paperwork and more from this company.
4. Cindy's Florida LLC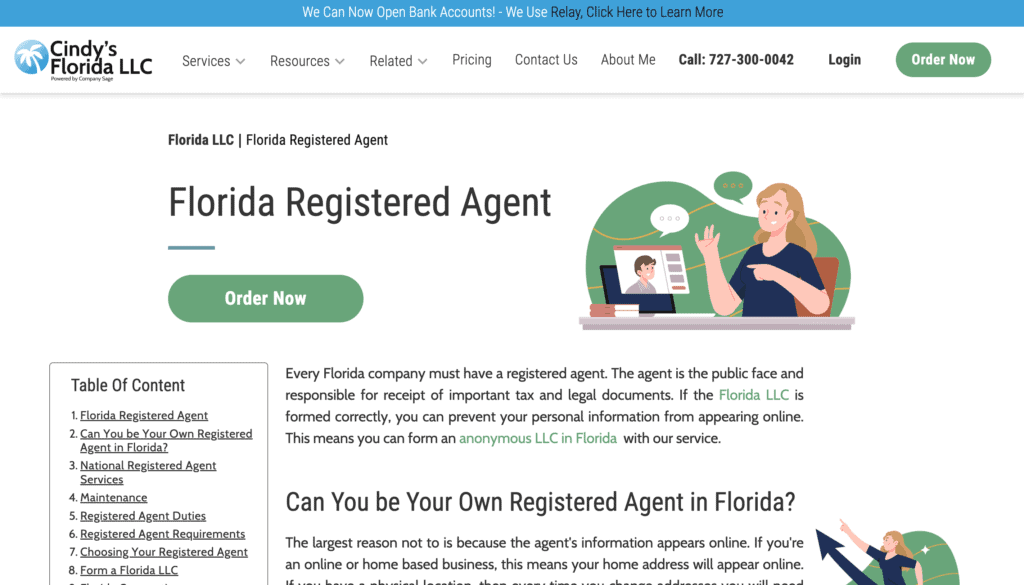 Cindy's Florida LLC will take care of all of the paperwork and legal documentation that your business is sent each year.
You will be assigned a specific registered agent who knows your business inside and out and who can be trusted to tackle all of the work that you don't have time for. You will be able to see documents in PDF format, and you can trust that tax notices and reports will be handled each year for your business in a timely manner.
5. Legal Edge Services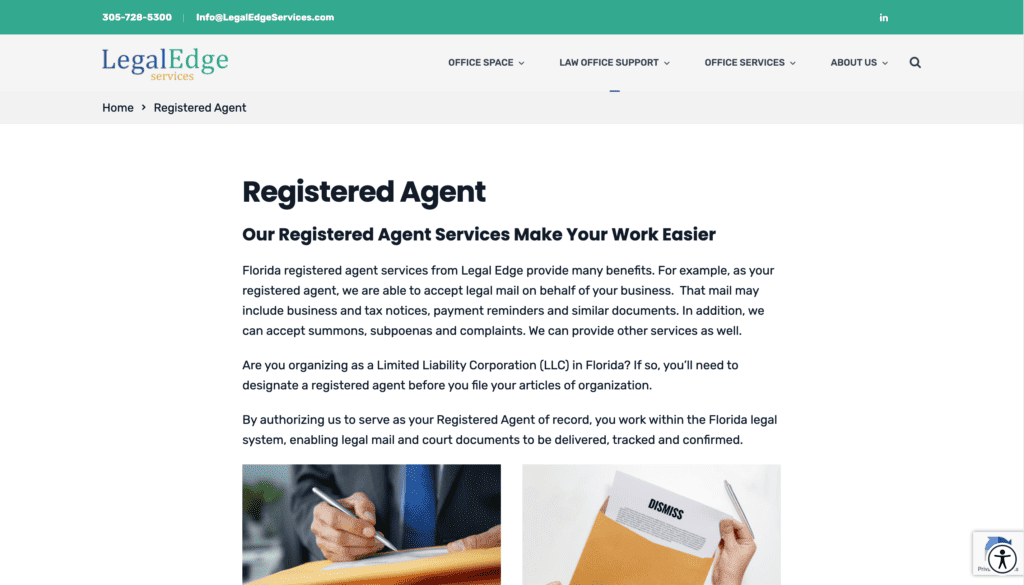 Legal Edge offers all of the traditional registered agent services for a reasonable fee. They can also be trusted to tackle mail services for your convenience.
This can help you to make sure that mail of all kinds is collected properly and forwarded promptly for your business. Legal Edge offers full administrative packages for businesses as well, making them the perfect choice for those who want to have hands-off management experience from their registered agent.
6. SBC Office Center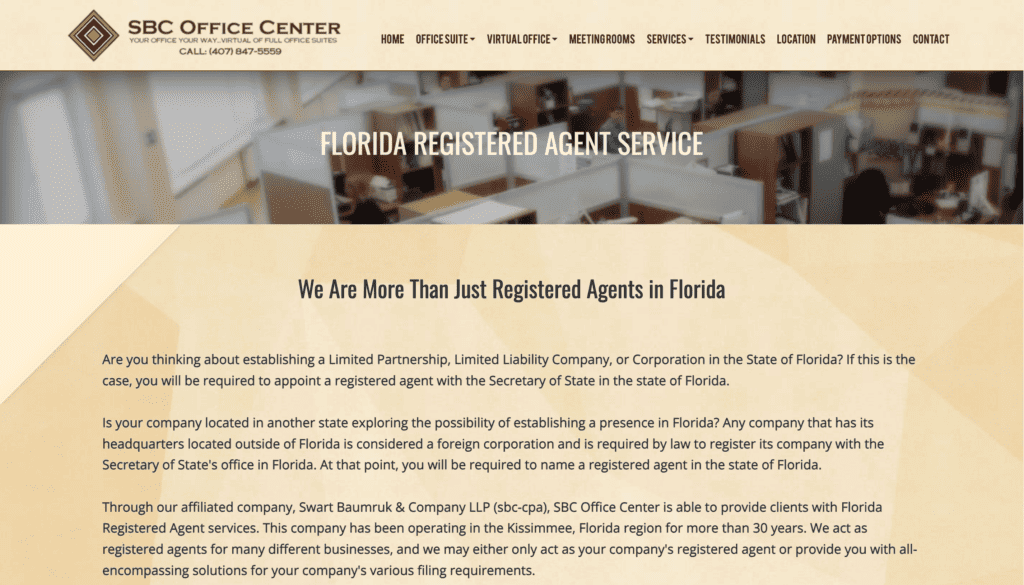 From new entity formation to tax services and bookkeeping, this company can handle all of your business needs, both big and small.
Having this company as your registered agent means that all of your mailings and legal documents will be handled correctly and promptly so that you can worry about running your business. This company has been in business for more than 30 years and knows all about the needs of businesses in the state of Florida.
7. Innovative Tax Solutions of Central Florida, Inc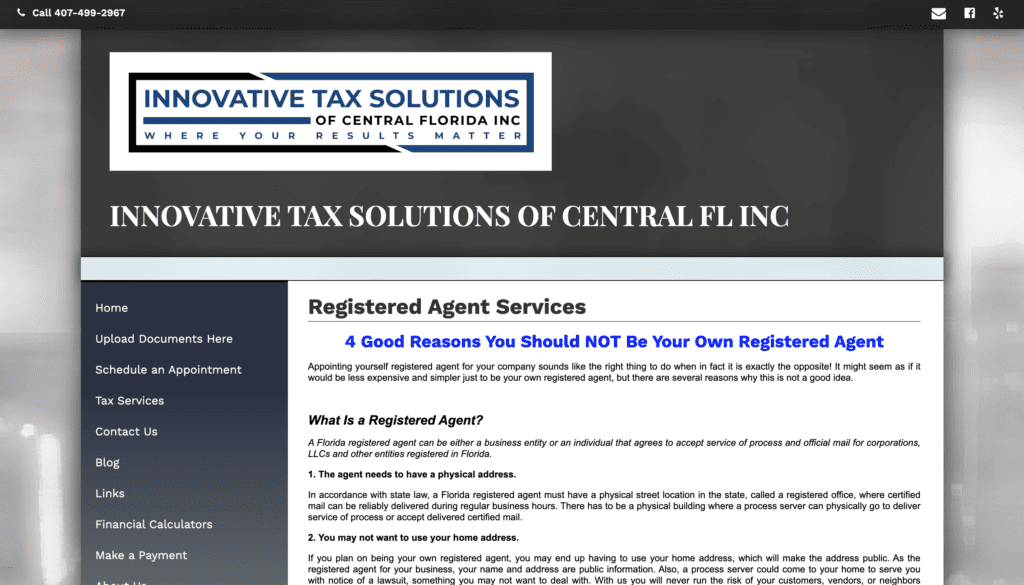 If you are looking for an all-in-one business management option that comes along with registered agent services, this is the company to work with.
Legal documents and regular mail can be handled by this team with ease, and you will be able to create the perfect business management package from their wide array of services. If you are looking for tax assistance, legal document support, and full-service registered agent experience, you can get it from this company.
8. Midland Forms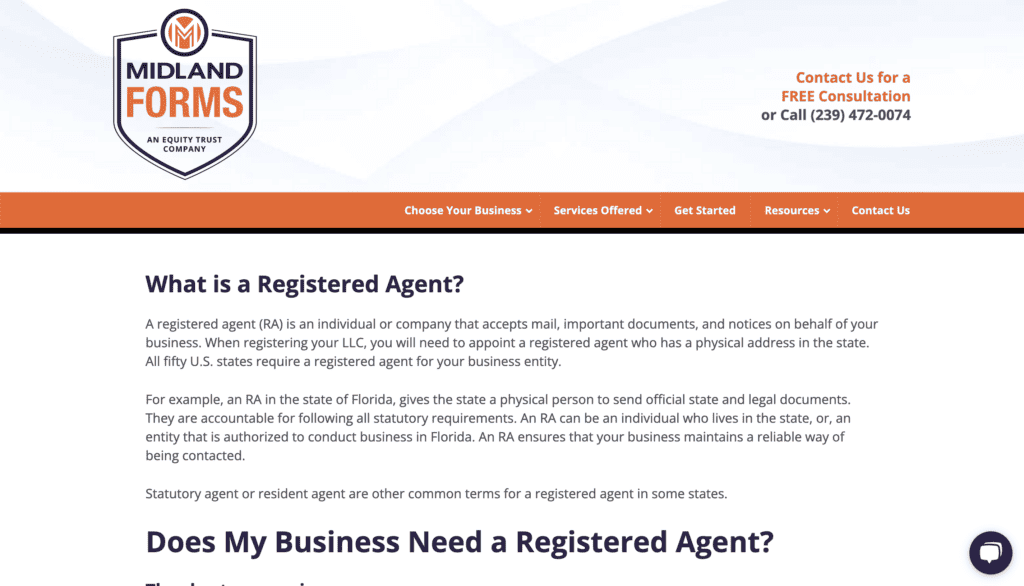 Midland Forms offers a simple and effective registered agent service that you can trust.
You will be able to select how you want your forwarded mail to be sent to you, and all legal documents will be flagged for extra attention. Having a third-party entity who is experienced with forms and the creation of important documentation can have a big impact on the success of your registered agent relationship. This business offers a simple and effective set of services that you can trust.
Advertisement
LLC Formation Service
LLC Formation: $39 + state fees
Pricing:
Turnaround Time:
Help & Support:
Customer Satisfaction:
Ease of use:
Best LLC Service 2023

Formed 1,000,000+ LLCs
$39 formation includes registered agent service
Fast formation & same day filing
Exceptional customer reviews

Last updated:
Dec 2023