Starting a new business can be a lot of work. There are many considerations that you need to keep in mind. You need to keep your personal finances from becoming entangled with your business finances, take care of legal documents and tax filings, and more.
One of the best ways to make sure that these essential protections are in place for your company and that you don't miss any important documentation or tax timelines is to appoint a registered agent. Your registered agent in Alabama will provide a host of beneficial services for your company as well as offering you the separation that you need between personal and business finances.
---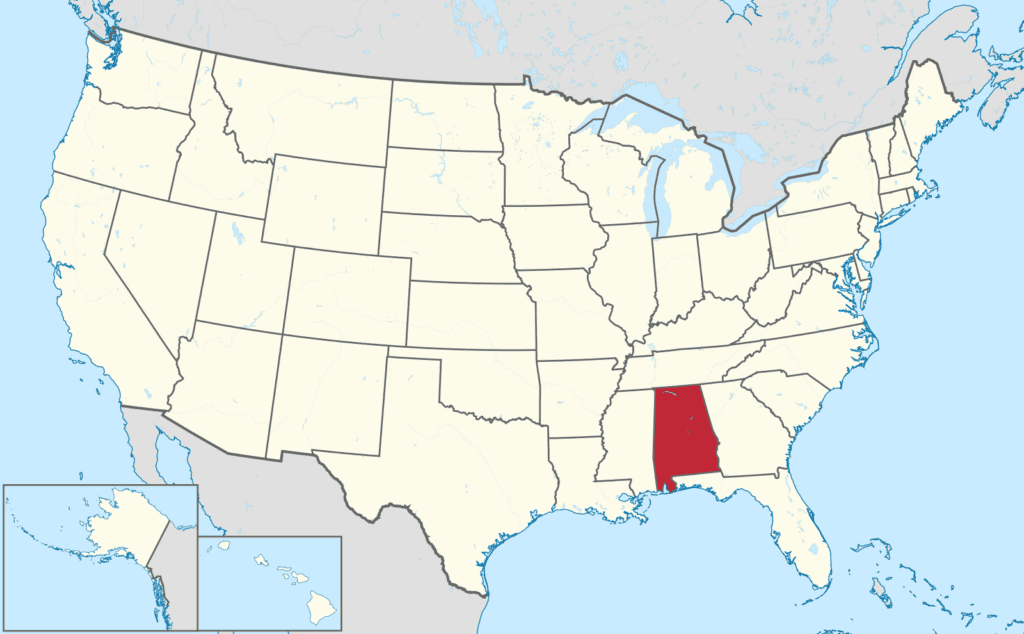 ---
Table of contents
---
We've compiled a list of registered agent service providers based in Alabama. It's important to note that you'll need to update your registered agent information annually when submitting your annual report, and these service providers typically charge an annual fee for their services. Additionally, you don't have to be a resident of Alabama to use these services, but if you're located outside the United States, it's advisable to check whether the chosen company offers support for international clients.
With these considerations in mind, let's compare your options for selecting a registered agent in Alabama.
Who can be a registered agent in Alabama?
Any Alabama state resident or business can serve as a registered agent so long as they fulfill the following requirements:
Top 7 Registered Agent Services in Alabama
Now that you know who can be a registered agent in Alabama, it's time to look at the best options available. Here are our picks for the seven best registered agent services for you to consider.
1. Northwest Registered Agent (Our Partner)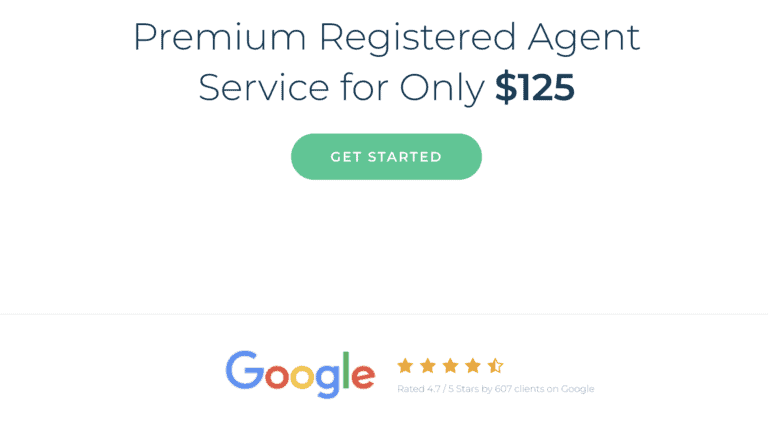 If you are looking for superior registered agent services, you will want to work with Northwest Registered Agent. This company offers access to a team of skilled customer service support experts who can help you with your application and answer questions about registered agent services in the state of Alabama.
You will only pay $125 a year for their services, and they offer a 90-day return policy if you are not satisfied with their support. Head to their website to check out the various benefits that you can receive by selecting this quality registered agent for your business.
If you are looking for superior customer support and highly effective registered agent services, this is the company that you will want to register your business with.
2. Alabama Registered Agent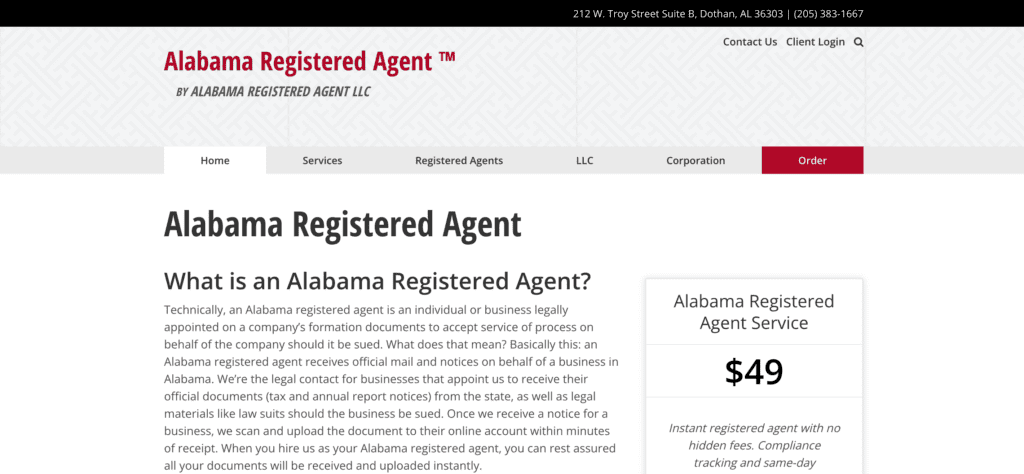 Alabama Registered Agent is one of the best and most affordable options for those seeking a registered agent in the state of Alabama. They charge the same price each year, no matter what changes with regard to your business. You will pay $49 to use their services, and you can count on the following:
A secure online client portal provides access to tools and business forms that you might need. They offer excellent customer service and a reliable business address. A business schedule is available, which is a requirement in the state of Alabama. Additionally, there is the opportunity to work with them even if you conduct business in multiple states.
This company will handle all of the paperwork related to your business and will send you notifications when necessary to let you know about important documents that you might need to respond to. They help you to focus on running your business while they keep track of the paperwork, documents, and other mail that is sent to your business address.
3. URS Agents LLC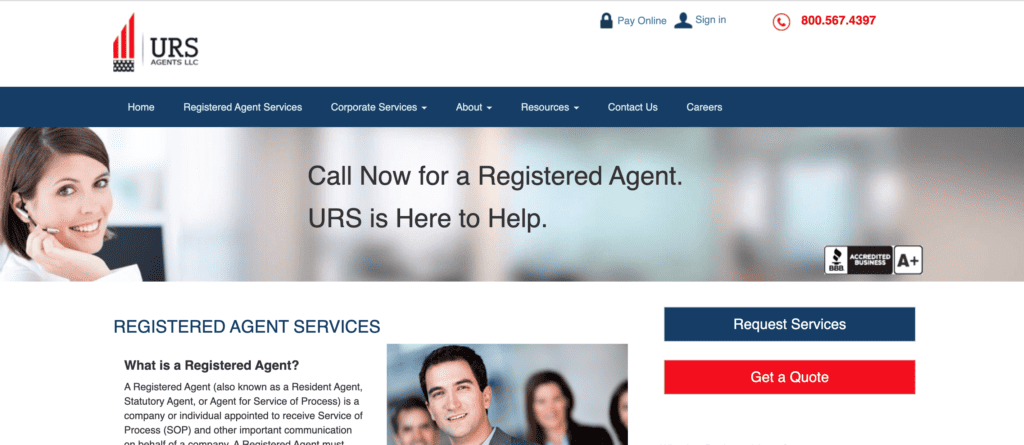 As a client of URS Agents LLC, choosing them as your registered agent in the state of Alabama grants you several benefits. These include access to company records, a detailed history of services and processes, mail history, and invoice history. Additionally, you get document storage facilities and access to a forms center.
This registered agent company will be happy to provide you with a quote for their services and support if you reach out to them. They promise not to increase the price of their services of change the kinds of services that they offer once you have signed up.
They operate in all 50 states and can offer you quality registered agent representation so that you can be free to run your business.
4. Corporate Creations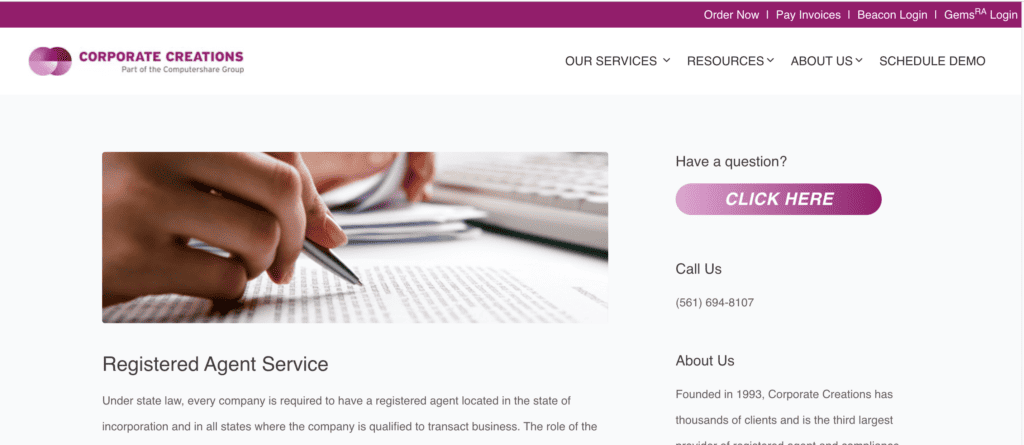 This company has been around since 1993, and they offer all kinds of business services. If you are interested in making them your registered agent, you simply have to reach out for a quote. They offer fair pricing and quality services that you can trust.
When you choose to work with a company that services all 50 states, you will be securing experienced and qualified support that you can trust. No matter how many businesses you operate or how complex your needs are, you can count on Corporate Creations.
5. Gulf Coast Attorneys LLC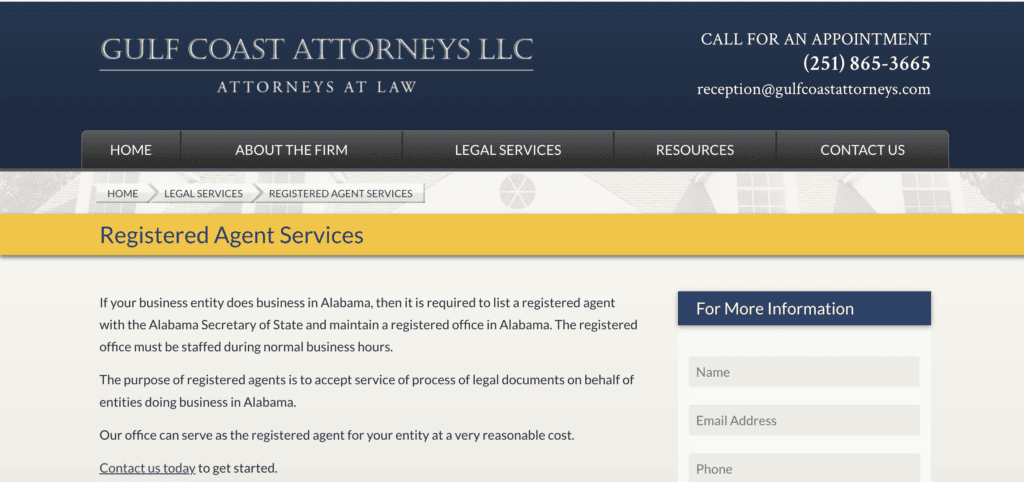 There are many ways to secure a registered agent, but working with an experienced legal team can be the best and most effective means of representing your business needs in this area. Gulf Coast Attorneys has years of experience working with businesses looking for registered agent services.
You will need to contact their offices to get started, and they will be happy to quote you a reasonable cost once they know which services you are seeking and how many businesses you need them to provide support for. Legal expertise combined with registered agent experience can be very beneficial for your business needs.
6. McCartha Law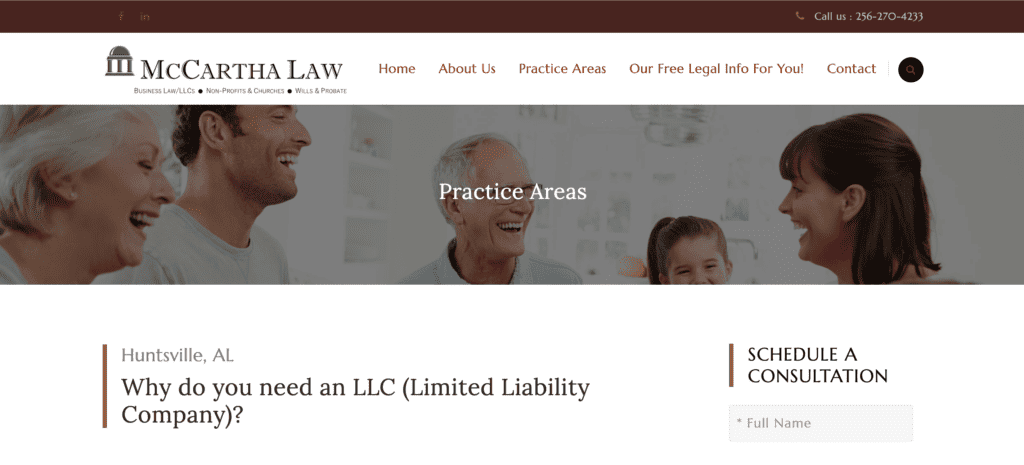 McCartha Law takes pride in offering personalized and effective services that businesses in the state of Alabama need. Protecting your family and your business from legal action is a key area of focus for this law firm. You can count on the team at McCartha Law to provide effective and detail-oriented registered agent services for your business.
This legal office also provides an LLC consultation program that will help you to get your business started and to make sure that all of your documentation has been created correctly. As part of these classes, you can find out more about the registered agent services that this office provides. You will only need to schedule a consultation to be able to get started accessing the benefits of registered agent services with this legal team.
7. INCORP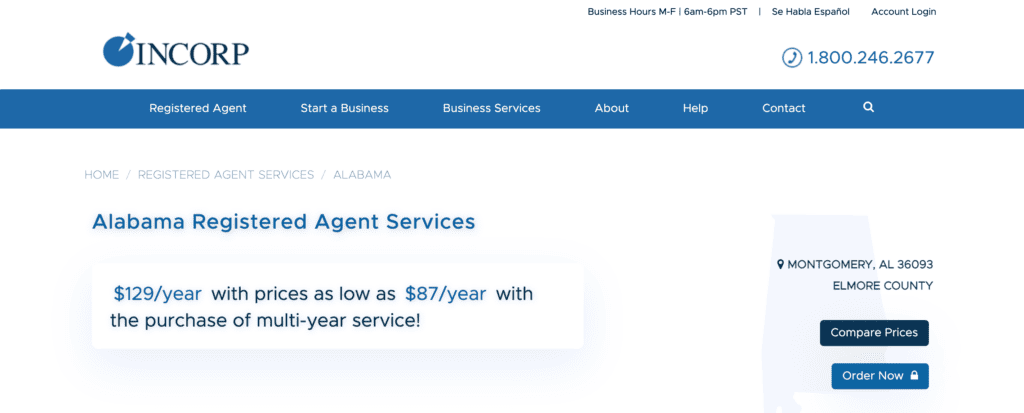 INCORP offers reasonably priced and authoritative registered agent services that you can count on. They offer a multi-year representation discount, and you will also be able to provide all of your documentation online when you choose to work with them. Consolidating expenses and ensuring that all of your businesses are cared for correctly are key benefits related to working with this business.
This business works with organizations of various sizes and can also work with those that do business in many states across the US. The Entity Management System (EMS) that is offered by INCORP makes working with them a breeze and can help save you time and effort.
How can I appoint a registered agent in Alabama?
To appoint a registered agent in Alabama, you have to file a request with the Alabama Secretary of State's Business Services department.
You'll need to include the name and mailing address of your new registered agent when you submit the Certificate of Formation for your corporation with the Alabama Secretary of State.
How can I change my registered agent in Alabama?
The Alabama Secretary of State's Business Services department allows you to change your registered agent by completing and filing the Change of Registered Agent form.
Note that the change of registered agent form will cost $100 to file, and you might need to pay extra for credit card processing charges or other expediting fees.
Advertisement
LLC Formation Service
LLC Formation: $39 + state fees
Pricing:
Turnaround Time:
Help & Support:
Customer Satisfaction:
Ease of use:
Best LLC Service 2023

Formed 1,000,000+ LLCs
$39 formation includes registered agent service
Fast formation & same day filing
Exceptional customer reviews

Last updated:
Dec 2023