Business administration is a task that takes up a lot of time and requires skill and experience in most cases. If you have been working on starting a new business, you might be worried about keeping track of everything and managing your company at the same time.
Since you can't just ignore legal documentation, mail, and tax essentials each year, you need to make sure that you access skilled support to help your business avoid personal liability issues as well as problems that could lead to audits.
Getting a registered agent for your business can protect your personal finances from getting involved in business disputes, and this expert can also be counted on to tackle a lot of important administrative documentation each year.
---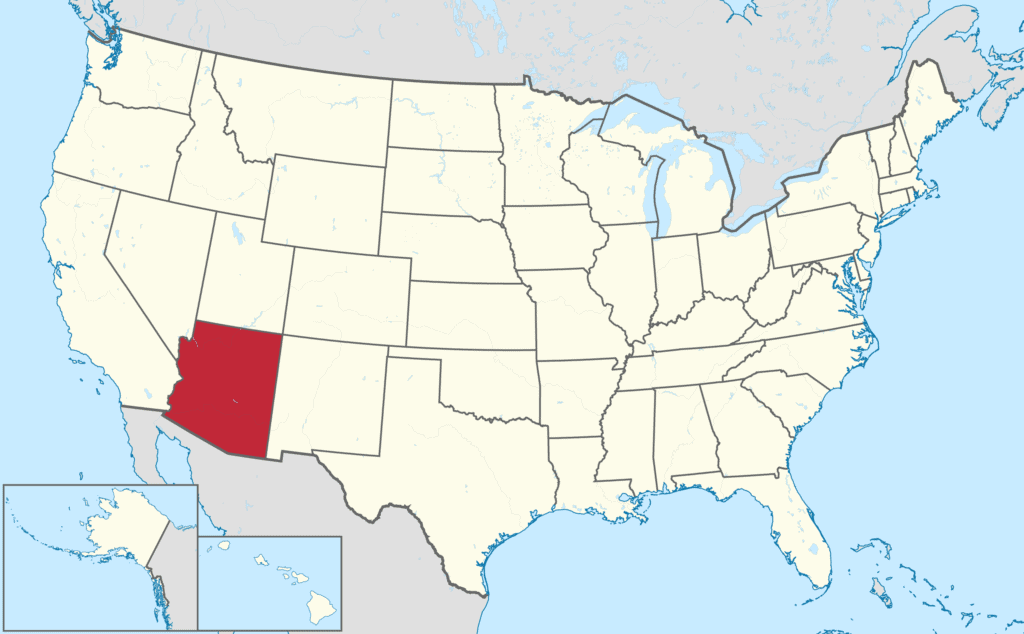 ---
Table of Contents
A registered agent in the state of Arizona can be anyone who is at least 18 years of age. This person can be an individual, but you can also name a corporation or an LLC that is authorized to transact business in the state of Arizona. You can choose to be your own statutory agent in the state of Arizona, but why not appoint a skilled expert to help you keep your business operations smooth and seamless each year?
Top 6 Registered Agents in Arizona
By choosing the best registered agent for your needs, you can save yourself considerable time and hassle. Based on the above criteria, we've listed Arizona's top 6 registered agent services.
Note: Prices were quoted at the time of writing and are subject to change.
1. Northwest Registered Agent (Our Partner)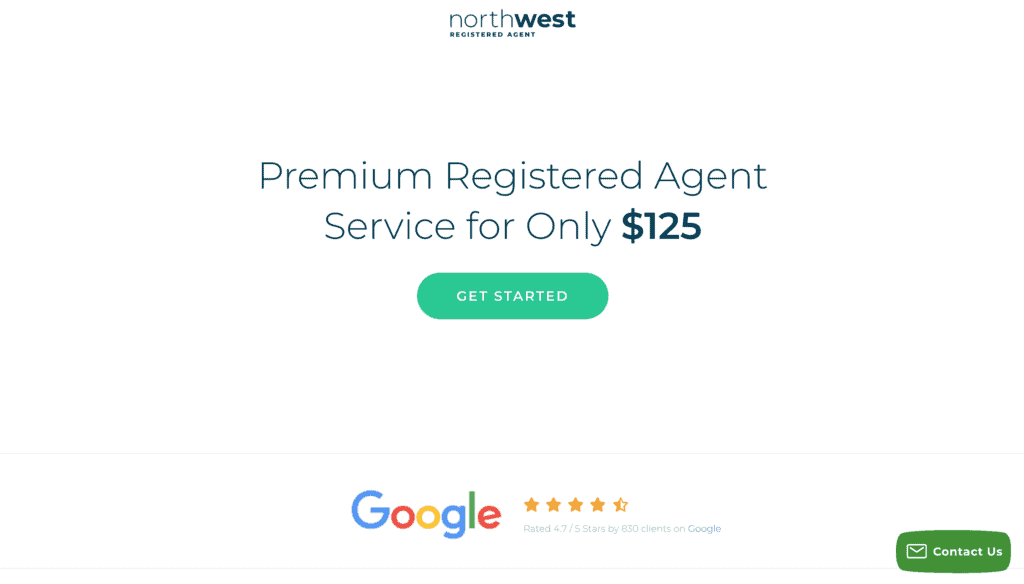 When you are considering selecting a skilled registered agent for your business in Arizona, you need to be sure that you can get access to a quality client portal, prompt response times, and excellent customer service. NorthWest Agents can offer all of these benefits that are made available as soon as you sign up for their services.
You will pay a flat rate for the benefit of the services offered by this registered agent, and you will not be shocked by surprise fees and costs.
2. Keyt Law LLC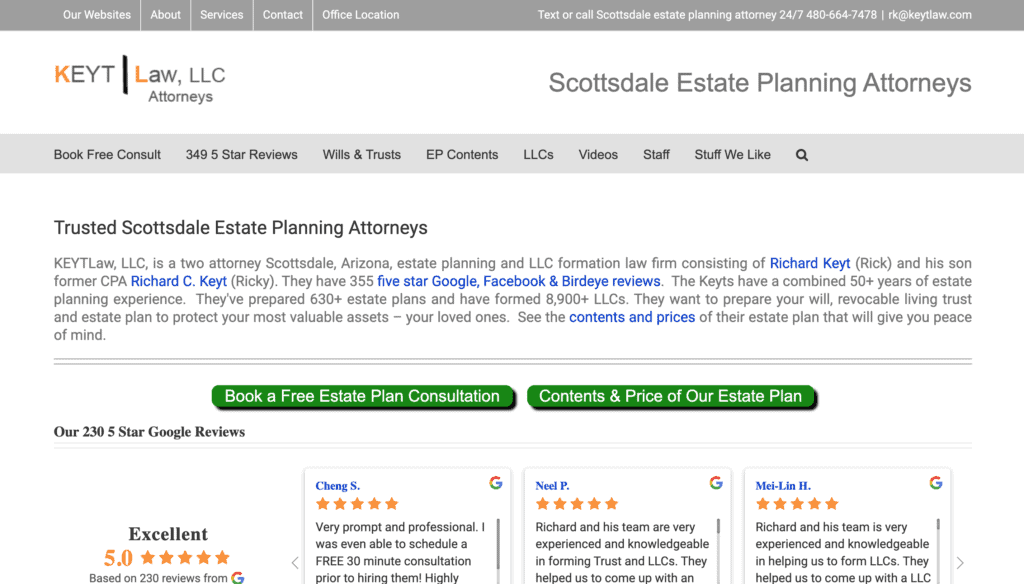 For boutique services at an affordable price, you need not look any further than Keyt Law LLC. This is one of the leading legal firms in Arizona, and the fact that you will work with one of the two partners of the firm for all of your needs makes for a customized experience that you cannot get from many other registered agents. This team has been able to consult with and set up 8,900 LLCs.
Getting access to this kind of expertise can be essential for those who are new to business ownership or those looking to add to their business holdings without running into issues along the way.
3. Thunderbird Law PLLC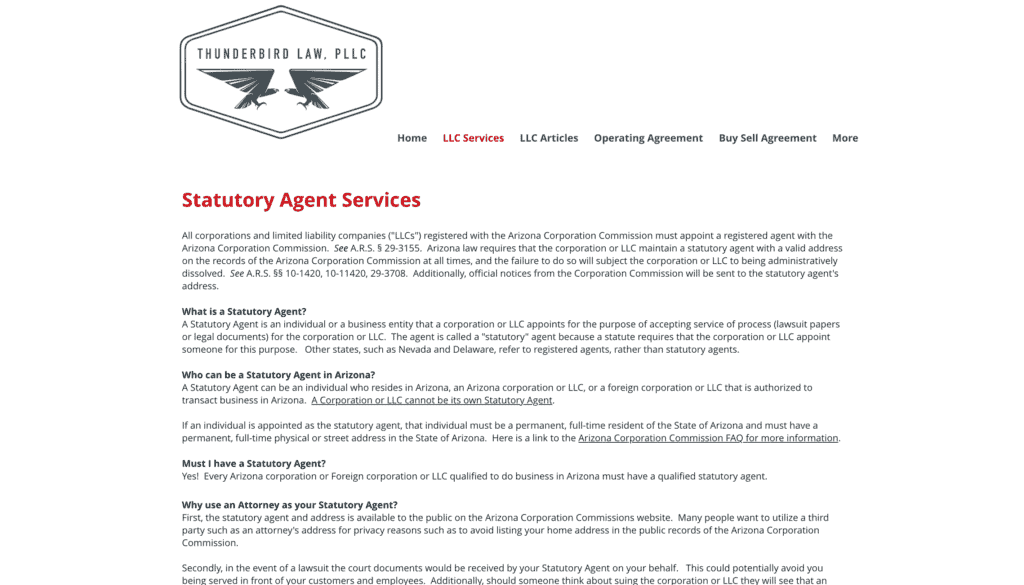 This is another legal team that offers skilled support for businesses that are looking for a registered agent. You can access a wide array of business services related to your needs along with your registered agent care when you pick this firm. The team at Thunderbird Law will be able to offer you guidance and support for all of the legal processes that need to be attended to for your business each year.
Your annual reports will also be sent without delay, and you can get information about tax law and legalities if you need this kind of guidance. This is one of the best choices in Arizona for your registered agent, and you will see why when you book a consultation.
4. AZ Statewide Paralegal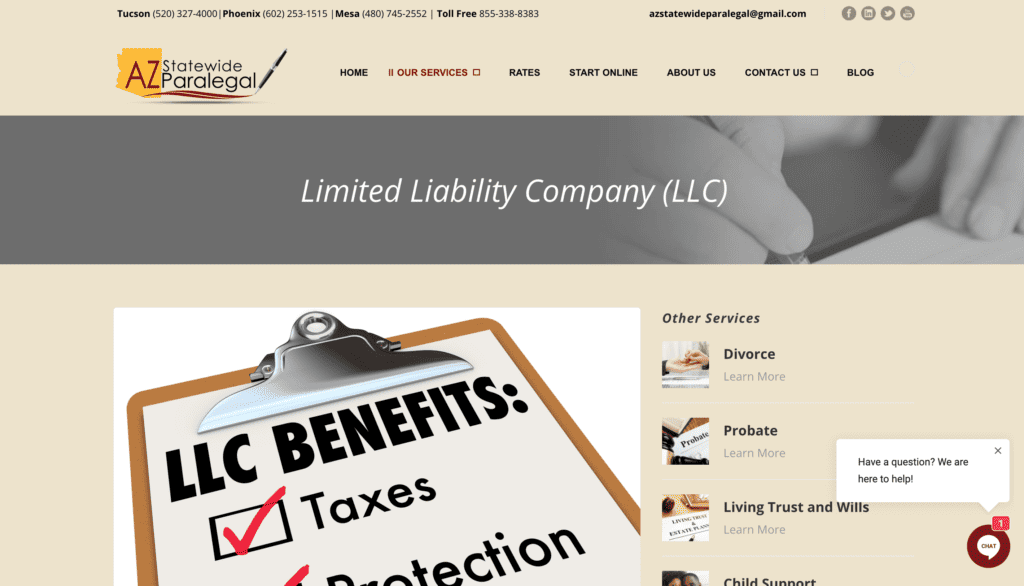 There are many legal teams that offer registered agent services in Arizona, but this is one of the most affordable and easy-to-access services around. You will get the benefit of working with a skilled legal team when you choose this agent, and you will not ever have to worry about your legal documentation being cared for in a timely manner.
This legal team stays in close contact with its business clients and can be trusted to offer support and care for a variety of other legal needs related to LLC management as well.
5. Forakis Law Firm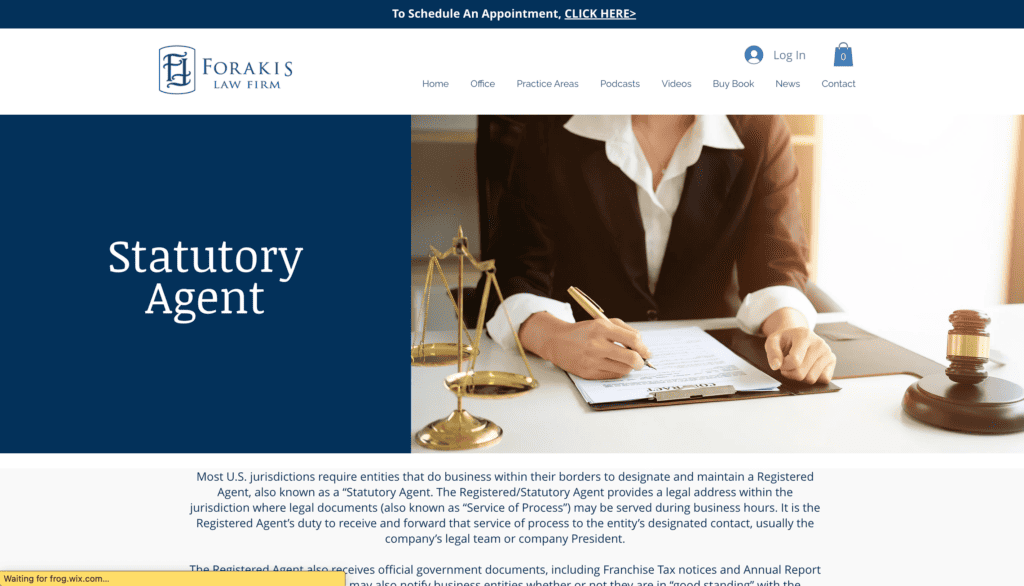 Another law firm that offers registered agent services, this legal team is a great option if you want to make sure that your legal documents are cared for correctly and in a timely manner. No matter what the legal need of your LLC, the Forakis Law Firm team can be trusted to take care of it.
You will need to schedule a meeting to get a quote with this firm, but you will be offered a unique and complete registered agent package of services during your first meeting.
6. Arizona Legal Document Services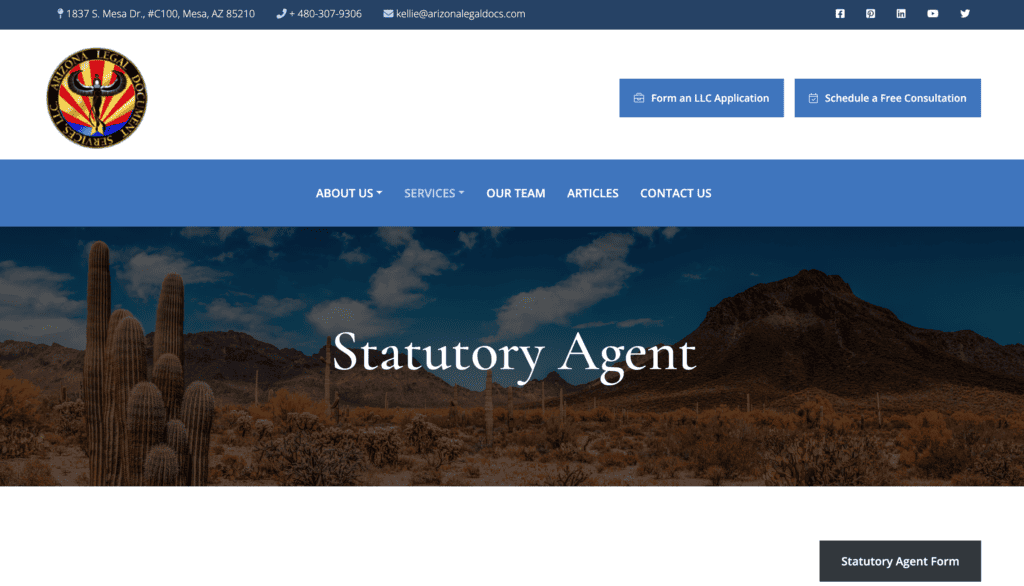 Managing an LLC can be a lot of work, which is why this company might be the perfect choice for your registered agent.
Not only can this business tackle your legal documentation and the creation of annual reports, but the team can also help advise you about a wide array of LLC-related business processes and more. You can count on quick response times and dependable expertise when you choose to work with Arizona Legal Document Services.
How do I appoint a registered agent in the state of Arizona?
The process of appointing a registered agent in Arizona is easy. You just need to fill out form M002, which is found here. This form needs to be submitted to the A.C.C. There is no filing fee unless you want to pay for expedited services. Processing times are updated on the A.C.C. website each Monday so you can see where your application is in line.
Can I change my registered agent in Arizona?
If you need to change your registered agent in Arizona, you will need to file a Statement of Change form. There is a $5 processing fee for these changes.
Advertisement
LLC Formation Service
LLC Formation: $39 + state fees
Pricing:
Turnaround Time:
Help & Support:
Customer Satisfaction:
Ease of use:
Best LLC Service 2023

Formed 1,000,000+ LLCs
$39 formation includes registered agent service
Fast formation & same day filing
Exceptional customer reviews

Last updated:
Dec 2023