Before reading our go-to list of the top registered agents in Arizona, here are some important things to think about:
7 best registered agent services in Arizona
By choosing the best registered agent for your needs, you can save yourself considerable time and hassle.
Based on the above criteria, we've listed Arizona's top 7 registered agent services.
Note: Prices were quoted at the time of writing and are subject to change.
1. Northwest Registered Agent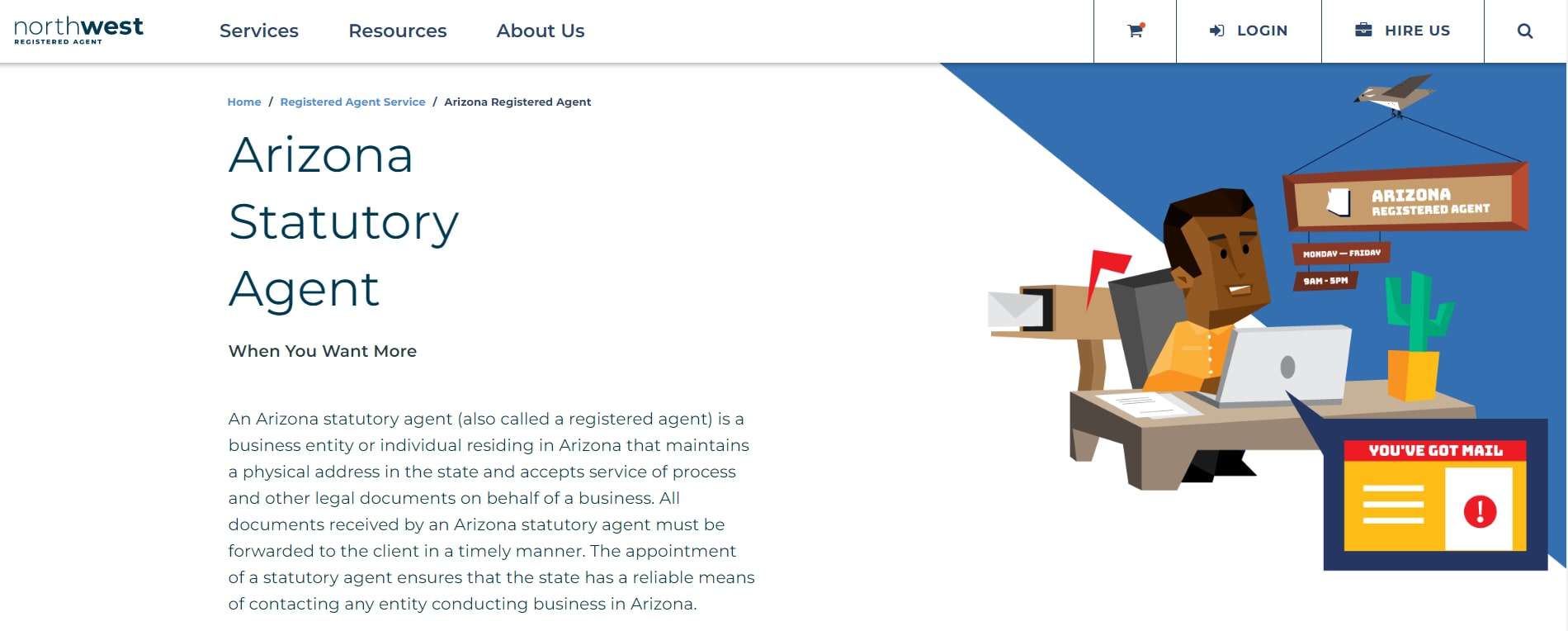 Northwest Registered Agent, which has offices in all 50 US states, is our pick as the best Arizona statutory agent service.
Northwest's trademarked Privacy by Default service ensures that data on you and your business entity stays out of harm's reach.
If you use Northwest's services, you won't have to worry about opting out of unnecessary data sharing — the company opts you out automatically. This is important because you don't want your business address or personal information ending up in the hands of the wrong people.
But Northwest provides much more than data protection.
For example, you can sign up for an online account to immediately get relevant business forms, annual report reminders, and full access to your business and legal documents.
Additionally, Northwest provides phone service free for 60 days and a limited free mail forwarding service. Those new to the business world can also benefit from free lifetime access to Northwest's Corporate Guides.
2. Arizona Legal Document Services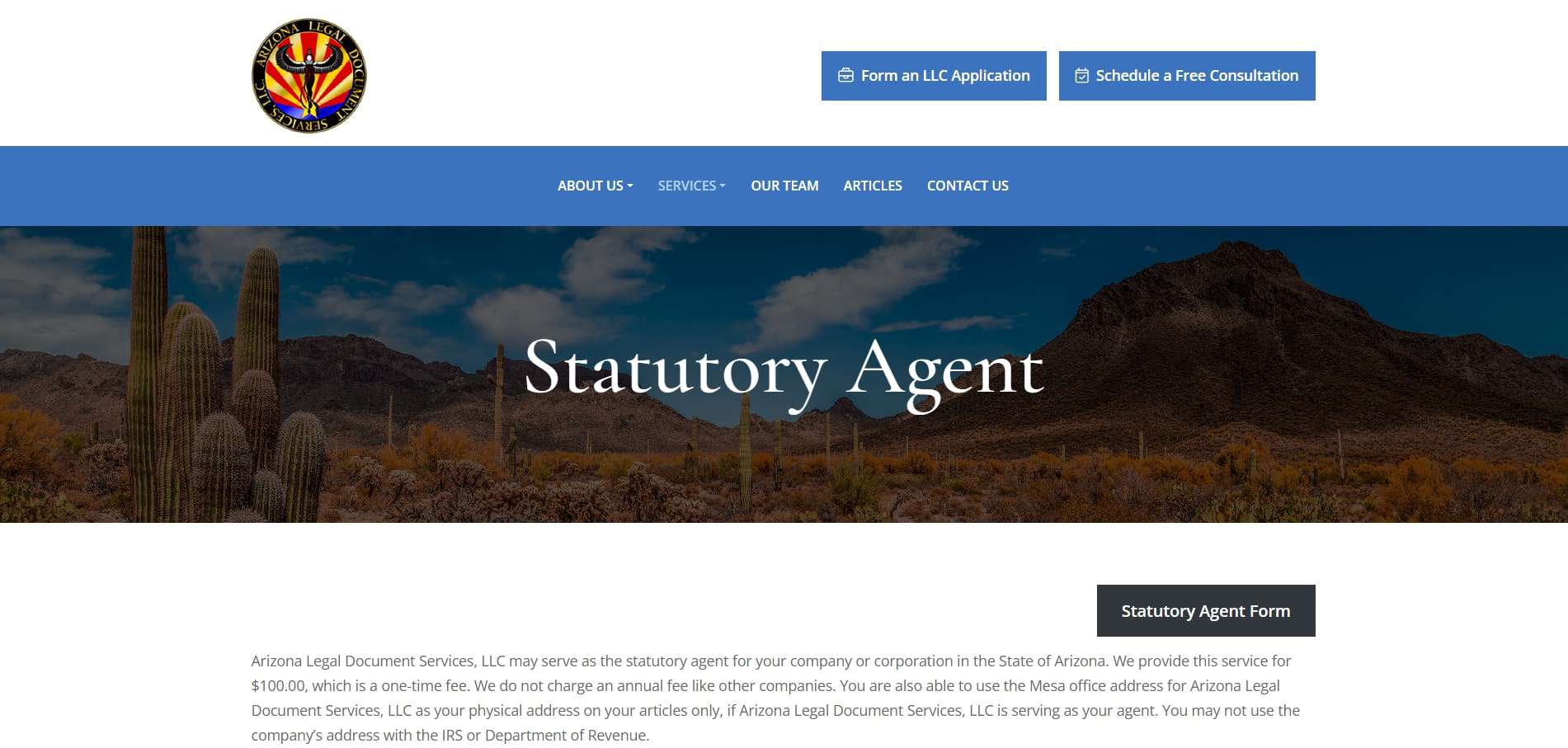 Arizona Legal Document Services has locations in both Mesa and Phoenix, so it's a local business through and through.
When it comes to registered agents, we like to be able to put a face to a name, and Arizona Legal Document Services's website lets you do just that — company owner Kellie E. DiCarlo's background and experience are presented, and all agent information is readily available.
A free consultation is provided if required, which is a nice touch for those who aren't sure what they need.
In addition to being a statutory agent, Arizona Legal Document Services has many other strings to its bow, such as LLC formation assistance.
3. Arizona Statutory Agent Services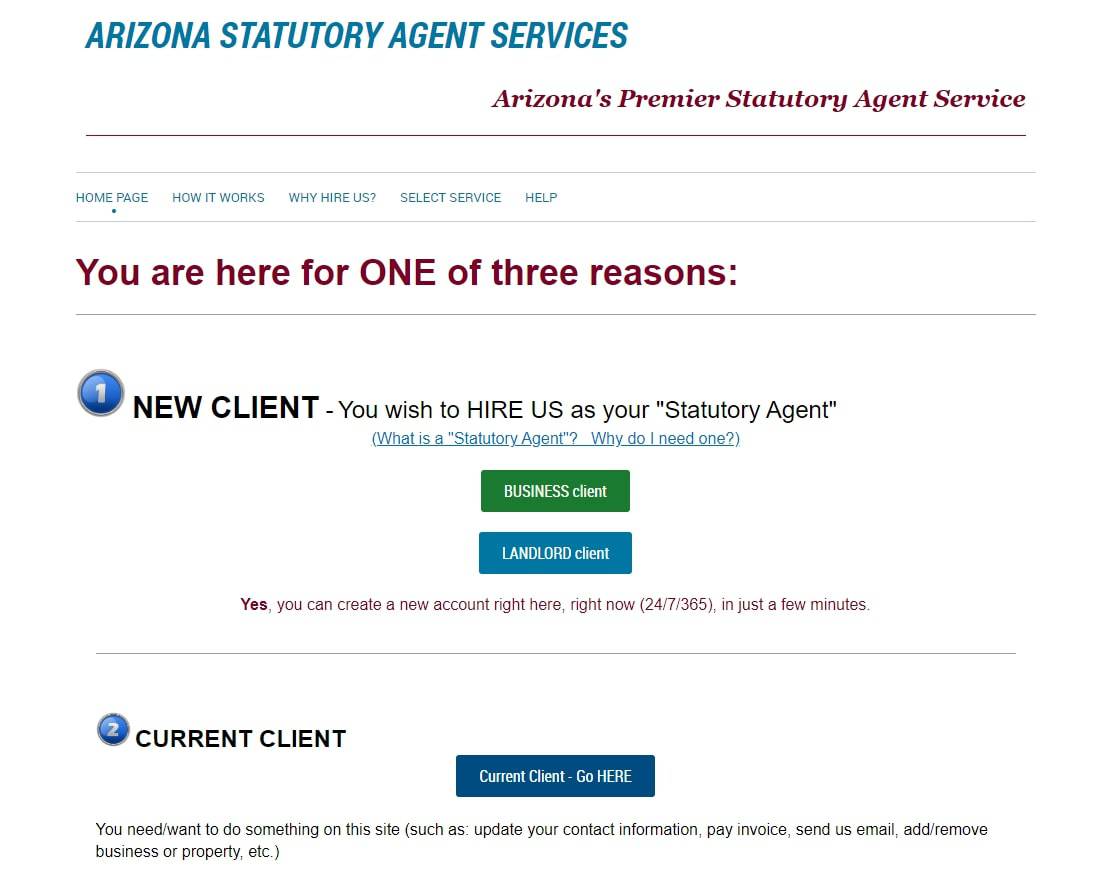 Arizona Statutory Agent Services's managing member is a military veteran and practicing attorney, and all its members are Arizona residents.
A 30-day money-back guarantee is provided, and the firm promises not to tack on extra "miscellaneous" fees that bore a hole in your pocket.
Arizona Statutory Agent Services is known for its speedy service, and its website states that most notices are sent to you by email (or fax) within one business day.
4. Document Prep Arizona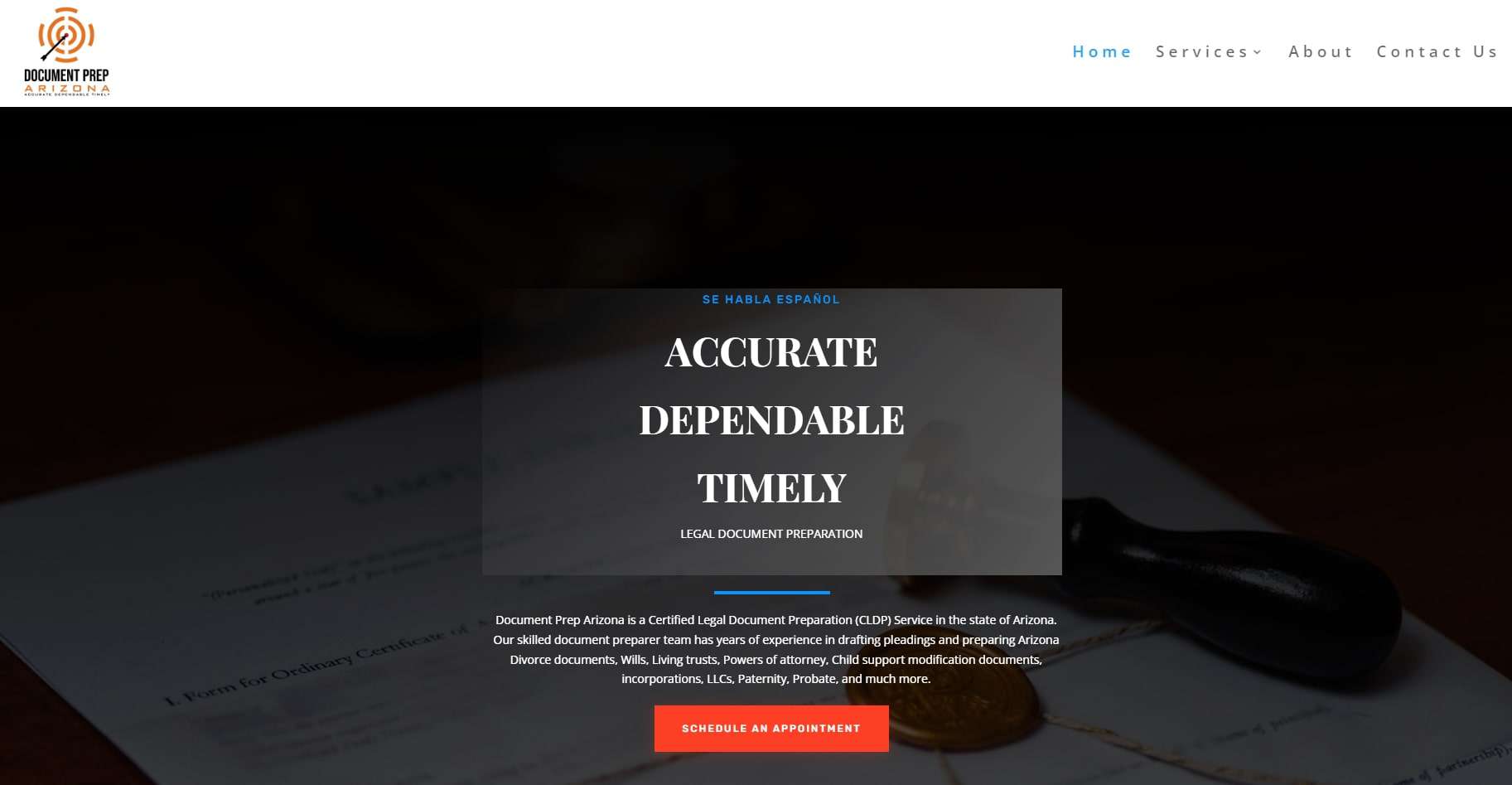 With a team comfortable communicating in both English and Spanish, Document Prep Arizona offers a range of legal document preparation services.
The key offerings of Document Prep Arizona are timely compliance reminders and instant notifications of legal documents' arrival.
Document Prep Arizona is open on weekdays during regular business hours, so staff can be easily reached by a process server.
As a bonus, Document Prep Arizona staff are available on Saturdays and Sundays by appointment as well.
5. ZenBusiness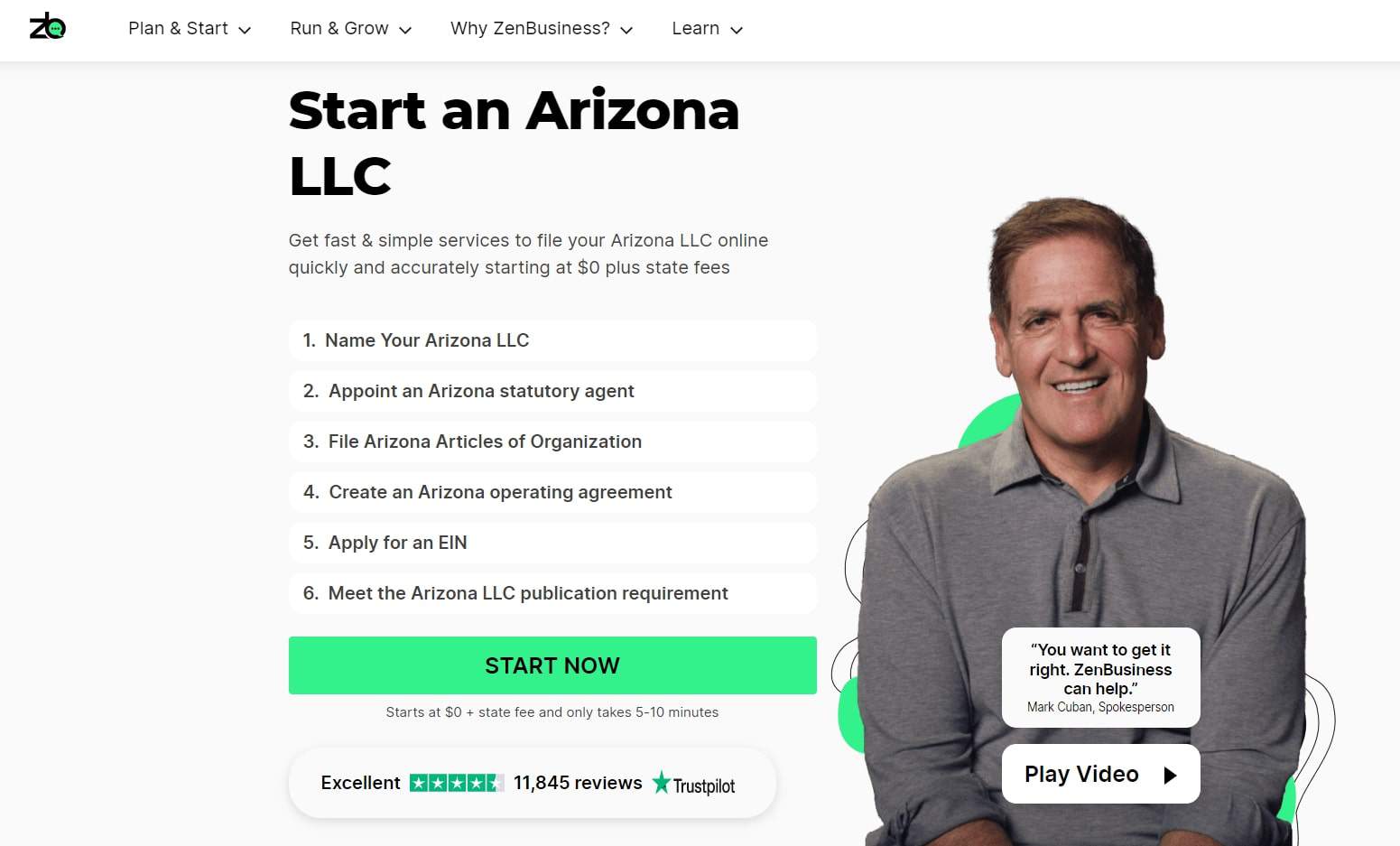 ZenBusiness is a heavy hitter in the registered agent game, and its services go far beyond being a dependable statutory agent.
If you're an out-of-town entrepreneur or own a foreign corporation (e.g., a foreign LLC), ZenBusiness is a good choice for handling all your registered agent needs.
You can use this registered agent's address as your business's official address. This means that if you operate your business from your home, you can keep your personal address off the public record.
6. Harbor Compliance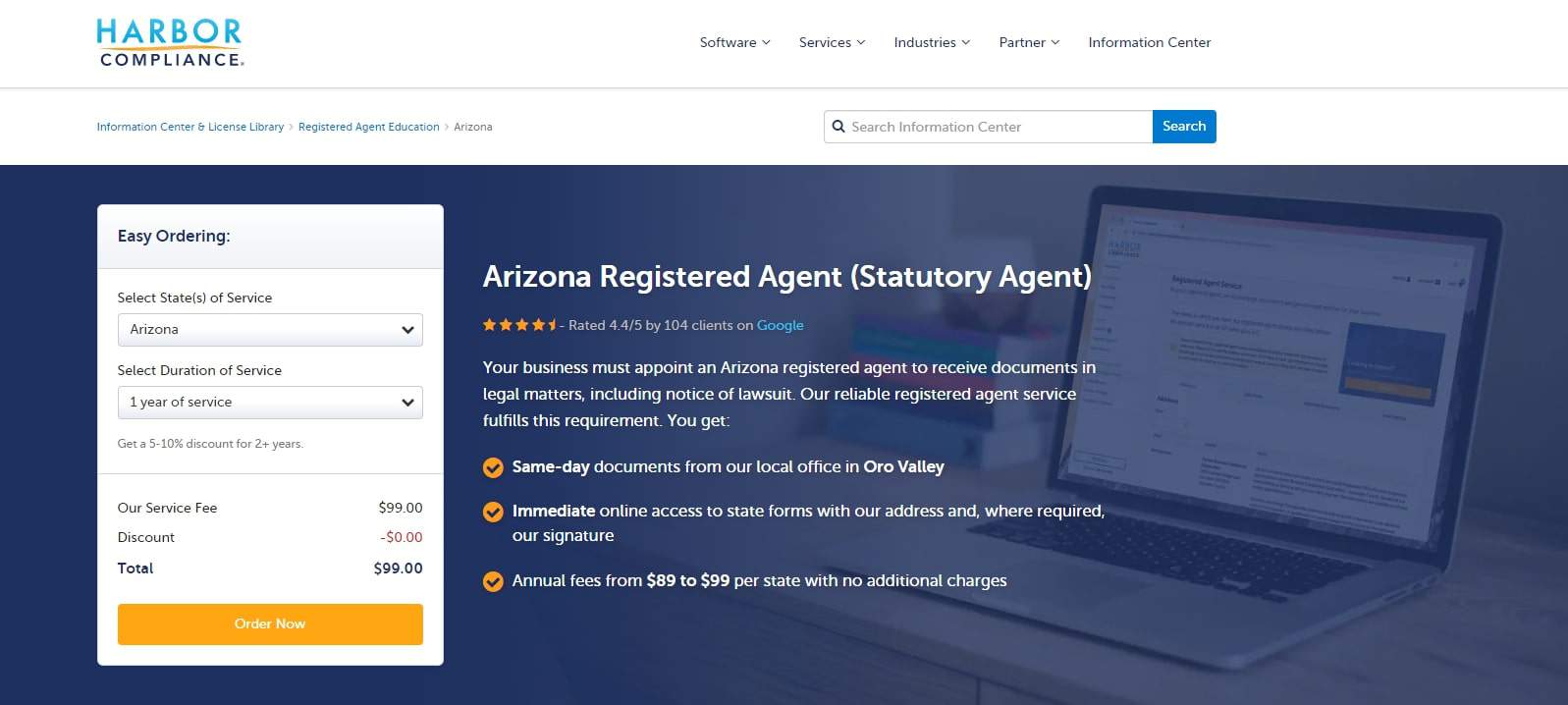 With Harbor Compliance's national reach and wide customer base, business owners get a decent price and a high-level software solution for all their compliance needs.
As you'd expect, document access is swift, and timely notifications to file annual reports ensure you remain in good standing with the state.
If you expect to operate in Arizona for many years, we recommend opting for a long-term plan to capitalize on some sizable discounts.
7. Arizona Registered Agent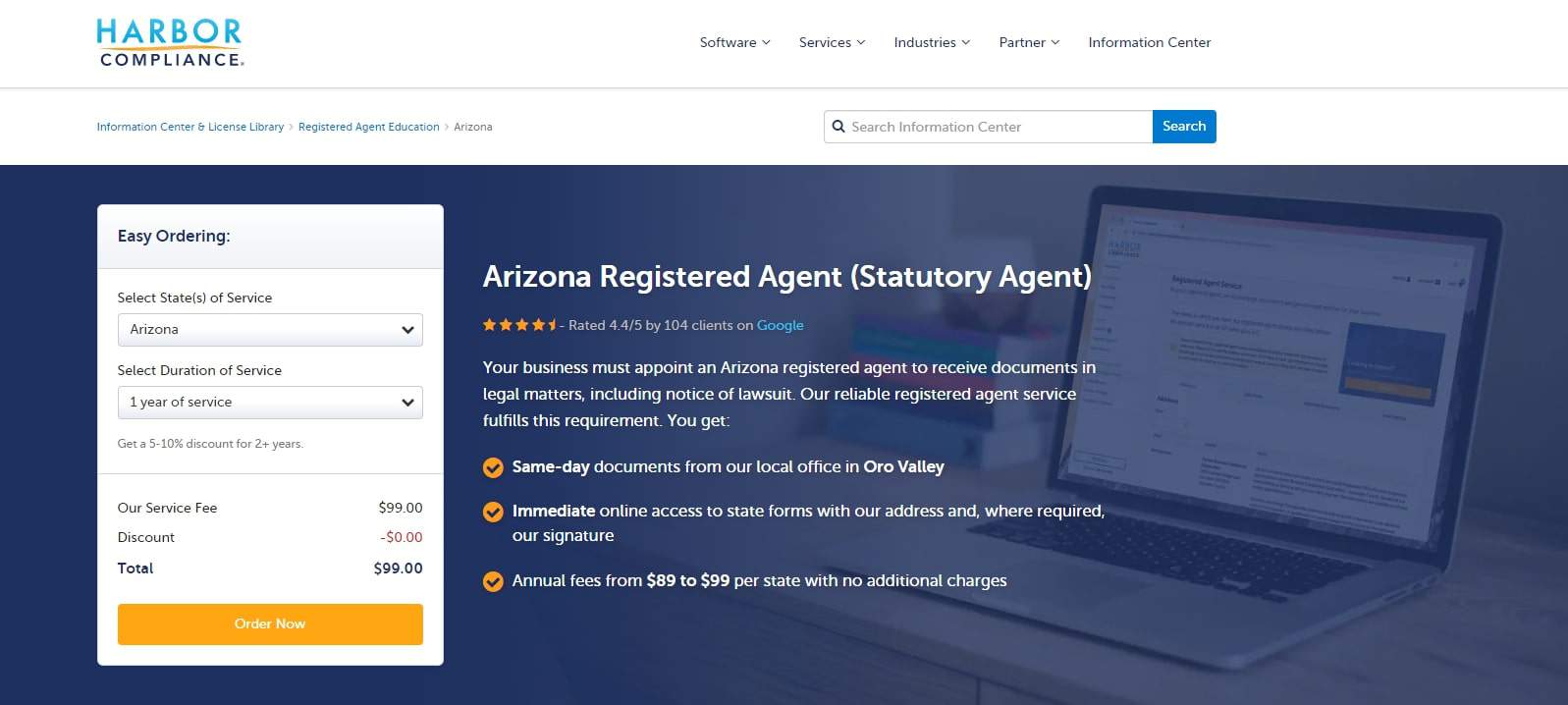 Judging by the unoriginal registered agent name, we wouldn't enlist Arizona Registered Agent's help in choosing a catchy name for your business.
However, at $49/year, Arizona Registered Agent gets high marks for price.
Arizona Registered Agent offers a swift sign-up process (5–10 minutes is its goal) and same-day scanning of documents.
The company's website provides some useful information on Arizona taxes and clarifies that it provides services for both profit and non-profit corporations.
The services of Arizona Registered Agent are geared toward foreign corporations that are hoping to make a mint in the Copper State.
FAQs about Arizona registered agents
What should I expect to pay per year for a registered agent in Arizona?
Outliers aside, you can expect to pay around $49-200/year.
Can I be my own registered agent in Arizona?
The short answer is yes.
While an LLC cannot act as its own registered agent, an LLC member (that is, an owner) or one of the managers can take on the role of registered agent.
To be your own statutory agent for your Arizona LLC, you need to make sure you're available at your registered office during normal business hours to receive legal notices and other important documents.
If you act as your own registered agent and you're often out of the office, you risk losing your good standing with the Arizona Secretary of State. That's why we recommend getting a registered agent service.
What do I need to do to appoint an Arizona statutory agent?
Get your statutory agent to accept their appointment on the eCorp dashboard of the ACC's website or submit a Statutory Agent Acceptance form.
What do I need to do before setting up an LLC in Arizona?
The first step is choosing a name and making sure it isn't taken. Then, you should register (or reserve) your LLC name with a relevant body (the ACC or the Secretary of State) before proceeding further.
At what stage of setting up an LLC in Arizona do I need to appoint a registered agent?
Do it before sending off your Articles of Organization because you can't submit them without having a statutory agent. You must submit your Statutory Agent Acceptance Form along with your Articles of Organization.