When starting a new business, it's normal to feel excited. But the amount of paperwork required is often overwhelming. A registered agent can make all that paperwork easier.
New Jersey requires every limited liability company (LLC) to have a registered agent. Failure to supply a registered agent can make your business non-compliant with New Jersey state law.
It's easy to set up your registered agent, and you can even be your own registered agent. But hiring a company that specializes in registered agent services can make your life easier.
What are registered agents in New Jersey?
A registered agent in New Jersey is the person or company that you designate as your point of contact to receive official documents for your company.
Registered agents act as the vital communication link between government authorities and your business. Registered agents provide a physical business address called a registered office to receive tax information, legal documents like service of process, and other notifications.
A registered agent in New Jersey helps you stay organized and shields your personal physical location from public view. Using a professional registered agent service also makes sure your documents are handled professionally, whether it's lawsuits or tax information.
It's possible to be your own registered agent, according to the secretary of state — but there are distinct advantages to hiring an agent service, which we'll discuss later.
List of top 11 registered agent services in New Jersey
We've researched and ranked the top 8 registered agent services in New Jersey to help you find the registered agent that best fits your needs.
Prices were quoted at the time of publication and are subject to change.
1. Northwest Registered Agent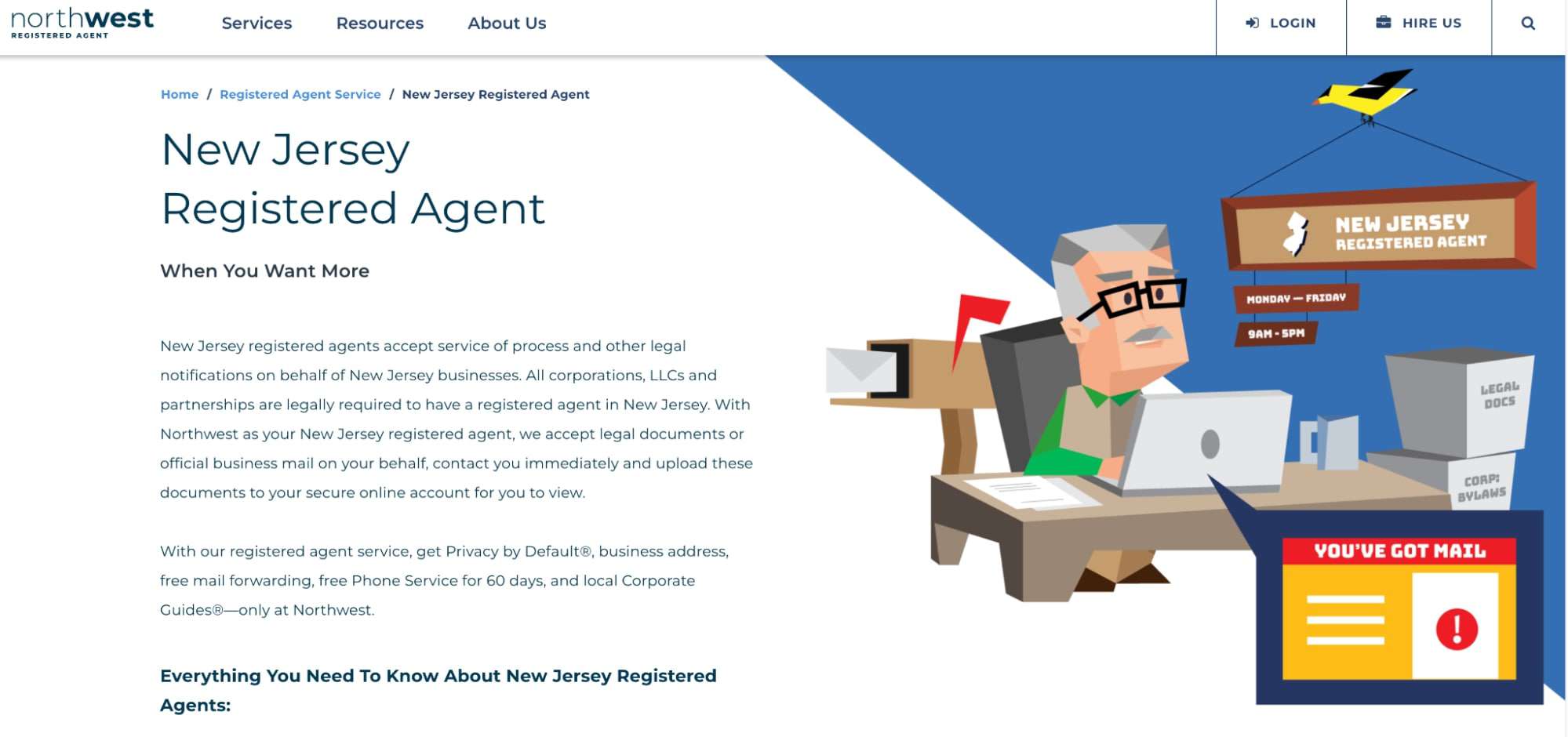 The outstanding customer service, competitive pricing, and extensive services Northwest Registered Agent provide make it our top choice out of all of the registered agents in New Jersey.
By selecting Northwest Registered Agent, you'll get a physical street address to receive business documents, fast access to your documents in a user-friendly online platform, and complimentary services like mail forwarding. And if you need to expand your business to other states or need limited liability company (LLC) filing services, Northwest Registered Agent has you covered.
Northwest Registered Agent's customer service separates them from other companies. When you require assistance, their team of lawyers and customer service professionals are there to help.
2. New Jersey Registered Agent

As a local service provider, New Jersey Registered Agent offers a tailored approach to serving your business. It's hard to go wrong with New Jersey Registered Agent's affordable cost and experience.
Additionally, the company does offer additional services like LLC formation. However, its customer service options aren't as strong as other options.
3. Harbor Compliance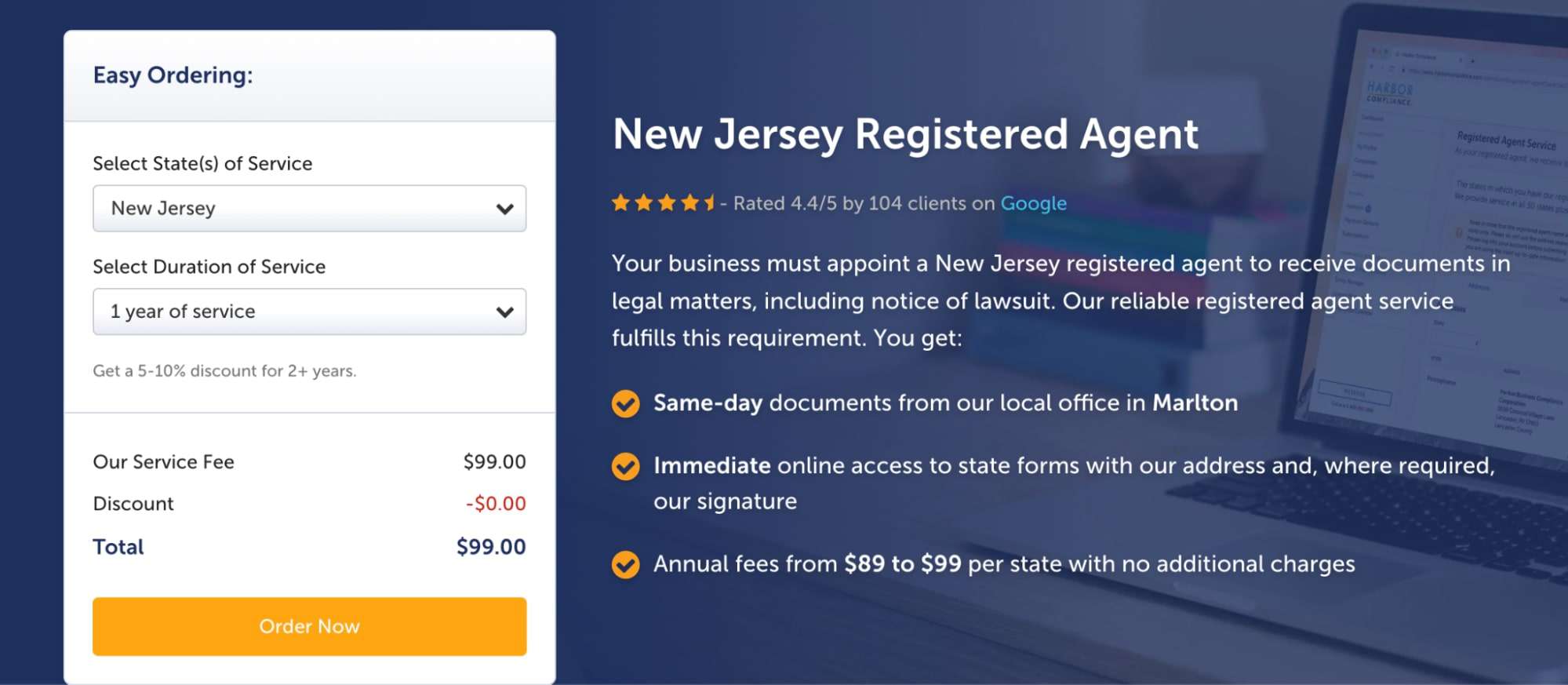 With a 4.3/5 star rating on Google, Harbor Compliance is a solid option for New Jersey business owners. From standard registered agent services to LLC formation, Harbor Compliance makes starting your business simple and easy.
Its online document portal makes receiving any documents you've been sent convenient. While it doesn't offer many of the extras of other companies on this list, Harbor Compliance is an excellent choice if you're looking for a simple, effective way to manage your documents and register your business.
4. CSC Global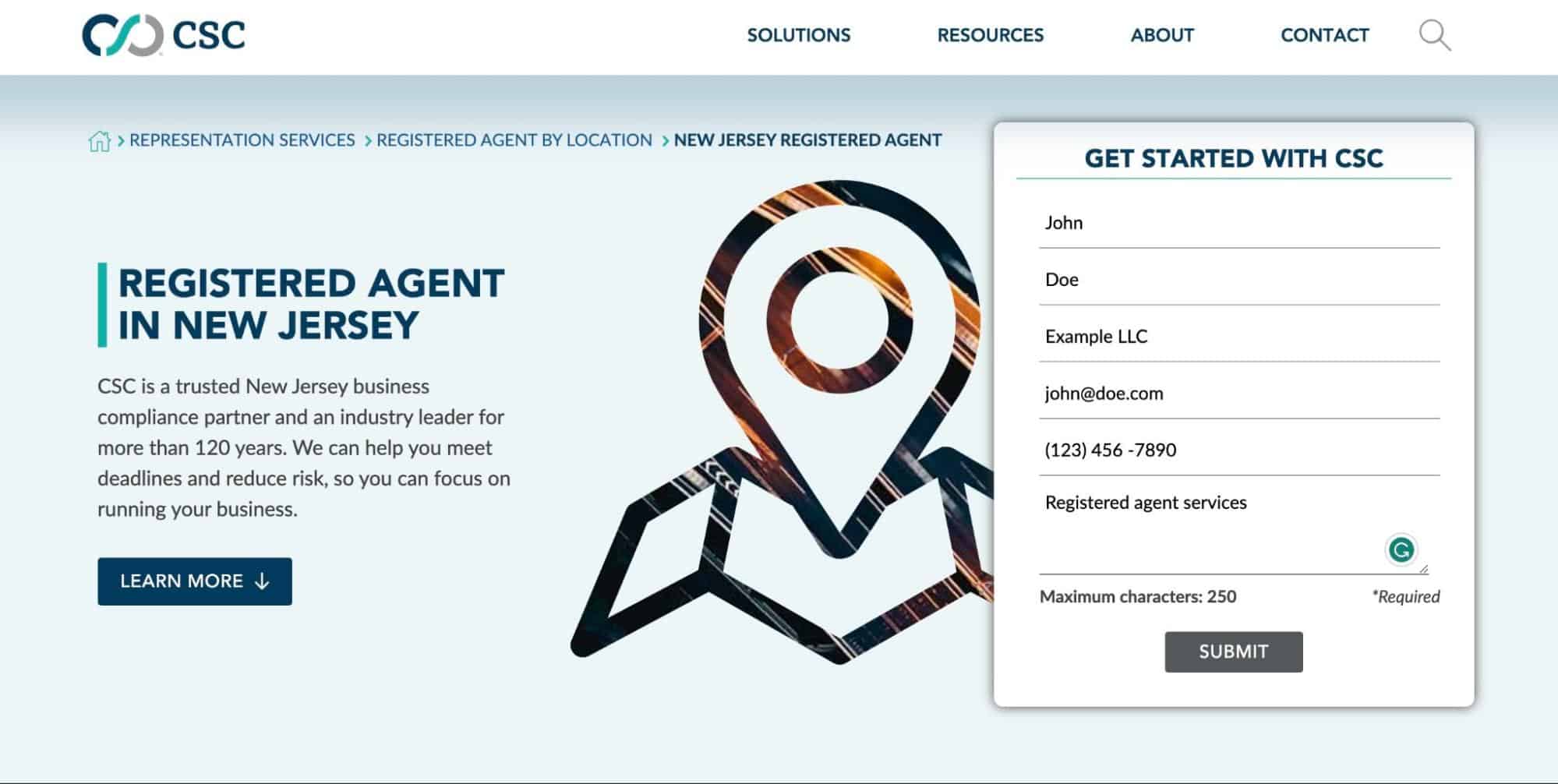 When you've been in business for 120 years, you can bet the company has learned the complex details of being a registered agent in New Jersey. With CSC Global, you can rest easy knowing that your business information is in good hands.
Whether you're already doing business in New Jersey or looking to expand, CSC Global's registered agent services will be available during normal business hours and scan your documents the same day as receipt. CSC Global also includes a good standing calendar for clients that lists all current secretary of state compliance deadlines, such as annual report filing dates.
CSC Global focuses heavily on security for your documents, with SOC 2® compliant facilities and processes.
5. ZenBusiness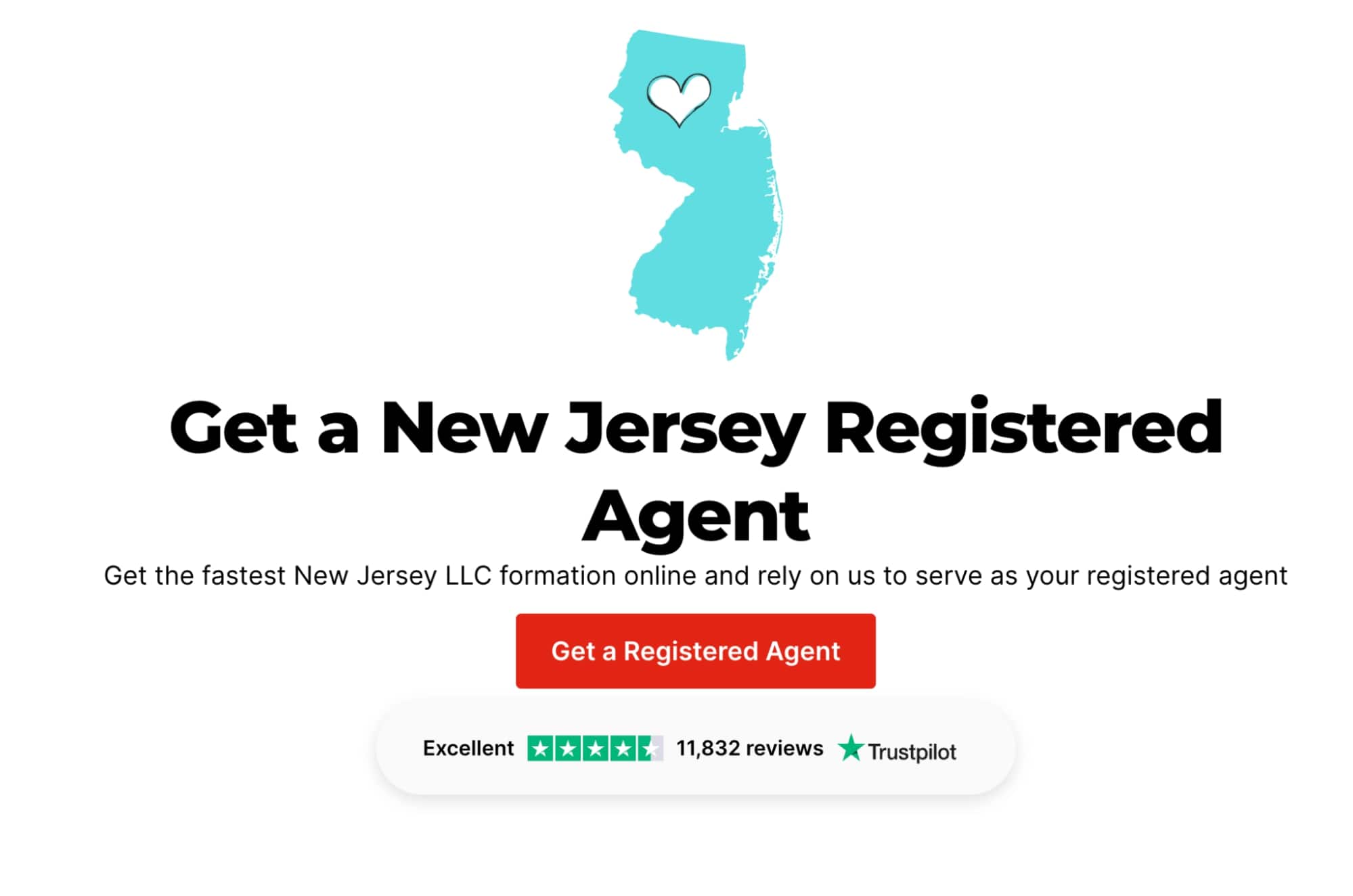 Boasting almost 12,000 reviews and an impressive 4.5/5 star rating on Trustpilot, ZenBusiness has a proven track record as a registered agent. Their dedicated support staff is always ready to assist you with any legal or financial queries you may have.
ZenBusiness goes beyond merely providing registered agent services and LLC formation. It also offers comprehensive packages that include expedited filing, name searches, and good standing reviews. But, it doesn't offer services for Professional Limited Liability Companies (PLLCs) or Non-Profit Organizations (NPOs).
If you want a hassle-free method to establish an LLC and secure a registered agent in New Jersey, ZenBusiness is a top-notch option.
6. Incfile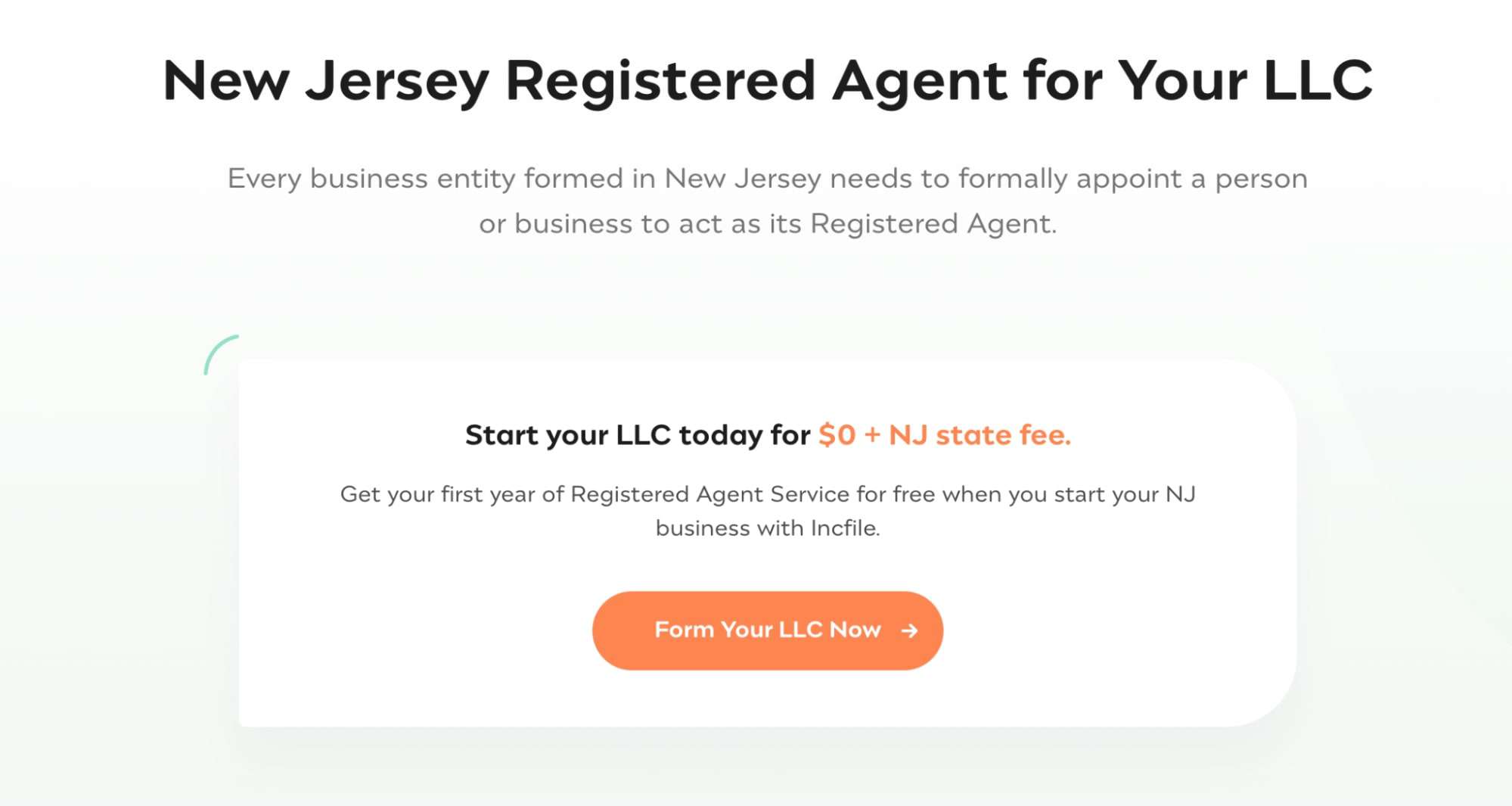 Looking for a company that does the basics well? Look no further than Incfile. The company supplies all the basic registered agent services, like a physical street address, mail forwarding, and service of process during standard business hours.
And with Incfile's competitive pricing, it's hard to go wrong. If you use their LLC formation services, you'll enjoy a full year of registered agent services at no additional cost.
Although Incfile might not provide a wide array of services, they offer everything a small business would need to get started. You'll get dependable, high-quality service at an affordable price.
7. Rocket Lawyer

If your business needs registered agent services plus ongoing legal assistance, Rocket Lawyer is a good option for your business. The company is well-known for its legal services in addition to estate planning.
With a track record of assisting over 20 million businesses and individuals with legal issues, you can anticipate high satisfaction from Rocket Lawyer's offers. Rocket Lawyer has agents in all 50 states to help you with any legal questions you may have regarding state fees and requirements — all online.
8. BetterLegal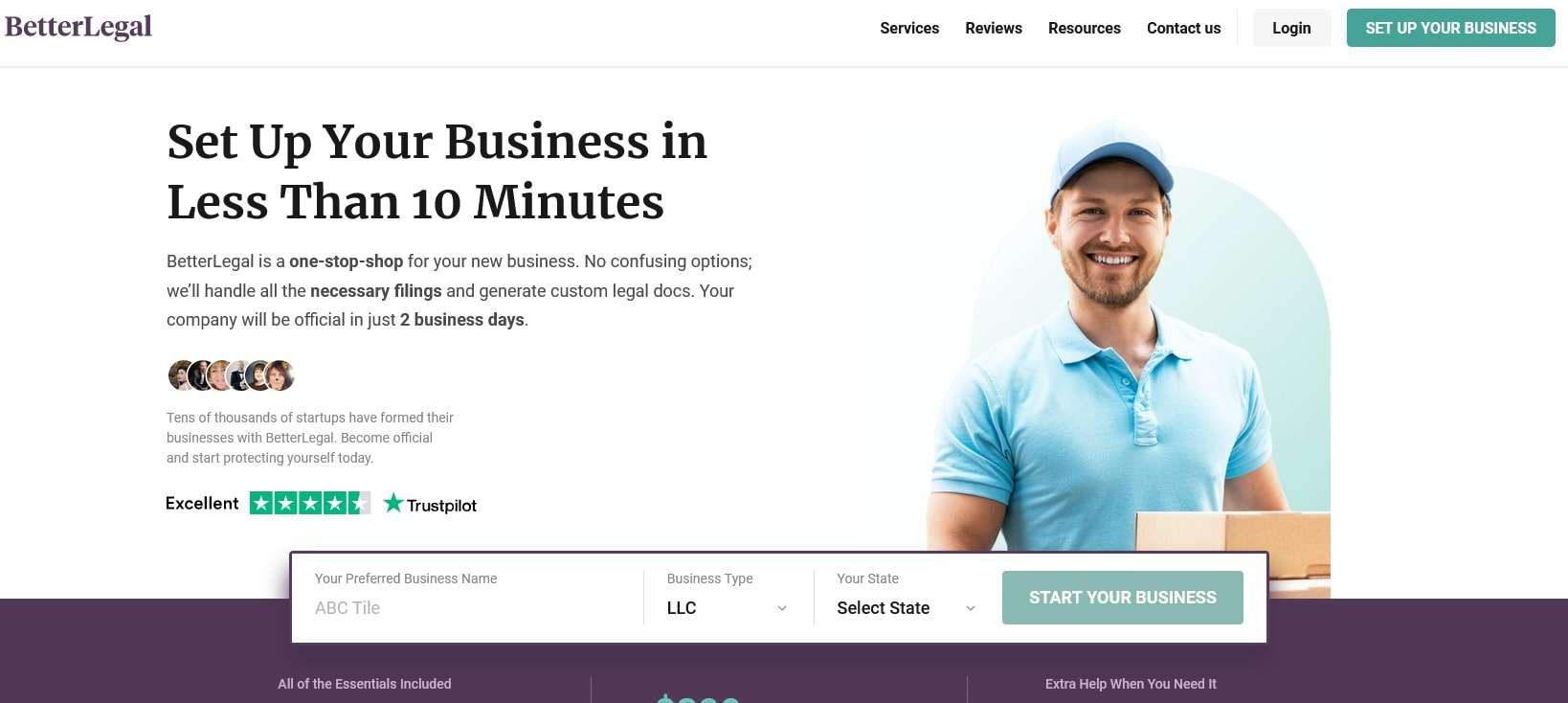 BetterLegal specializes in company research, LLC formation, and registered agent services. One of the offerings of BetterLegal that stands out is the monthly option for registered agent services.
BetterLegal's registered agent service is basic, but add-ons for compliance services are available.
If your company needs a budget plan, BetterLegal could be the right choice for you.
9. Tailor Brands

Tailor Brands is unique because they also provide branding services in addition to registered agent. They have a 24/7 support team and even tax assistants. To date, 30 million entrepreneurs around the world have launched a business using their service. Offering a one-stop shop of services for business owners makes Tailor Brands ideal if you want to knock a bunch of things of your startup list at the same time.
10. LegalZoom

LegalZoom first became known for its legal document creation services. They provide LLC formation, registered agent, and mail services for your business. They send annual registration reminders and even provide identity protection for your New Jersey LLC. These service offerings are great – and you'll see that reflected in the cost. At $249 per year, it's more expensive than other registered agent services.
11. Inc Authority
Inc Authority offers one year of free registered agent services with their business bundles. Registered agent services are $99 after the first year. They also have dedicated business coaches and banking specialists. Their blog offers information and resources about the importance of having a registered agent and the potential consequences of skipping this important step in LLC formation. Inc Authority offers 24/7 support and add-on services helpful for new business owners.
Can I be my own registered agent in New Jersey?
Yes. If you'd like, you can use your home address as your place of business as long as you meet the requirements. However, all business records are public — if anyone searches for your business information, they will see your address.
The requirements in the state of New Jersey insist individual agents be 18 years old or older and state residents. Companies and individuals acting as registered agents must have a physical address in the state. Unfortunately, P.O. Boxes and mail-forwarding addresses do not count. A registered agent must be available to accept documents at the specified address during regular business hours.