Starting your own business is exciting — but keeping up with all the requirements can be stressful.
One of those requirements is selecting a registered agent. According to the Tennessee Secretary of State, entrepreneurs need to have a registered agent to start a limited liability company (LLC) in Tennessee. Otherwise, the business doesn't comply with state law.
Business owners also need a physical address to receive official mail and other documents during business hours. Unfortunately, this can't be a P.O. box.
A registered agent receives business documents on your behalf, such as tax documents and important annual report reminders. They scan the documents into an online portal and then notify you.
Now that you know why you need a registered agent, who should you pick?
Let's go over the best Tennessee registered agents and the advantages of each option.
Top 6 registered agent services in Tennessee
If you're looking for an inclusive, seamless registered agent service provider in Tennessee, there are many options.
Here are the six best Tennessee registered agent services:
Prices were quoted at the time of publication and are subject to change.
1. Northwest Registered Agent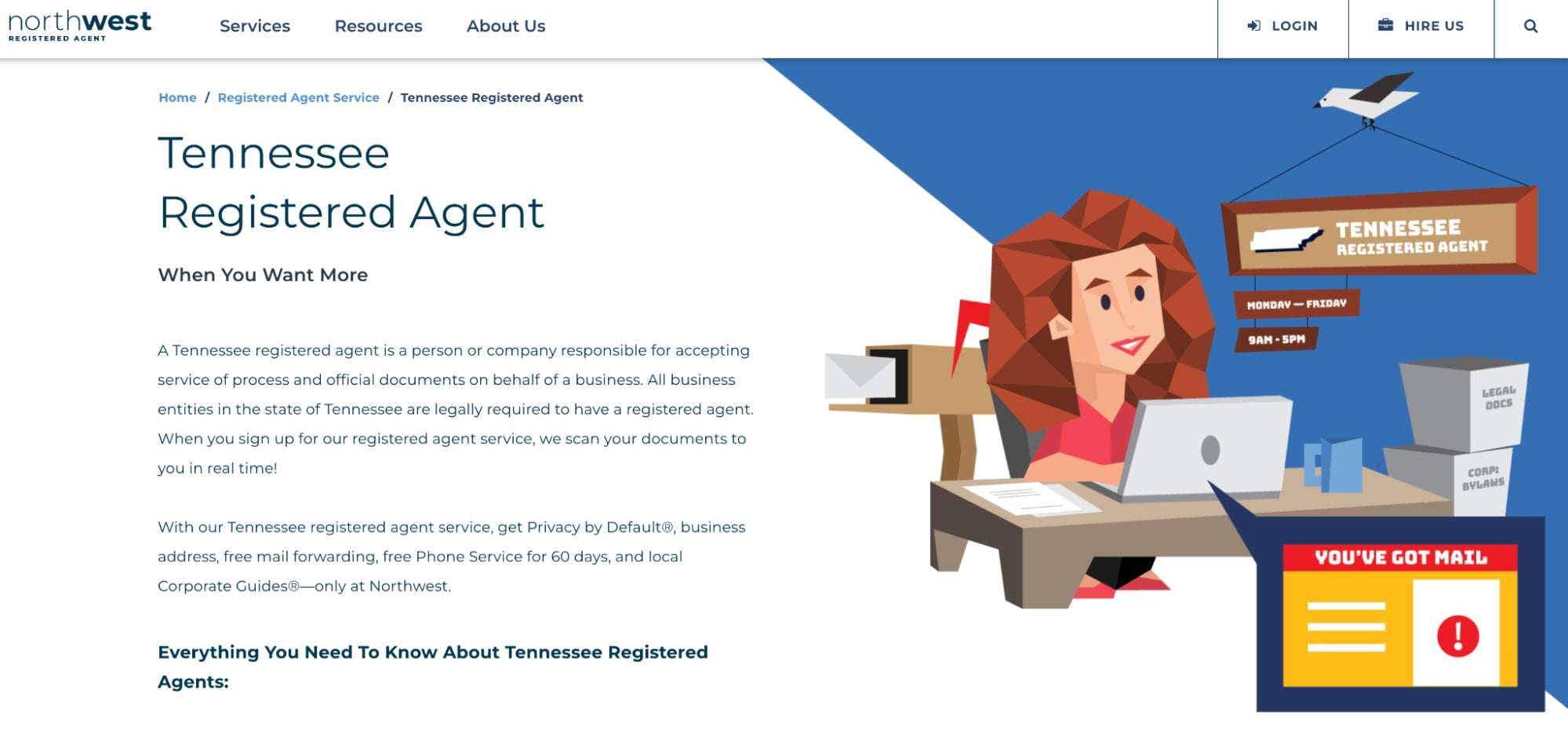 If you're looking for the best of the best at an affordable price, look no further than Northwest Registered Agent. Whether you're a large enterprise or a small business, Northwest's extensive services cover everything you need to start and grow your business.
The service provides a registered business office, all-access customer support, and room for your business to grow. Plus, the online accounts portal makes it easy to view documents you've received in the mail.
Offering an affordable price and the most comprehensive customer service system on this list, Northwest Registered Agent is our number one choice.
2. Tennessee Registered Agent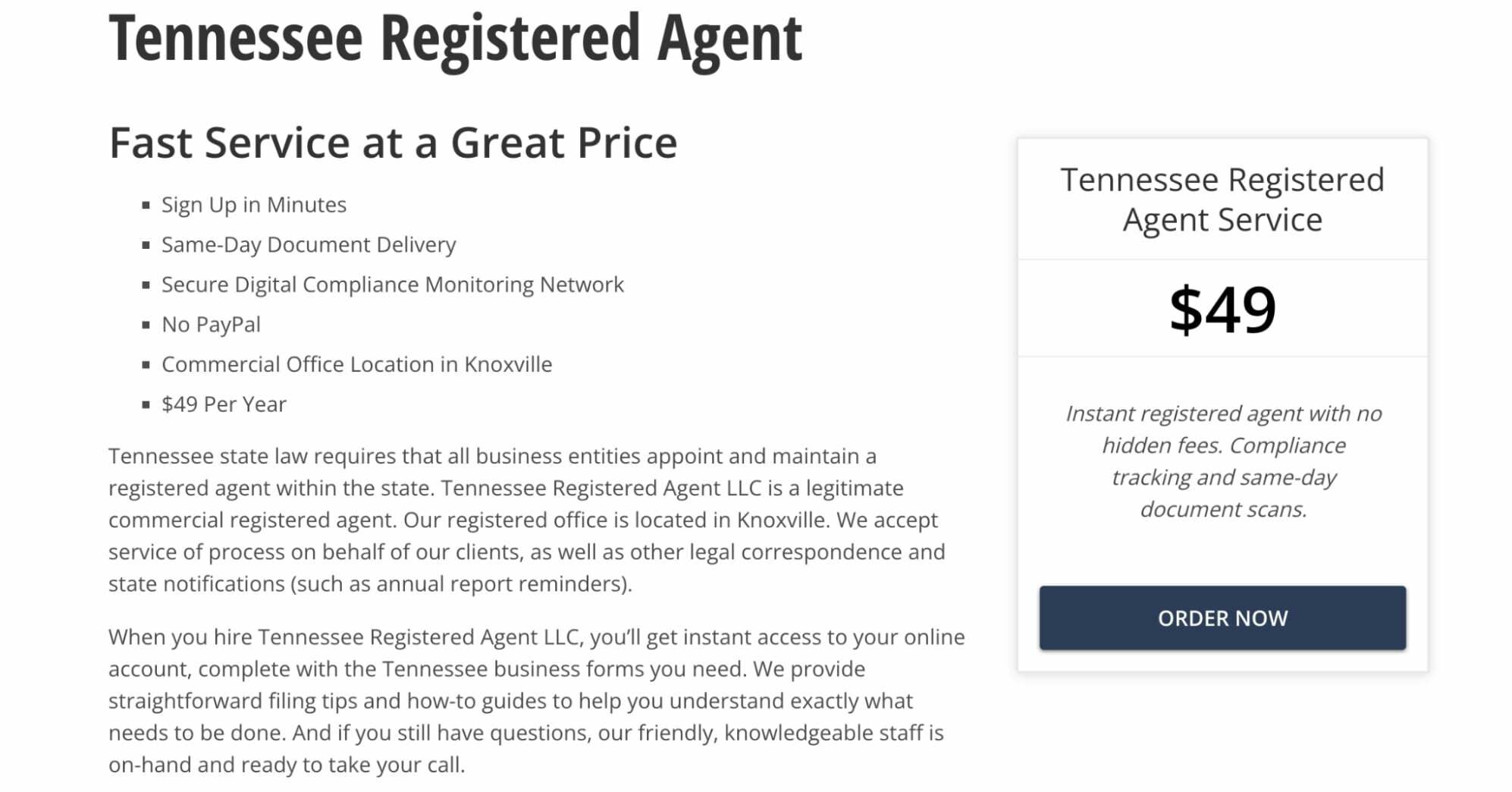 Tennessee Registered Agent's low price point and quality services make it an excellent choice for many businesses.
This company might not have all the bells and whistles of others on this list, but it covers all the basics. If you need help navigating the filing fees for LLC formation or complying with state guidelines, Tennessee Registered Agent has you covered.
3. ZenBusiness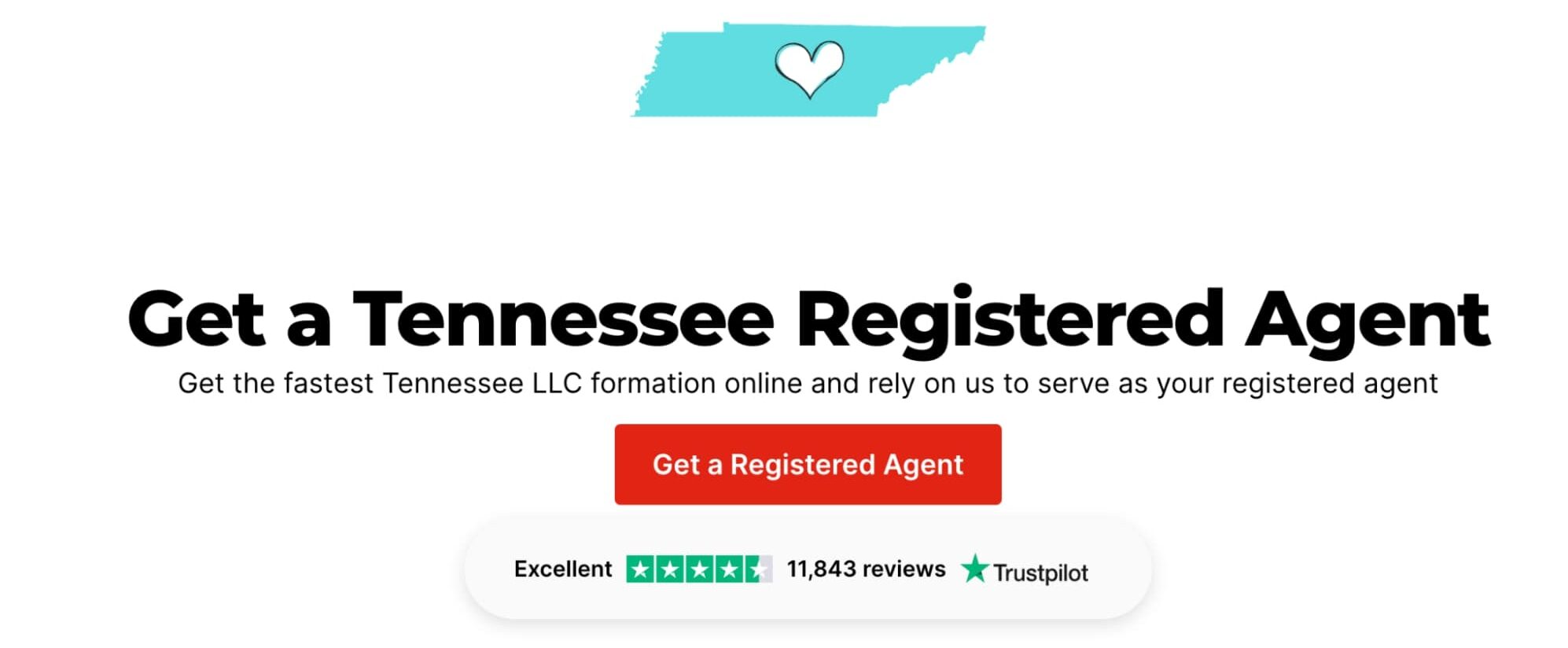 ZenBusiness offers a customized, straightforward approach to registering your business and assigning a registered office. Plus, the intuitive website makes it easy for people who aren't tech-savvy.
The platform is reliable. And ZenBusiness has 4.5/5 stars on Trustpilot, with nearly 12,000 reviews talking about the company's caring customer service and simple software.
4. LegalZoom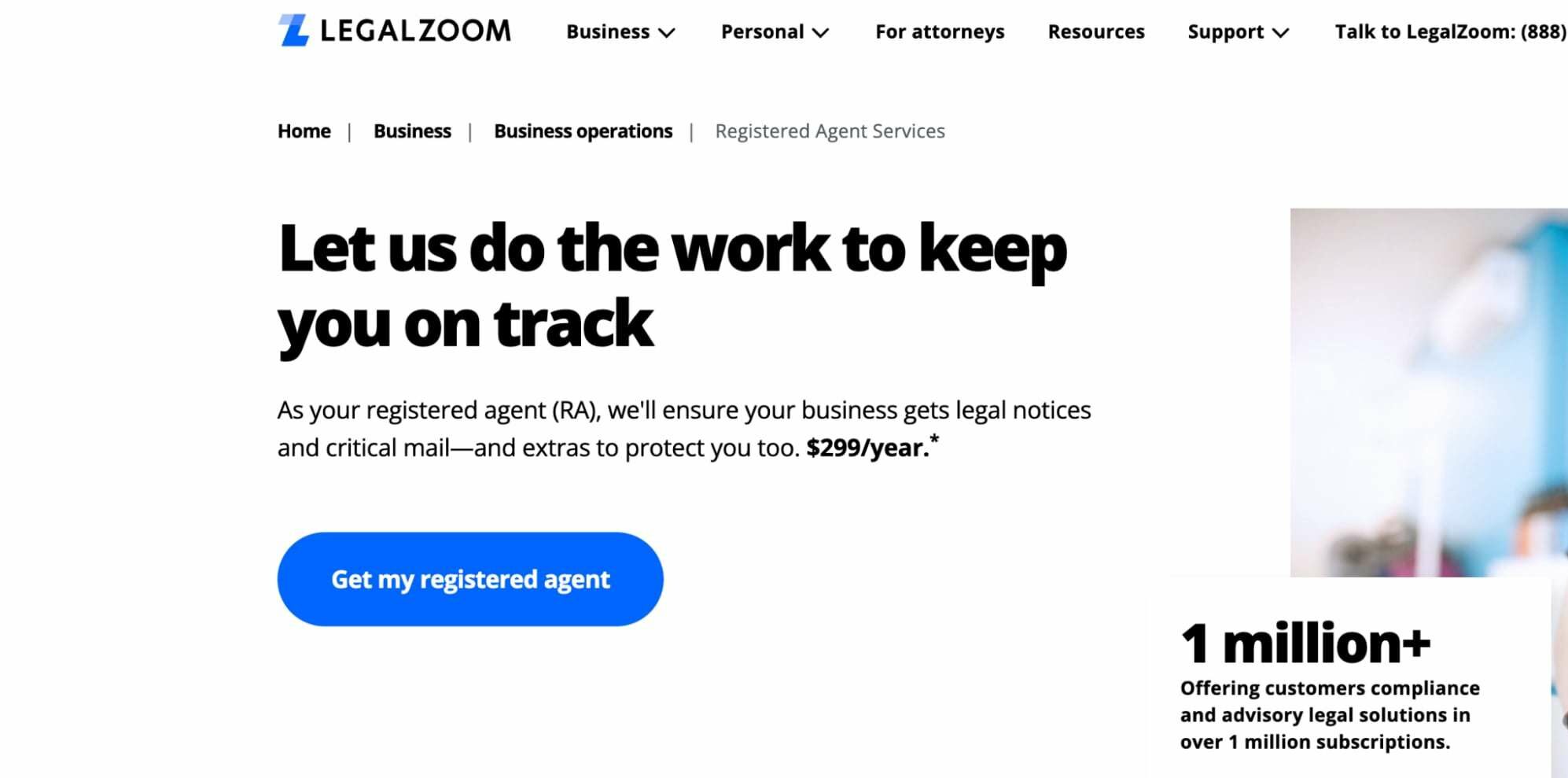 As a seasoned veteran in the industry, LegalZoom offers dependable services to all types of businesses. The extensive range of services has made it a trusted choice for both registered agent services and online legal advice.
Navigating LegalZoom's user-friendly platform is a breeze, even for those with limited technical know-how. LegalZoom might be right for you if you're looking for services that go over the top (including legal advice) and can afford its higher price point.
5. Incfile 

Incfile is an efficient and cost-effective choice for businesses needing everything from LLC formation services to filing annual reports. The competitive pricing is especially appealing for startups. And if you're looking to expand to other states, Incfile makes it easy.
Businesses that file their LLC through Incfile will receive one year of registered agent services for free. While Incfile may not have as many premium features as some competitors, it consistently delivers reliable and professional services personalized to your core needs.
6. Rocket Lawyer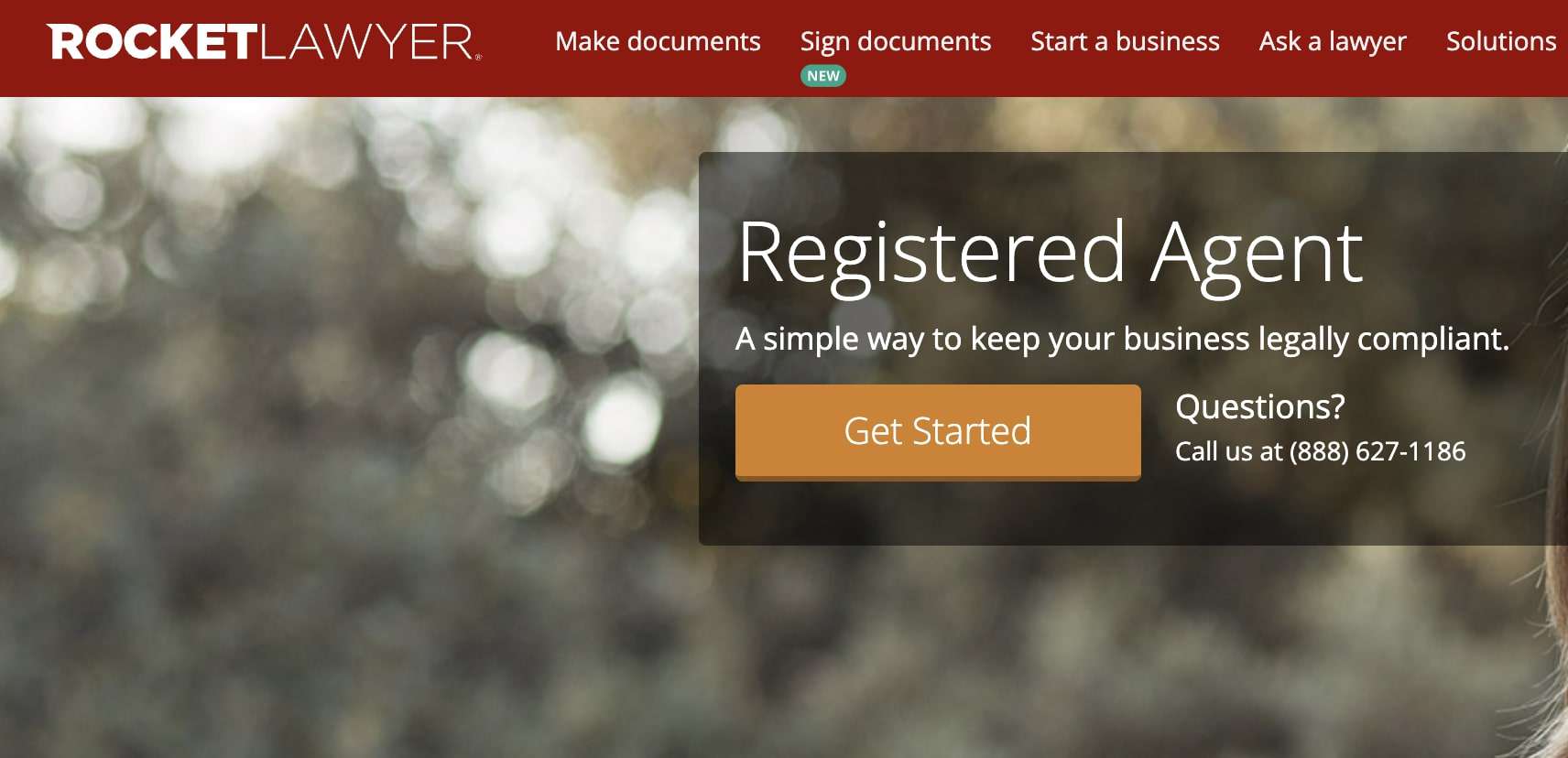 Rocket Lawyer is ideal for businesses seeking long-term legal support and comprehensive registered agent services. Known for an extensive range of online legal services, it caters to businesses of all sizes and offers assistance from LLC formation to estate planning.
Rocket Lawyer has a strong track record of helping businesses. It provides near-instant notifications, assists with crafting articles of organization, and helps with general business services.
Rocket Lawyer is a strong contender for businesses searching for a one-stop shop for all their legal needs.
Verdict: The best Tennessee registered agent service
Selecting a reliable Tennessee registered agent service can be a tough decision since so many options are available.
But no matter what company you choose, you'll get more time to spend on your core business operations. The best registered agent services offer same-day notifications, an office address, and possibly even legal assistance.
If you're on the fence, we recommend choosing Northwest Registered Agent. This company's unmatched customer service makes it a no-brainer for any business, big or small.