Looking to start an LLC in Louisiana?
Fortunately, Louisiana is quite an affordable place to live and run a business from – new small businesses have an 80% survival rate after the first year in this state.
Furthermore, Louisiana has top-notch universities such as Louisiana State and Tulane that provide a steady stream of entrepreneurial talent, along with a unique culture and heritage.
All of this makes Louisiana a great place to start a new business. And forming a limited liability company (LLC) is the most common option among small business owners. This type of business entity provides personal asset and liability protection for its owners, plus it's easy to manage.
So how do you incorporate an LLC in Louisiana? This step-by-step guide provides all the instructions.
7-Step Guide for Starting an LLC in Louisiana
---
Step 1: Choose a business name for your LLC
Chances are, if you're considering starting an LLC, you already have a few names in mind. But before you can register your top option, you'll need to verify it against Louisiana's business naming requirements.
Your LLC business name must:
Include the term "limited liability company" or an abbreviation L.L.C., or L.C., Ltd.
Be distinguishable from any other company name already registered
Not imply that it's a part of or an agent for the state or the U.S. government
Not contain words that are immoral, deceptive, or scandalous
Not include the words insurance, bank, trust, etc. unless the appropriate state regulatory agency has licensed the LLC
Your name meets all the requirements. Great, now you'll need to verify its availability.
To check whether your name is available, you can do a business name search on the Louisiana Secretary of State's website. Be sure to look up the full name you plan to use (with LLC abbreviation included).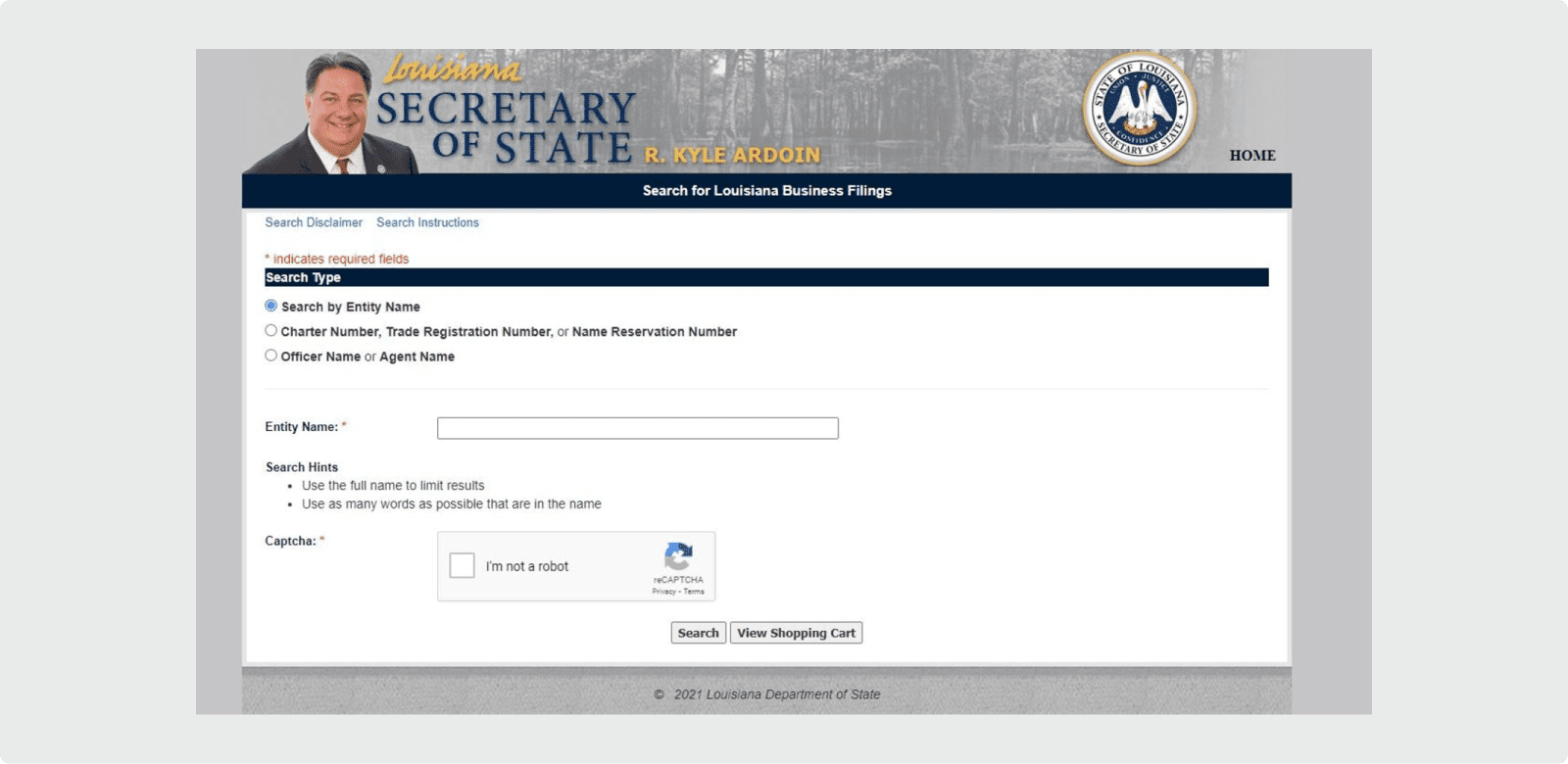 Along with a business name, you should also check if a domain name is also available. After all, every business needs a website these days.
Make a name reservation
Once you confirm that your business name is available and meets the rules, you may choose to reserve it.
Reserving a business name isn't required to form an LLC. Instead, you may opt for this if you are not ready to begin the company incorporation process just yet.
Filing a name reservation costs $25, and it reserves your selected company name with the state for 120 days.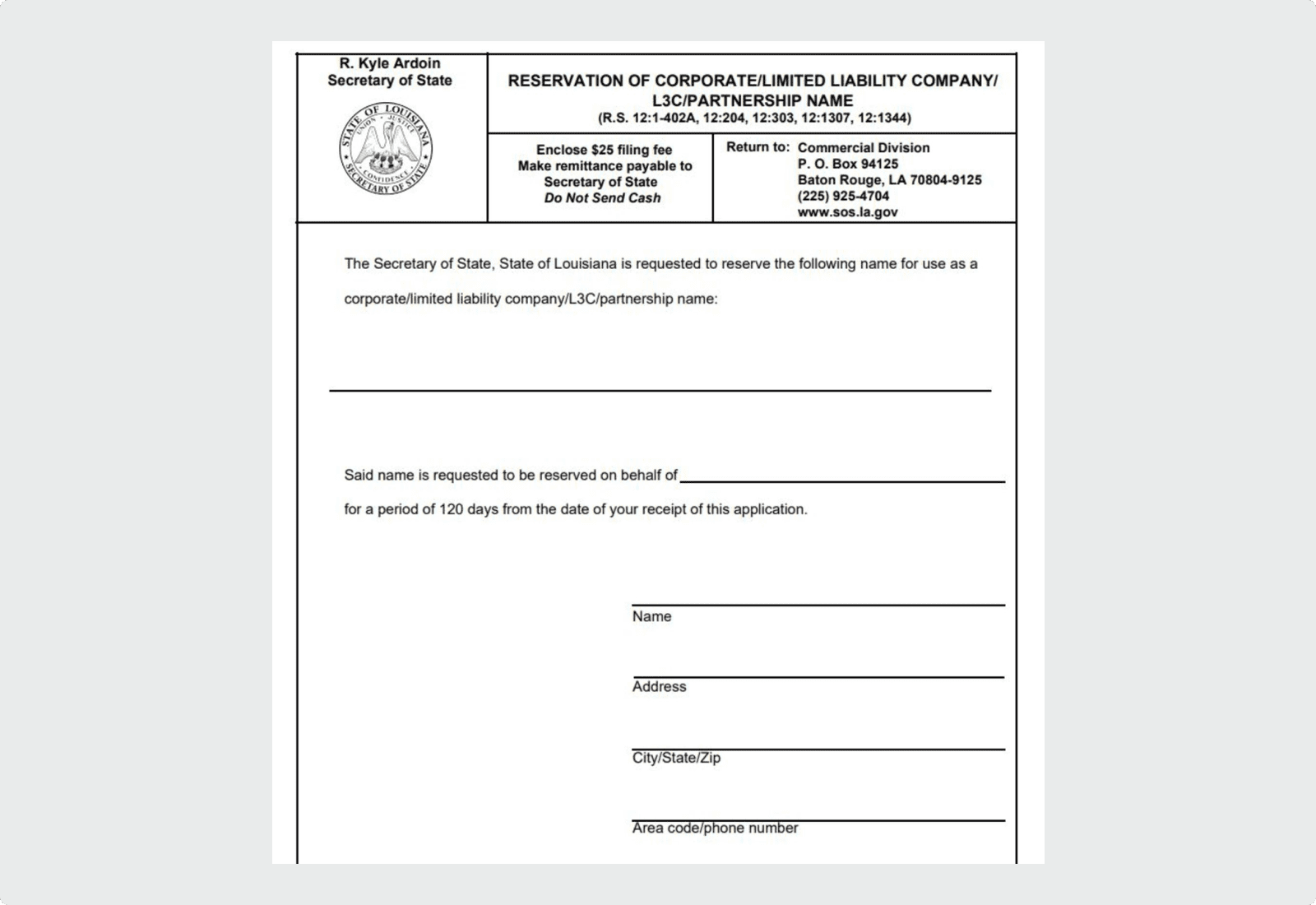 Trade name
When you want to use a name that differs from your legally registered business name, that's called using a trade name.
Trade names can also be called DBA (doing business as), assumed, or fictitious names.
Not every business needs a trade name. But it makes sense to register one as:
A sole proprietor who doesn't want to use their legal first and last name as the business name.
A company with a legal name that's vague or generic (e.g., "New Orleans First Enterprises, LLC").
A company that wants to offer multiple services or products. A trade name can let them market each product individually.
If you need to register a trade name in Louisiana, the process is straightforward. You'll need to complete an application with the Secretary of State and pay the $75 filing fee.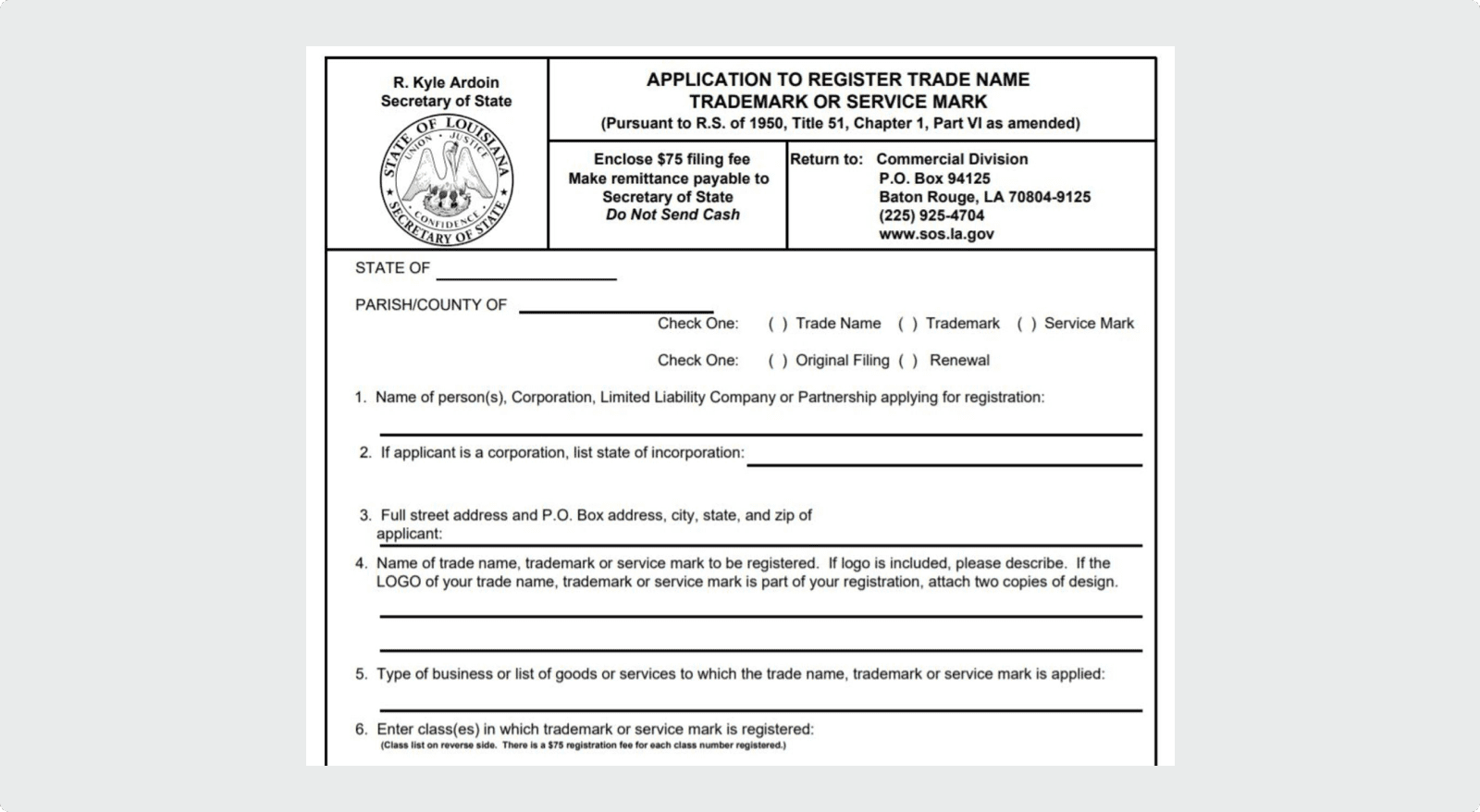 Step 2: Designate (or become) a registered agent
Choosing a reliable registered agent is the next important step.
A registered agent is a person or company responsible for accepting legal documents, sometimes called service of process, and other important tax and administrative notices on behalf of your company.
You'll need to list the registered agent details on your company formation documents – full name and address.
Louisiana requirements for registered agents
You or any other person can act as a registered agent as long as they meet the following state requirements:
At least 18 years old
A legal resident of Louisiana
Has a physical address in Louisiana (not a P.O. box)
Will be available there during regular business hours
You could appoint a trusted employee, corporate attorney, or accountant to be your registered agent. Just make sure they agree to accept this role.
Hiring a professional registered agent service
Some LLCs may want to hire a professional service to act as their registered agent instead of appointing someone internally.
Using a professional makes sense for:
LLCs with no physical location in Louisiana
LLCs seeking privacy to keep the business owner's personal address out of the public record
Owners who don't want to be available from 9-5 year-round
Hiring a professional company will cost between $100 and $300 a year, depending on the selected service package.
Step 3: File Louisiana LLC Articles of Organization & Obtain a Certificate of Registration
After you've settled on your company name and registered agent, you're ready to form your LLC by filing your Articles of Organization. It's the document that officially creates your business and lets you operate in Louisiana.
Articles of Organization is a short two-page application form where you'll list important information about your company, such as:
Company name and address
Registered agent contact information
Names and contact details for members (e.g., owners)
The filing fee is $100 for domestic LLC formation and $150 for foreign LLCs.
In both cases, you can file your Articles online through Geauxbiz.com. Or hand-in or mail-in a
paper application to the Secretary of State.
Louisiana's Articles of Organization need to be witnessed and signed by a notary if you submit a paper application.
Registering your business online not only provides a quicker response (typically a few business days). Moreover, you can also register to receive your state tax identification number and apply for an unemployment insurance account from the same portal.
In a rush? No problem. Louisiana SOS offers two tiers of expedited processing for an additional fee.
Once your LLC has been approved, you should request a certificate of organization from the state of Louisana. This will be helpful as you grow your business and have financing, banking, and other needs. The state of Louisiana charges $15 for this document.
Step 4: Prepare an LLC operating agreement
The next you need to take is to draft an operating agreement for your business. Louisiana doesn't legally require your LLC to have an operating agreement.
But it's a sound idea to have one, especially as a multi-member company. Why?
Because an operating agreement spells out how your company will operate and be managed.
The document also details how you'll make big decisions like adding a new member or issuing profit distribution.
To prevent disputes between members in regards to the above, an operating agreement has to specify:
Company name and primary purpose
Member names, contact information, and initial contribution amounts
Methodology of how profits and losses will be allocated
Process for admitting new members and letting members leave
The voting process for any type of company decisions
Dissolution procedures to close the company
You can find standard operating agreement templates online to customize as per your needs. Or you can (and should) hire an attorney to prepare one for you.
Step 5: Obtain an EIN (Employer Identification Number) from the IRS
After your Articles of Organization are approved by the Secretary of State and you have drafted an Operating Agreement, you'll want to get an EIN from the Internal Revenue Service.
Although the name implies that you're an employer, an EIN is necessary for all multi-member LLCs, regardless of whether they have staff. You'll also need an EIN to:
Hire and pay full-time employees
Report federal income tax
Pay for any type of federal license or permits
Single-member LLCs, reporting taxes as a sole proprietorship and without payrolled employees, can skip EIN application and use a social security number for federal tax purposes.
Getting your EIN is quick and easy when you apply on the IRS website. It will take less than 15 minutes, and your ID number will be issued immediately. The application is free.
Step 6: Costs to set up an LLC in Louisiana
The only required cost to start an LLC in Louisiana is the cost to submit your Articles of Organization. This is $100 for domestic LLCs and $150 for foreign LLCs.
Other optional costs include name reservation ($25), fictional name filing ($75), and professional third-party service (around $100).
Additionally, business owners will be required to pay a $30 Annual Report fee each year to the State of Louisiana.
Step 7: Next Steps
After your business has been approved and you've completed the previous steps, there are still a few best practices for your Louisiana company. The first is to set up a separate business bank account.
To open a business account, most banks will want to see your approved Articles of Organization, EIN, and a personal ID document. Creating a separate business bank account helps keep business and personal funds separate and helps with accounting for the business's activities.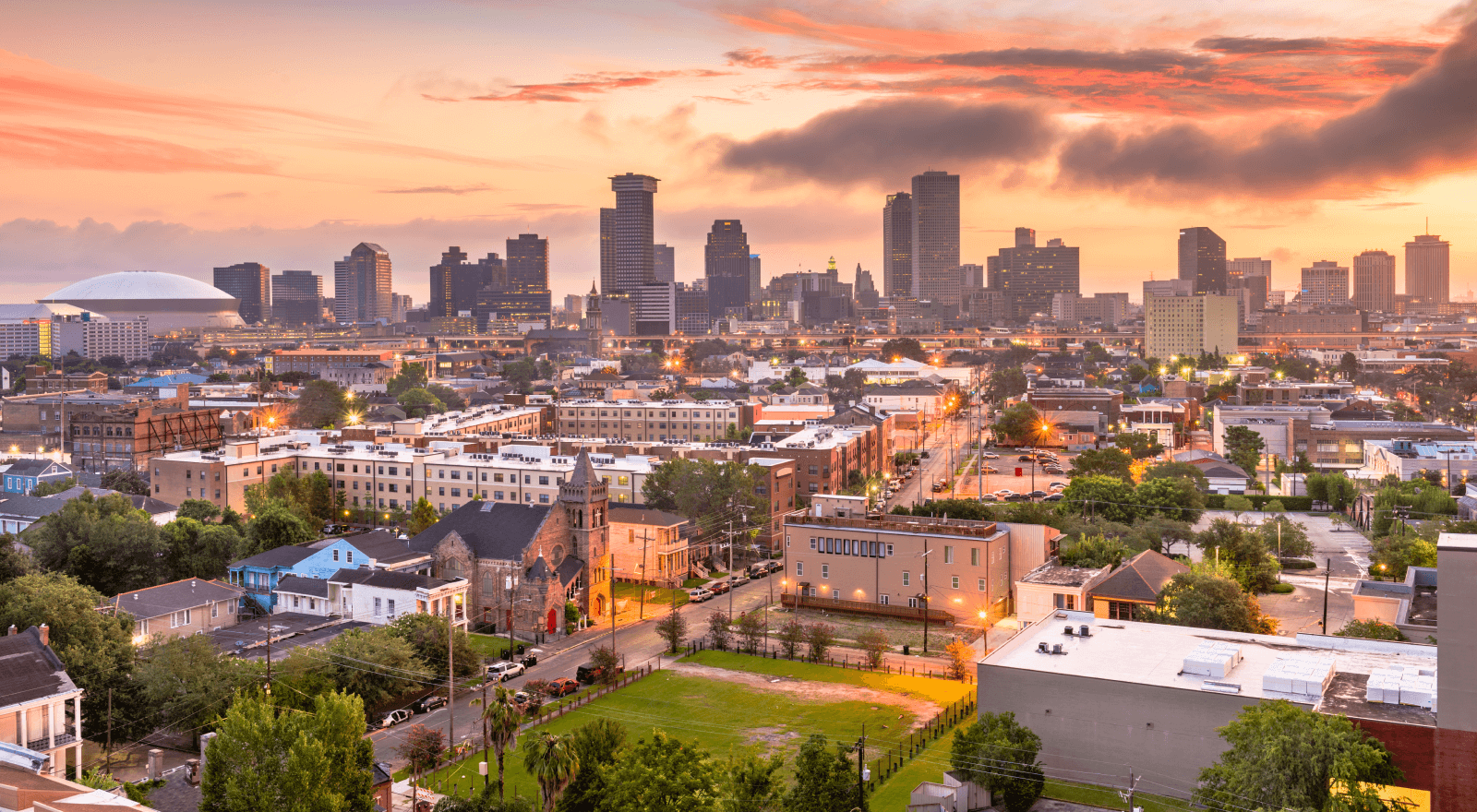 Another good step may be to register your new business with other Louisiana offices like the Department of Revenue (DOR) and the Louisiana Workforce Commission.
If you sell taxable goods or services in Louisiana, you'll need to collect sales tax from your customers and send it along to the Department of Revenue each month or quarter.
Registration with the Workforce Commission is necessary if you plan to have local employees. In this case, you'll have to meet state employment tax requirements such as state income withholding and unemployment tax payments.
You can either register directly with them or through Geauxbiz.com during the initial company formation step.
Pros and cons of forming an LLC in Louisiana
Starting your new business in the Bayou State has some distinct advantages, but this decision isn't without its drawbacks either. Here's a summary:
The good:
Relatively low state fees for company formation
Low ongoing maintenance expenses
No state franchise taxes for LLCs reporting taxes as a partnership, sole proprietorship, or S-corporation
The bad:
One of the highest combined state and local sales tax rates
Specific municipalities may require general business licenses
Annual report filings are mandatory to maintain a good standing
Commonly asked questions
Here are the most frequently asked questions regarding LLC formation in Louisiana.
Advertisement
LLC Formation Service
LLC Formation: $39 + state fees
Pricing:
Turnaround Time:
Help & Support:
Customer Satisfaction:
Ease of use:
Best LLC Service 2023

Formed 1,000,000+ LLCs
$39 formation includes registered agent service
Fast formation & same day filing
Exceptional customer reviews

Last updated:
Sep 2023