Deciding on the legal structure of the business is the first step for new entrepreneurs. Many choose an LLC for its simplicity in setup, flexible managerial structure, and extended personal asset protection.
An LLC can have one owner (called a "member") or multiple owners ("multiple members"), making it a scalable business entity too.
Indiana is popular for LLC registration due to low initial company registration costs and biannual (rather than annual) reporting and fee payments.
The registration process is relatively simple and can be completed by following a few steps outlined in this guide.
Steps to Get an LLC in Indiana
---
Step 1: Secure a name for your LLC
A company's legal name in Indiana must comply with specific rules and requirements.
All new business names to be unique and different from those of existing legal entities within that state.
Abbreviations such as "LLC," "LLC," or "Limited Liability Company" must be present in your registered company name.
Should you request accreditations, professional designations, or non-profit status in your name, additional proof of status will be required from the state of Indiana.
To check if the selected LLC name is available, use the Indiana Public Business Search Database. Alternatively, you can create an account with the state of Indiana to research potential names and complete your reservation.
Click the link to the Indiana Business Portal and create an account to begin the online reservation process.
Once you have created your account, use the "Start a New Business Section" to begin the registration process.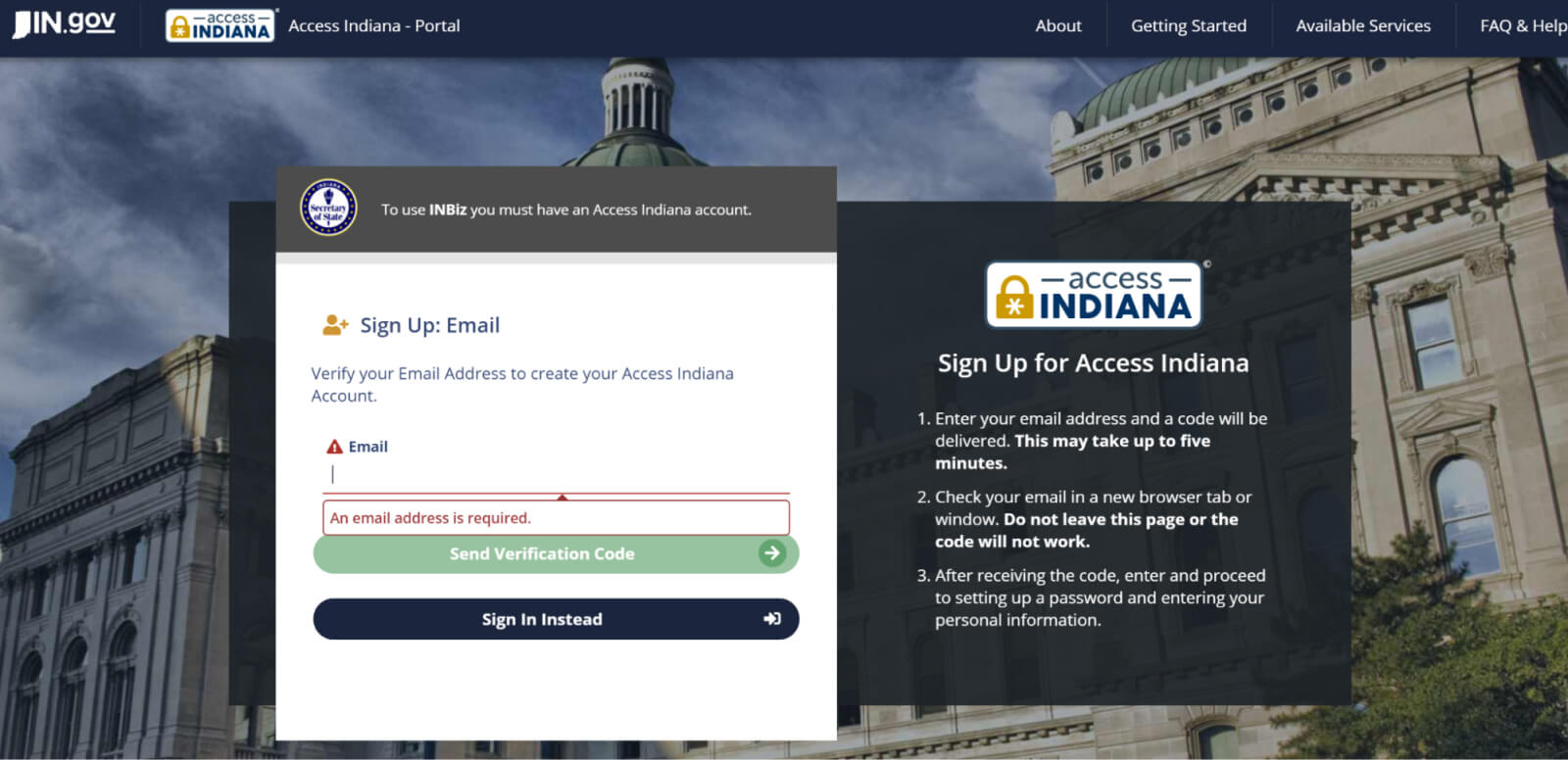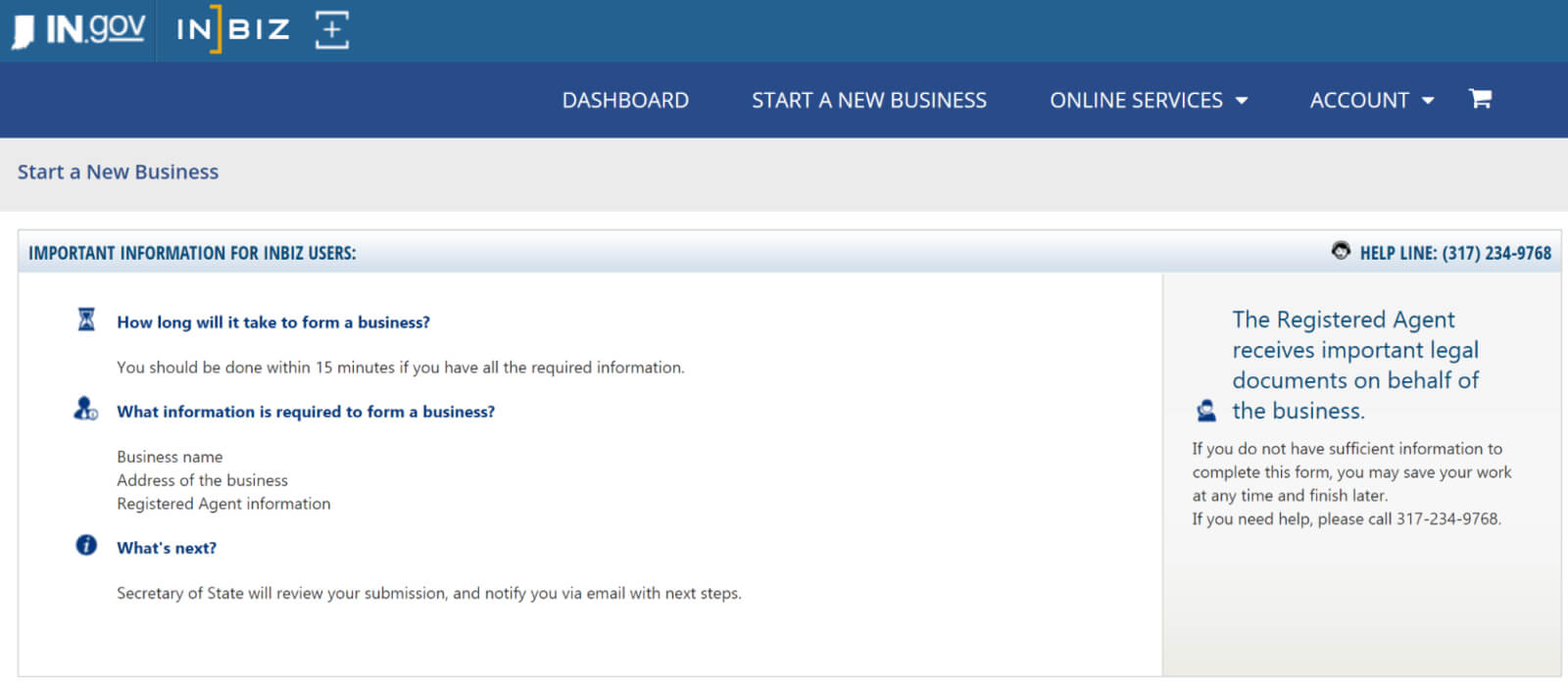 The cost to reserve a corporate name in Indiana is $20, and the reservation is valid for 120 days. Afterward, you can extend your reservation for another 120 days for a $20 fee.
Some entrepreneurs also choose to obtain a Doing Business As (DBA) certificate for their company.
A DBA (also known as an assumed name in Indiana) allows you to run a business under a name different from that of your legal entity.
For example, "John Smith LLC' might be the business's legal name that operates as "John's Plumbing." In this case, "John Smith LLC" would need to file an assumed name request form with the state of Indiana to operate as "John's Plumbing."
The assumed name registration cost in Indiana is $30 per name.
Step 2: Designate a registered agent
All Indiana LLCs must have a registered agent listed in the company's application.
In essence, a registered agent is the legal representative of the business and the main point of contact for state notices, letters, and other business and legal documentation.
There are several requirements the state imposes for registered agents. They must be:
Physically located in Indiana and have a valid street address (not a PO box).
Of legal age (18 years or older)
Your business (as a legal entity) can't be designated as a registered agent. But anyone affiliated with your company can (an employee, stakeholder, or an accountant, for example). LLC owners can also list themselves as registered agents.
Many businesses also choose to use a registered agent company to handle the process of service documentation on their behalf.
Registered agent fees in Indiana range from $60-120, depending on the level of service.
Step 3: File for articles of organization with Indiana Secretary of State & Obtain a Certificate of Existence
Filing your articles of organization with the Indiana Secretary of State is the key step of incorporating your business.
The state of Indiana requires applicants to provide the following information with their Articles of Organization:
The Name of the LLC, which must include "LLC" or "Limited Liability Company"
The period of duration for the LLC
The name and address for the Registered Agent
The management structure of your company
The signature of at least one manager, member, or organizer
The state of Indiana charges a filing fee of $100 with the submission of your Articles of Organization.
The articles can be filed online or by mailing/handing in a completed Form 49459 to the Indiana Secretary of State.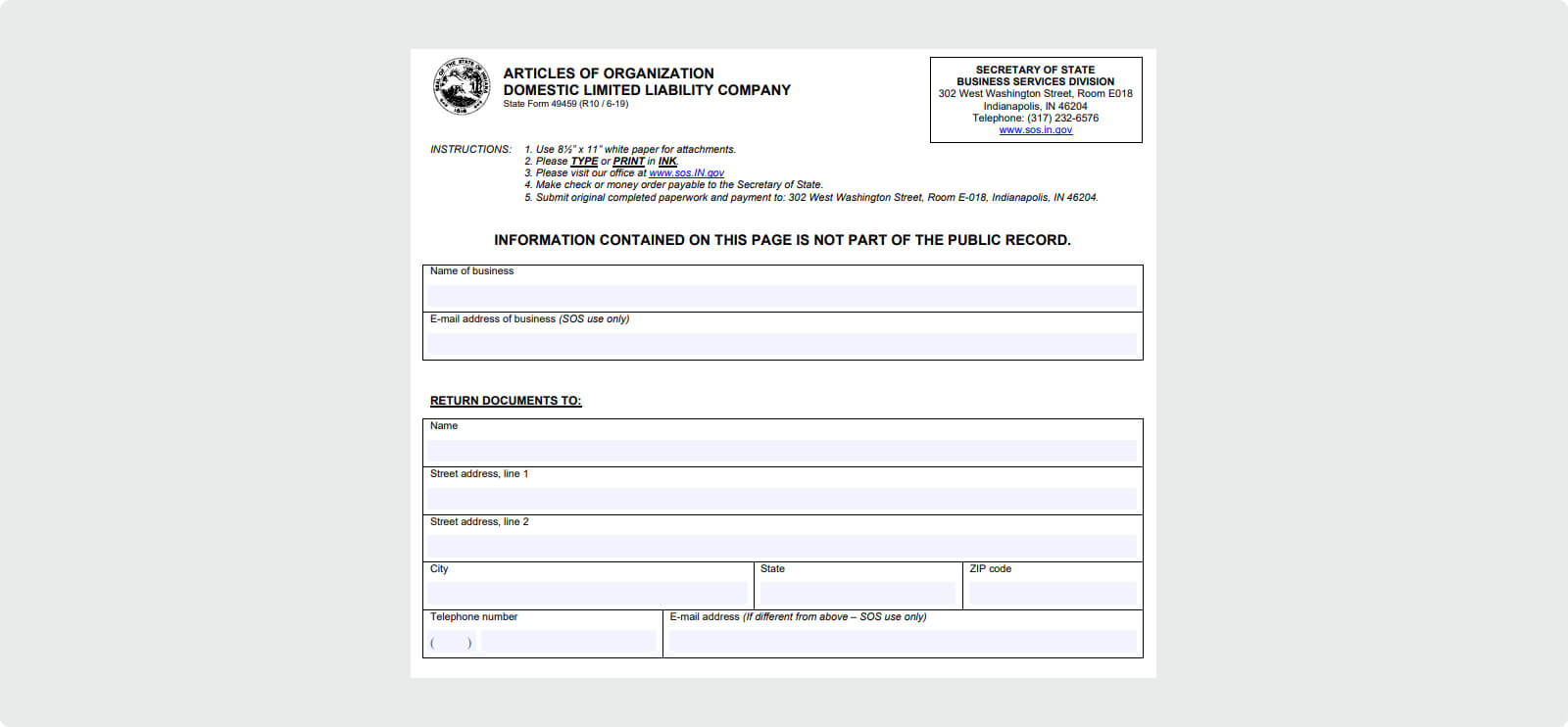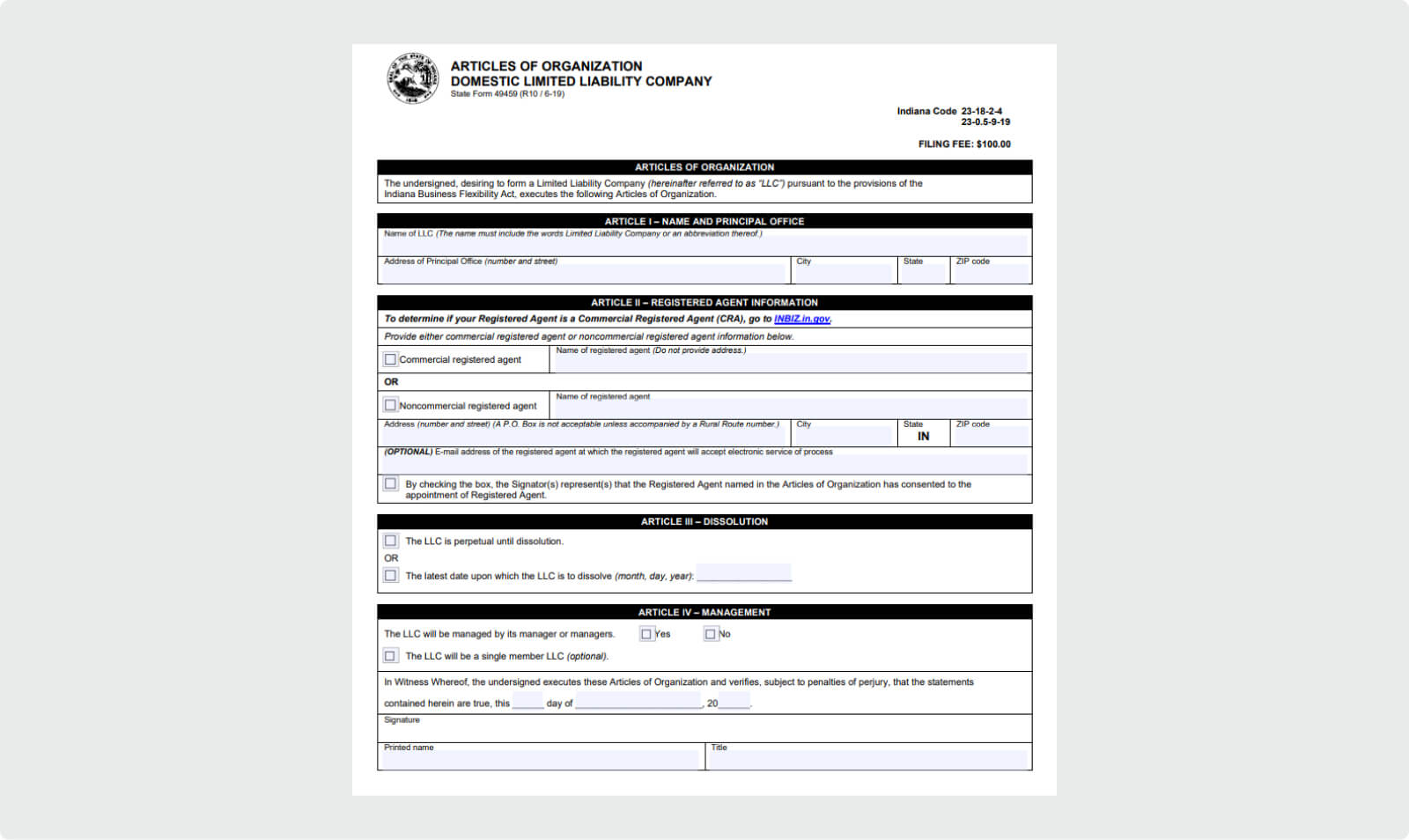 Once submitted, the company document processing time varies depending on the submission method:
1-2 days for Articles of Organization, submitted via an online portal
7-10 days on average for mailed-in or handed-in documents
At present, Indiana SOS doesn't offer any expedited services.
Once your LLC has been accepted and approved, business owners should obtain a Certificate of Existence from the state of Indiana. This costs $26 and can be requested from the state's online portal. The Certificate of Existence will assist your business in future financial and loan applications and will assist in creating a business bank account (see Step 7).
Step 4: Prepare an LLC operating agreement
Business owners are strongly encouraged to draft an operating agreement for their LLC. While the state of Indiana doesn't require an operating agreement, it's still good to prepare one for a multi-member LLC.
An operating agreement outlines how the business will function, specifies the duties of different LLC members, and how ownership can be transferred.
For example, should one member of the business decides to retire or pass away, what happens to their ownership interest? Or how will annual profit distribution take place? Which member has management authority?
You can outline all of these questions in an operating agreement agreed to by all of the managers.
While Indiana doesn't provide a form to use, many online legal providers sell customizable templates for operating agreements.
Step 5: Obtain an EIN (Employer Identification Number) from the IRS
After filing your Articles of Organization and drafting your operating agreement, businesses should submit a request to the Internal Revenue Service (IRS) for an Employer Identification Number (EIN).
It's worth noting that every step thus far has involved the State of Indiana. The request for an EIN is through the federal government.
EIN is required to submit your federal income tax returns. However, you can use your social security number if you have a sole proprietorship tax classification.
Additionally, an EIN is required to hire employees. Some financial institutions and lessors may also require this number to open a business bank account or request a loan.
You can submit EIN requests online via the IRS website or a paper application on Form SS-4. The portal allows the applicant to receive their EIN within minutes of applying.
The applicant must answer a series of questions about the business pertaining to the company's legal structure, number of members/owners, the state of the business, the reason for requesting an EIN, etc.
The application should take no longer than 15-30 minutes to complete.
---
Advertisement
LLC Formation Service
LLC Formation: $39 + state fees
Pricing:
Turnaround Time:
Help & Support:
Customer Satisfaction:
Ease of use:
Best LLC Service 2023

Formed 1,000,000+ LLCs
$39 formation includes registered agent service
Fast formation & same day filing
Exceptional customer reviews

Last updated:
Sep 2023
Step 6: Costs to set up an LLC in Indiana
At a minimum, it costs $100 to start an LLC in Indiana. $100 is the cost for filing the Articles of Organization.
Additionally, optional charges include $20 to reserve a business name and $30 to apply for a fictitious name.
Should a business owner need a fictional name, to reserve a name, and a third-party professional registered agent, forming an LLC in Indiana can cost around $250.
Step 7: Next Steps
Your newly established legal entity needs a separate business bank account. Commingling personal and company finances is strongly not advised. Many banks are free to use or charge a very nominal fee. While each bank has its application for a bank account, most will require a business owner to provide a photo ID document, articles of organization, professional business license (if applicable), and EIN (if you have employees).
Business owners need to also register with the Indiana Department of Revenue (DOR) to remit the applicable state taxes. In Indiana, state business taxes include the following.
Property taxes
The state of Indiana taxes a business's non-real estate property worth $40,000 or more annually at a progressive tax rate. These personal property taxes are paid to local governments.
Employee income tax withholding
Indiana businesses must register for an account to collect and remit withholding tax. The tax also applies to non-resident shareholders, partners, and other beneficiaries for distributions of income.
Partnership tax returns
Multi-member LLCs reporting taxes as a partnership are required to file a partnership tax return (Form IT-65) with the state of Indiana each year. This return is due on or before the 15th day of the 4th month after the business's tax year-end. Partnership income flows through to the members.
Commonly asked questions
The following are some frequently asked questions regarding Limited Liability Company formation in Indiana.
Advertisement
LLC Formation Service
LLC Formation: $39 + state fees
Pricing:
Turnaround Time:
Help & Support:
Customer Satisfaction:
Ease of use:
Best LLC Service 2023

Formed 1,000,000+ LLCs
$39 formation includes registered agent service
Fast formation & same day filing
Exceptional customer reviews

Last updated:
Sep 2023