The rules and regulations around limited liability company (LLC) formation vary from one state to another.
But one requirement is definite: every LLC needs to appoint a registered agent.
In Idaho, this legal requirement is governed by Title 30, Chapter 21, Part 4 of the Idaho State Legislature.
In this guide, you'll learn who can be a registered agent for an Idaho LLC, how to handle registered agent's appointments, and where you can find a reliable registered agent service to help you with this critical responsibility.

Last updated:
May 2023
Start your LLC the easy way
Forming your LLC is a checkbox that needs to be ticked. Easy, fast and worry-free. We reviewed the 13 most popular LLC formation services to figure out who truly understands what new founders need. Our recommendation:
LLC Formation: $39 + state fees
Pricing:
Turnaround Time:
Help & Support:
Customer Satisfaction:
Ease of use:
Best LLC Service 2022

Formed 1,000,000+ LLCs
$39 formation includes registered agent service
Fast formation & same day filing
Exceptional customer reviews

Last updated:
May 2023
Who can be a registered agent for an LLC in Idaho?
A registered agent is a private person or business entity that receives legal documents on behalf of an LLC or a corporation. In other states, they are also called "statutory agents" or "resident agents."
Resident agents handle important admin work such as acceptance of:
Service of process notices such as lawsuits and subpoenas
Correspondence from the Idaho Secretary of State
Important documents from other government agencies such as the IRS or Idaho State Tax Commission
Any private person can be a registered agent for an Idaho LLC if they:
Are over 18.
Have a street address in the state. Only physical addresses are accepted, not P.O. boxes.
Can be available at their registered office during regular business hours year-round.
Alternatively, you can appoint an Idaho business entity such as a registered agent service provider to fulfil this duty. The initial registered agent appointment for your LLC is made during the Articles of Organization filing. There's no state fee for this designation.
After appointing your LLC's registered agent, you'll need to keep their information up to date with the authorities. This is done by filing an annual report with the Idaho Secretary of State.
Unlike many other states, annual report filing in Idaho is free.
Still, you need to do this task, or else your LLC will lose good standing with the state and will no longer be allowed to conduct business in Idaho.
Top 8 Registered Agents in Idaho
We put together a list of eight professional registered agent service providers can be your registered agent when setting up an llc in Idaho.
1. Northwest Registered Agent (Fastest)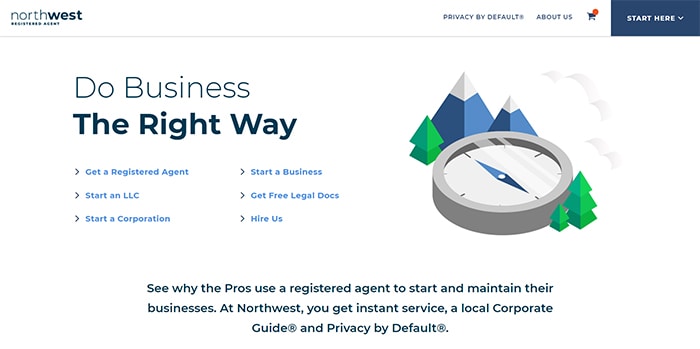 Northwest Registered Agent is our top recommendation for anyone looking for a registered agent service in Idaho.
They offer a complete, well-rounded registered agent service with excellent customer support, favorable conditions, good privacy, and an easy, straightforward sign-up process.
Northwest Registered Agent also distinguish themselves with a customer-friendly 90-day return policy. Should you decide to cancel your service, Northwest will offer you a prorated refund of the fees and costs you paid.
If you are interested in a more detailed assessment of the company and the services they offer, consider reading our in-depth review of Northwest Registered Agent.
Costs:

$125/year

Address:

784 S CLEARWATER LOOP, SUITE N POST FALLS ID, 83854
2. Synergy Corporate Services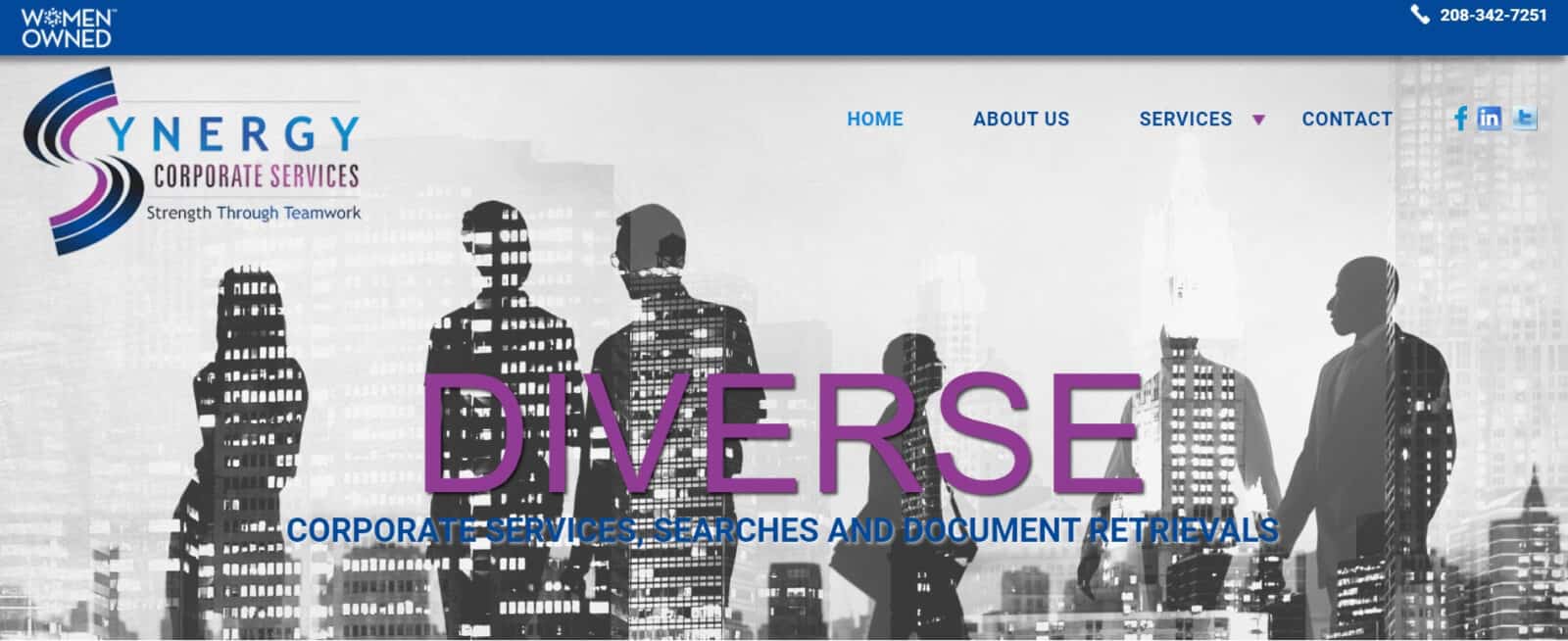 Synergy Corporate Services offers corporate, property, registered agent, UCC, lien, and court search services.
The company forwards all tax notices, state reports, and general correspondence received on behalf of your business via first-class mail.
It also notifies the designated LLC contact on the same day that Synergy receives the Service of Process addressed to that LLC.
Address: 921 S Orchard St suite g, Boise, ID 83705, United States
3. Blake's Registered Agents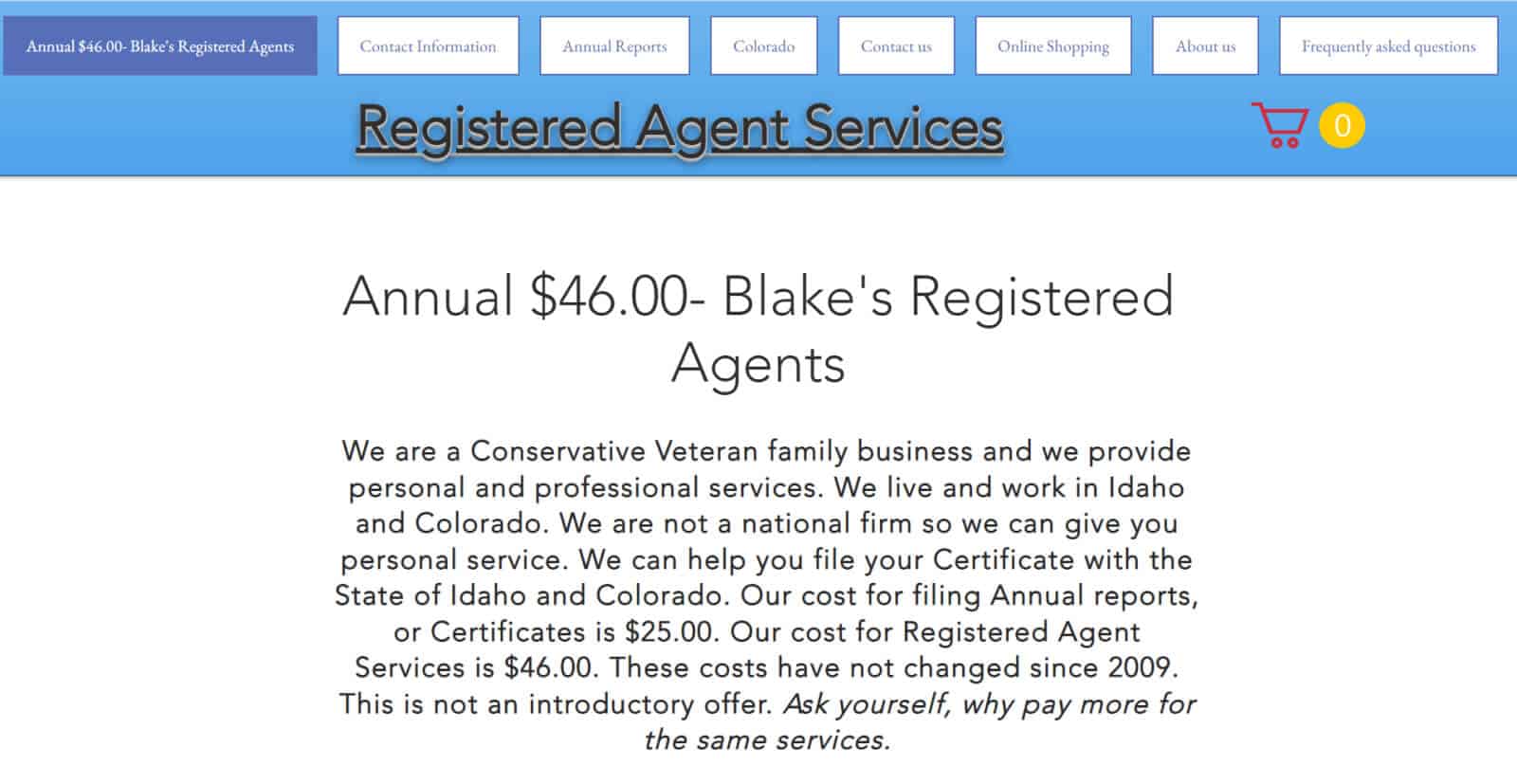 Blake's Registered Agents is a veteran-owned business that provides incorporation, compliance, and registered agent services in the states of Idaho and Colorado.
The company takes pride in providing a registered agent service at a price that hasn't changed since 2009 — just $46 per year.
They are an honest, transparent, and reliable partner any business owner deserves to have.
Costs: $46/year
Address: 19593 Madison Rd. Nampa Idaho 8368
4. MCSA Compliance Consultants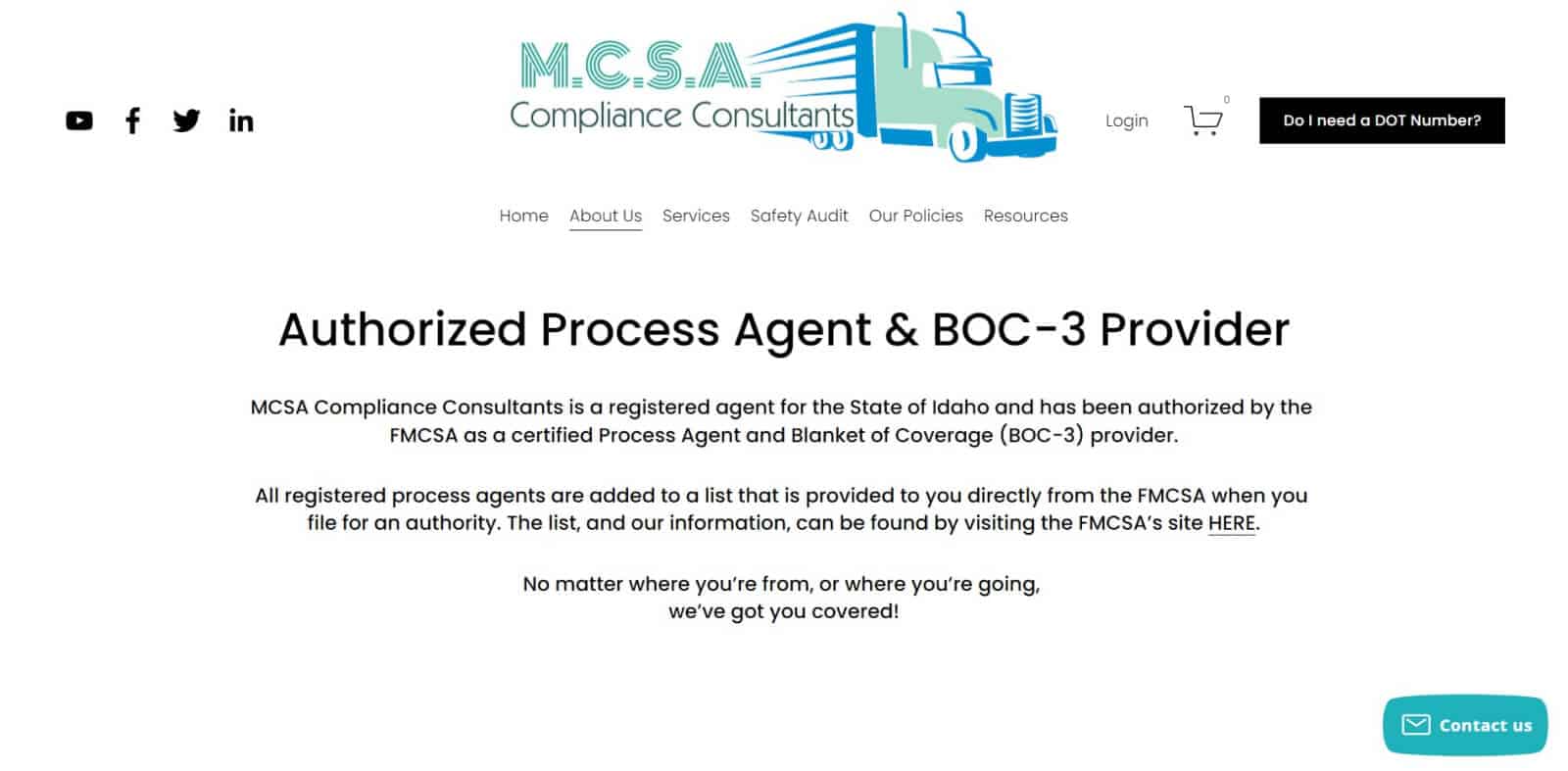 MCSA Compliance Consultants provides business, compliance, and registered agent services.
The company's main focus is helping new Department of Transportation applicants operate legally and abide by state and federal regulations.
Consider them if you're in the trucking industry. Every day, the team files new USDOT numbers for dozens of applicants.
Address: 8310 W Ustick Rd Suite 300, Boise, ID 83704, United States
5. BC Business Services Inc.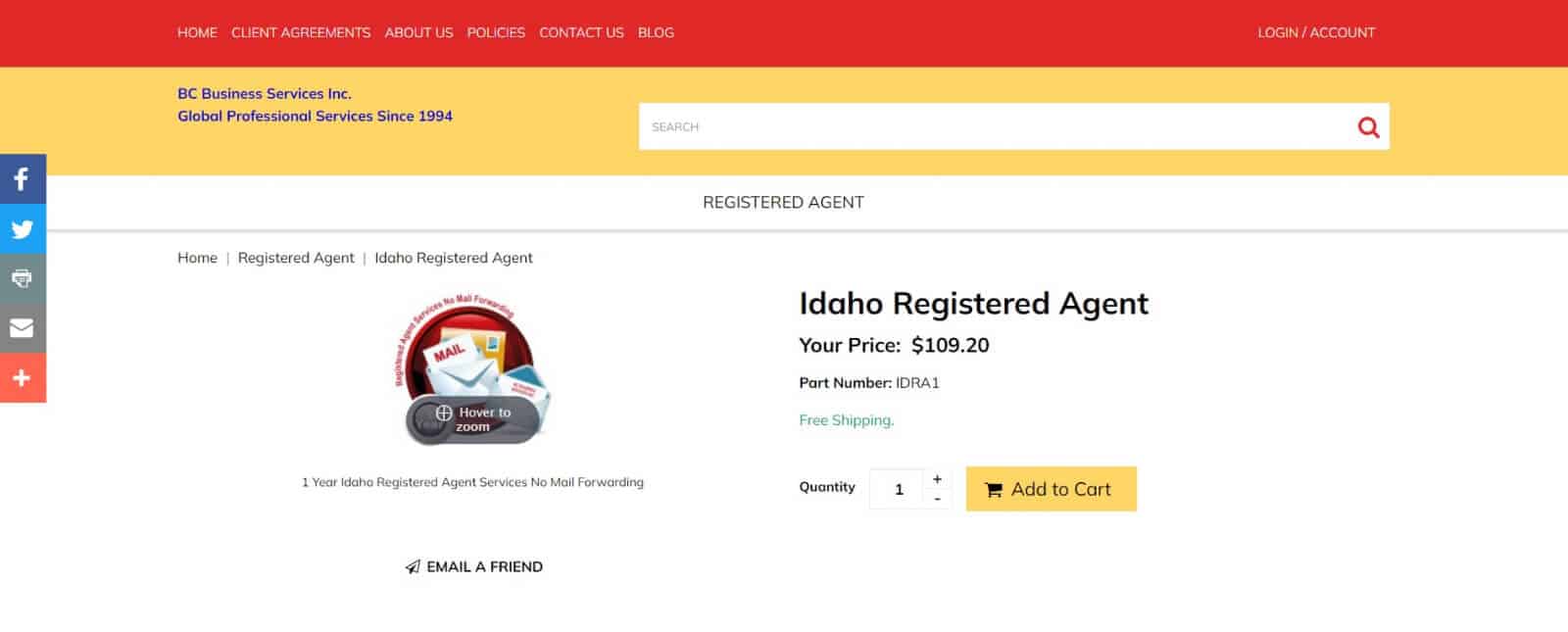 BC Business Services Inc. provides business formation, corporate, managerial, general accounting, and registered agent services.
The company has worked with both domestic and international clients since 1994.
Apart from servicing LLCs and corporations, the team also provides incorporation services for nonprofits, including grant writing, tax, and compliance.
Costs: $110/year
Address: 1310 South Vista Avenue Ste 27, Boise, ID. 83705, US
6. Idaho Registered Agent LLC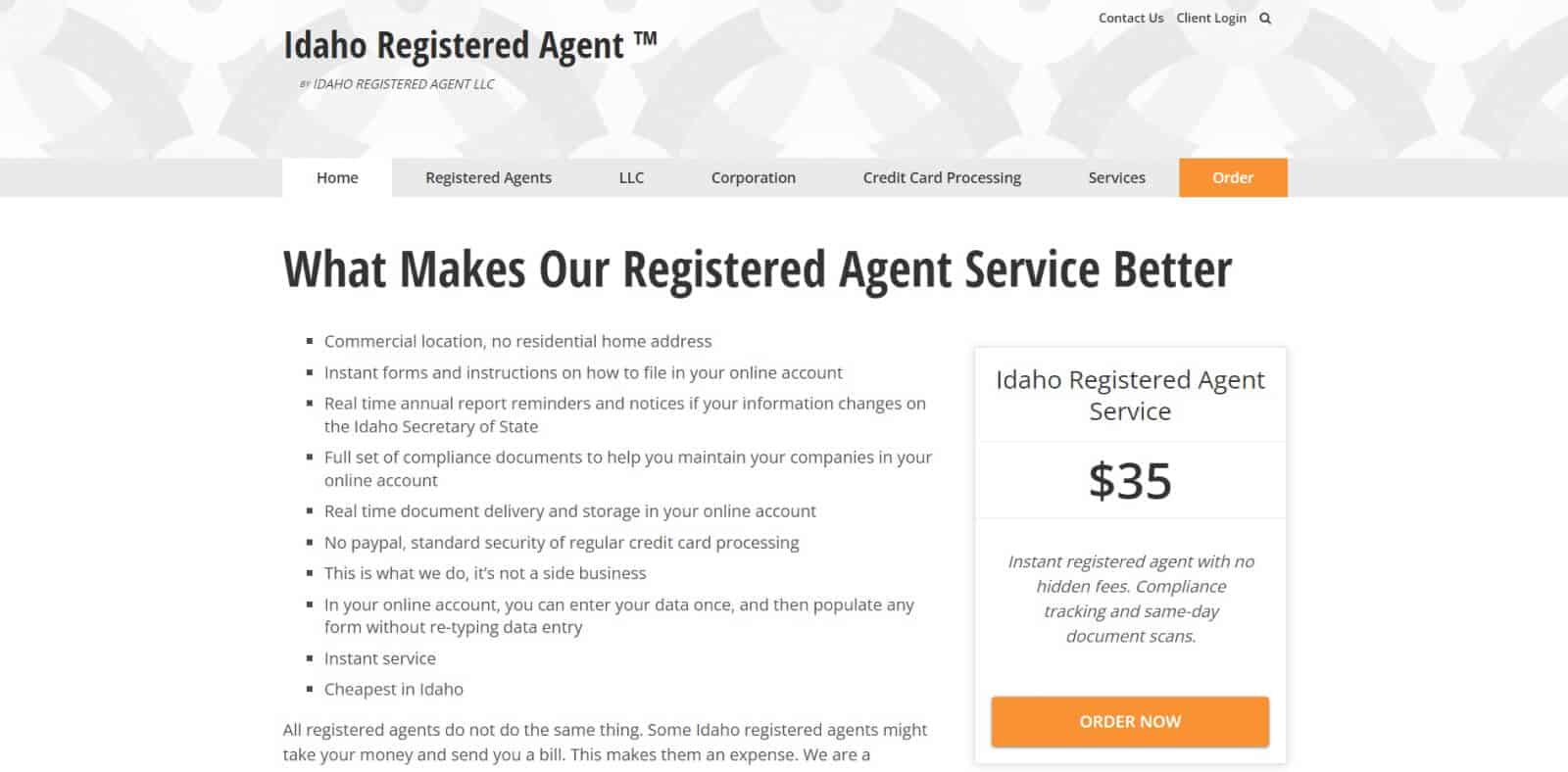 Idaho Registered Agent LLC provides LLC formation, incorporation, and registered agent services, as well as credit card processing consultations.
The company doesn't offer mail forwarding but will scan all legal documents addressed to your LLC, upload them to your account, and notify you via email.
It's the most affordable Idaho registered agent service provider on this list.
Costs: $35/year
Address: 424 E Sherman Ave, Coeur d'Alene, ID, 83814, United States
7. Charles Bean & Associates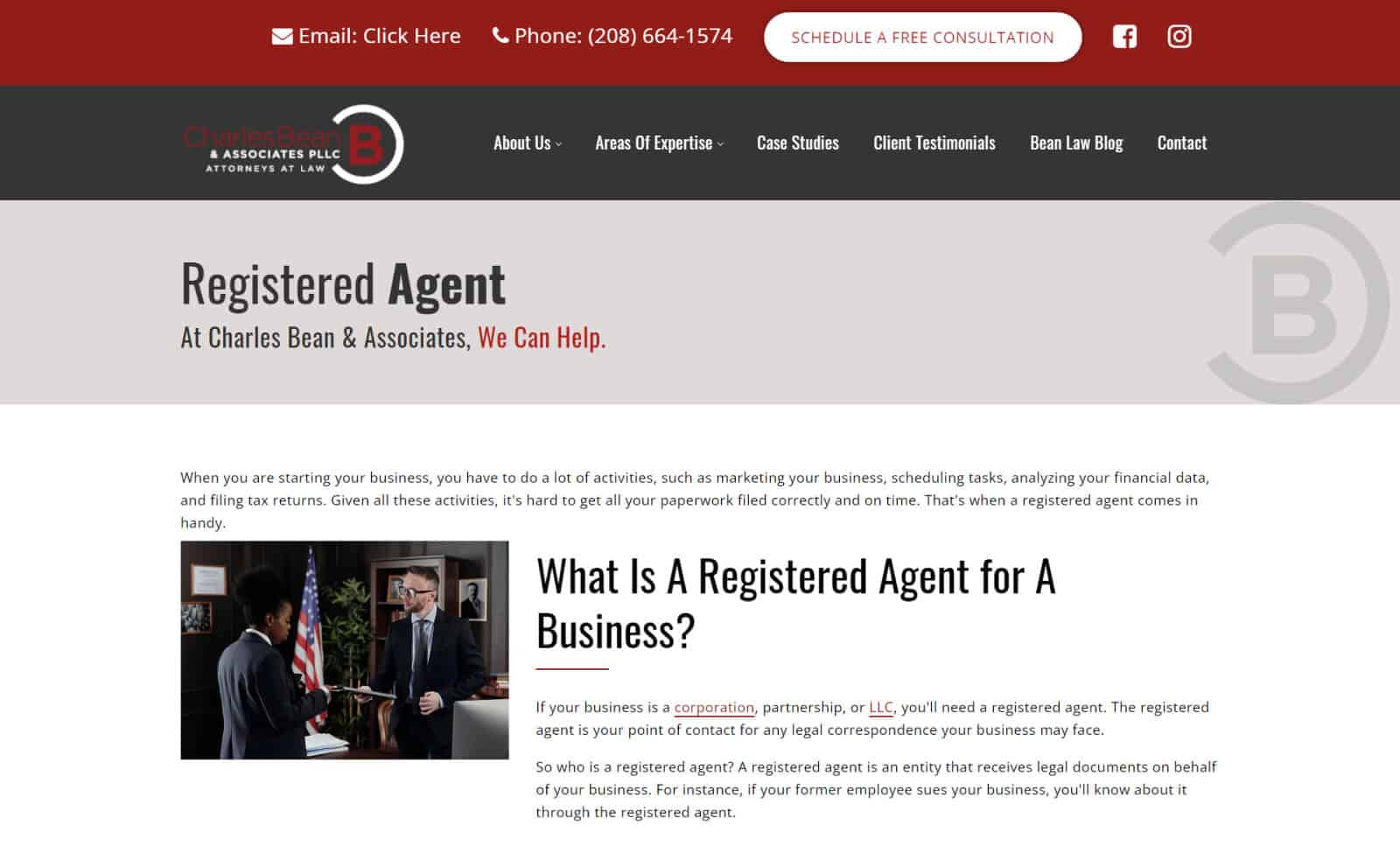 Charles Bean & Associates is a law firm that provides personal injury, business law, and real estate law services.
It also offers a registered agent service — you can appoint one of the firm's attorneys, Brian J. Bean, as your registered agent.
In that case, you can be extra sure that every legal notice receives the attention it deserves.
Address: 2005 Ironwood Pkwy Suite 201B, Coeur d'Alene, ID 83814
8. Racine Olson Attorneys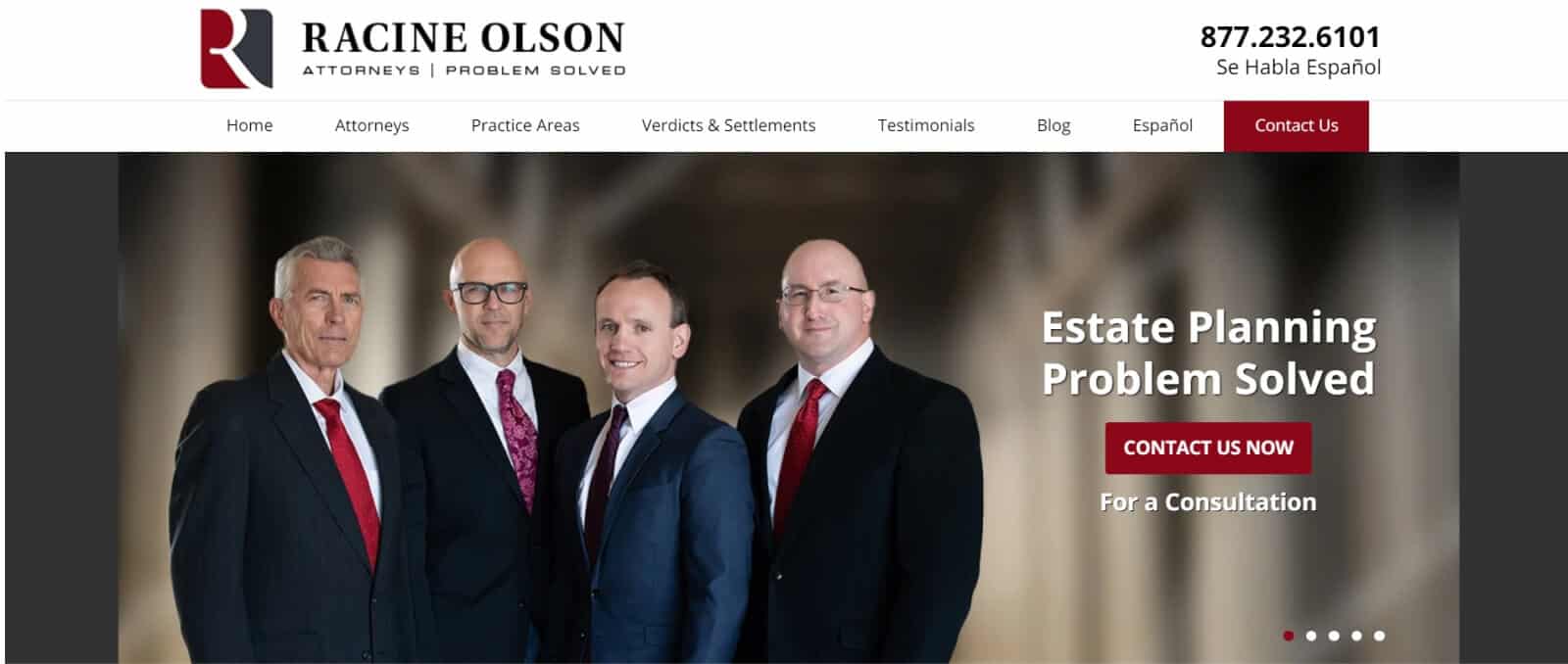 Racine Olson Attorneys is a law firm that provides legal services in a wide range of practice areas. It also offers a registered agent service.
It's worth noting that some of the attorneys are fluent in Spanish so this firm might be a convenient choice for native Spanish speakers.
So if you want timely service, paired with expertise in handling process servers, this is a sound choice.
Address: 250 S 5th St #120, Boise, ID 83702
How do I appoint a registered agent in Idaho?
You name your registered agent in the formation documents Idaho Certificate of Organization. To do so, just list the registered agent's name and street address on the state form.
The agent's signature is not required.
Once your documents are approved, the registered agent appointment becomes official.
How do I change my registered agent in Idaho?
Once you've picked a new provider, you'll need to complete the Statement of Change of Registered Agent, Office, or Both forms.
You can download a PDF version or make this filling online.
The state filing fee for processing a paper form is $20.
But online registered agent change requests are free.
FAQs about Idaho registered agents
Here are the frequently asked questions about registered agent services in Idaho.

Last updated:
May 2023
Start your LLC the easy way
Forming your LLC is a checkbox that needs to be ticked. Easy, fast and worry-free. We reviewed the 13 most popular LLC formation services to figure out who truly understands what new founders need. Our recommendation:
LLC Formation: $39 + state fees
Pricing:
Turnaround Time:
Help & Support:
Customer Satisfaction:
Ease of use:
Best LLC Service 2022

Formed 1,000,000+ LLCs
$39 formation includes registered agent service
Fast formation & same day filing
Exceptional customer reviews

Last updated:
May 2023