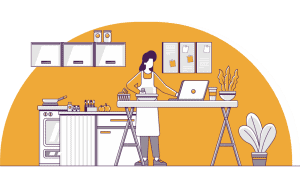 Pursuing a side business idea while still keeping your day job is a cost-effective way to earn extra cash on the side. Many entrepreneurs get their start with a side hustle that eventually becomes their full-time job.
Not many folks have the luxury of quitting their full-time role to pursue their side business idea, at least not right off the bat.
Side businesses offer the flexibility of a part-time venture and lower initial startup costs. So much so that 43% of full-time working Americans have a side hustle as an additional revenue stream.
Starting an entire business from scratch is difficult, but easing yourself into it with a side hustle makes the process much more manageable.
Follow this guide to learn everything you need to start a side business including a list of 16 inspiring, low-cost ideas.
Let's get started.
Why start a side business? 4 benefits
There are seemingly endless reasons to start a side business: personal freedom, extra income, and having a creative outlet, to name a few.
Many Americans need the extra cash to cover things like living expenses and paying off debt.
However, they also use their side business to explore other paths of interest, where 27% of workers surveyed said they are more passionate about their side hustle than their primary occupation.
Below, we've sourced four of the most valuable benefits of starting a side business.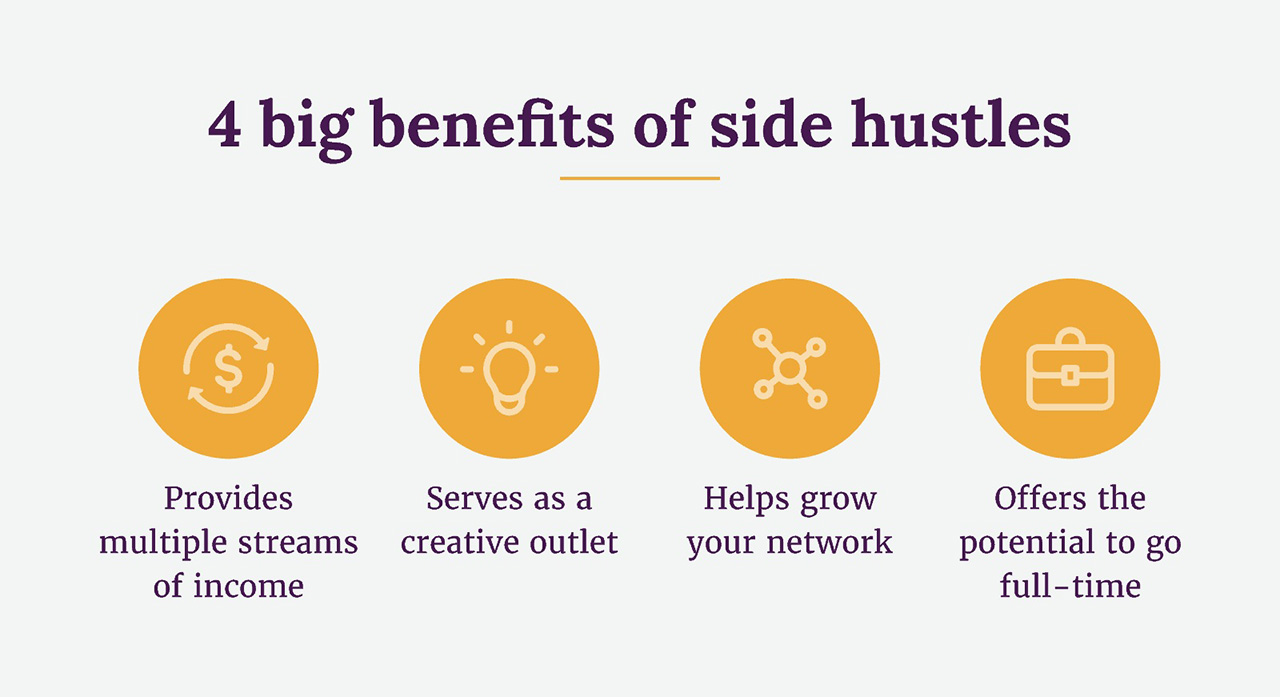 Provides multiple income streams: Having more than one source of income is how many people earn additional cash for spending, savings, or living expenses.
Serves as a creative outlet: Many side hustlers use their venture as an opportunity to explore creative outlets and other areas of interest outside their day job.
Offers the potential to go full-time: Certain industries are more lucrative than others, which can help your side hustle become a full-time gig.
Helps to grow your network: A side business offers the opportunity to make new connections and grow your network with customers and other professionals in the field.
16 profitable side business ideas
1. App developer
Those who have a knack for writing software for mobile apps can offer their services as freelance app developers. Some of the top programming languages for mobile app development include JavaScript, Kotlin, and C++.
Those with a degree in computer science or software engineering are in luck. However, taking online courses on Udemy or watching online tutorials is another great way to become educated in computer science.
Expected monthly income: $5,675-$10,090
2. Web designer
Every business needs a good website, so there's always a demand for web designers. The skills required to become one include understanding graphic design principles, user experience, HyperText Markup Language (HTML), the Adobe Suite, and Cascading Style Sheets (CSS). The qualifications to become a web designer range from a college degree in web design or online courses for award qualifications.
Expected monthly income: $1,708-$9,500
3. Tax consultant
Filing taxes can be a complicated process, so many Americans seek outside consultancies to make sure they're on the right track. Offering your services as a tax consultant would consist of helping clients with their taxes with an in-depth understanding of tax rules and regulations.
A degree in finance or accounting can come in handy, especially when obtaining a Certified Public Accountant (CPA) qualification by passing the CPA exam.
Expected monthly income: $1,583-$10,750
4. Google ad campaign manager
When it comes to internet marketing, Google has ad management and measurement program called Campaign Manager 360 for advertisers and marketers outside of social media.
Many companies will hire a freelance ad specialist to manage their advertising campaigns through Google's platform.
While there are no specific requirements to become a campaign manager, a background in advertising and proficiency with Google are optimal. There are also plenty of online courses to master the subject and make a side income.
Expected monthly income: $3,537-$15,600
5. Interior designer
Decorating indoor spaces with functionality and aesthetics in mind is the responsibility of an interior designer. Most people in this profession have a creative imagination to arrange lighting and colors and draw blueprints.
Credentials for interior designers typically include a degree in a design field like architecture, textile, or 3D design. Some states require interior designers to be licensed through passing the National Council for Interior Design Qualification (NCIDQ) exam, which is required for California interior designers.
Expected monthly income: $3,083-$5,917
6. Travel consultant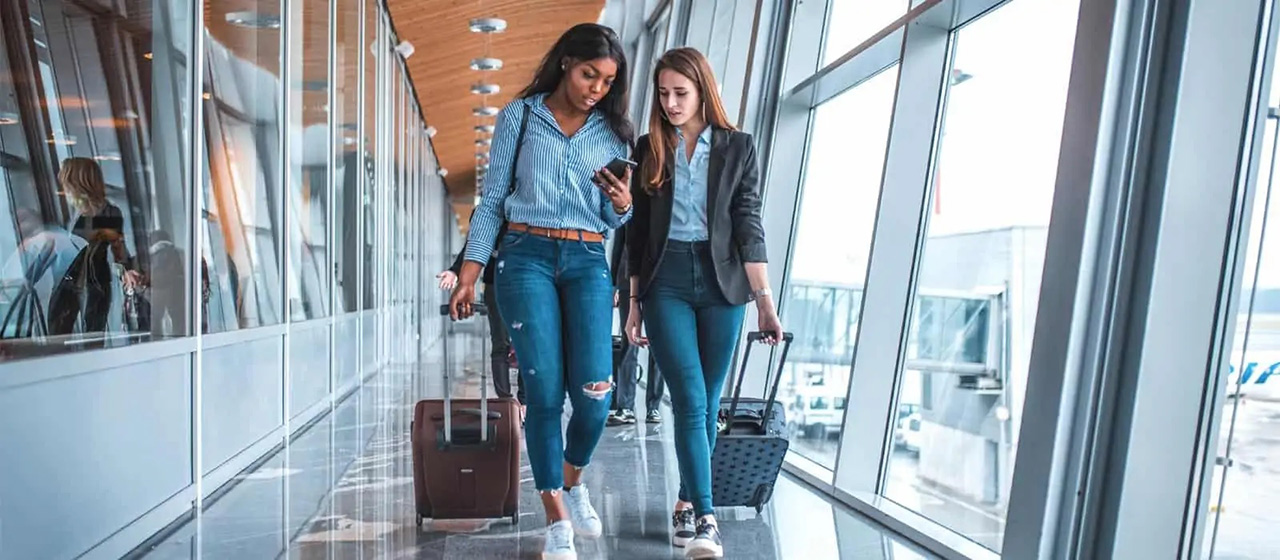 Help clients with their vacation plans as a travel consultant. This is not the same as a travel agent, who earns commission by selling products or bookings.
Travel consultants take on the stressful task of booking flights, living arrangements, and other necessities for individuals, groups, or even businesses.
Their qualifications typically include experience in bookkeeping, customer service, and coursework in travel or tourism that can be completed online or in college.
Expected monthly income: $2,583-$4,917
7. Freelance journalist
If the idea of being self-employed sounds enticing, you may want to consider a career in freelance journalism. A typical day as a freelance writer includes writing single pieces or regular assignments for different publications of your choosing.
Although there are no qualifications to be a freelance journalist, a degree in English or journalism and experience in freelance writing, proofreading or blogging is extremely helpful.
Websites like Upwork and Fiverr connect freelancers with businesses, so it's a great place to start.
Expected monthly income: $1,333-$11,917
8. E-book author
The easiest way to start self-publishing is becoming an e-book author, where your work is only available digitally instead of physical copies. Like printed books, you need to know how to develop an engaging story to entice readers and organize a robust campaign to raise awareness about your book.
While there are no explicit qualifications to become an author, e-book authors can benefit from professional writing experience and a degree in English. Amazon Kindle or Apple Books are a couple of the many places that accept e-book submissions.
Expected monthly income: $1,583-$20,833
9. Domain reseller
Buying a website or a domain name and reselling it for profit when it's in high demand is referred to as domain flipping.
Websites like GoDaddy and Namecheap are places where you can buy the domain for cheap and sell it for a higher price when it's in demand, similar to investing.
While there aren't any qualifications needed to be a domain flipper, it's a good idea to research before you dive into this side hustle idea.
Expected monthly income: $100-$1,000
10. Refurbish technology
Electronics such as cell phones and tablets that need to be repaired will typically go to a refurbishing technician. The technician renews the product to its original condition and tests it to make sure it works correctly.
After the products are refurbished, they are then sold at a discounted price where you can make a profit; you can sell refurbished technology on websites like eBay or Craigslist.
All you need to become a refurbishing technician is field experience or, ideally, a degree in computer hardware technology.
Expected monthly income: $3,014-$7,548
11. Sell phone cases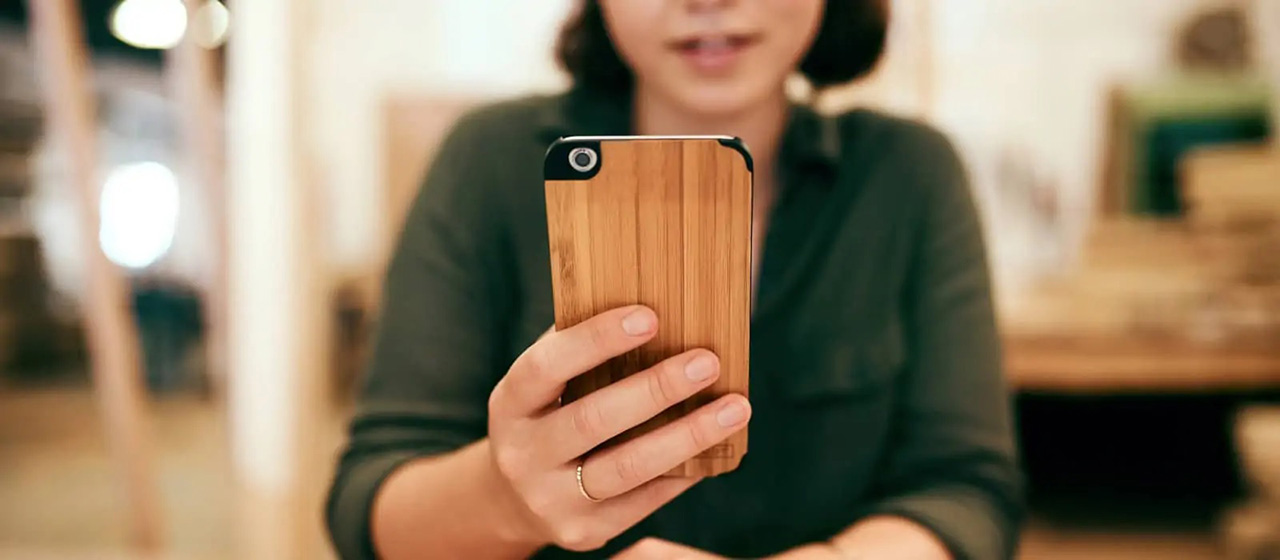 Instead of buying a run-of-the-mill phone case from a retailer, many customers will seek customized phone cases from online stores like Etsy or Shopify.
Selling homemade phone cases isn't as difficult as it may seem since you can order phone cases in bulk and customize them at home by mocking up your designs through websites like CaseApp or Printful.
You could even expand your small business to include customized T-shirts and other products.
You don't need any credentials to get started, but since you would be self-employed, be sure to set aside money for taxes. This side business idea is an excellent way to break into e-commerce with an online business.
Expected monthly income: $100-$1,000
12. Rideshare driver
Rideshare companies like Uber and Lyft always hire drivers to pick up customers and get them where they need to go. You can also deliver food through apps like DoorDash or Postmates without the hassle of being a business owner.
You might also expand your delivery services by taking up tasks through TaskRabbit.
All you need is a car and you can start driving during your spare time. It's important to note that you must be at least 21 years old with a minimum of three years of driving experience.
Expected monthly income: $2,055-$4,316
13. Yoga instructor
Yoga is more than just stretching — it uses slow movements to improve flexibility and connect the mind and body.
Becoming a certified yoga instructor requires training that you can obtain through a 200-hour course that lasts from three to five months or a 500-hour course that takes six months to a year.
However, you can choose your level of commitment to how much time you want to invest without the stress of full-time entrepreneurship.
Expected monthly income: $1,000-$6,250
14. Pop-up shop manager
Pop-up shops have become a recent trend, where brands open a sales space in a short amount of time and close it down after a few days or weeks. It typically centers around an event or trend to create a sense of urgency through limited-time commitment and word-of-mouth advertising.
Being a pop-up shop manager requires sales experience and customer service skills but is open to all interested. In terms of permission to set up shop, you should apply for a business license like any other company.
Expected monthly income: $1,500-$6,667
15. Airbnb host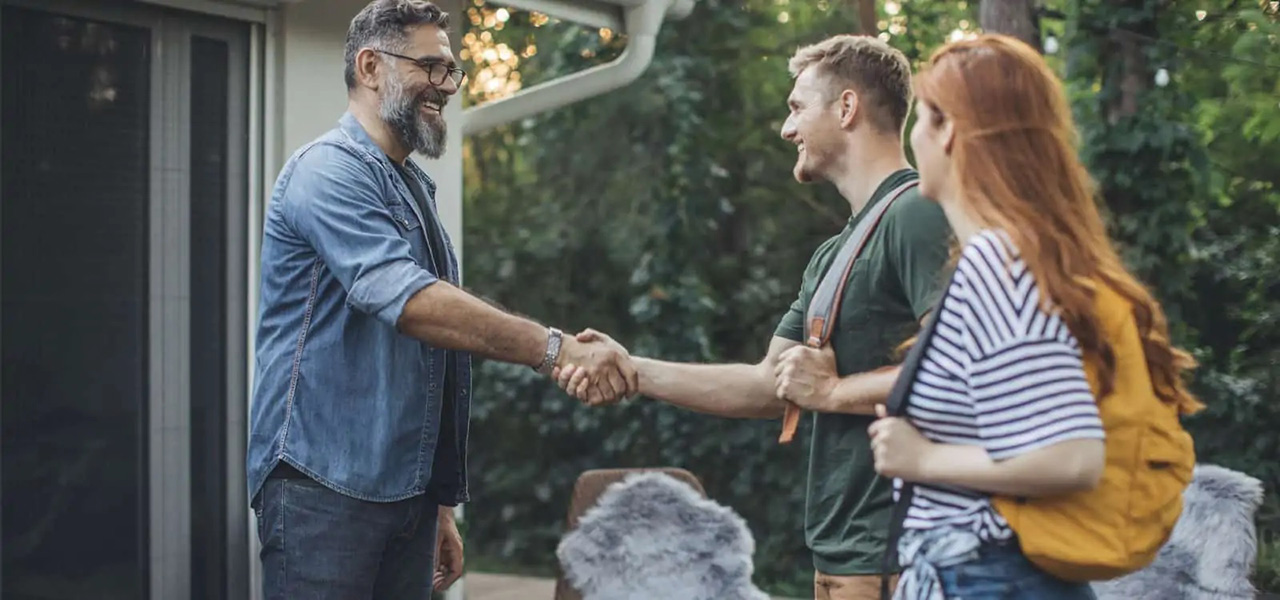 Since 2008, Airbnb has connected homeowners who want to rent their homes to those looking to rent them for short periods of time.
To be a successful Airbnb host, you must meet four basic requirements: high overall rating, quick response rate, avoiding cancellations, and accepting reservations.
Additional requirements to be an Airbnb host are the cleanliness of the home and providing amenities and other necessities that temporary travelers may need. If you have an available home or property, being an Airbnb host is a great side business with high-income potential.
Expected monthly income: $1,176-$5,157
16. Property manager
Individuals who manage residential or commercial properties are called property managers. Their job includes determining rental rates, marketing, filling vacancies, tenant relations, and maintenance.
Most states require property managers to be at least 18 or 21 years old with a high school diploma or GED, as well as being a U.S. citizen.
Some states don't require you to get a real estate license, but it's a good idea to be educated on the industry and do research on your state's qualifications.
Expected monthly income: $1,708-$6,292
What are the best side businesses to start?
The best side businesses are those you're passionate about, align with your skillset, and offer low startup costs. Accessibility to everyone is another hallmark of a good side hustle, so the following list of the best side jobs definitely fits the bill.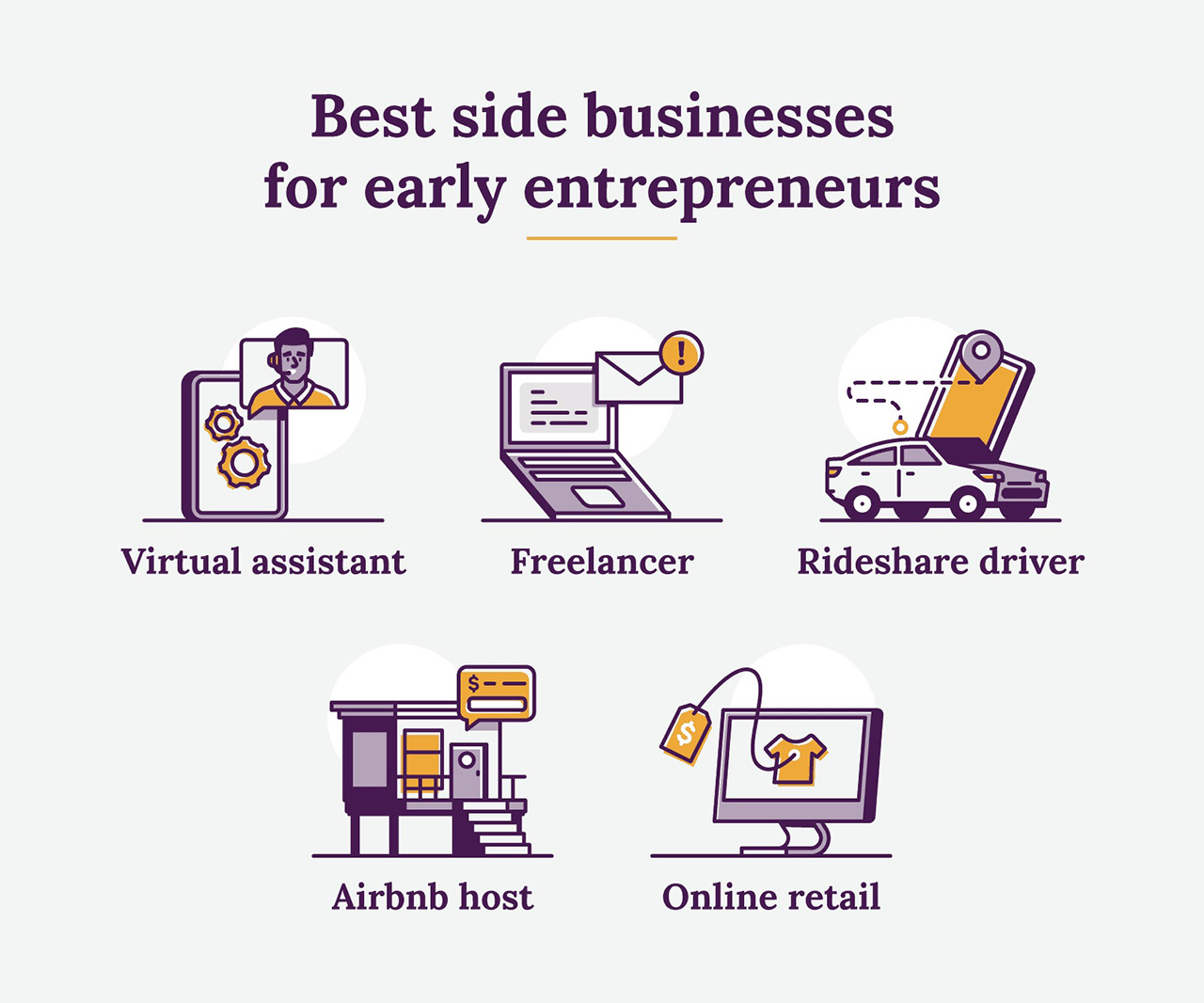 Virtual assistant: Offering your services as a virtual assistant has the benefit of little to no startup costs as well as the ability to work from home.
Rideshare driver: The only precursor to becoming a rideshare driver is a car and some experience driving. This makes for an excellent side business because the only startup cost would be a tank full of gas.
Freelancer: Although this is a wide category ranging from professionals to those who prefer a flexible schedule, becoming a freelancer is incredibly accessible. Many retirees or working mothers opt for this form of work.
Airbnb host: As travelers shift from hotels to renting homes, Airbnb is becoming increasingly popular. Those who are willing to open their property for this side business opportunity are in luck.
eCommerce: Over two-thirds of Americans reported that they've purchased an item online, so entering the growing e-commerce market could show amazing results.
Should you start a side business?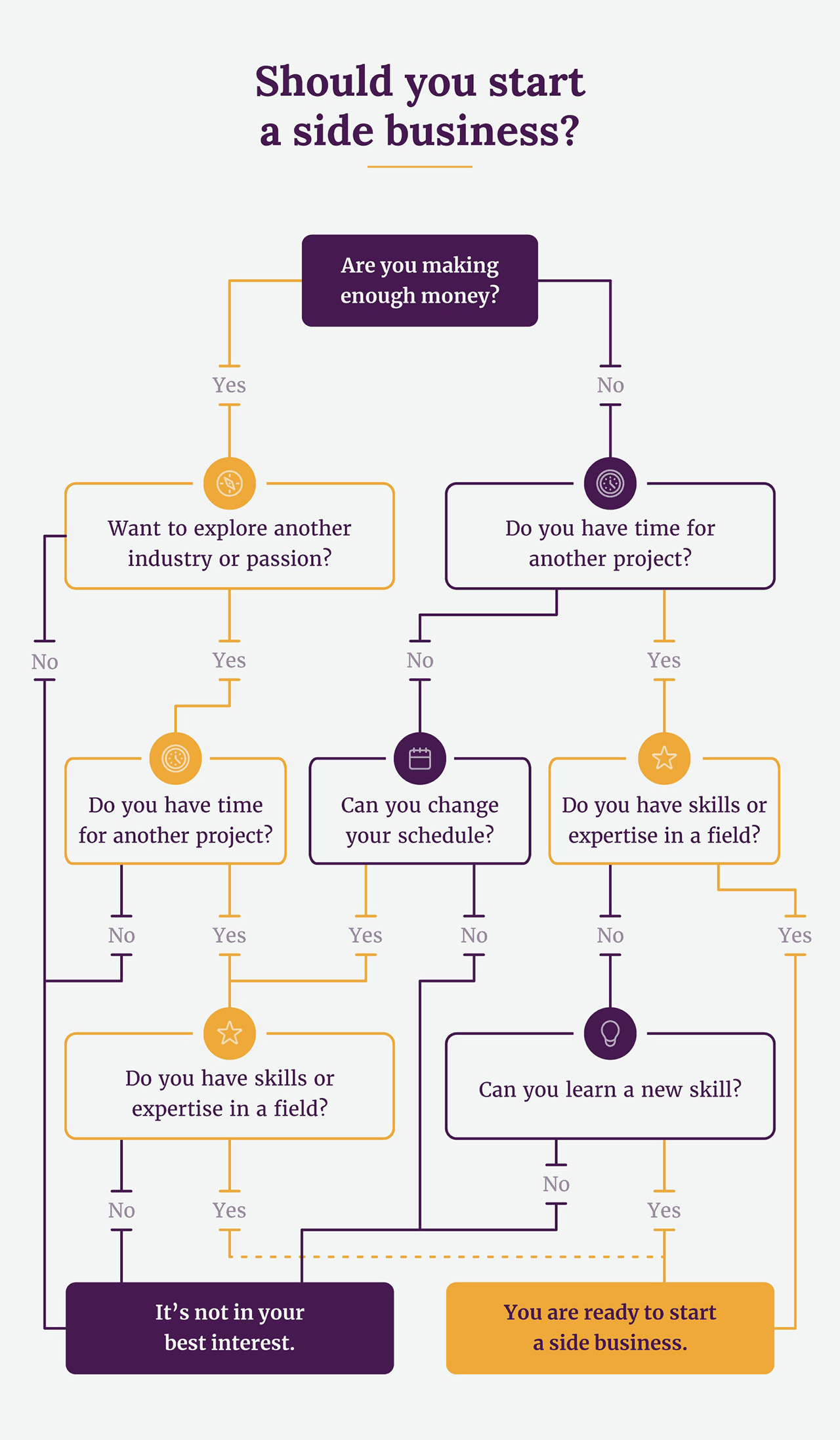 Starting any type of business requires diligent research and planning, even if it's a side business. It's important to make sure you have enough time in your schedule to avoid burnout or feeling overwhelmed by working too many hours in the day.
If you work full-time, it's crucial to set concrete boundaries for your work and leisure hours.
For example, you could do your day job Monday through Friday and save the weekend for your side hustle.
Legally registering your business also requires a decent amount of time and effort but isn't required for some side gigs like being an Airbnb host or freelancing as a graphic designer.
If you're self-employed, it's in your best interest to set aside funds for taxes since they aren't preemptively deducted from your income. Examples of self-employed professions include freelance journalists, domain resellers, and e-book authors.
If you don't have expertise or experience in a particular field, learning those skills will take some time. Be sure to take any extra courses or get advice from a professional if you're diving into an unfamiliar venture.
For example, if you want to become a tax consultant and you don't have prior knowledge, then it's recommended that you learn about accounting and finance.
How to make your side hustle a reality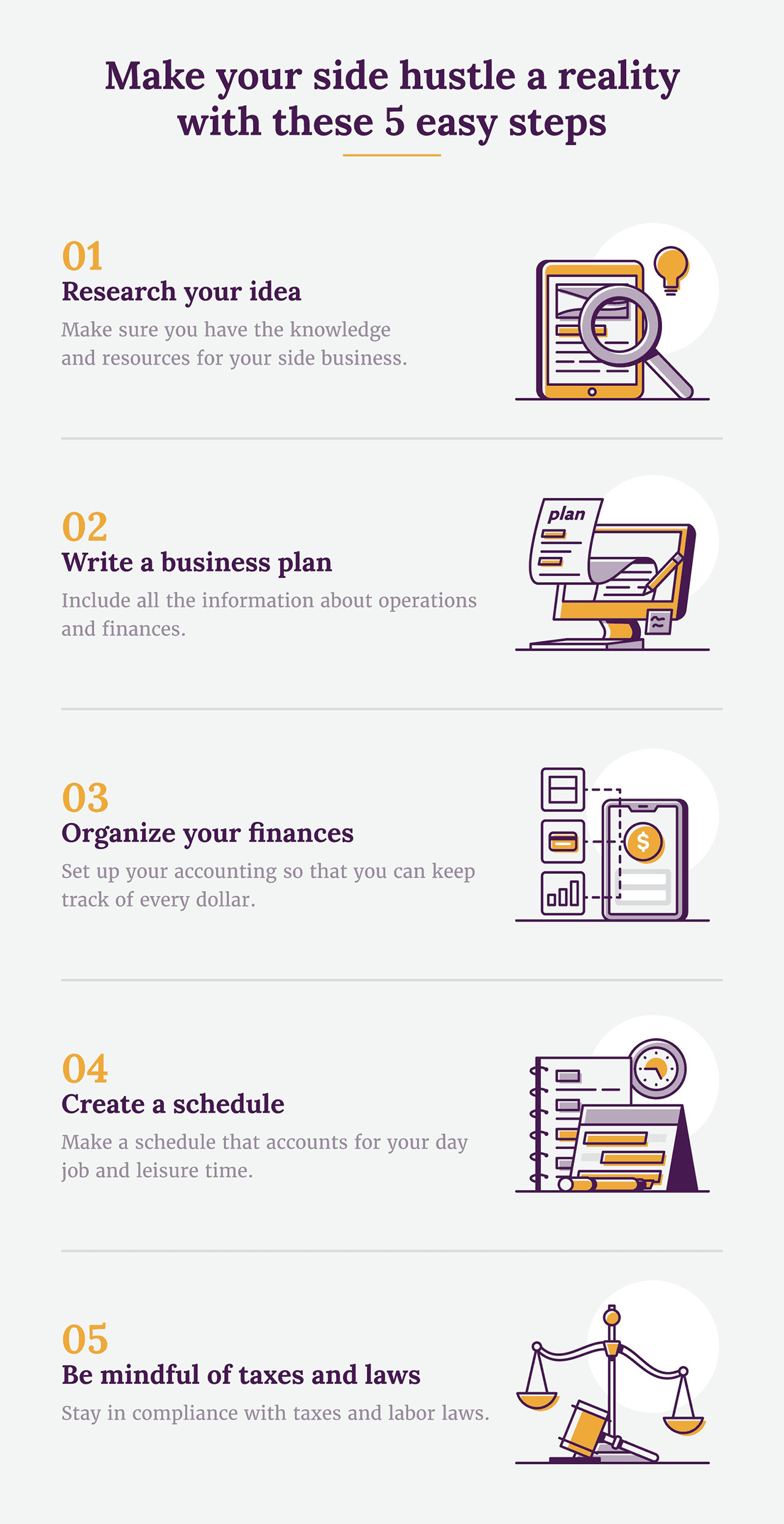 Once you've determined whether or not starting a side business is right for you, getting started is the next step. Starting a side hustle is like starting any business.
However, certain side hustles are independent enough that they don't need to be registered with the state, like babysitting or being a blogger. Just make sure you have enough money set aside when tax season comes around.
The first step to making your side hustle a reality is to do your research: Read articles, listen to podcasts, talk to people who are already doing what you want to do, and ask for their advice.
Gaining knowledge beforehand can prevent you from making common mistakes. After you have a concrete understanding of the endeavor, you're on your way to writing a business plan.
A comprehensive business plan is required for potential investors to give you funding but writing one for yourself is just as important, so you have a lay of the land and a document to reference.
It's wise to include the necessary accounting, operations, and logistics according to your business. For example, a virtual assistant should note the services they offer and their rates before diving into work, so they can avoid a price negotiation when it comes time to find clients.
Besides organizing accounting in the business plan, you'll want to keep a record of expenditures for your business to track every dollar going in and out. If you're a rideshare driver, you'll likely want to keep track of how much you spend on gas versus how much income you're making.
The last two steps for your side business to become a reality are creating a schedule for yourself and complying with local laws and tax policies.
For example, starting a phone case business requires you to register your business with the state to hire employees and pay income taxes. For a concrete guide on making your side business a reality, check out the timeline above.
Wrapping up: Why you should start a side business
Starting your own business is no easy feat, but founding a smaller side business for extra money is how many entrepreneurs get their start (including teens!).
It's much more difficult to completely quit your day job to pursue your new business since it's a choice with higher risk, plus the passive income can help with your side hustle.
This explains why the hard work of starting a small business can be more fruitful in the long run.