Entrepreneurship is becoming a popular alternative to a traditional career path.
Do you need a lot of capital to start a business?
Well, it all depends on the type of business and a variety of others factors.
It's important to think everything through when you're creating a business plan. Be careful not to overlook less obvious business expenses.
Follow this guide to learn how much does it cost to start a business.
Table of contents
Want to know how much money you need to start your own business?
Read on to find out.
What are the costs of starting a business?
Business startup costs vary wildly depending on the business type.
One survey has shown that one-third of successful small business owners have started with less than $5,000, and 58% started with less than $25,000.
According to the same survey, the most expensive small businesses to launch were restaurants, medical offices, and manufacturing companies, with 38%, 23%, and 19% of the owners claiming that it cost them more than $100,000 to get started.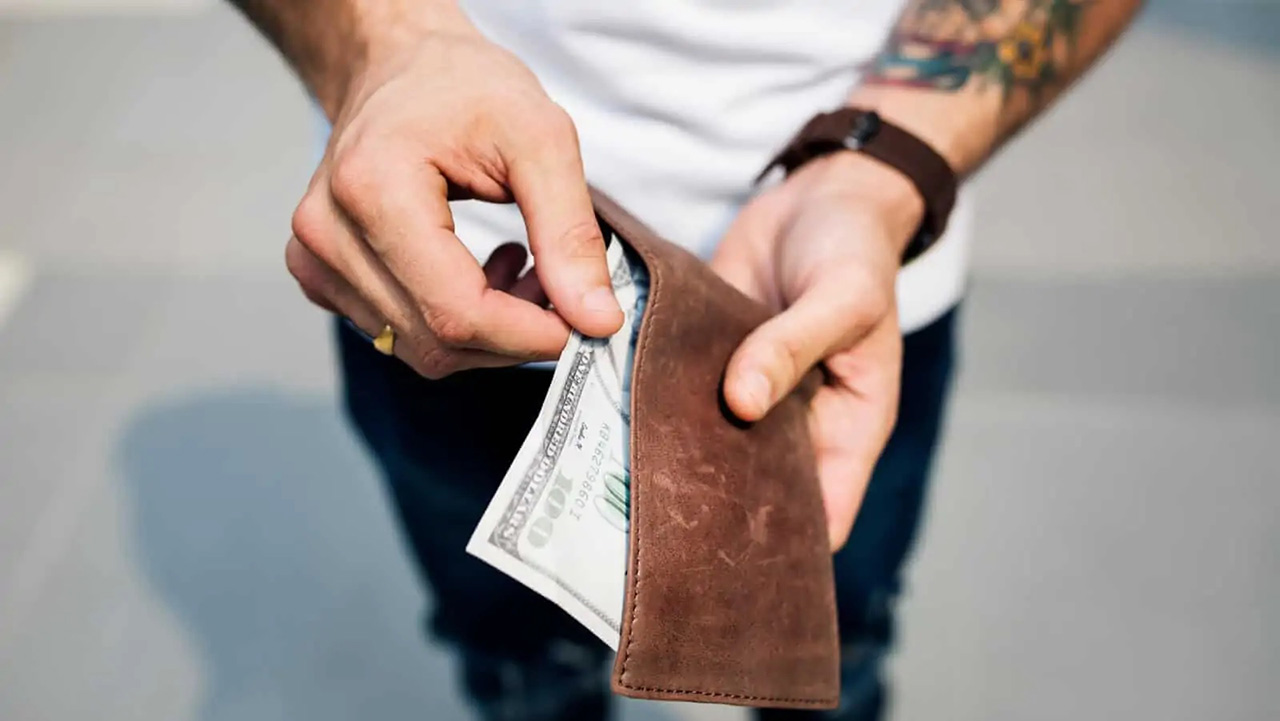 Because of this variance, we decided to focus on cost factors that you need to consider, which will help you better understand what amount of money you'll need to start your business.
1. Operating infrastructure
There are three types of business:
Brick-and-mortar establishments that operate from a physical location such as grocery stores, restaurants, bookstores, etc.
Service providers offering a service, whether at their location (e.g., a beauty salon) or the client's location (e.g., a house cleaning company).
Online companies that don't have a customer-facing location and sell their products and services via the Internet instead (e.g., ecommerce stores, SaaS business, etc.).
The business type that you choose is the main factor that affects startup costs.
Brick-and-mortar
The main expenses of launching a brick-and-mortar business are:
Space. Cost varies depending on the geographical area, the part of the city you choose, and the size of the place. Of course, if you already own real estate that you can use for your new business, that will cost you less than leasing a space.
Equipment. Cost varies depending on the equipment required as well as on whether you buy it new or second-hand.
Employee salaries. Cost varies depending on the geographical area, the type of job, and the experience that the person has.
It's worth noting that starting this type of business carries the most financial risk because startup costs are so high + it takes time to get out of obligations that you can't meet anymore (e.g., break a lease, fire an employee).
Moreover, brick-and-mortar businesses are typically subject to more regulations, especially when it comes to health and safety.
Service providers
The main expenses of launching a service business are:
Space. It isn't required in the niches where the service provider goes to the client (residential plumbing, house cleaning, etc.) and in the fields where services can be provided remotely (web development, web design, writing, etc.). But it can be the biggest expense for service business in other areas (e.g., a dentist's office).
Equipment and supplies. It depends on the industry and niche you're in. If you're in the cleaning industry, cleaning homes won't require anything fancy, but you might need to invest in specialized equipment and cleaning chemicals to clean offices.
Employee salaries. Service providers often start as a one-man or a one-woman show, then begin hiring people once they generate enough revenue to afford it. But if you want to start hiring from the get-go, it can significantly increase your startup costs.
Service businesses also tend to be less regulated, especially when the service can be provided remotely.
An exception to this is services where the clients' lives might be in danger if they don't do their job correctly (e.g., medical services, electrician services, etc.).
Online companies
The main expenses of launching an online business are:
Infrastructure setup costs. You need to buy a domain name, pay for hosting, invest in software that will power your business, etc.
Employee salaries. Online entrepreneurs also tend to start as "solopreneurs" that do everything themselves. It's common to hire people as freelancers as opposed to full-time employees. You might want to do that until you have the money for hiring someone full-time.
Having an office space isn't required for this type of business since typically, the entire team can work from home or a coworking space instead.
2. Business incorporation and registration
You can operate your business as a sole proprietorship or a limited liability company (LLC). What's the difference between these two business structures?
As a sole proprietor, you're personally responsible for all liabilities of your business.
As an owner (member) of an LLC, you're not personally responsible for the liabilities of your business. The LLC itself is.
Meaning that your personal assets are protected in the latter case should anything go wrong, which is why we recommend this option.
How much does it cost to incorporate your business? You'll have to pay a state fee. They range from $40 to $500, depending on the state.
Other than that, if you decide to use an incorporation service or hire a lawyer, you'll have to pay for that as well (this might cost up to $1,500).
3. Business permits and licenses
You might need to obtain various legal documents to operate your business legally.
U.S. Small Business Administration (SBA) provides helpful information on applying for licenses and permits.
Here's a table that explains what type of businesses require federal licenses and what is the issuing agency in each case: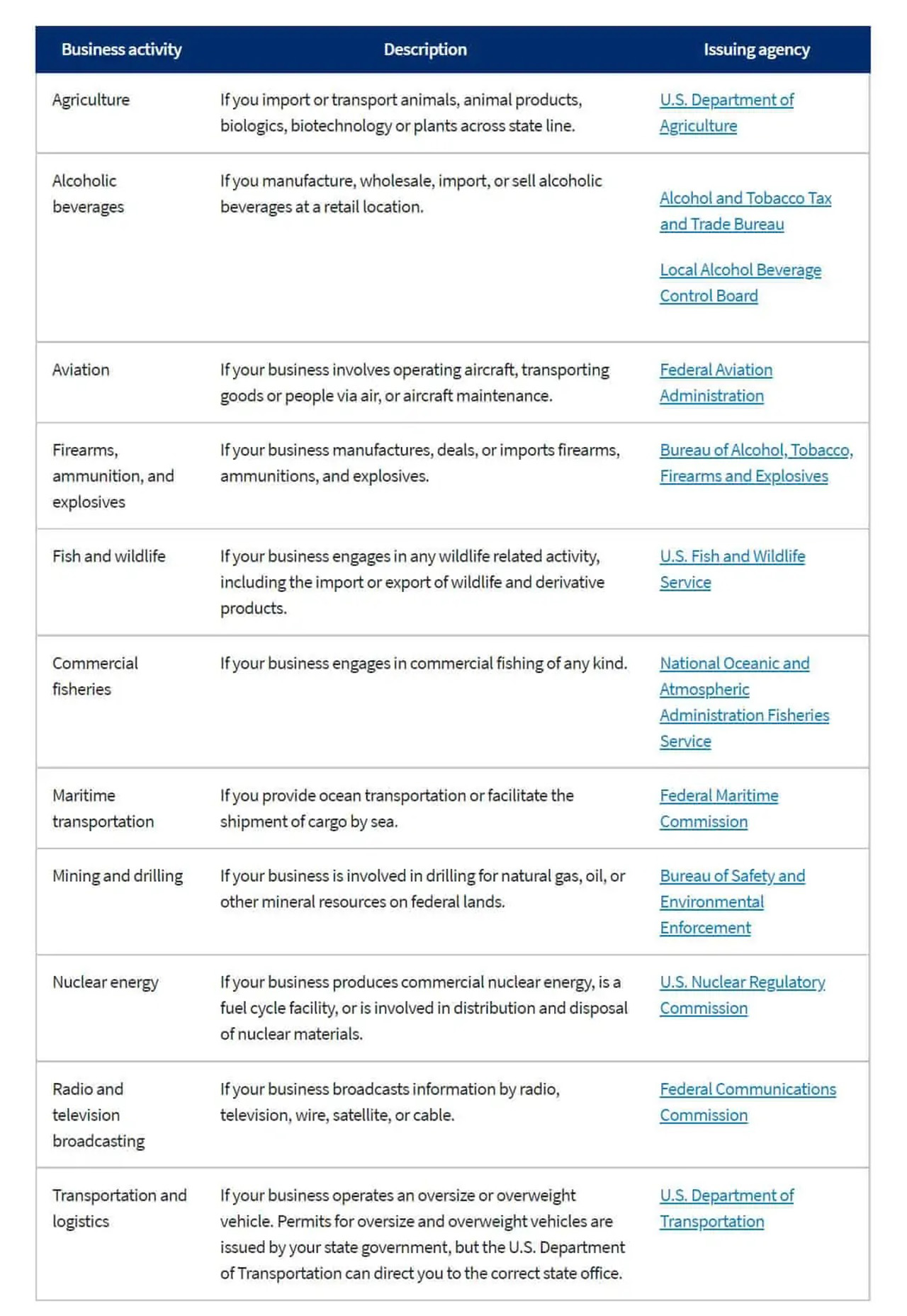 There are also various state licenses and permits that you may need to acquire depending on the location that you intend to operate in.
Business activities that are commonly regulated include:
Auctions.
Construction.
Dry cleaning.
Farming.
Plumbing.
Restaurants.
Retail.
Vending machines.
Note that this isn't an exhaustive list.
SBA advises researching your state, county, and city regulations. You can start by visiting your state's website.
4. Equipment and supplies
The cost of equipment and supplies will vary depending on your industry and niche.
For example:
Want to start an info product business where you sell an online course on mastering beginner calisthenics skills such as pull-ups and leg raises?
You'll need:
A computer. You probably already have one.
A video camera. You probably already have one (smartphone).
Video editing software. You can get an Adobe Premiere Pro subscription for $20.99/month.
So, assuming that you already have a laptop and a smartphone, you could launch your info product business with less than $270/month worth of software (your "equipment").
Note that you could get away with less if you chose to go with more affordable solutions. It's a high-end estimate.
However, if you want to start a food truck business, that's an entirely different situation.
You'll have to:
Buy the truck. They cost between $5,000 (used ones on Craigslist) and $125,000+ (fancy new ones).
Install a kitchen. Depending on the equipment already in place, the cost may differ.
Pick the Point-of-Sale (PoS) system. That might cost between $150 and $2,500.
Buy food ingredients. Depending on the quality, it might cost between $500 and $2,000.
Get paper dishware supplies. It might cost between $500 and $3,000.
Meaning:
On the low end, you could get away with $6,150 + the cost of installing the kitchen.
On the high end, you might spend more than $132,500 + the cost of installing the kitchen.
It's probably safe to stay that pretty much anyone could find a way to come up with a few hundred bucks a month to finance their info product business.
However, those who want to start a food truck business would likely need to turn to their credit cards, small business loans, and various potential lenders.
So think carefully about whether you want to get into an industry that requires expensive equipment and supplies. High startup expenses mean high risk.
Be wary of business ideas that require a hefty upfront investment.
5. Tax payments
You'll need to pay taxes if you want to operate your business legally and avoid problems with the IRS.
There are five general types of business taxes:
Income tax. All businesses have to pay for it.
Estimated taxes. You typically need to pay income taxes and self-employment taxes by making regular payments of estimated tax throughout the year.
Self-employment tax. The SE tax is a social security and Medicare tax for individuals that work for themselves.
Employment taxes. Employers need to pay employment taxes, including social security and Medicare taxes, federal income tax withholding, and federal income unemployment tax.
Excise tax. There may be excise taxes that you need to pay to manufacture or sell certain products, operate certain kinds of businesses, use various kinds o facilities, equipment, and products and receive payment for certain services.
When you're an employee, your employer takes care of the taxes, so it's easy to forget this business expense when you start your first business.
Find out what taxes you'll need to pay and when you'll need to pay them. Make sure to set money aside for that.
6. Business insurance
It's a good idea for all businesses to have insurance to protect themselves from unexpected problems. It's better to be safe than sorry.
The rule of thumb is that the higher the risk of you causing damage via your services or products, the more critical having insurance is.
Ask yourself:
What could go wrong?
What is the worst-case scenario?
How much would that worst-case scenario cost you?
Remember, we all have bad days. We all make mistakes. It's not a question of if something will go wrong. It's a question of when. You want to be prepared.
How much you'll have to pay for insurance depends on various factors such as business type, number of employees, the risks involved, etc.
Here are average costs for various types of new 12-month business insurance policies through the Progressive Advantage Business Program: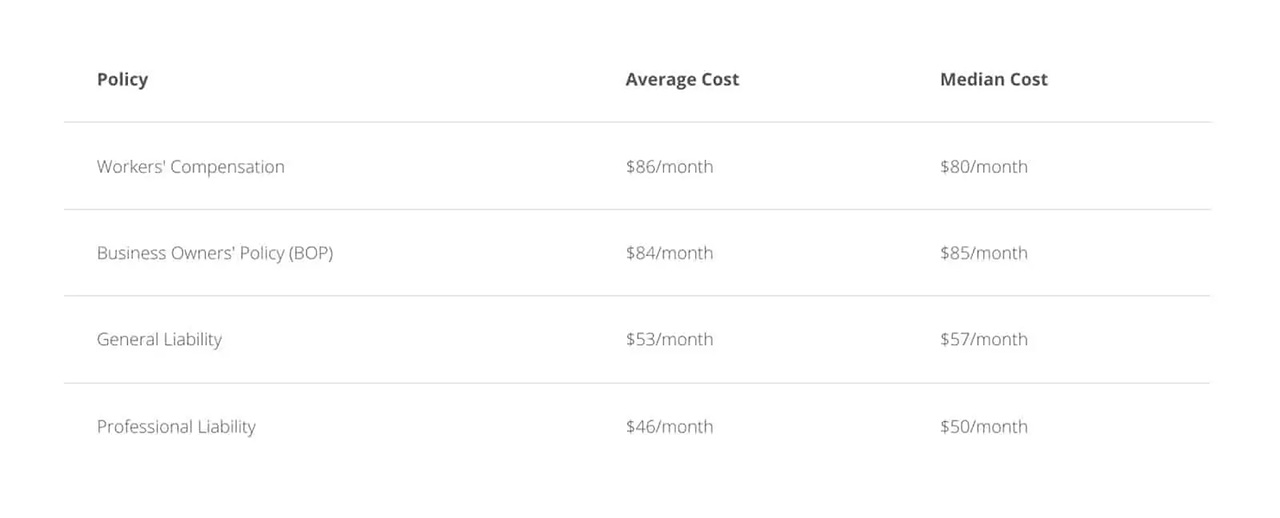 7. Personal and employee salary
You probably won't be able to pay yourself a salary right away.
That is why it's essential to have enough savings to cover your expenses until your new business is generating enough profit to pay your bills.
And if you want to hire employees from the get-go, make sure that you also have a business emergency fund that would cover their salaries for a few months should your business hit a rough patch (don't forget to include employment taxes in it!).
How much does it cost to start a business?
Business startup costs depend on the type of business, industry, niche, and other factors, such as hiring employees right away.
Here are some ballpark estimates:
The cost to start a brick-and-mortar business: $100,000+.
The costs to start a service business: $5,000+.
The costs to start an online business: $1,000+.
Note that you could probably do it for less, but we wanted to provide realistic estimates.
Commonly asked questions (FAQ)
Here are the answers to some of the frequently asked questions about the cost of starting a business.
Advertisement
LLC Formation Service
LLC Formation: $39 + state fees
Pricing:
Turnaround Time:
Help & Support:
Customer Satisfaction:
Ease of use:
Best LLC Service 2023

Formed 1,000,000+ LLCs
$39 formation includes registered agent service
Fast formation & same day filing
Exceptional customer reviews

Last updated:
Dec 2023