Starting a limited liability company (LLC) in the Sooner State of Oklahoma is a thrilling prospect for new business owners. This northwest state has affordable state filing fees and extra perks such as attractive tax credit programs and subsidies from local government.
However, to benefit from those, you'll first need to complete the incorporation process. Oklahoma LLCs are subject to several state fees and operational expenses. After forming your LLC, there are also some annual state fees to pay too.
We've prepared this detailed cost breakdown to understand how much money you'll spend on LLC formation in Oklahoma.
Table of contents
---

Last updated:
Mar 2023
Start your LLC the easy way
Forming your LLC is a checkbox that needs to be ticked. Easy, fast and worry-free. We reviewed the 13 most popular LLC formation services to figure out who truly understands what new founders need. Our recommendation:
LLC Formation: $39 + state fees
Pricing:
Turnaround Time:
Help & Support:
Customer Satisfaction:
Ease of use:
Best LLC Service 2022

Formed 1,000,000+ LLCs
$39 formation includes registered agent service
Fast formation & same day filing
Exceptional customer reviews

Last updated:
Mar 2023
Oklahoma LLC formation cost: $100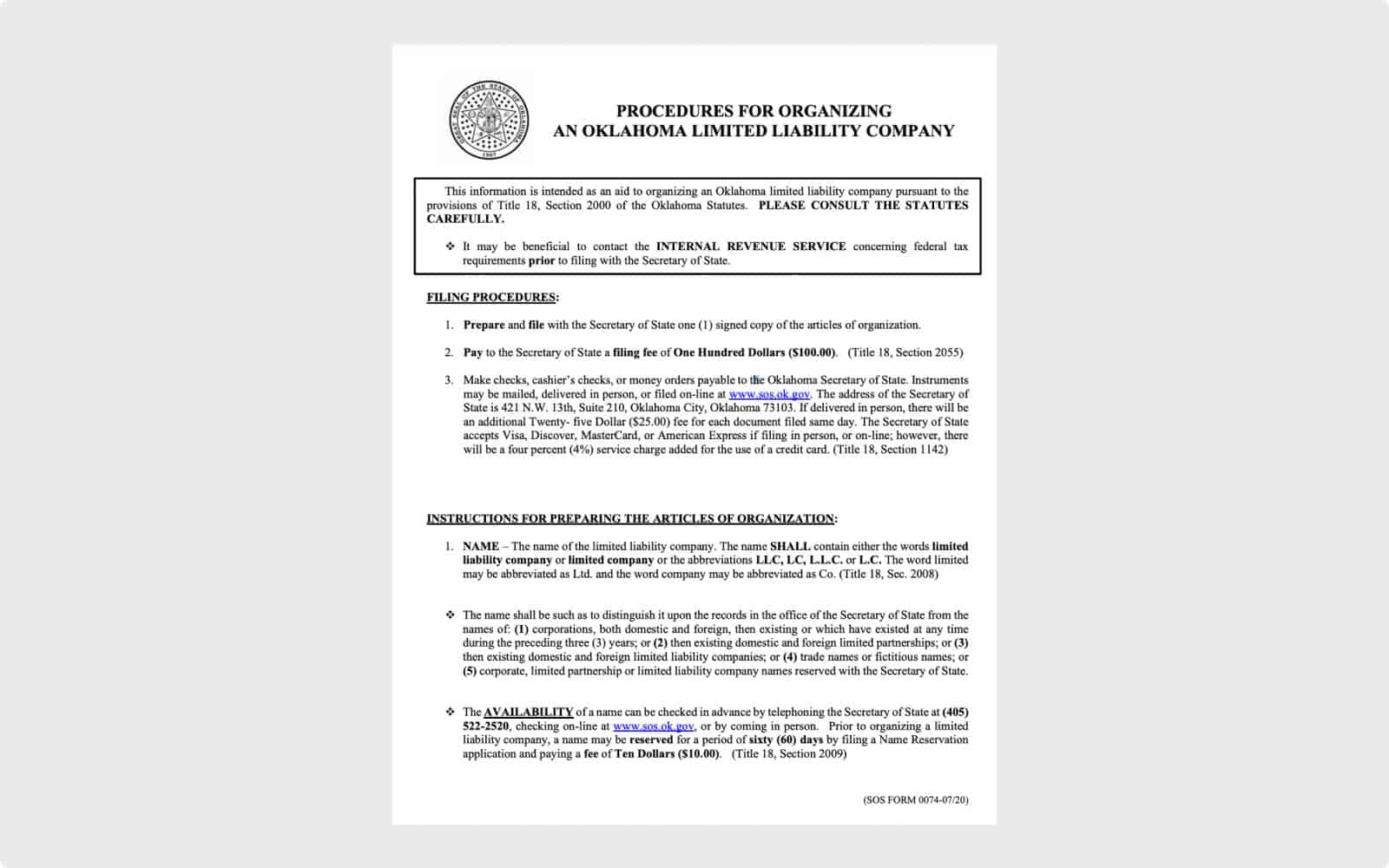 The most important step to form your Oklahoma LLC is filing articles of organization (for a domestic LLC) or an application for registration (for a foreign LLC) with the Secretary of State (SOS).
Articles of Organization for a domestic LLC cost $100
Application for Registration for a foreign LLC cost $300
Foreign LLC must include a certificate of good standing from the state of your LLC's formation.
Oklahoma offers several ways to submit company formation documents:
Note: If you use a credit card to pay the filing fee (online or in-person), there's a 4% service charge.
Document processing time
Oklahoma SOS processes incorporation documents quite effectively.
Mailed-in submissions are handled in 5-10 business days. Online requests can be fulfilled in one business day.
If you're in a rush, you can come in and pay an extra $25 for same-day document processing.
Extra Oklahoma LLC costs to account for
Obtaining articles of organization is a non-negotiable expense in forming an Oklahoma business. Other costs and fees may or may not apply to you.
Still, it's good for every business owner to understand and plan ahead of additional expenses.
Registered agent costs
All Oklahoma LLCs need a registered agent to serve as the main point of contact with the state and handle the service of process of legal documents.
You'll have to provide your registered agent details when filing articles of organization. There's no extra cost for designating your initial registered agent.
Foreign LLCs may find this requirement tricky since a registered agent needs a physical address in the state (P.O. boxes are not allowed).
But you have two options.
First, if you don't designate a registered agent with a registered office with a street address in Oklahoma, then the OK Secretary of State will serve as yours. It comes with an additional cost of $40. This state fee is due annually.
Secondly, you can opt to use a professional registered agent service. Apart from fulling the state requirement, hiring a registered agent service is useful for several reasons:
Privacy. You won't have to disclose your personal address if you operate from home or another location.
Convenience. A registered agent will be available instead of you during standard business hours.
Efficiency. No one likes handling paperwork or sorting through junk mail.
To hire a registered agent service in Oklahoma, expect to pay around $49-$250 per year.
Other registered agent costs
If you decide to change your registered agent appointee later on, there are some state fees:
Trade name registration
If your business entity wants to do business under a trade name (also known as a DBA or a fictitious name) instead of its legally registered name, then your LLC will need to complete trade name registration online.
If another small business or sole proprietorship doesn't use the selected name, you'll be allowed to register it. The cost is $25 per name.
Name reservation
Your LLC's business name is important from marketing and branding perspectives.
So if you've already come up with a winning word combo, you can reserve it with the state before completing other company registration steps.
First, make sure it's available via the Oklahoma Secretary of State's business entity search tool. Be sure to include abbreviations like LLC, Ltd into your search. Alternatively, you can call the Secretary of State or ask the clerk to help you.
Then, you can reserve your LLC name by submitting a state filing with a filing fee of $10. Your business reservation will be valid for 60 business days.
Certified document copies
To obtain certified copies of official state filings, you'll need to pay $10 per page. So a two-page document will cost $20 and so on.
Business permits and licenses
Oklahoma doesn't require a general business license to run your venture. Great, another cost shaved off your list.
But depending on your line of business, you may be required to obtain specialty licenses.
For example, an Oklahoma business providing a professional service such as accounting, medical, or construction work will likely need to get a state professional license from the OK Department of Labor.
The Oklahoma Department of Commerce also lists common businesses or industries requiring a license from the state, county, or city authority. Here are some sample costs of business licenses in the City of Oklahoma:
Dry cleaning license ($35 annually)
Massage establishment license ($30 annually)
Vehicle Food Sales Court License ($100)
Sales tax permit
In Oklahoma, retail businesses selling taxable goods must obtain a sales tax permit to collect applicable state-wide and local sales taxes.
You can get your sales tax permit online using the Oklahoma Taxpayer Access Point (TAP) website. The registration is free.
Does Oklahoma have an annual LLC fee?
Yes. Oklahoma requires an annual report, called an annual certificate, to be submitted by all LLCs starting on the year anniversary after registration. This requirement applies to both domestic LLCs and foreign LLCs.
The cost for the annual certificate is $25.
What taxes do LLCs pay in Oklahoma?
Although LLCs benefit from pass-through taxation for federal tax purposes, there are cases when your Oklahoma limited liability company may also owe state taxes.
A good starting point to understand your tax obligations is checking the "New Business" section on Oklahoma Tax Commission's website. Also, don't forget to visit their help center if you have any questions.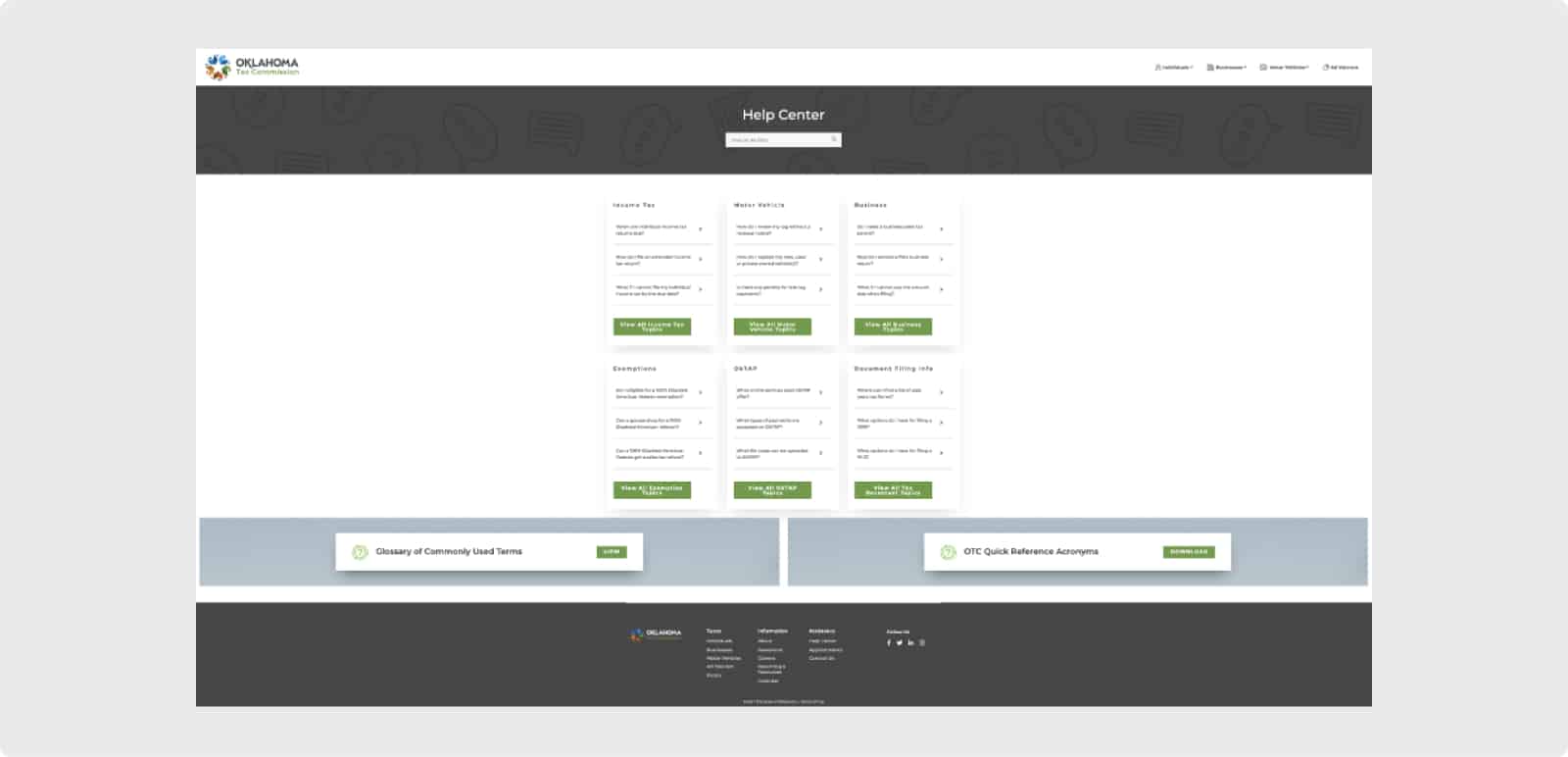 Overall, your LLC may be subject to the following state taxes:
Sales tax. Applies when your business entity is selling tangible goods in the state. Different tax rates apply at state (4.5%) and county levels.
Employment taxes. If your Oklahoma business has employees, you'll need to withhold taxes and apply for a free employer identification number (EIN) with the IRS.
Alcohol or mixed beverage taxes. If your LLC sells alcohol, expect to pay this extra tax.
Motor full sales tax. Applies only for wholesalers selling fuel in Oklahoma.
If your LLC needs to pay any of these state taxes, be sure to register with the Oklahoma Tax Commission.
Overall, Oklahoma has friendly taxation policies. But here is some additional good news with Oklahoma LLCs: there are no franchise taxes!
Special note for LLCs electing different tax treatment
LLCs can elect to be treated as a C-corporation or S-corporation with the IRS. If so, pay close attention to how your corporate income tax and personal income tax obligations will change at both the state tax and federal tax levels.
Conclusion: How much does an LLC cost in Oklahoma?
You can start a domestic Oklahoma limited liability company (LLC) for just $100 if you register a local business. It's the cost to file articles of organization with the Secretary of State. Annually, you'll have to pay $25 for an annual certificate and any business licenses renewal costs.
Other costs may apply in your case too. For example, if you're a foreign LLC, you're looking at a base cost of $300. If you want to reserve a business name, add another $10 (for either a domestic or foreign LLC).
There's also the registered agent requirement. It may cost you nothing if you have someone in Oklahoma available to serve as one. But if you need a registered agent service, budget an additional $49-$250 to your bill.
Likewise, you may incur some operational and maintenance costs associated with this business structure. Such as opening a business bank account, drafting an LLC operating agreement (if you work with a lawyer), or opting to use an LLC formation service over DIY (do-it-yourself) incorporation.
Overall, Oklahoma has competitive LLC formation costs and doesn't impose a massive tax on startups and newly minted small businesses.

Last updated:
Mar 2023
Start your LLC the easy way
Forming your LLC is a checkbox that needs to be ticked. Easy, fast and worry-free. We reviewed the 13 most popular LLC formation services to figure out who truly understands what new founders need. Our recommendation:
LLC Formation: $39 + state fees
Pricing:
Turnaround Time:
Help & Support:
Customer Satisfaction:
Ease of use:
Best LLC Service 2022

Formed 1,000,000+ LLCs
$39 formation includes registered agent service
Fast formation & same day filing
Exceptional customer reviews

Last updated:
Mar 2023