The company formation process in Michigan is fast, affordable, and straightforward. Below you'll find a breakdown of all the state fees and optional costs to budget for.

Last updated:
Jan 2023
Start your LLC the easy way
Forming your LLC is a checkbox that needs to be ticked. Easy, fast and worry-free. We reviewed the 13 most popular LLC formation services to figure out who truly understands what new founders need. Our recommendation:
LLC Formation: $39 + state fees
Pricing:
Turnaround Time:
Help & Support:
Customer Satisfaction:
Ease of use:
Best LLC Service 2022

Formed 1,000,000+ LLCs
$39 formation includes registered agent service
Fast formation & same day filing
Exceptional customer reviews

Last updated:
Jan 2023
Michigan LLC formation cost: $50
The Great Lake State is on the more affordable side of LLC formation costs. Filing for articles of organization for both domestic LLCs and foreign ones costs just $50 in-state fees.
Domestic LLC
Domestic LLCs file Articles of Organization with the Michigan Department of Licensing and Regulatory Affairs — Corporations, Securities & Commercial Licensing Bureau. The document can be filed by mail or online.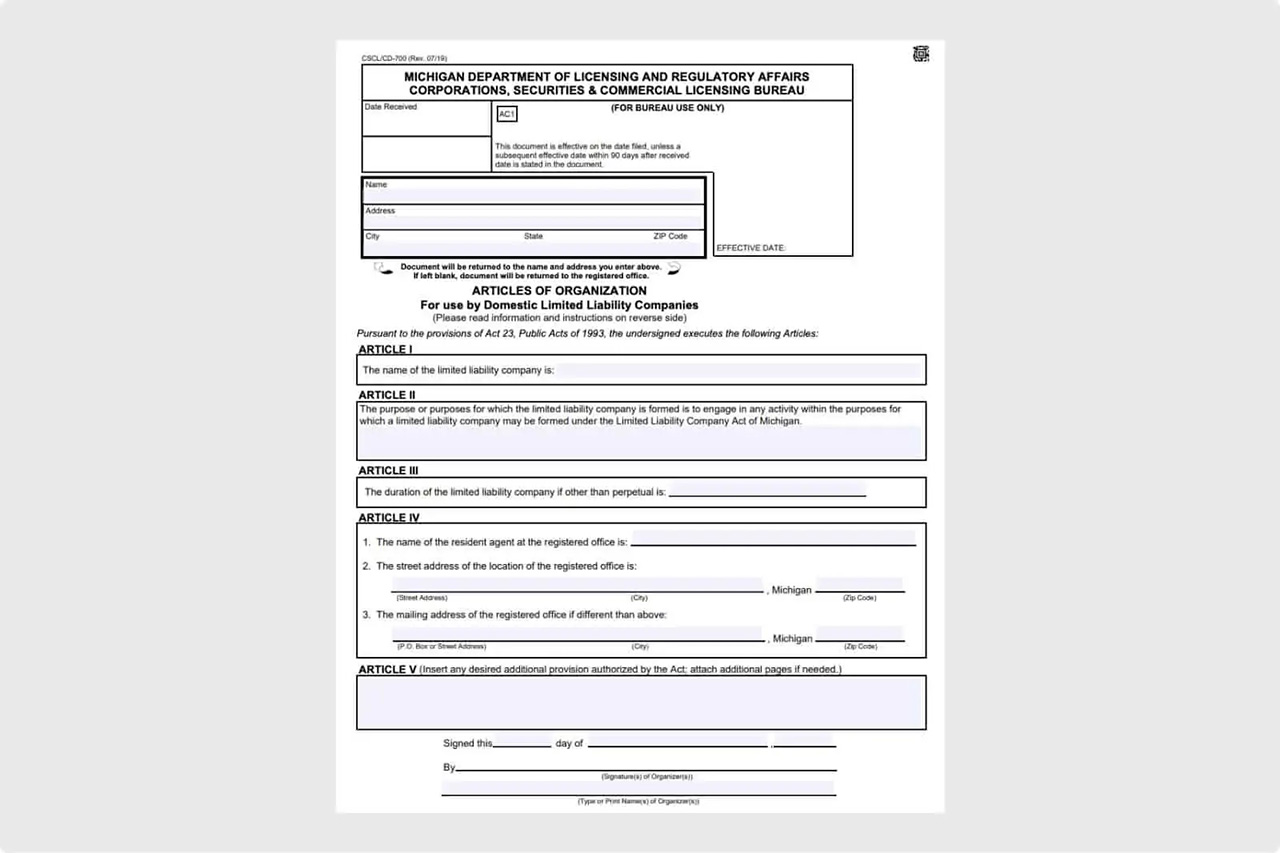 The formation documents for a domestic Professional Services LLC (PLLC) ask for more detail. But, the fee and filing options are the same.
Foreign LLC
For a Foreign LLC to do business in Michigan, it must file an Application for Certificate of Authority to Transact Business in Michigan with Michigan's Corporations Division. It can be filed by mail or online (see instructions on page 2 of the form).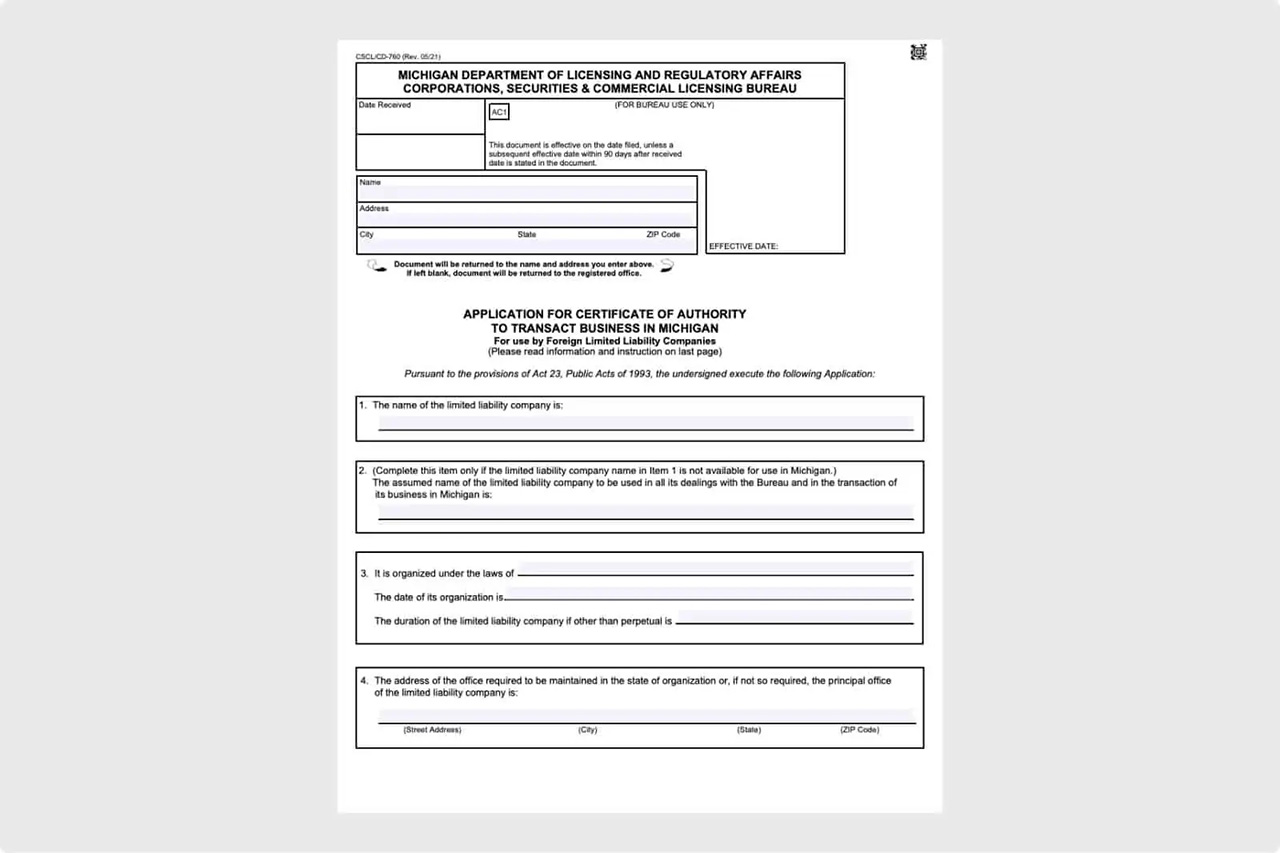 For the filing to get accepted, a foreign LLC must include a certificate of good standing from its home state that is no older than 30 days. Also, if the business name is not available in Michigan, which can be checked through the Business Entity Search, then your LLC needs to file for an assumed name.
Processing times
Formation documents filed online are reviewed within 24 hours of receipt. Mailed-in documents can take several business days to review. There are additional fees for expedited service.
$50 for guaranteed 24-hour service
$100 for same-day service
$500 for two-hour service
$1,000 for one-hour service
So if you're in a rush, you have options!
Extra Michigan LLC costs to account for
Articles of organization are the basic documents you need to start an LLC. But in reality, most LLC business owners face other costs, too, such as the following.
Registered agent fees: vary
There are no extra state fees in Michigan to add a registered agent to a newly formed LLC. However, if you decide to change your agent's details, later on, you'll have to file a form and pay a $5 state filing fee.
To be your own registered agent (or resident agent in MI), you need a Michigan street address. Alternatively, you can hire a professional registered agent service to handle the service of process documents — the receipt of legal documents on behalf of your LLC.
Why choose a registered agent professional service?
Unavailability to receive mail during business hours — for example, if you're a Foreign LLC with members also located outside of Michigan.
Privacy — the registered address and registered agent's name will be publicly disclosed, not yours.
Convenience — registered agents are expected to be available at the LLC's registered office during business hours to receive service of process for legal documents. It saves you heaps of time and eliminates stress.
Hiring a professional registered agent service will cost about $49-$125 per year.
Trade name registration: $25
It's important to choose a business name that is distinguishable from other Michigan business entities' names when forming an LLC.
LLCs may use an assumed name, also known as a trade name or doing business as (DBA), to operate other business activities or divisions. An assumed name can be different from the LLC's legal business name, written on company incorporation documents. For a foreign LLC with a business name not available in the state of Michigan, an assumed name can help stay on brand.
Michigan LLCs need to file a Certificate of Assumed Name with LARA for $25 to register an assumed name.
Taxes
Multi-member LLCs and single-member LLCs with employees must obtain an Employer Identification Number (EIN) from the IRS for federal tax requirements, income tax, and a tax ID. There are also state tax requirements.
Some LLCs need to register with the Michigan Department of Treasury for a sales tax license.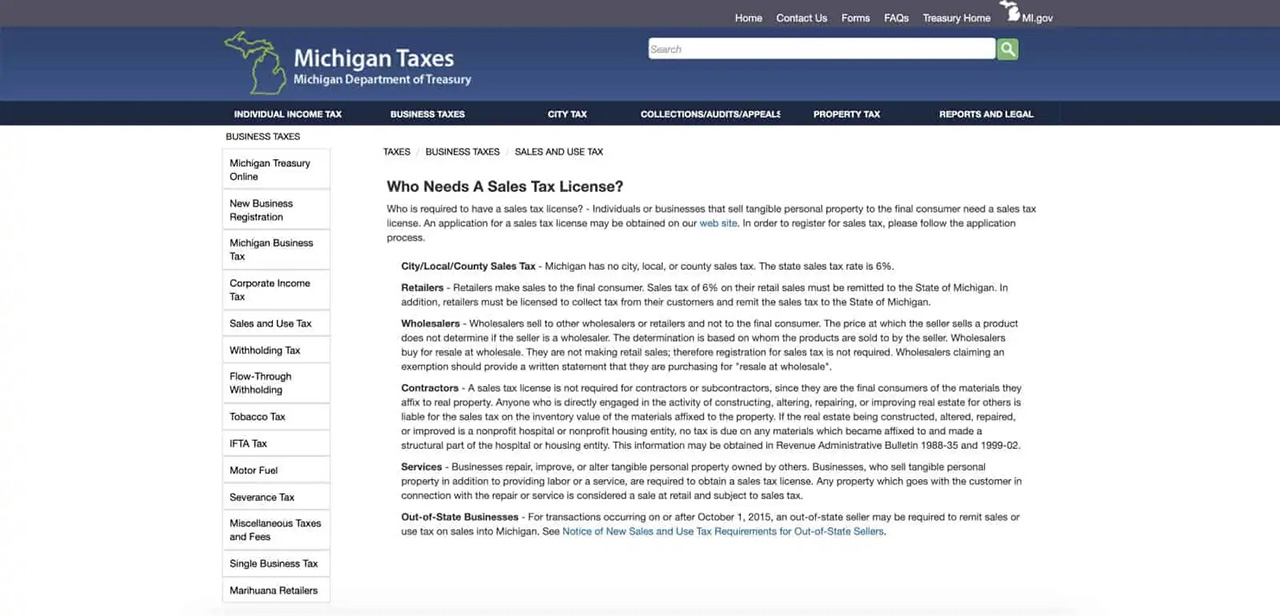 Businesses can file online to register for Michigan tax IDs and employer identification numbers. It's essential if you plan to hire local workers.
On the positive side is the fact that Michigan doesn't charge any minimal annual franchise taxes for the privilege of operating in the state.
The state also levies a 6% flat-rate corporate income tax on all business entities, reporting income as C-corporations. So if you ever change your tax class, be mindful of this.
LLC name reservation fee: $25
An LLC can reserve a business name so another business does not use it. In Michigan, the LLC name reservation filing fee is only $25, and you can "claim dibs" on a name for 120 days. Then extended the reservation for another 60 + 60 days.
Why do this?
Forming an LLC takes time. You need to do the document filings, pay state filing fees, register an LLC business name or assumed name(s), select a registered agent, obtain licenses and permits. If you are still ironing out the operational details of your business, then making a name reservation gives you some extra time.
How to reserve an LLC business name
First, check the Business Entity Search Michigan database to see if your LLC business name is available. Then, an LLC business name can be reserved by filing an Application of Reservation of Name form with the Michigan Department of Licensing and Regulatory Affairs, along with a $25 filing fee.
Certified document copy costs: vary
Expect a fee when ordering certified document copies and certificates from the local authorities. The costs vary based on how you request them and the number of pages.
If you request by mail, online, or by phone, the fees are:
Certified copies – minimum fee of $16; $1 for each additional page over the first 6 pages.
Certificates – $10 for LLCs.
If certified documents or certificates are ordered in person, then the fees are:
Certified copies – minimum fee of $20; $1.25 fee for each page over the first 6 pages.
Certificates – $12.50 for LLCs.
Expedited orders are available for an additional 25%.
Business permits and licenses
Business permits and licenses are required for LLCs based on the type of business it operates. You need to comply with federal, state, and local (county/city) requirements.
Federal requirements
The U.S. Small Business Administration website lists the types of businesses and resources on requirements, plus state and federal agencies to file with.
If you operate in agriculture, finance, healthcare, or law, you'll likely need to obtain a specific license.
State and local requirements
Also, you'll need to check the state level and local level for additional business permits and licenses that may be required based on your LLC's location and the type of industry. For Michigan, there's an alphabetical state list of business permits and licenses to help you locate what the requirements may be for your LLC.
LLC owners should also check with the local county clerk's office to determine if additional permits or licenses are required to operate their LLC in that location.
Costs
The costs will vary widely given the many possible agencies with requirements and the nature of each business. For example, agricultural, manufacturing companies, and professional service LLCs may have more permit and license requirements than other LLCs.
Ballpark annual costs for a professional business license are $100-$150.
Does Michigan have an annual LLC fee?
Yes, all LLCs are required to file an annual report. The due date is February 15th, starting after the LLC's year of formation. If the company was formed after September 30th, the due date is February 15th of the year following the first full calendar year.
The filing fee for Limited Liability Company Annual Statement: $25.
The filing fee for Professional Limited Liability Company (or a PLLC) Annual Statement and Annual Report: $75.
Late filings have a $50 penalty fee in both cases.
Conclusion: How much does an LLC cost in Michigan?
Forming an LLC in Michigan starts with a $50 filing fee for the articles of the organization. It can be your only cost if you form a Michigan LLC yourself and skip other optional costs.
The annual cost to maintain an LLC in Michigan is $25 for domestic and foreign LLCs and $75 for PLLCs.
Other costs are variable. For example, you may choose to reserve a business name for $25 or obtain an assumed name certificate, which also costs $25.
Additionally, LLCs that choose to hire a professional registered agent service or professional LLC formation service can expect at least an additional $100 per year.
Also, there can come costs for tax requirements, such as sales taxes and business permits and licenses, depending on your LLC.

Last updated:
Jan 2023
Start your LLC the easy way
Forming your LLC is a checkbox that needs to be ticked. Easy, fast and worry-free. We reviewed the 13 most popular LLC formation services to figure out who truly understands what new founders need. Our recommendation:
LLC Formation: $39 + state fees
Pricing:
Turnaround Time:
Help & Support:
Customer Satisfaction:
Ease of use:
Best LLC Service 2022

Formed 1,000,000+ LLCs
$39 formation includes registered agent service
Fast formation & same day filing
Exceptional customer reviews

Last updated:
Jan 2023