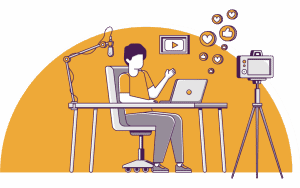 The pandemic only accelerated the growth of home businesses. Nevertheless, you may find it overwhelming to start your own business when you consider renting an office, gathering supplies, and allocating space for your employees.
Fortunately, technology provides the option of a remote, home-based small business.
Many employees prefer remote work because they can be productive from their homes, and they can skip the time-consuming commute to and from the office. In fact, many remote workers have reported improved productivity. An at-home business plan also allows for an easy start-up and lower administrative costs for homeowners.
Being an entrepreneur just got a whole lot easier with these 27 home business ideas.
Table of contents
---

Last updated:
Mar 2023
Start your LLC the easy way
Forming your LLC is a checkbox that needs to be ticked. Easy, fast and worry-free. We reviewed the 13 most popular LLC formation services to figure out who truly understands what new founders need. Our recommendation:
LLC Formation: $39 + state fees
Pricing:
Turnaround Time:
Help & Support:
Customer Satisfaction:
Ease of use:
Best LLC Service 2022

Formed 1,000,000+ LLCs
$39 formation includes registered agent service
Fast formation & same day filing
Exceptional customer reviews

Last updated:
Mar 2023
The case for running an at-home business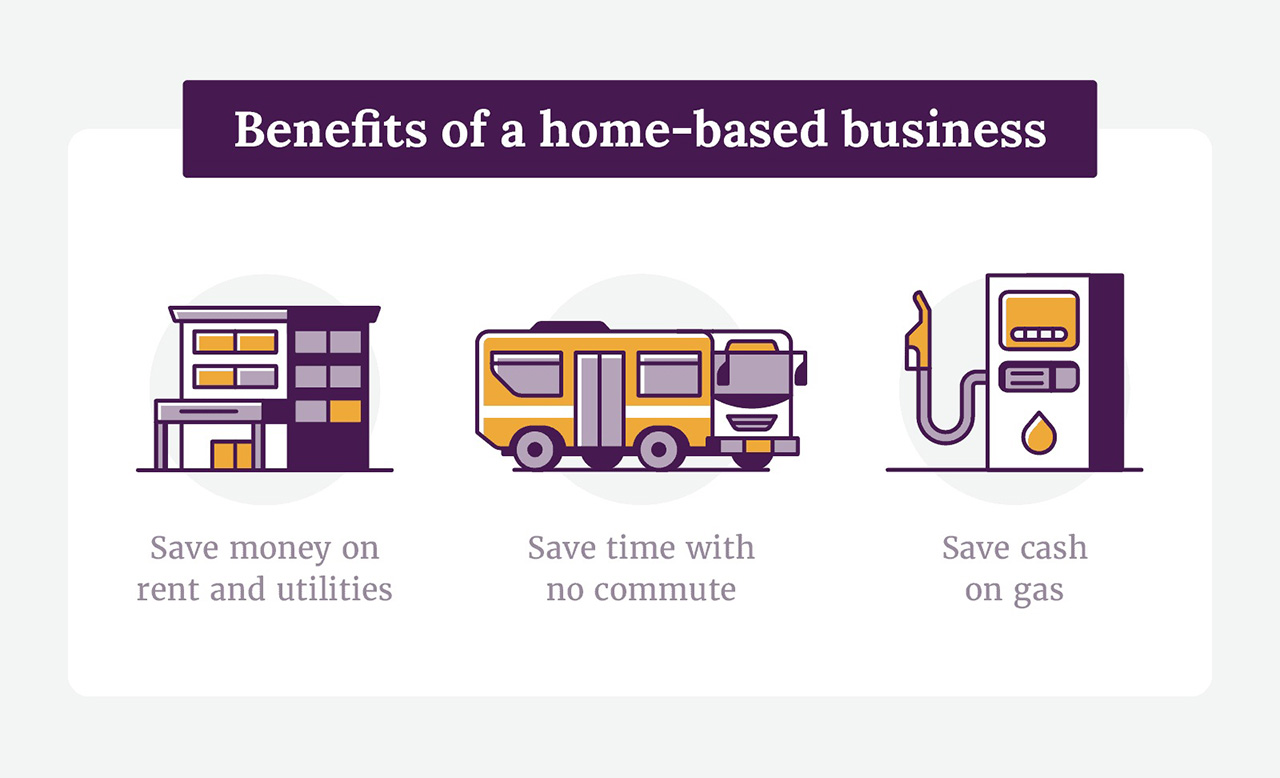 Business owners can benefit from a home-based business model in many ways, some of which we've listed below:
Save money on renting office space
No need to schedule around a long work commute
Save cash on gas and office supplies
Many businesses have become fully remote, especially in the corporate or online space, since nearly every aspect of their services can be done from a computer. By cutting unnecessary expenditures of in-person work, home business opportunities allow for a higher profit margin given the lower cost of operation.
What kind of business can I run from home?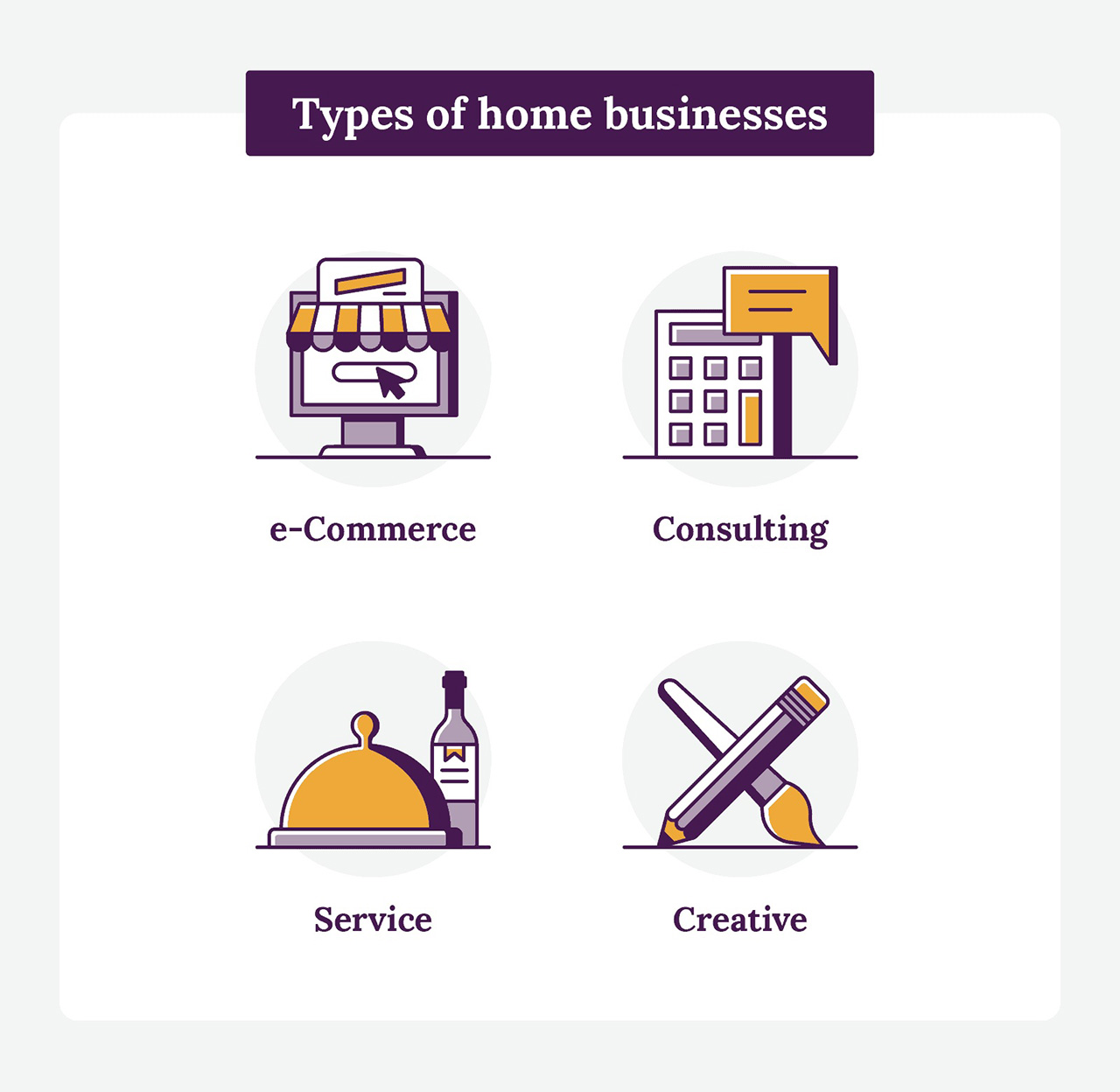 Some business models offer the perfect opportunity for a home business, like creative and consulting industries. These home-based business ideas offer convenient operations without having to rent an office or travel. There are limitless possibilities for what your home business can become depending on your skill set, but most of them fall under the following categories.
e-Commerce
Arguably one of the largest industries on the web, e-Commerce involves every kind of online shopping you can imagine. Many consumers opt for online businesses because of the unique products they offer. Selling goods online is where many successful businesses get their start, like Amazon and eBay.
Consulting
Offering expert services as a consulting firm is another popular form of home business. Many industry professionals start their own business when they've learned their particular trade. Entrepreneurs in many industries get their start through consulting firms. Consultants know how to navigate their industry and can help others do the same.
Creative
Professionals who specialize in creative fields like graphic design, writing, and editing often pursue freelance careers to select which projects they take on. Earning extra money for the skills they've worked hard to achieve is the beginning of every creative individual's journey in entrepreneurship.
Service
Companies will outsource services they can't do on their own, like carpentry or catering, which is why service industries are growing more popular. This is one of the types of business that is most successful through word-of-mouth advertising. Countless small business ideas are based on providing a service, so you never have to worry about a shortage of ideas.
e-Commerce home business ideas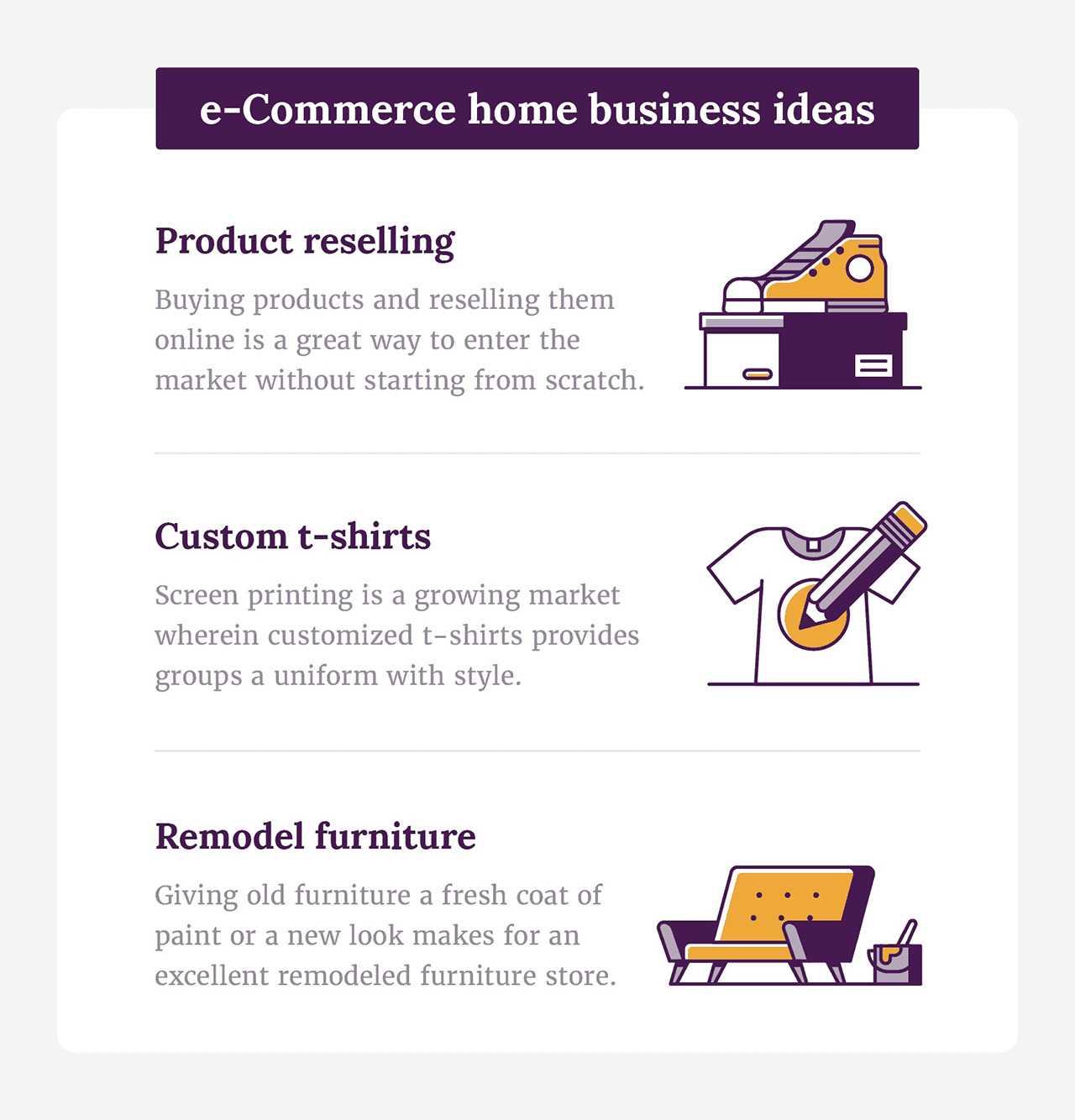 Selling goods from the comfort of your own home is how many entrepreneurs make a living, from selling refurbished technology to the newest Nike sneakers.
Technology makes these home business opportunities possible because of the myriad of websites to sell their products. You can even make your own website on WordPress. Another popular niche of e-Commerce is selling third-party products from another company or dropshipping.
1. Thrifted clothing boutique
As customers are looking for more sustainable forms of fashion, pre-owned clothing stores are making a name for themselves on mobile apps like Depop and Poshmark. Selling lightly used clothing and accessories can go from a hobby to a full-time job with enough dedication and outreach. If you have enough space and clothing to showcase, you could even set up clothing racks for customers to browse in person.
2. Handmade jewelry store
Personalized jewelry serves as a thoughtful gift for loved ones, so handmade jewelry makers can profit from selling their pieces online. Customers also desire ethically sourced materials from reliable sellers on websites like Etsy, so handmade jewelry is definitely in demand. With a quick trip to your local craft store for materials, your jewelry business is ready to begin.
3. Product reseller
Buying and reselling highly anticipated designer products is how many make a profit from home. Resellers typically buy items like limited edition shoes or designer clothing and sell them for profit.
Websites like StockX and GOAT have made their names by reselling designer clothing from Fear of God, OFFWhite, and other highly sought-after brands.
4. Reworked online clothing store
Those with a passion for embroidery or reworking clothing items can set up their own online clothing store. Mobile apps like Depop are great places to sell your unique pieces, and they provide a variety of shipping options.
5. Custom t-shirt business
Screen printing t-shirts is a useful skill for creating custom items for sports teams, organizations, or clubs. This provides customers with group apparel and memories that last. All you need to start your custom t-shirt business is a screen printing machine, ink to print with, and, of course, some t-shirts.
6. Lifestyle product online store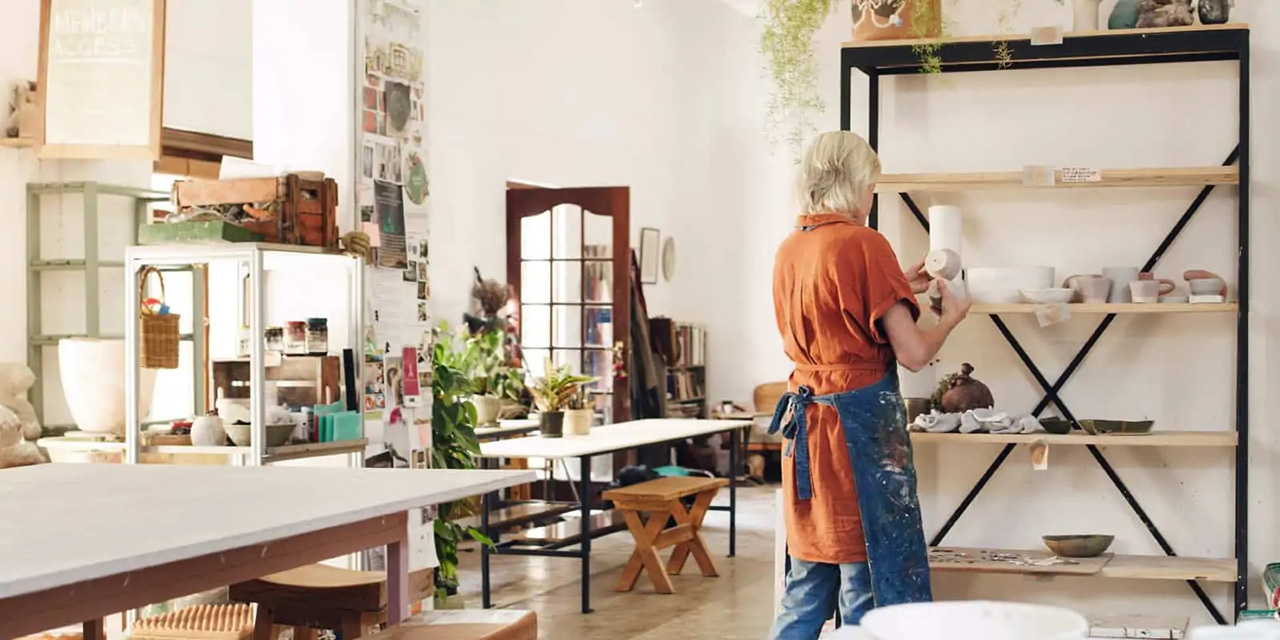 Lifestyle products include household items like toothbrush holders, decorative pottery, and personalized tote bags. Creating your own online shop to sell your lifestyle products is an amazing opportunity to find an industry niche, like eco-friendly or luxury products.
7. Handmade accessory shop
Accessories like scrunchies, jewelry, and even footwear are now being sold independently through crafty entrepreneurs. Kitsch CEO Cassandra Thurswell began her own accessory shop with handmade hair ties and has been able to grow her business to 27 countries.
8. Online remodeled furniture storefront
Remodeling furniture pieces in need of a refresh is an excellent method to make someone waste another person's treasure. Giving old furniture items a new coat of paint or some extra repairs can give you some amazing pieces to sell online from your home office furniture store.
Consulting home business ideas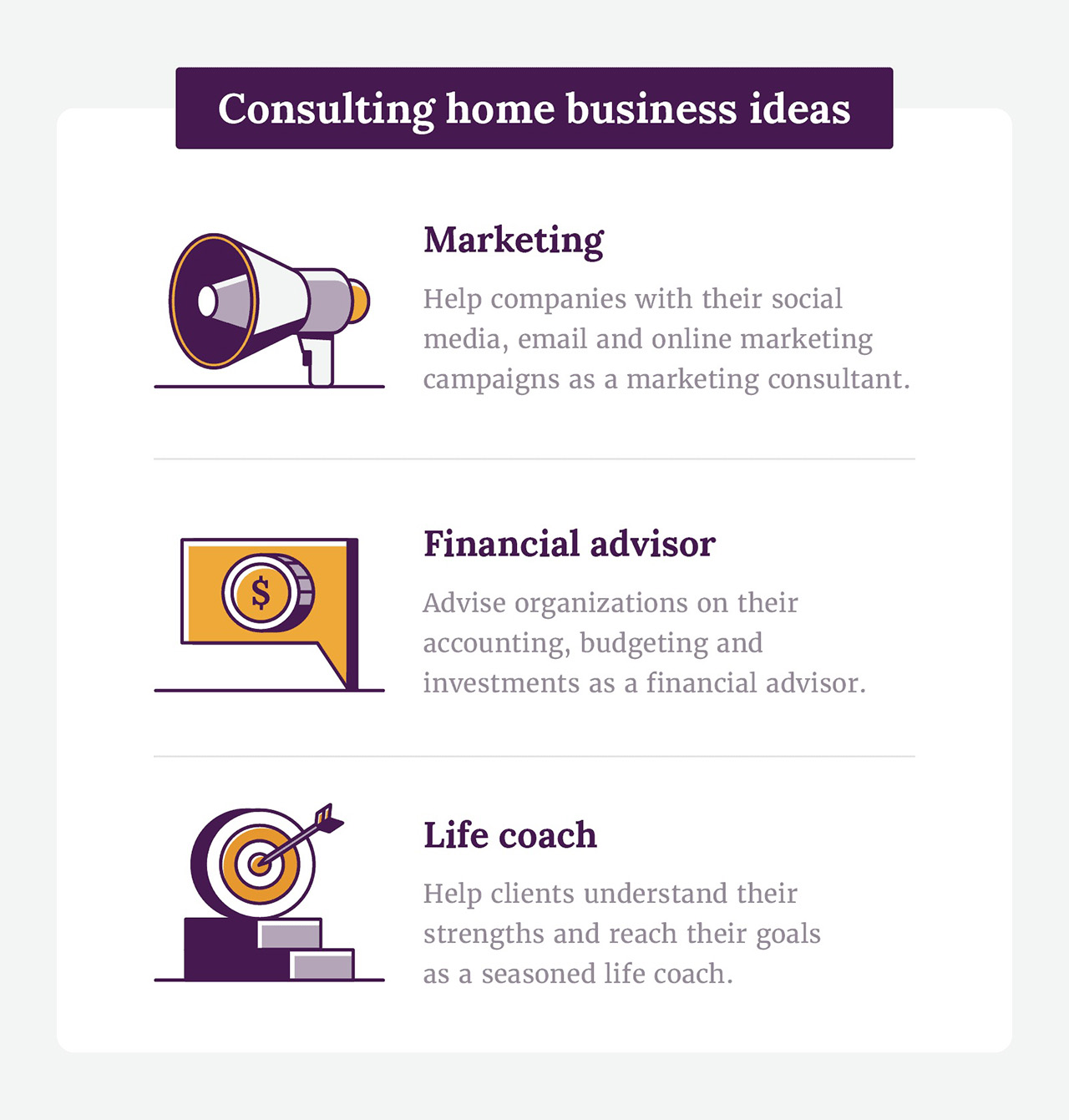 Consulting is one of the most desired professions because of its flexibility and high reward. Industry professionals can offer their expertise as a part of a consulting firm or independently. Starting a consulting business based at home allows you to pick and choose your clients without a time-consuming commute to different client locations.
To start your journey as a consultant, we've compiled some of the top work-from-home ideas in consulting.
9. Marketing consulting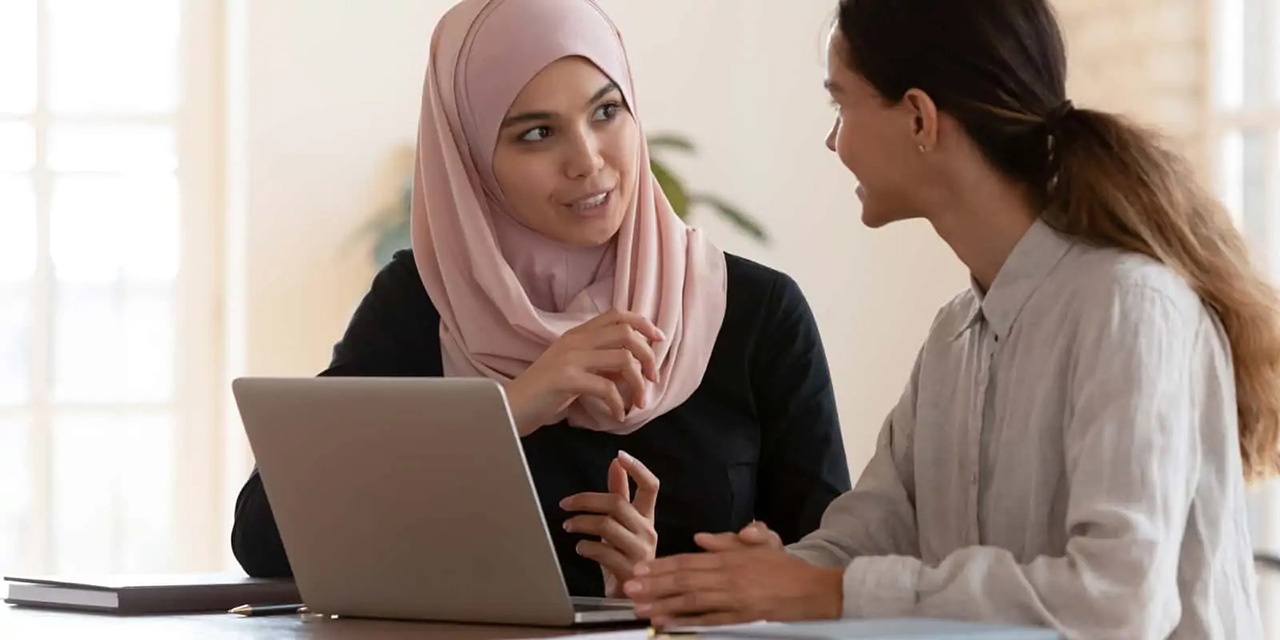 Marketing experts can offer their services as consultants who primarily take account of a company or organization's current marketing strategy. They then suggest how they can improve their efforts through SEO, web design, and other channels. Marketing consultants can also help with best marketing practices, social media marketing, and content creation.
10. Public relations consulting
Every company needs good public relations to establish its perceived image. Public relations consultants and copywriters help handle that image through getting the company media coverage, helping them prepare for interviews, and writing press releases for the company. Since much of this profession can be done from a computer, this makes for an excellent home business idea.
11. Financial advising
A common form of consulting is being a financial advisor, whose main role is to help companies align with their financial goals like making a profit, internal bookkeeping, and return on investment. Advanced financial advisors can offer assistance when it comes to investments and scaling into new markets. Although this is one of the more intensive forms of consulting, it is gratifying and can make or break a business.
12. Life coach business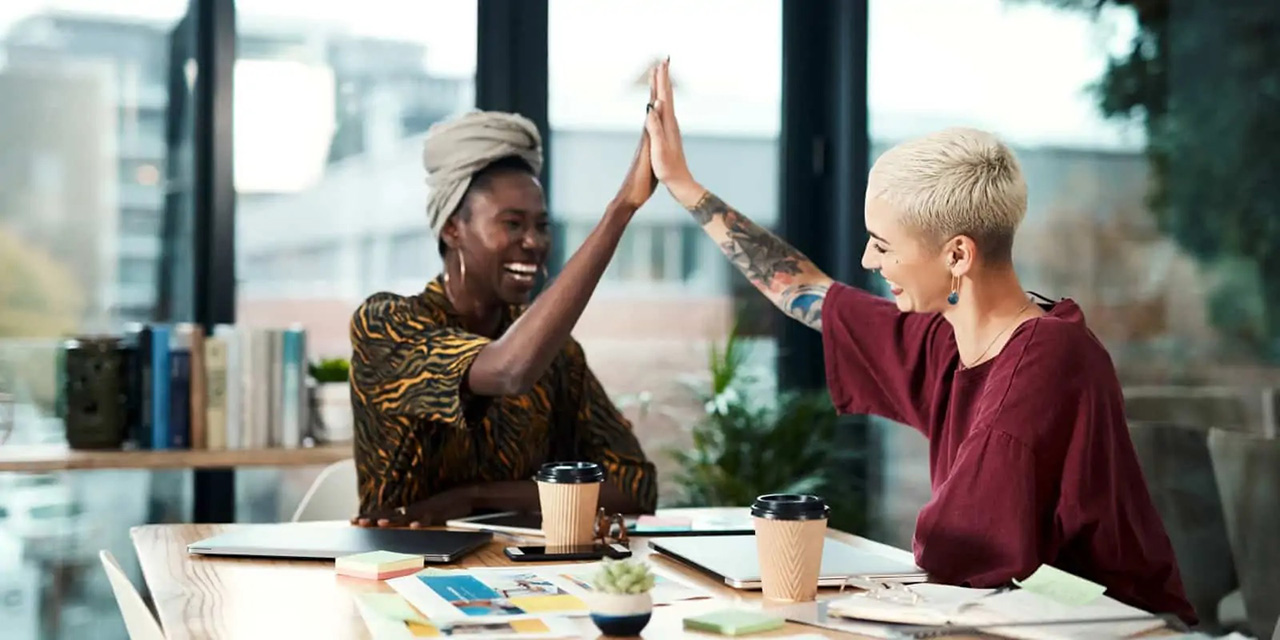 Life coaches have the unique responsibility of helping their clients reach their goals and ultimately gain fulfillment in life. They are different from therapists, who alternatively provide emotional support. A life coaching endeavor can be a wonderful home business because you can dedicate one room or area of your home to see one client at a time.
13. Graphic design firm
If you have an eye for design and making things aesthetically pleasing, a graphic design consulting firm could be your new business. Although a degree in graphic design is usually required, offering your skills as a freelance graphic designer or working for a firm can all be executed from the comfort of your home.
14. Social media marketing
Marketing consultants can further specialize in social media marketing, where they help run businesses' social media channels by coming up with content, copy, and even advertisements. For social media savvy and enjoy curating customized content, becoming a social media marketer is definitely worth your while.
Creative home business ideas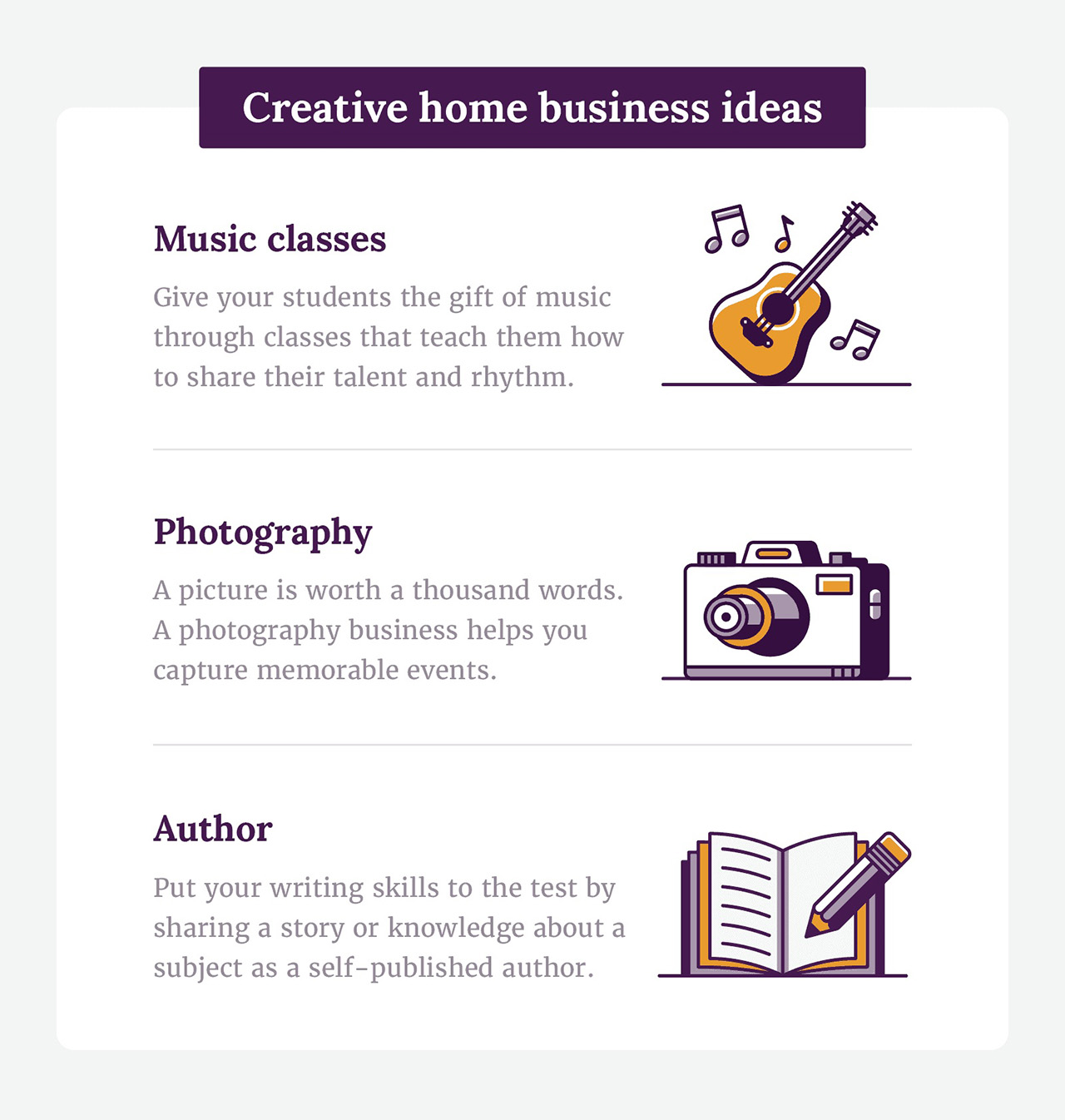 Creative individuals have a unique business opportunity where they can profit off of what they love. Entrepreneurs are especially successful at taking a hobby and turning it into their income. Whether you have a passion for creating beautiful photography or crafting a thorough lesson plan, there are endless opportunities for creative at-home businesses.
15. Freelance writing
New York Times bestselling author Jen Sincero started as a freelance writer in her garage and turned her side business into a booming career.
A great way to get your foot in the door as a freelance writer is to start as a blogger because blogging helps improve your writing skills and gets your work out there for people to read. A career in freelance writing or copywriting may be your next business venture for those with a passion for the written word and journalism.
16. Music classes
Musicians have a valuable gift that they can share with others. Designating a space in your home for music lessons is an easy, low-cost way to turn your passion into your paycheck. Make sure you're teaching in an enclosed space so as not to disturb others with loud instruments.
17. Photography or videography business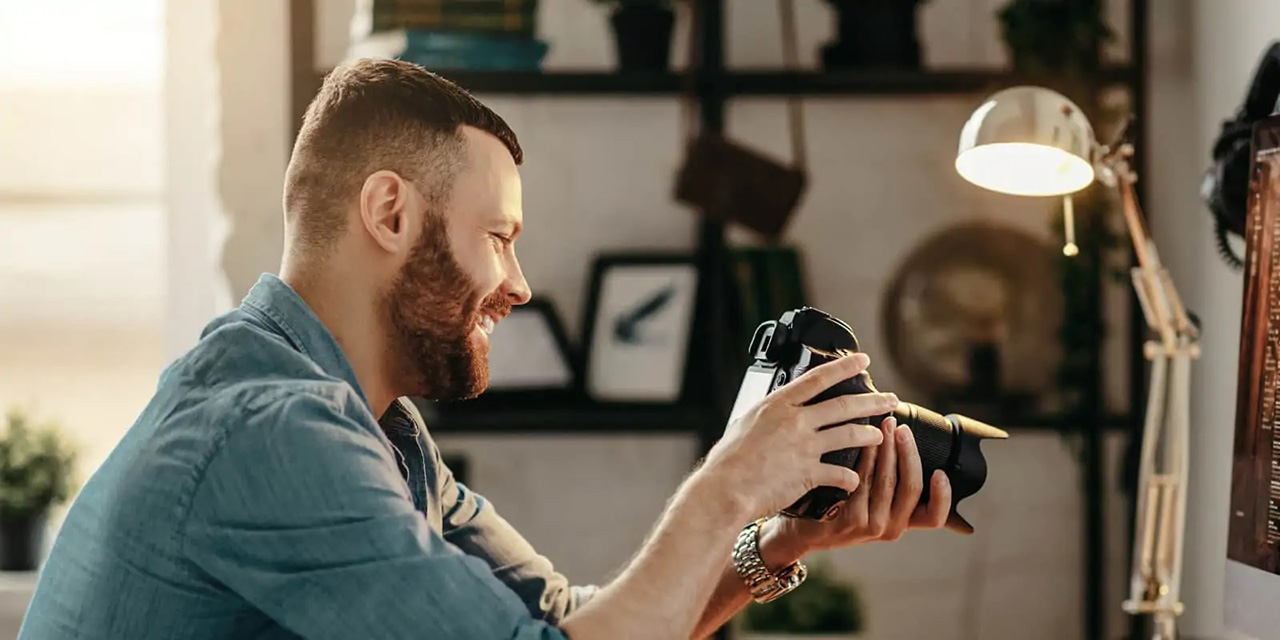 If you have a camera and a tripod, you're in luck: you already have the materials to start your own photography business. Become a portrait photographer or dynamic videographer where you can charge your clients for your skills. Software like Adobe Photoshop or Lightroom can give you an extra add-on service for customers as well.
18. Teaching and tutoring business
Expertise in a subject can be a huge asset for students. Much like offering music classes, starting a teaching or tutoring home business requires a space in your home to dedicate to teaching or tutoring. This can even be done virtually through video conferencing to help you reach a wider pool of students.
19. Digital courses business
Instead of in-person schooling, many are opting for online courses through platforms like LinkedIn Learning or Udemy. Creating digital courses that people can pay for is an excellent home business idea that only requires a computer and a stable internet connection.
20. Social media influencer
Becoming a social media influencer is growing in popularity: there are an estimated 3.2 to 37.8 million social media influencers on Instagram, TikTok, and YouTube combined. Through affiliate marketing of products and services, many influencers can make a lucrative income. This is an excellent home business opportunity because all you need is a camera and a well-lit place to record.
21. Self-published author
Instead of convincing a publishing company to help you release a book, there are plenty of self-published authors who have been New York Times bestselling authors. Websites like Amazon offer authors options to self-publish and make a living through their work easily. What was once a form of passive income can now provide a comfortable salary.
Service-based home business ideas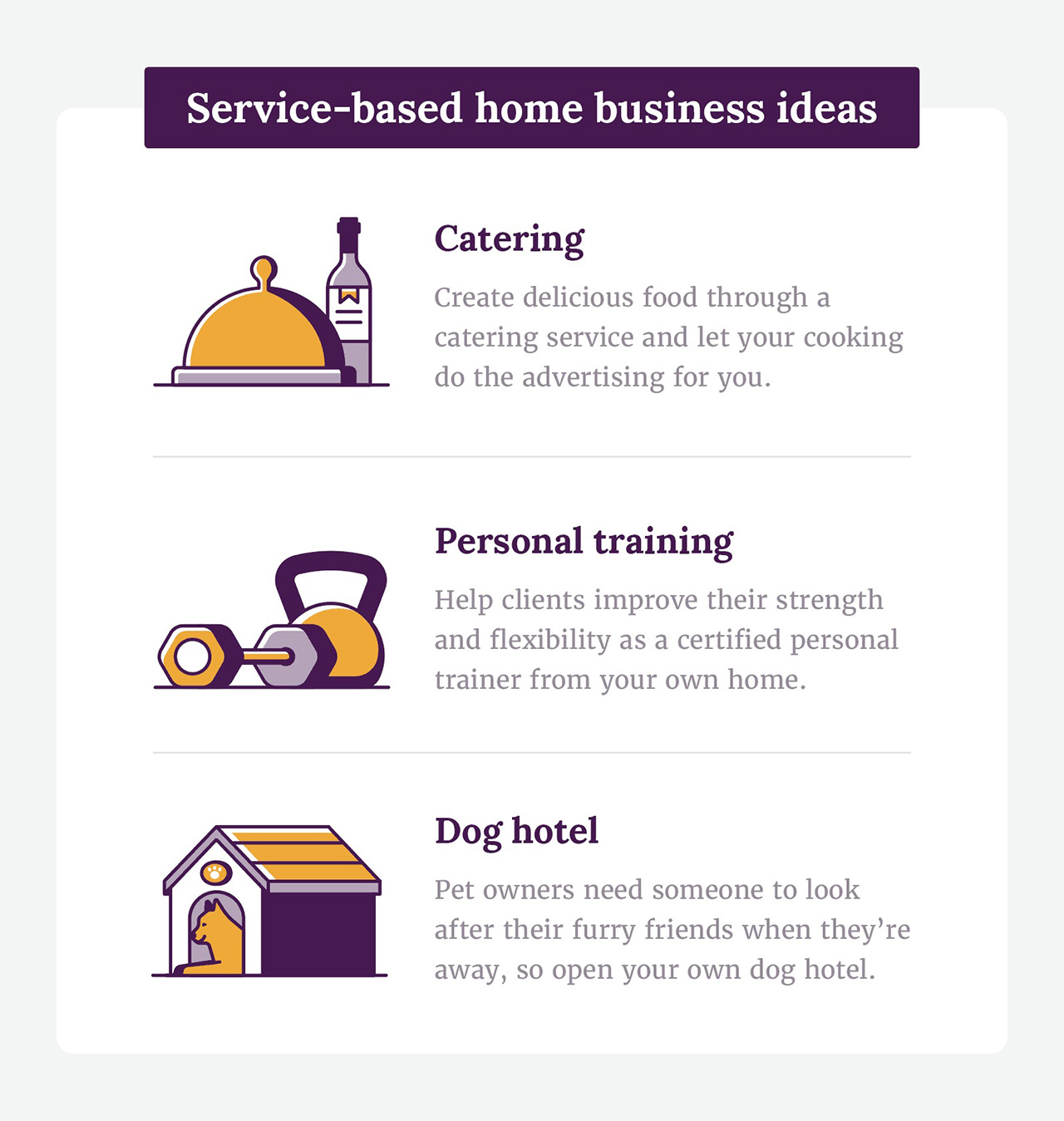 Consumers are always looking to outsource services to make their lives easier. Some of the best business ideas are service-based and can be done from home with the right resources, like catering or a doggy daycare business.
What's great about a service-based home business is that you can adjust your rate based on the current market and what you bring to the table. Get started with these service-based home business opportunities.
22. Catering business
Cooking for large groups of people takes time and space that many don't have. If cooking in large quantities is your forte, consider a career in the catering business. This is an excellent home business opportunity because nearly everything can be done at home, and you can charge a delivery fee if customers want the dishes delivered.
23. Personal training business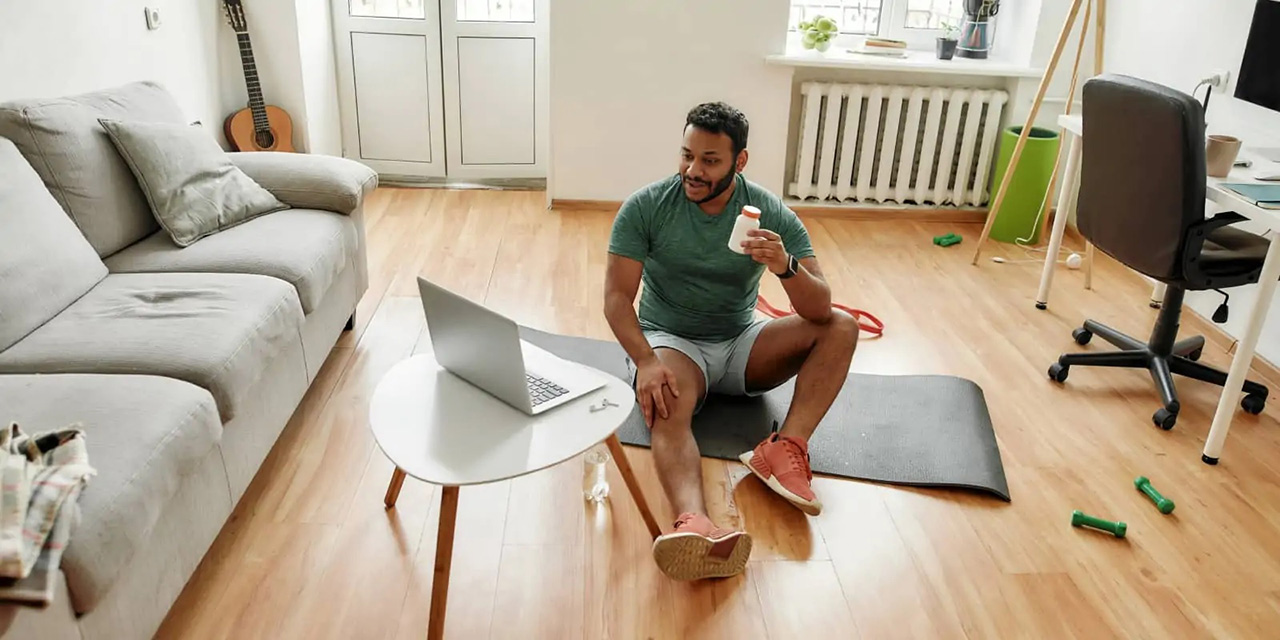 Finding the perfect workout routine doesn't come easy to everyone, especially when they need an extra push of motivation. Offering services as a personal trainer is an amazing way for fitness fanatics to share their knowledge. Most trainers have certification or training, so make sure that you're qualified to train.
24. Carpentry business
Creating furniture built to last is the important job of a carpenter. Many customers want customized furniture built from scratch, making carpentry an excellent home business idea if you have space. There is no certification required for this profession, but it is available if you want to boost your credibility with clients.
25. Car cleaning and detailing
If you have access to a hose and enough space at home, starting a home-based car cleaning service might be your next business venture. Perfect for those in warmer climates, becoming the go-to neighborhood car cleaner can result in many local customers who can provide word-of-mouth advertising. You can charge different rates based on how deep the clean is and offer car detailing services.
26. Child daycare business
Take babysitting to the next level with a child daycare business. Many parents are returning to work and need responsible childcare. If you are watching one or two children, you may not need a license; however, it would be in your best interest to obtain certification if you are looking to care for more than a couple of kids.
27. Dog daycare or hotel
During holidays or business trips, pet owners need dog sitters to take care of their furry friends. Opening a dog hotel is great for people who love animals and are responsible caretakers. Dog daycare owners typically have the responsibilities of dog walking and pet sitting. Websites like Rover offer the option to post your business online to begin your career as a dog hotel owner.
How to start a business at home (checklist)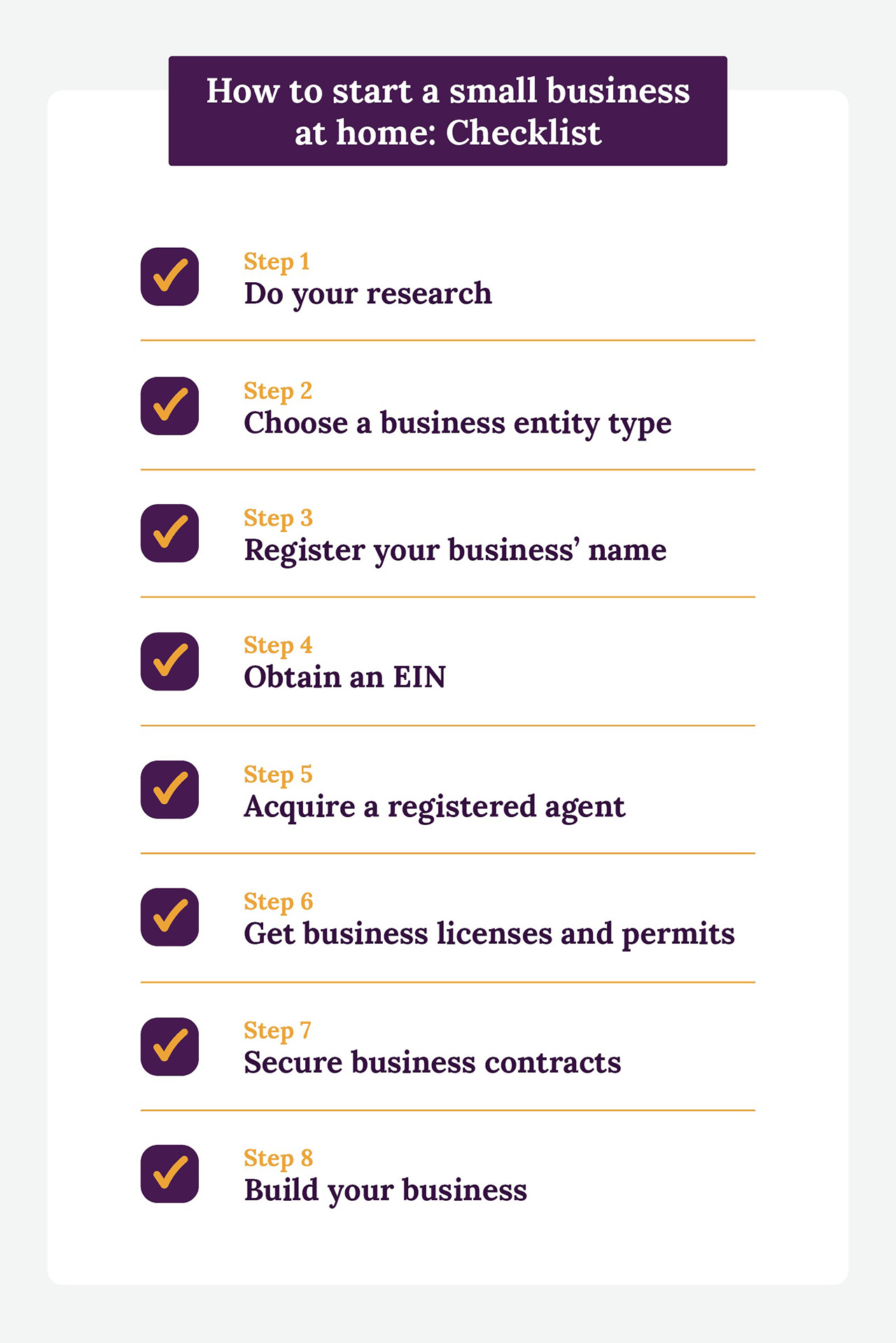 To help you get started on your home business, we've created a checklist outlining the steps needed to start your next venture. It's important to establish a foundation of what you plan to do to avoid unforeseen obstacles.
Step 1: Do your research
Starting your own business from home may seem easy at first, but there are many moving parts to consider. Ensure to research the home business idea to establish what certification you may need and what supplies you need to buy.
Step 2: Choose a business entity type
The type of business you choose has an impact on income tax, legal responsibilities, and liability. Below are the most common business entity types for an at-home business.
Sole proprietorship
Partnership
LLC
C Corporation
S Corporation
Step 3: Register your business's name
Make sure another business in your state hasn't taken the business name you want to use. LLC owners and those incorporating a business automatically have their business name registered with the state. On the other hand, sole proprietors must use a fake name to register their business with the state in the case that the business name doesn't include their first name.
Step 4: Obtain a federal tax employer identification number (EIN)
More often than not, businesses need an EIN for filing taxes and reporting, especially if you want to hire employees. In fact, partnerships, LLCs, and corporations are required to have an EIN. Most banks won't allow you to open a business bank account without one.
Step 5: Acquire a registered agent
Businesses need a registered agent to receive legal documents and government notices for the company. Some of the documents they may handle are correspondence from the government, tax notices, lawsuits, subpoenas, and corporate filing notifications.
Step 6: Get necessary licenses and permits
Some home businesses require specific licenses or permits to operate, like daycare or personal training businesses. Some examples of permits certain businesses may need are a health permit for catering and a sales tax permit for e-Commerce.
Step 7: Secure business contracts
Depending on the type of business, you may need agreements or contracts to secure information or set guidelines. We've listed some types of contracts you may need below.
Operating agreement
Non-disclosure agreement (NDA)
Independent contractor agreement
Service contract
Step 8: Build your business
Once you've taken the preliminary steps to establish your business, you're on your way to reaching your business goals. Start making the blueprint for your business by noting the services you want to offer, the prices you will charge, and what you need to make it happen.
Wrapping up: Choosing the best home business for you
Finding the right home business depends on several factors:
What are you an expert in?
What resources and materials do you have access to?
Will you be able to sustain and scale your business over time?
Although these may be difficult questions to answer, they are necessary to determine the best home business for you. For example, you could be a fitness expert but not have access to a gym. In this scenario, you may want to consider going to a local park and doing personal training sessions with exercises that don't require equipment.
The best home business for you depends on your priorities: low startup costs, using your skills, or earning a high profit. If you have a technical skill, consider offering your skills as a freelancer and grow your business from a part-time side hustle.
It's always best to start with a few clients, and then when you're comfortable and ready to expand, go from there. A great way to get clients to spread the word about your hard work is through referrals, ultimately resulting in a profitable business.
Always make sure you have a good support network, so you're not left to your own devices should things go awry. The best home business to start is one that combines your expertise with the resources you have available to you.


Last updated:
Mar 2023
Start your LLC the easy way
Forming your LLC is a checkbox that needs to be ticked. Easy, fast and worry-free. We reviewed the 13 most popular LLC formation services to figure out who truly understands what new founders need. Our recommendation:
LLC Formation: $39 + state fees
Pricing:
Turnaround Time:
Help & Support:
Customer Satisfaction:
Ease of use:
Best LLC Service 2022

Formed 1,000,000+ LLCs
$39 formation includes registered agent service
Fast formation & same day filing
Exceptional customer reviews

Last updated:
Mar 2023