Utah offers many benefits to small business owners looking to establish a business entity such as a Limited Liability Company (LLC). The state's low tax rates make it an ideal location for new business owners.
Utah ranks in the top 10 of the 2021 State Business Tax Climate Index thanks to its low corporate tax rates (4.95% currently and suggested to be decreased to 4.66%), low property taxes, and personal income taxes.
On top of that, Utah's lack of minimal annual franchise taxes and low state filing fees make it an attractive place for starting your LLC.
This makes it easy for new businesses to set up shop, even when they don't have much capital behind them.
Here's a full guide with step-by-step instructions on how to start an LLC in Utah.
Steps to Open an LLC in Utah
---

Last updated:
Feb 2023
Start your LLC the easy way
Forming your LLC is a checkbox that needs to be ticked. Easy, fast and worry-free. We reviewed the 13 most popular LLC formation services to figure out who truly understands what new founders need. Our recommendation:
LLC Formation: $39 + state fees
Pricing:
Turnaround Time:
Help & Support:
Customer Satisfaction:
Ease of use:
Best LLC Service 2022

Formed 1,000,000+ LLCs
$39 formation includes registered agent service
Fast formation & same day filing
Exceptional customer reviews

Last updated:
Feb 2023
Step 1: Choose an unique business name for your LLC
The new company formation process begins with legal name selection.
The name of your Utah LLC must be distinguishable from other businesses registered in the state.
The Division of Corporations & Commercial Code defines "distinguishable" as a name having:
One or more different keywords from other registered names
Using the same or similar words in a different order
Creative spellings of some words
For example, "Chick Filet" is distinguishable from "Chick-fil-A" because of the variation in how the names are spelled.
The name must include "Limited Liability Company" or "Limited Company" or an abbreviation like LLC or L.L.C. Certain words like bank or insurance require additional permits to use while words like "Treasury" or "Government" are prohibited entirely from being a part of an LLC's name.
A name availability search tool will tell you if the name you want to use is available. You may also contact the Utah Secretary of State's office by phone to receive confirmation.
Note: Even if a business name appears to be available, the official decision on granting the name usage to your company will come from the state.
Name reservations
If you're not ready to start your business but like a particular name, you can reserve it for up to 120 days.
To do so, complete the Application for Reservation of Business Name form and pay the $22 fee if filing online.
If reserving a name by mail, send the form along with a check to:
Utah State Tax Commission
PO Box 141700
Salt Lake City, UT 84114-1700
Note: If you end up using the name before the 120 days expire, you must cancel the name reservation.
Doing business as (DBA)
Businesses that want to operate under a brand name different from their legal one must file a DBA with Utah's Division of Corporations and Commerce Code.
A DBA or "Doing Business As" is ideal for companies with legal names that aren't marketing-friendly. Or LLCs planning to run multiple brands under the same corporate umbrella.
Let's say you've registered your LLC under a generic name such as "Debbie and Co LLC." But your customers know you as "Debbie's Dresses." Filing for a DBA legally links these two names.
The LLC members or an organizer would need to file the DBA paperwork and pay a state fee of $22 for a three-year registration. Filings can be done by mail or online.
Step 2: Designate a registered agent
A registered agent is a business or person assigned to receive business correspondence and service of process of legal documents on behalf of your business.
The state also sends documents like annual reports to your designated registered agent. Thus, your LLC must have a registered agent with a street address in Utah (not a P.O. box).
Respectively, foreign LLCs without a local representative office and domestic LLCs operating from home may find the above requirement challenging to meet.
In that case, you can opt for a professional registered agent service. Professional service providers charge about $100 per year.
If you choose a professional service provider, the company must be active and in good standing with the Utah Division of Corporations.
Step 3: File the Utah LLC certificate of organization
Once you've chosen a name and designated a registered agent, the next step is to file a Certificate of Organization (Articles of Organization) with the state.
It can be done online or by mail, and the $70 processing fee is paid to the state of Utah by both domestic and foreign LLCs. Filings can be expedited for an additional $75.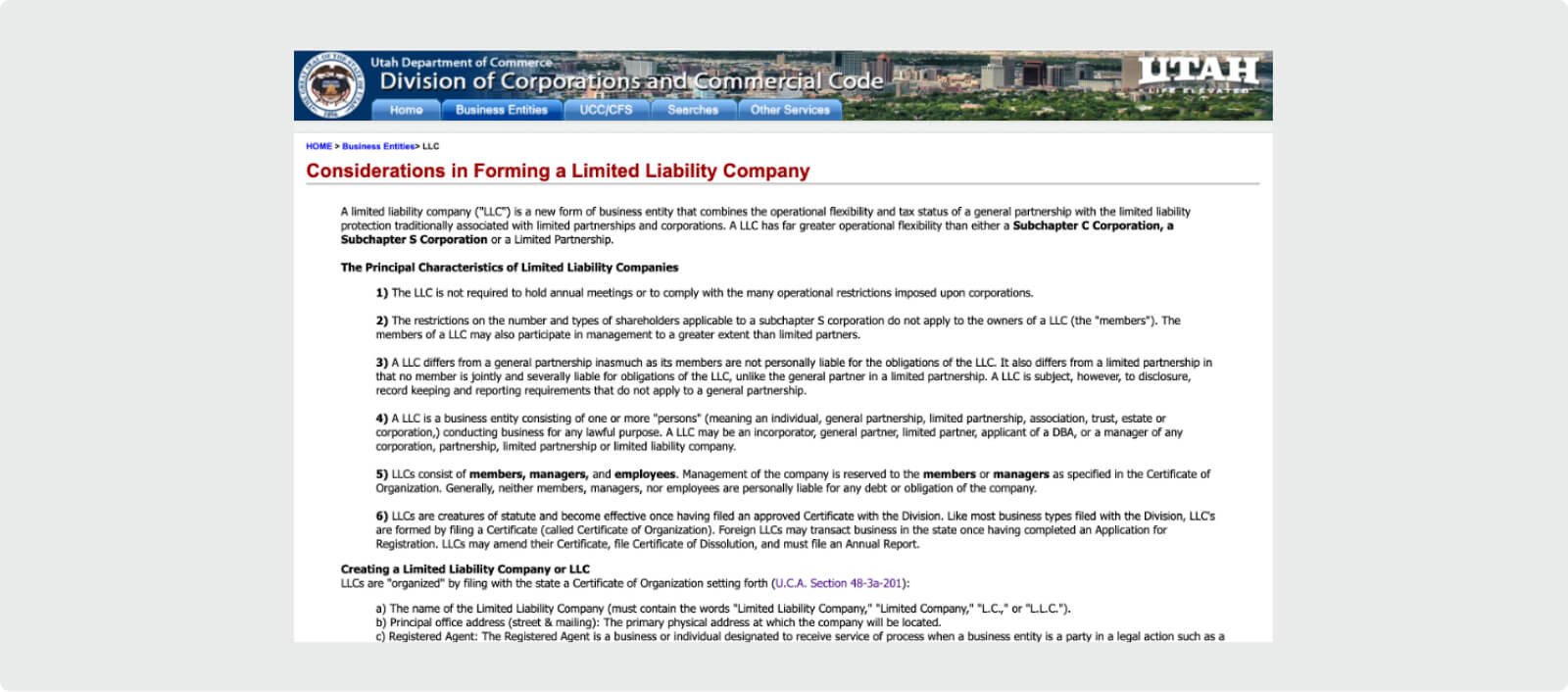 The LLC certificate of organization includes:
The LLC's name and mailing address
Registered agent's contact information
Additional statements for specialized LLCs (like low-profit or professional services companies)
A limited liability company is formed when the limited liability company's certificate of organization is marked as "effective" by the state.
Step 4: Obtain an EIN (Employer Identification Number) from the IRS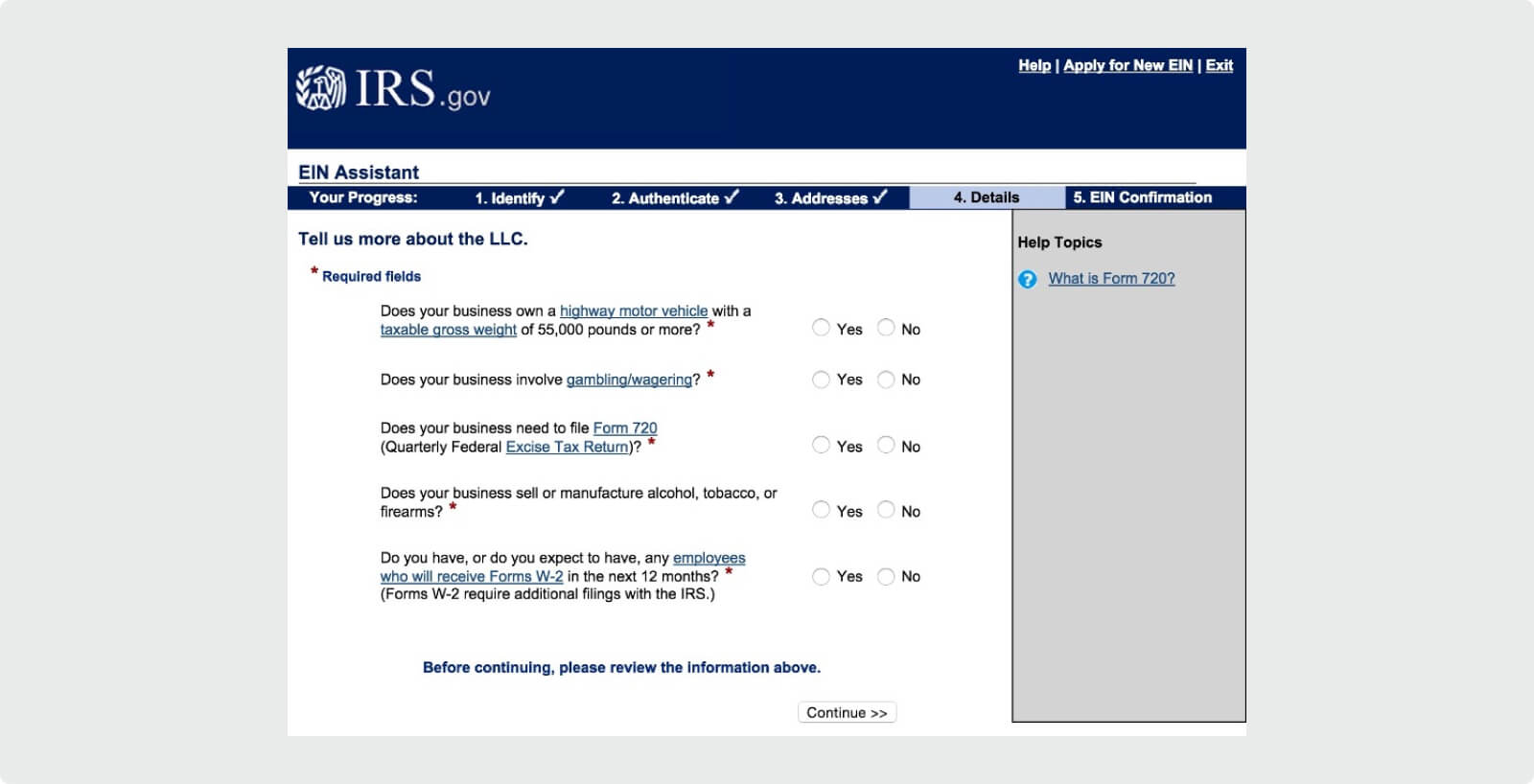 A Federal Tax ID number, also known as an EIN or Employer Identification Number, is required for many businesses for tax purposes.
Specifically, if you:
Plan to hire employees
Operate as a partnership
Withhold taxes on income
Bound to pay certain federal taxes
You can get one online through the IRS website after answering some questions about your business (owners, industry, business address).
Obtaining an EIN is free, and you receive it immediately.
Step 5: Register for sales tax license with Utah State Tax Commission
Businesses that sell taxable goods from the state or have an economic nexus in Utah must register for a sales tax license.
A business creates economic nexus (a local presence) with Utah when they meet one of several criteria:
Have a warehouse or fulfillment center
Have employees working locally
Sell products at local trade shows
Sell physical products (online or physical retail store) to Utah residents (conditions apply)
The statewide sales tax rate in Utah is 4.65%. However, sales tax rates also vary depending on the county and locality where you do business and the type of business you have.
Registering for a sales tax license is a simple and free process.
You can request a Utah sales tax number in three ways:
Via Taxpayer Access Point (TAP)
At OneStop Business Registration (OSBR) portal during company formation
By mailing a paper form to one of the tax offices
Many small business owners don't realize they need to collect or pay sales tax until it's too late – when they've already gotten a bill from the Utah State Tax Commission.
Thus, it's important to consult with a CPA to understand all of the scenarios which could create an economic nexus (and more taxes to pay) for your business.
Step 6: Prepare an LLC operating agreement
An operating agreement is a legal contract between the owners (LLC members) regarding the members' rights and responsibilities. It's similar to corporation bylaws but not legally required to be filed with the state. Single-member LLCs can skip this step.
But multi-member LLCs should prepare this document as having it in place prevents managerial issues and conflicts around profit distribution.
Utah doesn't have a required format for an operating agreement. Thus, you can use any template you find online or have an attorney draft a custom document for you.
Step 7: Open a local business bank account
Unlike a sole proprietorship, an LLC needs a separate business bank account to prevent the commingling of personal and business transactions.
Such separation is a compliance requirement for LLCs that's crucial for retaining the personal asset protection of its members. Commingling personal and business transactions implies that your LLC is not a separate business structure from you.
Due to that, you could lose your personal liability protection if your business is sued.
The Bank of Utah, Utah First Credit Union, and Ally Bank are popular local financial institutions that offer business checking accounts.
Most banks will ask for your EIN, Certificate of Organization, and an opening deposit averaging $100. Most business accounts also pay interest, offer merchant services and provide debit/credit cards.
Once these steps are done, congratulations! You have officially formed a Utah LLC and may now conduct business legally within the state.
If you plan on hiring employees or work in a regulated industry such as real estate, cosmetology, or construction, you might need to get some additional permits and licenses.
Utah LLC taxes, costs, and fees
Every LLC must file an annual report with the Utah Department of Corporations.
You'll receive a renewal notice from the state about 60 days before the due date. The annual report cost is $22. If there were any changes, you should also update your business address or registered agent information during this filing.
Beyond the above, you won't have to pay any extra annual maintenance fees.
As for the taxes, Utah doesn't collect any minimal franchise taxes from LLCs, so you'll only be responsible for paying:
State personal income taxes (if you're a resident)
Sales tax (if applicable)
State employment taxes (if applicable)
If your LLC will have employees, you'll need to register with the state of Utah for unemployment purposes. You can do this online, and the cost is $25.
Utah has a unique state system for determining who is considered an employee regarding state unemployment insurance (SUI) tax reporting. So you may want to consult with a local payroll specialist or CPA to figure out your obligations.
State employment taxes registration is separate from federal employment tax filings.
Business permits and licenses
Each city and county in Utah imposes some form of general licensing on registered businesses located within the unincorporated limits of Utah County.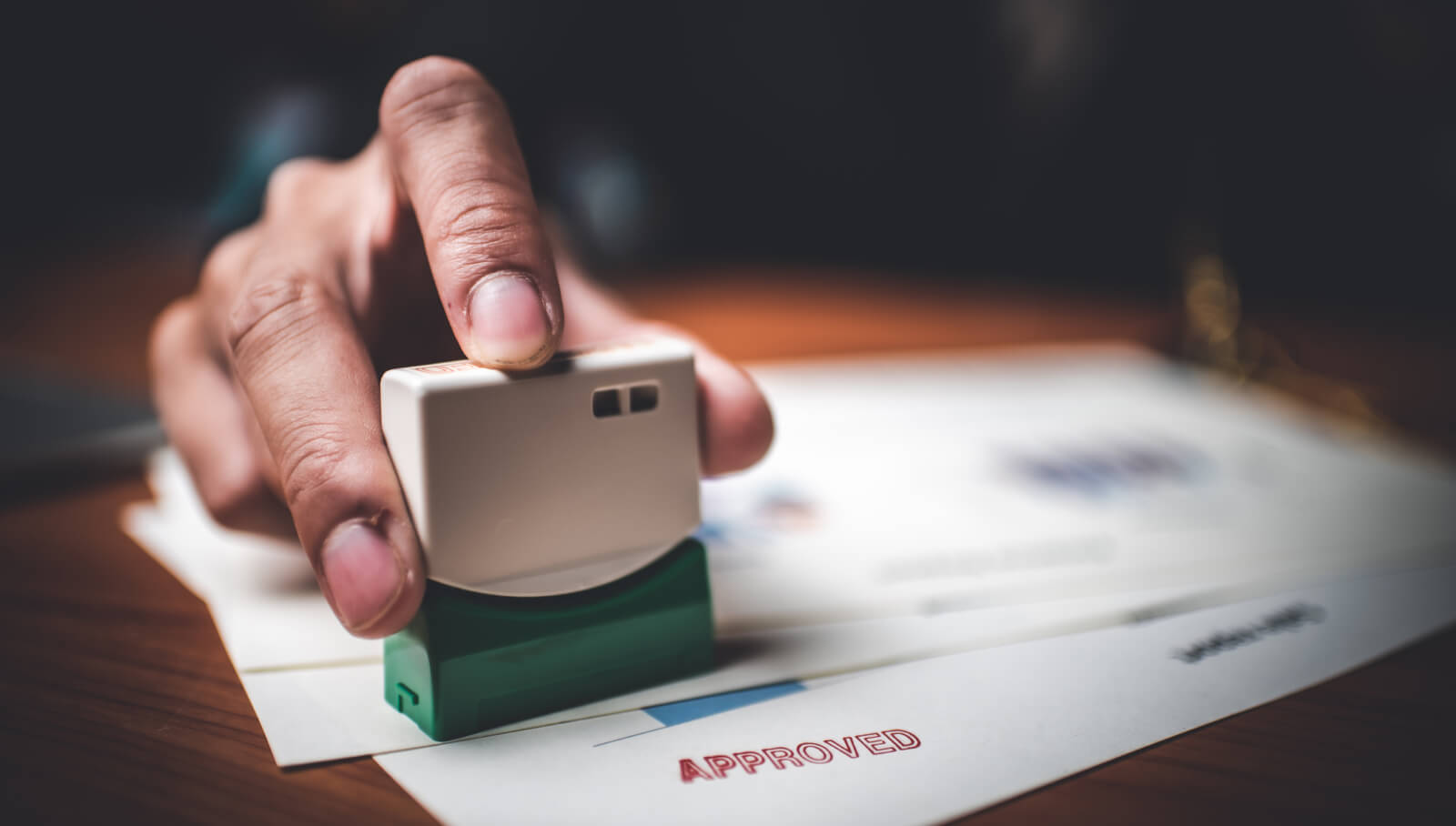 There are exceptions, however, for some home occupations, agricultural and non-profit businesses.
To obtain your general business license in Utah, you must apply with a local county office in every location your business operates. However, you'd want to re-confirm if an additional registration is required with a local official.
The costs vary:
Salt Lake City — $100 per license + $15 for every full-time and part-time employee
Brigham City — starting from $115 and dependent on commercial location size and activity
Layton City — starting from $120 and dependent on commercial location size and activity
Also, if you operate in a regulated industry like law, medicine, or beauty, you may need another specialized occupational license from the Utah Division of Occupational and Professional Licensing.
The fees vary by profession. Here are several examples:
A barber would pay $60 for a license in Utah and $52 to renew each year
A security company would pay $330 for a license and $203 to renew
A pharmacy would pay $200 for a license and $103 to renew
Pros and cons of registering an LLC in Utah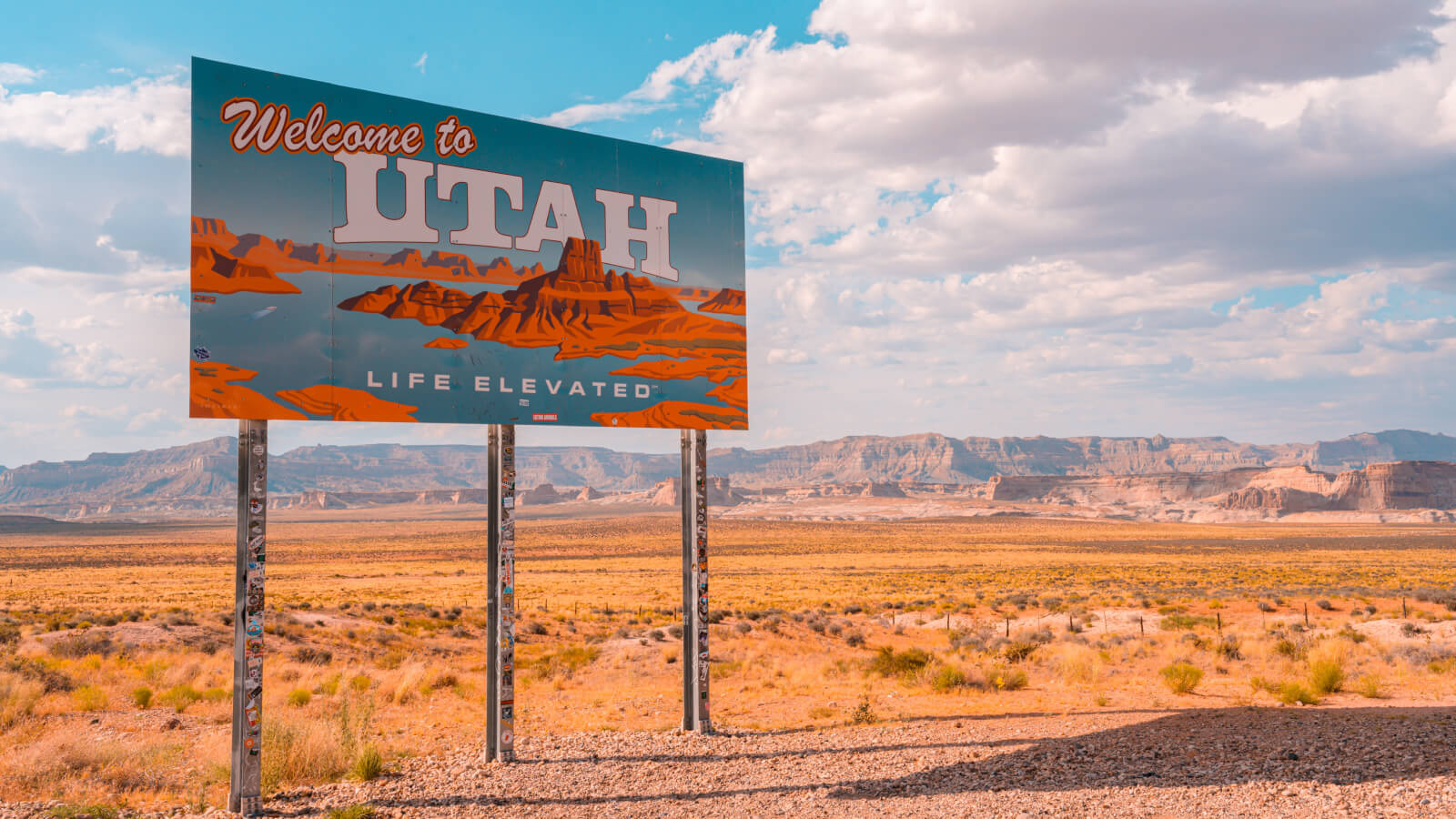 While forming your LLC in Utah has a lot of benefits, there are also a few drawbacks. Here's a quick summary:
The good:
Overall low company formation costs and annual renewal costs
A "OneStop Business Registration" site to complete state and city filings in one place
Utah is ranked among the top 10 states having the lowest corporate tax rates
A highly diverse and bi-lingual workforce that can compete globally
The bad:
A general business license is mandatory
Tricky system of local licensing costs and requirements
A company (as a legal entity) can't serve as its own registered agent
Utah is a business-friendly state with low and transparent LLC taxation. The company formation process can be done online via a convenient portal.
All Utah LLCs are required to have a general business license. Utah has multiple banks that offer business accounts. A company can't serve as its own registered agent in Utah.
Commonly asked questions
Here are the most frequently asked questions regarding LLC formation in Utah.

Last updated:
Feb 2023
Start your LLC the easy way
Forming your LLC is a checkbox that needs to be ticked. Easy, fast and worry-free. We reviewed the 13 most popular LLC formation services to figure out who truly understands what new founders need. Our recommendation:
LLC Formation: $39 + state fees
Pricing:
Turnaround Time:
Help & Support:
Customer Satisfaction:
Ease of use:
Best LLC Service 2022

Formed 1,000,000+ LLCs
$39 formation includes registered agent service
Fast formation & same day filing
Exceptional customer reviews

Last updated:
Feb 2023