Did you know that some of the biggest companies in the US, including Bank of America, Lowe's, and Duke Energy have headquarters in North Carolina?
That makes sense, given the state's favorable business climate, ease-of-doing-business, and wholesome vibe.
If you are ready to open an LLC in NC, here are all the costs you should consider when starting an LLC in North Carolina.

Last updated:
Jan 2023
Start your LLC the easy way
Forming your LLC is a checkbox that needs to be ticked. Easy, fast and worry-free. We reviewed the 13 most popular LLC formation services to figure out who truly understands what new founders need. Our recommendation:
LLC Formation: $39 + state fees
Pricing:
Turnaround Time:
Help & Support:
Customer Satisfaction:
Ease of use:
Best LLC Service 2022

Formed 1,000,000+ LLCs
$39 formation includes registered agent service
Fast formation & same day filing
Exceptional customer reviews

Last updated:
Jan 2023
1. LLC formation cost: $125 to $250
To form an LLC, you'll need to file the articles of organization with the North Carolina Secretary of State (SOS). This form registers your LLC with the authorities and is essentially all you need to get legally incorporated.
The costs to file for articles of organization in North Carolina LLC are as follows:
Domestic LLC: $125 – The basic North Carolina LLC formation cost is $125 to file the articles of organization with the North Carolina Secretary of State.
Foreign LLC: $250 – For foreign LLCs, or those formed and domiciled in another state or country but that wish to operate in North Carolina as well, the cost to register with North Carolina and file the articles of organization is $250.
Note: The filing fee for articles of organization to change a business entity into a North Carolina limited liability company is the same.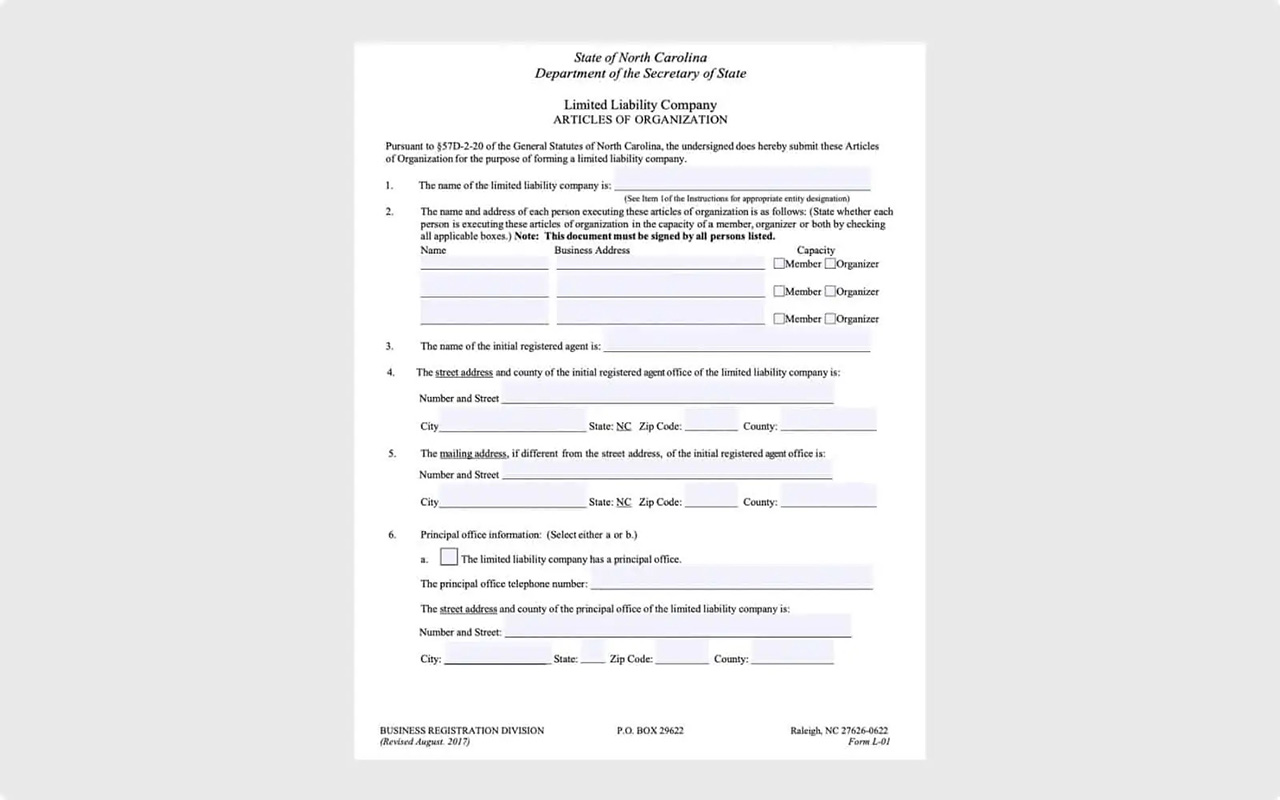 How to file for North Carolina Articles of Organization?
North Carolina offers several options for submitting articles of organization with the state:
Online, using the state business portal
By mail or in person at your county office
You can find the appropriate address on the SOS website.
Another thing to note is if you choose to mail in your form, or go in person to Raleigh, make the check payable to "NC Secretary of State."
We have another helpful step-by-step guide explaining how to form an LLC in North Carolina with extra instructions around operating agreement creation, employer identification number (EIN) application, and business bank account opening.
Submitting the articles of organization is the core step of forming a legal business entity (and likely your biggest expense).
Yet, there are also other various formation documents LLC members may need. These come at a cost too.
2. Registered agent fees – $50/year to $299/year
There are no additional fees required for designating a registered agent for your limited liability company. However, you'll have to determine the right candidate for this role.
LLC owners will need a registered agent with an address in the state of North Carolina. It's for the service of process purposes and receipt of legal documents.
It may mean hiring a professional organization to serve as the designated North Carolina registered agent for some LLCs.
Why choose a professional service for your registered agent?
Single-member LLCs and small business owners often list their residential address as the LLC's principal office.
That undermines your privacy. What's more important, though, is that you're bound to be present at that address during normal business hours to accept the process of service documents. These two factors create certain inconveniences.
Moreover, suppose your LLC is a foreign LLC. In that case, a registered agent service is probably necessary to maintain that local presence since the state requires a registered agent to provide a local street address (P.O. boxes are not accepted).
An LLC that either needs to or chooses to hire a registered agent service can expect to pay anywhere from $49-$299 as of 2022.
3. Assumed name registration – $26
An assumed name, also known as a trade name or doing business as (DBA) name, allows your company to legally operate under a brand name, different from the one listed on your articles of organization.
Registering a DBA for an LLC makes sense if you have several product or service lines and want to market them separately.
For example, your legal LLC name is North Caroline Amazing Foods LLCs. However, you sell different goodies such as:
A diary line under the brand name of Milky Cow
A grocery subscription service called Farm-to-Table.
To create legal links between these two products and your company, you should file for a DBA.
The process is easy.
Do a name search for your new North Carolina business to ensure it's available.
Fill the application form and pay a $26 state fee. The form has to be filed at the LLC's local county's deed of registrations office.
Once processed, your assumed name will be added to a statewide name registry.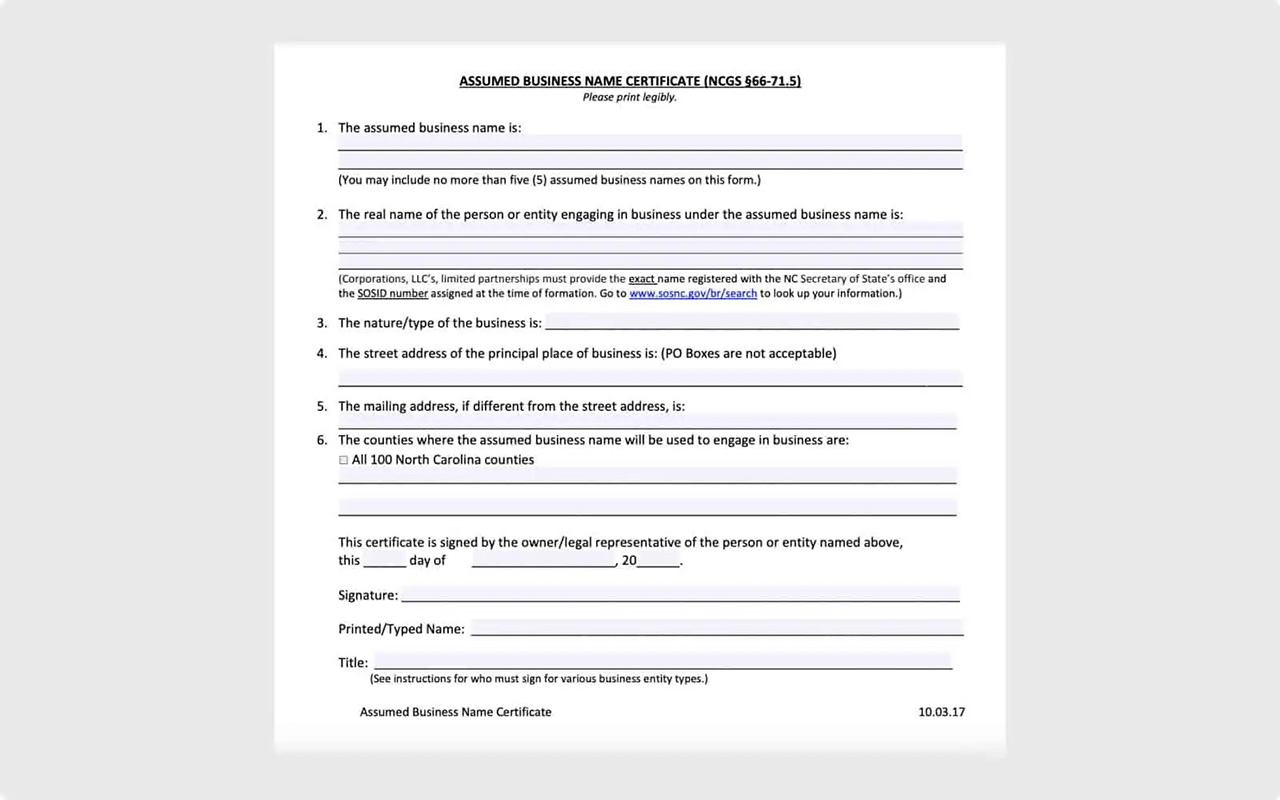 4. LLC name reservation fee – $30
If you need to iron out several formalities before filing the paperwork with the NC secretary of state, you may want to reserve a selected business name. The state fees for reserving an LLC name, as follows:
Foreign LLC name considerations
If registering a foreign LLC with North Carolina's business registration division, you may want to transfer a reserved name (so long as that name is available in NC). This filing will reserve your business name from others in NC using it. The filing fee is $10.
If your LLC's North Carolina branch has a different type of operation, then you may want to reserve a new LLC name. That is also the case if you operate a domestic LLC with the principal office in North Carolina, such as a new business.
10-year business name considerations
There's also a filing to reserve a business name for 10 years when a business acquires the goodwill of another. The state filing fee is $10.
5. Certified document copies – $12 to $75
The basic charges for certified document copies in North Carolina are:
$12 for online processing. For standard processing, it costs $15, plus $1 per page.
There's also a fee of $45 for standard processing (3-5 business days). Or $75 for expedited service.
You'll need an account with the North Carolina Secretary of State. After that, follow the directions provided by the state to order certified document copies.
Business permits and licenses
Business permits and a business license vary on the type of business your LLC operates in and the location (i.e., the city, county, and state level).
There's no universal system within the state of North Carolina for the different regulatory agencies. The good news is that the state's business office provides some resources to determine whether an LLC may need to apply for business permits or licenses and the costs of obtaining one.
6. Does North Carolina have an annual LLC fee?
Yes, in North Carolina, all LLCs have to
file an annual report
with the state. The state
filing fee is $200
.
Annual reports are due on April 15th of the first year after the LLC is created. And then, another annual report is due every April 15th for the following years. If late, a new filing to reinstate the LLC may need to be submitted.
Conclusion: How much does an LLC cost in North Carolina?
The baseline cost of LLC incorporation in North Carolina is $125 for articles of organization. Then there's a $200 fee with the annual reports after your first year. If you decide to use an LLC formation service to register your business rather than go directly to SOC, expect to pay a couple of hundred dollars more.
Thankfully, apart from taxes, the other things, operating an LLC in North Carolina is quite affordable!
So, if you need to reserve an assumed name, another $30. If you need a registered agent service, expect at least another $100. The total cost for the first year comes to around $255.

Last updated:
Jan 2023
Start your LLC the easy way
Forming your LLC is a checkbox that needs to be ticked. Easy, fast and worry-free. We reviewed the 13 most popular LLC formation services to figure out who truly understands what new founders need. Our recommendation:
LLC Formation: $39 + state fees
Pricing:
Turnaround Time:
Help & Support:
Customer Satisfaction:
Ease of use:
Best LLC Service 2022

Formed 1,000,000+ LLCs
$39 formation includes registered agent service
Fast formation & same day filing
Exceptional customer reviews

Last updated:
Jan 2023