DBA (doing business as) names are extra names businesses can assume alongside legal names.
A sole proprietor, partnership, limited liability company, or corporation can (and sometimes legally required to) have multiple DBA names.
But are there any limits to how many DBA business names you can have? Let's find out!
How many DBA can an LLC have?
According to state laws, an LLC can have unlimited DBA names.
DBA names are not separate legal entities. Instead, they are trade or business names that differ from the name of the actual LLC. Legally, an LLC has no limits on the number of fictitious business names it can file for.
It's unlike having one name of your business registered on the LLC articles of organization. You can snatch as many trade names as needed as long as they are available with the state.
When it makes sense to register multiple DBAs for an LLC?
Why would a business want multiple DBAs, especially when each registration comes with a state filing fee?
Here are some common reasons.
Due to compliance requirements: In some states like New York and Georgia, assumed name registrations are issued by counties rather than the state authorities. Respectively, you need to register multiple DBAs if your business operates in several local counties.
For marketing/branding purposes: A company might want to use different names for different products or service lines. For example, "Smith Lewis Thomas Law Firm" is the DBA name for "Smith Lewis Thomas LLC." The firm wants to advertise as "SLT Law Firm" on its website for marketing simplicity. They could get another DBA for this abbreviated name.
When operating/having a foreign LLC in several states: Businesses operating nationwide may need to register DBAs in other states. For example, "Real Estate Pros LLC" wants their Georgia office to go by "Real Estate Pros of Georgia" and their Alabama office as "Real Estate Pros of Alabama." Creating multiple fictitious names achieves this goal without forming separate LLCs.
When changing a business line: Sometimes, businesses want to launch a similar product in an adjacent category. For example, "Smith's Sports Ball Company" intends to launch a tennis ball company. So they'd register a new DBA to reflect that — "Smith's Tennis Ball Company." They don't have to change their business structure.
When a company needs a fresh start: Companies sometimes want to start from a clean slate. Creating another DBA lets the business pursue this product/service launch without forming a new LLC. For example, "Smith's Lawncare" (dba for "Smiths Lawn Corporation") failed to launch a new territory. So, they make a new DBA, "SLC Lawns," and re-launch under a new company name, logo, and brand without having to create a new business.
To distinguish different company divisions. An LLC can be a holding company. Meaning it can pursue several types of business activities as a single business entity. Each of these divisions or business activities needs a name that fits in the industry they serve. For example, "Smith Diversified Company LLC" operates a barbershop (DBA "Smith's Cuts"), an ecommerce store (DBA "Barber's Goods"), and a women's salon (DBA "Smith's Beauty").
How to handle DBA registration
The DBA registration process is hassle-free.
Most states have an online application that should take no longer than 10-15 minutes to complete. Or you'll need to complete a paper form and mail it to the Secretary of State.
For example, the Florida fictitious name registration form requires business owners to answer a handful of basic questions and pay a $10 fee.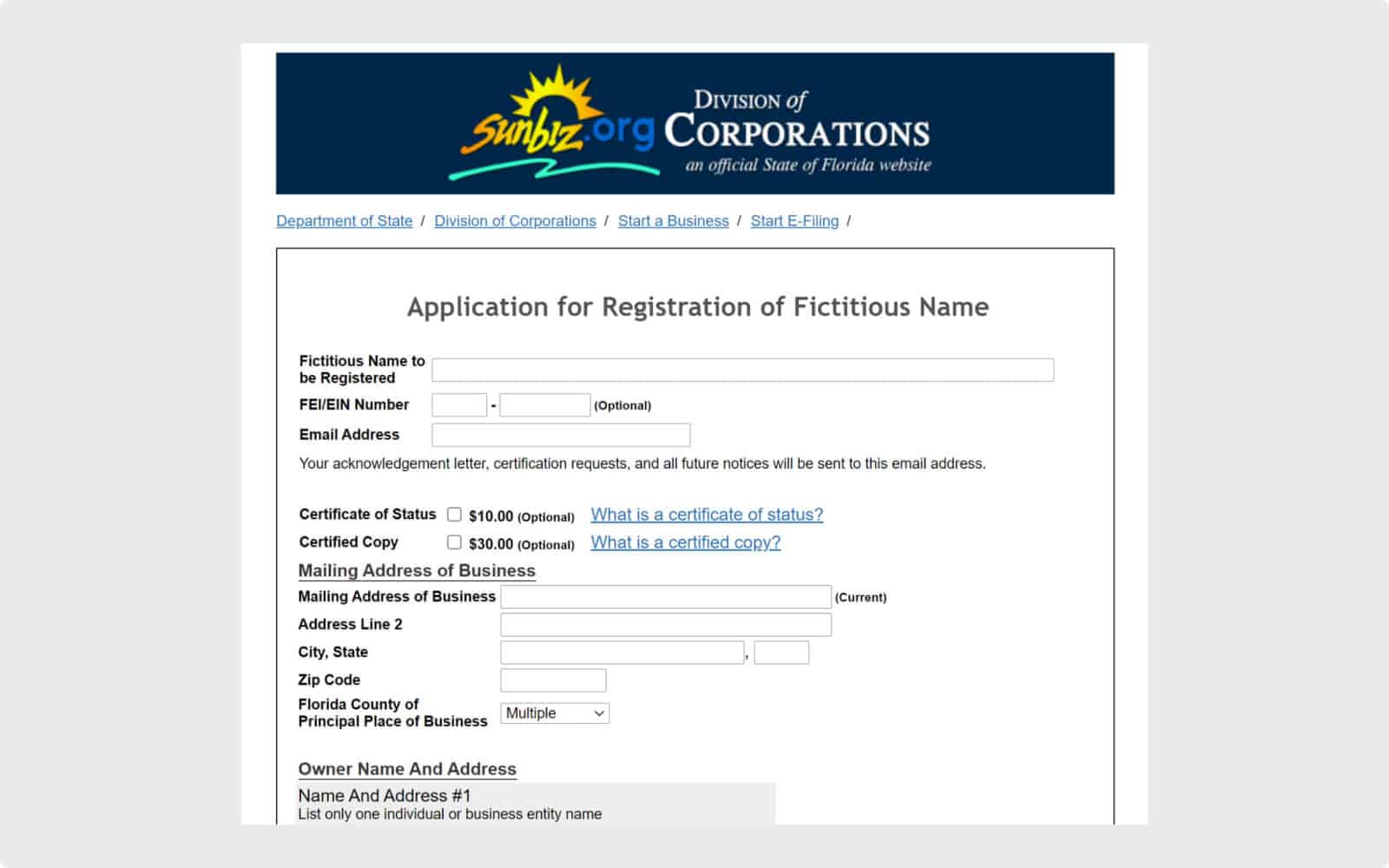 Overall, to register a DBA, you'll need to provide the following details:
Legal LLC name
Business address
Nature of business
Employer identification number and state registration number (optional)
Date and signature
Before applying for a DBA, small business owners should conduct a name search to ensure that the business name is available in that state. A single LLC can repeat this same process when they want another DBA name.
Advertisement
LLC Formation Service
LLC Formation: $39 + state fees
Pricing:
Turnaround Time:
Help & Support:
Customer Satisfaction:
Ease of use:
Best LLC Service 2023

Formed 1,000,000+ LLCs
$39 formation includes registered agent service
Fast formation & same day filing
Exceptional customer reviews

Last updated:
Sep 2023