If Arkansas is where you want to start a limited liability company (LLC), this post outlines the steps to follow.
Arkansas may not be a bucket list vacation spot, but it's an attractive hot spot for small business owners. The state has a pro-business tax system, a robust transportation network, and a host of larger corporations to contract with.
Forming an LLC involves several procedures such as submitting company formation documents to the Arkansas Secretary of State, permits and business license registration, and completing other administrative formalities.
We discuss all of them in-depth.
---
Steps to open an LLC in Arkansas
---
Step 1: Choose a business name for your LLC
The first thing you must do when you decide to start an Arkansas LLC is to select a legal name.
Your LLC's name must be distinguishable from other active business entities on file with the Arkansas Secretary of State.
Also, the usage of specific words like "bank," "engineer," "medicine," or "insurance" in your business name requires approval from the appropriate Arkansas authorities.
You'll also need to include "Limited Liability Company" or one of the abbreviations of LLC, Ltd, LC. in the name.
You can use the Arkansas Secretary of State's name availability tool to check if a business name is available.
If a business name is available, you are not guaranteed to use it. You'll be granted exclusive use for a specific business name until it's approved by the Secretary of State.
Making a name reservation
You can reserve a specific business name for 120 days if you're not ready to launch your business right away.
You'll have to file Form RN-06 and pay the state filing fee of $22.50 if you file online and $25 for mailed submissions.
Trade name
Some business owners also choose to register a second company name, different from the LLC's legal name.
It's called a trade name, fictitious name, or DBA (doing business as) name.
That's a common option if you want a generic LLC name, but several more brandable options to better market different types of products.
If your LLC's legal name is Lisa's Enterprises and you run a marketing business, using a name like "Lisa's Ad Agency" describes your business better than the legal name. LLC members can have an unlimited number of DBAs associated with their business structure.
To register a fictitious name in Arkansas, you need to file Form DN-18 with the Arkansas Secretary of State and pay the $25 filing fee.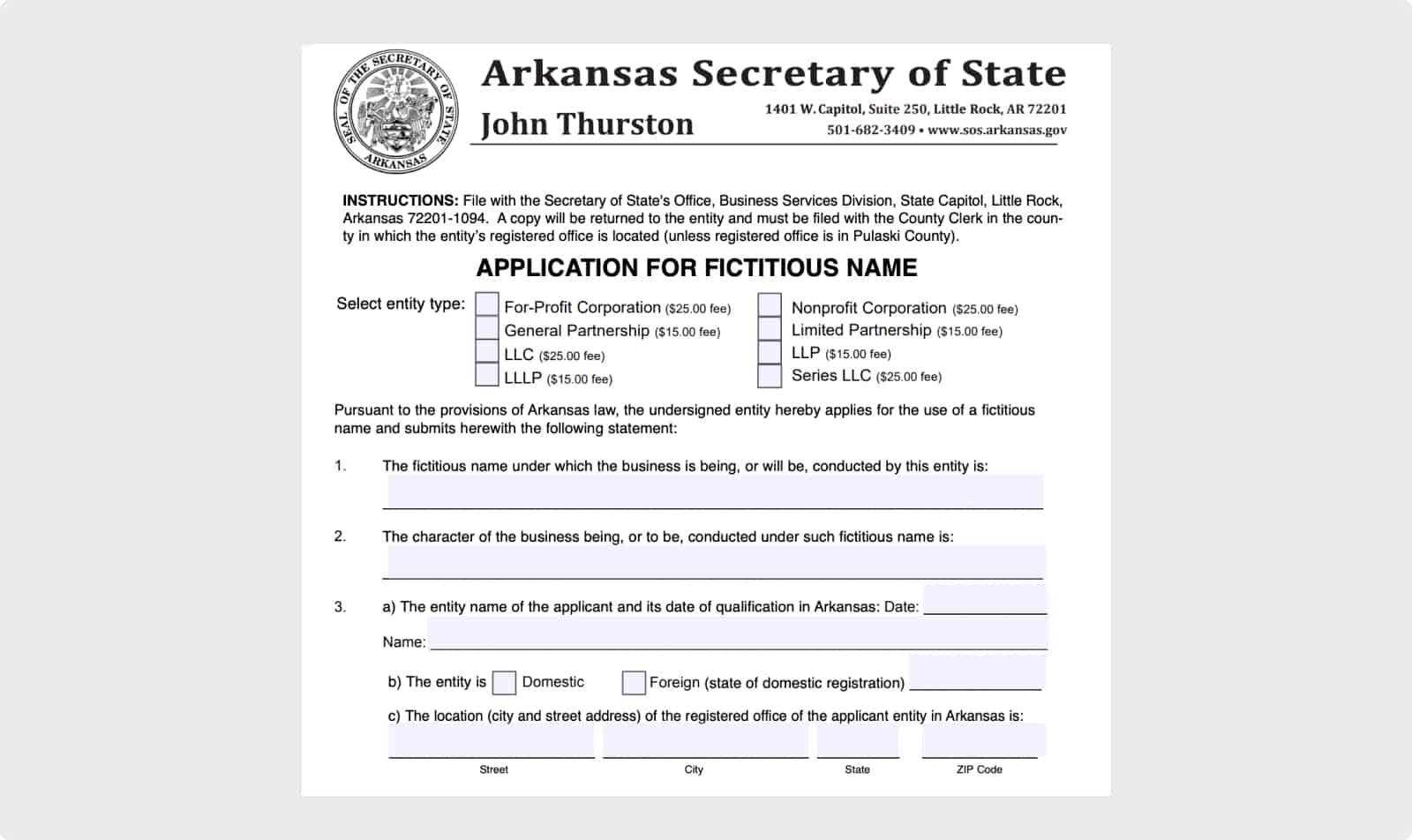 Step 2: Designate a registered agent
An appointment of a resident agent is one of the requirements for starting an LLC in Arkansas.
A registered agent is an individual or professional service provider who receives mail and legal documents on behalf of your LLC. Your registered agent serves as a direct point of contact between your company and the Secretary of State, tax authorities, and process servers.
You can be your own registered agent as long as you're aged above 18 and have a physical street address in Arkansas. P.O. boxes can't be listed as a registered office address.
You'll also have to be available during business hours in case of service of process. It can be an inconvenience.
Therefore, many business owners hire a professional service provider to be available as needed.
A commercial registered agent service costs about $50-$100 per year. You must also update the Secretary of State if your registered agent details change.
Step 3: File the Arkansas LLC articles of organization
To officially start an LLC in Arkansas, you have to file a Certificate of Organization for a domestic LLC.
The Certificate of Organization (also called Articles of Organization in other states) specifies the business name, principal address, and LLC owner(s) information.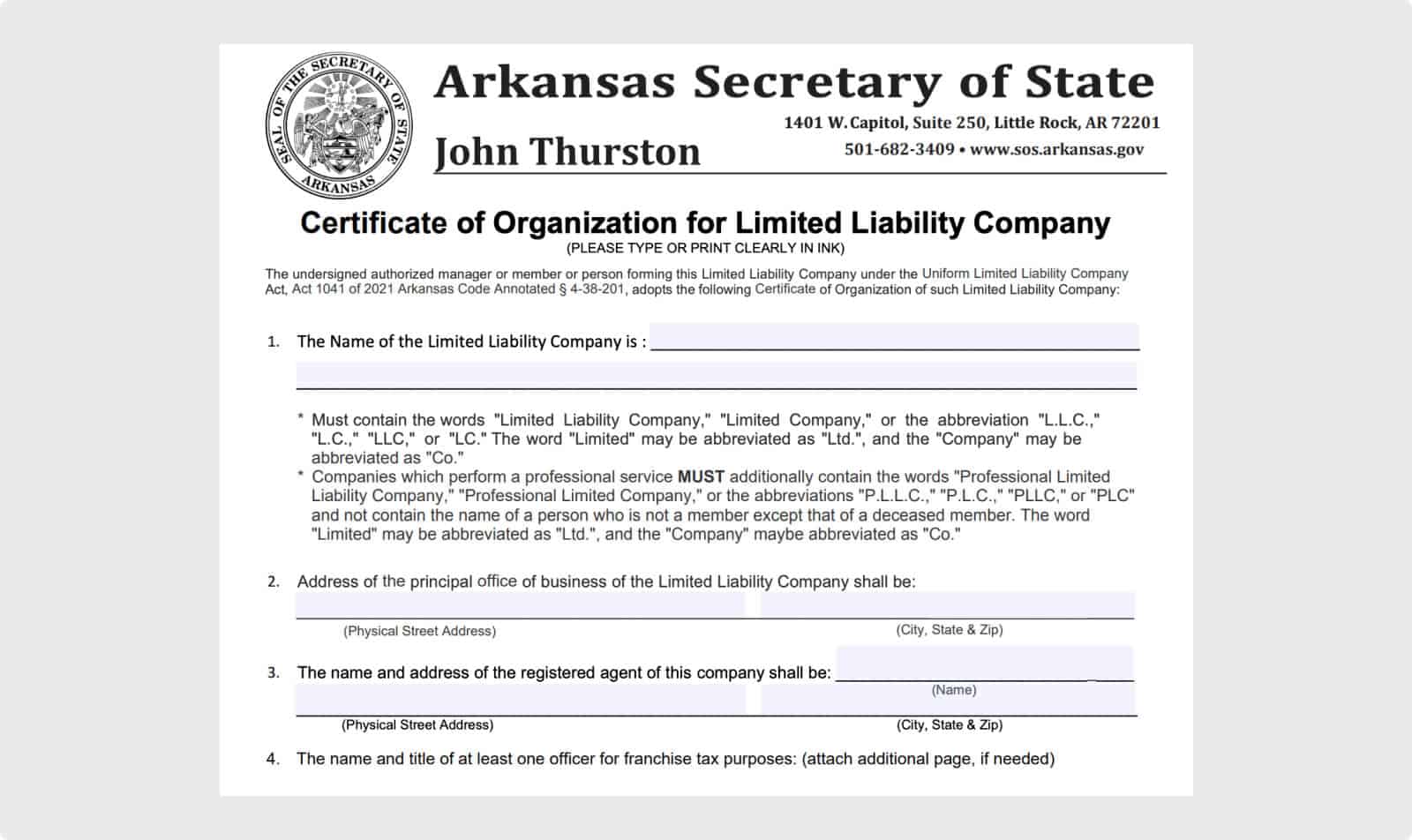 Foreign LLCs — companies incorporated in other states that wish to do business in Arkansas — must submit another document, called the Application for Certificate of Registration of a Foreign Limited Liability Company.
This filing fee is $270 for online applications and $300 for mailed applications.
Both domestic and foreign LLCs will also complete an annual franchise tax registration form attached to the respective company formation document.
Step 4: Obtain an EIN (Employer Identification Number) from the IRS
An Employer Identification Number (EIN) is a federal tax ID issued by the Internal Revenue Service (IRS).
The IRS uses it to track your LLC's employment and federal tax activity.
It's a unique 9-digit number for businesses similar to a social security number for individuals. You can obtain an EIN from the IRS website, by mail, or by fax.
If you apply online, you get your number issued immediately. Mailed-in registrations can take up to 3 weeks for processing.
EIN is optional for a) LLCs, reporting federal taxes as a sole proprietorship b) those without employees. But all multi-member LLCs must register for an EIN.
Arkansas will also use your EIN for state tax withholding purposes.
Step 5: Register with the Arkansas Department of Finance and Administration
All Arkansas LLCs are subject to a minimal annual franchise tax of $150 since March 2021. This one is payable to the Arkansas Secretary of State.
However, you may also be liable for other state business taxes such as sales tax or state employment taxes.
If that's the case, you'll need to register with the Arkansas Department of Finance and Administration to get a state tax ID. The Arkansas Secretary of State has combined business tax registration into a single form called AR-1R.
You need to get a sales tax permit if your business entity meets these three criteria:
Make sales from having either a physical retail location or inventory storage
Perform a taxable service
Lease or rent tangible property
The cost of a sales tax permit in Arkansas is $50.
Step 6: Prepare an LLC operating agreement
An operating agreement is recommended for multi-member LLCs.
This legal document covers several important matters:
LLC management structure
Operating principles
Profit and losses distribution among members
Internal administrative processes
Members' voting rights
A clear-cut operating agreement establishes the rights and responsibilities of all LLC members. It also minimizes the grounds for disputes.
An operating agreement is an internal legal document. You don't need to file it with the Arkansas Secretary of State.
You can customize an online LLC operating agreement template. Or hire a corporate lawyer to draft a custom document for you.
Step 7: Open an Arkansas business bank account
LLC members need to keep business and personal finances separate. It's crucial for maintaining LLC protections such as limited personal liability and personal asset protection.
You can open a small business bank account in Arkansas for less than $100. Some banks offer a free business bank account if you deposit a certain threshold.
Diamond Bank, First Citizens Bank, and Bank of Little Rock are some local banks that offer small business bank accounts in addition to credit cards and loan products.
Pros and cons of forming an LLC in Arkansas
Starting a new business in Arkansas with its robust infrastructure grants you access to customers via air, water, and rail. The state is rapidly developing too. Still, there are some drawbacks to doing business in Arkansas too.
Arkansas requires all LLCs to pay an annual franchise tax, which creates an added cost for startup businesses with tight budgets.
There are almost 300 local taxes to keep track of, plus the business property assessment that must be done each year.
Arkansas LLC pros
The lowest company incorporation cost nationwide
Strong transportation infrastructure
Highly ranked for the talented labor market and low cost of living
Relatively affordable professional license costs
Convenient online company formation process
Arkansas LLC cons
Minimal annual franchise tax of $150
Annual business property assessment requirement
Lots of local taxes to file and pay
Frequently asked questions about opening an LLC in Arkansas
Below are some of the most frequently asked questions (FAQs) about forming an LLC in Arkansas.

Last updated:
May 2023
Start your LLC the easy way
Forming your LLC is a checkbox that needs to be ticked. Easy, fast and worry-free. We reviewed the 13 most popular LLC formation services to figure out who truly understands what new founders need. Our recommendation:
LLC Formation: $39 + state fees
Pricing:
Turnaround Time:
Help & Support:
Customer Satisfaction:
Ease of use:
Best LLC Service 2022

Formed 1,000,000+ LLCs
$39 formation includes registered agent service
Fast formation & same day filing
Exceptional customer reviews

Last updated:
May 2023