The beautiful state of Idaho is a wonderful place to start a new business.
According to the Tax Foundation's annual rankings, Idaho scored number 3 for property taxes and number 10 for sale tax rates. High GDP and a growing workforce make Idaho an even more attractive option for new business incorporation.
A limited liability company (LLC) is a popular type of business entity among local entrepreneurs. Why? Because LLCs combine minimal administrative overhead with personal liability protection.
But now you're wondering what it takes to open an LLC in Idaho. This guide provides a structured walkthrough of the company formation process.
Table of contents:
---
Step 1: Pick a name for your LLC
Chances are you've already thought of the perfect name for your new business. That's great, but you'll need to do two things:
Ensure your company name is available and not already registered in Idaho, and
Confirm that it meets all of Idaho's naming requirements for LLCs
Idaho doesn't allow two legal entities to operate under the same or even a similar-sounding name. So you must come up with an option that's distinct and distinguishable from all other registered names.
Your name must also include the term "limited liability company" or "limited company" or any of their abbreviations (e.g., LLC, Ltd. Co., L.L.C.).
To check if a business name is available in Idaho, use the Idaho Secretary of State's database (it's free!). Type your name into the search bar and review the results. If there are no matches, your selected name is available for registration.
Pro tip: When doing a business name search, always add abbreviations like LLC and Ltd. Otherwise, you may not receive a complete list of results.

Name reservations
If your preferred LLC name is not registered, you can apply to reserve it for four months. Name reservations come in handy when you aren't ready to file other company formation documents.
To reserve a name in Idaho, submit an application with the Secretary of State (SOS) and pay a processing fee of $20 if you file online. Paper applications are also accepted, but you'll pay an additional $20 for the manual processing (or $40 total).
Name reservations aren't required to start an LLC. If you're ready to file your LLC formation documents, you can claim your business name by starting your company.
Assumed name (DBA)
If you want to operate under a business name different from your legally registered one, you can apply for an assumed name, also known as a "doing business as" (DBA) name.
Assumed names make sense in cases when:
Your legal business name doesn't well represent your brand.
You're operating as a sole proprietorship and don't want to use your first and last name as your company name.
You plan to offer multiple products or services and want to differentiate between them.
Similar to a registered company name, an assumed name must be unique and not already in use by another business. You can verify availability on the Secretary of State's website.
An assumed name registration costs $25 in Idaho when filed electronically. Paper filings are $45.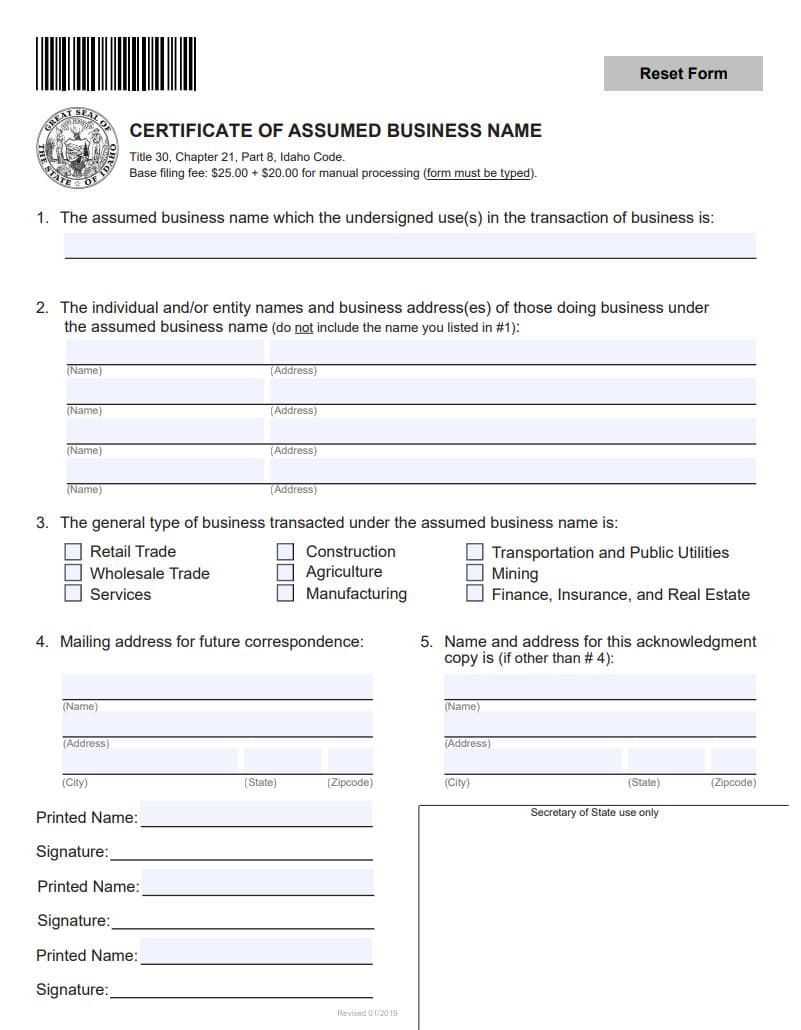 Step 2: Appoint a registered agent
The Idaho Secretary of State requires all LLCs to appoint a registered agent.
A registered agent is a person or professional service selected to receive government notices or legal documents (sometimes called service of process) on behalf of your company.
Generally, a registered agent in Idaho must:
Be at least 18 years old
Have a physical street address in Idaho (no P.O. boxes allowed)
Be available during regular business hours at the physical address
Anyone who meets the above requirements can act as your registered agent. You can appoint yourself, a trusted employee or a commercial registered agent in Idaho.
Appoint a professional registered agent company
In Idaho, you can appoint a professional service to act as your registered agent. These companies usually charge between $100 and $300 per year, depending on the scope of provided services.
Professional registered agent service is a good option for:
Single-member LLCs operating out of the owner's home who want to keep their address off the public records.
Foreign LLCs. These are LLCs headquartered in other states but want to do business in Idaho and don't have a local street address.
Business owners that don't want to be available during business hours year-round.
Step 3: File the Idaho LLC Certificate of Organization
When you're ready to officially start your business, you'll need to file your Idaho Certificate of Organization with the Secretary of State.
In other states, the Certificate of Organization is called the Articles of Organization. These two documents are the same.
Preparing this filing is simple. You'll need to add the following business information:
Name of the LLC
Street and mailing address for the company
Contact information for the registered agent
Name and contact information for at least one member of the LLC
Idaho offers two different filing options:
Online registration for $100
Paper applications by mail or drop-off are $120
In a rush? No problem. Idaho offers expedited processing for an additional $40 and same-day processing for $100 more.
Without the expedited service, company document processing in Idaho takes 7-10 business days for online submission and around 2 weeks for mailed-in filings.
Step 4: Get certified copies of your LLC formation documents
After the Secretary of State approves your Certificate of Organization, you're an official business. Congratulations! You'll want to have certified copies of the approved documents for your business records.
It's possible that you'll need to provide certified copies when opening a business bank account or applying for business credit.
Certified documents from the Idaho Secretary of State start at $10 per document.
Step 5: Create an LLC operating agreement
Multi-member LLCs need an operating agreement. While the state laws don't require you to have this document, you should still draft one.
The operating agreement outlines how your business will be managed and operated. Without one, your business structure will be subject to the local statutory and corporate laws in cases of legal disputes. That could lead to undesirable outcomes.
You can find operating agreement templates online. Or you can have an attorney write one for you. In both cases, be sure to include the following information:
Legal name of the company
Purpose of the company
Names and addresses of all members
Ownership percentages and how much capital each person contributed
Method for distribution of profits and losses
Procedures for how new members can be admitted, or members can leave
Steps on how the company can be dissolved
Step 6: Get an EIN (Employer Identification Number) from the IRS
Once the Secretary of State approves your LLC, you may want to apply for a federal employer identification number (EIN) from the Internal Revenue Service.
It's a unique nine-digit identification number that acts like your company's Social Security number. It helps authorities recognize your business for federal tax purposes.
You need to secure an EIN when:
Your LLC files taxes as a partnership or S-corporation
You plan to have employees on the payroll
Your company is subject to federal regulations
How to apply for an EIN?
Getting your tax ID number is easy and takes less than 15 minutes.
Go to the online application form on the IRS website. Fill in a short form, and get your number issued within several minutes. The best part is it's free.
You can also apply using the paper Form SS-4, Application for Employer Identification Number, but it can take up to eight weeks for the IRS to process it.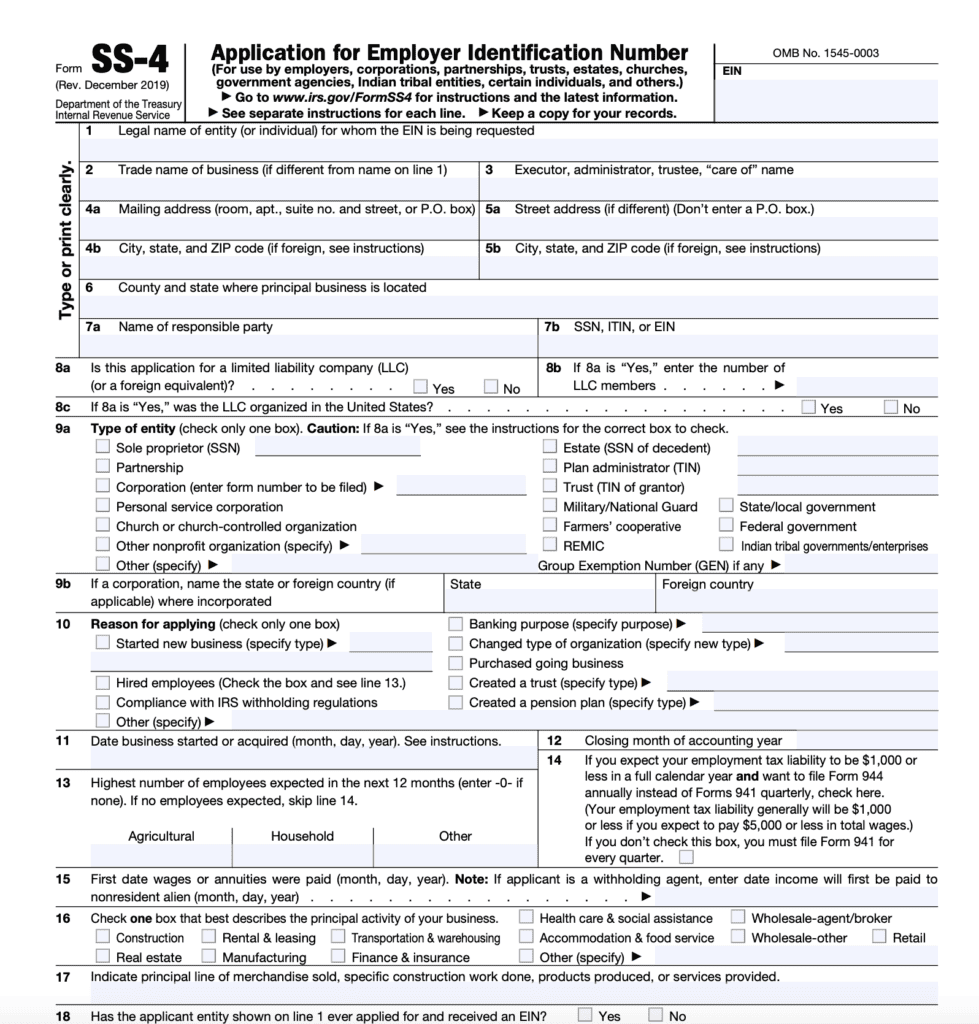 Costs to set up an LLC in Idaho
Each LLC is unique, and the costs to form your LLC in Idaho will vary based on its complexity and how much professional help you enlist.
Some of the common formation costs you may incur include:
Name reservation: $20
Trade name/DBA: $25
Professional registered agent: $100 – $300 / annually
Filing Certificate of Organization: $100
Expediting fees: $40 – $100
Certified document copies: $10+
Drafting operating agreement: $0 – $2,000
GRAND TOTAL: $295 – $2,555
Last steps
You're almost done. Here are the last few bits you'll need to wrap up before your administrative work is finished.
Complete the Idaho Business Registration (IBR-1) application
Some companies will need to complete an Idaho Business Registration.
It isn't a general business license application but a filling required to obtain a state tax ID.
Your LLC needs to register with the state authorities if you need to collect sales tax from customers or have employees and pay state employment taxes.
Registration is free and quick when you apply using the Idaho State Tax Commission TAP portal.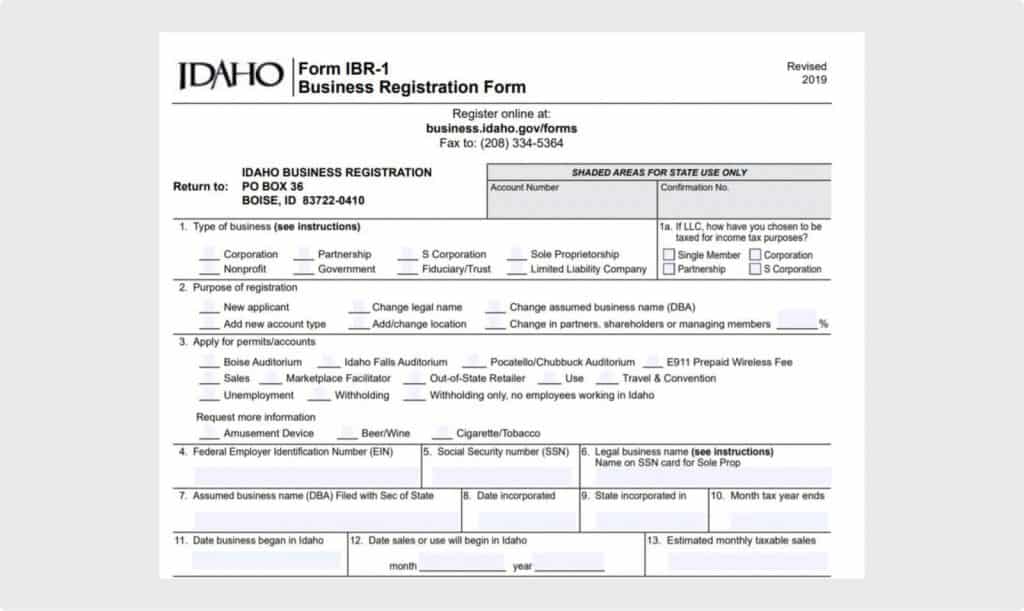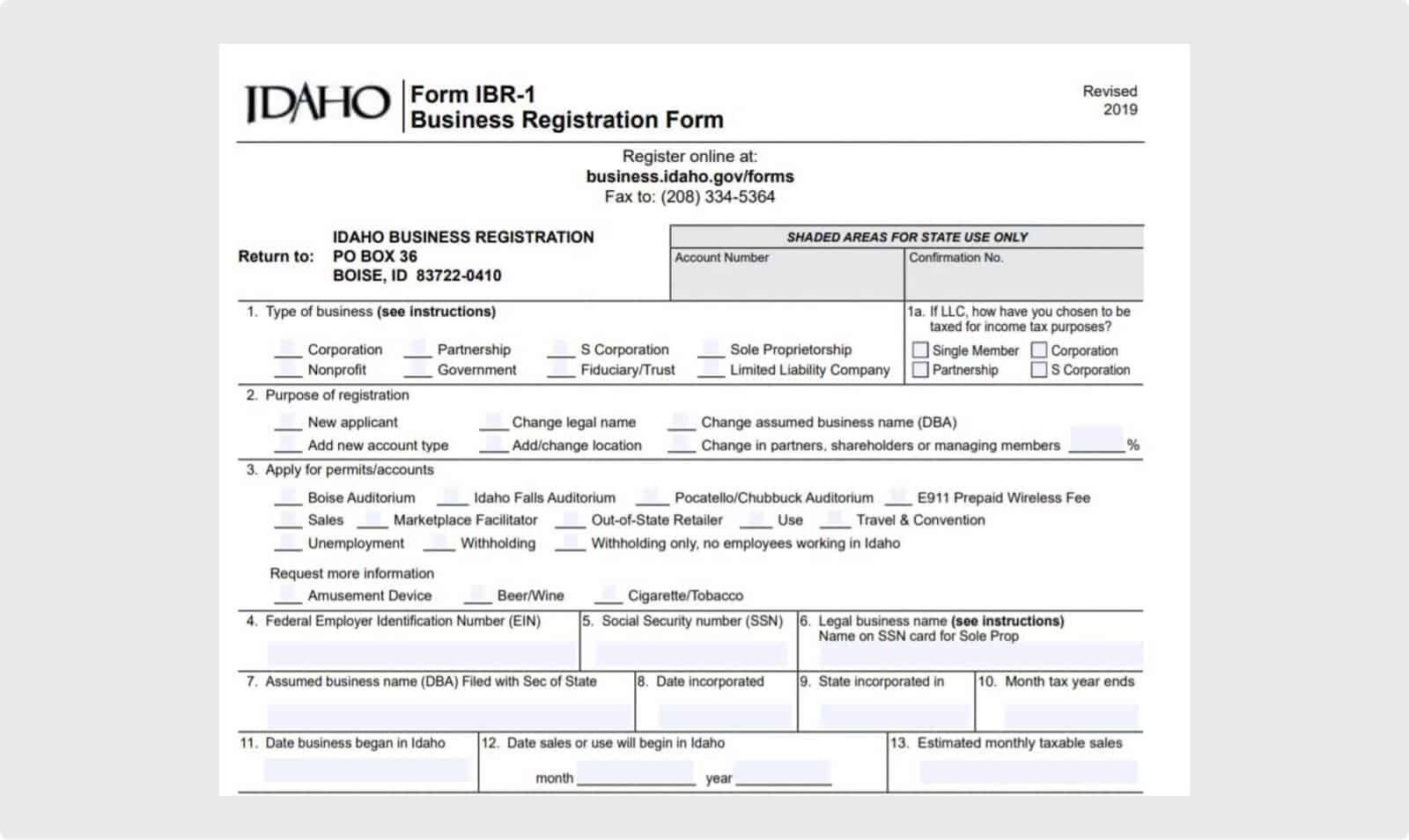 Open an Idaho business bank account
Once your company documents are approved, you'll be ready to open a business bank account.
Having a business bank account provides several benefits:
Prevents commingling of personal and company funds
Provides an image of legitimacy for your business
Simplifies tax planning
In general, it's easiest to open a business bank account with the same institution where you have a personal account. But they may not have the best terms, so be sure to compere offers.
Advertisement
LLC Formation Service
LLC Formation: $39 + state fees
Pricing:
Turnaround Time:
Help & Support:
Customer Satisfaction:
Ease of use:
Best LLC Service 2023

Formed 1,000,000+ LLCs
$39 formation includes registered agent service
Fast formation & same day filing
Exceptional customer reviews

Last updated:
Sep 2023