Isn't it a dream to start your workday off with a fresh brew and wrap it up by enjoying the beautiful scenery of Washington state?
The Evergreen State has a splendid mix of recreational activities and business goings. It's no wonder many entrepreneurs choose it to form their LLC.
Yet, apart from thrilling new business prospects, you must also carefully consider the costs of starting an LLC in Washington state.
Here's a rundown of all operational and state filing fees you'll need to budget for.
1. LLC filing cost: $180/$200
One of the main legal documents for your LLC is the Certificate of Formation (called Articles of Organization in other states). Obtaining it from the Washington Secretary of State (SOS) costs $200 if you file online and $180 if you file in person or by mail.
Online applications are processed within 2 days. Paper filings are processed in the order received, and in-person requests can be processed the same day.
You can request expedited processing on your LLC formation documents for an additional $50 filing fee.
If you wish to register as a foreign LLC in Washington, the filing fees are the same — $180 or $200.
However, you will need to complete a different form, called Foreign Limited Liability Company Registration, and request a Certificate of Good Standing from your home state, which often requires a payment to your home state.
As part of company formation, you'll also need to file an initial report. It provides general company information and is due within 120 days of company incorporation. The state fee is $10 for mail filings and $30 for online submissions.
2. Registered agent costs: $100 to $200 year
A limited liability company formed in Washington state must have a registered agent.
A registered agent is an individual or business entity appointed to receive tax notices, legal documents, and service of process on behalf of your LLC.
Your registered agent must have a physical street address in Washington (not a PO box).
They also agree to be present at this address during standard business hours year-round. Luckily, Washington doesn't charge for appointing or changing your registered agent, so there's one less cost you have to worry about!
You can be your own registered agent in WA. But many small business owners choose to hire a commercial registered agent service provider instead. That way, they don't have to worry about being available during the business day in case of service of process. They also don't have to disclose their personal address — home or office — or worry about address changes with the state.
Washington registered agent services cost as low as $50 per year. Some also provide value adds such as LLC formation services, accounting services, tax preparation help, and other professional services.

Last updated:
May 2023
Start your LLC the easy way
Forming your LLC is a checkbox that needs to be ticked. Easy, fast and worry-free. We reviewed the 13 most popular LLC formation services to figure out who truly understands what new founders need. Our recommendation:
LLC Formation: $39 + state fees
Pricing:
Turnaround Time:
Help & Support:
Customer Satisfaction:
Ease of use:
Best LLC Service 2022

Formed 1,000,000+ LLCs
$39 formation includes registered agent service
Fast formation & same day filing
Exceptional customer reviews

Last updated:
May 2023
3. Trade name registration: $5
If your LLC operates under a name other than the legal name registered with the Secretary of State, you must file for a DBA (Doing business as name) or a trade name with the Washington Department of Revenue (DOR).
Trade name registration cost in Washington is just $5. You can register multiple DBAs for your LLC. But you'll have to pay the $5 filing fee for each one.
You can place an application along with the mandatory business license (more on this in the next section!).
Trade name registration doesn't grant you exclusive rights to a name. You'll have to file a separate trademark application if you want to protect your LLC's name from use by other business owners.
Unlike many other states that require you to renew your trade name, trade name requests in Washington don't expire. Your trade name registration remains in effect until you cancel it. There's no charge for canceling a trade name.
4. Washington LLC name reservation: $30
Coming up with a fine-sounding business name is challenging. Once you've landed at that ideal option, make it off-limits to other business owners.
Washington lets you place a name reservation for up to 180 days. The cost is $30.
Pro tip: Before you file the form, do a name search on the Washington Secretary of State's website. Ensure your business name is different from the registered ones and contains "Limited Liability Company" or some version of the "LLC" abbreviation.
5. Certified document copies: costs vary
As a new business owner, you may need to provide documents to prove your LLC exists and is in good standing. When you open a business bank account, the bank may request a copy of the Certificate of Formation or other legal documents.
You can request certified copies of these documents from the Washington Secretary of State for $20 each.
6. Business permits and licenses: Starting at $90
Washington requires all businesses to have a general business license if any of the following conditions apply:
You plan to hire employees in the next 90 days
You operate under a name other than your LLC's legal name
Your gross income is at least $12,000
Your LLC meets nexus threshold reporting requirements
You must pay taxes or fees to the Washington Department of Revenue
For a new business, the business license application fee is $50 + extra city/county fees if applicable. The endorsements are issued on the county or city level, and fees vary but are usually less than $100.
Use the Business Licensing Wizard to determine which types of licenses and extra endorsements on the city/county level you may need. Then complete the application form online.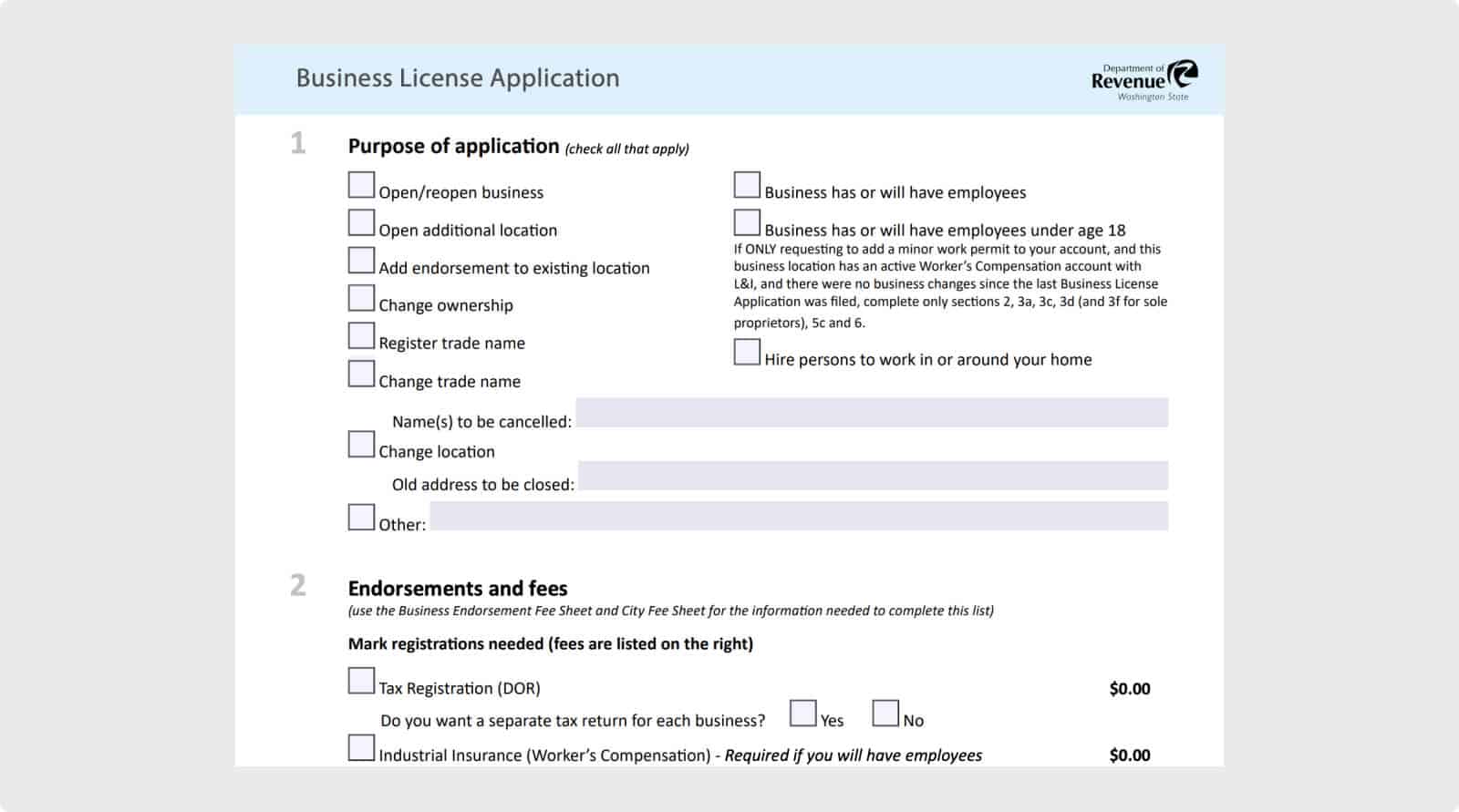 Washington business license processing takes around ten days for online filings. It takes another two to three weeks for city or county endorsements.
Processing times can take up to six weeks for mailed business license applications.
Once processed, you'll get a Unified Business Identifier number or "UBI" that authorizes you to do business in Washington state.
UBI is a state tax ID number. For federal tax purposes, your LLC will also have to get an Employer Identification Number (EIN) from the IRS. Only single-member LLCs with no employees are exempt from EIN registration.
General business licenses must be renewed annually for $5 plus the cost of any additional endorsements.
7. Professional business licenses
Apart from a general business license, some regulated professionals also need to apply for an occupational business license.
These professions include accounting, architecture, veterinary, real estate, and healthcare, among others.
Professional business license registrations are processed by the Washington State Department of Licensing. Costs vary:
Cosmetology, barber, hairdresser license – $300
Court reporter license – $150
Driver for hire/taxi license – $110
Does Washington have an annual LLC fee?
Yes. Washington requires all LLCs to renew registration annually.
It's done by filing an annual report with the Secretary of State. The annual report fee in Washington is $60, whether filed online or by mail.
What taxes do LLCs pay in Washington?
If you make retail sales in Washington state, you'll have to obtain a sales tax license.
Rates vary by county and the type of transaction: a retail sale, providing labor, or leasing tangible property, for example. You apply for the sales tax license application as part of the state business license application, and it costs $19.
In addition to the general business license, your LLC may need to pay a business & occupation tax or gross receipts tax. Rates vary and are determined by your industry and can be as high as 1.5%.
Other types of state business and occupation taxes may also apply to your type of business.
Washington doesn't have a state income tax.
LLC members living in this state don't have to pay extra state personal income taxes. You only pay federal income taxes calculated on your federal tax return.
Conclusion: How much does an LLC cost in Washington?
The minimum cost to start an LLC registration in Washington is $240. $190 for company incorporation documents + minimum business license fee ($50).
You could end up paying $20 more if you file online. Or an extra $50 for expedited mailed-in processing. Your initial report is $10 or $30, depending on the submission method. The annual report is $60 after that. Name registration isn't required but adds another $30.
Your state taxes will vary since the amount you pay depends on your transactions and gross receipts.

Last updated:
May 2023
Start your LLC the easy way
Forming your LLC is a checkbox that needs to be ticked. Easy, fast and worry-free. We reviewed the 13 most popular LLC formation services to figure out who truly understands what new founders need. Our recommendation:
LLC Formation: $39 + state fees
Pricing:
Turnaround Time:
Help & Support:
Customer Satisfaction:
Ease of use:
Best LLC Service 2022

Formed 1,000,000+ LLCs
$39 formation includes registered agent service
Fast formation & same day filing
Exceptional customer reviews

Last updated:
May 2023