So, you're forming an Idaho LLC? Congratulations on starting your new business or scaling an existing one!
But you're probably wondering how much it will cost you to maintain this type of business structure.
Unlike a sole proprietorship, a limited liability company (LLC) comes with a bigger "upkeep." You have to mind state filing fees for business registration and document requests, plus several other admin extras.
In Idaho, the good news is that you always pay less when you request government services online.
Still, you set a budget aside for the following Idaho LLC costs.

Last updated:
Jan 2023
Start your LLC the easy way
Forming your LLC is a checkbox that needs to be ticked. Easy, fast and worry-free. We reviewed the 13 most popular LLC formation services to figure out who truly understands what new founders need. Our recommendation:
LLC Formation: $39 + state fees
Pricing:
Turnaround Time:
Help & Support:
Customer Satisfaction:
Ease of use:
Best LLC Service 2022

Formed 1,000,000+ LLCs
$39 formation includes registered agent service
Fast formation & same day filing
Exceptional customer reviews

Last updated:
Jan 2023
Idaho LLC formation cost: $100/$120
The main document to start an LLC in Idaho is the Certificate of Organization (known as Articles of Organization) in other states.
It must be filed with the Idaho Secretary of State (SOS).
The state filing fee is the same for domestic and foreign LLCs — $100 if you file online.
At this point, you should have the following details ready:
Your LLC business name
Your LLC's mailing address (and principal office address)
The name and street address of your registered agent
Names/titles of your Idaho LLC's governors.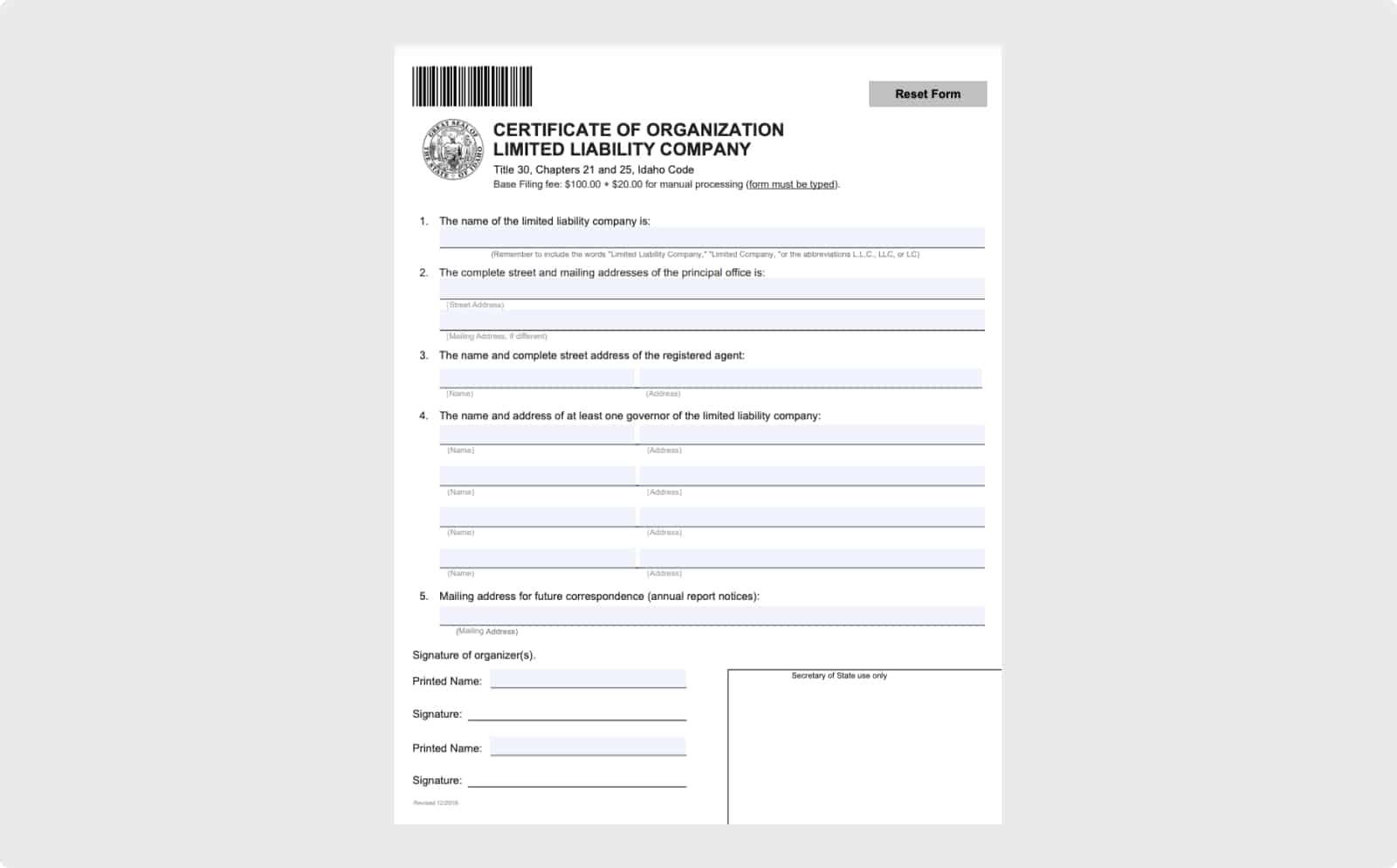 Idaho uses the term "governor" as a reference for LLC members. You'll need to provide at least one member's personal details for single-member LLC and all member details for a multi-member LLC. Then specify if your LLC will be manager-managed or member-managed.
For most business entity documents filed with Idaho, expect 7-10 business days processing time. However, you can pay for expedited processing if you need it faster.
Extra fees
If you file your articles of organization by mail, add $20 to the base filing fee ($120 total).
For expedited service, include an additional $40 to the filing fee ($140 if you file online or $160 if you file by mail).
If same-day service is requested, add another $100 to the base filing fee.
Extra Idaho LLC costs to account for
Getting an approved copy of the Certificate of Organization officially creates your Idaho LLC. But your spending spree is probably not over yet. Here are other fees you may need to pay for starting your Idaho business.
Registered agent costs
A registered agent is responsible for the receipt of service of process for legal documents with your Idaho LLC. They must be presented at the listed location during standard business hours all year round.
Every local company must have a person on record with the state.
When registering your LLC, you'll need to include the name and mailing address (which must be an Idaho street address, not a P.O. box) of your LLC's registered agent on your formation documents.
There is no separate cost for listing your registered agent. But, if you later change your registered agent or there is an office address change, you'll need to update the state.
Online filings are free and processed faster
But mailed-in fillings cost $20
Idaho pushes you to use their online SOSbiz portal, right?
But if you're bent on going the paper route, you can expedite this filings process for an extra $40 or $100 for same-day service.
Commercial registered agent service
In Idaho, you can be your registered agent. But many business owners choose to hire a professional service instead. Here's why:
For privacy purposes: the name and physical address of the Idaho registered agent is listed in public records. Not everyone wants to have their personal street address known.
For convenience: A registered agent must be available at the listed address to receive legal documents during regular business hours. That can be a nuance for traveling business owners or those working on client sites.
Out of necessity: If you don't have a physical address in the state as a foreign LLC, it's cheaper to hire a registered agent than rent out an office location.
Expect to pay between $50-$250 per year for professional registered agent services.
Assumed name registration
You need to use an assumed business name (also known as a DBA or doing business name) for your LLC if you wish to operate under a name different from your legally registered one.
You can file this form online for $25. If you file by mail, it's $45.
Also, note that the expedited and same-day fees still apply.
Idaho LLC name reservation
You already did a business name search and found a fine-sounding name.
Don't forget to add abbreviations such as LLC, Ltd, or Limited Liability Company to your name registration. Or else it can get rejected.
But you're not ready to file company incorporation documents just yet. In this case, you can reserve a business name you fancy for your LLC.
In Idaho, a business name reservation cost is $20 if you file online or $40 by mail. You can reserve your LLC business name for 4 months through this filing.
Certified document copies: costs vary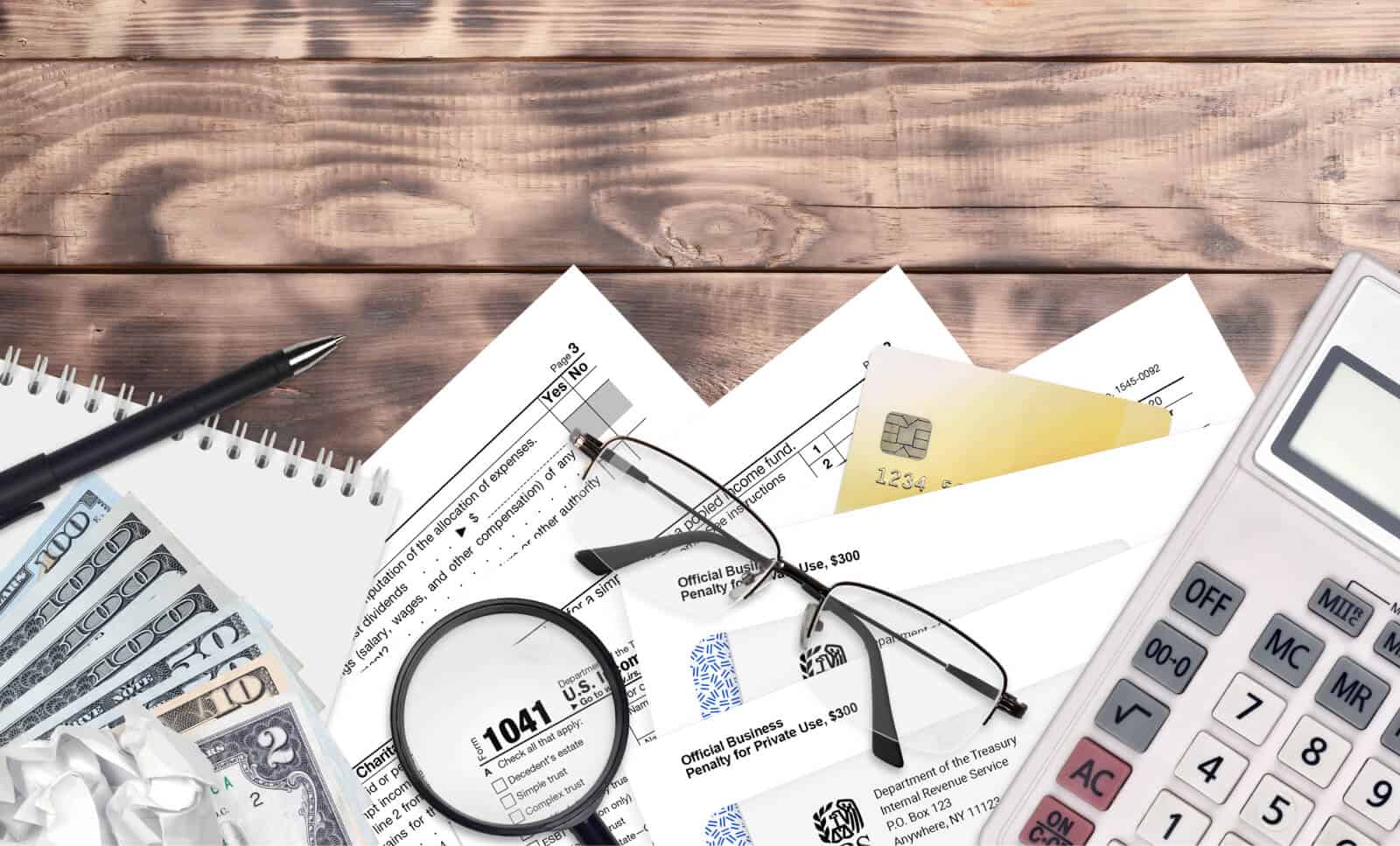 To request certified document copies from the Idaho Secretary of State, fill out this form online or submit it by mail.
With it, you can request:
Certificate of Existence or Good Standing
Certificate of Merger
Certificate of Name Change
A certified copy of any other company document
The fee is $10 plus $0.25 per page in both cases.
Operating agreement
Although not required by Idaho laws, adopting an LLC operating agreement is a good idea. This legally-binding document stipules the different decision-making and profit-sharing powers each LLC member has.
The cost of creating an operating agreement varies from free (if you use an online template) to $250-$600 if you hire an attorney to help you with one.
Business permits and licenses: costs vary
Small businesses in Idaho don't need a general business license.
But if your business entity falls into a regulated industry, you may need an occupational license. The Idaho Division of Occupational and Professional Licenses provides exhaustive information on licensing requirements, filing fees, and agencies you should refer to.
To give you some ideas, here's how much different occupational licenses costs in Idaho:
Separately, you may need to complete Idaho Business Registration to obtain a state tax ID number. This registration is required if you need to pay local sales taxes. It's free and done online via the Idaho State Tax Commission TAP portal.
Does Idaho have an annual LLC fee?
Yes, your LLC will need to file an annual report with the Idaho Secretary of State to maintain good standing. However, there is no state filing fee. Your LLC annual report needs to be filed on the anniversary month of your company's formation.
What taxes do LLCs pay in Idaho?
Every LLC is subject to taxes on two levels — federal and state.
Federal taxes include LLC members' personal income taxes, self-employment taxes, or employee salary taxes. The type you pay depends on the tax classification your LLC has.
On a state level, your LLC may need to pay sales tax. The current Idaho state-wide sales tax rate is 6%.
If you have employees in the state of Idaho, you'll need to both register with the Idaho State Tax Commission and have an Employer Identification Number (EIN) from the IRS to submit state employment income taxes.
Conclusion: How much does an LLC cost in Idaho?
You can start an LLC for just $100. That's the cost to obtain the Certificate of Organization from the state. Add another $20 if you file this by mail. If your LLC needs any occupational licenses or operational permits, budget for an extra $100-$200.
Other expenses to account for are applicable state taxes and add-on services such as hiring a commercial registered agent, getting a trade name registered, or commissioning other business services.
The good thing is you can set up a legal entity with just $100 in your pocket if you file your formation documents online and act as your own registered agent. The other fees are more optional or industry-dependent.

Last updated:
Jan 2023
Start your LLC the easy way
Forming your LLC is a checkbox that needs to be ticked. Easy, fast and worry-free. We reviewed the 13 most popular LLC formation services to figure out who truly understands what new founders need. Our recommendation:
LLC Formation: $39 + state fees
Pricing:
Turnaround Time:
Help & Support:
Customer Satisfaction:
Ease of use:
Best LLC Service 2022

Formed 1,000,000+ LLCs
$39 formation includes registered agent service
Fast formation & same day filing
Exceptional customer reviews

Last updated:
Jan 2023