Whether you're starting a new California business entity or looking to restructure your sole proprietorship into a single-member LLC, you'll need to allocate a budget for annual fees and taxes.
A limited liability company (LLC) is a common business structure for small businesses due to affordability. However, in the prosperous state of California, business entity maintenance requires money. But how much?
Initial filing fees for incorporation are nominal but ongoing taxes and compliance fees add up. We've outlined the typical costs and fees you'll encounter when forming and operating your California LLC.
Table of contents
---
California LLC formation cost: $70
Forming your LLC in California starts with filing your Articles of Organization or Application to Register with the Secretary of State and paying the filing fee.
The costs are as follows:
$70 for Articles of Organization (Form LLC-1) for a domestic LLC

+ $20 for Statement of Information (Form LLC-12): Due within 90 days of initial registration

$70 for Application to Register (Form LLC-5) for a foreign LLC

+ $20 for Statement of Information (Form LLC-12): Due within 90 days of initial registration
A domestic LLC has its principal place of business in California. Meanwhile, a foreign LLC is a business entity headquartered in another state but wants to do business in California.
There are a few steps you'll need to take to form your California LLC.
Choose a name for your company if you don't already have one.
Designate a registered agent who is responsible for receiving important legal documents on your company's behalf.
File Articles of Organization with the California Secretary of State.
Draft and sign an LLC operating agreement.
Apply for an employer identification number (EIN) from the IRS.
For more details on these steps, check out our California LLC formation guide.
You can expect the Secretary of State to take 2 to 6 weeks to process your application.
But if you need faster processing, in-person submission of documents to the Sacramento office is available. Preclearance and expedited filing options are available, ranging in price from $250 to $750.
Extra California LLC costs to account for
California's Articles of Organization are the primary document you need to start an LLC. But in reality, most business owners face other costs too. Thus, be sure to budget for the following items too.
Registered agent fees
Your LLC will need a California-based registered agent to receive service of process documents on behalf of your business. There are no extra state fees involved for adding a registered agent to your LLC in California.
But if you wish to change your registered agent (name or address), you'll have to file a form (Form LLC–12) and pay a $20 fee.
You have choices when selecting your agent. Some options are:
You (as the business owner)
A trusted employee or manager
Your corporate attorney
Professional registered agent service
When you or an employee act as your registered agent, it won't cost you an additional fee. But if you use a professional service, you can expect to pay up to a few hundred dollars a year for their help.
Trade name registration
If you plan to use a trade or assumed name (like a DBA "doing business as") instead of your LLC's legal business name, you'll need to register it with your county.
Don't register it with the Secretary of State.
Registering your trade or DBA name lets the public know that your business operates under a different name than the one listed with the Secretary of State.
Costs to register your assumed name vary depending on the county, but the price is generally less than $30 per year.
For example, in Los Angeles County, the annual cost of trade name registration is $26.
A trade name may make sense for your company if your legal name is too formal or too general to let your customers know what you do.
For example, if your LLC's legal name is Greentree LLC and you're a landscaping company, you may want to use a trade name like Green Lawn and Landscaping.
LLC name reservation fee
If you have a company name already in mind but aren't ready to file your registration documents, you can reserve the name as long as it's available. You can use California's Secretary of State Business Search function to determine if a name is taken.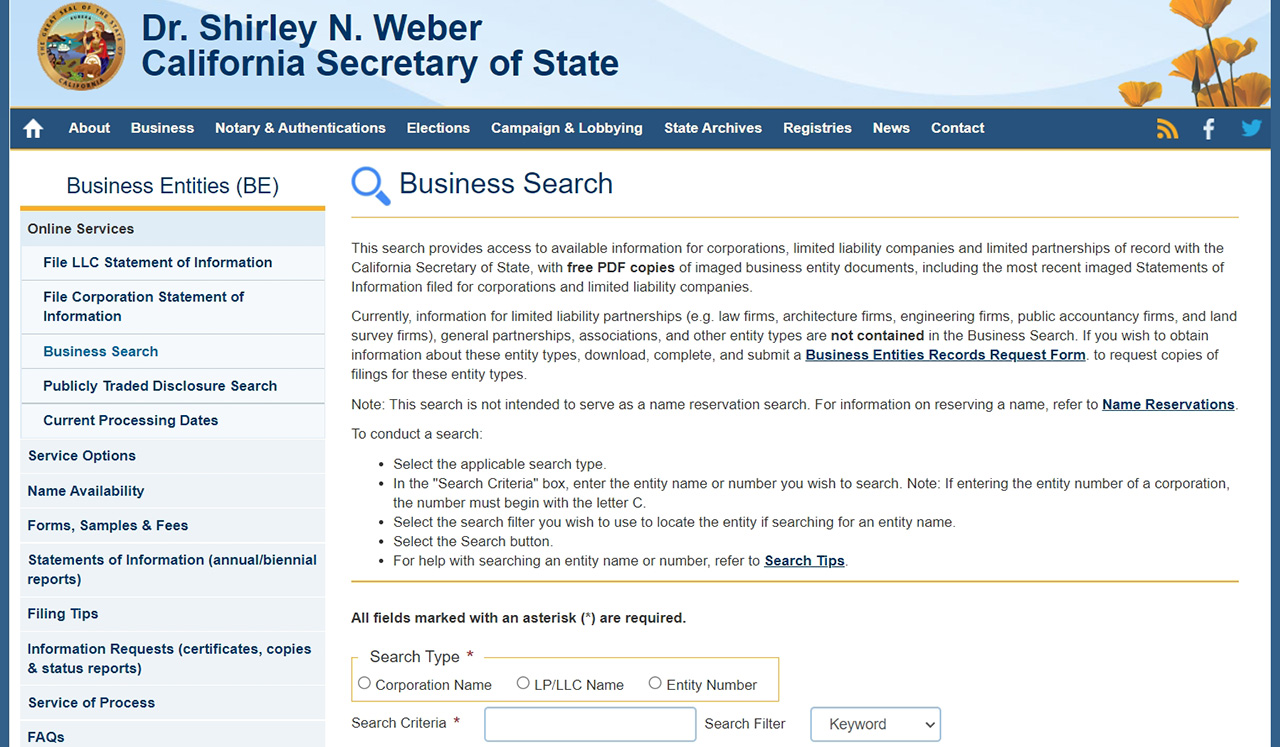 By completing a Name Reservation Request Form and paying a $10 handling fee, you can reserve a business name for up to 60 days.
Certified document copies
While you can print copies of some legal documents online, certified document copies are not free.
If you need certified copies of documents, you'll need to complete an order form and pay the fee. Fees are generally charged based on the number of pages copied and range from $1 to $5 per request.
Business permits and licenses
After forming your LLC with the state, your business may need to apply for specific business licenses and permits depending on the type of industry you operate in.
Permits and licenses are needed for plumbers, fitness centers, and food trucks, for example.
Costs for permits and licenses vary depending on the type of business and the number of permits needed.
Also, make sure your LLC has an employer identification number (EIN) from the IRS. This number acts like your company's Social Security Number, and you'll need it to file your federal taxes.
Annual franchise taxes
Also, all California LLCs have to pay annual franchise taxes of $800 to the California Franchise Tax Board (FTB).
Note: All LLCs registered in California between Jan 2021 and Jan 2024 are exempt from paying the annual tax for the first year of operations.
The due date for franchise taxes is April 15th each year, except your first taxable year when they are due by the 15th day of the fourth month after registering your LLC with the Secretary of State.
For example, if your LLC is registered on June 18, your first year's franchise tax will be due by September 15.
Also, the annual franchise tax rises progressively depending on your California income. The first $250,000 of income is tax-free, but a tiered structure exists with a maximum fee of $11,790 for companies earning $5 million or more.
LLC fee
Here's a CA LLC fee table sourced from the California Franchise Tax Board.
| | |
| --- | --- |
| California income rounded | |
| If the total California income rounded to the nearest whole dollar is: | The fee amount is: |
| $250,000 – $499,999 | $900 |
| $500,000 – $999,999 | $2,500 |
| $1,000,000 – $4,999,999 | $6,000 |
| $5,000,000 or more | $11,790 |
By default, a California limited liability company is treated as a disregarded entity by tax authorities. However, mind the corporate income taxes if you decide to change your default LLC tax classification to C-corporation.
The current rate is 8.84%.
Does California have an annual LLC fee?
Yes, LLCs are required to file a biennial report, called a Statement of Information, with the Secretary of State. This report is necessary to keep your LLC in good standing with the state.
The cost of an annual report for an LLC in California is $20.
Conclusion: How much does an LLC cost in California?
The baseline cost of forming an LLC in California is $90 for Articles of Organization and initial statement of information filing. But in reality, many business owners incur higher costs (up to $530 if they opt for extra services).
The two tables below model maximum spending scenarios for the first and second years of operations.
| | |
| --- | --- |
| Annual costs for California LLC (1st year) | |
| Description | Cost |
| Articles of Organization | $70 |
| Registered agent service (if needed) | $100–$200 |
| Statement of Information | $20 |
| Franchise tax | $0 |
| Certified copies of documents (if needed) | $5–$30 |
| Trade name registration (if needed) | $25–$30 |
| Name reservation (if needed) | $10 |
| Expedited processing (if desired) | $250–$750 |
| Specific permits or licenses (if needed) | $20+ |
| | |
| --- | --- |
| Annual costs for California LLC (2nd year & after) | |
| Description | Cost |
| Statement of Information | $20 |
| Change registered agent (if needed) | $20 |
| Registered agent service (if needed) | $100–$150 |
| Franchise tax | $800 |
| Specific permits or licenses (if needed) | $20+ |