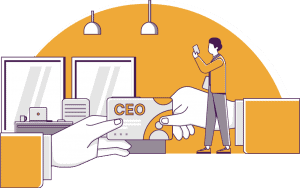 Did you know that, on average, it takes about seven seconds to make a first impression?
Although some may argue that business cards are obsolete, they are needed to make a convenient and innovative impression on customers or clients.
How you design your business card is equally important as the information presented because people make a subconscious judgment about a product or service in the first 90 seconds. Not only this but 62–90% of that judgment is based on color alone.
20% of new businesses fail during their first two years of operation, so you must do everything to increase your odds of staying in business.
The best companies utilize the power of a business card to provide credibility and legitimacy to their clients.
Instead of scribbling information on a napkin or adding a person on social media, business cards provide a concrete source of information and representation for your brand.
Follow this guide to find out how to make your business cards stand out.
Table of contents
Minimalist business card ideas
Dating back to the 1950s, minimalism is an art movement that uses simple forms: the phrase "less is more" captures the sentiment of minimalism and how this can play into your modern business card design.
Minimalist business cards typically have only the necessary information to not overwhelm the viewer and minimal graphics or illustrations. This type of business card is ideal for industries such as finance, law, and other serious professions.
Take a look at the following minimalist business card ideas for some inspiration.
1. Sans serif font business card

Sans serif fonts are modern without the extra strokes of the serif font style. Fonts like Arial, Helvetica, and Roboto are some of the most common sans serif fonts.
Why it works: This font style is popular for startups and tech companies because they want to show their modernity and youth.
2. Serif font style business card
Unlike sans serif fonts, serif fonts have extra strokes on the letters, making the style look more vintage.
Why it works: Companies looking to emphasize history and authority will want to use the serif font style since it has been around the longest.
3. Classic crisp white business card
Ideal for industries like law, finance, and consulting, the classic business card format leaves no doubt in the customer's mind that you're serious about your offerings.
Why it works: As one of the most common business card designs, a crisp white business card will stand out in clients' wallets for them to remember.
4. Dark-colored minimalist business card

Darker color schemes can convey mystery and intrigue, so opting for this color family can allude to more unique business models like escape rooms or cybersecurity startups.
Why it works: White typography on a black background is also easier on the eyes than black fonts on white backgrounds.
5. Duotone business card
Limiting your business card to two colors like black and white can show novelty and expertise on behalf of your company.
Why it works: Adding a splash of color to your business card ensures that your customers notice the novelty of your company without overwhelming them with a maximalist color palette.
6. Watermarked business card

Watermarks are useful images to cultivate brand identity with your customers through a trademark pattern or logo.
Why it works: A watermark business card is a simple yet effective way to convey the most important information about your business while also fostering brand association.
7. Line art business cards
This simple yet sophisticated design emphasizes organization and modernity without overwhelming the viewer.
Why it works: Businesses in the creative fields can use line art to their benefit because of its simplicity and allure.
Creative business card ideas
Creative business cards are more likely to be remembered by customers. In today's day and age, there are numerous competitors in any given field so standing out from the rest is the key to your business's success.
We've listed some popular creative business card ideas to inspire you.
8. Accent color business cards
The color theory explains that accent colors can create rhythm if used repeatedly or to show contrast with a splash of color.
Why it works: By centering your design around your accent color, your potential clients have the brand association between your company and the color you choose.
9. Intricate framed business card

Incorporating a frame into your business card design gives it a polished and professional look. It can also emphasize the information you want to share by creating a border with white space around the text.
Why it works: Since this is a more decorative business card design, it works well for artistic and creative industries.
10. Logo business card
Logos are the face of your company, so incorporating your logo into your business card creates cohesiveness all around.
Why it works: Business cards that keep the logo on one side and the important info on the other offer a more novel way to incorporate your logo.
11. Central image business card

Similar to adding your logo to your business card, incorporating an image into the design is another great way to stand out from the rest.
Why it works: This business card design is trendy because it allocates space for text and design.
12. Organic shapes business card
If your business wants to emulate fluidity and nature, including organic shapes on your business card is the way to go.
Why it works: Eco-friendly companies will benefit from this style because it shows a connection to plants and nature.
13. Geometric shapes business card

Unlike organic shapes, geometric shapes have angular lines and sharp corners.
Why it works: Geometric shapes can symbolize structure and order, so companies specializing in legal services or cybersecurity can benefit from this style.
14. Metallic business card
A metallic surface will draw attention to your card while also giving them the impression that the card belongs in their wallet like a shiny credit card.
Why it works: Since this style emulates a credit card, companies focused on finance or technology will find this style fitting.
15. Colorful business card

Adding playful color combinations to your branding will encourage a positive association with your company in a serious world.
Why it works: The food and beverage industry can greatly benefit from this style since so much of their work revolves around the presentation.
16. Iridescent business card
Showcase a range of colors at different angles to create an eye-catching visual cue for clients.
Why it works: An iridescent appearance adds prestige and depth to your card, so the hospitality or luxury industries might find this appealing.
17. Artistic font business card

Some popular artistic fonts to incorporate on your card include a brushstroke style, geometric style, or even a handwritten one.
Why it works: Since artistic fonts can be harder to read, it's best to keep their use to a minimum for the perfect business card.
18. Circular business card
Instead of the traditional rectangular business card, switch it up with a circular shape.
Why it works: Circles have many associations in art, the main ones being unity and perfection.
Vintage business card ideas
A vintage business card design is an excellent method to invoke feelings of nostalgia for your customers.
Industries like breweries or printing services can benefit from an antique-looking business card design representing tradition and authority.
Hallmarks of the vintage style include letterpress, script fonts, and brown color schemes. Keep reading for some excellent vintage business card ideas.
19. Wild west business card
Allude to the wild west with a rustic business card made with the beige tones of kraft paper.
Why it works: If your business emphasizes sustainability, this might be the business card design for you.
20. Letterpress business card

Using this technique for your business card will give customers a blast from the past while also showing your dedication to craftsmanship.
Why it works: Companies that specialize in industries like carpentry, printing services, and other hard skills should consider a letterpress business card.
21. Monochrome business card
Keeping your color scheme limited to two contrasting shades of a single color is referred to as a monochromatic style.
Why it works: Monochrome coloring is a great way to show some color and range without overwhelming the viewer.
22. Ink stamp business card

Rubber stamping can be revamped for an ink stamp business card design in any which way.
Why it works: An ink stamp business card design gives your card a rustic feel while also showing a stamp of approval from your company.
23. Retro business card
Giving your business card a retro aesthetic involves taking trends and art forms from the past and bringing them to the present.
Why it works: A retro business card style is effective because it shows customers that your company learns from the past and uses it to inspire the future.
24. Gilded gold business card

Gilding, or gold foiling, is a technique used to decorate with a thin coat of gold or gold paint.
Why it works: Industries that cater to a luxury market like clothing, jewelry, or beauty products are the perfect candidates for a gilded gold business card.
25. Embossed or debossed business card
Creating raised (embossed) or recessed (debossed) images in the paper is called paper embossing or debossing.
Why it works: An embossed or debossed business card shows customers that you're attuned to the fine details of your profession.
26. Bold font business card

The modern design emphasizes thin and light fonts, so incorporating a thick, bold font on your business card will be sure to invoke a vintage appeal for your business.
Why it works: A business card with a bold font is not only eye-catching, but it draws attention to the most important text on a given surface.
Unique business card ideas
The businesses that are most often remembered are the ones that use unique methods of advertising and marketing. Business cards with elements that no other company has ensured that you'll remain at the forefront of the customer's mind.
Unique business cards don't have to break the bank either: techniques like cutouts and embossing are easy and affordable ways to draw attention to your company.
Keep reading for a group of unique business card ideas.
27. 3D business card

Three-dimensional business cards are growing in popularity because they include simple textures and designs that pop off the card.
Why it works: Adding a 3D business card to your promotional materials shows investors that you think differently than your competitors.
28. Heat sensitive business card
Thermal paper has the ability to change color when exposed to heat, so when your customers touch your business card, it will change colors.
Why it works: Using heat-sensitive material when making your business card gives your customers something to show off to others or through social media — consequently, spread even more awareness about your brand.
29. Interactive business card
Cards with moving parts or that can fold in different ways are some examples of interactive business cards.
Why it works: Creating a business card that customers can interact with immediately sets you apart from your competitors.
30. Cut-out business card

Food industries can simulate someone taking a bite out of the card for a clever and unique business card design.
Why it works: Adding a QR code to this type of business card makes sure that the customer has all the information they need without you struggling to fit all the text on the limited card space.
31. Multifunctional business card

One way to ensure your business card never gets tossed aside is by making it multifunctional. Not only can it serve as a source of information, but it also can be used as a coaster or decor.
Why it works: This is arguably one of the most valuable elements of a successful business card because it drastically decreases the likelihood of your business card getting thrown away.
32. Die-cut business card
Die-cutting is the process of cutting shapes or letters into cardstock or paper using a die-cutting machine.
Why it works: The design goes beyond traditional business cards and provides a unique design for customers to add to their collection.
33. Textured business card

Incorporate your customer's sense of touch with a high-quality, textured business card design.
Why it works: A textured business card works for companies that specialize in handmade products like pottery or other goods.
What should be included on a business card?
Including the right information on your business card is the difference between getting in contact with a customer or letting them slip through the cracks.
Below, we've listed the essential elements that should be included on your card:
Company logo
Company name
Tagline
Your name
Your job title
Contact details & phone number
Company website
Company social media handle(s)
What to include on the front of your business card
On the front of your business card, you should include your company logo, company name, contact info, and tagline, at the very least. While you can include this on the back as well, trying to fit this with the other information you share might make the back of your card too crowded.
The best business cards optimize the space available by including as little text as they can.
What to include on the back of your business card
The back of the business card will have most of the information the customer needs to get in touch with you or follow your company. Make sure the backside of your card includes your name, job title, company website, social media handles, and of course, contact information.
It's also advisable to include a smaller version of your logo to create brand association on both sides of the card.
How to make your business card stand out: 3 catchy ideas
Making your business card stand out from the rest requires a few different factors: first, you have to incorporate something other businesses haven't.
For example, making your card multifunctional increases the likelihood that the customer will hold on to it. Consider creating a business card that can serve as a coaster or decor.
Another way to stay at the forefront of the customer's mind is to make a social media-worthy card design so that they share it with others. This is crucial for industries like marketing or graphic design, whose product is creating imagery and branding.
Finally, clever business cards are the ones that customers don't forget. Adding a unique touch that clients will remember can ensure that you make a lasting impression.
Consider using heat-sensitive thermal paper for your card or making it interactive with moving parts.
Wrapping up: why you need a business card
Great business cards show customers you're serious about your brand and spreading the word.
Many come away from networking with no tangible takeaways, so providing a memorable business card ensures that the connection lasts longer than the conversation that established it.
Check out what makes a successful business card with the infographic below.