Last updated:
Jan 2023
Start your LLC the easy way
Forming your LLC is a checkbox that needs to be ticked. Easy, fast and worry-free. We reviewed the 13 most popular LLC formation services to figure out who truly understands what new founders need. Our recommendation:
LLC Formation: $39 + state fees
Pricing:
Turnaround Time:
Help & Support:
Customer Satisfaction:
Ease of use:
Best LLC Service 2022

Formed 1,000,000+ LLCs
$39 formation includes registered agent service
Fast formation & same day filing
Exceptional customer reviews

Last updated:
Jan 2023
How to use our business name generator
To come up with a unique business name, start by brainstorming and entering a couple of keywords that describe your business. This could be your product, service, or specialty.
Next, select an industry that matches your business. If you're selling items online, your best bet would be to select retail, whereas a personal training business should opt for the health and fitness industry.
Once you click submit, you'll have plenty of business name ideas to choose from. Voilà!
1-2 keywords about your business
Select your industry:
Your business name results:
Crafting a memorable business name is one of the most important aspects of starting a business. With new companies popping up left and right, securing a unique and specific business name is crucial to garnering interest in your brand.
Luckily, there are plenty of resources that can assist you in coming up with a business name that reflects your company's values and culture.
Our free business name generator can help you find a brand name to impress and intrigue your target market.
Table of contents
---
How to choose a catchy business name: 8 tips
When choosing a business name, it's essential to think long-term. Ask yourself where you see your business going in the future and pick a name that coincides with that vision. To help you choose, we've come up with eight tips to get the ball rolling.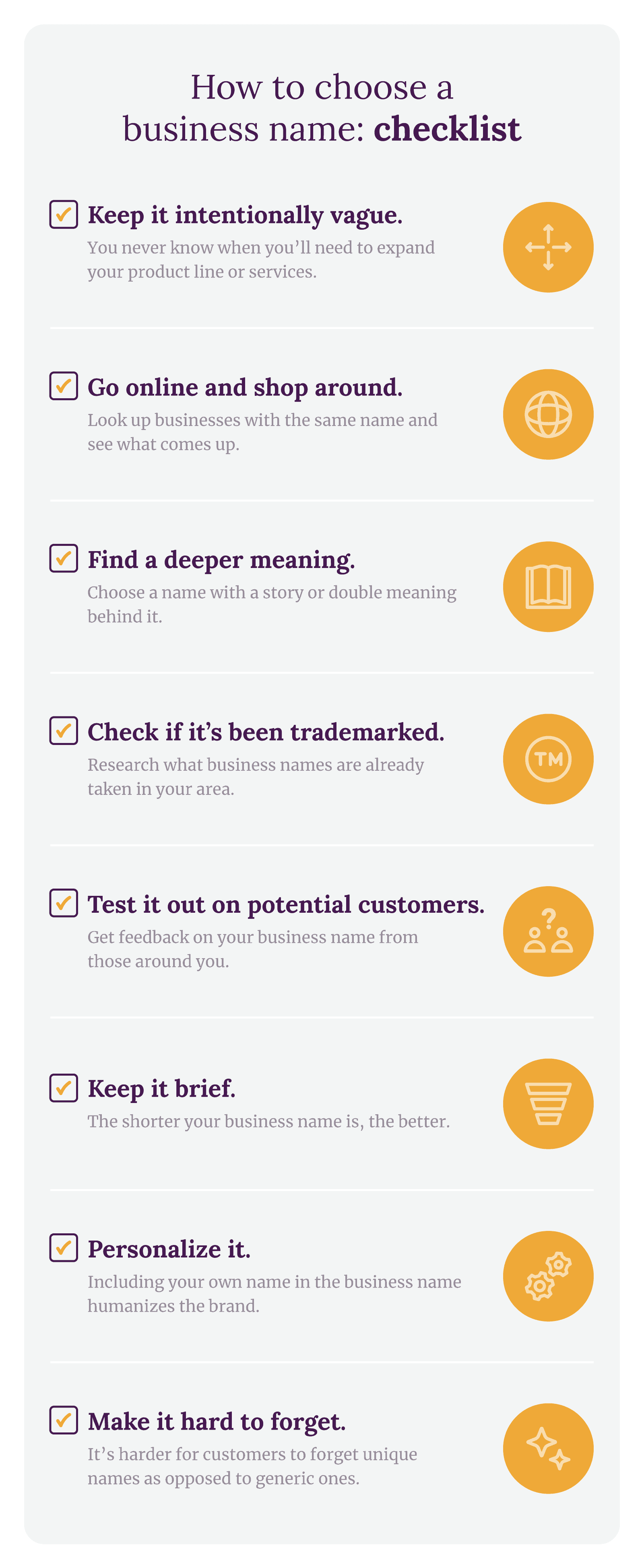 Keep it intentionally broad: Keeping your name broad but specific to your industry will cater to your future business endeavors if you choose to expand your line of products or services.
Go online and shop around: Look up other businesses with the same name you plan to choose and see what comes up. You should also make sure that there is an available domain name for your business website, as well as the social media handles.
Find a deeper meaning: Having a story or double meaning behind your startup name shows customers that your business idea is well-thought-out. Select wording that not only conveys what your business does but also what you want to do.
Check if it's been trademarked: Businesses often trademark their business name or logos to make sure they are the sole users. Research what business names are already taken or trademarked in your area.
Test it out on potential customers: Getting feedback from a focus group or other industry experts can transform your business name into something greater. Conduct A/B testing or present different options to a focus group to gauge what might be the best fit.
Keep it brief. Longer business names often end up being abbreviated anyway, so opting for a shorter business name will make it easier to remember.
Make it personalized. It's commonplace for small business owners to include their own name in their new company name for a personal touch. It also lends a hand in humanizing your brand.
Select a unique name. Choosing a business name that is novel to your customers will undoubtedly set you apart from the rest. It's much harder to forget a unique name as opposed to a generic one.
Business names by industry
Different naming criteria for various industries can be difficult to sift through, so we've simplified how to name your business based on industry trends and real-world name suggestions to help you find the best name that engages your target audience.
Technology business names
In the fast-paced world of tech, start-up names tend to be succinct and straightforward. It also helps to have a great name with a unique spelling and a history behind it.
Examples: Technology companies with catchy names like Lyft and Tesla embody these characteristics.
Design business names
Creative industries like design have the liberty of choosing a name that reflects their imagination. Whether you specialize in graphic design or architecture, there are many innovative ways to find the perfect name through mythology or words in different languages.
Examples: Companies like Dribble and Canva incorporate artistry and creativity into their business names.
Retail business names
Retail and e-commerce are broad industries that include businesses that sell goods to consumers online or at a brick-and-mortar store. Since there are so many shops in the market, brainstorm a business name that is simple yet specific to what you sell.
Examples: Retail business names like The Container Store and Designer Shoe Warehouse are great real-life examples.
Health and fitness business names
There are many ways to get in shape, whether it's CrossFit, yoga, strength training, or an all-inclusive gym. Your health and fitness business name should not only point to what type of fitness business you are but what sets you apart from the rest.
Examples: Fitness company names that are unique and memorable include Planet Fitness and Equinox.
Food and beverage business names
Successful food and beverage business names allude to the cuisine they serve or the food products they sell. With tons of different food options for customers, making your name a pun or including a cultural twist can help your customers remember you.
Examples: Good examples of food business names are Pho Shizzle and Roscoe's Chicken and Waffles.
How to register your business name
Once you've selected a great brand name, the next step in starting your business is registering the name with the state.
To check if your business name is already registered under someone else, you can use the USPTO's Trademark Electronic Search System.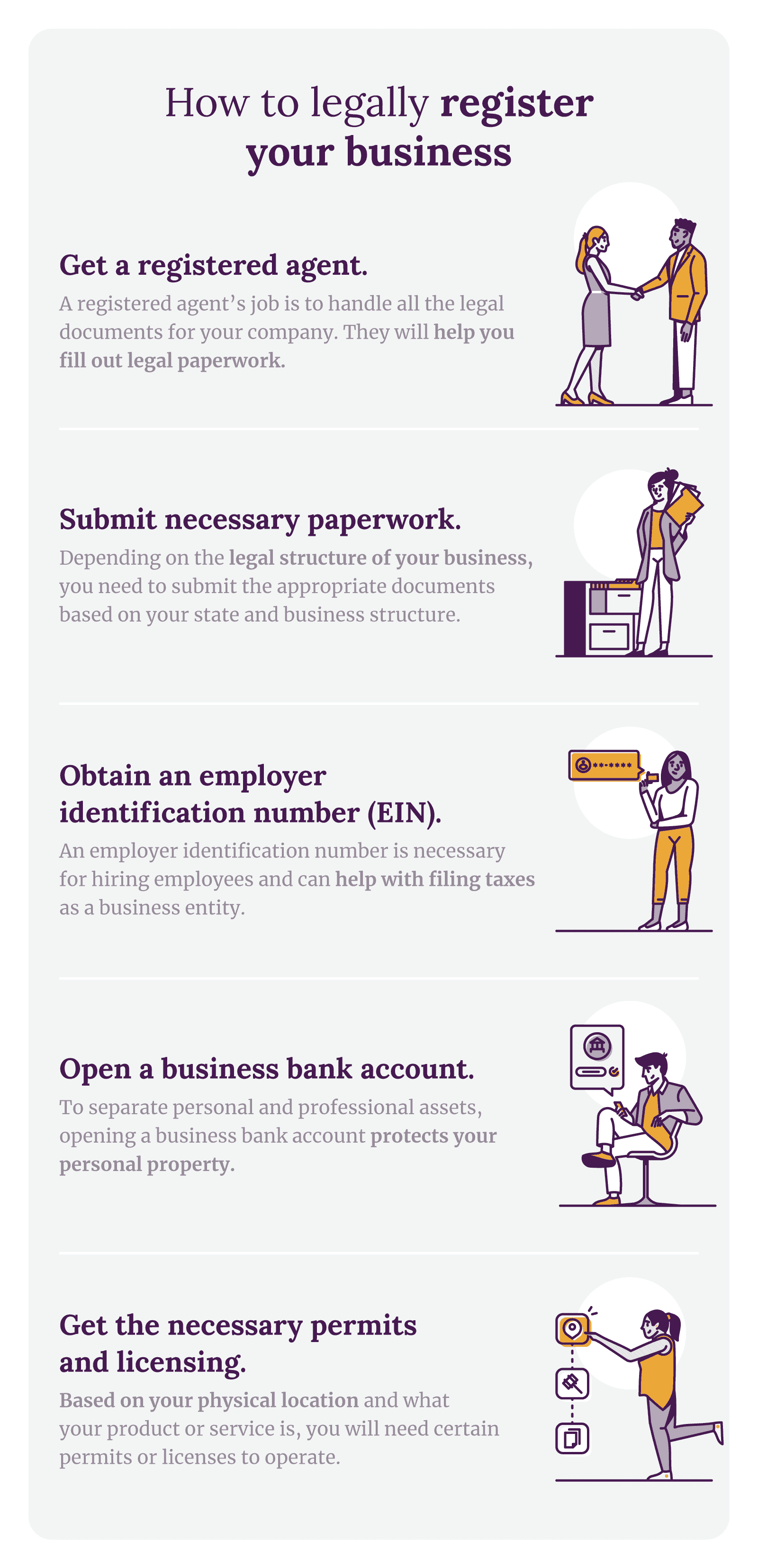 If the name you want is available, you'll need to submit your articles of organization to your state.
To do so, you'll need a registered agent whose job is to handle legal documents on your company's behalf. Once you've submitted your articles of organization, your business name is registered and legally exists.
What to do after registering your new business name
After your name is registered, you will need an employer identification number (EIN) from the IRS. With an EIN, you can hire employees, do tax reporting and use it for your business bank account.
That being said, opening a business bank account is another step to complete after registering your business name.
To open your account, you should bring your EIN, business formation documents, ownership agreements, and business license to a bank of your choosing. Some banks may require additional documents, so be sure to research your bank's requirements beforehand.
Commonly asked questions (FAQs)
Wrapping up: best practices for creating a business name
Naming your business is the most important part of branding your company, given it's the first interaction customers have with your brand. Making a good first impression is the key to customer conversion.
Coming up with a business name requires domain name availability, a simple yet novel name, and a meaningful story or symbol behind the name. You should also be sure not to get too specific about your business functions in the name so that you don't limit yourself later on if you expand your product line.
When naming your company, make sure to pick a personalized and unique name that will set you apart from the competition and stay at the forefront of the customer's mind.
Choose from the wide variety of potential names from our brand name generator above.

Source: Forbes.

Last updated:
Jan 2023
Start your LLC the easy way
Forming your LLC is a checkbox that needs to be ticked. Easy, fast and worry-free. We reviewed the 13 most popular LLC formation services to figure out who truly understands what new founders need. Our recommendation:
LLC Formation: $39 + state fees
Pricing:
Turnaround Time:
Help & Support:
Customer Satisfaction:
Ease of use:
Best LLC Service 2022

Formed 1,000,000+ LLCs
$39 formation includes registered agent service
Fast formation & same day filing
Exceptional customer reviews

Last updated:
Jan 2023