Getting a new business off the ground can be quite a challenge.
After all, according to the U.S. Bureau of Labor Statistics, around 20% of private establishments fail within the first year.
And when we look at long-term survival rates, the picture is even grimmer: only 34.3% of new businesses opened a decade ago are still operating.
So how can you make sure that your company not only survives but thrives in today's fiercely competitive marketplace?
You get equipped with a ton of knowledge.
This post offers 22 tested small business tips, covering everything from validating product ideas to marketing and automation.
Ready to take your small business to the next level?
1. Test new product ideas for viability
Have a product idea?
Make sure that you validate it before you start pouring resources into it. Otherwise, you might end up losing a ton of money.
For example, Quibi, an American short-form streaming platform, had to shut down just 6 months after its launch. Why? Their product was not a "fit" for consumers.
They pitched 5-10 minutes long video shows to subscribers meant to be watched on the go. But the customers weren't much into it, especially as most stayed at home rather than commuting to work due to the pandemic.
After raising $1.75 billion from investors such as Universal, Viacom, and Warner Bros Entertainment, Quibi still struggled to get the platform off the ground.
To avoid the same mistake, you may want to read Eric Ries' book "The Lean Startup," which focuses on idea validation.
Although the book is primarily aimed at tech startups, you can apply the general principles in any business venture.
2. Research your target audience
Having a great product isn't enough.
Your value proposition also needs to resonate with your ideal customers.
So make sure that you conduct extensive customer research before you start spending money on product development or marketing.
You can do that by:
Figuring out where your target customers hang out online and then observing the conversations happening there.
Conducting one-on-one interviews with your ideal customers. Reach out to people in your target audience and ask if you could pick their brains via a 15-minute Skype call.
Conducting one-on-one customer interviews. Interview those who have purchased your product and learn about their experiences.
The more you know about your ideal customers, the easier it will be to design an offer that hits the mark.
By the way, 68% of customers expect brands to demonstrate empathy, but only 37% say that brands generally do.
Meanwhile, 66% of customers expect companies to understand their unique needs and expectations. Yet the same percentage of customers say that they are generally treated like numbers.
All that means that you can gain a competitive edge by investing in customer research and empathizing with your target audience.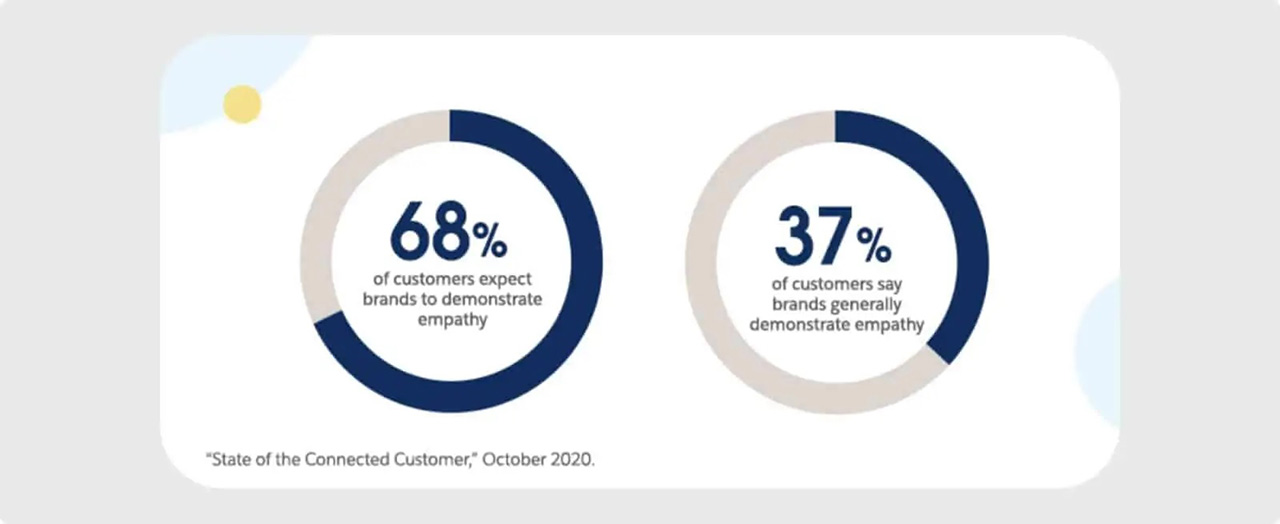 3. Find your brand differentiator
Give your ideal customers a reason to choose your brand over the competition.
The most straightforward way to differentiate yourself is to articulate your values, make them public, and practice what you preach.
When
SproutSocial
surveyed over 1,000 consumers, they found that 72% of them expect brands to contribute positively to society.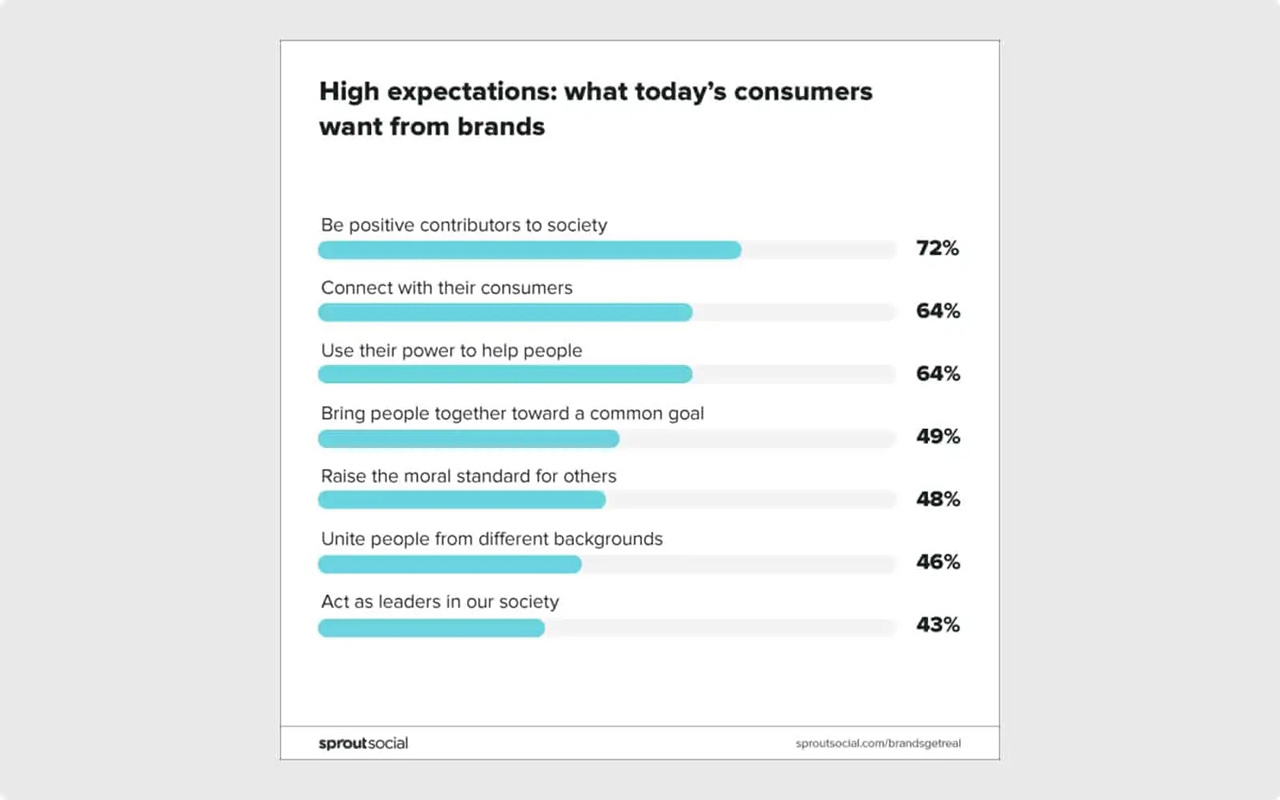 Gone are the days when figuring out how to make a profit was enough to build a successful business. Today people also expect your company to be a force for good.
So embrace your values and start making a difference.
4. Be authentic in your communication
Consumer trust is the most valuable asset a brand can have.
SocialSprout also found that when consumers were asked to reflect on their relationship with brands, two-thirds of them equated feeling connected to a brand with trust.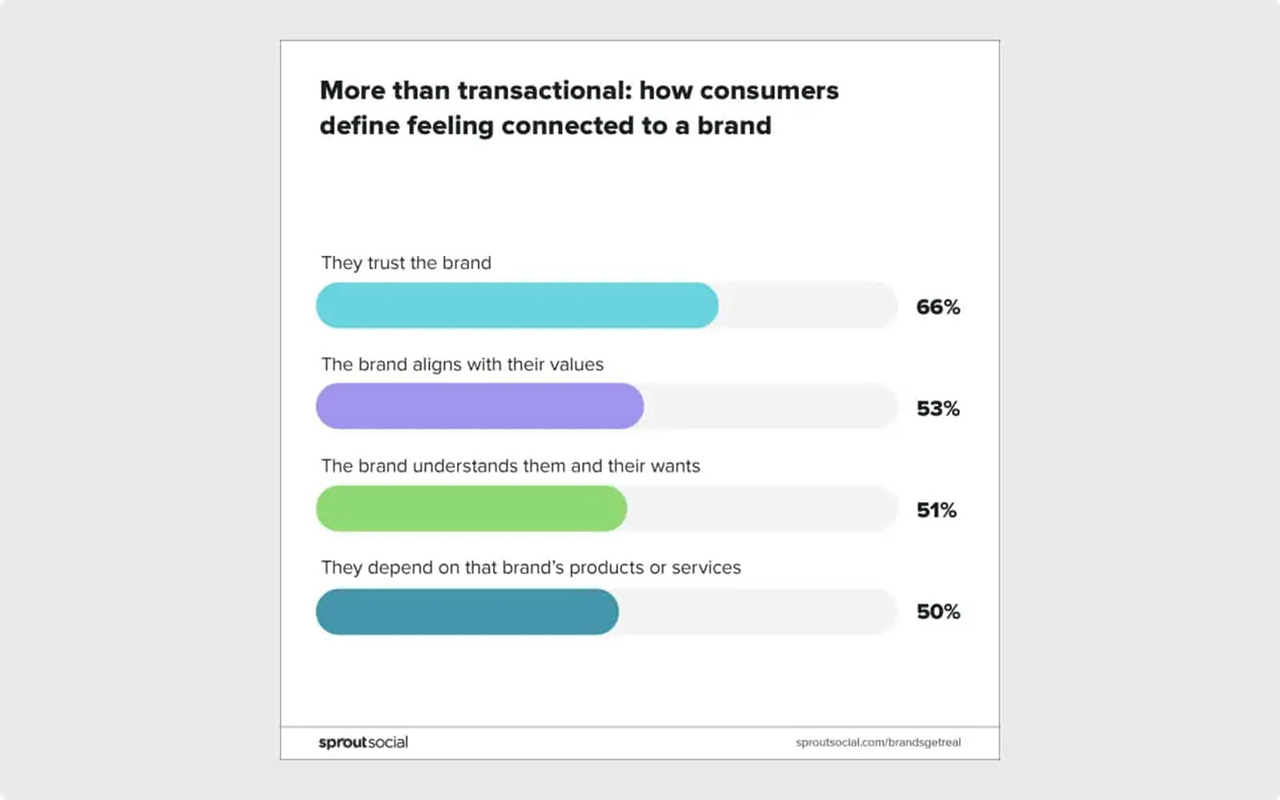 Research conducted by Deloitte Digital also shows that three emotional factors prompt consumers to bond with a brand:
Trustworthiness (83%).
Integrity (79%).
Honesty (77%).
So be authentic and treasure the trust of your customers.
Operate by the words of Reginald Murray Williams, the founder of the R.M. Williams company:
Trust is the easiest thing in the world to lose and the hardest thing in the world to get back.
5. Prioritize customer retention over customer acquisition
Acquiring new customers is expensive.
Therefore, you'll want to maximize customer lifetime value (CLV). But how can you do that?
Here are three ideas:
Use cross-sells and upsells to maximize the average order value (AOV).
Create a great customer experience. Go the extra mile to make your customers happy and eager to share a positive word of mouth.
Offer excellent customer support. Don't keep your customers waiting — 90% of consumers say that getting an "immediate" response is important to them. Build a customer support team that can handle all incoming inquiries promptly.
All this will help you increase not only your revenue but also foster repeat business.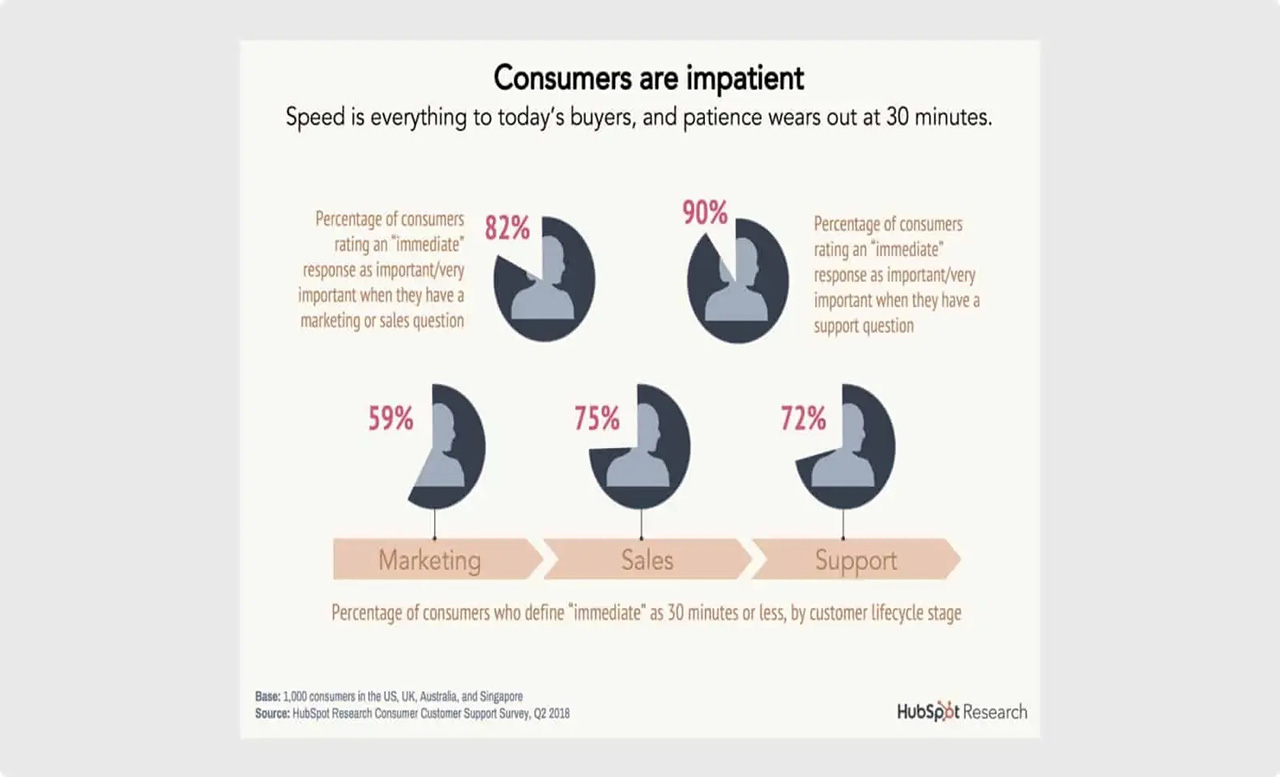 6. Incorporate your business
Most small business owners choose sole proprietorship as their first business structure.
Although the most straightforward option, this structure comes with a great deal of risk since you're responsible for the debts and liabilities of your business.
That's why incorporating your small business as a limited liability company (LLC) makes more sense.
An LLC is a business structure that protects you as an individual from the debts and liabilities of your business. The responsibility lies with the LLC, not you. This means that you won't lose your personal assets should your business go under.
We strongly advise you to incorporate your small business as an LLC before you feel ready.
You never know when something might go wrong. Better safe than sorry.
7. Invest in an accountant or accounting software
As a small business owner, you can handle bookkeeping yourself.
However, unless you enjoy accounting, you're likely to find this task tedious, confusing, and time-consuming.
You can somewhat alleviate all that by investing in accounting software such as QuickBooks.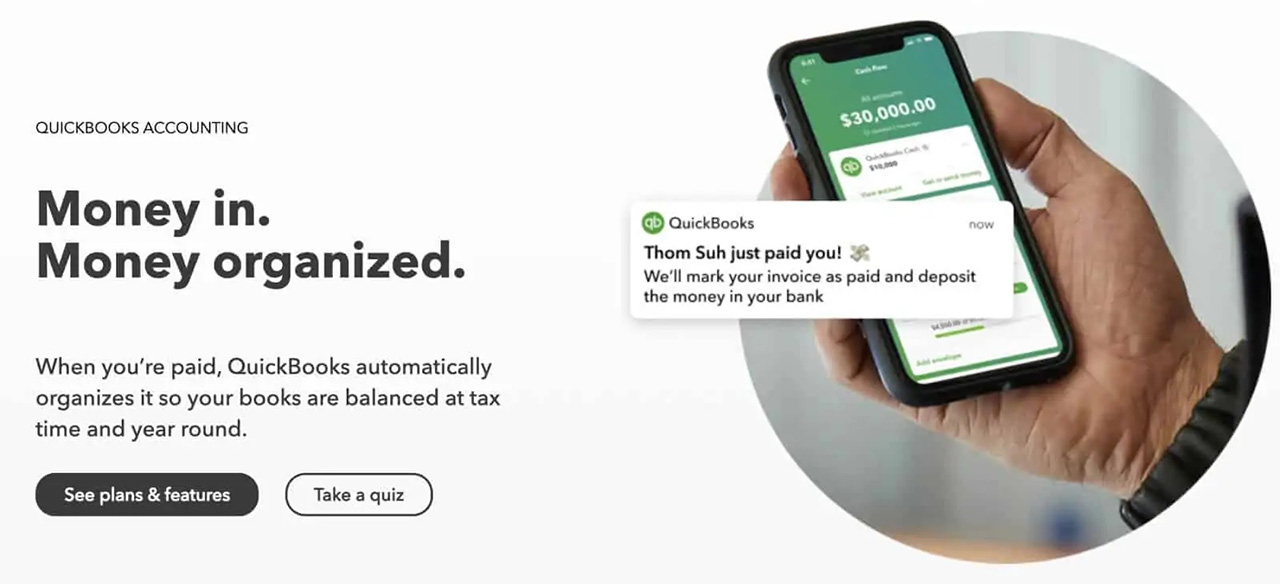 That being said, you might want to consider hiring an accountant because it can help you save heaps of time and money.
Did you know that 1 in 3 small businesses reported spending more than 80 hours (two full work weeks) each year on federal taxes?
That's crazy!
Surely there are better ways to spend your time than doing taxes? For instance, growing your business!
8. Do a cost-benefit analysis before you invest
The key to building a successful small business is using a combination of gut feeling and rational thinking.
When you develop the idea you want to implement, run a cost-benefit analysis before investing money.
Here's a cost-benefit analysis process recommended by the U.S. Small Business Administration:
Calculate the costs.
Calculate the benefits.
Subtract costs from benefits.
Let's say that you're a restaurant owner who's considering adding outdoor seating to their restaurant.
Outdoor seating permit costs $1,000/year.
Buying outdoor tables and chairs costs $2,000.
Outdoor seating would add an extra $5,000/year in profit.
Subtracting costs from benefits shows that adding outdoor seating makes sense. It would generate $2000 in extra profit the first year.
This sounds obvious, but you'd be surprised how often entrepreneurs lose a ton of money simply because they don't do a cost-benefit analysis before investing in something.
9. Legally lower your tax bill
Start optimizing your taxes as soon as possible so that you can reap more benefits as your business grows.
Tax optimization options available to you depend on the business structure that you chose. But generally, these strategies revolve around:
Reinvesting funds back so that you can deduct the business expenses.
Paying employees a lower salary but providing more benefits instead.
Don't hesitate to hire an accountant to help you figure out how to lower your tax bill legally.
Doing so can save you a ton of money over the lifetime of your business.
10. Build financial forecasts
Successful entrepreneurs know how to plan.
Familiarize yourself with basic financial metrics such as:
Break-even point — the point at which your total revenue is equal to your total expenses.
Net profit margin — shows what percentage of your revenue is profit.
Gross margin ratio — the ratio between the gross margin of a company and its revenue.

Understanding these metrics will help you forecast how much revenue you'll need to generate to cover your expenses and make a profit.
11. Hire employees based on potential
Hiring the wrong person is a waste of time, energy, and money. This is especially true for full-time employees.
Moreover, one bad hire can undermine the efficiency of the entire business.
Ensure that the people you hire are compatible with your company's culture. You want team players who lift others, not bring them down.
Also, everyone talks about hiring "top performers," but the reality is that a new business is unlikely to have the budget for that.
So instead of chasing superstars that you can't afford anyway, consider giving a shot to people who don't have much experience but have massive potential.
Successful companies tend to value talent, energy, and the ability to learn more than industry or role experience. And it pays off!
So don't be afraid to give people who don't have the right experience a chance. You can always train them on the job. Attitude is what matters.
12. Selling online? Mind the shipping costs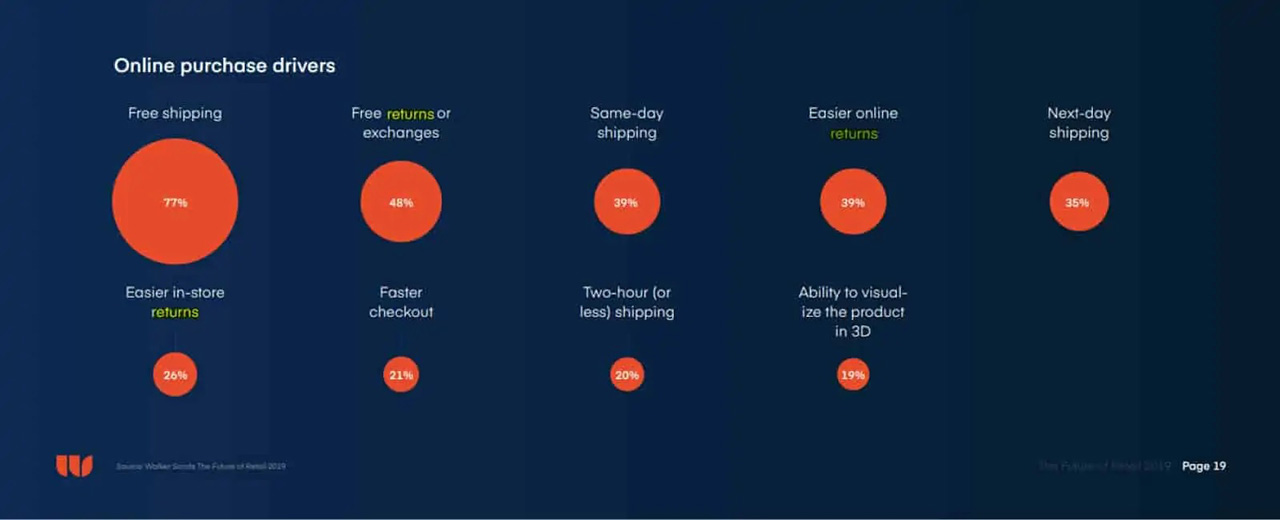 However, while offering free shipping is cool for the customer, making the math work from a business perspective can be challenging.
But that doesn't mean you shouldn't try. Here are three ways to offset the shipping costs:
Increase your prices so that they'd cover shipping expenses.
Offer free shipping above an order value that allows you to make a profit still.
Partner with a third-party logistics (3PL) company to streamline order fulfillment.
Keep in mind that 49% of consumers cite "extra costs" such as shipping as the reason for abandoning their carts. Thus it's best to "pack" those into your prices.
13. Automate repetitive business processes
When you have a day job that you don't like, it's easy to glamorize entrepreneurship.
But the truth is that the day-to-day of running a small business isn't always fun. Repetitive tasks and boring chores swamp you.
Fortunately, nowadays, you can find software solutions for automating everything, save for creative tasks.
For example, Zapier is a popular tool that allows you to create automated workflows by connecting various web apps. Identify repetitive tasks and then find software solutions that allow you to automate them.
14. Create standard operating procedures (SOPs)
Standard Operating Procedures (SOPs) are checklists featuring a step-by-step process of getting a particular task done the right way.
They are super helpful because they allow you to streamline steps in recurring tasks so that you wouldn't need to think them through every time.
Moreover, having SOPs in place makes it easy to train the new employee when you hire someone.
You can't expect a new hire to have the know-how for doing everything just the way you want. But you can expect them to follow a checklist.
SOPs allow you to get them up to speed faster and prevent them from making rookie mistakes. Plus, they make project management easier!
15. Don't compete on the price — compete on value
Competing on price is a mistake. You won't get far if you use this strategy.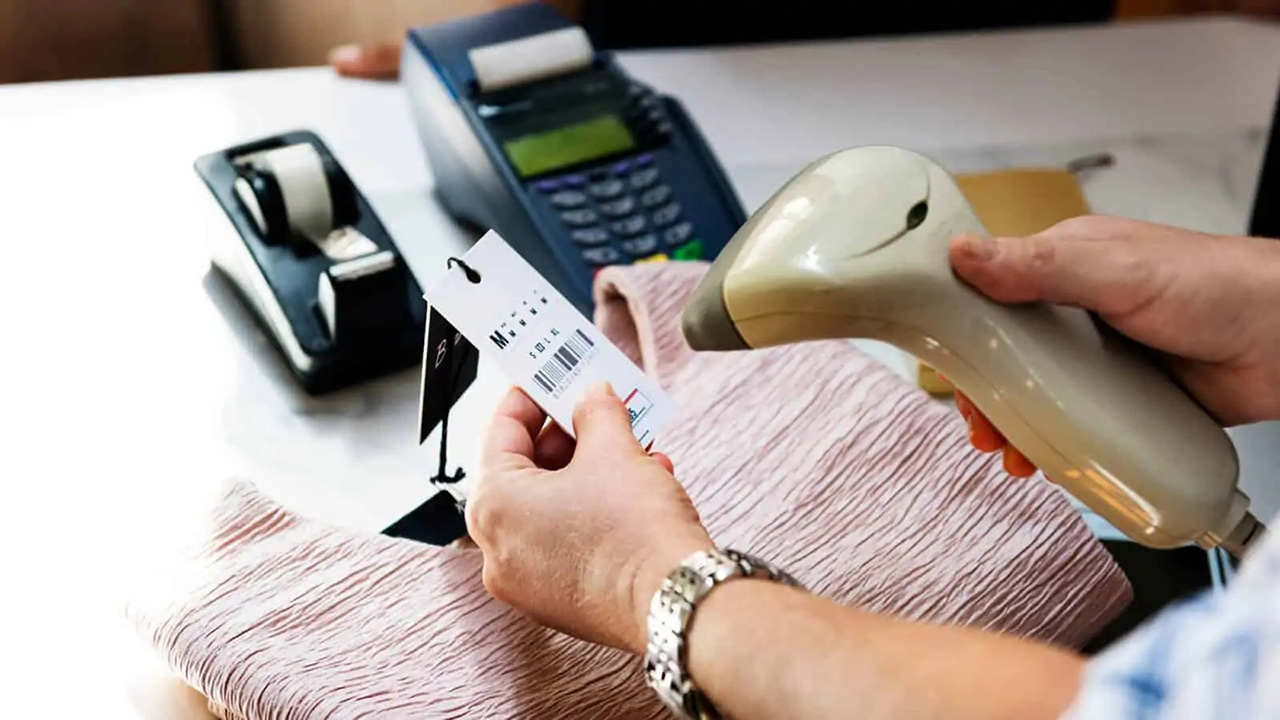 Rather than charging by the cost of production, consider value-based pricing. Work out a figure based on the potential customer's value from your product or service.
Of course, if you want to charge based on value, you need to make that value crystal clear to the potential customer. How will your product make their life better?
Moreover, you should also think about positioning your brand as a premium brand to charge higher prices.
16. Don't count too much on external investors
It seems that nowadays, every startup co-founder dreams of getting funded by venture capitalists (VCs).
But the truth is that you probably don't need VC money to build a sustainable small business.
Venture capital often gets in the way of building a profitable business since you'll be forced to focus on growth instead of profitability by taking the funding.
Moreover, when you become reliant on outside investment, your business becomes dependent on the whims of the investors. They are the ones in charge.
For example, a cybersecurity startup Rubica, which had raised $15 million since its launch in 2016, had to close up shop in 2020. Why?
The team wanted to pivot from a B2C to a B2B model, which made sense given the rise of remote work caused by the pandemic.
However, investors didn't see it the same way. The company had to shut down because it didn't have enough cash to stay in business.
So focus on building a resilient, profitable business. Venture capital is not all it's cracked up to be.
17. Build a support system
Successful founders are the new rock stars. College kids dream about launching "the next Facebook."
However, there's a survivorship bias inherent in all those success stories. We constantly hear about entrepreneurs who made it but rarely about the ones that didn't.
The truth is that entrepreneurship is a lonely path. Social isolation, burnout, and mental health problems are common issues.
That's why you need to build a support system if you want to stay sane while growing your startup.
Network with other entrepreneurs who understand what you're going through. Those relationships will prove to be invaluable.
Also, seek mentors who have accomplished what you want to accomplish and pay attention to what they have to say.
Listening to the advice of those who have gone before you can help you make better decisions.
18. Invest in the right advertising channels
Design your digital marketing campaigns with your ideal customers in mind.
Prepare marketing materials for each stage of the buyer's journey:
Awareness.
Consideration.
Decision.
Also, experiment with various marketing channels to see what works and what doesn't. Then double down on the ones that produced the best results (e.g., content marketing, Facebook ads, podcast ads, etc.).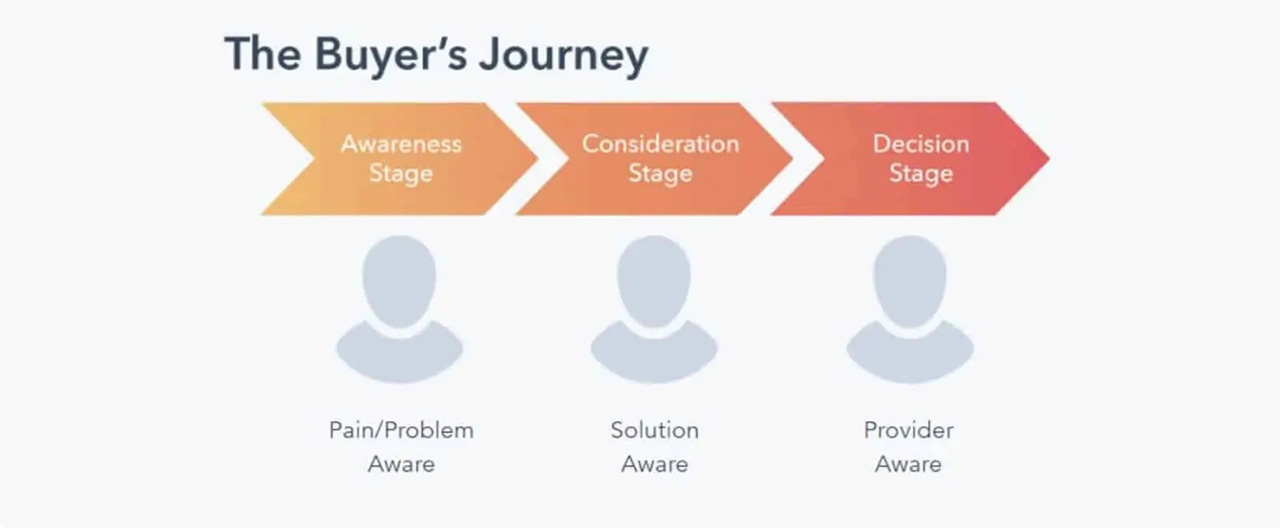 19. Focus on generating positive WOM
Word of mouth (WOM) can be an important marketing channel for a small business like yours.
In fact, 84% of solopreneurs earning over six figures get a significant percentage of their business via referrals.
If you want referrals as well, here's what you should do:
Deliver an excellent service or a top-quality product every time.
Create an unforgettable customer experience.
Offer discounts to customers who send business your way.
Building a reputation will take time, but once people realize that you're legit, they will be happy to recommend you to their family, friends, and colleagues.
20. Personalize your marketing
Did you know that 52% of consumers expect offers to always be personalized?
Meanwhile, 90% of marketers agree that personalization significantly contributes to business profitability.
To remain competitive, you need to figure out how to court each customer with a personalized approach. But how can you do that with a tight budget?
Look into marketing personalization software. There are plenty of budget options.
21. Reuse and repurpose your marketing assets
Continuing on the topic of a tight budget, how can you create effective marketing campaigns without breaking the bank?
Simple: repurpose your marketing assets so that you could use them across a variety of channels.
Let's say that you wrote a blog post.
You can:
Optimize it for SEO so that it would bring in organic traffic.
Turn the best quotes from it into social media posts to fill your publishing calendar.
Use it as a script for a YouTube video.
That way, you'll make the most out of your marketing budget.
22. Stay determined
Let's keep it real. Building a sustainable business is hard work.
So don't expect overnight success. Finding the right business idea, acquiring the industry know-how, and building a customer base takes time. But it's possible.
As long as you keep testing product ideas, experimenting with marketing channels, and iterating based on customer feedback, you're on the right track.
So stay determined and keep your eyes on the prize.
Conclusion
Starting your own business always involves risk. There's no way around that.
But you can significantly reduce that risk by implementing what you have learned in this article.
So don't hesitate any longer. Want to start your own business? Go ahead and do it.
You might fail. You might succeed. But at least you won't live your life wondering, "what if?"