Thinking of starting an LLC in Connecticut?
Connecticut is home to over 350,000 small businesses, making it one of the national hotspots for entrepreneurs. Connecticut is home to many of today's most prominent brands, such as Aetna, Xerox, ESPN, and Subway.
For those eager to form their own LLC, we've put together this step-by-step guide on how to start an LLC in Connecticut.
---
Table of contents:
---
Step 1: Name your LLC
Operating a limited liability company (LLC) comes with many perks.
But before you can reap the benefits of personal asset protection and diminished personal liability, you'll need to complete your company registration. It starts with naming your new business.
Connecticut LLC naming rules
Apart from selecting a unique, memorable business name, Connecticut law requires you to comply with these naming rules:
Your LLC's name must end with the term "Limited Liability Company" or abbreviations such as "LLC," "L.L.C.," or "Ltd." to make it clear the business structure is an LLC.
The name can't suggest any associations with a government agency (Treasury, FBI, State Department, etc.), bank, corporation, attorney, university, or insurance company.
Names can't contain words like "corporation," "incorporated," or "inc." These are reserved for corporations.
Your LLC's name should reflect the purpose of your business and should not conflict with existing companies in Connecticut.
Once you've come up with several options, check if your selection is available for registration.
Run a business records search on the Connecticut Secretary of State's website. The tool will tell you if a specific name is available for registration.


Name reservations
Once you confirm the availability of your LLC's name, you can reserve it before you're ready to form your LLC. You can file the name reservation request online, by mail, or in person. Prepare an Application for Reservation of Name along with a check for $60. Then submit it to the CT Secretary of the State (SOS).
Trade name
If you choose to operate your business under a different name, you can register a trade name (DBA name). Use a trade name if:
You're rebranding your company
You want to focus on multiple lines of business
Connecticut law requires anyone who does business under a DBA to file a Trade Name Certificate — by mail or in person — with the town clerk's office in the city where they conduct business. Costs vary.
Step 2: Select a registered agent
As a rule, you're required to appoint a registered agent when you form your LLC.
A registered agent receives and accepts official legal communications — tax notices, subpoenas, regulatory notices, and correspondence — from the State of Connecticut.
The agent also receives any service of process (e.g., summons) your LLC may receive when it's involved in a lawsuit with another business entity or person. These documents must be received in person. Failure to do so can have legal and financial consequences.
Connecticut requirements for a registered agent
Connecticut allows the following people to act as a registered agent:
Over 18 years of age
Has their primary residence in Connecticut
Has a street address in Connecticut (not a P.O. box address)
Available at that office address during regular business hours
So you, an employee, or even a friend you trust can act as a registered agent. Or you can hire a professional registered agent service instead.
You can also appoint a professional registered agent service. Also, foreign LLCs without a physical presence in Connecticut do so out of necessity. Using a registered agent service typically costs $100 to $300 per year, depending on your selected service tier.
How to appoint a registered agent in Connecticut
When you complete your LLC's Certificate of Organization, you'll appoint your registered agent on your application. There is no fee for this initial selection.
To change the registered agent, you'll prepare a Change of Agent form and submit it to the Connecticut SOS together with a $50 filing fee by check or debit/credit card (for online filings). Your new Connecticut registered agent will also sign the paper form to consent to their appointment. The authorizer must acknowledge that the agent consents to their appointment for online filings.
Step 3: Draft and submit the Connecticut LLC Certificate of Organization
When you're ready to form your Connecticut LLC, you'll fill out and file the Certificate of Organization with the Secretary of State. In other states, this document is called "Articles of Organization."
Download and submit the Certificate of Organization form online or submit a hard copy by mail or in-person to the Secretary of State's Office. A $120 fee will apply whether you file online or via hard copy.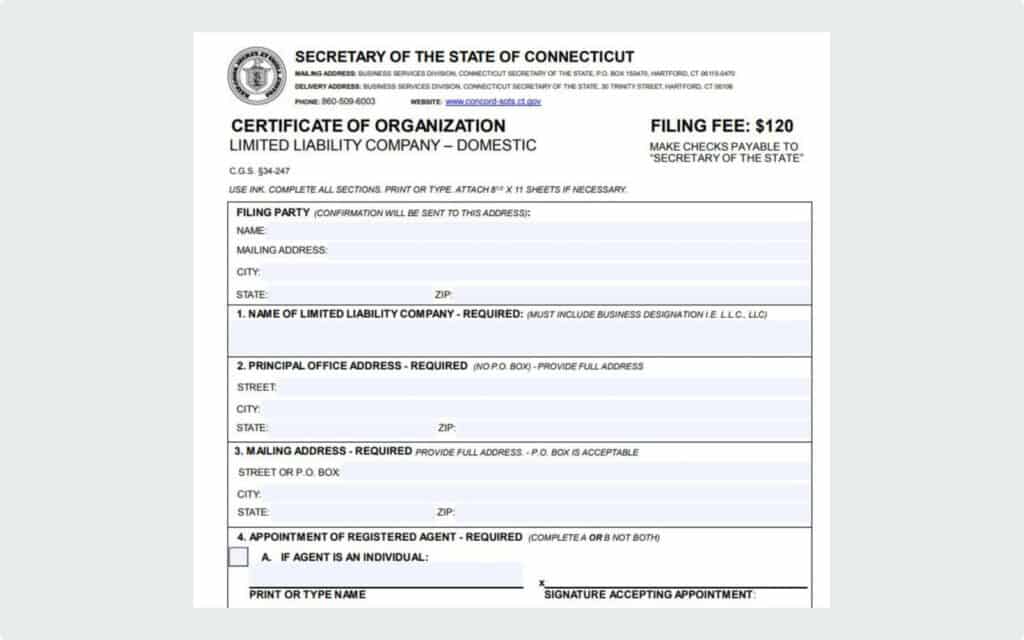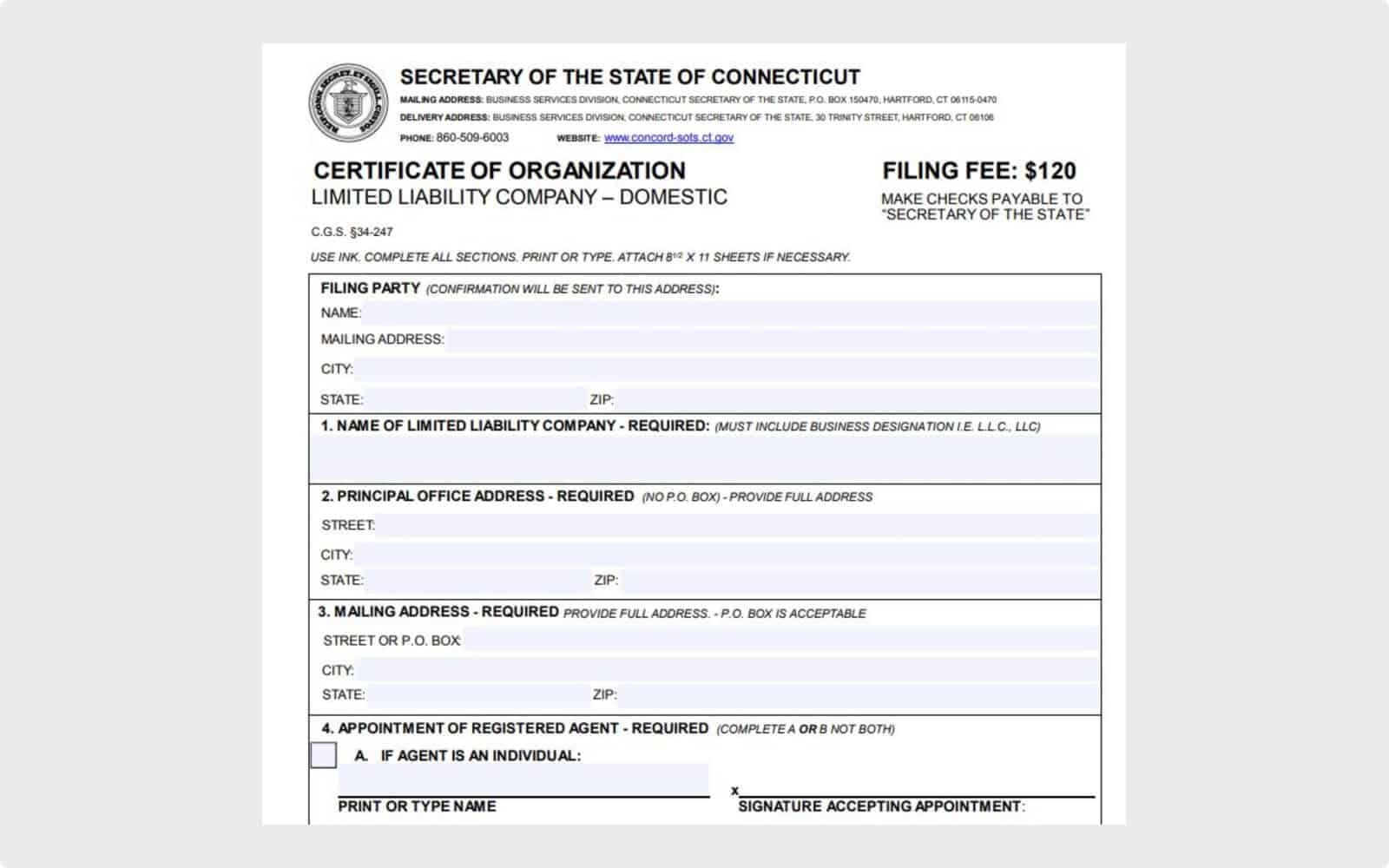 Connecticut has a complete list of what you'll need to file your Certificate of Organization, including:
LLC name and address
Registered agent contact details
Founders of the LLC
Managers of the LLC (even for single-member LLCs)
Step 4: Get a certified copy of the LLC's registration certificate
After your LLC's Certificate of Organization is approved, you need to get a certified copy of the approved registration for your records. And you may need them to open a business bank account or take out a business loan. The cost for certified copies is $55 per document.
Step 5: Create an LLC operating agreement
You don't need an operating agreement for your Connecticut LLC, but it's good practice to have one.
An operating agreement is a legal document that outlines things such as:
Members' names, contributions, and share of ownership
Who contributes money if the business needs more
How and when to distribute profits among owners
How members can join or leave the LLC
When and how to dissolve the company
Other decision-making and executive powers each LLC member has
You can use a template online or consult a business attorney to help you draft an operating agreement.
Step 6: Get an EIN (Employer Identification Number) from the IRS
Some LLCs will need to apply for Employee Identification Number (EIN) once the state paperwork is approved.
An EIN is a unique nine-digit number (like a social security number) the Internal Revenue Service (IRS) assigns companies to identify them for tax return filing and reporting. An EIN is also needed for hiring employees and paying federal taxes.
Single-member LLCs filing taxes as a sole proprietorship with no employees are not required to obtain an EIN.
You can apply for and get your EIN using a paper Form SS-4, but it's free and much faster through the IRS website.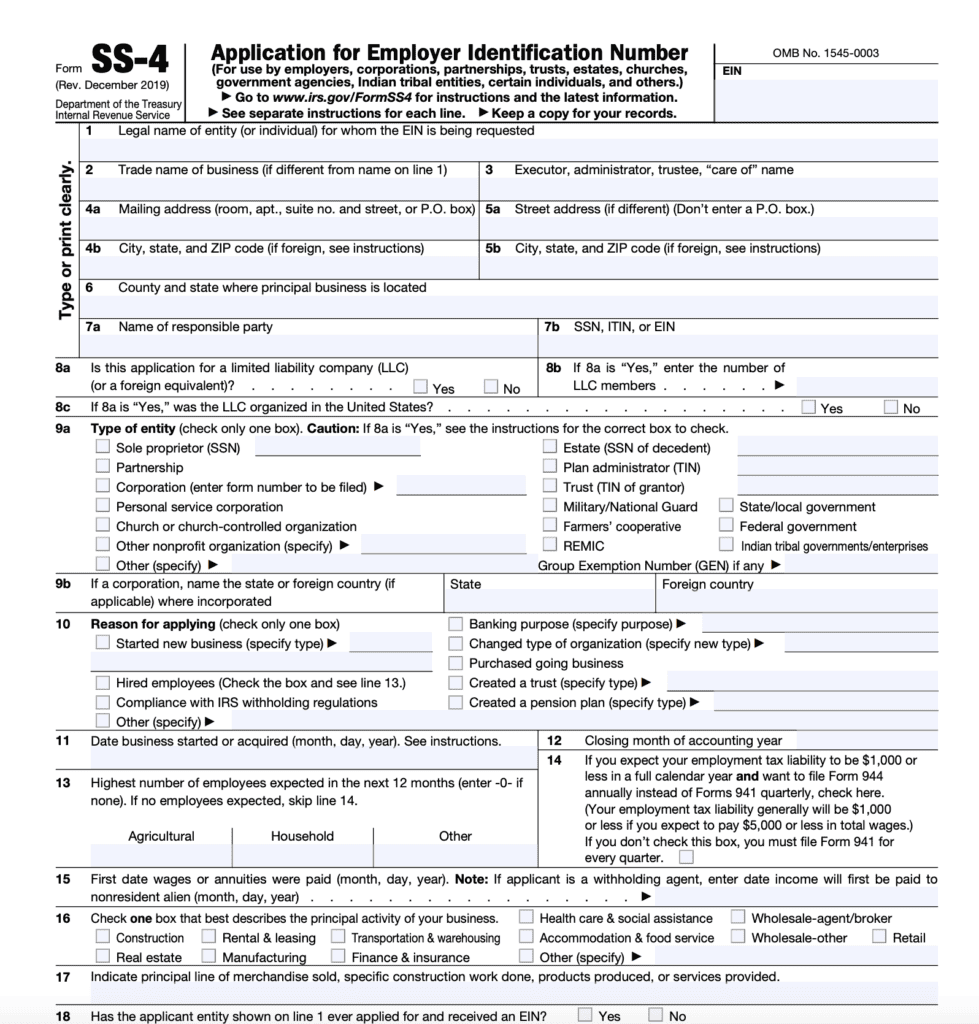 To get started:
Choose the type of business you wish to start, in this case, an LLC
State the number of owners your LLC has, and in what state the company is located
Say why you're applying for an EIN
Identify the principal officer (responsible party) of the business, plus their name, SSN, and contact details
Press submit and get your number issued in 10 minutes or less.
Costs to set up an LLC in Connecticut
Your costs to set up your Connecticut LLC will vary depending on its complexity and how much outside professional help you enlist. Here's a summary of the costs you may incur when forming your LLC in Connecticut.
Reserving a business name: $60
Registering a DBA: $0 – $100
Hiring a professional registered agent: $100 – $300 / annually
Filing your LLC's Certificate of Organization: $120
Obtaining certified copies of the Certificate of Organization: $55
Drafting an LLC operating agreement: $0 – $1,000
GRAND TOTAL: $335 – $1,635
Last steps
You're almost done with setting up your Connecticut LLC. Here are the next steps you need to take to complete the process.
Register with the Connecticut Department of Revenue Services
You may need to register with the Connecticut Department of Revenue Services (DRS) to pay applicable state taxes. You can complete registration online, or you can register using a paper Form REG-1, Business Taxes Registration Application. A one-time fee of $100 applies when registering for the sales and use tax permit, which you'll pay directly to the DRS from a checking or savings account.
Open a business bank account
Next, open a business bank account. It's essential for easier record-keeping, projecting cash flow, preventing confusion with the IRS, and reconciling bank statements.
Generally, banks will ask for your personal ID, social security number, EIN, business license (if applicable), legal business name and certificate of organization. Most banks require a minimum deposit of $25 to open an account. Monthly service fees range from $0 to $50, depending on the type of account you choose.
Advertisement
LLC Formation Service
LLC Formation: $39 + state fees
Pricing:
Turnaround Time:
Help & Support:
Customer Satisfaction:
Ease of use:
Best LLC Service 2023

Formed 1,000,000+ LLCs
$39 formation includes registered agent service
Fast formation & same day filing
Exceptional customer reviews

Last updated:
Dec 2023