Would you rather skip the details and see our top recommendation right away? For most small business owners, the best LLC formation service is undoubtedly Northwest.
To cut through startup administrative tasks, LLC formation services are the way to go. They're an affordable technique to launch a business quicker and easier than ever before.
And we are serious fans.
We've spent over 180 hours analyzing the 13 most popular LLC services. By digging into the details like pricing, turnaround times, and support features, we left no stone unturned. Our goal is to provide everything you need to make the right choice.
In total, we've written over 500 pages (135,000 words) across our extensive LLC formation services reviews and comparisons. This article is a comprehensive rundown of the most important information. After reading, you'll have everything you need to select the best LLC formation service.
We'll cover:
The top three LLC services and who they are best for
The lowest-rated LLC services to steer clear from
The main aspects to consider in your path to finding the best LLC service
Are you ready for the top picks? Let's do this.
Our top three choices at a glance:
To kick things off, let's quickly review our top three LLC formation services. This summary highlights the critical information. Keep reading for more details about these services and other top picks.
Northwest Registered Agent's motto of "We're just not annoying" says it all.
At the excellent price of $39, Northwest offers next-day filing and first-year resident agent service. It's the best-priced formation package that gives everything you need without beating around the bush.
There's no upselling for unnecessary services or partner offers. By putting speed, accuracy, and privacy first, Northwest Registered Agent is our #1 recommendation for LLC formation services.
2. ZenBusiness – Best All-Inclusive Service
With a total customer rating of 4.6 out of 5, an excellent user interface, and great customer service, ZenBusiness is our top choice for an all-inclusive LLC formation service. It is a public benefit company that comes with competitive pricing.
3. Active Filings – Best no-frills LLC filing service
If you want a simple LLC formation service, Active Filings is the right choice. Others offer more features, but Active Filings' free basic LLC formation gets the job done without dropping a dime.
1. Northwest – The Best LLC Service of 2023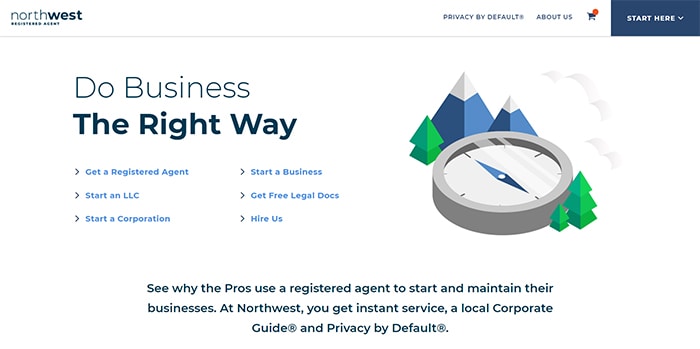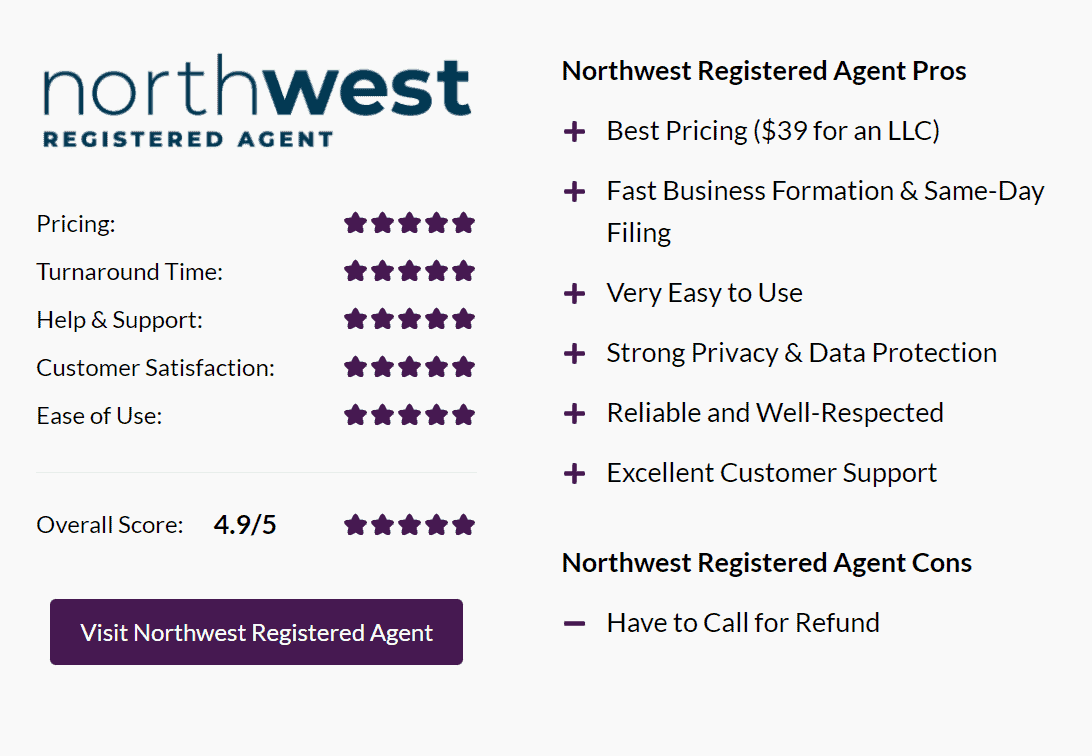 Our highest-rated LLC service is Northwest Registered Agent. Through a combination of straightforward LLC services and top-tier customer support, Northwest ticks off all the right boxes.
SimplifyLLC readers get access to a special deal: $39 + state fees to start your LLC.
Rapid service and processing
Northwest Registered Agent provides same-day filing by default on all orders. This rapid turnaround time is one of the best in the industry, beating out nearly every other company.
Instead of outsourcing to third parties like some competitors, Northwest Registered Agent uses a dedicated in-house staff for all services. By keeping everything under one roof, Northwest guards customer privacy and data security while ensuring consistent quality and reliability.
Honest, simple, and transparent service
Northwest Registered Agent lays out the LLC formation process in a transparent manner. You won't run into hidden costs, unnecessary upselling, or annoying partner offers. You can complete the entire LLC formation process online, with every step clearly explained. Even the terms of use are easy to understand.
To help you navigate the process and answer any questions, Northwest Registered Agent offers "Corporate Guides." If you encounter any issues, they are there to resolve the problem and keep you moving forward. You can also read through many helpful articles on the company's website. They detail the legal requirements and nuances of forming a limited liability company.
To take a closer, comprehensive look into Northwest Registered Agent's services, check out our full Northwest Registered Agent review.
2. ZenBusiness – Best All-Inclusive Service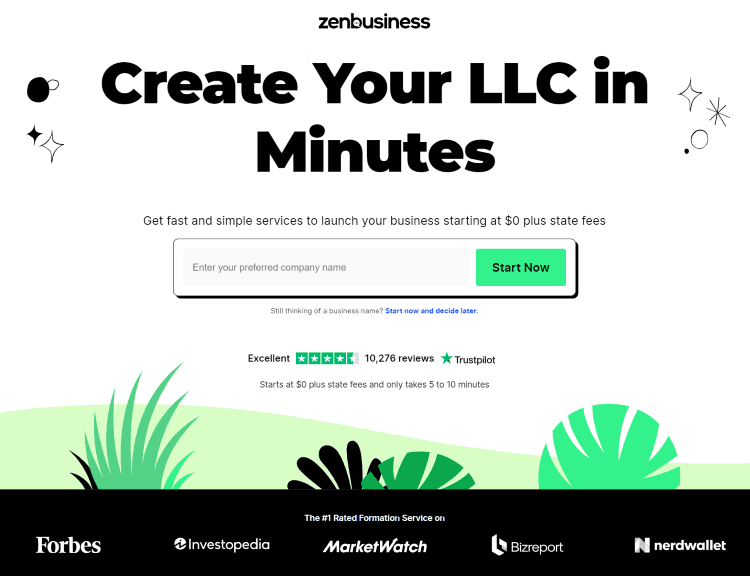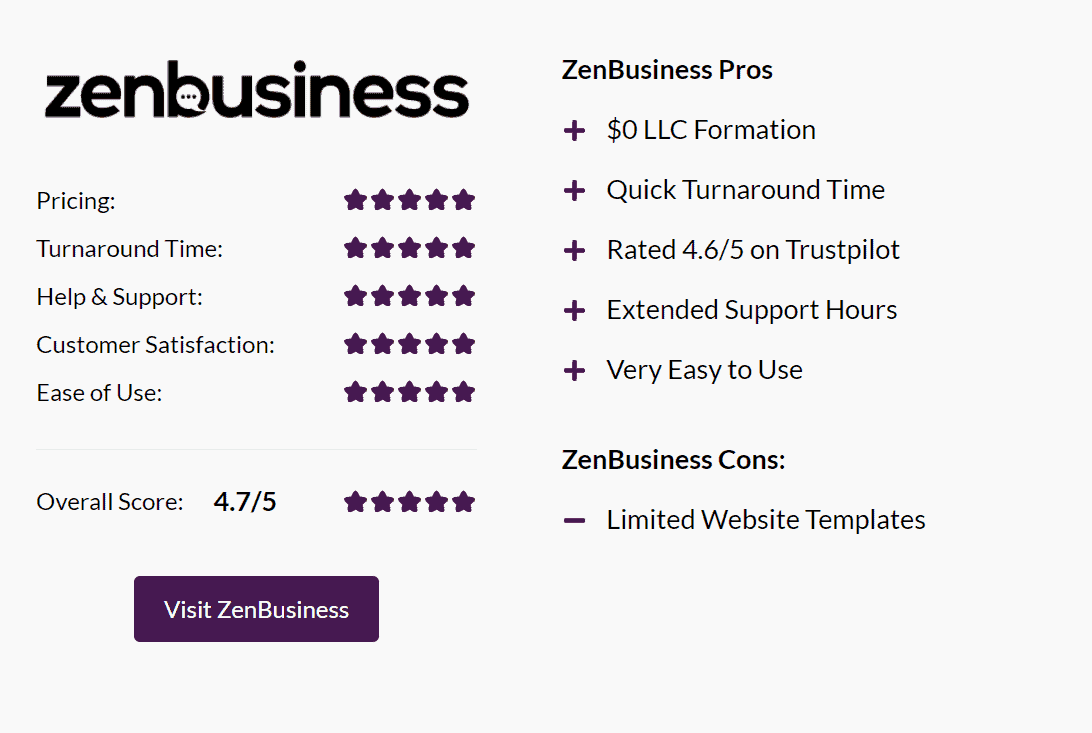 ZenBusiness won us over with high customer satisfaction, excellent pricing, and a simplified formation process. We also appreciate the ability to form LLCs within a few days, even during the busiest times. After inspecting all aspects of ZenBusiness's process, we are confident in recommending their business formation service.
By studying more than a dozen formation services, we found ZenBusines has one of the best offers around.
Excellent pricing
ZenBusiness provides three pricing options for LLC formation. These include a free package that takes care of the basics without opening up your wallet.
The premium package goes above and beyond the competition. It includes useful aspects like annual filings and banking solutions. Plus, you can get other digital services like website construction and business email.
We have no reservations about recommending all three ZenBusiness LLC formation packages.
4.6 out of 5 customer rating
More than 10,250 user reviews of ZenBusiness tally up to an impressive 4.6/5 rating on Trustpilot. It is one of the highest-reviewed LLC formation services around. Satisfied users report an easy-to-understand and rapid LLC formation process.
ZenBusiness has acquired this incredible reputation in a relatively short time. The company started in 2015 and has sky-rocketed to the top of the industry.
Intuitive and simple process
It can be easy to become overwhelmed with the LLC formation process, especially if it's your first time. But ZenBusiness takes the load off your shoulders and makes the process painless.
Starting with the well-designed website, ZenBusiness lays out everything you need to know. The online portal guides each LLC founder through each step with ease. Once you've placed an order, stay on top of the progress through the ZenBusiness online dashboard.
You'll also find informative articles on ZenBusiness's website. They're written with easy-to-understand terms and help anyone understand what it takes to start a new business entity.
ZenBusiness areas for improvement
Our analysis of ZenBusiness resulted in excellent marks across all five of our ranking categories. It is a superb LLC formation service. We did not encounter anything preventing us from issuing an unreserved recommendation. ZenBusiness is a top choice for LLC formation.
But we did find one aspect that might not be the best solution. The business website services might be a nice add-on. But many business owners would be better off using a dedicated web hosting service instead.
To see a closer look into the ZenBusiness services, head over to our ZenBusiness review for all the details.
3. Active Filings – Best no-frills LLC Formation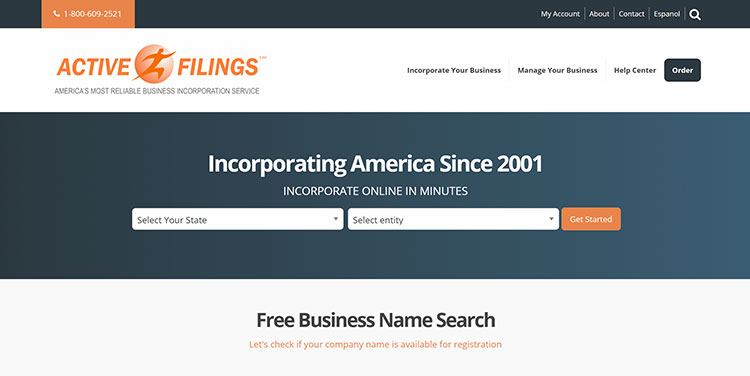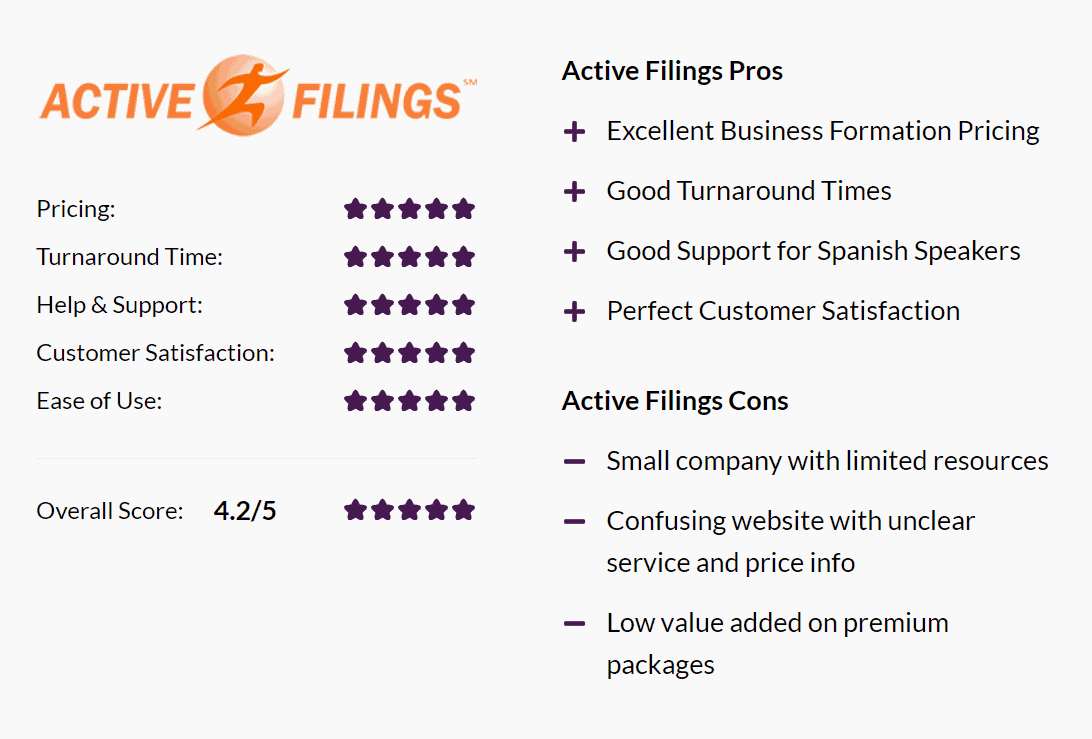 Active Filings provides a basic LLC formation service at the unrivaled price of $0, plus the state filing fee. The Starter package gives you all the essential services. This includes a free year of registered agent service and a no-cost operating agreement. Even the turnaround times are reasonable. For all these reasons, Active Filings earned the third spot on our LLC formation rankings.
Incredible customer service with multilingual support
Customer service is a critical element of LLC formation services. Despite being a smaller company compared to rivals, Active Filings staff is helpful and knowledgeable. Customer reviews were very positive about the service support across the board.
With more than twenty years of experience, Active Filings is a reliable option for LLC formation services. The customer feedback isn't as extensive as some competitors, but nearly all the available reviews are positive.
Quick processing time
Active Filing can form an LLC in most states in 14 business days. While this turnaround time is longer than other top-ranked services, it's respectable for a free service.
Not everyone needs to have a more rapid LLC formation service. But for those that do, Active Filings offers an expedited service for an extra fee.
Active Filings areas for improvement
Those who want the lowest-cost LLC formation service should have no reservations about using Active Filings. But the premium packages don't hold up so well against scrutiny.
We still recommend Active Filings for those that want a no-frills basic formation service and don't mind the longer turnaround time. But if you need more services, you're better off selecting one of our other top recommendations.
Insider tip: Do you want to discover the best registered agent service? Head over to our Best Registered Agent articles for all the details.
4. Rocket Lawyer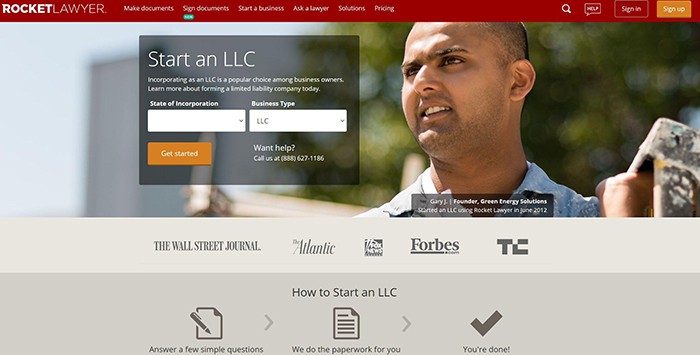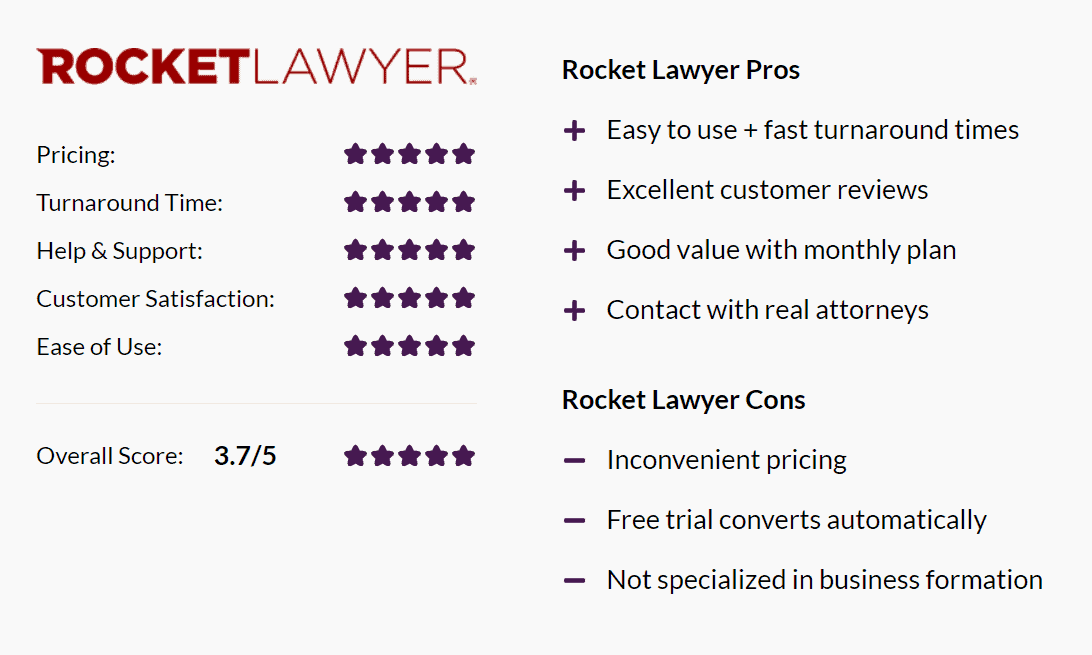 As a trusted name in the online legal service industry, Rocket Lawyer offers a wide range of legal and compliance services. The LLC formation service is available to members and non-members. It is a great choice for anyone who wants extra specialized services. Rocket Lawyer's legal document templates and online attorney consultation services are other attractive options.
Highly reviewed and well established
Rocket Lawyer has served people for more than a decade, helping millions of users. Their experience in online legal services is unmatched. Trustpilot lists more than 3,100 customer reviews, landing at a solid 4.6/5 rating. The company is reliable and trustworthy.
One drawback is that Rocket Lawyer does not focus on LLC formation services. Many of the reviews are for unrelated products. Our top choices tend to specialize in limited liability company formations.
Competitive pricing and quick turnaround times
Rocket Lawyer offers two pricing tiers. You can choose a $39.99 monthly subscription or buy services on an individual basis, such as document filing for $99.99.
If you use the individual service pricing, the total cost can add up quickly and can go above the cost of competitor services.
But for those who select the monthly subscription service instead, it can be a much better deal. This is especially true if you use more services beyond the LLC formation.
Rocket Lawyer's monthly membership includes one free LLC formation. It also gives you a discounted rate for the registered agent service and unlimited access to customizable legal documents.
The processing times for Rocket Lawyer are relatively quick but not the fastest in the industry. The average turnaround time for forming an LLC in most states is about one week. If you need faster service, expedited filing is available for an extra fee.
During the sign-up process, Rocket Lawyer provides the estimated processing times for standard and expedited services. They vary based on the state and filing type.
Rocket Lawyer areas for improvement
A major downside to Rocket Lawyer's subscription is that it does not provide everything we see as essential for a basic LLC formation. The registered agent service is a separate annual fee. And while the first LLC formation is free, any other ones will come with another fee.
It's also crucial to remember that Rocket Lawyer's subscription renews automatically. Many customer reviews were surprised to see a new charge when the subscription renewal hit their cards. If you use the subscription service, you'll need to manually cancel them to avoid unwanted charges.
5. Tailor Brands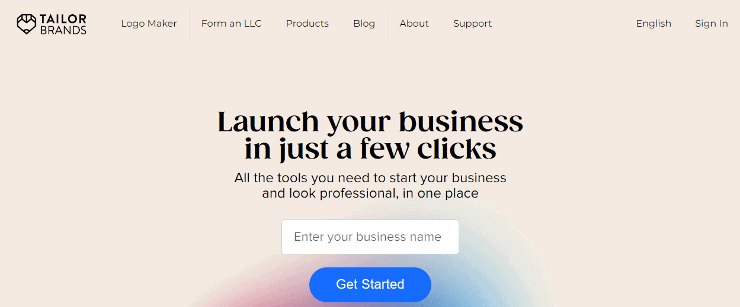 Tailor Brands offers business formation services and online brand building. Through an array of intuitive tools, Tailor Brands focuses on branding capabilities more than LLC formation services. Their feature-packed design suite offers a wide lineup of useful tools, such as logo creation and website construction.
Online brand building
Tailor Brands' AI-powered logo maker is one of their top products. The service has generated more than 50 million logos, making it the go-to option for computer-generated logos.
The company has added many services through its design suite, including a useful website builder. This is a unique advantage compared to the companies that focus on business formation alone.
Tailor Brands' areas for improvement
The LLC formation services from Tailor Brands are more expensive than competitors. We have no reservations about recommending Tailor Brands to people who want online logo creation and branding solutions. But if you only need a basic LLC formation, you're better off going with rivals like Northwest or ZenBusiness.
6. Inc Authority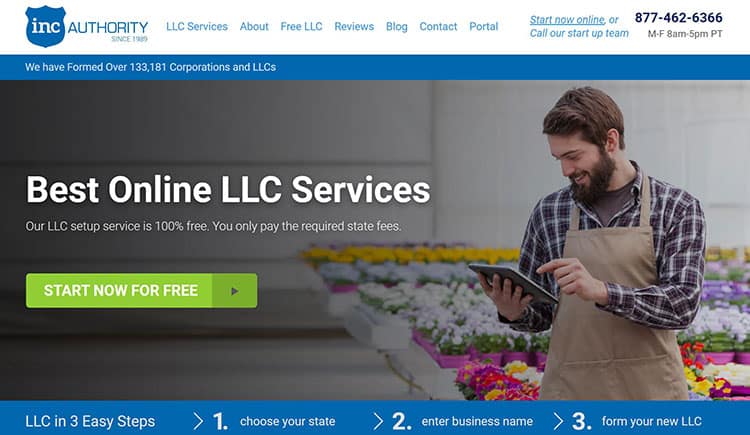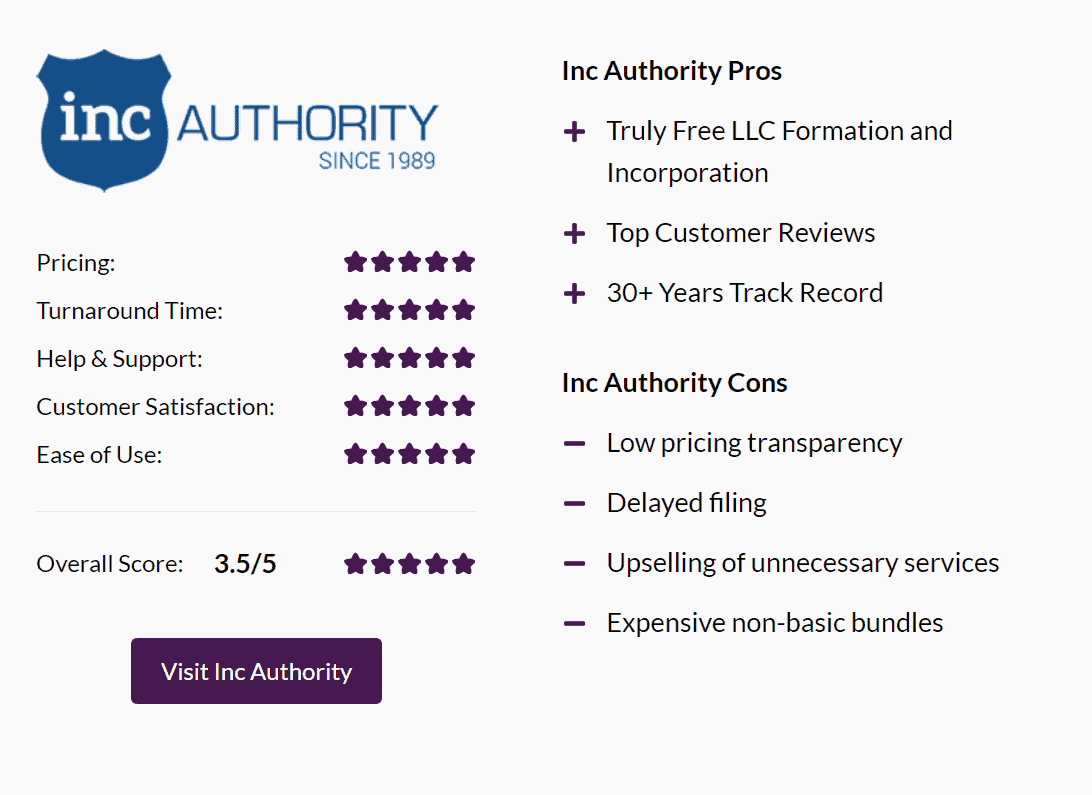 Inc Authority has more than 30 years of experience in the LLC formation industry. The main attraction for Inc Authority is the basic LLC formation service that's offered for free. You just have to cover the state fees.
When we took a closer look into Inc Authority's options, we found the premium services are overpriced. And the processing times are extensive.
No-cost LLC formation
The free basic LLC formation service from Inc Authority has many of the key needs covered, such as business name availability review and document filing. But it doesn't offer everything we consider essential, such as help with drafting an operating agreement.
The Inc Authority package includes one year of free registered agent service that usually costs $99 per year. Inc Authority is a good option for anyone needing a basic LLC filing service, as long as you aren't looking for the quickest turnaround time.
If you take a look at the upper tiers, you'll find packages priced at $399, $499, and $799. These are fairly extreme when put up against competitor LLC formation services. We recommend avoiding these higher-priced packages and going with another company instead.
Positive customer reviews
With a 4.8/5 Trustpilot rating and 4.6/5 Google rating, Inc Authority has amazingly positive customer reviews. More than 5,000 users report a good experience overall, including a streamlined LLC formation service.
Inc Authority has a reputation for professionalism and quality customer support, resulting in many users expressing gratitude to their specific representatives. They go above and beyond by giving a personal touch that many customers appreciate.
Inc Authority areas for improvement
Our research found that Inc Authority appears to internally delay limited liability formation processing times. To get around this, users can pay an extra fee for expedited processing. Based on what we saw, it seems the internal delays are used to promote the add-on expediting. We aren't fans of this type of practice that doesn't put the customer first.
It's also worth mentioning that some state authorities also offer expedited services for an extra fee. Inc Authority's expedited servicing is a separate policy for their internal processing. It is unrelated to the state government difference.
Inc Authority also pushes many other services while users go through the payment process. Many of these add-ons are not necessary to launch a business and are not worth the extra cost.
7. BetterLegal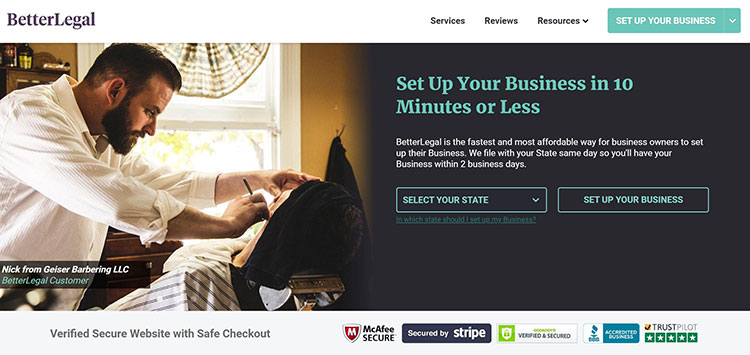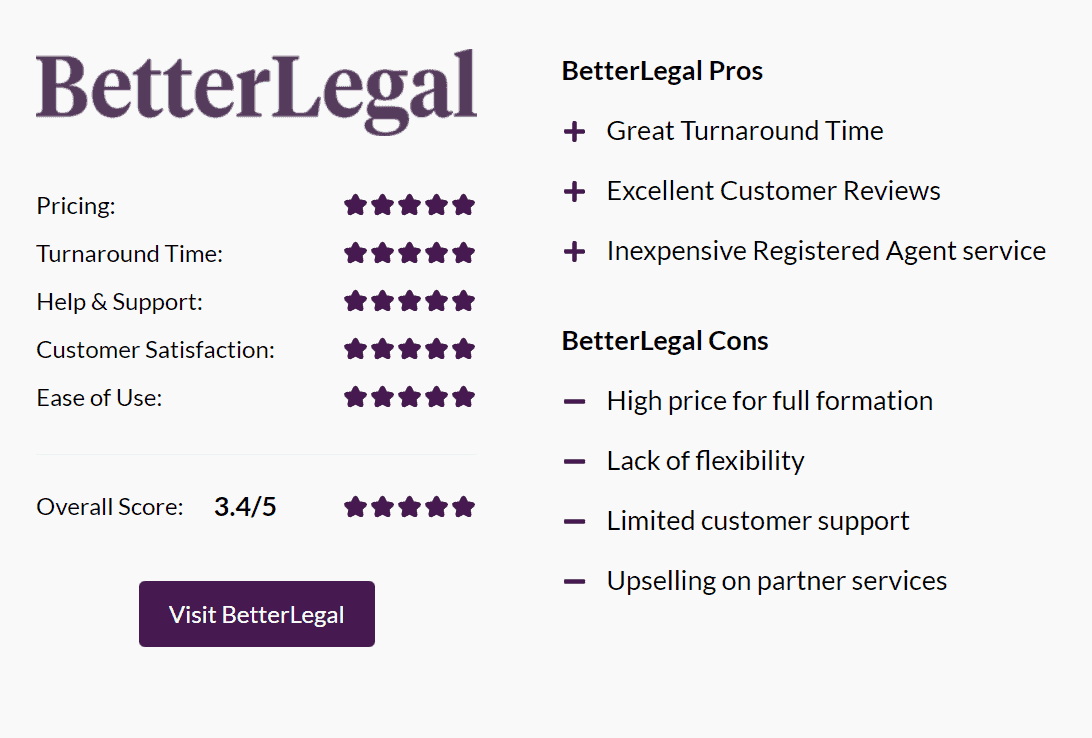 BetterLegal is a relative newcomer to the LLC formation world. The company is based in Texas and is on the smaller side when compared to industry rivals. They offer a single LLC formation package that costs $299 and includes an excellent two-day turnaround time.
We found that many BetterLegal customers report a positive experience. But the lack of different pricing levels forces founders to pay for some unnecessary services. As a result, the single-package offering is more expensive than it needs to be for most people.
Rapid processing time and well-priced registered agent service
Some LLC formation companies group customers based on add-on services for priority treatment. BetterLegal doesn't follow suit. Instead, every customer filing happens on the same day and with a total two-day turnaround for LLC formation. There is no need to pay an extra fee to receive expedited servicing.
We found BetterLegal clearly advertises its rapid processing time. And many user reviews mention satisfaction with this aspect. BetterLegal is a great choice for those who need more rapid processing time.
Registered agent services are an excellent addition to an LLC formation package. BetterLegal offers this service for $90 per year, making it a great value when stacked up against competitors. This savings can add up over time as many LLC owners pay a recurring fee each year to receive registered agent services.
One small issue is that the BetterLegal registered agent services go through a third party. We prefer that companies tackle add-on services in-house. But there's no indication that BetterLegal's third-party provider is problematic. And they don't overcharge for it.
Positive user reports
Considering that BetterLegal is a newer company that puts fast service over high volume, they have an impressive collection of customer reviews. There are approximately 200 reviews on Trustpilot, ending up with a very satisfactory 4.8/5 overall rating. BetterLegal also holds BBB accreditation with a high rating.
BetterLegal areas for improvement
The single-price package doesn't provide the same flexibility as other LLC formation services. Rather than allow LLC founders to select the services best for them, BetterLegal customers have one choice. The LLC formation package costs $299, which is on the higher side of the service.
Another aspect that makes BetterLegal more expensive compared to competitors is that the registered agent service is an add-on service. You must pay an extra fee. The LLC formation package also includes some services that some people could find useful, but aren't absolutely necessary.
One example is the inclusion of the federal tax ID number in BetterLegal's package. The process takes less than five minutes through the IRS's website. There's not much value in paying someone to handle this for you.
8. Swyft Filings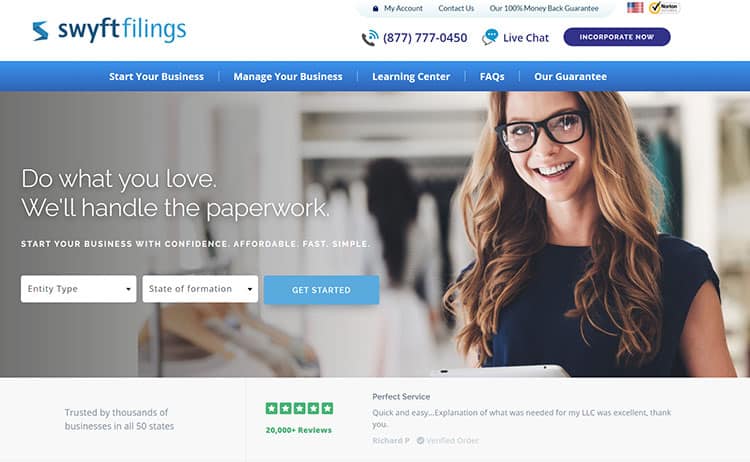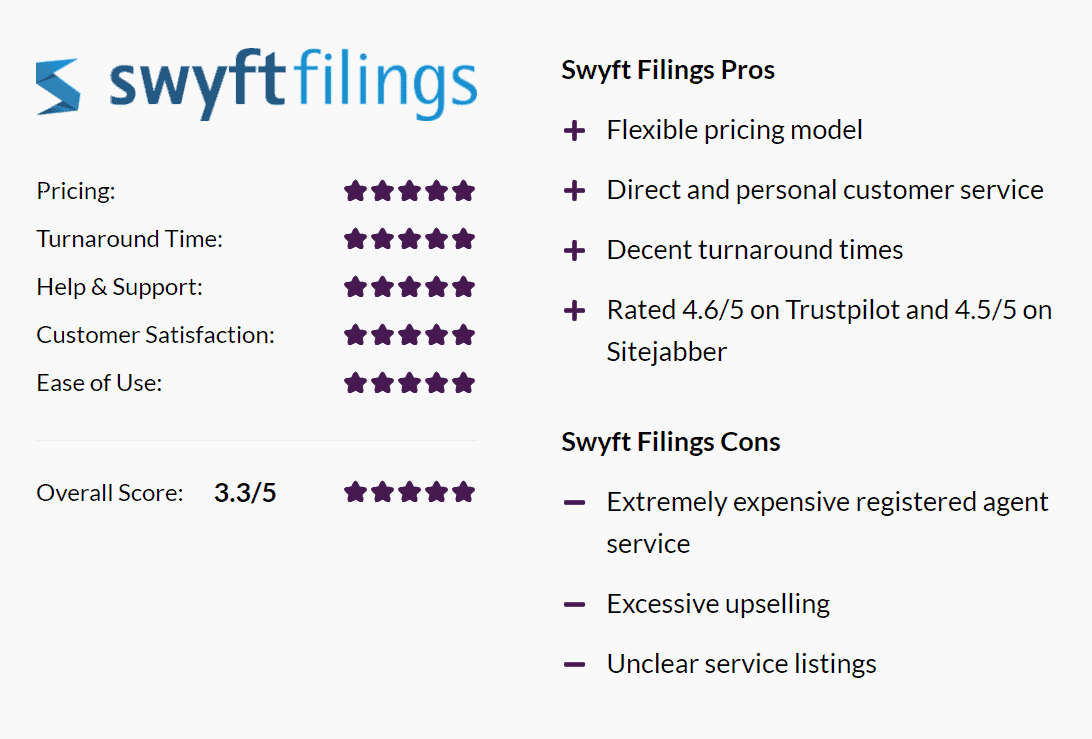 Swyft Filings offers well-priced options, respectable processing times, and high-quality support staff. Even though the company was recently founded in 2015, there are many positive customer reports. Swyft Filings has a high user satisfaction rate.
One of the drawbacks to their services is the lack of a registered agent service. To overcome this issue, Swyft Filings showcases a third-party partner to provide the service instead.
Unfortunately, the price of this option is not as low as rivals. We recommend looking elsewhere to hire a registered agent service.
Well-priced packages and quick turnaround times
Swyft Filings' services are neither overpriced nor the lowest on the market. But one helpful aspect is how customers can select the exact services they need. You can avoid paying for things you don't want. This flexibility helps to ensure your LLC formation process goes quickly without unnecessary costs.
The most affordable Swyft Filings formation package is priced at $49. It even includes a domain name (URL) registration for one year at no additional cost. Unfortunately, there are some critical elements left out. These include the operating agreement template and registered agent service.
Some companies offer quicker turnaround times, but Swyft Filings' processing times are still respectable. And if time is a priority for you, you can pay a fee to receive expedited filing to get the job done in a few business days.
Positive customers reviews and warranty protection
We located more than 35,000 user reviews for Swyft Filings, which is an impressive number for the relatively young company. Many reports were satisfied with rapid, streamlined service and positive customer service interactions. Overall, the company is highly reviewed with many happy customers.
It's always nice to know that a company stands behind its product and guarantees its work. Despite other companies failing to offer an express refund policy, Swyft Filings lists one in their terms of service. If Swyft Filings makes an error during the LLC formation process, they will refund the service fee.
Swyft Filings areas for improvement
Many LLC owners hire registered agent services. Swyft Filings does not include this service in their packages. To fill this void, they partner with LegalCorp Solutions to present a registered agent solution during the checkout process.
The problem is that this registered agent service is priced significantly higher than competitors. It costs a hefty $596 per year, and even worse, Swyft Filings presents it as $149 billed quarterly. If you don't notice this detail, you could be surprised to see additional charges hit your card every three months.
For most LLC formations, hiring a registered agent service is a wise step that we universally recommend. But rather than use the partner offer from Swyft Filings, we urge people to select a separate registered agent service to avoid overpaying.
Lowest Rated LLC Services
During our intensive research, we uncovered the best LLC formation services. But we also encountered some that did not live up to our expectations. In this section, we'll fill you in on the ones that we don't recommend and help you understand why you might reconsider using them.
Incfile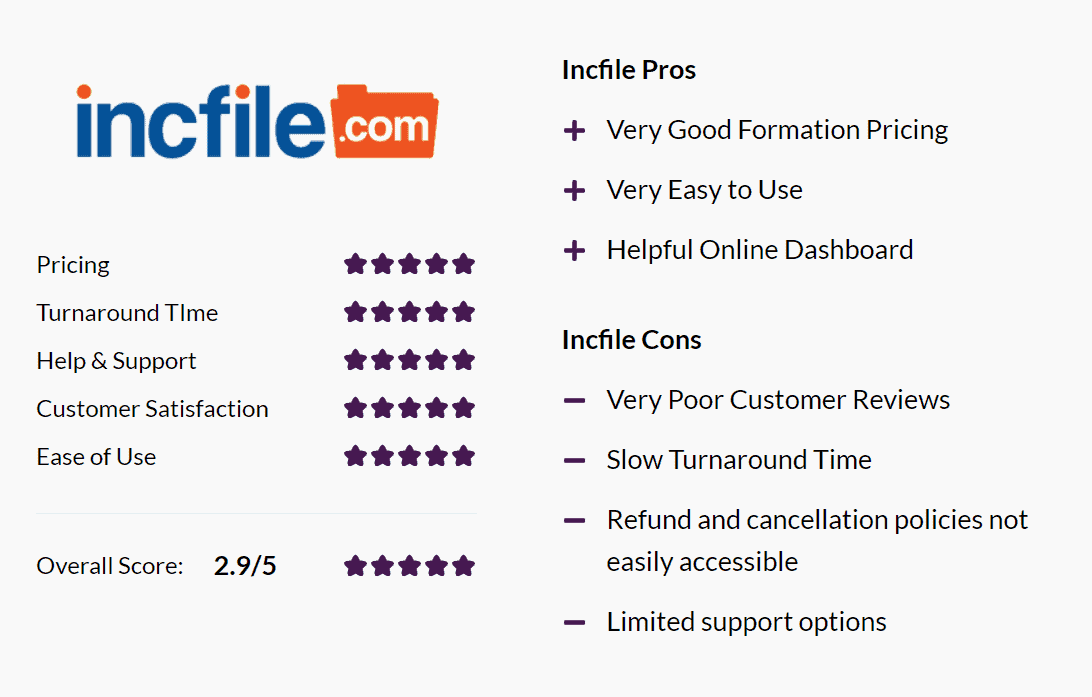 With more than ten years in business and a free LLC formation package, we found Incfile's services appear to be attractive. But as we dug into customer reviews based on the total experience and service interactions, we discovered many poor reviews.
Here is why we do not recommend using Incfile:
Many unsatisfied user reports — Regardless of available packages and advertised appearances, the actual customer experience is crucial. Unfortunately, Incfile has worse reviews compared to many other LLC formation services, including a 2.9/5 on Trustpilot and 2/5 on Yelp.
Problematic customer service — This is another area where the advertised capabilities don't line up with customer experience. Incfile lists many contact methods to receive customer support. But when users tried to connect with the company to resolve issues, many found that it was challenging to get the help they needed.
Nolo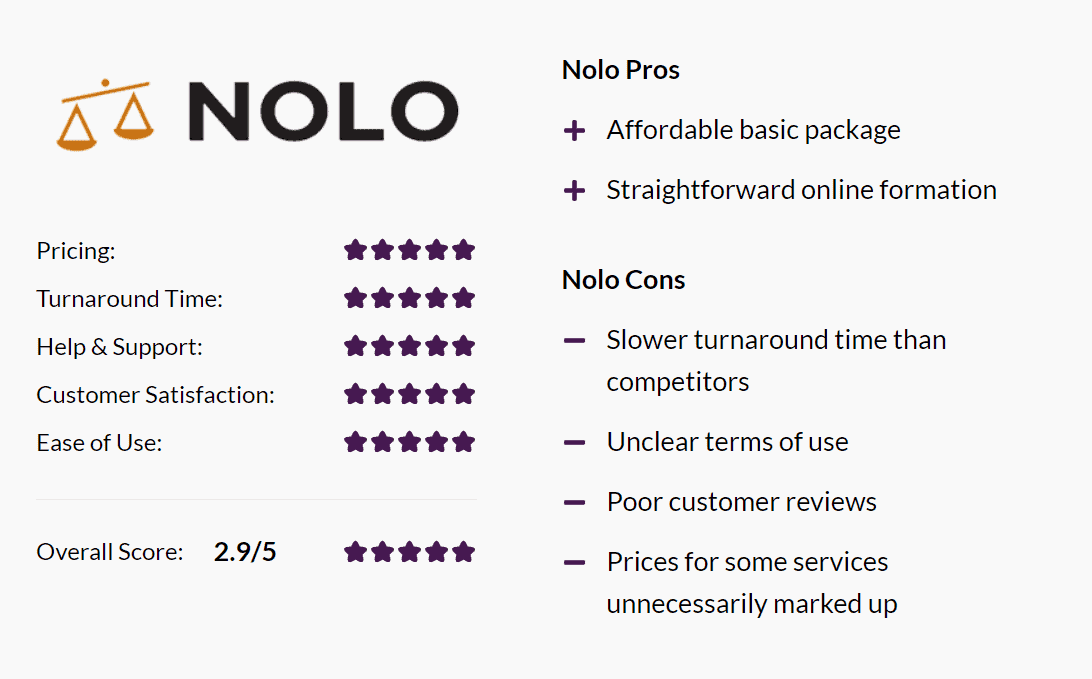 With many decades of experience going back to pre-internet days, one might think that Nolo would have perfected the LLC formation service. Our research found otherwise. The processing times offered are much longer than what is reasonable. And the company promotes expensive partner services that most don't need.
Here is why we don't recommend Nolo:
Overpriced partner service add-ons — Rather than handle the LLC formation in-house, Nolo relies on outside providers to complete many tasks. While this can sometimes be a good way to fill a hole in a service package, Nolo takes it a step beyond by overpricing these services.
One example we found was for the registered agent service, something we recommend LLC owners use. Nolo partners with Vcorp Services to provide a registered agent service option. If you go directly to Vcorp Services, they charge $115 per year. But through Nolo, you'll pay an additional $35, for a total of $150 per year. There's no reason to pay for this markup.
Lackluster customer reviews — Nolo has a dismal Trustpilot rating of 1.4/5 and a significantly smaller number of reports compared to other providers. We can't stand behind a company that fails to keep its customers happy.
LegalZoom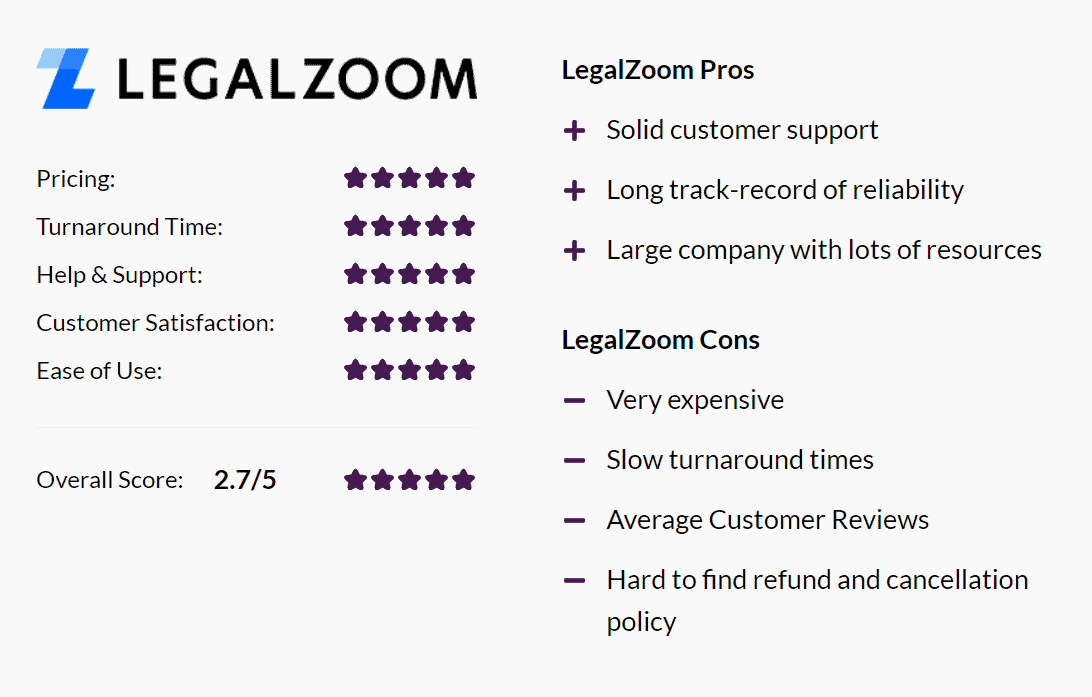 Many people know LegalZoom for their legal document templates and online legal services. The company offers an LLC formation service, but it's riddled with long processing times and expensive pricing.
Here is why we don't recommend LegalZoom:
Overpriced packages — LegalZoom's basic LLC formation package starts at $79, which is high compared to other providers. On top of that, you'll have to pay an additional $99 for an operating agreement template and $299 per year for a registered agent service. All of these prices are inflated. You can buy them from high-quality providers for much less money.
Extended turnaround times — LegalZoom is in no rush to process your LLC formation. The standard estimated wait is 30 business days, which equates to six weeks. This is in an entirely different world from competitors. If you pay for the premium packages, the processing times decrease.
Bizfilings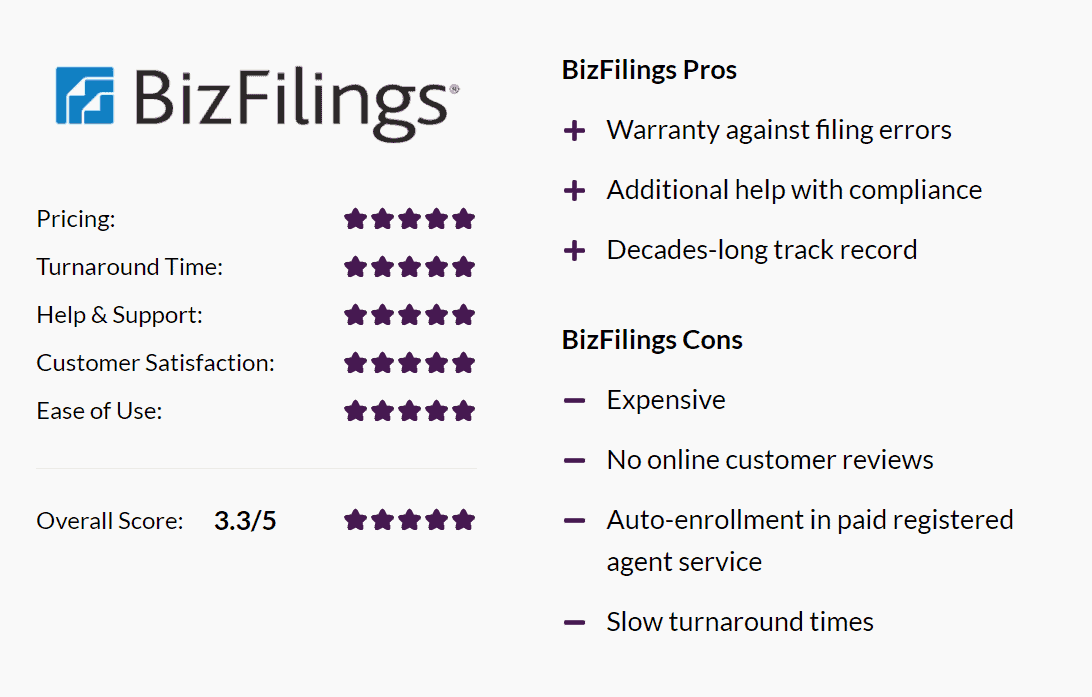 We usually like to see companies that focus on LLC formation services and have over 20 years of experience. But BizFilings still came up short. The total costs are high and the processing times are long. Additionally, they force customers to enroll in a registered agent service with no way to opt out during the checkout process.
Here's why we don't recommend BizFilings:
High prices — The basic LLC formation package from BizFilings starts at $99, much higher than other providers. And if you select the higher-priced options at $229 and $359, the included services do not line up with the increased cost. Even the registered agent service is priced at $199, much higher than the average price for this essential service.
Forced purchase of the registered agent service — There is no way to avoid signing up for BizFilings' registered agent service. Despite this being a useful service for many LLC owners, we don't appreciate the forced aspect, especially since it is overpriced.
Harbor Compliance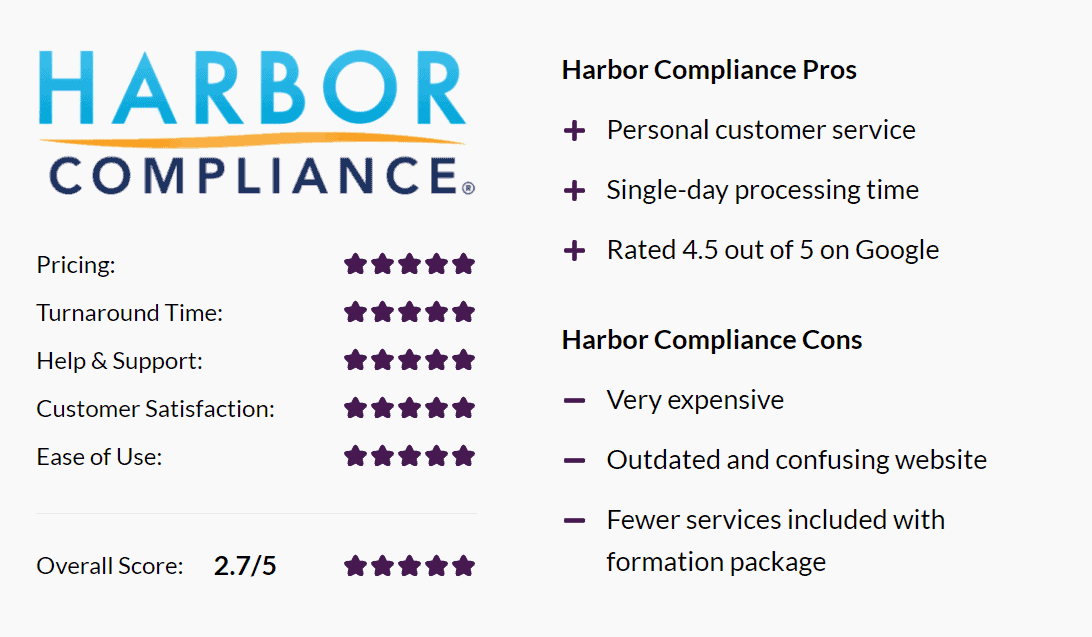 Harbor Compliance provides many different business services and corporate compliance products. The company also offers an LLC formation service. But we don't like its lack of flexibility and the overly high price.
Here's why we don't recommend Harbor Compliance:
Overpriced LLC formations — Harbor Compliance has one LLC formation package and it costs $399. There is nothing to support this significant markup when compared to the competition. Many alternatives offer the same included services for less than half the price.
Poor website design — The best LLC formation services use intuitive websites that clearly advertise the packages and prices. It was a challenge to locate the LLC formation service on Harbor Compliance's website and it does not display a price for the service. We had to reach out over the phone to uncover the price.
Incorporate.com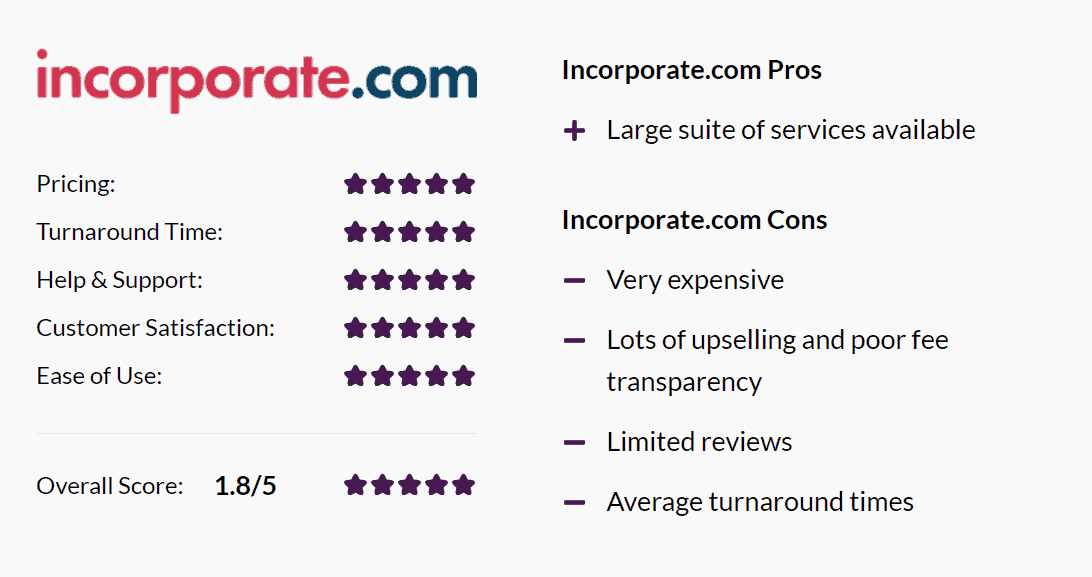 Before looking into the details, we liked that Incorporate.com focuses on business formation services. Unfortunately, we found that Incorporate.com's inflated pricing is not worth it.
Here's why we don't recommend Incorporate.com:
Overpriced LLC formation packages — To form an LLC, draft an operating agreement, and hire a registered agent service, the total price comes out to over $400 without considering the state fee. As we see these three services as essential parts of LLC formation, this price is simply too high. You can use other more affordable options to get these services.
Lack of reviews — Incorporate.com does not have many customer reviews available online. Since we can't verify that they can keep customers satisfied, we are unable to ensure the quality of their service.
How We Measure LLC Formation Services: Five Factors
To review and rank formation companies, we've identified five important factors to consider. We place a higher emphasis on some elements over others but use all five to come up with a well-rounded take on the overall service.
This list lets you dive into our process so you can understand how we help you find the best LLC formation services.
Packages and Price Levels – 2x Weight
As with many products, it's vital to start the analysis by looking into the cost. It's never wise to waste money when cheaper, high-quality alternatives exist. This is crucial when launching a business so you can use the funds for other startup needs. That is why we put pricing into our calculations with double the weight of other factors.
The variety in pricing levels for LLC formation services is significant. Some providers charge hundreds of dollars for things that other companies are willing to do for less than $50 or include for free. One major issue with the overpriced packages is the inclusion of nonessential services. We don't recommend paying for things you don't need. Some companies use more high-pressure tactics to dive deeper into your wallet.
When we evaluate the pricing, we consider the full picture. Sometimes a higher upfront cost can be worthwhile if they include essential services. We make sure to account for these differences.
LLC Formation Processing Time — 2x Weight
To be a successful business owner, you need to move quickly and continually push forward. And that is why we place a large emphasis on the advertised and reported processing times. When companies provide slow turnaround times, there's no point in paying them as you can likely do the task quicker on your own.
Since this is another crucial element in comparing LLC formation services, we use the turnaround times with double the weight in our calculations.
It's worth pointing out that the LLC formation services are not the only thing that impacts the total processing times. State government agencies must process your Articles of Organization. While some states offer expedited service for an extra fee, the state processing time is not controlled by LLC formation services.
Yet, formation services do play a major role in the overall processing times. Some LLC formation services guarantee that they will internally process orders on the same day. Others will even go as far as filing in person at the state agency when doing so will decrease the processing time.
Filing errors can cause serious setbacks when starting a new LLC. If the service is prone to making mistakes, it can lead to downstream roadblocks, such as opening a business bank account and starting to execute contracts. We avoid error-prone entities.
User reports — 1.5x Weight
It would be nice if we could always trust companies to live up to the advertised expectations. But sometimes the reality doesn't match the marketing. And that's why we always look at the feedback provided by customers who have used the product and left reviews on websites such as Trustpilot and Yelp.
By taking a close look into the actual customer experience, we can ensure the quality of service and uncover potential areas for improvement. For example, the LLC formation process can be overwhelming for many people and that's why a reputable customer service staff is important. We sift through the reviews to see how the experience works out when people need this additional help.
We view the user ratings as a reflection of the service people are likely to get. Since this directly impacts the experience, we give user reports a 1.5 times weighting in our calculations for ranking LLC formation services.
Simplicity and Usability — 1x Weight
No one wants to deal with overly complicated services or ones that are frustrating to use. When you form an LLC, the process should be straightforward and easy. The best services allow people to rapidly complete their LLC formation orders in a matter of minutes. And they quickly resolve issues and answer any questions that come up during the process.
The high-quality LLC formation services include extensive information to help you understand the process. They'll answer nearly every question you can have, including things like:
Is an LLC operating agreement necessary?
What differentiates an LLC from a traditional corporation or non-profit enterprise?
How are C-Corporations and S-Corporations different from LLCs and passthrough entities?
What are the disadvantages of using a sole proprietorship to run a business?
The best LLC formation companies give you the answers to these questions and many more. By doing so, you can make the correct decision quickly and set yourself up for lasting success.
By investigating the website functionality, reviewing the presentation of the terms and services, and taking a look into other material presented, we include usability and simplicity in the overall ranking for each LLC service.
Customer Support Network — 1x Weight
It's always best if you can cruise through a process without having to reach out for extra help. But that's not how things always work out. People need to connect with helpful customer support staff to resolve issues and continue forward with the process.
We place a large emphasis on the ability of customers to get in touch with an actual human representative in a timely fashion. These individuals need to be knowledgeable and able to tackle problems while keeping the customer informed.
When it comes to LLC formation, this support network is vital. Without it, you can be forced to sit through extended delays that can hurt your chances of success by preventing you from conducting business.
This can also play into your compliance status with state and federal government organizations. Many LLC formation companies offer recurring services such as registered agent services or annual report filing. If these aren't handled with the urgency necessary, it can put your LLC in hot water. The best companies quickly resolve any issue before they become problematic.
To ensure you have a positive customer experience, we take a look into the comprehensive service picture. We notice the available hours, including the possibility of working outside traditional hours or on the weekends. We'll also verify the available contact methods, including phone numbers, email, and online chat.
The customer reviews help us understand what service should be expected based on experience. Sometimes companies fail to live up to the advertised promises and we can see what actual experience shows.
Extra Considerations for LLC Formation Companies
The five elements we just reviewed cover what separates the best LLC services from the rest. But we like to ensure you have every tool at your disposal, so here are a handful of other tips you can keep in mind while forming your LLC.
1. Critical services and luxury amenities
When starting a new company, it can be challenging to know what you absolutely must do and what might be nice but isn't a pressing need. For example, an LLC does not exist until the Articles of Organization are filed and all LLCs are legally obligated to have a registered agent (which can be yourself). These two elements are essential, must-have components.
We also consider an operating agreement to be an essential part of LLC formation. While some states do not legally require them, operating agreements help ensure business owners protect their interests and that the LLC functions in the way they expect.
These are vital parts of any LLC formation. And in some cases, there are other necessary elements. This includes things like annual report filings, business licenses, and obligatory compliance needs.
The problem is that some LLC formation services place these essential services in the same groupings as non-essential services.
Sometimes these other services can be nice to have. But if it is difficult for people to identify the must-haves from the nice-to-haves, people might overspend. We strongly prefer services that help customers understand the difference and only push the essential elements.
We found that most LLC formation companies offer customized office supplies, including things like company binders, record books, and corporate seals. While these things can help business owners achieve a more professional look, they aren't a necessary component to forming an LLC. Things like tax consultations and insurance reviews fall under the same umbrella.
As you go through the available products and services, make sure you put your money where it counts and buy the essential elements first. Don't let your cash disappear on things that you might not need right now or in the future. Instead, separate those expenses from the LLC formation process.
2. Consider recurring charges and services
Starting an LLC involves many different steps that come together to form the whole. Many of these are one-time actions that you'll complete and put in your rearview. But some services, such as annual report filings or registered agent services, are billed repeatedly.
In some cases, these recurring charges are valid and worthwhile, especially for the essential elements that we've mentioned. But other times, companies can be a bit deceitful in the presentation of the charges. They might also make it challenging to cancel recurring charges.
Through our research, we always take a look into these practices. The highest-ranked companies on our lists will be transparent about the recurring expenses with clear indications for why they are needed and how to avoid them or cancel them if no longer desired. Unfortunately, some companies are less open about these practices. We will highlight these when applicable, but you should also use caution when going through the checkout process.
3. Understanding S-Corporation filing status
The IRS uses a special set of rules for S-Corporations. These can apply to standard corporations (C-Corps) as well as LLCs.
For certain businesses, using the S-Corporation classification can provide tax benefits related to payroll taxes and other potential obligations. To dive into the details and understand how they might apply to your business, it's best to contact a business tax professional.
Ideally, you'll want to identify how you'll approach this before you select the LLC formation company. Some offer services that help streamline the S-Corporation election, such as filing Form 2553 on your behalf as part of the LLC formation package. Other companies will charge extra fees and some don't provide the service at all.
We want you to save money and time when forming your LLC. By knowing how you'll handle the S-Corp election, you can make the right choice from the start and avoid downstream headaches. Use the decision to your benefit so you can move on and handle the many other aspects of running a new business.
4. Charges for expedited filing: state fees and internal fees
As you're forming your LLC, you'll likely encounter the ability to select expedited services. When time is of the essence, these can be vital. But before you add these charges, it's worth understanding what you're paying for.
On one hand, there are ways to decrease the time that the state takes to process your LLC's application. Not all states offer such expedited processing, but if they do, this means that you'll get priority status from the state. The officials will process your LLC formation before standard services, sometimes cutting down wait times of a month or more down to less than a week. Some even offer same-day processing.
When purchasing your LLC formation package, many companies will let you select expedited state processing. You pay this fee, then the company forwards it to the state agency. It's straightforward and depends on the state.
Conversely, some LLC formation services give you options for expediting the internal processing time. This is completely separate from the state processing and is only related to the company's ability to prepare your application. Selecting this type of expedited processing can move you quickly through the formation company's network, but it does not change the speed that the state processes your LLC application.
When time is a priority, you'll want to use LLC formation companies that offer quick internal processing, sometimes as little as one-day or same-day service. Some companies choose to have this as a special add-on only, but other ones operate at this speed no matter what. Save yourself some money and go with those who provide the quick service you need when short on time.
5. Are you forced to use a registered agent service?
All business entities, including LLCs, must appoint a registered agent. You can serve as your own registered agent, but there are many reasons why it's worth hiring a service instead. We consider hiring a registered agent service an essential part of launching an LLC.
Almost every LLC formation service we looked over offers a registered agent service. Some decide to tackle this task with a dedicated in-house staff while others use third-party partners to do so instead.
When forming an LLC, some companies include the registered agent service by default with the option to opt out. A small group gives you no choice in the matter, forcing you to use their registered agent service. The prices can differ dramatically and it's important to understand your options for registered agent services. Don't get forced into using an overpriced service when many high-quality, affordable alternatives exist.
You do not have to use the same company to handle your LLC formation and your registered agent services. Select the best for each option independently rather than grouping them.
The registered agent is a role that does not go away. You can change who serves as your registered agent, but you'll need to update the LLC's state records to do so. This can be annoying and almost always requires a small fee.