New York is one of the most desirable markets for starting a business.
Many entrepreneurs opt to start an LLC in New York in order to take advantage of it.
But like many other things in the Empire State, incorporation isn't cheap.
Here's a full cost breakdown:
1) Formation cost: $200 to $250
To form an LLC in New York, you'll need to file the Articles of Organization with the New York Department of State.
State fee for Domestic LLC formation: $200
State fee for Foreign LLC formation (called an Application for Authority): $250
Businesses that have their primary place of business in New York pay a lower fee. Companies whose primary place of business is in another state but want to conduct business in New York must pay a $250 state filing fee and register as a foreign limited liability company.
2) Recurring annual report fee: $25 or more
All LLCs in New York must file an annual report which is also a state tax reporting form. The fee starts at $25 and can go as high as $4,500 based on the owners' gross income generated in New York.
3) Publication Fees and Notice of Formation Requirement: $10 to $50
New York is one of the states requiring LLC owners to publish a notice of the formation or a copy of the Articles of Organization in the state circulating newspapers.
The information must be included for 6 consecutive weeks in two different newspapers.
The County Clerk determines which newspapers you need to publish based on the county where your business is located. One newspaper must be daily, the other must be weekly, and both must be located in the same county as your LLC's primary place of business.
This requirement adds to extra costs to LLC formation:
Newspaper publication fees: vary
State fee for Affidavit of Publication: $50
Unsurprisingly, publishers in the New York state don't shy from charging LLC owners some round sums. LLC publication costs range from a couple hundred to a couple of thousand dollars.
The exact amount depends on the county and whether your LLC is a domestic or foreign business entity.
Forming a New York LLC in Allegany County can be as low as $50, but starting an LLC in New York or Bronx County can be as high as $2,100 for a foreign entity.
Some professional service providers also offer to handle the newspaper publications for you for an extra cut.
After running your ad, the newspaper is obliged to give you a Certificate of Publication, also called an Affidavit of Publication. You must then file the certificate with the New York Department of State along with the $50 fee.
Certificates of Publication must be filed within 120 days of forming the LLC.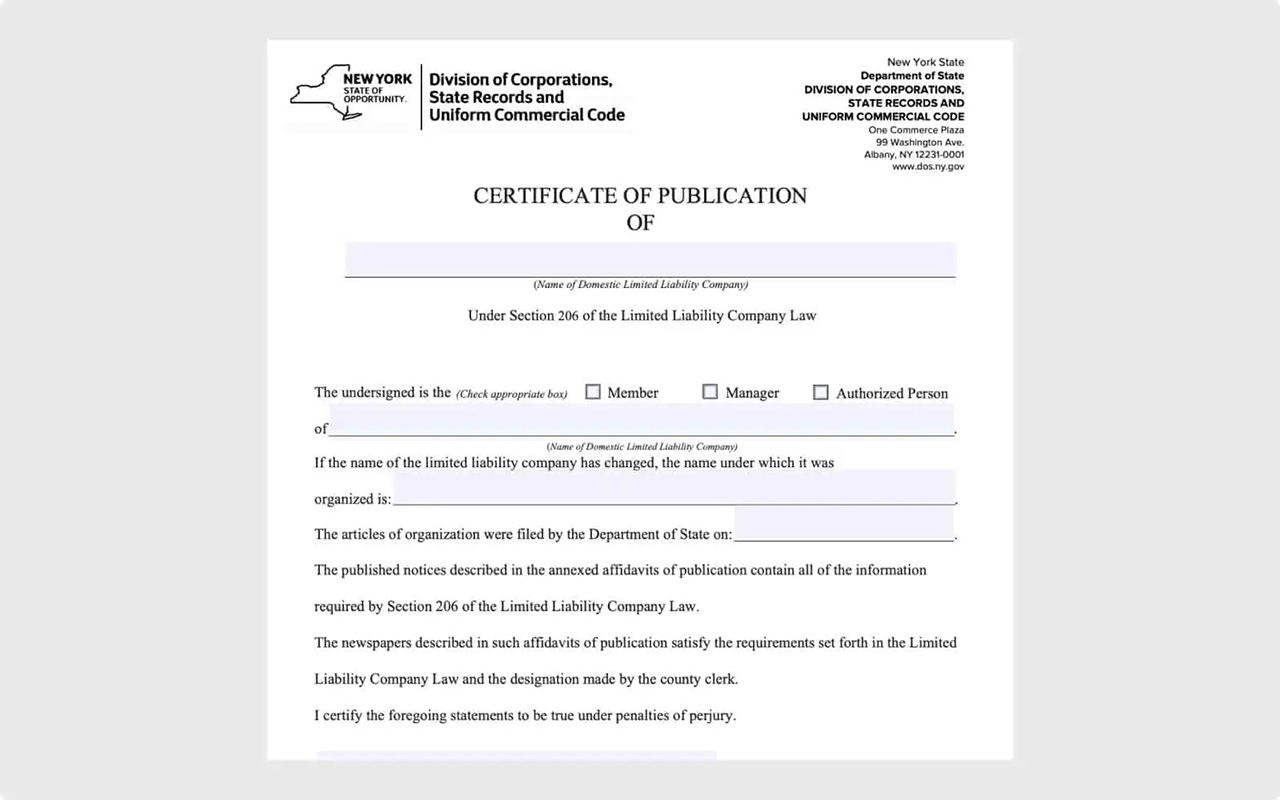 To form an LLC in New York, business owners can expect to pay $250 in state fees (plus credit card processing fees). And then file the bill for the publication costs.
The biggest variable in total costs is the publication costs that newspapers charge, which can be a few hundred or a few thousand dollars depending on where the business is located.
Can LLCs escape the Newspaper Publication Requirement?
No. It's a legal requirement for newly-formed LLCs in New York, both for single-member and multi-member LLCs.
LLC filers that fail to submit the publication affidavit within 120 days of forming the LLC can't do business in the state.

Last updated:
Mar 2023
Start your LLC the easy way
Forming your LLC is a checkbox that needs to be ticked. Easy, fast and worry-free. We reviewed the 13 most popular LLC formation services to figure out who truly understands what new founders need. Our recommendation:
LLC Formation: $39 + state fees
Pricing:
Turnaround Time:
Help & Support:
Customer Satisfaction:
Ease of use:
Best LLC Service 2022

Formed 1,000,000+ LLCs
$39 formation includes registered agent service
Fast formation & same day filing
Exceptional customer reviews

Last updated:
Mar 2023
Optional LLC costs to account for in NY
The Articles of Organization is the cornerstone document you need to start an LLC in New York.
But in reality, most business owners incur other costs when forming a business entity. Some of them are optional, while others are mandatory.
1. Registered agent fees (usually ~$50 to $100)
To ensure that important correspondence always reaches you, you can hire a professional agent for the service of process. The ballpark annual cost of a registered agent service in NY is $100.
However, some small business owners choose to serve as their own agents instead of paying for a professional service.
Keep in mind that by doing so, you commit to:
Having your address known to the others
Being available at the specified business location to collect notices
You must also make sure that you update this information with the New York Secretary of State if you move or change registered agents. To do so, you'll need to file a Certificate of Change form and pay a $5 fee ($30 expedited fee).
2. Expedited handling fee ($25 to $150)
Applications are processed online, in person, and by mail. For the latter, processing times can take 6 weeks or longer if there's a backlog.
But you can pay an expedited handling fee to speed up the processing of your business registration:
$25 — receive company formation documents within 24 hours
$75 — for same-day service if the documents are submitted before 12.00 pm
$150 — within 2 hours if the documents are submitted before 2.30 pm
3. Trade name registration ($25)
If you intend to operate your business under a name that's different from the legal name listed on your Articles of Organization, you must register for a trade name.
Obtaining a separate trade name also makes sense if you plan to launch a new product or service under your LLC.
For example, if the name of the LLC is "Plant Nursery LLC," but you plan to have both a nursery and teach courses about plants, you could register your LLC as "Plant University."
Your company name would be Plant Nursery LLC doing business as (or DBA abbreviation) "Plant University."
While this doesn't change the legal name of your LLC, it gives you flexibility in naming the business and can help market your business to customers.
The New York state has a two-fold price structure for assumed name registration:
You have to pay a $25 New York Department of State filing fee.
Then pay an additional county fee. The county filing fee is $25 for each county, except for the counties of New York, Kings, Queens, Bronx, and Richmond, for which the additional cost is $100.
See? Forming an LLC in New York is not straightforward.
4. LLC name reservation fee ($20)
Another possible fee for new LLC owners is a name reservation fee.
If you're in the early stages of forming your business but are set on having a specific name, paying the name reservation fee makes sense.
The cost to reserve an LLC name in New York is
$20 for 60 days.
Note: A name reservation doesn't guarantee that the state has approved your business name. It simply alerts other LLC organizers that this name is not available.
5. Certified document copies
Certified copies of documents such as Articles of Organization can be obtained from the New York Department of State.
There's a $10 state fee for certified copies and $5 for plain copies.
Requests are not accepted online or by phone — they can only be requested in writing and sent, faxed, or hand-delivered to:
New York State Department of State, Division of Corporations
One Commerce Plaza
99 Washington Avenue
Albany, NY 12231
6. Federal and state LLC taxes ($25 or more)
On a federal level, a single-member LLC is treated as a disregarded entity for tax purposes by the IRS while a multi-member LLC is treated as a partnership for federal tax purposes. This means that all company profits pass through to the members and your personal income tax return.
As a single-member LLC, you'll be reporting your taxes as a sole proprietorship. You don't even need to obtain an employer identification number (EIN) from the IRS unless you hire workers. However, having one may be better for opening a business bank account.
On the state level, however, LLC taxes are a bit more complex. While New York state doesn't levy a "classic" franchise tax, they charge a variation of it.
All LLCs operating in the state that had a gain, loss, or deduction from New York State sources during the taxable year, must file an annual report (Form IT-204-LL) and pay an applicable state fee starting at $25. To file this form, you'll need to either provide your EIN or social security number.
LLC or LLP filing fee table
Here's a New York annual filing fee table for LLCs and LLPs. From the New York Department of Taxation and Finance.
| | | |
| --- | --- | --- |
| If the New York source gross income of an LLC or LLP for the preceding tax year is more than: | but not more than: | the filing fee is: |
| $0 | $100,000 | $25 |
| $100,000 | $250,000 | $50 |
| $250,000 | $500,000 | $175 |
| $500,000 | $1,000,000 | $500 |
| $1,000,000 | $5,000,000 | $1,500 |
| $5,000,000 | $25,000,000 | $3,000 |
| $25,000,000 | | $4,500 |
The only way to opt-out of this progressive fee is to change your LLC tax classification to a corporation for federal income tax purposes.
Also, you may be required to collect and pay sales tax in New York state. Again, there are progressive rates involved, which also differ depending on your business location.
For example, if you sell footwear in New York City, products under $110 are exempt. But all items above $110 are subject to a 4.5% NYC Sales Tax and a 4% NY State Sales Tax.
Contact your local tax authority to determine your obligations.
Cost Chart: How much does an LLC cost in New York?
Forming an LLC in New York starts at $250 for obtaining Articles of Organization and Addafit of Publication from the state.
But the costs of this business structure can quickly go into thousands, depending on your approach to company formation.
The business location, industry, and levels of privacy that owners want will influence the final LLC formation costs.
Here's a sample calculation for a plumber who works in Allegany county vs. Kings county. The cost can change drastically based on where the business is located.
| | | |
| --- | --- | --- |
| | Allegany county | Kings county |
| State filing fee | $200 | $200 |
| Publication fee | $50 | $1,450 |
| Registered agent service | $50 | $50 |
| Trade name reservation | $25 | $25 |
| Plumber license, New York State | $300 | $300 |
| Total | $625 | $2,025 |
If you expect to use a professional LLC formation service, add several more hundred dollars to the above total.
Maintaining annual compliance with New York LLC requirements will start at $25 for a business making less than $100,000 in gross income that doesn't require special licensing and no third-party registered agent. This $25 fee covers the required annual LLC fee.
Consult with a CPA or attorney to discuss your options to ensure that you're aware of and prepared for the cost of doing business in New York City and New York State.

Last updated:
Mar 2023
Start your LLC the easy way
Forming your LLC is a checkbox that needs to be ticked. Easy, fast and worry-free. We reviewed the 13 most popular LLC formation services to figure out who truly understands what new founders need. Our recommendation:
LLC Formation: $39 + state fees
Pricing:
Turnaround Time:
Help & Support:
Customer Satisfaction:
Ease of use:
Best LLC Service 2022

Formed 1,000,000+ LLCs
$39 formation includes registered agent service
Fast formation & same day filing
Exceptional customer reviews

Last updated:
Mar 2023