In this Northwest Registered Agent review, we'll cover everything you need to know, including:
The actual cost of Northwest services
The processing time you should expect for forming an LLC or incorporating
The customer service, user ratings, reputation, and more
We'll also provide easy-to-understand descriptions of other Northwest Registered Agent services. Many could be relevant to your LLC startup situation.
The article starts with an executive summary, then follows up with a detailed look into the services. This complete review helps you understand all the details about Northwest Registered Agent.
Should You Use Northwest Registered Agent?
Northwest Registered Agent is a high-quality company that focuses on LLC formation, incorporation, and registered agent services. By providing rapid and knowledgeable customer support, along with an intuitive online dashboard, Northwest's services are ideal.
Northwest RA knows what it takes to keep its customers happy. Through many years of experience, the company stands behind its services. They guarantee same-day LLC filings and incredible data security.
Best of all, Northwest Registered Agent charges just $39 for one LLC formation, including a free year of registered agent service. This value is unmatched in the industry.
If you're ready to get started, head over to NorthwestRegisteredAgent.com.
However, if you'd like to learn more, keep reading to find out all the details we used to rank their service.
Northwest Registered Agent: Background Info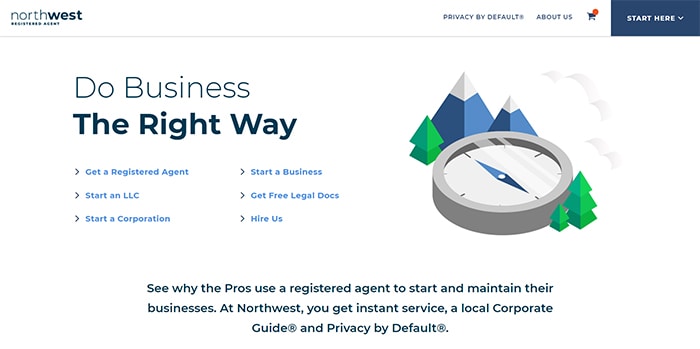 Based out of Spokane, Washington, Northwest Registered Agent LLC specializes in LLC formation and registered agent services.
They currently employ around 200 people and are a family-owned and managed company. By focusing on the needs of entrepreneurs and business owners, Northwest has a variety of useful services to consider.
The company motto is "We're just not annoying" and it sums up their customer experience perfectly. While some competitors hide unfavorable details or fail to provide adequate support, Northwest goes above and beyond. They ensure every customer has everything they need during the ordering process and throughout the relationship.
Northwest RA started operations in 1998. For more than 20 years, they've focused on quality customer service, clear communication, and incredible data security.
They are a one-stop show to get help starting and running a business. Available services include:
User-friendly online LLC formation and incorporation
Can serve as a registered agent in all 50 states
Offers virtual office and mail forwarding
Helps with yearly business compliance issues
And much more
Keep reading for details on everything they offer. We've gone through the fine print so you can make the best decision possible.
One thing Northwest Registered Agent does not do is provide legal advice or services. They will help you get through the red tape and legal formalities, but Northwest is not a law firm.
If you need legal counsel or have a company with complex legal matters, it is worth consulting with a lawyer.
Northwest Registered Agent Cost
In this section, we'll list the current pricing that Northwest Registered Agent offers to the public.
But we're pleased to present a special discount to SimplifyLLC readers. For just $39 plus state fees, you can hire Northwest Registered Agent to help form an LLC. The package usually costs $225 plus state fees. It includes:
Basic LLC formation: Northwest helps ensure the name you want isn't taken and files the documents for you. If you're on a tight deadline, you can buy expedited service for either $20 or $40, giving you a quicker turnaround time.
Registered agent service: The first year is included at no cost, and it is a reasonable $125 per year after that.
Annual report reminders: To help you stay in good standing, Northwest sends reminders about this critical compliance task.
If you need additional services, you can add them to this offer, such as:
Annual report compliance: There is no upfront fee. Instead, Northwest charges $100 plus the state fees before your annual report filing is due. They can take a load off your shoulders and complete this essential task on your behalf.
EIN registration: For $50, Northwest can get an Employer Identification Number (EIN) from the IRS. It is a useful type of tax ID for businesses that is sometimes required.
Operating agreement: For $50, you can get a customizable operating agreement template. It helps protect your interests and ensures your business functions as you intend.
Certificate of good standing: To get approval to conduct business in another state, this document is often used to obtain a foreign qualification.
Certified copy: A certified copy of your approval paperwork might also be necessary to get a foreign qualification in another state.
Phone service: Free for 60 days, then $9 per month. You get a separate phone line for your business that you can use from any PC or mobile phone.
Credit card consultation: Free. Thanks to special offers through Northwest RA, you can get better terms on credit cards for your business.
| Service | Single Payment | Subscription payment |
| --- | --- | --- |
| Basic LLC formation service | $100, plus state fee | Included |
| Registered (Resident) agent service | $125/year | Included |
| Operating agreement and Forms | Free | Free |
| Business Tax ID (EIN/FEIN) | $50 | Included |
| Yearly compliance filings | $100 | Not included |
There are two ways to go about getting LLC formation or incorporation services from Northwest Registered Agent. You can pay a single upfront payment that includes any specific add-on features you want. Or you can select a VIP service fixed package that is charged over twelve monthly installments.
In either case, Northwest RA gives you everything necessary to form a new LLC, such as:
Basic LLC formation or incorporation
Registered agent service
Vital legal documents, including an operating agreement and member resolutions
If you have extra needs, there are other products and services that you can add on. Continue reading to get all the details of what Northwest Registered Agent offers.
Option One: Pay in advance
$225 plus applicable state fees
If you select the upfront fee, Northwest charges $225. This includes the filing of your LLC formation, a $100 value, plus one year of registered agent services, a $125 value. The required legal documents are included at no extra cost.
You can add many other useful items to this package if you need them. These include things like virtual office services, corporate-branded supplies, and certified copies of legal documents.
Northwest makes the LLC formation package complete with one year of registered agent services. This essential task is a critical component of starting a business, but not all LLC formation services offer it.
Annual compliance filing help is included in the package. It doesn't cost anything upfront, but if you leave this as part of your package, Northwest will charge $100 plus state fees three months before the annual compliance filing is due.
If you are not interested in this feature, uncheck the option during the checkout process.
Option Two: Monthly installments for VIP service
Cost ranges from $29 per month to $73 per month depending on the state, as described in the table.
| State | Cost | State | Cost | State | Cost |
| --- | --- | --- | --- | --- | --- |
| AK | $48.00 | LA | $35.00 | OH | $34.00 |
| AL | $47.00 | MA | $73.00 | OK | $35.00 |
| AR | $29.00 | MD | $41.00 | OR | $34.00 |
| AZ | $33.00 | ME | $41.00 | PA | $37.00 |
| CA | $37.00 | MI | $31.00 | PR | $48.00 |
| CO | $30.00 | MN | $39.00 | RI | $47.00 |
| CT | $37.00 | MO | $33.00 | SC | $48.00 |
| DC | $45.00 | MS | $30.00 | SD | $39.00 |
| DE | $33.00 | MT | $32.00 | TN | $54.00 |
| FL | $37.00 | NC | $37.00 | TX | $54.00 |
| GA | $37.00 | ND | $38.00 | UT | $32.00 |
| HI | $30.00 | NE | $36.00 | VA | $35.00 |
| IA | $30.00 | NH | $35.00 | VT | $37.00 |
| ID | $34.00 | NJ | $37.00 | WA | $44.00 |
| IL | $42.00 | NM | $37.00 | WI | $37.00 |
| IN | $34.00 | NV | $65.00 | WV | $37.00 |
| KS | $40.00 | NY | $44.00 | WY | $34.00 |
| KY | $30.00 | – | – | – | – |
Besides the single-payment option, Northwest Registered Agent also provides a monthly payment choice. You can enroll in a VIP service that comes with a fixed package. It includes the LLC filing and registered agent service. Plus, Northwest will get your EIN (federal tax ID) from the IRS.
If you go with the VIP package, the fees are spread over twelve equal monthly payments. This provides flexibility and eases the burden of a one-time payment. Since the state fees are included, the precise monthly payment depends on the state you select to form an LLC in.
If Northwest changes the monthly cost or terms of the package, they will notify you, as stated in the terms of service.
Insider tip: If you don't want to automatically renew each year, you can opt out. It is important to cancel your service before the renewal comes up. If you don't, you will be enrolled in another twelve months of service and obligated to pay for it all. You cannot cancel monthly, even though the payments are monthly. It is an annual commitment that you must cancel before it renews.
One downside to the VIP service package is that you cannot customize the package. Other services are charged on top of the monthly installment.
Comparing Northwest Registered Agent's Costs to Others
Here is a summary of how Northwest Registered Agent's formation packages stack up against the competition.
| Formation Provider | Basic Formation | Complete Formation | Our Rating |
| --- | --- | --- | --- |
| Northwest Registered Agent | $39 | $39 | ★★★★★ |
| ZenBusiness | $0 | $324 | ★★★★☆ |
| LegalZoom | $79 | $427 | ★★★☆☆ |
| Swyft Filings | $49 | $545 | ★★★☆☆ |
| Rocket Lawyer | $100 | $290 | ★★★★☆ |
Note that these prices do not reflect Northwest Registered Agent's package pricing. We've standardized everything to accurately compare to others.
Basic formation: This includes the essential aspects of business formation, such as the filing of the articles of organization with the applicable secretary of state.
This option is best for experienced business owners who do not need to hire a registered agent and who do not need help drafting an operating agreement.
Complete formation: We recommend this option for new business owners or those who want more services. This package includes, at minimum, an operating agreement and a year of registered agent service.
Would you like to see more details about how Northwest RA compares to others? Keep reading for short summaries or head over to our Best LLC Formation services article for more information.
Northwest Registered Agent Compared to Incfile
You might be tempted to go with Incfile because they offer slightly lower prices than Northwest RA. But if you look at the bigger picture, you'll find that Northwest Registered Agent is the superior choice providing a higher level of service than Incfile. Northwest also provides quicker processing times and a better customer support experience.
By digging through the online reviews from customers of Incfile and Northwest RA, we found that people are more satisfied with Northwest. The real-world experience indicates that Northwest simply does a better job at doing what you need while keeping you informed. Their staff is knowledgeable and professional.
For these reasons, we encourage people to go with Northwest Registered Agent over Incfile.
Northwest Registered Agent Compared to LegalZoom
LegalZoom is a major player in the online legal services and LLC formation industry. But when we looked into the details of the packages and overall support, Northwest Registered Agent comes out on top. For comprehensive LLC formations, including registered agent service and operating agreement drafting, Northwest Registered Agent charges less than half of LegalZoom's fees.
Northwest Registered Agent also does a better job of giving you what you need right away. The formation packages have much quicker processing times and Northwest has higher overall customer ratings. We recommend Northwest RA over LegalZoom, without question.
Best package pricing
Some formation services offer specific tiers or bundles to their customers. Northwest Registered Agent does not follow this trend. They allow customers to select between a fixed VIP service with twelve monthly payments or a customizable service with a single upfront payment.
To get the most bang for your buck, we recommend using Northwest Registered Agent's customizable option with a single upfront payment.
We prefer this approach because it allows customers to select the products and services they need. You can avoid paying for unnecessary services, such as EIN applications, plus you can add on what you do need.
Additionally, the monthly payments for the VIP service usually end up costing more than the single upfront payment, for the same services. You pay for the benefit of spreading out the payment over time.
For example, if you use Northwest RA to form an Indiana LLC and get an EIN, Northwest will charge $373 if you pay in one upfront payment. If you select the monthly VIP service instead, your monthly cost is $35, which works out to be $420 per year.
Available Services
If you select Northwest's upfront payment option, you can add on other services easily. The available add-ons include:
Yearly compliance help: Free enrollment with a $100 fee charged before the due date
Obtain EIN (Tax ID): $50 with SSN or $200 without SSN
S-Corp taxation election: $50
Premium mail forwarding service: $40 per month
Virtual office: $49 per month
Certificate of Good Standing: $50
Certified copy of approval document: $50 (applies to things like articles of organization and other legal documents)
Apostille: $400 (used for international certification of government documents)
Additional phone number: $9 per month
Corporate book and seals: $30 to $100 depending on the products selected
FMCSA BOC-3 filing: $125 per year (required for trucking and transit companies)
CFC 499: $125 per year (required for telecom companies)
Northwest Registered Agent Cancellation Policy
We carefully reviewed Northwest Registered Agent's cancellation policy to help you avoid unwanted charges. The terms of service state that you may cancel your monthly VIP service at any time through the online portal.
But this doesn't tell the whole story.
The VIP service is an annual contract paid in monthly installments. If you cancel during your annual contract period, you must pay for the duration of the twelve-month period.
It's crucial to pay attention to your annual renewal time. If you don't want to pay for another twelve months of service, you must opt out of automatic renewal or cancel your services before it renews. If you don't and your start another twelve-month contract, you will be on the hook for twelve months of payments.
Those who select the upfront payment instead might also run into issues getting a refund. If you go through with the order but then decide that you want to back out, you might not meet the refund requirements.
To avoid any hassle, Northwest Registered Agent recommends that you wait to place your order until you are certain you want to proceed with the LLC formation services.
Northwest Registered Agent's Refund Policy
To receive a full refund of your upfront payment to Northwest RA for LLC formation or incorporation, you must cancel your order before the documents are sent to the state. If Northwest Registered Agent has already processed the documents and filed them with the state official, your refund will be prorated based on the service provided. Northwest RA pays some state fees for you, and those fees are not refundable.
The refund policy for registered agent services allows for a prorated return of applicable fees if you cancel within 90 days of signing up. You must call Northwest Registered Agent to cancel and request this prorated refund.
Northwest RA does not offer any refunds for monthly installment payments that are part of the VIP package. The terms of service clearly state that once the fees are paid, there is no chance of getting a refund or credit, even if you cancel the VIP package. It depends entirely on the annual commitment.
Northwest Registered Agent Advantages
In this section, we'll review our favorite aspects of Northwest Registered Agent's services and selling points.
1. Best value for LLC formations
Regardless of how it's done, forming a new company is never cheap. But wasting precious capital on administrative work, red tape, and basic legal documents is a poor use of funds. New companies can't afford to waste money on needless legal services.
To get the best deal, we worked with Northwest Registered Agents to get an exclusive pricing offer for Simplify LLC readers. You can form an LLC for just $39 plus the state fees. This offer also gets you one year of registered agent service at no extra cost. It is usually priced at $125 per year.
To drive home how great of a deal this is, here is how it stacks up against other top choices:
Northwest Registered Agent: $39
Other LLC formation services: $150-$350
Hiring an attorney: $300 or more
Northwest is truly the best value available.
2. Rapid same-day filing
If you want to get your LLC up and running as quickly as possible, Northwest Registered Agent is a great choice. They guarantee to file your LLC paperwork with the state agency on the same business day you order it.
One thing Northwest cannot control is the state processing. Depending on the state you choose, this can take several business days or longer. In some states, you can select expedited state processing for an extra fee. This is available during the Northwest checkout process.
Don't take our word for it. Here are some real-world customer experiences with Northwest Registered Agent's LLC formation speed: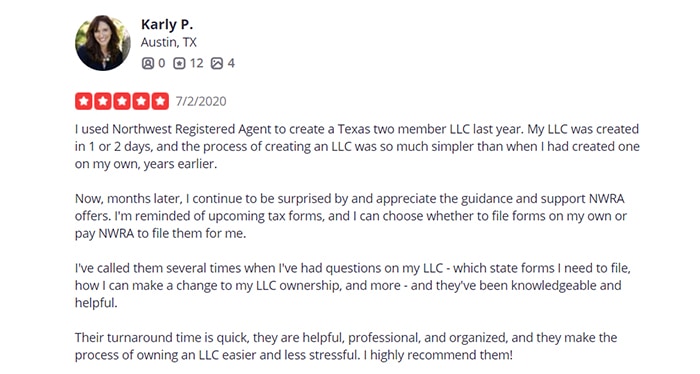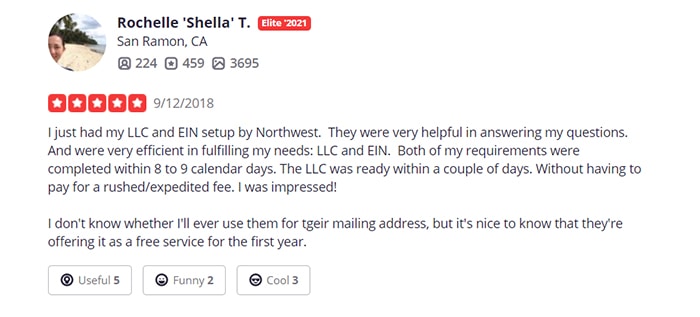 3. Outstanding customer ratings
Some of Northwest Registered Agent's competitors have more online reviews than they do. But Northwest still has a substantial amount of reviews. And the vast majority show nothing but satisfaction with their services and overall experience.
Northwest RA has outstanding customer reviews on major sites including Google, Yelp, and the Better Business Bureau. Many users report incredible ease of use and rapid processing times. Beyond that, we saw countless mentions of prompt, knowledgeable customer service interactions. They provide a consistent level of high-quality help.
On Google, Northwest Registered Agent has about 650 reviews with a total rating of 4.7. There are nearly 40 reviews on Yelp with 4 out of 5 stars, and the company has a 4.48 out of 5 rating with the BBB.
Google Review Score:

Yelp Review Score:

4. Excellent customer service
Through a knowledgeable and dedicated in-house support staff, Northwest Registered Agent gives every customer the help they need. The service representatives provide answers in a timely fashion, and they'll go a step beyond with every interaction.
You can choose between email or phone service. Either way, Northwest will provide a single service member to handle your inquiry. You can forget about being passed between an endless maze of teams without getting anything in return.
Not only do they help solve potential issues with their services, but Northwest Registered Agent also helps you understand the business formation process. They will listen to the specific situation you are dealing with and respond accordingly through their team of Corporate Guides. These dedicated business formation experts make the process easier than ever.
To get in touch with a Northwest Registered Agent service staff, use one of these methods:
Phone: Dial 509-768-2249 to speak with a representative on the phone
Email: Send your questions to support@northwestregisteredagent.com
Online: Go to the Contact Us page to submit a message
5. Easy-to-understand language and no excessive upselling
The business formation process is full of intricacies that some companies have trouble spelling out in plain terms. But with Northwest Registered Agent, the process is easy to understand. They use simple terms and only ask that you provide the basic information they need to form your LLC. This includes the name of the LLC, the state to form it in, the names of the members, and whether it will be managed by members or managers.
Once you get through the short ordering process, Northwest Registered Agent takes it from there. The only time you'll hear from them is if a crucial piece of information is missing.
Their library of articles provides a lot of details about legal issues and LLC formation in general. While you can always reach out for help, this is another useful part of Northwest's resources. It helps you get a better understanding of legal aspects and compliance needs, all without complicated legal jargon.

"We're just not annoying" is Northwest Registered Agent's slogan. And one way they stand behind it is the lack of upselling that happens during the checkout process. Other companies tend to throw a million things at you, without helping you understand what is essential and what you might not need. Northwest takes the opposite approach and gives you the essentials without upselling.
6. Superior reputation and trustworthiness
With more than two decades of experience in LLC formation and registered agent services, Northwest Registered Agent has established a rock-solid reputation. The many satisfied customer reports showcase the company's consistent ability to do the job, without hassle.
Northwest helps out individuals regularly, but they also work with law firms to file LLCs for their clients. Since Northwest uses a dedicated in-house team, the customer data is well protected and the service quality is always consistently high.
7. Secure customer privacy
One unfortunate reality about many online services is that they fail to protect customer data. Northwest Registered Agent does the opposite. They treat customer data with the utmost care and are fully committed to keeping your information secure.
Northwest uses the motto "Privacy By Default" to showcase this point. You can trust that your personal information will not be at risk of exposure, and you don't have to sort through an endless maze of privacy settings to do so. It is the default way they operate.
Their website lays out some of the top commitments to protecting customer data, including:
Use the company's information rather than yours when filing documents when possible, including physical address and IP address
They will never sell your personal data to third parties
The IT infrastructure is secure and regularly audited through a robust in-house security team
Access to your personal information is limited to in-house staff and is only transferred to third parties with your prior consent
They will not request information unless essential to complete your order
It's a rarity to see this level of data protection with many online services. Taking this firm stance to put customers first is another reason we recommend Northwest Registered Agent without hesitation.
Northwest Registered Agent Disadvantages
We're not giving you a blind recommendation. Instead, we dug into everything and identified how Northwest could improve.
1. No online option for refund requests
If you change your mind and fall within the applicable refund period, you must call Northwest Registered Agent on the phone.
For the most part, this isn't a deal breaker. You will still be able to quickly resolve the issue, get your refund, and move on.
But the monthly installments that go toward Northwest's VIP service are not refundable at all. We discussed this with the company and they say it's a necessity because "We front the state fee costs for our VIP service." Seems to be a fair policy overall.
Northwest Registered Agent LLC Formation Services
The staff at Northwest Registered Agent are knowledgeable and experienced at forming LLCs and corporations. They use a hassle-free approach that gets your business started as fast as possible.
In this section, we've rounded up the business formation and related services that Northwest Registered Agent offers.
Business Formation Service
Cost: $100 alone or included with VIP service

If you want to launch a business, there's a good chance that forming an LLC will be your first step. In the United States, this is handled by state-level authorities. Once you decide which state to form your LLC in, the articles of incorporation are sent to the appropriate state authority to form your LLC.
While the flexibility of choosing the right state is useful, understanding the intricacies of each state's rules and regulations can be a monumental task. Even worse, if you fail to do exactly what is needed, you can land in serious trouble. This can cost your new business time and money.
Some people are capable of forming an LLC without outside help. But to leverage professional experience and service support, using Northwest Registered Agent's LLC formation package goes a long way. They know what is necessary, how to deal with the paperwork, and can easily guide you through the process.
With a dedicated staff to deal with state authorities on your behalf, you can rest easy knowing they've got your back.
Ordering an LLC formation through Northwest is quick and painless. And you can do it entirely online, including helpful support services.
To ensure everything goes smoothly, Northwest starts by getting the essential information from you in a series of easy-to-understand questions. You'll need to know the basics, such as the desired LLC name and whether it will be member-managed or manager-managed.
Every state has a fee for filing the articles of organization that create an LLC. The filing fee varies based on the particular state, ranging from about $40 to $500. Northwest shows you exactly what the state filing fee is during the checkout process, giving you complete transparency about the cost.
Once Northwest Registered Agent has the necessary information and you finalize your order, they send it over to the appropriate state agency. At that point, the processing time depends on the state agency.
Insider tip: While Northwest is committed to same-business-day processing of your order, the state processing is a different matter. If you need your LLC formed as quickly as possible, be sure to select the expedited state filing option during the checkout process. Not all states have this option, but when available, it can dramatically reduce state turnaround times.
You can keep track of your order and the status of the process through Northwest's online portal. Once the filing has been processed, they'll send the response to you in an email.
Registered Agent Service
Cost: $125 per year or included with the VIP service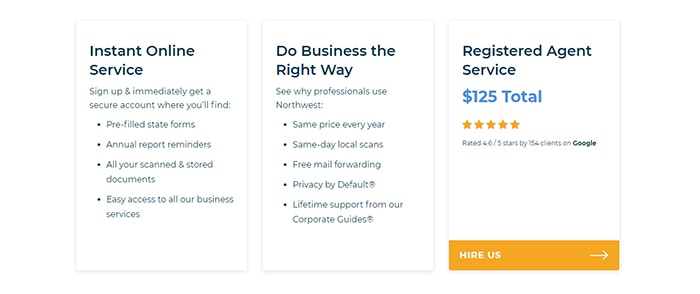 Every LLC and corporation must appoint a registered agent in the state the company is formed in. This is an essential requirement and the registered agent serves as the recipient of legal service of process, such as court summons and other legal notices.
If a company does not have a registered agent, it can fail to be in good standing and suffer other penalties or fines.
One requirement from most states is that the registered agent must be a resident of the state your LLC is based in. And they don't get time off. Registered agents must be available during business hours to receive legal documents. Also, the registered agent's name and address are published on a state website, making them available to the public.
You have the choice between serving as your own registered agent or hiring a professional service. It can be worth using a registered agent service if any of the following applies:
You can't be available at one address due to frequent travel
You are not a resident of the United States
If your business functions in more than a single state
You want to keep your name and address private information, not part of public record
As the company name indicates, Northwest Registered Agent offers this service. You can hire them for a yearly fee and they will verify that all vital legal notices are received as needed. If anything comes across, Northwest will promptly inform you of the document.
The documents will go to one of Northwest's local branches. The staff will scan them and provide you with immediate access to a digital copy.
Operating Agreements and Other Essential Documents
Cost: Free

When you form an LLC, there are some legal documents that you need right away. Two of the most important are the operating agreement and a banking resolution. Northwest Registered Agent provides templates for these documents.
An operating agreement lays out the basic guidelines for how the LLC functions. The LLC members can customize them according to their needs and desires, including aspects like:
The LLC management structure
Member ownership interest allocation
How profits are distributed among members
How to add or remove a member
Many other essential LLC functions
Some states legally require all LLCs to execute an operating agreement. Even if it isn't a state requirement, it is almost always in your best interests to have one. They ensure the LLC functions as you intend and you don't run into surprises.
Insider tip: The states that require an operating agreement include ​​California, Delaware, Maine, Missouri, and New York. It is a private contract that does not need to be filed with the state, but your LLC must have one to form an LLC in those states.
Northwest Registered Agent provides free access to an extensive library of legal documents related to LLCs. They provide customizable templates for some of the most important documents, such as articles of organization, operating agreements, LLC member resolutions, and more.
If you purchase an LLC formation service from Northwest, you will get a set of pre-filled documents that you can download and use right away.
It is worth mentioning that these are standard templates. For customized documents that incorporate your specific situation, we recommend working with a legal professional.
Register for an EIN (Federal Tax ID)
Cost: $50 for residents with SSN or $200 for non-residents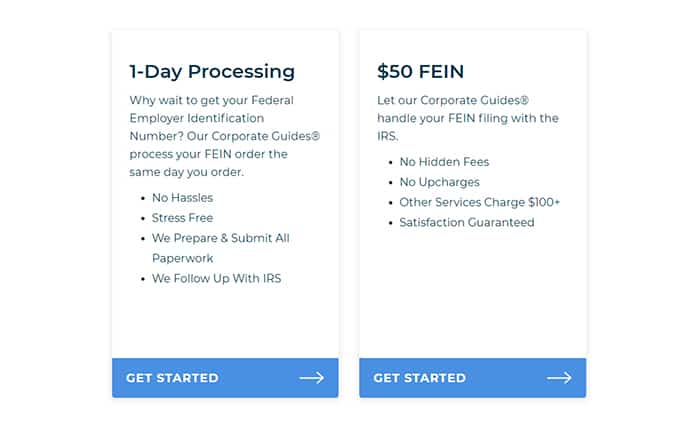 The IRS uses Employer Identification Numbers (EINs) to identify and track tax information for businesses. Many businesses must get this federal tax ID to conduct operations.
EINs are like Social Security Numbers for your business.
If your company hires any employees or pays excise taxes, an EIN is required. Some states also need an EIN for tax purposes, and banks need them to open a business bank account.
More information: To read more information related to Employer Identification Numbers, visit the IRS website.
Northwest Registered Agent will get an EIN on your behalf for a fee. But you can also get an EIN yourself through the IRS website. The process is quite simple and most people can complete it in minutes. It's usually not worth paying someone else to do.
S-Corp Election
Cost: $50
The IRS allows some companies to elect a specific tax classification known as S-Corporation. This is available to LLCs as well as traditional corporations. In some cases, using the S-Corp classification can result in favorable tax advantages when distributing profits to members.
For more details about S-Corporations, head over to the IRS website.
We recommend consulting with an accountant about S-Corp treatment for your business. It's not always the best option, but it can be useful.
If you decide that you'd like to elect S-Corp taxation treatment, you can hire Northwest Registered Agent to handle the paperwork. They will send in the appropriate documents to the IRS so you can use S-Corp taxation.
You don't have to make this decision when you're forming your LLC. The election for S-Corp treatment can happen later.
Annual Report Compliance
Cost: $100 plus state filing fees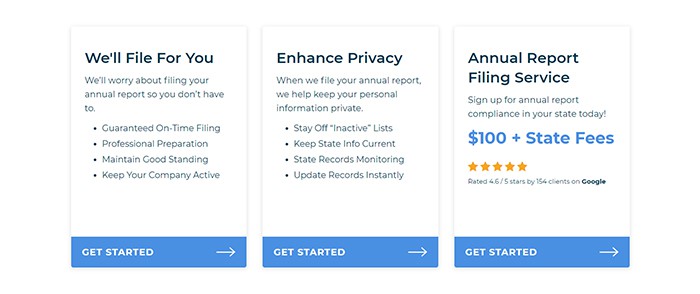 Under the laws of most states, businesses must file certain reports with the appropriate state agency each year.
These annual filings often list basic information about the LLC, including things like the contact information, names of members and managers, and who the registered agent is. It is the primary way for LLCs to provide updated information to the agency responsible for overseeing them.
To avoid penalties and other issues, your annual reports must be filed before the due date.
Each state handles this according to its rules. Some states use the anniversary date of your LLC's formation, while others use a specific fixed date for all LLCs. In select states, the reports don't have a yearly requirement and instead might be every two years or more.
To find out what the policy is, you can check with the appropriate secretary of state. Most have online information or can be contacted by phone.
When you file the annual report, you'll likely have to pay a filing fee. Each state comes up with its filing fee, but they are often less than $100. Usually, this fee is not based on revenue, so you'll have to pay it even if the LLC didn't earn anything in that year.
If you don't file this report or pay the fee, it can lead to serious consequences, including the dissolution of your LLC. This is a crucial part of running an LLC that you must handle with care.
To make it easy, you can hire Northwest Registered Agent to file your annual report. They charge $100 plus whatever the state fee is.
When you buy it from Northwest, they guarantee the report will be properly prepared and filed by the deadline. They notify you 90 days before the filing due date and will charge you five days after sending that notification.
Mail Forwarding, Virtual Office, and VoIP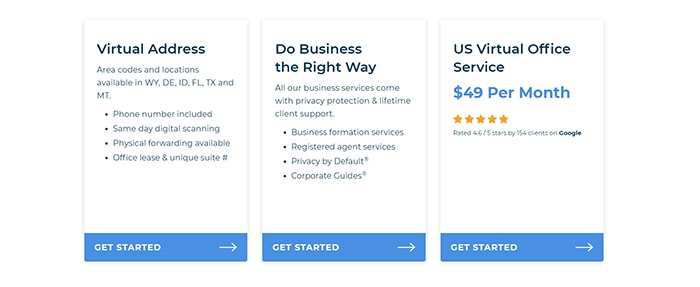 As a bonus service, Northwest Registered Agent lets you use their office's physical address for your company's business address.
If you receive any mail or phone calls, they will forward them to your address or phone number. This helps keep your contact information confidential, although you are not required to get these services if you don't want to.
Do We Recommend Northwest Registered Agent?
Northwest Registered Agent has more than two decades of high-quality experience helping people form and run successful LLCs. They make the entire process easy through an intuitive online portal. And they will quickly take care of the necessary paperwork as soon as you provide the basic information and finalize the order.
To ensure that your company stays in good standing and out of legal trouble, Northwest's registered agent and annual report services are excellent choices. You will stay on top of vital deadlines and receive prompt notification of any legal documents sent to your LLC.
Northwest Registered Agent does not have the absolute lowest price in the industry. But the value they provide is well worth it. The in-house staff helps you from start to finish and is always around to answer any questions you have in a prompt, professional manner. They'll also keep your information confidential.
If you want to read more about how Northwest Registered Agent stacks up against the competition, head over to read our other reviews about the best LLC formation services and our comprehensive service comparison page.