In this ZenBusiness review, we'll go over everything you need to know:
The actual cost of ZenBusiness' services
The processing time you should expect for incorporations and LLC formations
ZenBusiness' reputation, customer service, user ratings, and more
We'll also go through all formation-related services ZenBusiness offers in easy-to-understand terms. That way you can see what's best for you.
We'll kick things off with an executive summary of everything we found. Then we'll move into the fine details of each service, along with our overall conclusions based on a thorough investigation. After reading this, you'll have everything you need to know about ZenBusiness.
Should You Use ZenBusiness?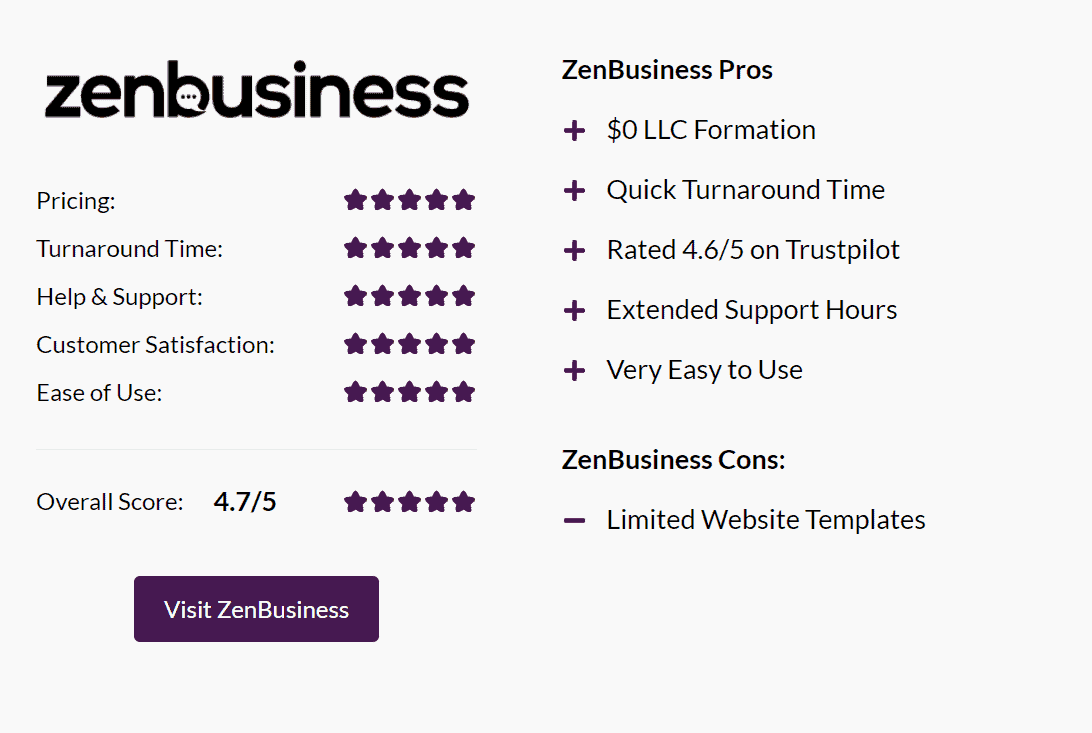 If you need a basic LLC formation service, ZenBusiness offers a completely free Starter package. Let their experienced professionals handle the paperwork for you instead of stumbling through it alone. For the rock-bottom price of $0, it's impossible to beat this value. We have no issues recommending this incredible offer.
If you're looking for an LLC formation service with more features and customized help, you should step up to ZenBusiness' Pro plan. It costs $199 per year and comes with a more rapid filing, a customized operating agreement, and a useful compliance service.
Whether you want the free package or the feature-packed plan, ZenBusiness is an excellent choice. They are one of the best in the business of LLC formation and incorporation, and we rank them at the number two spot in our LLC services comparison.
To get started right away, simply head over to ZenBusiness.com. If you'd like to learn more about why we recommend their services, keep reading.
ZenBusiness Executive Summary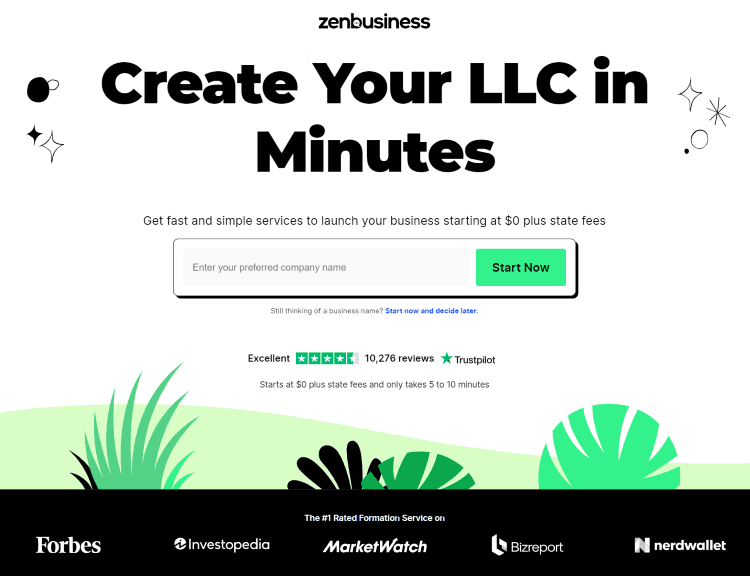 ZenBusiness was founded in 2015 in Austin, Texas by Ross Buhrdorf, who served as the Chief Technology Officer at HomeAway. ZenBusiness was funded through venture capital and is a public benefit company.
Their vision is to give everyday Americans the ability to conquer their goals and find entrepreneurial success. By providing affordable incorporation and LLC formation services, they give you exactly what you need to start a booming business.
In late 2021, the company was valued at $1.7 billion and raised an additional $200 million in capital. Reuters reports that billionaire investor Mark Cuban is joining ZenBusiness as a spokesperson. The company is now considered one of the top unicorns to come out of the entrepreneurial spirit in Austin.
According to ZenBusiness' About Us page, people who found companies with their help can expect:
"Worry-free services, world-class support, and an all-inclusive platform that provides everything they need to be successful throughout their business lifecycle."
The core company values include:
Transparency: No hidden charges and complete honesty about what you get.
Protection: Worry-free compliance help to maintain good standing government status.
Paying it forward: The company provides small business grants, with over $100,000 given in 2020 alone.
ZenBusiness' core services are ideal for people who want to launch a company, such as:
Business entity formation services: They cover all 50 states and verify name availability. They'll handle extra compliance actions, like New York's publication requirement.
Registered agent services: Every business must have a registered agent by law. ZenBusiness can fill this vital role.
Compliance services: To stay in good standing with government agencies, ZenBusiness can file your annual report on your behalf.
Help navigating IRS paperwork: ZenBusiness can get a federal tax ID (EIN) for your new company.
Launch a business website: ZenBusiness can help you get the rights to a domain name (URL) and start a basic website for your new business.
Offers useful legal documents: ZenBusiness has a library of customizable legal document templates. These cover many critical needs, such as operating agreements, banking resolutions, and corporate bylaws.
ZenBusiness Cost
Here is a quick summary of ZenBusiness's core LLC formation services:
| | | | |
| --- | --- | --- | --- |
|   | Starter ($0) | Pro ($199/yr) | Premium ($299/yr) |
| Basic LLC Filing | Included | Included | Included |
| Registered Agent Service | $199 | $199 | $199 |
| Obtain EIN | $99 | $99 | $99 |
| Customized Operating Agreement | $125 | Included | Included |
| Expedited Filing | $49 | Included | – |
| Rush Filing | $99 | $99 | Included |
| Worry-Free Compliance | $199 | Included | Included |
| Accounting Consultation | Included | Included | Included |
| Automatic Expense Tracking | Included | Included | Included |
| Tax Deduction Tagging | Included | Included | Included |
| Website Bundle (Website, Domain, Email, Privacy) | $149 per year | $149 per year | Included |
| ZenBusiness Money Pro | $300 | $300 | $300 |
ZenBusiness provides three distinct formation packages: the Starter, the Pro, and the Premium package.
No matter which you select, ZenBusiness always provides basic business formation services, including:
Checking your desired LLC name's availability
Generating your Articles of Organization
Filing legal documents with the Secretary of State
Provide you confirmations via an online portal
If you select the Pro or Premium packages, they have additional services and features beyond these basic functions.
The Pro package comes with expedited filing. It also comes with a customized operating agreement and ongoing compliance help for your new business.
The Premium package has even faster processing times and includes everything needed to launch a business website.
Registered agent services are not part of the ZenBusiness formation packages. Instead, they are a standalone service that you can buy for $199 per year.
In the below pricing section, we'll review the intricate details and prices for each service. You can usually add these extra services to any formation plan you go with.
ZenBusiness is unique because its business formation plans use a subscription service model. But you can cancel the subscription after your business is formed without incurring extra charges or penalties.
ZenBusiness Starter Package: $0 Plus State Fees
ZenBusiness' basic Starter package has everything necessary to form a new company. If you don't mind handling compliance duties on your own and you want to form an LLC at the lowest price, we recommend this option.
The Started package's main features are:
Basic business formation service: ZenBusiness will file the articles of organization with the appropriate Secretary of State. You can check the availability of your desired business name as many times as you want. Expedited filing is not included, but can be purchased as an add-on.
Online dashboard: Follow your order and check its status through the online portal. You'll also have immediate access to your finalized formation documents once available.
It also includes other services, such as:
Free accounting consultation: ZenBusiness will quickly assess your accounting needs and recommend actions to meet your needs.
$150 Google Ads credit: ZenBusiness provides a promo code that is great for those who want to use Google Ads. Once you apply the code to an eligible Google Ads account, Google will match advertising costs up to a total value of $150.
As a default setting, the Starter plan does not have any type of expedited processing. The expected turnaround times depend on the state where the LLC is formed. They vary from a few days to several weeks.
For more details about the expected processing times, choose the state you want to form your LLC in on the ZenBusiness website.
This is not a subscription service and it does not renew each year. It is an entirely free service. You pay for the state filing fees only, and ZenBusiness passes it along to the Secretary of State.
ZenBusiness Pro Package: $199 Plus State Fees
For most new business owners, we recommend the Pro package as the best way to go.
The Pro package is ZenBusiness' most popular option. It has everything in the Starter package, plus several useful features. The two most important are expedited formation and compliance assistance.
When you go with the ZenBusiness Pro package, you get all the features of the Starter option, as well as these additional ones:
Expedited formation service: Pro package services receive quicker processing times. The speed depends on the state your LLC is formed in, but often is between four days and up to about two weeks.
Customized operating agreement: We always recommend businesses have an operating agreement to protect their interests and ensure the company functions as intended. This vital document helps protect personal assets and establishes the LLC's rules and how it handles many situations.
Compliance assistance: ZenBusiness will alert you about your annual reporting requirements, plus up to two amendments per year and compliance-specific customer service if something goes wrong.
This option is a subscription plan that renews each year for $199, although you are free to cancel at any time. This includes your LLC's annual filings and the compliance assistance features.
ZenBusiness Premium Package: $299 Plus State Fees
The Premium package gets you right to the front of the line, giving you the quickest processing time. It also includes services to help you launch a business website. This is a great way to go if you need to form an LLC right away and want to use the website formation services.
Insider tip: If your company has more serious website needs such as e-commerce-related functions or more customized options, we recommend using a dedicated website builder like Wix or Shopify instead.
If you go with the ZenBusiness Premium package, you'll get everything that is part of the Pro package, plus these services:
Rapid formation service: Get the fastest processing times possible with ZenBusiness Premium. The specific time depends on the state you form your LLC, but it's typically no longer than a few days. Customers in some states can get a filing response in as little as one day.
Domain name registration: ZenBusiness helps you get the rights to a domain name that matches your LLC's name if it is available.
Launch business website: Get a basic, customizable website from ZenBusiness. They'll use your business information and launch one on the selected domain name.
Business email: ZenBusiness also helps generate a business email account that uses the website domain name. It comes with 5GB of storage for your business needs.
Most business owners can ignore the website and email features. Some people might benefit from these add-ons, but we generally recommend using specialized services to do so instead.
The Premium package is a subscription service that renews at $199 per year. This covers everything in the package, including the website and email services.
ZenBusiness Against the Competition
In this section, we'll show you how ZenBusiness' LLC formation costs compare to their main competitors.
To standardize this comparison, these prices are based on individual pricing options. ZenBusiness' package deals are not included.
You'll find exactly what is in the Formation Only and Complete Formation options below the table.
| | | | |
| --- | --- | --- | --- |
| Service | Formation Only | Complete Formation | Rating |
| Northwest Registered Agent | $39 | $39 | ★★★★★ |
| ZenBusiness | $0 | $324 | ★★★★☆ |
| LegalZoom | $79 | $427 | ★★★☆☆ |
| Swyft Filings | $49 | $545 | ★★★☆☆ |
| Rocket Lawyer | $100 | $290 | ★★★★☆ |
Formation Only: Takes care of a basic business entity formation. At the very least, it includes filing the articles of organization with the appropriate Secretary of State.
We recommend this option for experienced business owners that do not need help drafting an operating agreement and don't want to hire a registered agent.
Complete Formation: At the least, this adds in a customized operating agreement and a full year of professional registered agent services. Most new business owners will need these features.
Do you want to see a full comparison between ZenBusiness and its biggest competitors? Keep reading to see short summaries or head over to our complete comparisons for each one.
ZenBusiness Against LegalZoom
We encourage people to use ZenBusiness over LegalZoom. We recommend ZenBusiness because LegalZoom failed to come out on top in almost every category.
To start, LegalZoom's prices for LLC formation are just too expensive. In fact, LegalZoom charges more than almost anyone in the business and provides nothing to back up this premium cost.
Besides that, you can get faster processing by using ZenBusiness' more affordable services. ZenBusiness also has much better customer reviews.
ZenBusiness Against Swyft Filings
Swyft Filings gives its customers fairly quick processing at a decent cost when compared to many other services. But this doesn't hold up against ZenBusiness, which offers a lower price and has the same or better processing times.
Another downside to Swyft Filings is that they outsource many of their services to third parties. And they tend to upsell non-essential services that can cost you precious startup money. We like ZenBusiness' more transparent and streamlined methods instead.
ZenBusiness Against Incfile
ZenBusiness easily comes out on top of this one. It has quicker processing times, better pricing, and much higher customer satisfaction. The only similarity is that they both offer fully online LLC formation services through an intuitive online platform.
ZenBusiness gives you an all-around better service that gets your business started faster and for less money. There's little justification for using Incfile instead of ZenBusiness.
What ZenBusiness Package Is the Best Value?
The entire lineup of ZenBusiness' three startup packages is well-priced.
Rather than include nonessential items to charge more money, ZenBusiness sticks to exactly what you need. Plus, you have the option of including what you find essential while leaving out anything you don't want. You can add services from the Pro and Premium packages to the Starter option if the need comes up.
For most business owners, we recommend ZenBusiness' Pro package. It gives you quick formation and handles major compliance concerns to let you sleep comfortably. The Pro package takes care of all the necessary administrative issues so you can get your business up and running right away.
If you need a basic website and email address, the ZenBusiness Premium plan might be worth considering.
But if you want a more customizable website with enhanced capabilities necessary for e-commerce and a larger online presence, we recommend using a specialized website builder, such as Shopify or Wix.
ZenBusiness Hidden Costs and Extra Charges
There's complete transparency about ZenBusiness' pricing options. You pay for the price you see at the checkout and won't get hit with surprise charges.
Remember that the Pro and Premium plans offer ongoing support, and as such, they are annual subscriptions that renew and charge a fee each year. The Starter plan does not renew.
How To Cancel ZenBusiness Services
ZenBusiness clearly states in its cancellation policy that customers can "discontinue some or all of your paid services at any time by contacting support@zenbusiness.com"
This makes the cancellation process easy. Send a quick message to the ZenBusiness support staff to opt out of the annual subscription renewal. In some cases, a $25 cancellation fee might apply.
As far as the registered agent services, there is one major difference that's worth pointing out. Before you can cancel ZenBusiness' registered agent services, you must appoint a new registered agent and update the appropriate state record. This is the usual process across the entire industry because the company has legal liability if they are the named registered agent.
ZenBusiness Advantages
This section goes over the main aspects that help ZenBusiness beat out major competitors like LegalZoom, Incfile, and RocketLawyer.
1. Excellent Formation Price & $240 Worth of Free Features
Launching any new business requires investment. But if there's one thing all startups have in common, it's that they must avoid wasting money. To tackle the basic administrative and legal needs, you want to find a reputable company that doesn't overcharge.
ZenBusiness offers a "100% Accuracy Guarantee" on their free formation service for aspiring business owners. Although this package only has the basics and might leave out some essential features, it's an amazing value and the best deal around.
If you step up into the Pro package, the price is still very competitive while providing more of the essential startup aspects, such as an operating agreement. And of course, it's also backed by an error-free guarantee.
But the low prices aren't the only reason we recommend ZenBusiness. They also throw in a ton of free things that their rivals don't.
Google Ads Credit: $150 Value

Google Ads can be a top choice for attracting customers and showcasing your marketing abilities. When you form a business entity with ZenBusiness, you get a promo code that matches every dollar you spend on Google Ads, up to $150.
Free Accounting Assessment: $40 Value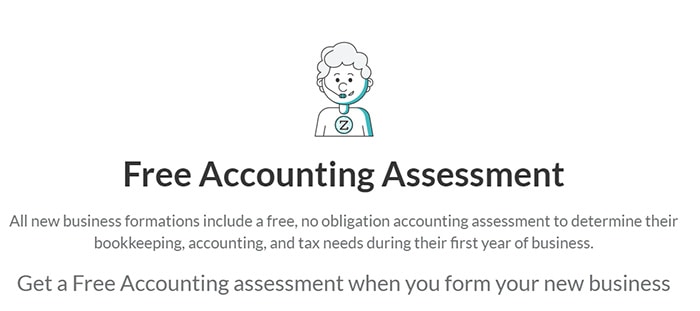 To help you identify your bookkeeping, accounting, and tax needs, ZenBusiness steps in. They recommend resources to help with these vital functions, so you can get started on the right foot. Accounting assessments are never free but they are crucial, so this is a major benefit.
Virtual Business Guide: $50 Value
When you use ZenBusiness' services, you get an excellent guide to help you run your new business. It will help you communicate with your teams, increase productivity, and tackle marketing.
2. Rapid Processing Times
We read through many customer experiences and found that ZenBusiness' business formation services often take just a few business days, even during the busiest times.
Here are some examples from Trustpilot: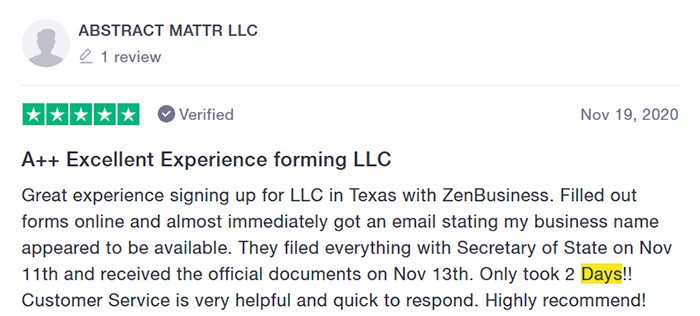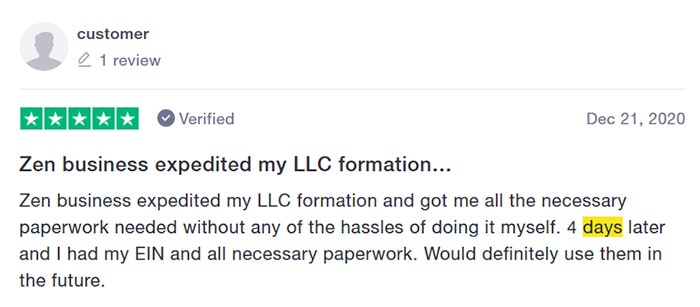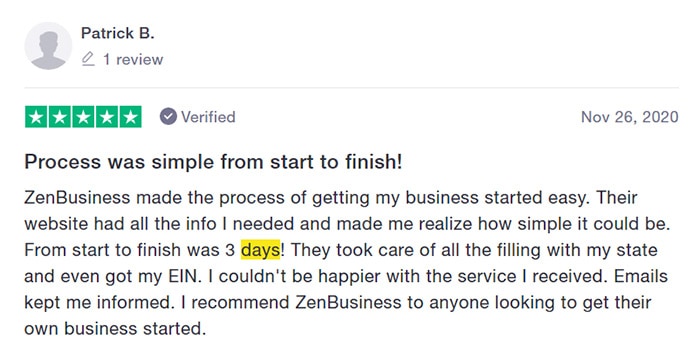 If you want to read more user reviews that give you real-world examples of ZenBusiness' services, head over to the Trustpilot listing. You can search using terms like "days" or "time" to see ones related to the speed of service.
Processing times depend on many factors and can be difficult to predict. The state you file in, the time of year, and a bit of luck all play a role in how long it takes to form an LLC. These reviews show many individual cases, but they do not apply to every situation.
3. Easy-To-Use Services Are Perfect for First-Time Founders
Forming your first LLC is thrilling, but it can also be daunting. When you work with ZenBusiness, every step is simple and easy. Their process carefully walks you through all you need to know in an excellent online portal. You can wrap up your end in a few minutes, then let ZenBusiness' professional teams handle the rest.
Once you finalize your order, you can track the progress of the LLC formation through ZenBusiness' well-designed online dashboard. They'll also send you updates and notifications throughout the formation process.
It's nearly impossible to feel like you don't know what's going on or what you need to do. ZenBusiness is one of the best formation services that keep you in the loop the whole time.
4. Nothing But Professionalism
ZenBusiness is the #1 specialized business filing service. They've helped complete thousands of LLC formations and incorporations, and handled countless DBAs and business name registrations.
You can find LLC filing services in many places, including through attorneys, CPAs, and advisors. But they'll almost always come with a higher price. Many of these professionals don't specialize in business filings. You might not know it, but they regularly outsource to companies like ZenBusiness. This is why we always recommend companies that focus on a particular area like ZenBusiness does for formation filings.
Trying to find someone more specialized than ZenBusiness is a tall order, if not impossible.
5. Excellent Customer Ratings
To find out the true customer experience, we read through more than a hundred customer reviews of ZenBusiness. The majority of LLC owners had very positive remarks and were satisfied with their services.
Want to see for yourself? Head over to read some of their 10,300+ Trustpilot reviews.
ZenBusiness is hands-down one of the highest-reviewed business filing services around. The 4.6 out of 5 rating on Trustpilot backs this up. The fact that ZenBusiness has built such a massive amount of positive feedback since its founding in 2015 speaks volumes.
Many satisfied users are impressed with ZenBusiness' speed and transparency. It's impossible to keep everyone happy, but we appreciate that ZenBusiness also proactively reaches out to customers who felt they did not receive flawless service. They go to great lengths to ensure customers are happy and get what they need.
6. Extended Customer Support Phone and Chat Hours
Finding after-hours and weekend support can be challenging in the business formation world.
But ZenBusiness tackles this area like a champ.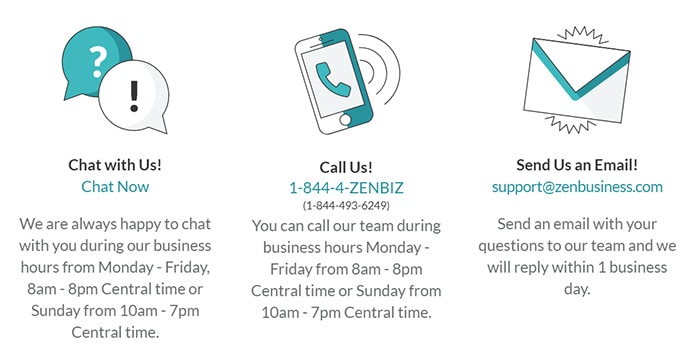 You can get actual human help anytime Monday through Friday from 8 am to 8 pm central time, plus on Sunday from 10 am to 7 pm central time.
Phone: Dial 1-844-493-6249 to get in touch with ZenBusiness during the extended support hours.
Chat: Go online to zenbusiness.com to use their customer chat feature during the extended support hours.
Email: Send a message to support@zenbusiness.com and you can expect to get a reply within one business day.
When dealing with vital legal documents and registered agent services, these extended hours are incredibly useful. Very few players in the business filing industry have similar hours.
7. They're a Public Benefit Corporation
Public Benefit Corporations go beyond for-profit goals. They merge the usual monetary focus with an integrated approach to providing social, economic, and/or environmental benefits. These public good endeavors are included in their legal obligations set out in the statement of purpose.
In 2020, ZenBusiness dished out over $100,000 in small business grants. They helped many get through a tough time. Plus, their statement of purpose sets out a goal to help at least one million businesses launch by 2025.
As passionate entrepreneurs who understand a small boost can go a long way, we love this part of ZenBusiness' approach!
ZenBusiness Disadvantages
We like nearly everything about ZenBusiness. But this isn't a blind recommendation and we did notice some areas for improvement.
In this section, we'll go over these potential changes. But when it comes down to it, none of these are vital issues. We still wholeheartedly recommend ZenBusiness.
1. Limited Business Website Service
We know it's best to stick with companies who specialize in the service you hire them for and it's a big part of every recommendation we make.
ZenBusiness focuses on business formations and related services. They tackle these with ease and provide an excellent choice for many new business owners, ranking high above many competitors.
But when you look into their domain name and website creation services, they don't hold up against specialized providers.
If you are getting into e-commerce or have other more intensive website needs, we recommend going with someone else. Shopify is our top choice for e-commerce companies, while Wix is an excellent option for nearly any other type of website. Both options give you access to incredible website builders, tools, and services.
Having said that, ZenBusiness' total cost of $110 is a great value. It helps you secure a domain name, create a website, use a business email, and take care of privacy essentials. This is a competitive price when compared to other website builders. If you have basic needs and want to knock them out with your formation services, ZenBusiness might be a decent choice for you.
2. Subscription Information
Many people wonder why ZenBusiness has a subscription model that renews annually if they focus on business formation. Why is there a need for yearly charges to start a business?
In this case, it's a matter of messaging and we'd like to see ZenBusiness improve this communication.
Let's set the record straight.
The annual costs are for ongoing services while the formation services are a one-time fee.
If you buy ZenBusiness' Pro package, the $199 annual subscription fee pays for your Worry-Free Compliance service. They handle the necessary and recurring compliance filings to keep your business in good standing.
If you go up to the Premium package, the yearly subscription fee also includes these ongoing services:
Website hosting
Domain name (URL) registration
Domain privacy
Business email
Besides that, ZenBusiness does not force you to commit to long-term contracts. If you want to stop using these recurring services and avoid paying a yearly fee, you can cancel at any time without penalty.
ZenBusiness Services
In this section, we've listed all ZenBusiness' essential services for business formation, plus some extra features to consider.
We include the cost of each service based on individual pricing. But remember, if you purchase any ZenBusiness formation package, many of these services are included at a discounted price.
Business Formation
Cost: Free, included with all plans.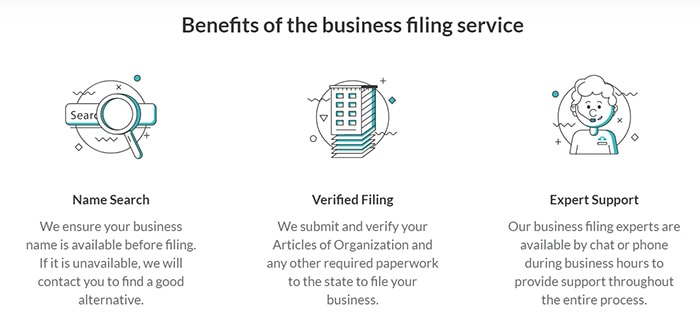 Forming a new legal business entity is usually the first step to starting a new business. Using a separate business entity provides many advantages and helps protect you from legal liability.
The most popular option for most small or medium-sized businesses is the limited liability company (LLC). Three main aspects make LLCs the best option for many aspiring entrepreneurs:
Limited liability: As the name suggests, one of the critical aspects of LLCs is the protection they provide. If your company gets sued or goes bankrupt, your personal assets receive a lot of protection and in most cases, only the LLC's assets are at risk. This is an incredible advantage that lets business owners take necessary risks without putting their livelihoods on the line.
Pass-through taxation: By default, the profits from LLCs pass on to the personal income tax returns of the LLC's members/owners. The LLC itself does not pay income tax. This is similar to sole proprietorships and partnerships and distinct from corporations that have income tax obligations.
Administrative flexibility: LLCs have fewer legal requirements when compared to corporations. This applies to internal operations as well as reporting obligations.
To form an LLC, you deal with state regulatory agencies and officials. It usually requires the filing of the Articles of Organization (the name is different in some states) with the Secretary of State. And you need to pay a small processing fee.
ZenBusiness focuses on business formation services for aspiring business owners. Rather than deal with cumbersome state websites that are challenging to navigate and nearly impossible to understand what is needed, people can go to ZenBusiness to get a streamlined approach. Some states don't even allow online filing.
ZenBusiness takes this headache away. You avoid the red tape and government bureaucracies and get professional help from experienced experts who guarantee error-fee filing.
Selecting a business name for your new LLC is one of the first steps. During your sign-up with ZenBusiness, you provide the desired name, and ZenBusiness searches business name databases to see if it's available. If it is already in use, ZenBusiness will let you know before forming the LLC.
Insider tip: Dealing with delays during the formation process can be disastrous. And that's why we recommend checking the availability of your desired business name before you go over to ZenBusiness to place an order. You can usually search through the existing business entity names on the state websites. The federal trademark register also helps you know what's taken.
When your order is finalized, ZenBusiness compiles the necessary legal documents and files them with the appropriate Secretary of State for you, at no additional cost. But every state charges a filing fee for processing your documents. The cost of this fee depends on the state selecting, ranging from about $40 to $500.
You pay ZenBusiness the state fee, then they send it to the Secretary of State during the filing process. They don't inflate this cost and are completely transparent about it. No hidden fees exist with their services.
The turnaround time for processing can vary wildly between states. To get your final formation documents and confirmation as soon as possible, you can pay an extra fee for expedited processing. ZenBusiness lets you know what the expected processing time is before finishing your order.
Customized Operating Agreement
Cost: Included with Pro and Premium, $125 separately.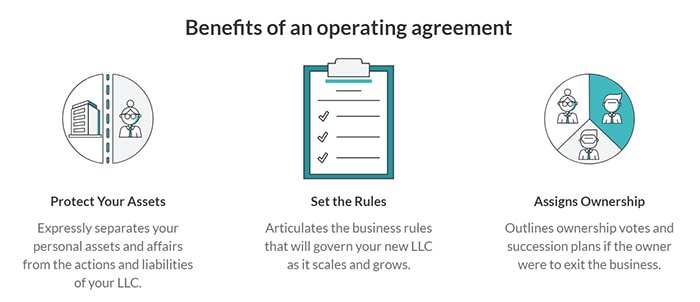 The operating agreement is a crucial legal document for your LLC. In short, it is a private contract between the LLC members that lays out the purpose, structure, and functionality of your business.
If you don't have an operating agreement, the LLC may be more similar to a sole proprietorship and could put the limited liability protection at risk. If someone sues your LLC, this could destroy the personal asset protection. This may result in your house, personal savings, retirement funds, and other personal assets being on the line.
Not having an operating agreement is a critical mistake that might defeat the entire purpose of forming an LLC.
ZenBusiness helps you avoid this issue. They provide a customizable operating agreement that protects the legitimacy of the LLC, and their documents are used by thousands of LLCs today.
Operating agreements can be modified to help protect business owners' interests and needs. They can cover many aspects of the business, including things like:
The ownership interest of each LLC member
How to handle adding or removing members
The management structure, including if it's member-managed or manager-managed
Who holds decision-making power
How the LLC deals with funding
How the LLC distributes profits among members
Insider tip: Some states, including California, Delaware, Maine, Missouri, and New York, legally require LLCs to have an operating agreement. It is a private contract that you do not need to file with the state, but you must have one.
Even if the state doesn't require it, we strongly encourage every business owner to execute one. They protect your interests and ensure the LLC functions as you intend.
Registered Agent Service
Cost: $199 per year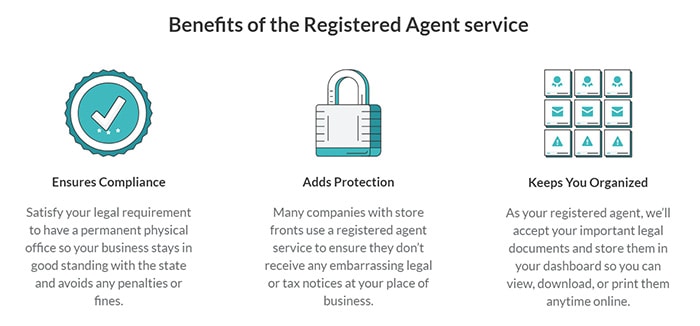 All LLCs and corporations must have a registered agent under every state's law. It serves as the official contact for essential notices and documents, including legal correspondence like court summons. The registered agent is not a general business mailing address or virtual office. But some registered agent services might include this as a benefit.
The IRS, Secretary of State, other government agencies, and private law firms send official correspondence to the registered agent. The registered agent must be available to receive these documents for the LLC or corporation during business hours.
You can serve as your own registered agent, but it's generally not the best way to go. If you miss a notice because you are out on vacation, business, or any other reason, there's no one else to step in.
By hiring a professional registered agent service, you help protect yourself and your business.
The contact information for registered agents is public information. Using a professional registered agent also keeps your address confidential.
Registered agents must have a physical address in the state where the business functions. If you want to conduct operations in many states, you'll need to appoint a registered agent everywhere the business is foreign-qualified.
Like ZenBusiness, many LLC formation providers offer a registered agent service. When you hire them to handle this role, they will:
Verify compliance with state and federal agencies
Receive all vital documents and provide you online access
Keep undesirable legal notices away from the place you might have customers
Take care of sorting through the junk mail that all new businesses receive
Insider tip: Many people wonder how to get in touch with their registered agent once forming an LLC or corporation through ZenBusiness. It's easy. ZenBusiness is your registered agent. Reach out to them as you normally would.
Employer Identification Number (EIN)
Cost: $99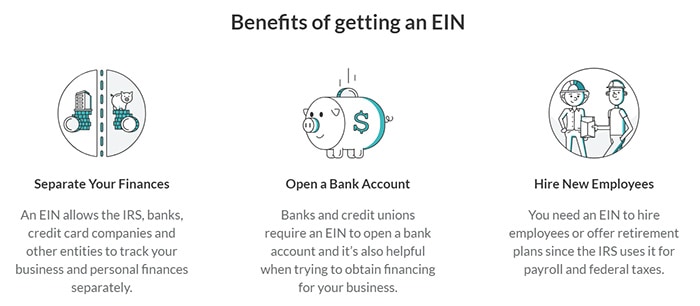 An Employer Identification Number (EIN) is like a social security number for a business. It is a nine-digit federal tax ID that the IRS uses to identify and track tax information.
An EIN is necessary to hire employees, open a business bank account, and file business tax returns. To get more information about EINs, head over to this IRS page.
Most US businesses have to get an EIN from the IRS as a legal mandate. If you answer yes to any of the following questions, you must get an EIN:
Does the LLC need to file excise tax returns?
Will the LLC hire any employees?
Are you electing S-Corporation taxation?
Does the LLC have more than one member?
ZenBusiness will work with the IRS to prepare and create your LLC's EIN, once formed.
If you are not a US resident and don't have a social security number, you'll need to get an Individual Tax Identification Number (ITIN) from the IRS before getting the LLC's EIN.
Banking Resolution Template
Cost: $30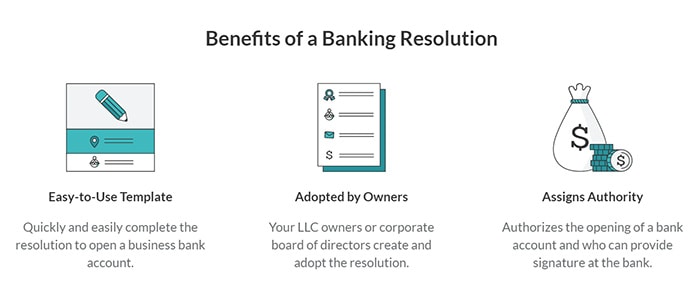 A banking resolution identifies who has the authority to open a bank account and sign financial documents for an LLC or corporation.
Many banks need this document to open a business bank account.
ZenBusiness helps you avoid legal fees by providing a template that you can put to use right away.
Business Document Library
Cost: $99

You can buy access to a growing library of more than 25 business documents, such as:
Contractor and Service Focused
Individual liability waiver
Company liability waiver
Waiver – release of liability
Waiver – release of liability (minor)
Website maintenance agreement
Freelancer agreement
Service agreement
Marketing agreement
Consulting agreement
Graphic design agreement
Business and Intellectual Property
Non-compete agreement
Confidentiality agreement
Employment offer letter
Employment termination
Employment agreement
Employee compensation agreement
Non-compete agreement
Confidentiality agreement
Loan agreement
Purchase order agreement
Employment agreement
Termination of agreement and release
Breach of contract notice
Partnership dissolution agreement
Amendment to agreement
Letter of intent (transaction)
Purchase agreement
Business purchase agreement
Joint venture agreement
If you buy this add-on, you get unlimited printing, use, and customization for all these.
Free Accounting Assessment
Cost: Included with Starter, Pro, and Premium packages, not sold separately.
Part of running a business is doing the necessary bookkeeping and accounting. ZenBusiness helps new owners tackle this by assessing your needs and providing recommendations based on things like:
Tracking and paying invoices
Managing your books
Filing taxes and much more
After your LLC is formed with ZenBusiness, you can access the free accounting assessment through the online portal.
When starting a new business, you'll have plenty of things to worry about. By using this quick assessment tool, you can get vital information to help with your accounting needs. It's also a free service that saves you at least an hour's worth of accounting consultation fees.
Expedited and Priority FIling
Standard: Typically up to three weeks, free
Expedited: Typically up to 10 days, $50
Rush: Typically one to six days, $100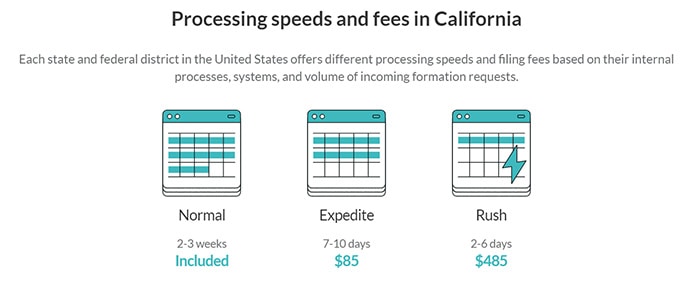 ZenBusiness standard service handles formation documents in the order they come in. If you want to skip the line, you can pay for it. This is perfect for people on a tight deadline or during rush times like tax season or quarter-end.
Worry-Free Compliance
Cost: Included with all plans. Renews annually for $199 per year.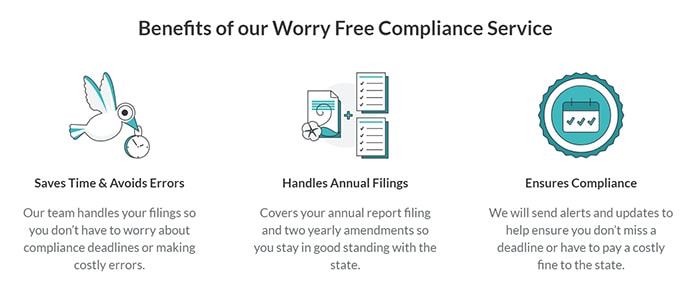 Most businesses are required to submit an annual report to a state agency. This is a legal obligation under the laws of most US states and comes with serious consequences if deadlines are missed or filings are incomplete. You can hire ZenBusiness to audit your business' standing and file vital compliance documents for you. They also include two free amendment filings per year, in case you need to make changes.
Additionally, ZenBusiness keeps track of your status with the state regulator. They'll inform you when you need to take action.
If you still somehow manage to miss a deadline, ZenBusiness will help out at no extra cost. They'll figure out what you need to remedy the situation and give you a concrete plan to do so. They'll also pay for any penalties that result from negligence on ZenBusiness' behalf.
By using these services, you get a worry-free guarantee that your state compliance needs are handled with care. You don't have to watch deadlines, account for legal changes, or worry about regulatory surprises.
Website, Domain Name, and Company Email
Cost: Included with Premium package. $149 per year purchased separately.

Almost every business needs a website in today's world. They provide contact information, help customers communicate, sell products/services, and create a professional appearance.
ZenBusiness can help get you started. They'll begin by registering your domain name (URL), then will create a basic business website that comes with data protection. You'll also get a company email account with your domain name (e.g., name@YourDomainName.com).
ZenBusiness offers six different templates for website creation. You get to select which one you prefer, then you can customize it.
ZenBusiness Extra Offers and Add-ons
Besides the extensive list we just reviewed, ZenBusiness also helps with other tasks that newly-formed LLCs need.
Here are some of the things you should know about:
Business Owner's Policy (BOP) insurance quote

You can get a free quote for an insurance bundle with general liability insurance and commercial property insurance. ZenBusiness works with Commercial Insurance Center to give you this useful information.
Small Business online banking account
Cost: $110 per year.

As a partner with Radius Bank, you can apply for a discounted business bank account that comes with:
Unlimited transactions
Online banking
Debit card and more
Do We Recommend ZenBusiness?
Absolutely!
ZenBusiness gives you a quick, professional LLC formation and incorporation service at an excellent price. And they can do it fast.
You can handle the entire process online. The interface is easy to understand and you can get through it quickly with all the essentials you need to start a business. ZenBusiness goes a step beyond by assessing your accounting needs and providing an extensive library of business documents.
After the startup process, ZenBusiness stays by your side to give you compliance assistance to keep you in good standing with the government. They'll also answer any questions at no extra cost, six days a week.
With experience handling thousands of LLC formations since 2015, we strongly feel that ZenBusiness is on track to continually provide high-quality service at an affordable price. They'll beat the competitors without fail.
If you want to see more about the LLC formation service industry and competitors, head over to our Best LLC Service and Best Incorporation Services articles. To see how ZenBusiness stacks up against its toughest competitors, read the detailed comparison articles that provide the full rundown.
Have you experienced ZenBusiness' services firsthand? We'd love for you to leave a review in the comments below. The feedback that helps our readers get the full picture is always appreciated.