Entrepreneurship is a daunting endeavor, especially if you're looking to start your first business. Everything begins with a promising idea to present to investors, but there is a significant amount of groundwork to cover before your business is ready to share with the world.
What makes a good entrepreneur is a passion for the business they want to pursue and resourcefulness regarding what tools are already available.
If you're ready to pursue your first business venture, we've compiled a comprehensive guide on how to start a small business.
To get firsthand input on what it's like to set up your own business, we had entrepreneurs and small business owners weigh in with their own experiences.
To make sure you don't miss any crucial steps in the process, check out our guide on how to begin your first business venture.

Last updated:
May 2023
Start your LLC the easy way
Forming your LLC is a checkbox that needs to be ticked. Easy, fast and worry-free. We reviewed the 13 most popular LLC formation services to figure out who truly understands what new founders need. Our recommendation:
LLC Formation: $39 + state fees
Pricing:
Turnaround Time:
Help & Support:
Customer Satisfaction:
Ease of use:
Best LLC Service 2022

Formed 1,000,000+ LLCs
$39 formation includes registered agent service
Fast formation & same day filing
Exceptional customer reviews

Last updated:
May 2023
1. Research your idea
The first step when it comes to starting your own business is finding the right idea. There are plenty of accessible small business ideas, but it's important to select a venture that aligns with your passion, values, and interests.
This will ensure the longevity of your company. We've listed some questions to ponder before jumping into your business below.
Is this something you've been passionate about for a while?
What are your skills?
What is your product or service?
Is there a lot of competition in the industry?
Will this provide enough profit for you to live comfortably?
Is this a joint or individual business venture?
Once you've come up with some business ideas, there are certain criteria you can use to determine whether your idea is venture pursuing.
These criteria include but aren't limited to whether your idea is scalable, whether it solves a customer problem, or what kind of market you'll enter.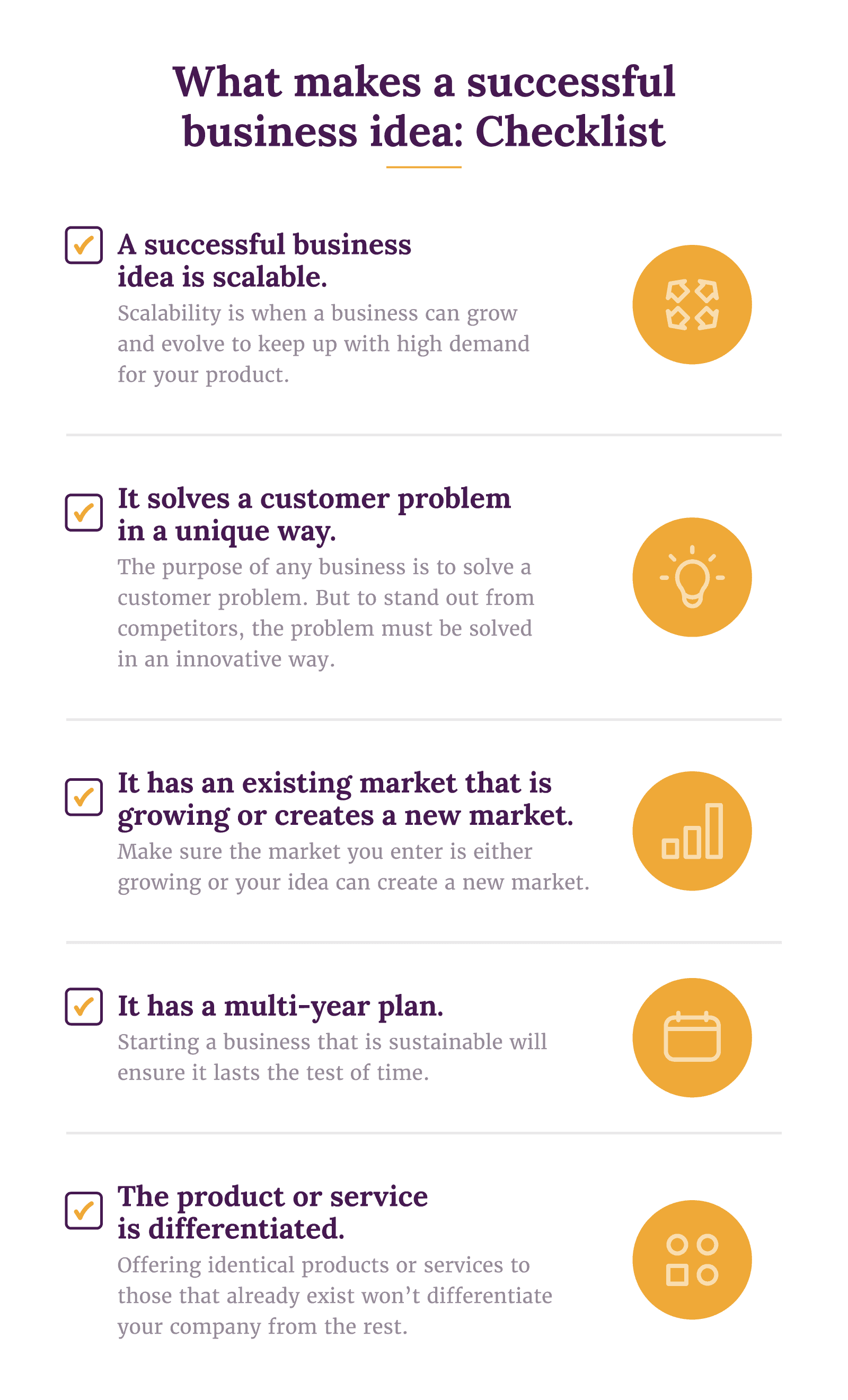 2. Create a business plan
Once you have a promising business idea, the next step to establishing your business is creating a plan. A business plan is your go-to document for everything about your business, from management to operations. It's the blueprint to how your business will run as well as a plan for investors to look through when deciding whether to finance your business.
There are several required elements for a business plan, like an executive summary, market analysis, and financial plan. We've included a comprehensive outline for what your business plan should look like with a table of contents to get you started.
3. Determine a business location
The pandemic shifted many people into a remote work environment, and many companies have stayed remote or adopted a hybrid work model. The location of your business is still important regardless of whether your company is remote, in-office, or hybrid.
There are some aspects of your business to consider before selecting an in-office business location, which we've listed below.
Style of operation: Your business may be online or have a brick-and-mortar space. Select a location that fits the image of the brand you want to create.
Demographic: Is your customer base local? If so, you want to be in a location that your customers have easy access to. You also want to consider the community you cater to.
Foot traffic: Like demographic, if most of your customers come from foot traffic, your location must be in an area with many potential customers around — like a shopping mall or downtown area.
Accessibility and space: If customers cannot access your business location or find parking, they likely aren't going to visit your store. Make sure the appropriate accommodations are available.
Proximity to the competition: When choosing a location, competing businesses mustn't be nearby that could take away from potential customers.
A remote work environment is also a great option when starting a small business. In fact, a study from Upwork found that 22% of the American workforce will be remote by 2025. Some of the benefits of a remote work environment include:
Working remotely also helps business owners save money on renting an office space and purchasing office utilities and other supplies that an in-office or hybrid work environment would need.
4. Secure your funding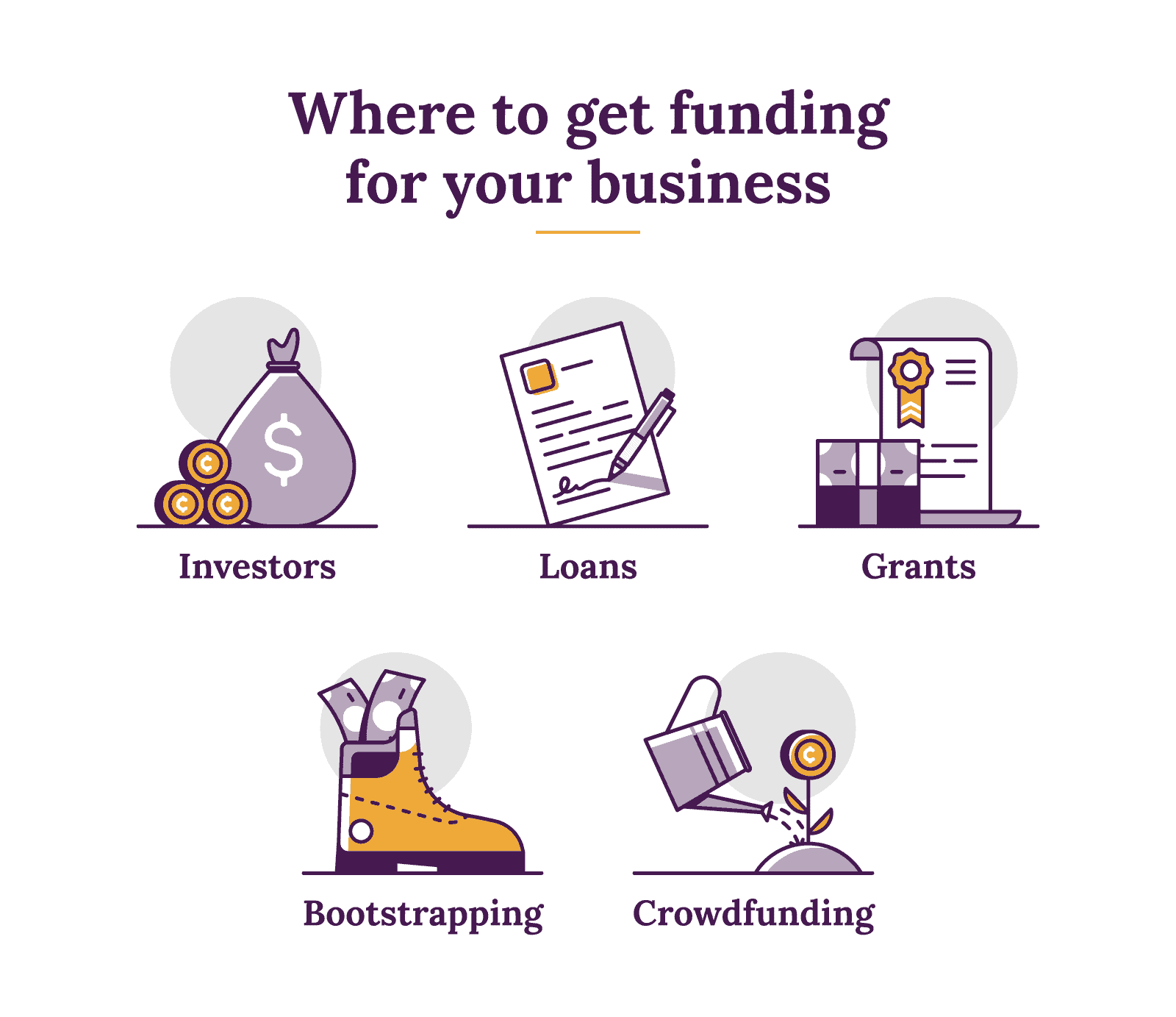 The next step in the process of creating your own business is securing funding.
Once you've found your business location, you'll likely have to pay rent for it. Budgeting, accounting, and finances are things you want to arrange before you start making payments. Make sure you create a financial business plan for how your money will be spent.
Brian Robben founded his own media company and offers the following advice when it comes to managing finances at the beginning of your venture: "Be as lean as possible. The goal here is to have a profitable business, not to look impressive in front of your peers. Right now, focus on your offer and selling it to customers." Luckily, there are plenty of ways to fund your company.
Bootstrapping
Taking advantage of existing resources available to you is called bootstrapping. Money from personal savings or your passive income can be used as funding for your business. Entrepreneurs will typically reinvest their profit back into the business to continue the cycle of growth.
Robben also encourages bootstrapping as a method of funding. He says that "getting customers to pay you is the best funding around. There are no additional terms besides fulfilling the work purchased. You use the money from your customers to pay your bills, reinvest in the company and grow."
Small business loans
Obtaining a business loan through a bank or from the U.S. Small Business Administration (SBA) is one option to secure funding for your small business. There are also loans specifically for small businesses, like 7(a) loans, 504 loans, or even microloans for $50,000 or less.
Small business grants
Grants are sums of money that you're given that you don't have to pay back. There are plenty of grants available, however, the competition for them is steep. Your best bet is to look for grants that pertain to your business, like women- or minority-owned small business grants.
Investors
Getting investors to fund your venture is an excellent option to finance your business. They can provide several million dollars, but they often expect to have a role in running your business. Make sure you have a concrete business plan to present to investors so that they see you as a promising investment.
DJ Tech Reviews director Jonathan James founded a successful startup and secured investments that gave him knowledge on the process of starting a new business. He says to ask yourself the following question to see if you have the potential for investors: as a business, are you backable, investible, and credible?
"If you can answer yes to all three then you are in a good place to begin looking for investment," James said. "If you are doubtful over any of these three, ask yourselves why and look into tweaking and refining that area until you are fully backable, investible, and credible." This became his company's daily office mantra, and it helped them achieve their investment goal.
Crowdfunding
Launching a crowdfunding campaign can help you raise smaller sums of money from different individuals or organizations. Many businesses affected by the COVID-19 pandemic set up a crowdfunding campaign to help them cover the costs of surviving the pandemic recession, but this can also help you jumpstart your business.
Rachel Geicke, the founder of the plant-based dessert company Snow Monkey, got her business started through crowdfunding.
"In order to gain pre-launch funding, I launched a Kickstarter campaign to provide both early capital and proof of concept, which was then able to help me secure later rounds of funding for Snow Monkey," she said. "Our crowdfunding campaign was fully funded within 24 hours, presenting clear, compelling data that there was a demand for my product in the marketplace."
5. Choose a business structure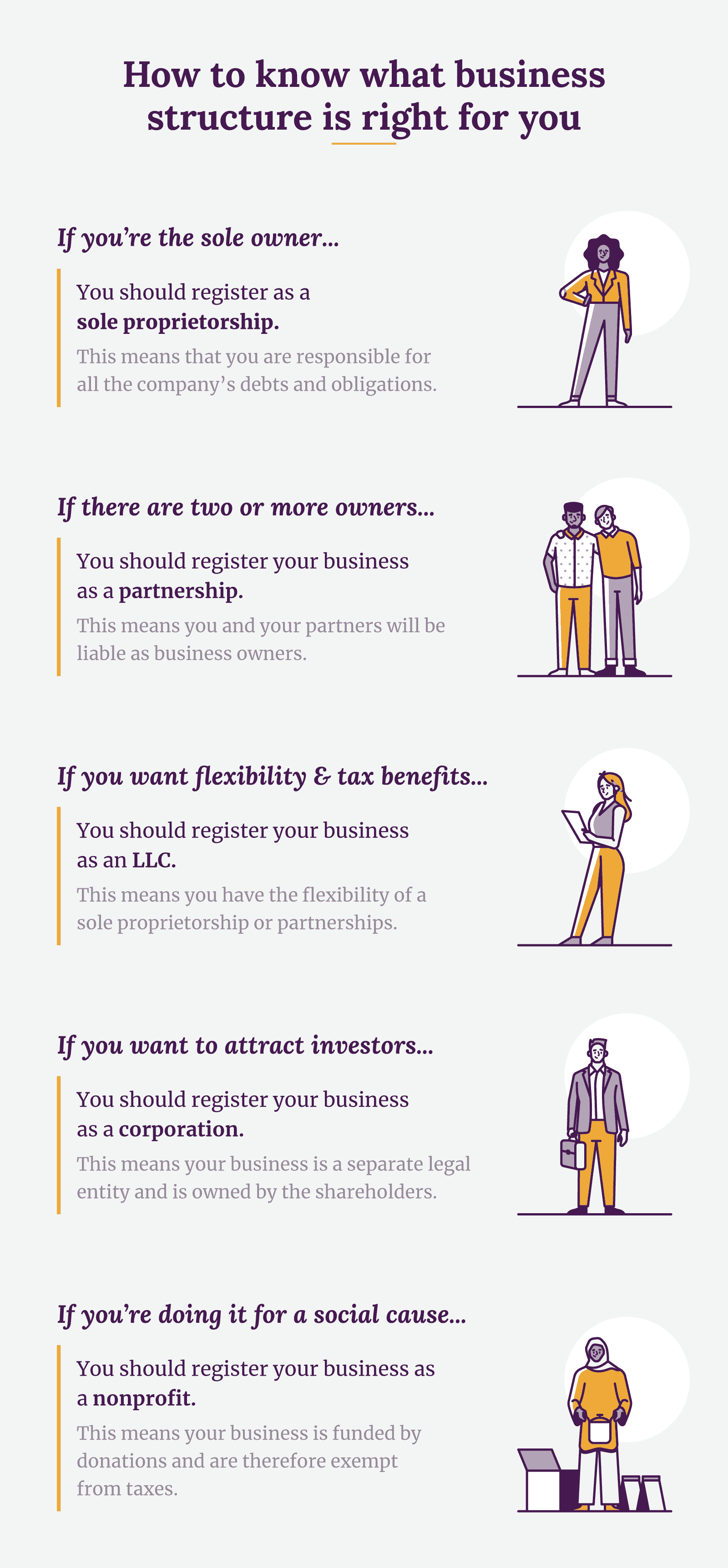 There are several types of legal business structures to choose from when you're legally registering your business. The type of legal structure you choose affects your taxes and personal liability, should your venture not go according to plan.
Below, we've detailed the different kinds of business structures and what management they typically have.
Sole proprietorship
Being the sole owner of your business means that you should register your company as a sole proprietorship, meaning that you plan to be responsible for all debts and obligations. Note that being a sole proprietor directly affects your individual credit.
Most small businesses will often start as sole proprietorships and then change their legal structure as they grow. Some famous companies that started as sole proprietorships include Sears and J.C. Penney.
Partnership
When there are two or more business partners, you'll likely want to register your business as a partnership. This means that you and your partners will be personally liable as the business owners.
Companies like Warner Bros., Hewlett Packard, and McDonald's began as partnerships before becoming household names.
Limited Liability Company (LLC)
An LLC combines corporations' personal asset protection with the flexibility of sole proprietorships or partnerships. An LLC is a popular business structure for small businesses because of its simple maintenance and tax advantages.
Even Apple began as an LLC, as well as Blackberry, Nike, and Pepsi-Cola.
Gadget Review CEO Christen Costa opted for an LLC when he founded his business with Rex Freiberger in 2005. "We chose an LLC because it was the easiest to set up, had the least fees associated with it, and worked with our planned leadership structure," he explained.
Corporations
A business that is considered a separate legal entity is registered as a corporation. Since its shareholders own it, it has stricter regulations than an LLC but is more attractive to investors. Most name-brand companies fall under the category of a corporation; companies like 7-Eleven, ABC, and Adidas are all corporations.
Co-founder and CEO of PatientPartner, George Kramb, recommends not wasting time with other business formations. "Investors won't entertain any other kind of structure."
Nonprofits
Finally, nonprofit organizations are unique because donations fund them as opposed to investors. Instead of being profit-motivated like a business, they usually pick a social cause to dedicate themselves to and are exempt from taxes.
Some successful nonprofits include the American Civil Liberties Union (ACLU), National Public Radio (NPR), and Habitat for Humanity.
6. Register your business
There are several parts of your business that you'll have to legally register before opening up shop. Paperwork like articles of incorporation, doing business as (DBA), employee identification number, income tax forms, licenses, and permits must be filled to legally operate your business and pay federal tax.
Keep reading for a brief overview of these important documents.
Register your business name with the state
Becoming a recognized business entity means that you must register articles of incorporation document with the government. This includes registering your business name, purpose, business structure, and other important details.
For LLCs, you may need an operating agreement. If you don't have an article of incorporation or an operating agreement, you must register a fictitious business name to apply for doing business as (DBA) certificate.
Appoint a registered agent
The person who handles tax and legal documents for your business is referred to as a registered agent required for legal business entities. They are also referred to as a resident or statutory agents. Most states require LLCs, nonprofits, and corporations to have them.
Get an employer identification number (EIN)
After registering your business with the government, you'll need an EIN from the IRS, especially if you want to start hiring employees. If you're starting a sole proprietorship with no employees, you won't need one unless you want to keep personal and business financials separate.
7. Manage your finances
Separating your business and personal finances is the key to protecting your assets like your home, car, and valuables from risk should your business get sued. Below, we've listed some steps you can take to protect your business.
Dan Calahan, the founder of Calahan Bath and Kitchen, noted that managing finances at the start of your business venture is difficult regardless of the industry.
"In my experience, it's best to keep your business accounts separate from any personal financials. This includes paying yourself a set salary. Too many times, I have seen other businesses go under because of pocketing any profit made on a job instead of reinvesting or saving for a rainy day." Calahan speaks to the importance of organized finances from day one, including opening a business bank account and credit card.
Open a business bank account
First and foremost, you should open a business bank account. This type of account separates your personal and business assets, in addition to making accounting and filing taxes easier.
Get a business credit card
Instead of charging expenses to your personal credit cards, it's best to obtain a business credit card so you can build your company's credit history to raise capital for loans.
Do the necessary accounting
Selecting an accounting system to track cash flow will help you in the long run. Co-founder and CEO of PatientPartner, George Kramb, noted that every business owner needs an operating plan.
"Ultimately, you need to know how much money it is going to take for your business to survive, grow and stay true to your plan. Do not buy unnecessary items or marketing gimmicks. You have to stay loyal to your operating budget. In addition, do yourself a favor and keep track of everything. One great tool we used from the start was Brex: they linked directly up to QuickBooks and managed every dollar that came out of our pocket."
8. Purchase business insurance
Protect your business from unforeseen circumstances with the right insurance. Some of the most common types of business insurance to consider are general liability insurance, workers' compensation insurance, and professional liability insurance.
Small businesses like home-based, consulting, and accounting companies should purchase a general liability insurance policy. Workers' compensation requirements vary depending on the state and the number of employees you have.
9. Obtain required business permits and licenses
When you register your business with the government, several operating licenses give you legal permission to start selling a product or service. Some of the most common business permits and licenses include business operating licenses, DBA permits, planning or zoning permits, and home occupation permits.
We've listed some of the most common licenses entrepreneurs must obtain.
General business licenses
Professional and trade licenses
Home occupation permit
Health and safety permit
Sign permit
Construction permits
Sale tax permit
Certain industries require more licensing, such as childcare, beauty salons and spas, construction, healthcare, and many more. Make sure you have all the necessary licenses and permits before you start doing business.
10. Build your team
Once the foundation of your business is established, you're ready to start building your team. Before you start networking, consider what positions you need and how much you can pay employees for their work.
Make sure to present potential employees with their responsibilities before their application. However, if you don't need full-time employees, consider hiring independent contractors.
Streamline the hiring process
When you share a job posting online, you'll likely get many interested applicants. Be sure to educate them on the company vision, goals, and values to make sure it's the right fit. It also helps to have a concrete hiring process to have a script and process to follow.
Find the right software
Managing employees includes organizing schedules, adhering to labor laws, and taking their personal lives into account. You can streamline the onboarding, payroll, and time tracking process with comprehensive software. This way, you can avoid time theft and make sure everyone is on the same page.
Common software small business owners swear by including Intuit's QuickBooks for accounting, Trello for project management, and Workday for human resources.
Cultivate company culture
Although it may still be the early days of your venture, company culture is still valuable. It ensures that your employees are productive and stay loyal to the business. You can even offer incentives like mental health days or bonuses to increase engagement.
11. Brand and promote your business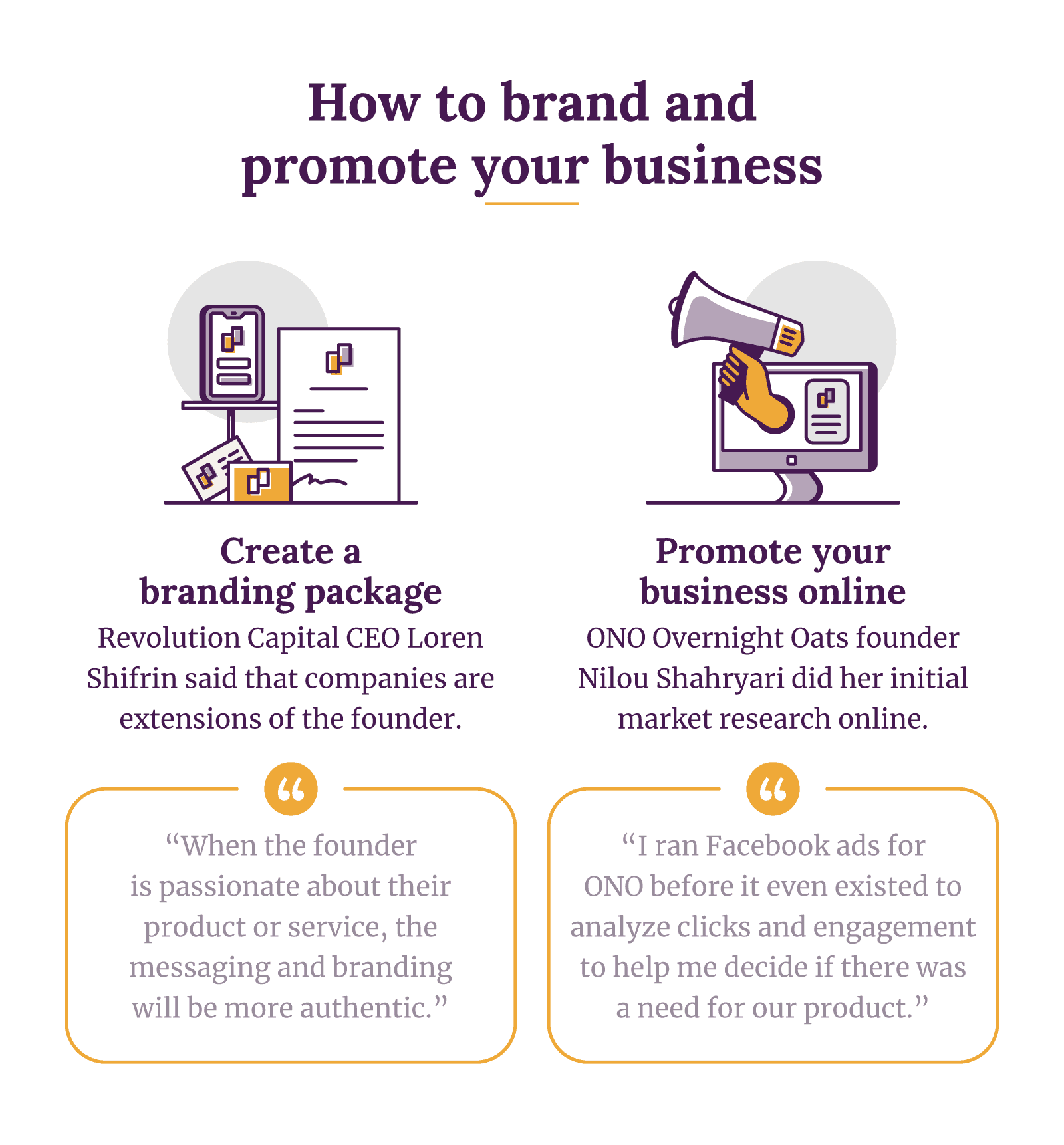 Now that you have all the necessary business components, it's time to spread the word. Creating a brand voice through your logo, website, and business cards will create a visual that clients associate with your company.
Marketing and advertising are the keys to obtaining loyal customers.
Outline a branding package
The first step to creating a marketing plan is to make a branding package. This includes a logo, brand guidelines, and other important information like the fonts and colors you use. Then, it's up to you to decide what marketing channels you want to use to spread the word.
You can also outsource your marketing efforts to a consultant or agency.
Create an online presence
Once you have promotional materials, you can put them to good use to create an online presence.
Building a website is arguably the most important part of your business because it gives customers all the information they may need. You can later set up social media accounts, text alerts, and email marketing campaigns with regular content.
Commonly asked questions (FAQ)
We sourced answers from small business owners and entrepreneurs to find the answers to the most frequently asked questions about starting your own business.
Keep reading for some insight that shines a light on important tips and industry advice from the experts themselves.
Wrapping up: Ensure your business is a success
It's important to note that when you do start your business, there's no going back. Make sure that you're 100% committed to this endeavor. Box Out Marketing CEO Tyler Garns founded his company with this principle in mind.
"Having your own business is accompanied by more enormous responsibilities, and if you aren't prepared for it, you better think twice," Garns said. "There is no way to go back when you start unless you want to waste your invested hard-earned money."
According to Garns, this is where having a passion comes in handy. "If you love what you do, you will not give up easily. Being tired will not be in your vocabulary, and you will continuously strive hard to make your company grow because it is your most significant achievement and your first love."
As long as you've done the groundwork and established the foundation of your company, you're on track to sustain a successful small business that will grow over time. Patience is a virtue, so be sure to stay consistent with your efforts, and success will be in your future.
To reiterate all the steps on starting your own business, we've created a detailed visual to go along with this guide.


Last updated:
May 2023
Start your LLC the easy way
Forming your LLC is a checkbox that needs to be ticked. Easy, fast and worry-free. We reviewed the 13 most popular LLC formation services to figure out who truly understands what new founders need. Our recommendation:
LLC Formation: $39 + state fees
Pricing:
Turnaround Time:
Help & Support:
Customer Satisfaction:
Ease of use:
Best LLC Service 2022

Formed 1,000,000+ LLCs
$39 formation includes registered agent service
Fast formation & same day filing
Exceptional customer reviews

Last updated:
May 2023