Amazon has become an inextricable part of our daily lives.
In June 2019, there were an estimated 105 million Amazon Prime members in the United States alone.
It means that 32% of the entire US population had a Prime subscription and regularly shopped at this marketplace. It's safe to assume that this number is even higher today.
Meanwhile, entrepreneurs are flocking to Amazon to sell their products, which is understandable given that 85% of Amazon sellers are profitable.
So if you too are wondering how to start an Amazon business and what it takes to scale it, we have a primer for you.
Ready to get your piece of the Amazon pie?
Let's bite in!
Table of contents
---

Last updated:
Mar 2023
Start your LLC the easy way
Forming your LLC is a checkbox that needs to be ticked. Easy, fast and worry-free. We reviewed the 13 most popular LLC formation services to figure out who truly understands what new founders need. Our recommendation:
LLC Formation: $39 + state fees
Pricing:
Turnaround Time:
Help & Support:
Customer Satisfaction:
Ease of use:
Best LLC Service 2022

Formed 1,000,000+ LLCs
$39 formation includes registered agent service
Fast formation & same day filing
Exceptional customer reviews

Last updated:
Mar 2023
What is Amazon FBA?
Amazon FBA stands for Fulfilled-by-Amazon — an arrangement where you ship your inventory to an Amazon fulfillment center, and they handle all the subsequent deliveries to your customers.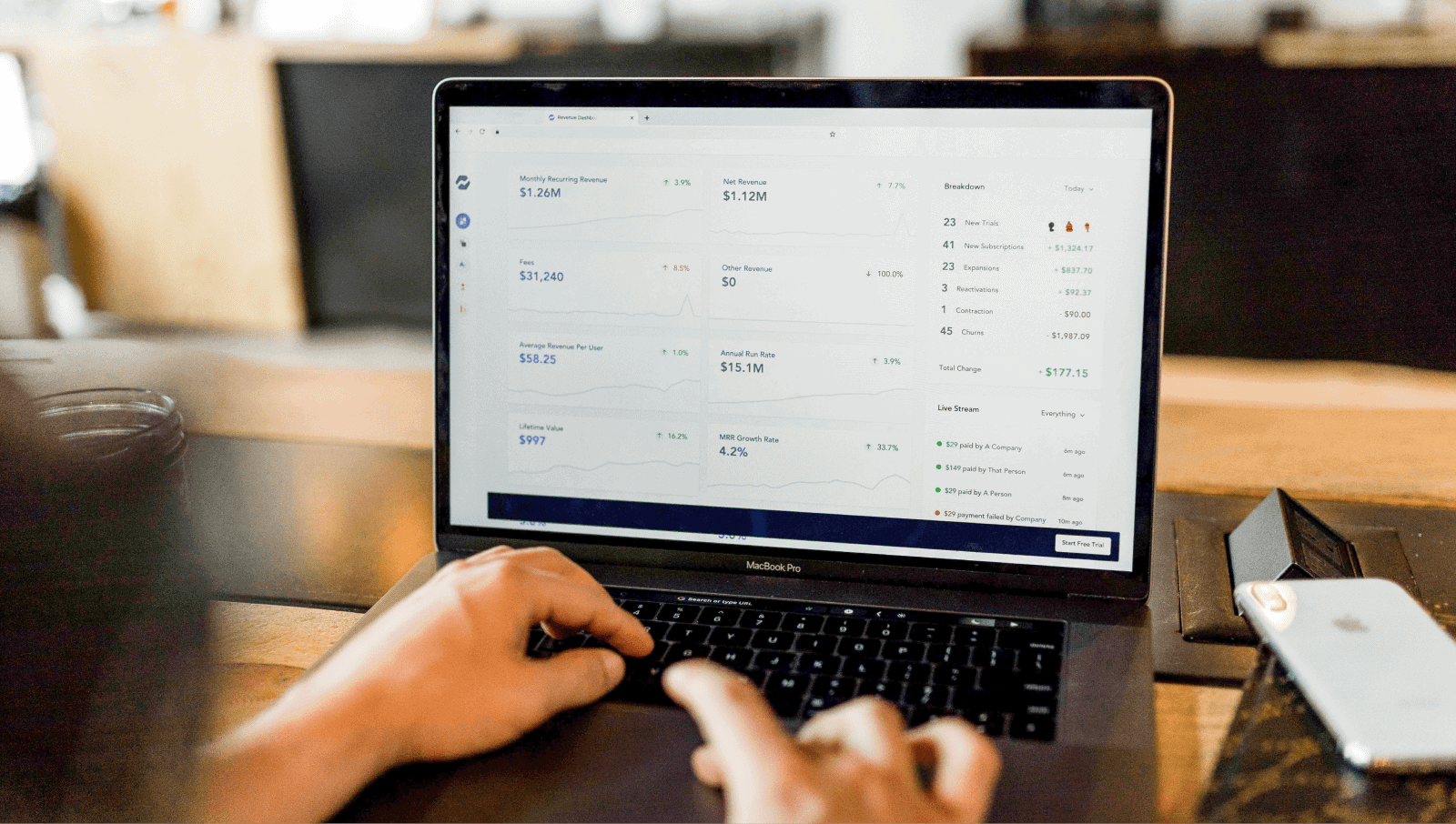 Another way to sell products on Amazon is by using Amazon FBM (Fulfilled-by-Merchant). In this case, you keep the merchandise at a location of your choice and ship them to customers yourself or via a third party.
In
2021
, 57% of Amazon sellers use only FBA, while 34% use a combination of FBA and FBM. Only 9% use FBM only.
The reason sellers prefer Amazon FBA is that the company has one of the most advanced fulfillment networks in the world.
Moreover, by tasking Amazon with the distribution, you eliminate a ton of hassle related to warehousing, inventory management, shipping, handling returns, etc.
We recommend new sellers go the Amazon FBA route, which is why we'll focus on starting an Amazon FBA business in this guide.
How to start an Amazon business: step-by-step
Anyone can start an Amazon business because the entry barrier is very low.
Per Small Business Trends, 80% of sellers have launched their Amazon business with an upfront investment between $500 and $10,000.
That means that you can fund an Amazon FBA venture with personal savings, credit cards, or a business loan. While not necessarily cheap, it's an affordable way to start an online business.
Moreover, with 64% of sellers being profitable their first year (new businesses earn an average of $26,000 in profits in their first year), the odds are in your favor.
So how can you take advantage of this business opportunity?
Step 1: Find products to sell on Amazon
Ensure there's a demand for a new product before investing in inventory. That's what product research is meant to accomplish.
Doing it for the first time? Here are some dead-simple but practical product research tips.
1. Niche down
The broader the product category, the harder it is to compete in it, which is why it's best to niche down to a subcategory where you stand a chance.
For example: Instead of going into the "Toys and Games" category by selling all kinds of toys and games, consider focusing on the "Board Games" subcategory.
2. Look at the bestseller lists
Amazon publishes bestseller lists for product categories and subcategories.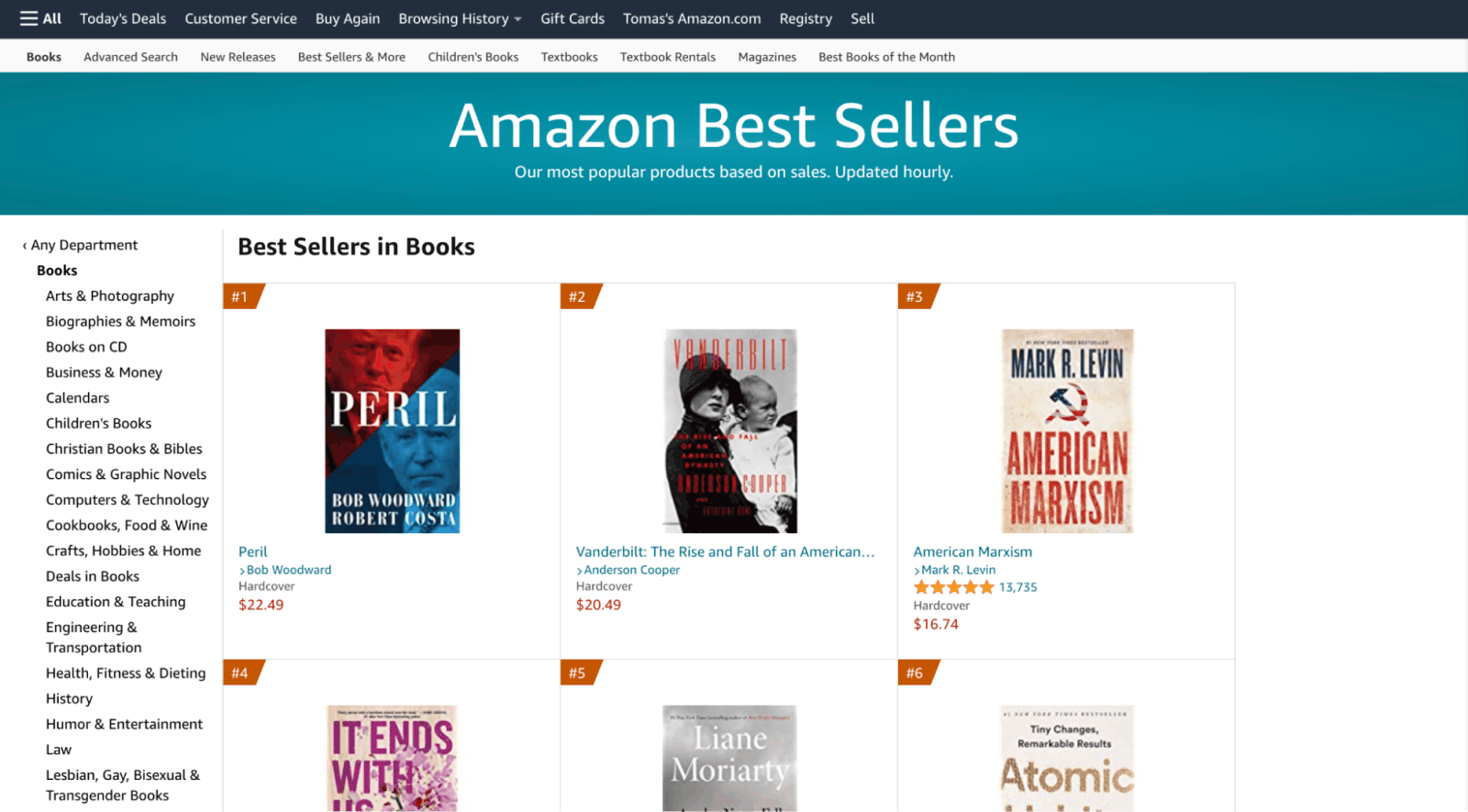 Browsing through those lists can help you understand what resonates with your target audience and identify gaps in the market that you could fill.
3. Read product reviews
Go through the product reviews for the type of products that you're interested in selling.
Ignore both 1-star reviews and 5-star reviews because people who absolutely hate or love something typically use product reviews to express that feeling instead of discussing the pros and cons of the product in question.
Focus on 3-star reviews because that's where you'll find balance takes that are business intelligence goldmines.
See what points come up over and over again. Is there a way to offer a product that has the pros of the competing products but without their cons? That could be your opportunity.
4. Use Google Trends
You can use Google Trends to evaluate the public's interest in a particular topic over time. It's easy-to-do:
Type a relevant keyword into the search box.
Choose a region.
Choose a timeframe.
Run the search.
It will show you a graph that depicts the interest in that keyword in that particular region over that period of time.
Look for niches with a stable level of interest over at least five years. Seasonal fluctuations are okay as long as they're predictable.
For example: The interest in board games in the United States has been stable over the last five years with predictable spikes around Christmas + one unexpected spike in spring 2020, which we can probably ascribe to the pandemic.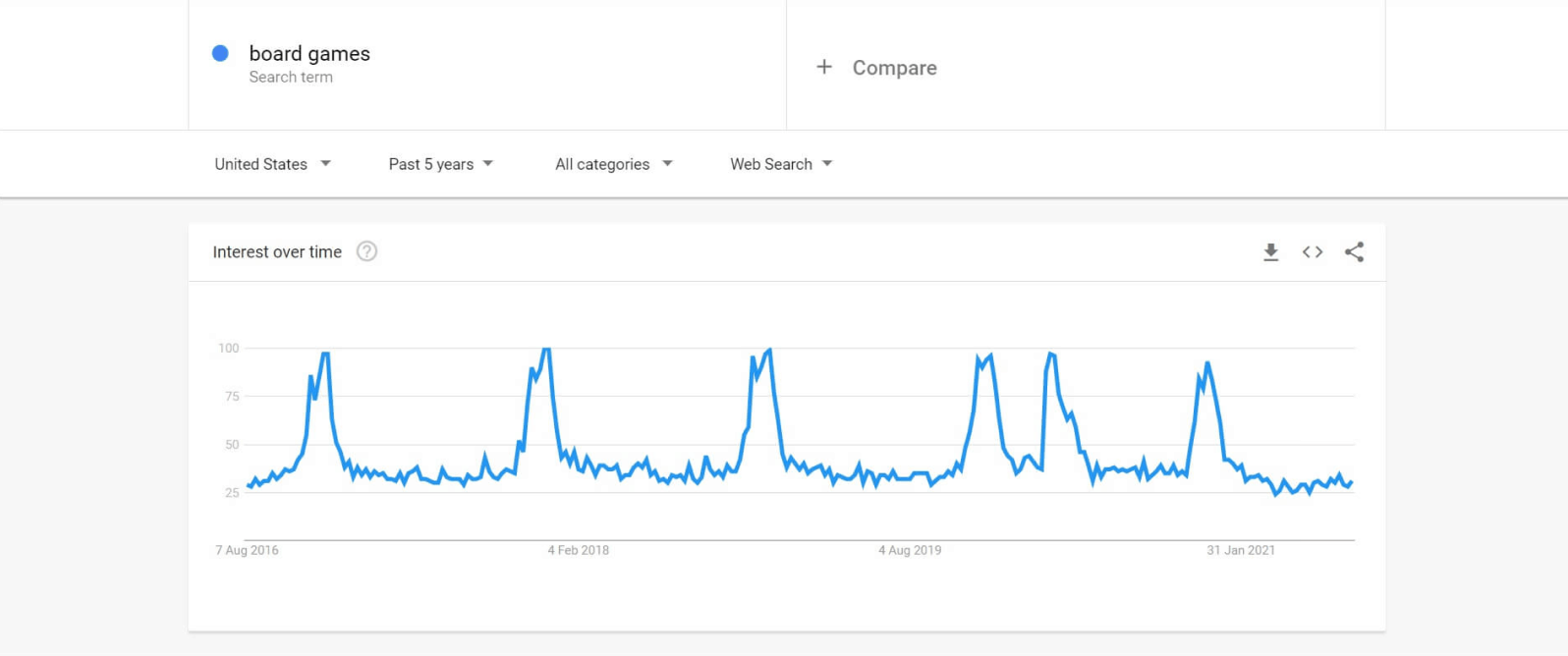 While you can make a ton of money with trending individual products, chasing trends is a risky endeavor that you should approach cautiously. Why?
Because:
You don't know if the trend is here to stay. It might be just a fad.
You don't know where in the trend curve you're at any given moment. Mistiming it might lead to losing money on unsold inventory that no one is interested in anymore.
For example: Remember the fidget spinner craze?
People who spotted that trend early capitalized on it. But they go in and out in time, making a ton of money in a few short months.
However, those who were late to get in and late to get out lost money once the public's interest in these products evaporated.
So while it's okay to keep an eye on trends and experiment with trending products, you should not build an entire eCommerce business on such an unstable foundation.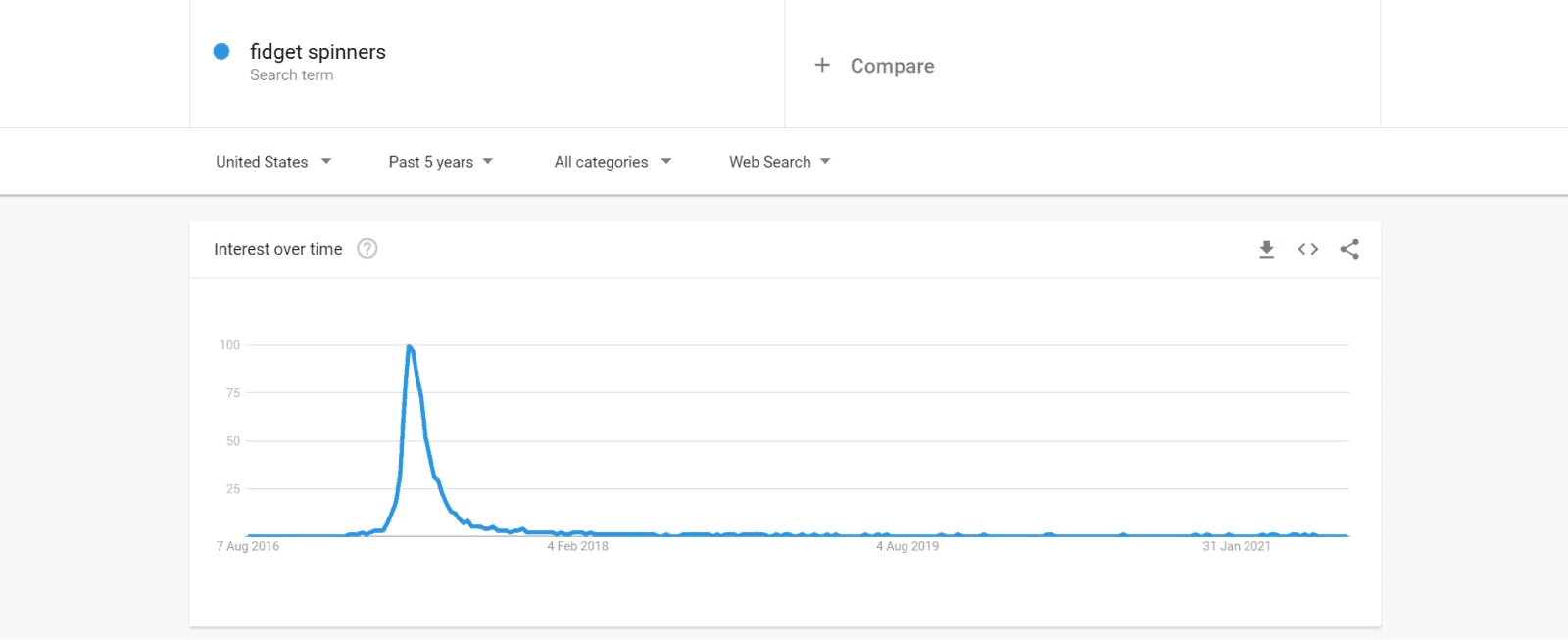 5. Use JungleScout
JungleScout is an app that can help you:
Uncover high-demand, low competition keywords.
Track a product or a group of products to understand its performance over time (seasonality, unexpected spikes in sales, etc.).
Evaluate the business potential of a particular product.
Their most popular plan costs $69/month and comes with a 7-day money-back guarantee. It's undoubtedly worth the investment if you're serious about building an Amazon business.

What are the best products to sell on Amazon?
Popular categories that you might want to consider include:
Clothing, shoes, and jewelry.
Camera and photo products.
Electronics.
Video games.
Books.
Overall, it's best to focus on products that are small, light, and durable. Doing so helps maintain low shipping costs and minimize the risk of products breaking en route to the customers.
Step 2: Decide on your product sourcing strategy
One of the most critical factors that affect your profit margin is product sourcing.
The three most popular product sourcing strategies are:
Dropshipping.
Buying from wholesalers.
Manufacturing your own products.
Let's take a closer look at each option.
Dropshipping
Dropshipping is an ecommerce business model where the seller doesn't carry any inventory.
Here's how it works:
You list a product on Amazon.
The customer buys that product.
The supplier ships the product to the customer.
Keep in mind that you're still the seller of record who assumes the responsibility associated with selling on Amazon.
Note that Amazon only allows dropshipping if you:
Make it clear to the customer that you're the seller of record.
Ensure that packaging, invoices, and external packaging only feature your brand name and contact information (no supplier info).
Accept responsibility for processing returns.
It makes dropshipping via Amazon more complicated than dropshipping via your own store because you need to agree with the supplier that they will identify you and no one else on invoices, slips, external packaging, etc.
Pros
No upfront inventory spending.
Done-for-you warehousing, packaging, and shipping.
A great option for diversifying your product stock.
Cons
You have to rely on the supplier for product quality control.
Other sellers may carry the same products on Amazon.
The above may lead to a race-to-the-bottom scenario where you compete with those other sellers on price.
Buying from wholesalers
Another option is to buy products in bulk from wholesalers, then sell them under your private label.
You can find wholesalers through C2C websites like Alibaba, Taobao, or B2B online marketplaces such as Faire or Tundra. Or by researching local suppliers.
This approach provides opportunities for arbitrage if you can source products in a country where they're cheap and then sell them on Amazon with a substantial markup.
Pros
Less competition, especially if you can locate wholesalers others are not using.
It's possible to examine the products before placing a bulk order, which allows for better quality control than dropshipping.
You can use Amazon FBA to fulfill the orders.
Cons
Upfront inventory investment increases financial risks.
Wholesaler research and order negotiation takes time and effort.
Larger wholesalers may impose unfeasible minimal order quantity (MOQ) for a startup business.
Manufacturing
Finally, if you have a unique product idea, you might want to consider working with a manufacturer to produce the first product batch.
This route is the riskiest one because even the minimum order quantity will likely cost a substantial amount of money.
You might want to look into crowdfunding if you want to reduce the financial risk.
That being said, this option is also potentially the most lucrative one because a unique product means that there will be less competition (at least until the copycats come out of the woodwork).
Pros
The least competition.
You can dominate the market with a unique product.
Much easier to create a distinctive brand and stand apart from other Amazon sellers.
Cons
You need to invest a substantial amount of money upfront, which drastically increases the financial risk.
Product design, material sourcing, and manufacturer research extend the business launch timeline.
You need to be prepared to protect your IP rights if your product succeeds. It might involve getting a patent, working with lawyers, etc.
What cannot be sold on Amazon?
Amazon has an extensive list of restricted products.
Here are just a few examples of prohibited items:
Alcoholic beverages (pre-approved wine sellers are exempt).
Certain drugs and controlled substances.
Coin-operated slot machines.
Lottery tickets.
Unauthorized copies or reproductions of artwork that violate any copyright or trademark.
Anthropological or archeological art (e.g., Navajo blankets).
Gold or silver jewelry that's not stamped in compliance with applicable laws.
Lock-picking or locksmithing devices except for blank keys.
You should check the full list of restricted products in your category before investing in inventory because some unexpected items are not allowed on Amazon (e.g., the aforementioned Navajo blankets).
Step 3: Register an Amazon seller account
To start selling on Amazon, you need to create a seller account.
You can either use your personal Amazon account for that or create a brand new account for your ecommerce business.
What are the requirements to be a seller on Amazon?
You'll need to provide the following to create an Amazon seller account:
Business email address or Amazon customer account.
Chargeable credit card.
Government ID.
Tax information.
Phone number.
A bank account where Amazon can send you proceeds from your sales.
How much does it cost to be an Amazon seller?
Amazon has two pricing plans:
1. Individual
You'll be charged $0.99 for every item sold + additional fees. This plan makes the most sense for new sellers that are still experimenting with product ideas and don't expect to sell more than 40 units per month.
2. Professional
You'll be charged a flat fee of $39.99/month + additional fees. This plan makes the most sense for sellers that have already found their footing and expect to sell more than 40 units per month.
Do you need a company to sell on Amazon?
You can sell on Amazon as a sole proprietor. There's no explicit requirement for being incorporated or having a tax ID.
However, as a sole proprietor, you're personally responsible for the liabilities of your Amazon business, which puts your personal assets at risk should anything go wrong.
That's why we recommend forming a limited liability company (LLC).
That way, the LLC itself will be responsible for the liabilities of your business, so your personal assets will be protected in case of a customer dispute and subsequent legal action.
Step 4: Set up and organize your store
You don't want to be just another one of the myriad sellers on Amazon.
Instead, you want to create a brand that's memorable and resonates with your target audience.
You can do that by using a functionality called Stores that allows you to set up a brand page that serves as your virtual storefront on Amazon.
Its features include a drag-and-drop store editor, pre-designed store templates, and basic store analytics. Plus, you can get an Amazon web address (e.g.amazon.com/brandname).
Once you're done with that, focus on creating and optimizing your product listings (product pages):
Add relevant keywords to the product title and product description.
Provide all the necessary information in your product description. Use bullet points to format for readability.
Use a high-quality photo as the main product image. Then upload several supplementary images demonstrating the product from different angles. Include a short product video if you have the budget.
Try to put yourself in the shoes of your ideal customers and evaluate your product pages from their perspectives.
If you were looking for that type of product, would this product page provide all the information you need to make a purchasing decision?
If there's a nod, you're good to go! Otherwise, think about punching up your copy or images to optimize conversion rates.
Step 5: Get prepared to fulfill and ship orders
Amazon has two fulfillment models:
FBA – fulfilled by Amazon
FBM – fulfilled by merchant
As mentioned previously, 91% of Amazon sellers use Amazon FBA, either relying on it exclusively or combining it with Amazon FBM.
The vast majority of sellers choose this option because outsourcing fulfillment to Amazon simplifies the logistics of running an ecommerce business. Amazon handles:
Warehousing
Packaging
Shipping
Returns
Customer service
Moreover, selling via Amazon FBA means that your products are eligible for Amazon Prime free 2-day shipping.
And how much does it all cost?
The Amazon FBA fee is a flat fee per unit that depends on the weight and size of the product and is charged when the order is shipped to the customer.
For example, a fee for a small standard apparel item that weighs 6 ounces or less is $3.
You might want to check out Amazon's FBA fulfillment fee guidelines to learn more.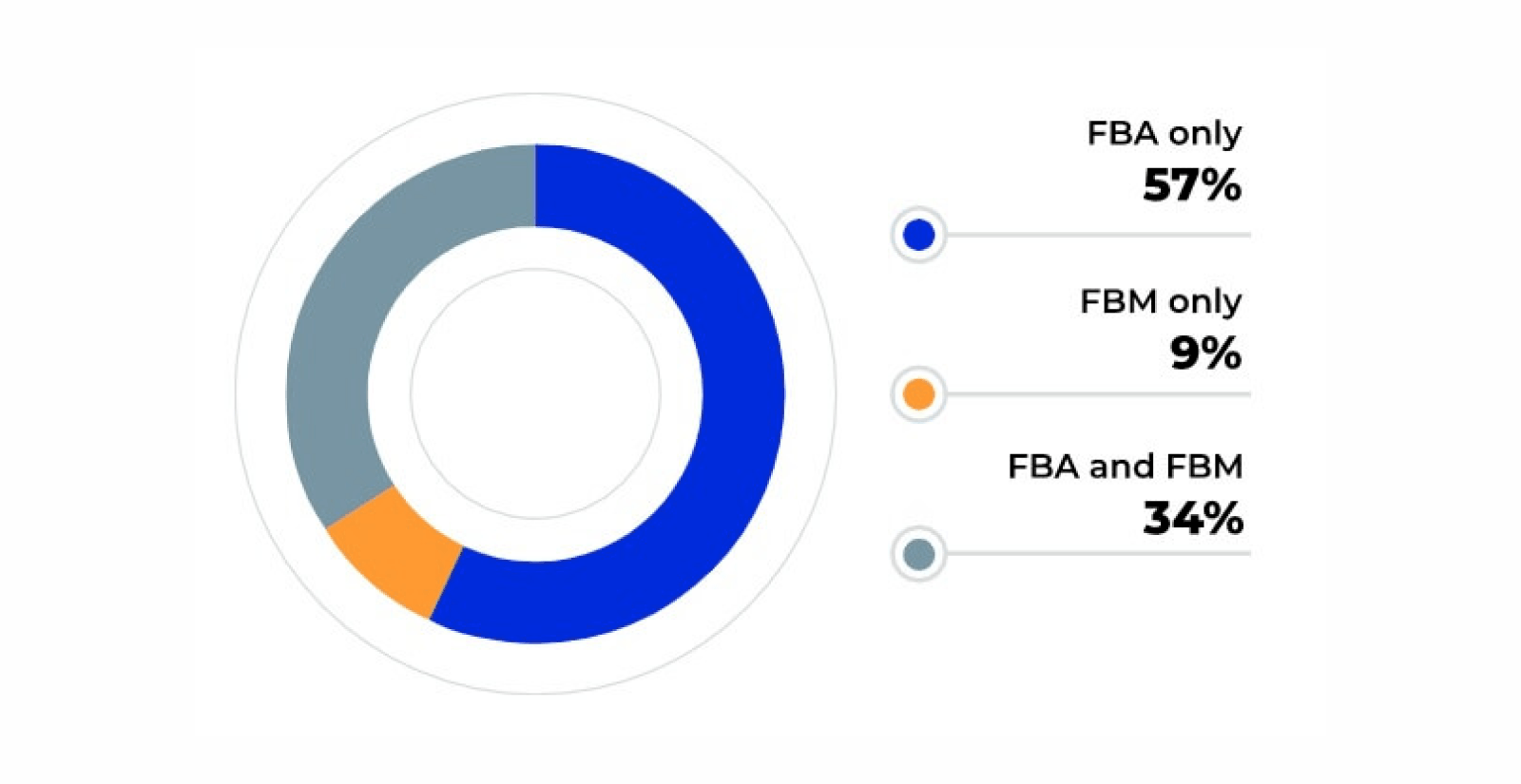 Step 6: Market and grow your Amazon business
Want to become a professional seller and build a six-figure Amazon business?
Then you need to figure out how to market your products like a champ.
Here are a few ideas:
Pay-per-click (PPC) advertising. Use Amazon, Facebook, and Instagram ads to promote your products on these platforms.
Influencer marketing. Partner up with social media influencers to put your products in front of their audiences.
Search engine optimization (SEO). Use SEO to build a popular blog in your niche, then use that blog to drive traffic to your Amazon business. Likewise, don't forget to incorporate relevant keywords into your product listing for higher search visibility.
There's no one-size-fits-all approach to marketing an Amazon business. So be prepared to experiment with various tactics until you find what works best for you.
Then, once you get the hang of selling on Amazon, you should:
Create your own ecommerce website to retain more control over branding and marketing.
Expand to other platforms such as Walmart, eBay, Etsy, etc.
Partner with retailers to put your products in brick-and-mortar retail stores.
Last year, 21% of Amazon sellers said they were planning to launch their ecommerce stores, and 32% shared that they intended to expand to other ecommerce platforms in 2021.
Remember that no matter how successful your Amazon business becomes, it's not wise to put all your eggs in one basket.
You never know what the future holds, so it makes sense to diversify your revenue streams.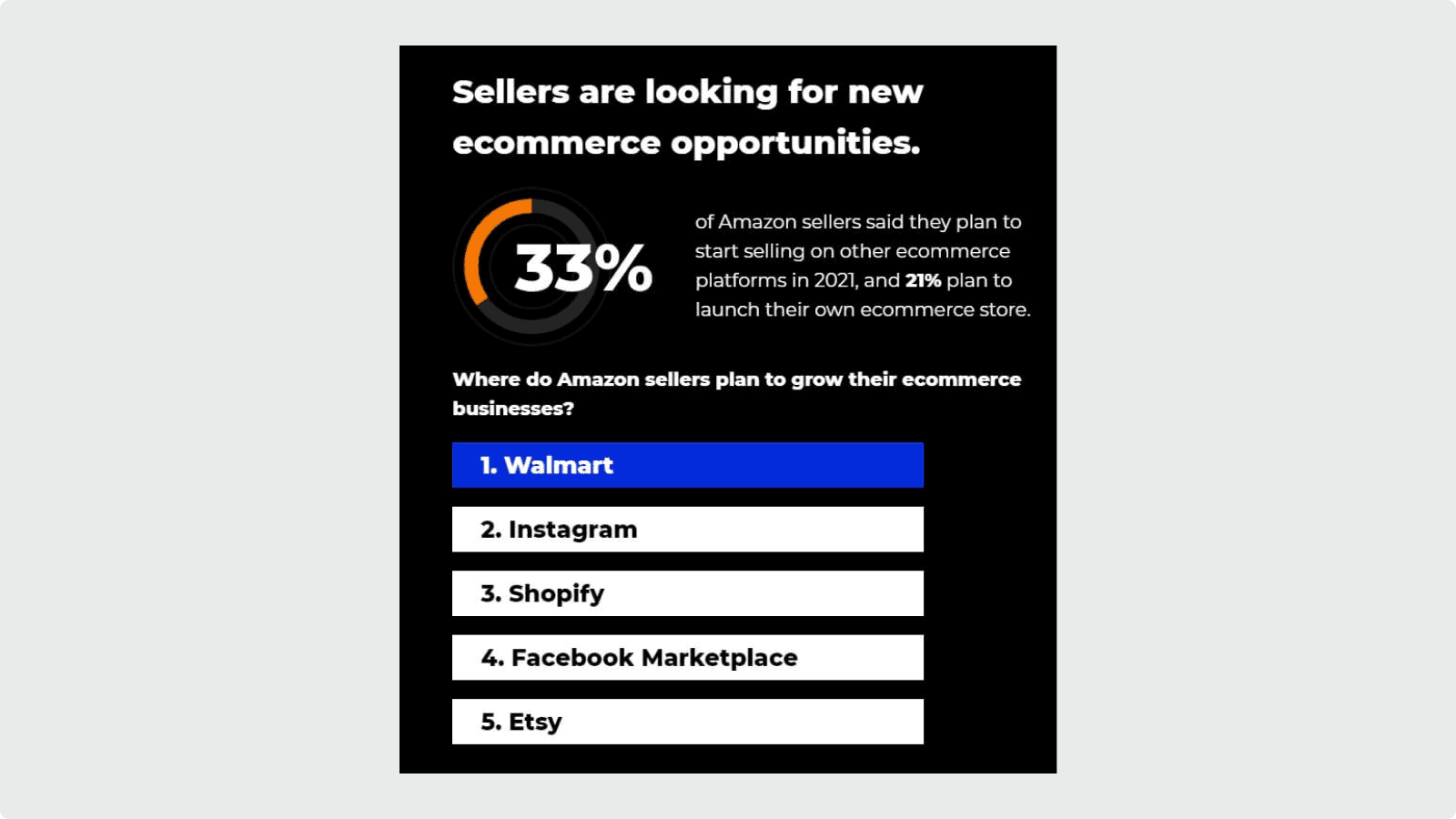 FAQs about starting an Amazon business
Here are the answers to some of the most frequently asked questions about starting an Amazon business.

Last updated:
Mar 2023
Start your LLC the easy way
Forming your LLC is a checkbox that needs to be ticked. Easy, fast and worry-free. We reviewed the 13 most popular LLC formation services to figure out who truly understands what new founders need. Our recommendation:
LLC Formation: $39 + state fees
Pricing:
Turnaround Time:
Help & Support:
Customer Satisfaction:
Ease of use:
Best LLC Service 2022

Formed 1,000,000+ LLCs
$39 formation includes registered agent service
Fast formation & same day filing
Exceptional customer reviews

Last updated:
Mar 2023