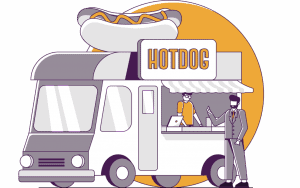 Do you love food?
Have you always wanted to open a restaurant but found the startup costs prohibitive?
Then starting a food truck business can be a great way to get your foot in the door of the foodservice industry.
This type of "moveable" business lets you enjoy food preparation without the risks and costs of opening up a brick-and-mortar restaurant business.
By the end of this guide, you'll learn how to start a food truck business in 2021 and scale it to success.
We cover everything you need to know:
Table of contents
---
So let's get into it!

Last updated:
Mar 2023
Start your LLC the easy way
Forming your LLC is a checkbox that needs to be ticked. Easy, fast and worry-free. We reviewed the 13 most popular LLC formation services to figure out who truly understands what new founders need. Our recommendation:
LLC Formation: $39 + state fees
Pricing:
Turnaround Time:
Help & Support:
Customer Satisfaction:
Ease of use:
Best LLC Service 2022

Formed 1,000,000+ LLCs
$39 formation includes registered agent service
Fast formation & same day filing
Exceptional customer reviews

Last updated:
Mar 2023
The pros and cons of starting a food truck business
If you haven't worked in the food truck before, it's easy to romanticize the "van life."
But you need to understand that running a food truck business isn't the same as cooking during a camp trip or being a line cook in a diner.
Understanding what you are getting into is the key to success.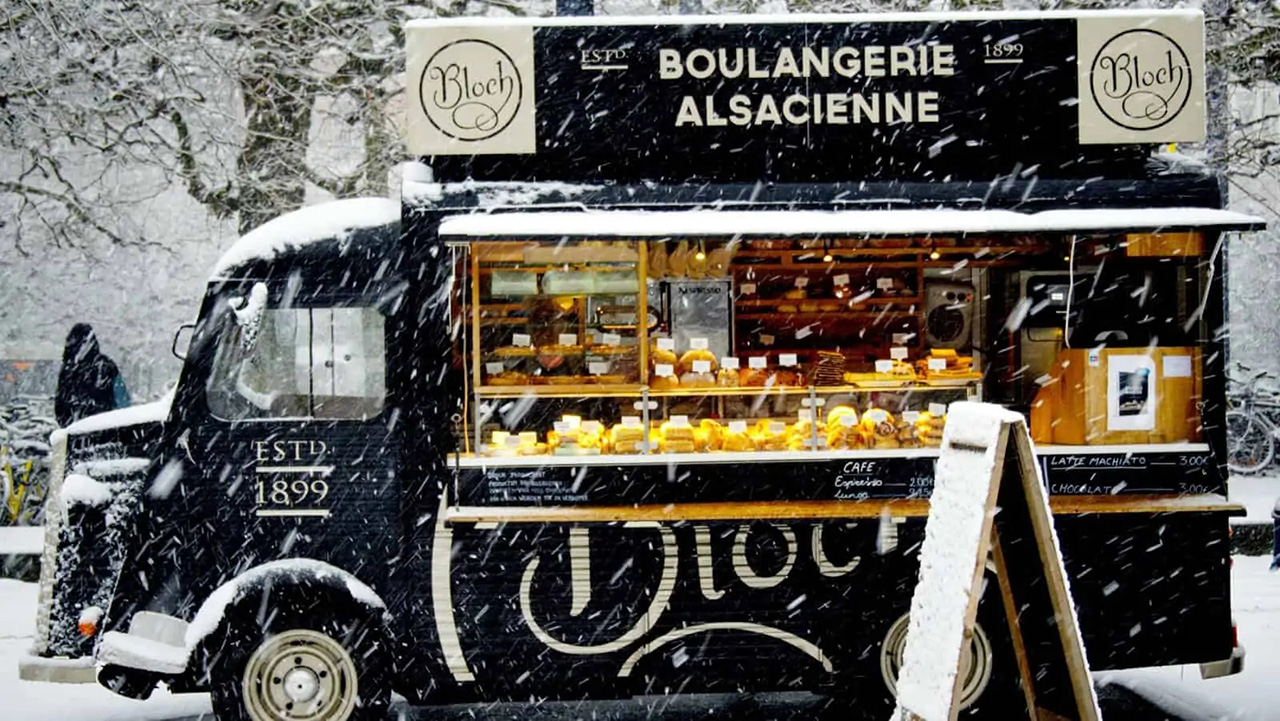 So what are the pros and cons of starting your own food truck business?
Pros
Startup costs. The amount of capital required is substantial, but it is far less than what is necessary for starting a restaurant.
Mobility. Owning a mobile food business allows you to operate from anywhere. Not enough foot traffic? Just drive somewhere else.
Flexibility. As a food truck business owner, you get to set your work hours, create your menu, and choose the locations to do business in.
Cons
Legal hurdles. In addition to meeting the usual legal requirements for starting a small business, you will also need to pass health and safety inspections, obtain a zoning permit, etc. The process can be daunting.
Long workweeks. Food truck owners often work 60+ hours a week, especially when they are just starting. It's more than a full-time job.
Competition. When people have so many other food options to choose from, it can be hard to build a customer base.
Okay, so now that you have a realistic understanding of the advantages and disadvantages of this business model, let's talk about how to start a food truck business.
1. Analyze the legal requirements for starting a food truck business
Owners of food trucks must follow a surprising number of rules and regulations.
Moreover, these requirements vary not only from state to state but also from city to city, so it's essential to do your research.
Zoning rules
You can't just park your food truck wherever you want and start selling food. Each city has its own zoning rules that you need to follow.
Contact your city council to get more information on where you can park and serve food.
Business permits
There are also various legal documents that you will need to obtain.
These include:
Doing business as (DBA) license, required for sole proprietors if the name of your business is anything other than your legal name.
Business license obtained from the local authority.
Foodservice permits that you need to serve food to customers legally.
Vehicle permits that you need to run a mobile business legally.
Food safety inspection approval that you need to run a food service business.
Employer Identification Number (EIN) that you need to hire employees legally.
You should contact your state government, city council, and the local health department to learn about the paperwork required to start a food truck business in your area.
2. Create a business plan
Any new business needs a solid business plan.
Unless you're using it to win over potential investors, it doesn't have to be formal. What matters is that you think things through.
Here's what a food truck business plan should cover:
Startup costs. How much money will you need to get your food truck business up and running?
Funding. Where will you get that starting capital?
Market analysis. What is the local food truck scene like? Are there any gaps in the market that you can exploit? Who is your target audience? Who are your main competitors?
Marketing. How will you promote your food truck business and build a customer base?
Financial projections. How much revenue do you expect to generate in your first year? What percentage of that do you estimate to be net profit? How do you foresee your revenue growth for the first five years?
3. Calculate startups costs
Food truck startup costs range from around $40,000 on the low end to $200,000 on the high-end.
To get at your number, take into account the following expenses:
The truck. You can find a used truck for around $5,000 on websites like Craigslist. Meanwhile, prices for new food trucks start at approximately $50,000, with custom ones costing as much as $100,000+.
The equipment. You'll need to install a mobile kitchen, sink, and some cooking surface in your truck unless it's already well-furnished. You may need another couple hundred dollars for this.
Point-of-Sale (POS) system. Most customers prefer to pay with debit or credit cards over cash. Thus, invest in a mobile POS system to effectively process such payments.
Insurance. You will need commercial vehicle insurance, property insurance, and liability insurance. You might also need workers comp insurance if you plan to have employees.
Fuel. A mobile business such as a food truck has an ongoing need for fuel.
Parking costs. Parking isn't free, especially in busy areas, so you need to take those costs into account as well.
Initial supplies. To prepare the food on your menu, you will need to buy ingredients. Then replenish the stock once in a while.
Paper dishware. Disposable plates and cups may not seem like a big deal, but those costs add up when serving 100+ customers per day.
Employees. If you want to have employees right from the get-go, keep in mind that their salaries will drastically increase your startup costs.
Here's a helpful chart from Mobile Cuisine that shows the estimates for food truck business startup costs at three budget levels: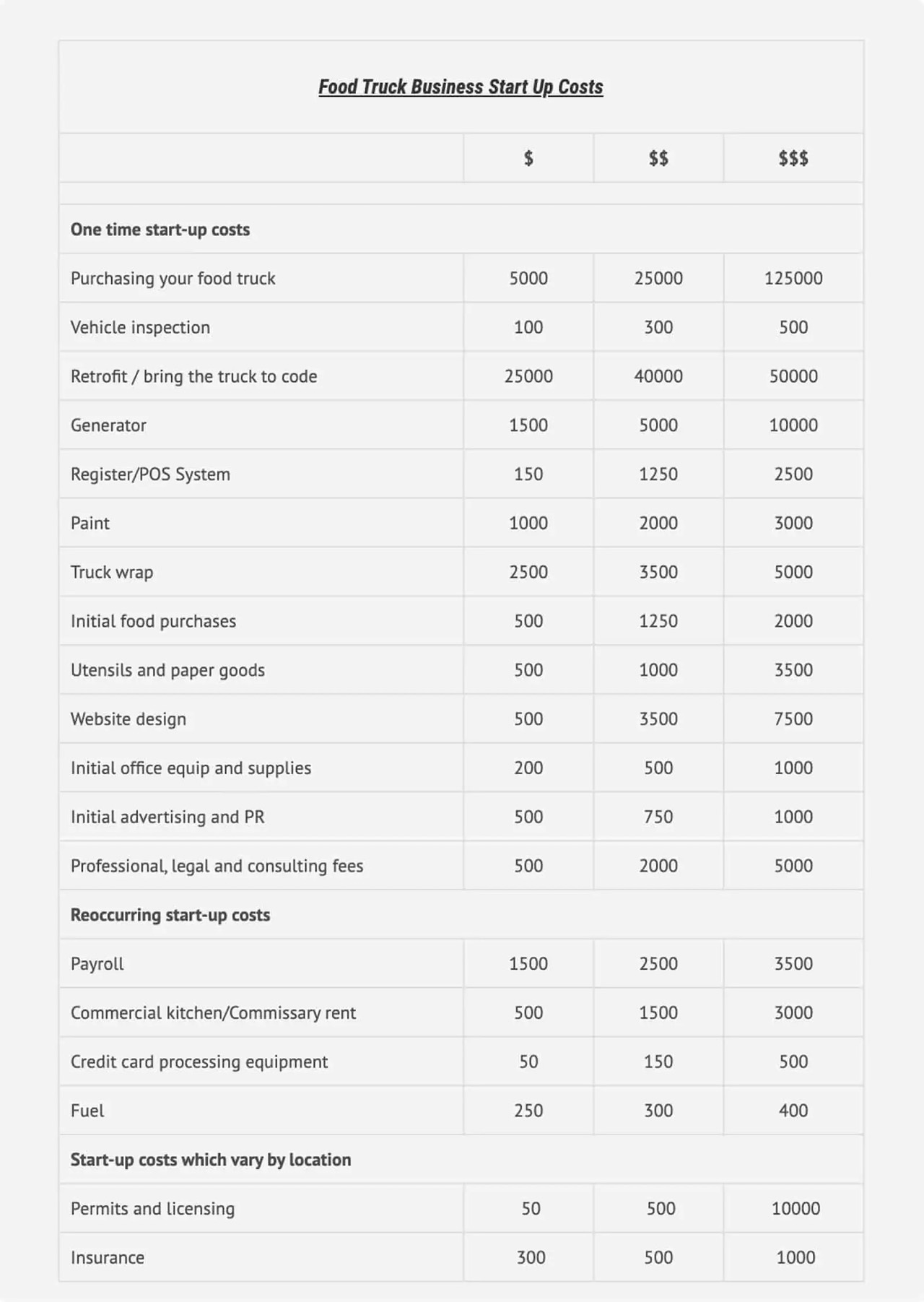 Financing options for food truck businesses
Don't have enough savings to pay for all the food truck stuff out of pocket?
Explore various business financing options:
Crowdfunding. You can run a crowdfunding campaign on platforms like Kickstarter.
Credit cards. It may be possible for you to finance your new venture with your credit cards. Small business owners often resort to this when they can't get the capital they need any other way.
Business loans. Have a solid credit score? Then you might be able to get a business credit card or loan from a bank or other lenders.
4. Purchase and equip your truck
You have the capital that you need to get started. How do you go about buying a truck and equipping it for business?
How much does a food truck cost?
You can buy a used food truck for as little as $5,000 on websites like Craigslist. Meanwhile, a new food truck will set you back at least $50,000, with custom ones costing north of $100,000.
There's also the option of leasing a food truck instead of buying it, which decreases the upfront investment required to operate in the food truck industry. So do some comparison shopping!
Where to buy a food truck?
Craiglist is the go-to option for buying a used food truck, but there are also specialized websites such as Roaming Hunger and Food Truck Empire.
Alternatively, you can buy a new food truck from companies like Trailer Factory and Prestige Food Trucks.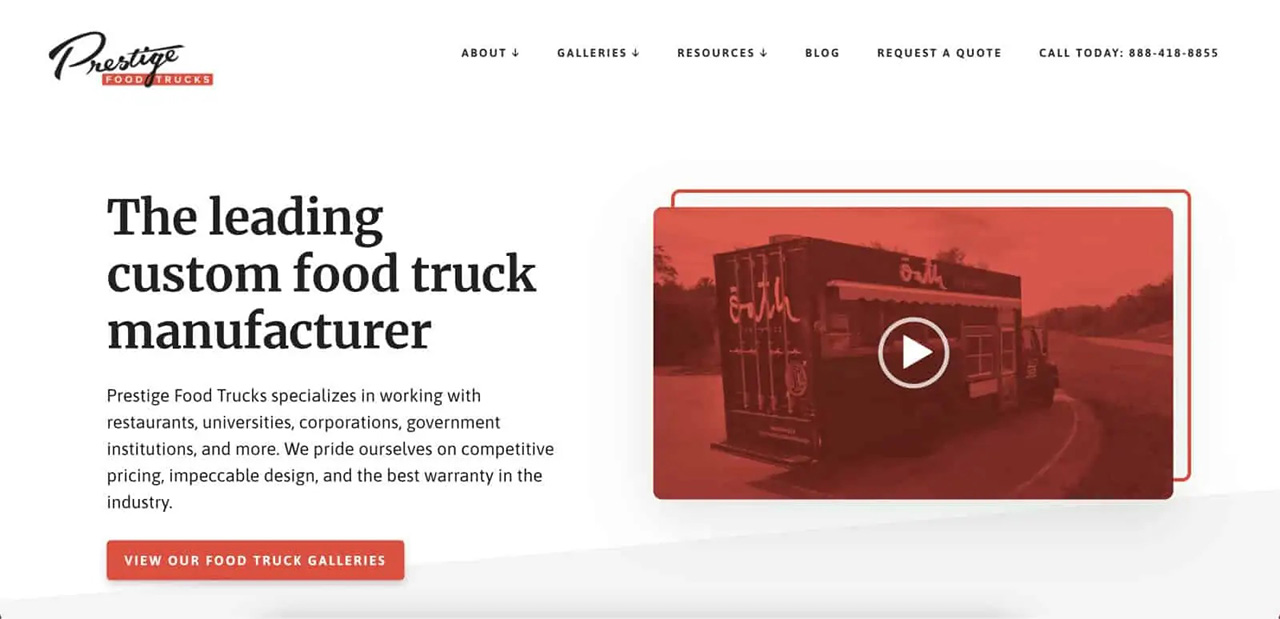 Determine if you need a commissary
Some states require food truck operators to have access to a commissary.
A commissary is a home base for your food truck. It's the place where you park it when it's not in operation, where you clean it, and where you store and prepare food.
The most straightforward commissary option is a shared-use commercial kitchen that serves several catering businesses.
In addition to commissaries, you might want to consider private commercial kitchens and restaurant kitchens.
Equipment for a food truck
Not all food trucks are made equal. Some have barely any furnishings. Meanwhile, others come fully stuffed with cooking surfaces, grills, ovens, and other kitchenware.
Generally, the less you pay for the food truck, the more you can expect to spend on equipping it.
Here's some of the equipment that you will need:
Storage equipment for keeping the ingredients.
Cooking equipment for preparing the meals on your menu.
Dishware and utensils for handling the food.
Washing equipment for keeping everything clean.
Point-of-Service (POS) system for accepting credit card payments.
5. Brainstorm your food truck concept and menu
Your food truck concept can make or break your business.
You need to create a menu that:
Stands out from what is already available on the local food truck market.
Features foods made of simple ingredients sourced locally and easy to store in your food truck.
Includes items that are easy to prepare under the conditions of your food truck (limited space, basic equipment, etc.).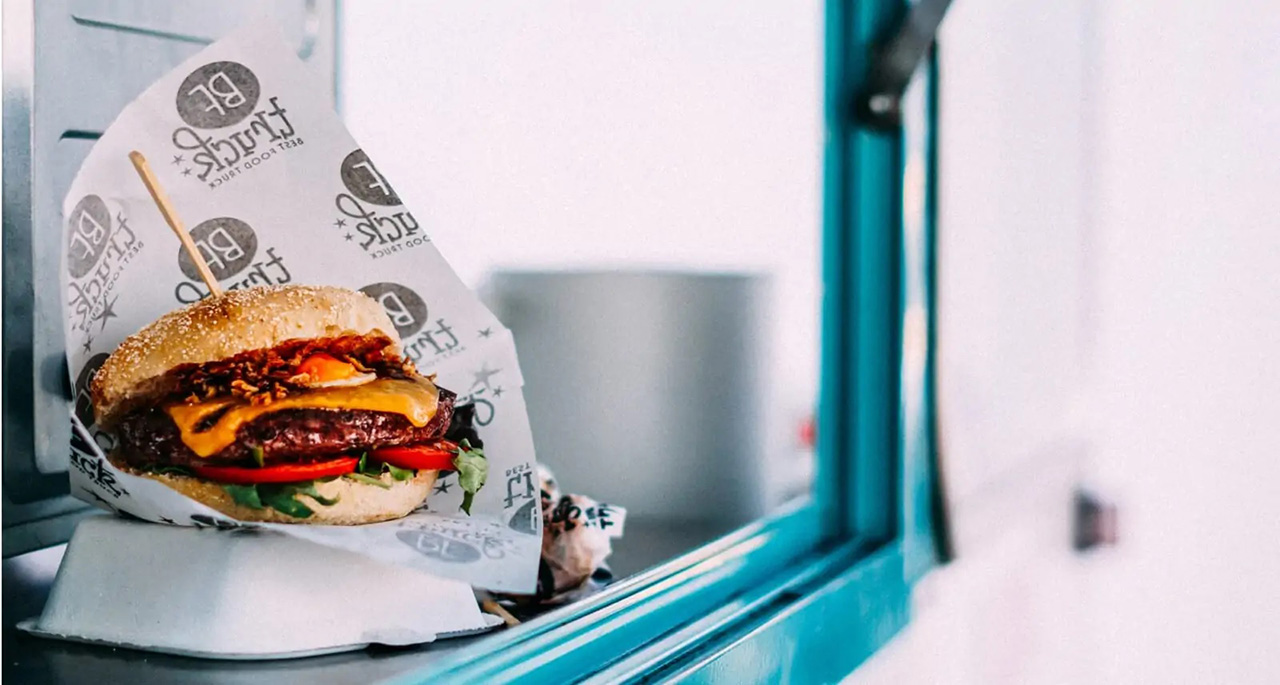 Niche
What type of food will you specialize in?
Here are some ideas:
Breakfast.
Lunch.
Quick bites.
Desserts.
You also need to decide on the type of cuisine:
American.
European.
Middle Eastern.
Asian.
Fusion.
One way to go about your food truck menu is to consider:
What are the needs of the potential customers in a particular location (e.g., if there are a lot of offices nearby, people might want quick lunch options)?
What cuisine is popular but isn't yet offered by any other food trucks (e.g., if Tex-Mex food has become trendy in your region, consider serving it)?
What are the most popular food truck foods?
Here are some of the most popular food truck foods:
BBQ.
Tacos.
Burritos.
Burgers.
Hot dogs.
Pizza slices.
Loaded fries.
Chicken wings.
Mac and cheese.
Grilled cheese sandwiches.
These are universal basics, however. Don't forget about adding a personalized twist!
What food has the highest profit margin?
Most of the menu items with the highest profit margins use super cheap ingredients as a base.
For example, loaded fries (potatoes are cheap), mac and cheese (pasta is cheap), pizza slices (pizza dough is easy to DIY), etc.
Note that the more meat you use, the lower the item's profit margin is likely to be. The same can be said about foods that require exotic ingredients (fruits, spices, sauces, etc.).
Create a menu
Coming up with a food truck concept is one thing. Creating the actual menu is another.
The most important principle that you need to understand is the Paradox of Choice:
Eliminating consumer choices can help reduce shoppers' anxiety and make them more likely to buy from you.
One study that illustrates this well is the jam study, done by Sheena S. Iyengar and Mark R. Lepper.
The researchers set up a jam-tasting booth in an upscale shopping mall on two consecutive Saturdays.
On Saturday #1, they offered shoppers 24 varieties of jam.
On Saturday #2, they offered shoppers six varieties of jam.
Surprisingly, giving people more options attracted more interest, but giving them fewer options led to more sales!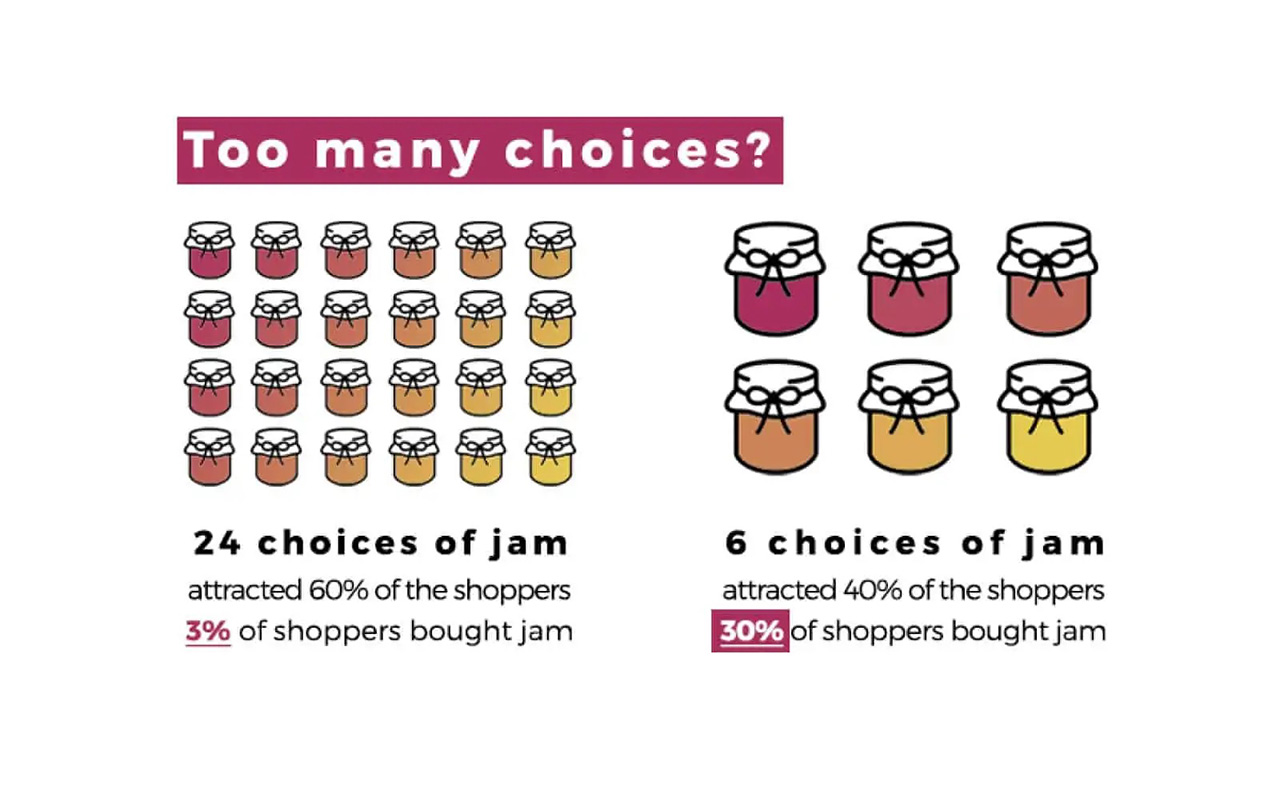 So don't overwhelm your potential customers with too many options. It's better to offer fewer menu items but make them truly exceptional.
How many items should be on a food truck menu?
Most food trucks offer 5-12 menu items. That being said, you might want to consider starting with just 3-5 menu items. You can always add more later if there's a need for that.
Work on your branding
Food trucks tend to attract most of their new customers through word of mouth. Thus, you need to create a memorable brand to prompt that buzz.
So what can you do to make your food truck stand out (besides serving amazing meals)?
Come up with a cool name. You want something hip and memorable that also works well as a hashtag.
Invest in stylish truck wrapping. Your food truck needs to look bright and hip if you want to attract customers. Make it Instagram-worthy.
Create a website and social media profiles. Make sure that your online presence conveys your brand image and looks professional.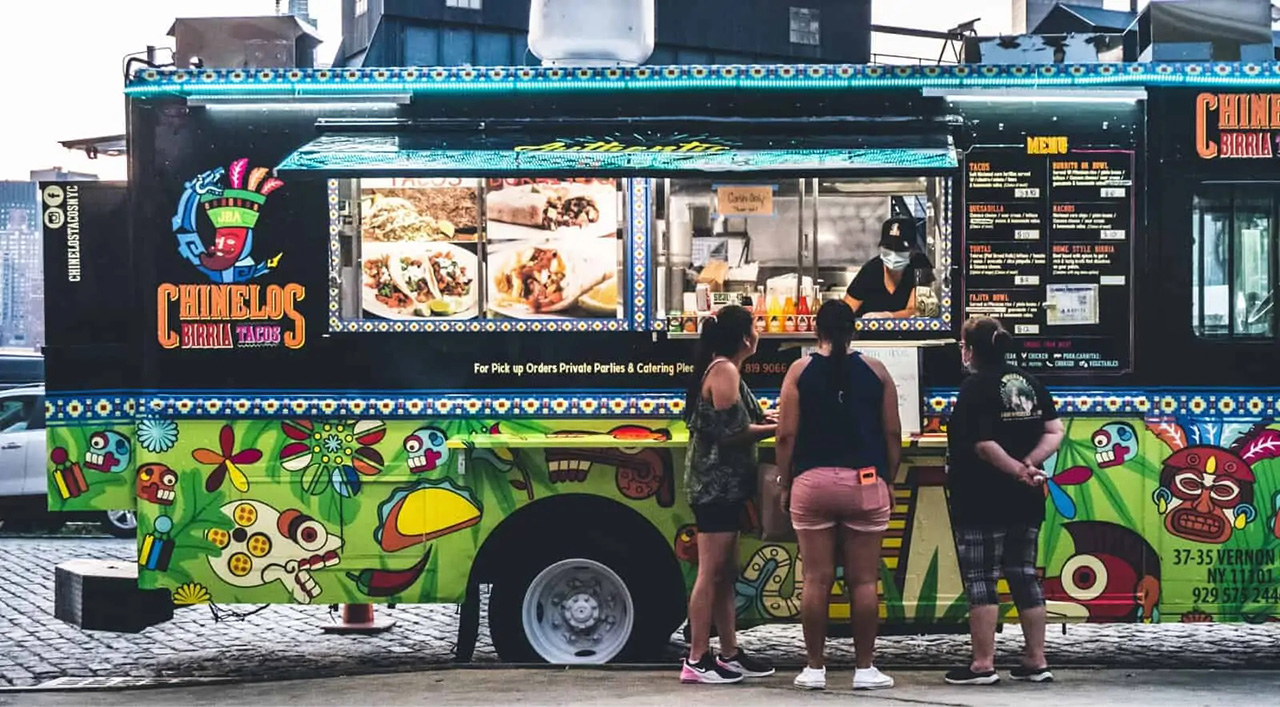 Examples of unique food truck concepts
Here are a few examples of unique food truck concepts that you can draw inspiration from:
The Vet Chef
When Kyle Gourlie got out of the military, he went to culinary school, then decided to start a food truck business.
He had been a huge fan of California burritos since his time in the state. He also knew that Seattle didn't have a great Mexican food scene.
So he decided to build his entire food truck menu around the California burrito. And it paid off. Kyle had managed to double sales year after year. In 2019, The Vet Chef did $417k in revenue!
Boss Mamma's Kitchen
Jen Gustin has always loved to cook.
She held a corporate job for 17 years, but then she decided to give her dream of building a food service business a shot.
So she invested $105k in starting Boss Mamma's Kitchen, a food truck business that specializes in burgers and grilled cheese sandwiches.
Her food truck concept proved popular – not only is her truck one of the local favorites, but she also won the Best Food Truck award back in 2018.
Don Lucho
Carlo Chalisea comes from a family that cooks, so he was always surrounded by food growing up.
One day he realized that there weren't many places around that served Peruvian food. Carlo decided that the food at his family reunions was so good that the world had to know about it.
He started his business with a food cart, then upgraded to a food truck, then ultimately expanded to opening his own restaurant. It turns out that the world did need more Peruvian food!
6. Figure out overnight and off-day parking
One thing that often surprises aspiring food truck owners is that you can't just park your truck wherever you want when it's not in operation.
Contact your city council beforehand to learn what food truck parking options are available to you. Or else, you might be up for a surprisingly hefty parking bill, mainly if you operate in a big city such as New York, LA, or San Francisco.
Where is the best place to park a food truck?
The best place to park a food truck is a commissary, a home base for food trucks. It will give you the peace of mind of knowing that your food truck is parked both safely and legally.
Note that in some places, food trucks are required by law to use commissaries.
Conclusions
A successful food truck business is fun to run and can provide a solid income for you.
This occupation offers the opportunity to be your own boss, embrace your passion for food, and enjoy the sense of pride that comes with building a business from scratch.
However, there's no denying that it is hard work, especially when you are just starting.
Long work hours, no days off, and stressful emergencies are often the reality of new food truck business owners.
In addition, if you are willing to work hard, then the financial upside is substantial, with some food trucks making as much as half a million dollars a year in revenue.
So if the idea of starting a food truck appeals to you, then stop hesitating and give it a shot.
It might turn out to be one of the best decisions you will ever make.
Commonly asked questions (FAQ)
Here are some of the most frequently asked questions about starting a food truck business.

Last updated:
Mar 2023
Start your LLC the easy way
Forming your LLC is a checkbox that needs to be ticked. Easy, fast and worry-free. We reviewed the 13 most popular LLC formation services to figure out who truly understands what new founders need. Our recommendation:
LLC Formation: $39 + state fees
Pricing:
Turnaround Time:
Help & Support:
Customer Satisfaction:
Ease of use:
Best LLC Service 2022

Formed 1,000,000+ LLCs
$39 formation includes registered agent service
Fast formation & same day filing
Exceptional customer reviews

Last updated:
Mar 2023