The eCommerce industry is scorching hot.
Last year global retail eCommerce sales totaled $4.28 trillion. And the staunch growth levels are nowhere close to abating in the foreseeable future.
Online selling is in its prime right now. But how can you take advantage of this opportunity when you don't have much startup capital?
Enter dropshipping.
Dropshipping is a business model where the seller doesn't carry any inventory.
It's a great way to learn the ropes of eCommerce because you don't need to pay for the products upfront, which drastically reduces the financial risk.
Want to learn how to start a dropshipping business?
Here's what we'll discuss today:
Table of contents
---
It's time to get your piece of the ecommerce pie.

Last updated:
Mar 2023
Start your LLC the easy way
Forming your LLC is a checkbox that needs to be ticked. Easy, fast and worry-free. We reviewed the 13 most popular LLC formation services to figure out who truly understands what new founders need. Our recommendation:
LLC Formation: $39 + state fees
Pricing:
Turnaround Time:
Help & Support:
Customer Satisfaction:
Ease of use:
Best LLC Service 2022

Formed 1,000,000+ LLCs
$39 formation includes registered agent service
Fast formation & same day filing
Exceptional customer reviews

Last updated:
Mar 2023
How does the dropshipping business model work?
Here's how dropshipping works in a nutshell:
You create an online store.
You add dropshipped products to it.
When someone buys one of those products, the order is forwarded to the manufacturer (dropshipping partner), and they ship it to the customer.
Whatever is left after the cost of the product is covered is a profit that is yours to keep.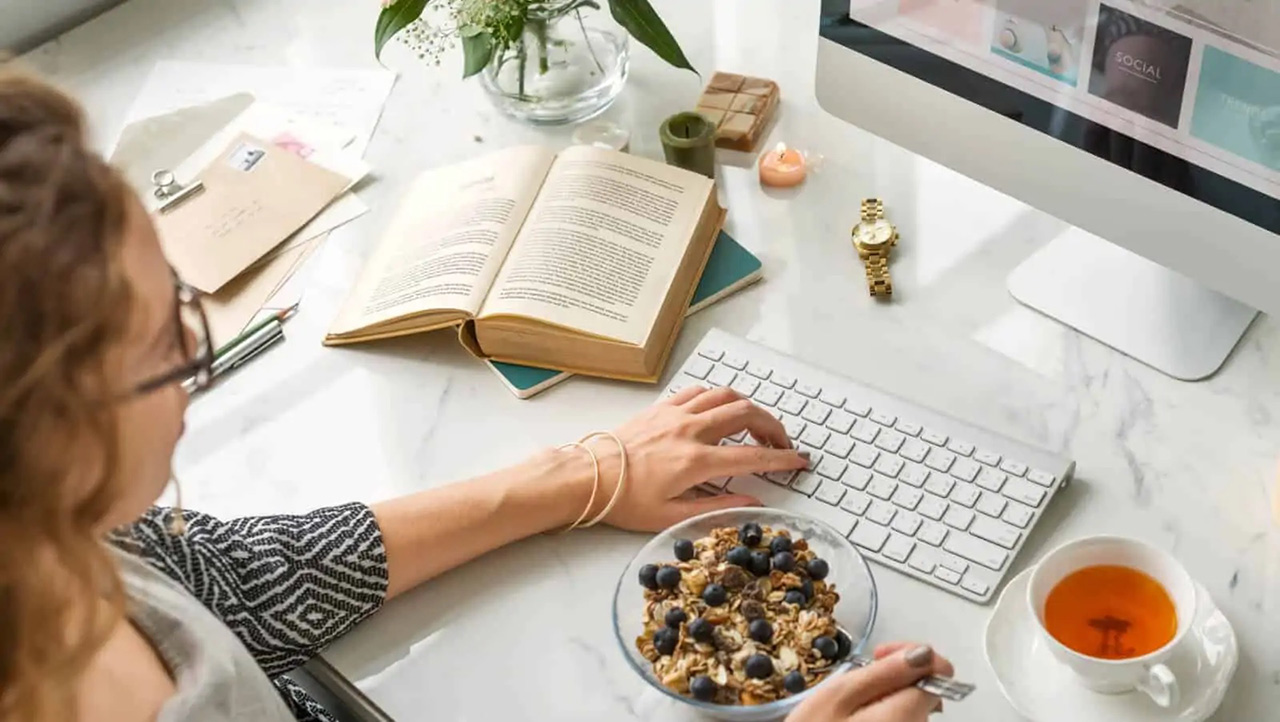 Benefits of dropshipping:
No upfront inventory costs. You only spend cash once someone buys a product.
No warehousing costs. You don't have to store or manage the inventory yourself.
Easy to experiment with various product categories. You have nothing to lose if you add a new product to your catalog and no one buys it.
Low entry barrier. Dropshipping is one of the most straightforward ways to start an online business and try your hand at entrepreneurship.
How big is the dropshipping market?
Back in 2018, the global dropshipping market size was a "modest" $102.2 billion.
Between 2019 and 2025, the market is expected to grow at a 28.8% compound annual growth rate.
Meanwhile, the North American dropshipping market is expected to grow from $36.11 billion in 2019 to $125.45 billion by 2027, with an estimated compound annual growth rate of 17.6% between 2020 and 2027.
The data tells that dropshipping is here to remain as a viable business model.
Now is the best time to explore this business idea.
So how do you launch a dropshipping business?
Follow these steps.
Step 1. Determine your niche
If you want to build a successful ecommerce business, you need to target a clearly defined niche. Otherwise, you'll end up appealing to no one.
Specializing in one vertical market allows you to build a recognizable brand. Also, by learning more about your target audiences, you can design higher-performing marketing campaigns and build a loyal customer base.
Moreover, having a niche also simplifies finding reliable suppliers, which can sometimes challenge dropshipping.
How to find a profitable dropshipping niche
Here's how you can find a profitable dropshipping niche:
Use Google Trends to evaluate the public's interest in a particular vertical. For example, if you consider selling CBD products, you can use the keyword "CBD." It's best to choose the 2004-Present timeframe so that you could see the big picture. It will show you the popularity of that keyword on Google Search over time.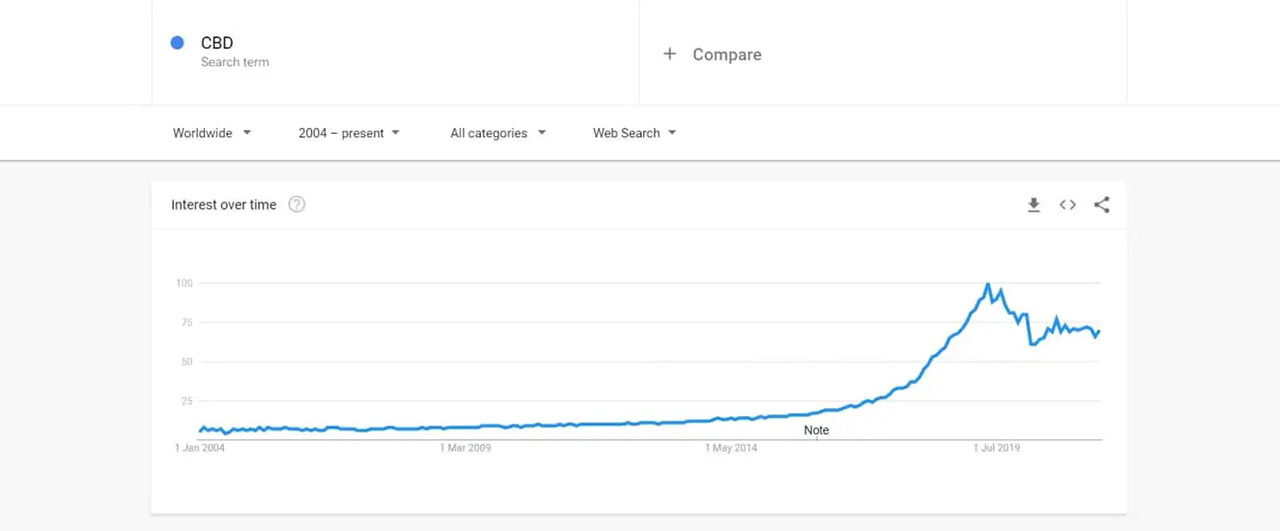 Do competitors analysis. Who are the biggest players in that particular niche? Although it sounds counterintuitive, the presence of competitors indicates that there's money to be made. You need to figure out how to differentiate yourself from them, though.
Test business ideas. You don't know whether a product will resonate with your target audience until you put it in front of them. Fortunately, with dropshipping, there's little risk involved, as you can test as many products as you want. Simply run ads to product pages and analyze conversion rates.
Keep in mind that picking the right niche might take some trial and error. Don't get discouraged if your first product idea doesn't work. Simply move on to the next one.
What should I not dropship?
You should probably stay away from products that are:
Heavy. If you expect your customers to cover the shipping costs, it will be difficult to sell them.
Fragile. Packages are likely to break en route, which means that you'll have to deal with refunds. Even worse, unhappy customers might decide to vent their frustrations on social media, which can ruin your brand image.
Perishable. When you're dropshipping products, they are typically shipped from abroad. So it might take a while until they reach the customer. You don't want to take any risks with perishable products that might spoil en route.
Step 2. Find dropshipping suppliers
As a dropshipper, you can't examine each product before it's shipped to the customer. Thus, you need to find suppliers that you can trust not to cut corners regarding quality.
Additionally, you need to find suppliers that nobody in your local market uses so that you can sell unique products.
Where to look for dropshipping suppliers?
Here are a few options for finding dropshipping suppliers:
Foreign marketplaces (e.g., Taobao, Alibaba, Aliexpress). These can work well if you intend to sell your products in a specific geographical region where no one is selling the same products yet. However, if you want to target the global market, then selling products from a go-to marketplace like AliExpress means that you'll have a ton of competition.
Manufacturing companies. You can reach out to local manufacturing companies to see if they offer dropshipping. It can help you source higher product quality and provide better shipping times. However, manufacturing companies tend to specialize in fulfilling large production orders, so finding one that also dropships or accepts small minimal order qualities (MOQs) can be difficult.
Wholesalers. You can also reach out to various wholesalers to see if they offer dropshipping. However, that is unlikely because, typically, they sell products in large quantities at a wholesale price directly to businesses that then resell them with a markup. Also, going this route would mean that you'd be competing with other dropshippers and brick-and-mortar retailers like Walmart that might sell the same products.
Local artisans. Consider teaming up with local artisans who are great at their craft but not that great at selling it. It would allow you to offer truly unique products.
Examples of dropshipping companies
Here is a list of websites where you can find dropshipping suppliers: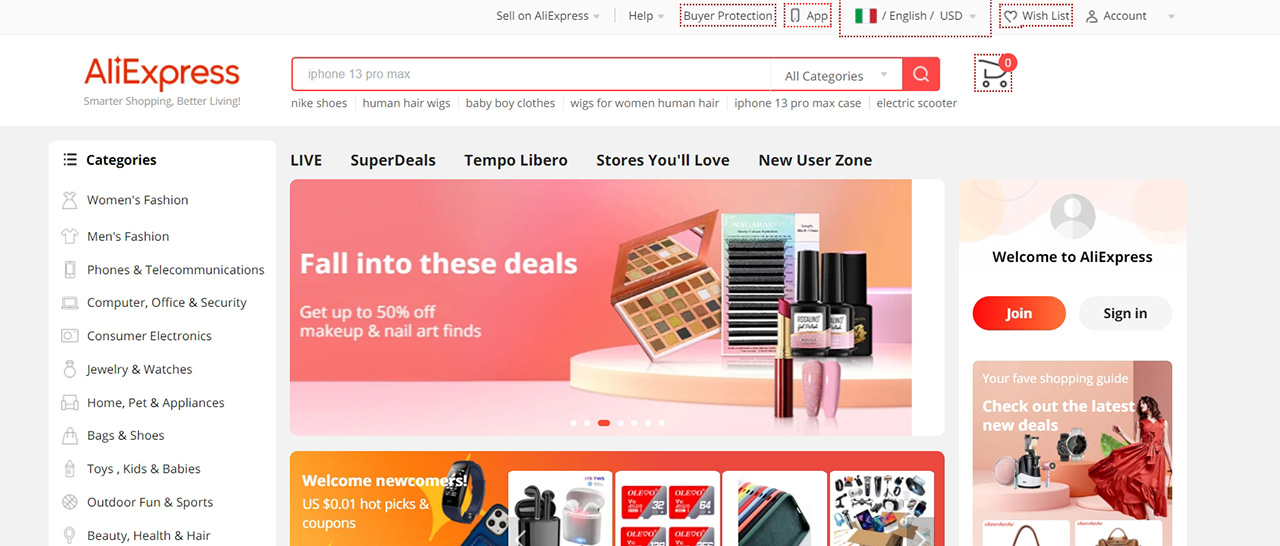 Step 3. Decide on your business structure
As a small business owner, you can operate your business as a sole proprietorship or a limited liability company (LLC).
The former is the more straightforward option, but it also leaves you exposed to legal risks because you're personally responsible for business liabilities.
LLC formation assumes more paperwork, but the hassle is worth it because an LLC protects you from legal risks. You're not responsible for business liabilities. The LLC itself is.
We recommend you to go the LLC route because, as a dropshipper, you don't have any control over the supply chain, which means that you never know what might go wrong.
Step 4. Get a sales tax ID
Businesses selling products (including dropshippers) have to collect state sales tax(es).
To do that, you'll need to obtain an Employer Identification Number (EIN), which functions as your sales tax ID and allows you to collect and submit sales tax information.
You can apply for an Employer Identification Number online on the IRS website. The application is free and processed momentarily.
You might also want to contact relevant state authorities to learn more about the sales tax rates and obligations in your state.
Step 5. Set up your dropshipping operations
Building an ecommerce website is one option. But you can also use a variety of platforms to sell your products before opening a brand-name online store.
Here are some of the most popular options:
Amazon
Amazon is the biggest online store in the world. In September 2020, Amazon.com traffic was 2.44 billion visits.
You can start selling on this platform by setting up a seller's account, which costs $39.99/month. Then pay applicable selling fees.
Pros
Selling on Amazon can help you reach more people than you could on your own.
Fast and easy setup. No need to purchase a domain name or pay for web hosting.
Cons
Amazon takes a cut from each sale, so your profit margins will be lower.
Competition. Other dropshippers may be selling the same products as you. It would inevitably lead to competing on price, which is a race to the bottom.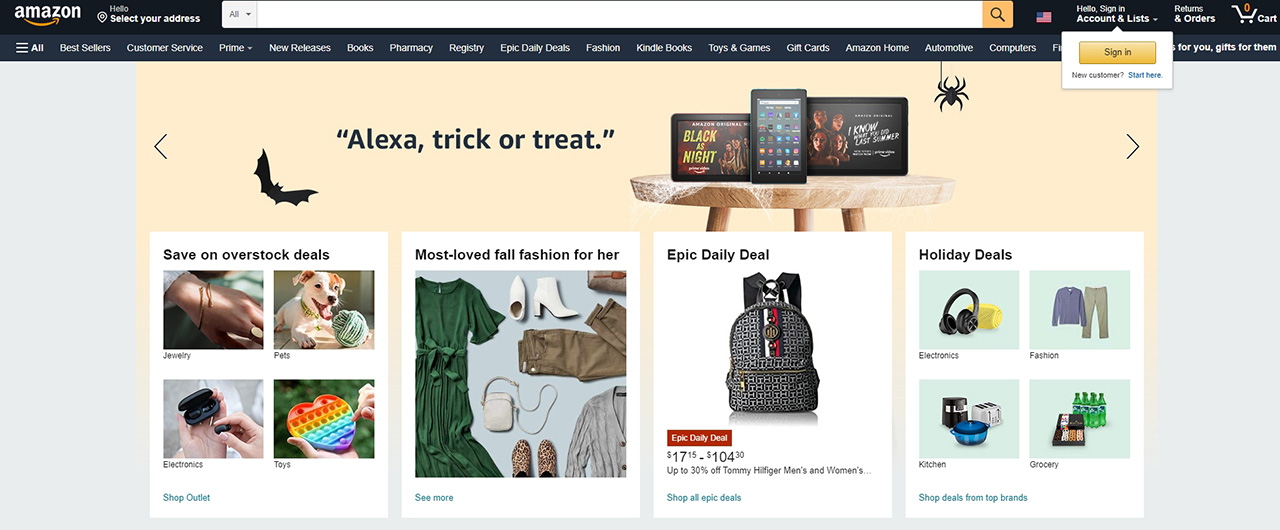 eBay
eBay is another popular marketplace where you can buy and sell pretty much anything.
Listing a product is free in most categories, but you'll have to pay a 14.35% final value fee + $0.30 fee per order.
Pros
Selling on eBay allows you to put your products in front of more people.
Well suited for selling collectibles, vintage goods, and refurbished electronics.
Cons
High seller fees. That 14.35% cut is pretty steep.
Bargain-seeking shoppers.
No branding opportunities.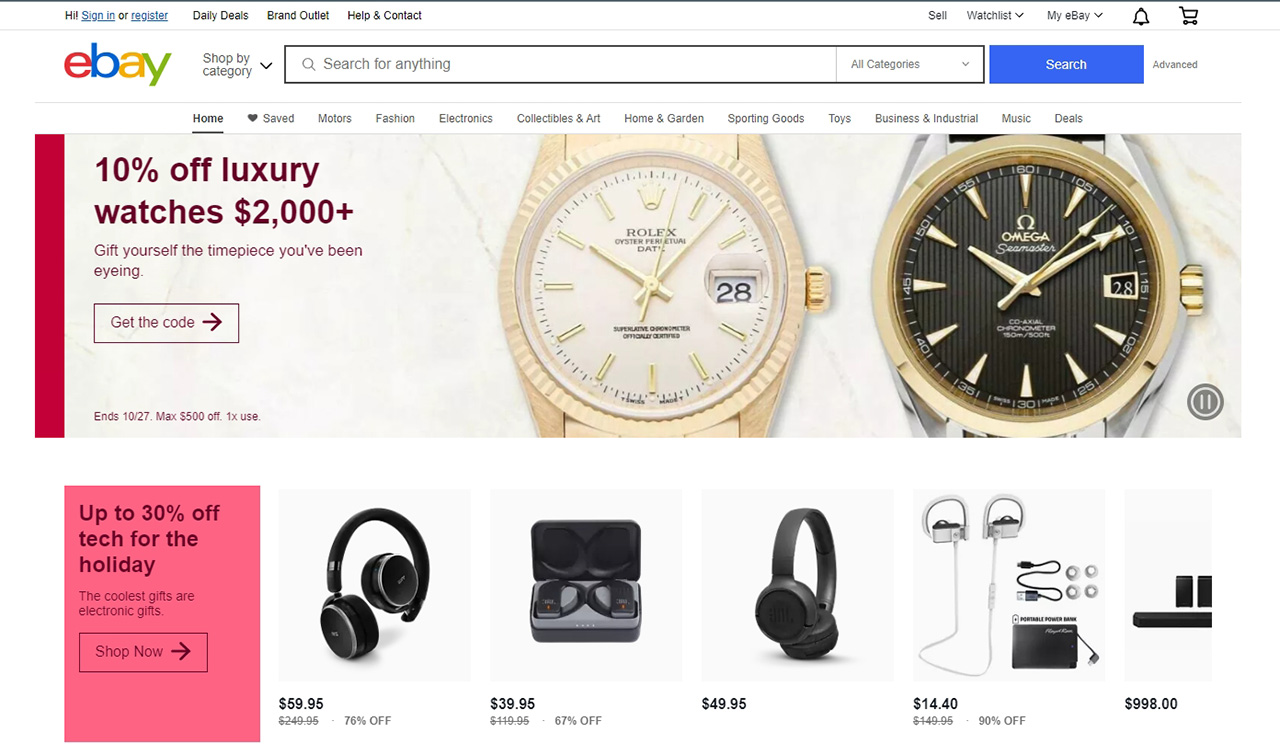 Etsy
Etsy is the go-to marketplace for buying and selling handmade, artisanal goods.
You should list your products there if you have decided to partner with local artisans and dropship their craftwork.
You'll have to pay a $0.20 listing fee + 5% transaction fee + 4% and a $0.30 payment processing fee for each product.
Interestingly, Etsy also advertises your items offsite, but you'll only have to pay the 15% fee when making a sale through one of those ads.
Pros
Established niche audience. Etsy can help you reach a global audience of people who appreciate craftsmanship and are willing to pay more for high-quality, handmade goods.
Fast online store set up with some excellent branding opportunities. Etsy also offers the ability to list your website and social media to retain at least some customers.
Cons
Confusing fee structure. Etsy takes a cut from each sale. But also charges some add-ons. So it's often difficult to estimate revenue.
Competitive. There are a lot of established Etsy sellers selling unique goods. Standing out with dropshipped products may be challenging.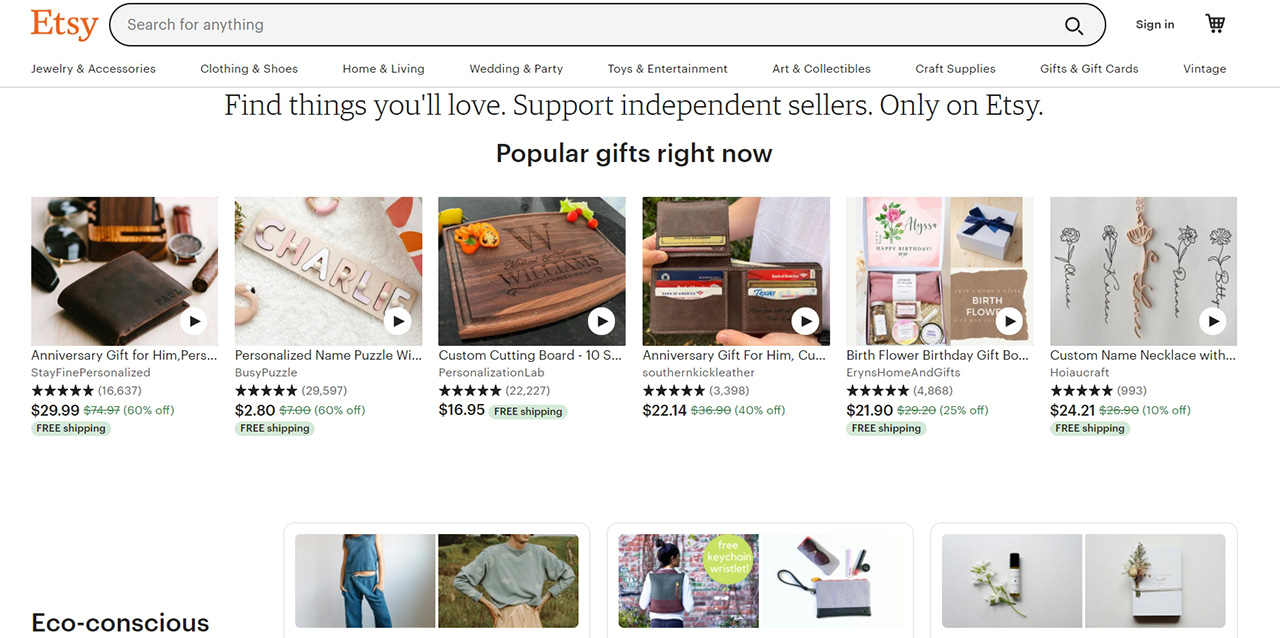 Ecommerce store
You can also create your dropshipping store.
Here's how:
Set up an online store using one of the popular eCommerce platforms. Shopify is probably the best option for dropshippers.
Select a design theme for your store. You want to pick something that not only looks great but is also optimized for conversions. Booster theme works well for Shopify.
Add products to your store. You can use DSers to import products from AliExpress to your Shopify store easily.
Create product pages. It's best to take product photos and write product descriptions yourself instead of using ones provided by the manufacturers.
Get email marketing software. It's best to go with a provider that specializes in eCommerce, such as SmartrMail.
Get a pop-up app. You can use Sumo to create pop-ups and collect more email addresses.
Of course, the apps we mentioned are just our recommendations. You should do your research and decide what works best for your company.
Pros
It's the best option because it allows you to have complete control over your storefront.
Moreover, you don't have to pay anyone except the payment processors, making it easier to generate profit.
Keep in mind that it can be hard to make money with dropshipping due to low-profit margins. So anything that allows you to improve profitability is worth considering.
Cons
You'll need to generate traffic all by yourself. Promoting a new online store can be difficult at first, especially if you don't have an appropriate marketing budget.
It can also be challenging if you don't have any prior marketing experience. Or funds to hire help for SEO paid ads campaigns or influencer marketing.
Step 6. Work on your differentiation
With dropshipping, there's almost always a lot of competition since several companies often sell the same products. So how can you stand out?
Here are some ideas:
Create a brand. There's a difference between simply selling a particular type of product and building an entire brand around it. Say, you can find cheap fizzy drinks that taste like Coca-Cola everywhere, but people still overwhelmingly prefer the actual Coca-Cola despite being more expensive. You want to be the Coca-Cola of your niche.
Start a loyalty program. Give your customers a reason to return. It can be something as simple as offering a loyalty card that provides discounts or other special perks for spending more with your store.
Offer free shipping. Free shipping is critical to online shoppers. It has been the #1 driver of online purchases for six years in a row! Shipping costs are likely to scare potential customers away because no one wants to pay extras. So figure out how to deliver goods for free.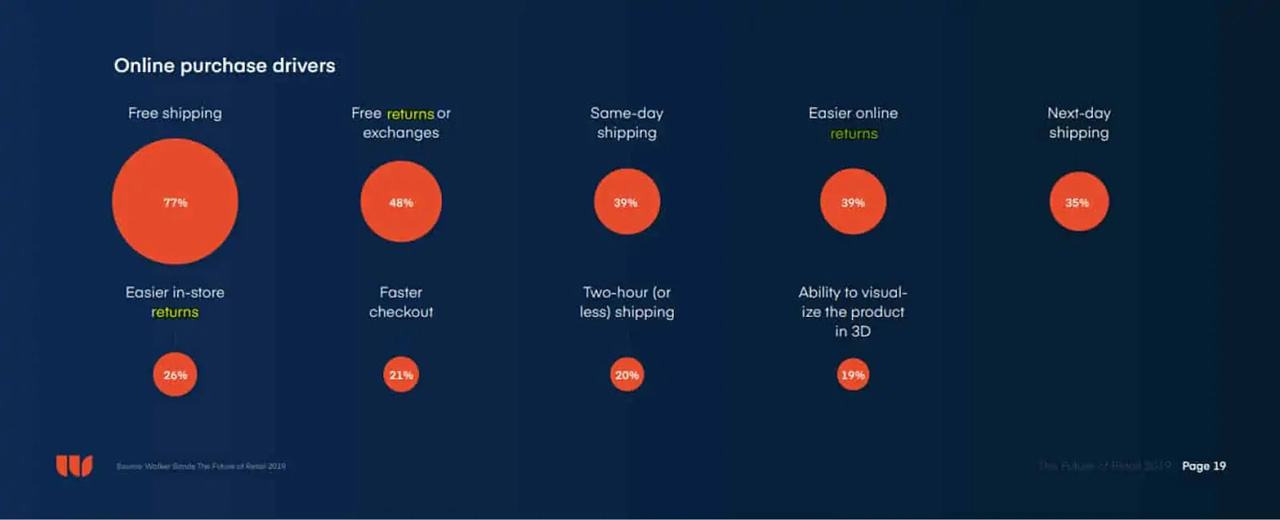 Step 7. Market your dropshipping business
Once everything is set up and ready to go, it's time to start driving traffic to your product pages.
Here are some ideas:
Facebook ads. It's the fastest way to put your products in front of your target audience.
YouTube ads. Here's another quick way to get the attention of your potential customers. However, these require more creativity than Facebook ads.
Influencer marketing. You might be able to get a shoutout in exchange for complimentary products. Or enlist paid influencers to showcase your goods. Instagram is the best platform for this.
Search engine optimization (SEO). Ecommerce companies often try to rank for product name keywords (e.g., "steak knives"), but creating content around keywords that are relevant to your niche (e.g., "how to cook steak") might be more effective. Keep in mind that this is a long-term strategy that takes time to work.
Email marketing. The average ROI of every £1 spent on email marketing is £34.56. Your ultimate marketing goal should be to build an engaged email list to promote your products. Add email pop-ups to your website and offer a discount as an incentive to subscribe.
Webinar marketing. You can create a webinar that provides a solution to a problem that your potential customers are struggling with. Partner with someone in your niche who already has a substantial audience but is not a direct competitor. Then host your webinar and pitch one of your products a the end of it. Split the revenue with your partner. Say, you can do a webinar on makeup techniques, then pitch a makeup kit at the end of it. Note that the aim here isn't to make a ton of money but to build an email list of your own (people have to provide their email addresses to attend the webinar).
Conclusion: How much money do I need to start a dropshipping business?
Dropshipping is a business model that doesn't require much startup capital.
In other words, you'll need money to:
So that's at least:
$371.42 to set everything up (if you plan to have your own online store).
$97/month for Shopify, SmartrMail, and Sumo Pro subscriptions.
Then you'll also need to run ads to:
Determine which products you should focus on.
Generate conversions and sales.
Keep in mind that it might take a while until you figure out how to run ads profitably. Be prepared to burn some money on this.
So, realistically, you should probably have:
At least $500 for setting up the business + running it for two months.
At least $1,000 to spend on Facebook ads.
In other words, it means that the minimum recommended startup capital is $1,500.
Of course, theoretically, it's possible to get a dropshipping business off the ground for less than that.
However, that typically involves either having previous paid advertising experience or getting lucky by stumbling on a lucrative product right away.
Commonly asked questions (FAQ)
Here are the answers to some of the most frequently asked questions about starting a dropshipping business.

Last updated:
Mar 2023
Start your LLC the easy way
Forming your LLC is a checkbox that needs to be ticked. Easy, fast and worry-free. We reviewed the 13 most popular LLC formation services to figure out who truly understands what new founders need. Our recommendation:
LLC Formation: $39 + state fees
Pricing:
Turnaround Time:
Help & Support:
Customer Satisfaction:
Ease of use:
Best LLC Service 2022

Formed 1,000,000+ LLCs
$39 formation includes registered agent service
Fast formation & same day filing
Exceptional customer reviews

Last updated:
Mar 2023