In 2020, the global apparel market revenue was approximately $1.46 trillion.
Despite the pandemic-prompted drop in spending in some categories, the apparel market is now bouncing back.
By 2025, it's projected to grow by more than 50% and reach $2.25 trillion.
There's more appeal to the clothing market than just strong demand. Launching your clothing line has also never been as easy.
Why? Because you now have a ton of tech to help you along the way — from on-demand apparel manufacturing platforms to robust marketing tools, you have a lot of help to get your clothing business off the ground.
Still, tech can only augment but not replace a sound business strategy.
Here are the step-by-step instructions to start a clothing business in 2021.
Table of contents
---
Now let's get into the nitty-gritty of launching your clothing line.

Last updated:
Mar 2023
Start your LLC the easy way
Forming your LLC is a checkbox that needs to be ticked. Easy, fast and worry-free. We reviewed the 13 most popular LLC formation services to figure out who truly understands what new founders need. Our recommendation:
LLC Formation: $39 + state fees
Pricing:
Turnaround Time:
Help & Support:
Customer Satisfaction:
Ease of use:
Best LLC Service 2022

Formed 1,000,000+ LLCs
$39 formation includes registered agent service
Fast formation & same day filing
Exceptional customer reviews

Last updated:
Mar 2023
Is starting a clothing line worth it?
Yes. However, you'll need to figure out how to differentiate yourself from the other clothing brands because the competition is enormous.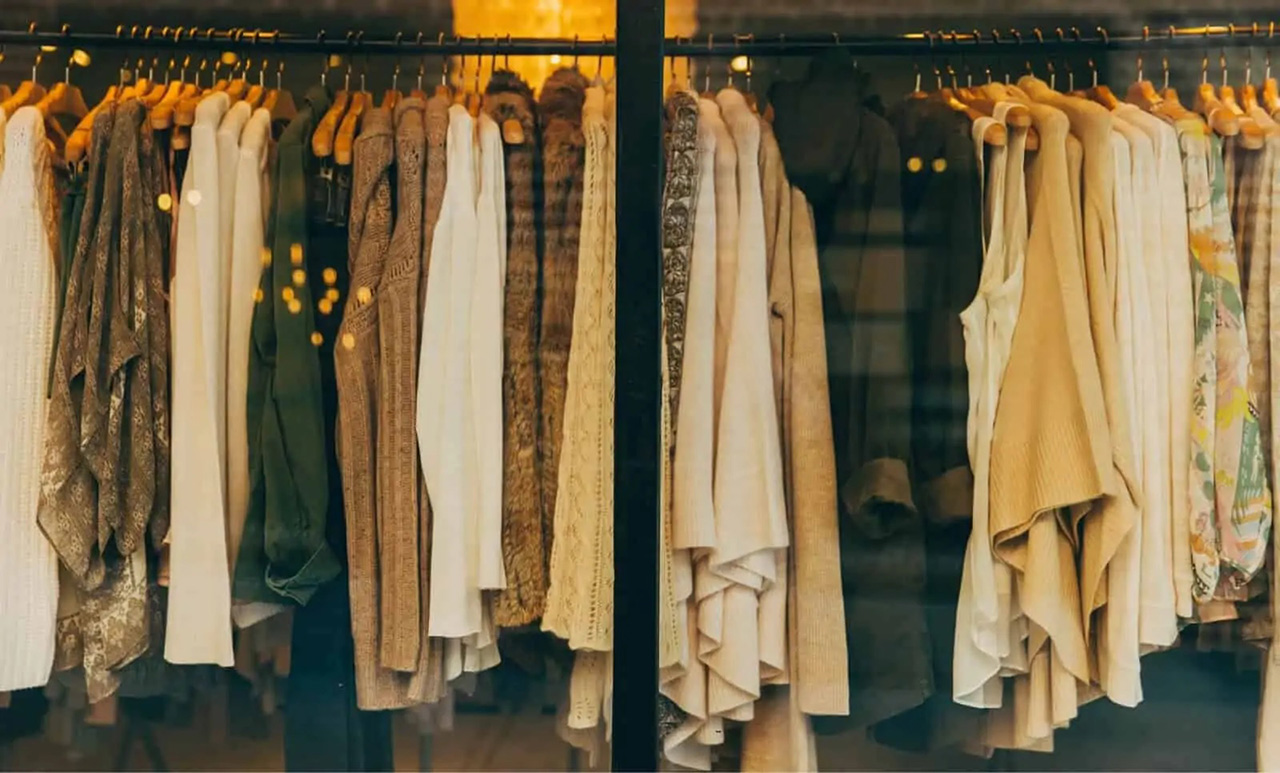 It has never been easier to launch your clothing line.
Moreover, the global economy is still reeling from the Covid-19 pandemic. Meaning people are still conscious about spending too much on non-essential items such as fancy new clothes.
According to McKinsey's "State of Fashion 2021" report:
Demand for fashion is unlikely to return to pre-pandemic levels amid restrained spending power. […] Companies need to seize the re-shaped opportunities and double down on outperforming categories, value segments, and territories.
Or in non-consulting speech: not every type of apparel business is doing equally great. But some product categories sell better than others. Your goal is to find those!
Additionally, you need to consider other significant trends, such as the public's growing concern about sustainability in the fashion industry.
Consumers are harshly questioning mass-market brands about the treatment of garment factory workers in developing countries. Sure, everyone needs to keep their prices affordable. But ensuring fair treatment of everyone in the supply chain is crucial too. It can be quite a problem.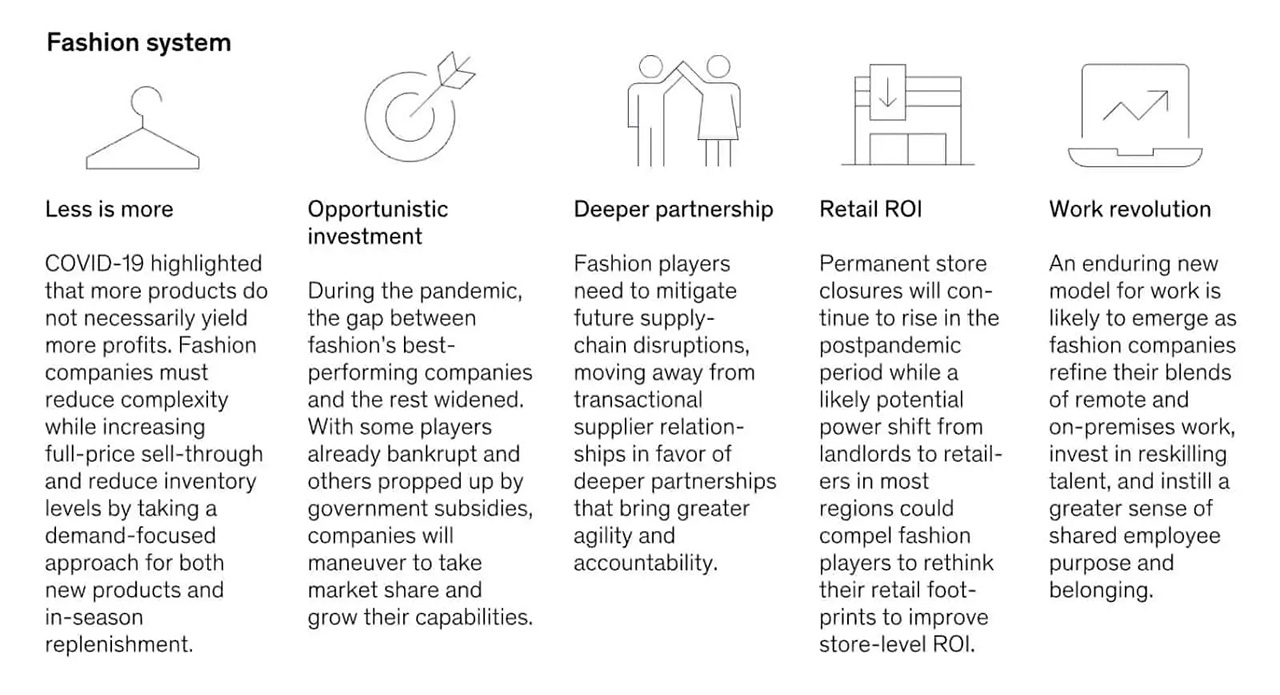 While building your fashion brand is certainly worth it, you need to go into the clothing industry with a realistic understanding of its current state and the challenges that lie ahead.
1. Conduct market and target audience analysis
35% of fallen heroes said that they failed because they sold a product that had no market.
You should test any business idea you have for viability.
Is there a demand for whatever it is that you're thinking of selling? Market analysis will help you tell for sure.
Here are three ways to perform a cursory market analysis for a clothing business.
Use Google Trends to evaluate the interest in specific apparel products
Type in a keyword, choose a geographical region and pick a time period. What does the graph tell you?
Example
When you use the keyword "homewear" and pick a five-year period, you can see that interest in it increased during the pandemic, with two spikes in spring 2020 and winter 2020/2021.
Although the interest in homewear is still higher than before the pandemic, it looks like most of us already have a good collection of cozy knits and sweatpants.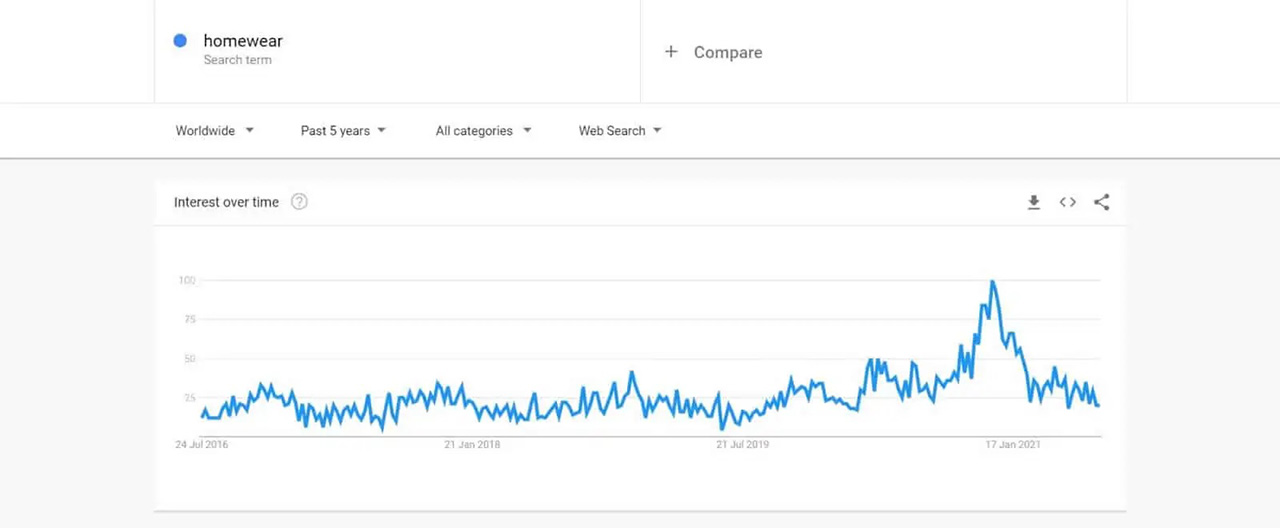 Use Jungle Scout to research trends on Amazon
Jungle Scout can help you identify lucrative product keywords (aka search terms people use the most), track their performance over time, and spot promising new opportunities.
Try text analysis to understand your ideal customers better
With text analytics tools, you can quickly analyze large quantities of text and extract first-hand opinions of your target audiences.
Example
Thinking about selling sundresses?
You could use text analysis to analyze all tweets within the last five years that include the hashtag #sundress, which would provide valuable insights into the minds of your potential customers.
Finally, go directly to the source — prospective customers. Talk to the people you plan to market to.
What apparel qualities do they value?
When are they ready to pay more?
What brands do they admire and why?
Host an informal survey of your friends, family, online followers, for starters. Then consider market research firms if you have a budget.
2. Determine a niche for your clothing brand
One of the most common mistakes entrepreneurs make is that they go after a too broad market, such as "everyone and anyone."
As a new clothing brand, you may be dire to appeal at least to anyone. But acting as a "generalist" puts you in direct competition with big apparel brands and multi-brand ecommerce marketplaces. That's not a race you can win.
Thus, it's better to start with a specific niche.
You see, if you try to appeal to everyone, you'll end up appealing to no one, which is why you need to pick a niche if you want to build a successful clothing brand.
Here are some trending clothing niches that you might want to consider.
Athleisure
These clothes can be used both as gym clothes and as leisure clothes in which you can lounge around.
Athleisure niche is projected to
grow by $80.74 billion between 2020 and 2024.
Some promising sub-niches worth looking into:
Yoga clothing. For example, "yoga leggings" searches were up 36% MoM on Lyst.
Bike-friendly clothing. As a response to more people choosing bikes for personal commutes.
Athflow. Fashion aesthetics, combining Athleisure, Elegance, and Flow.
Vintage and preloved
The days when wearing used clothes was stigmatized are long gone. Now it's the hip thing to do because it demonstrates concern for the environment and rejection of consumerism.
Is it any wonder that the secondhand market is projected to double in the next five years?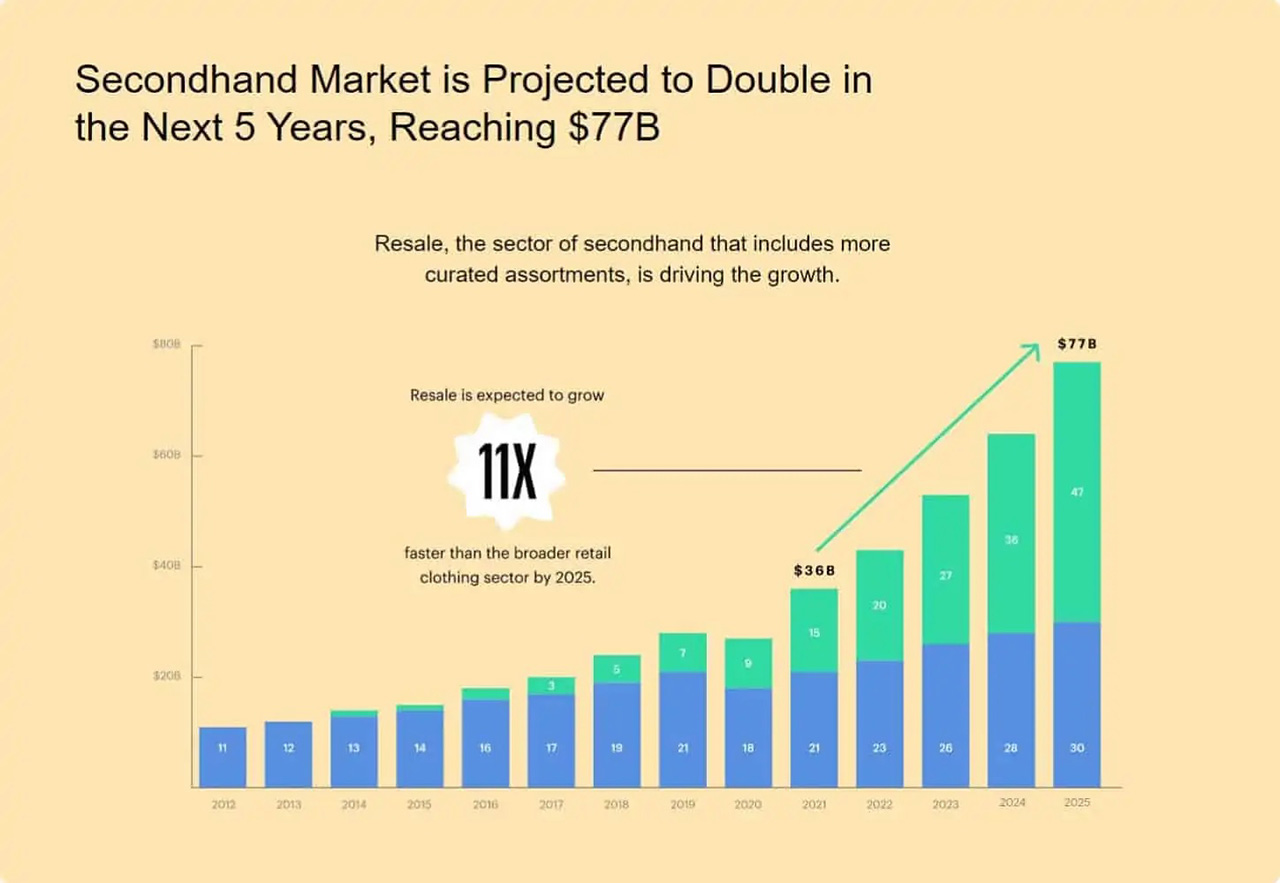 Moreover, while the pandemic has had a devastating effect on the fashion industry, it seems that it has accelerated the secondhand clothing trend.
In fact, 33 million consumers have bought secondhand apparel for the first time in 2020, not just out of economic necessity but also due to conscious choices.
Furthermore, 77% of these first-time shoppers intend to increase their spending on secondhand clothes over the next five years.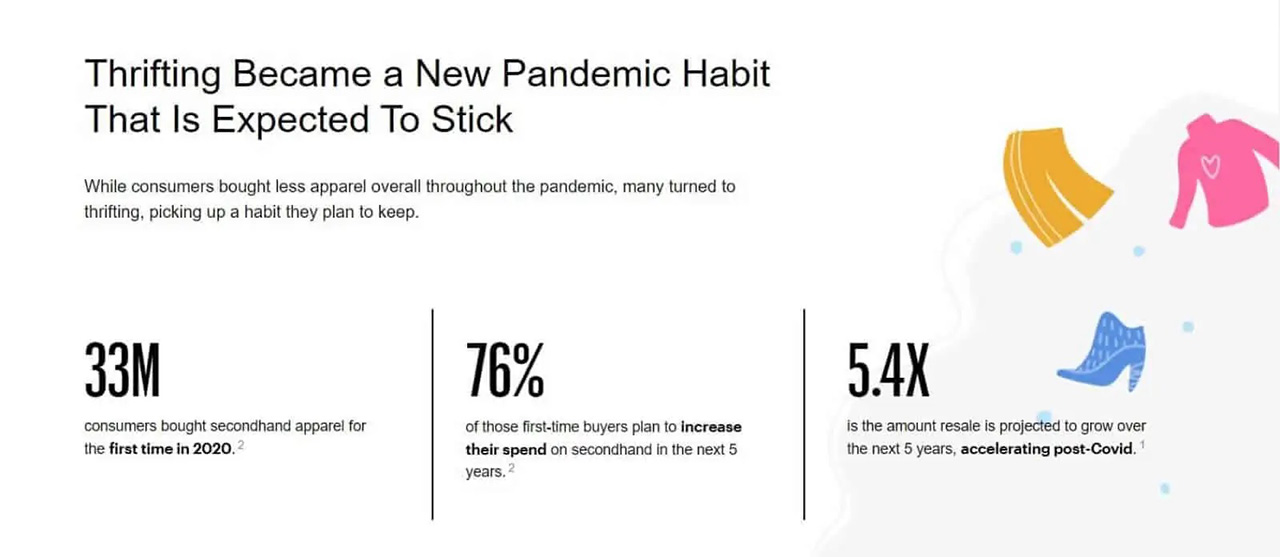 Sustainably made clothing
Did you know that 55% of consumers are at least somewhat more likely to buy from a brand committed to sustainability? You might want to consider selling hand-made clothes produced using sustainable materials.
Here are some emerging sustainable materials consumers and designers equally adore:
Vegan leather
Recycled nylon and polyester
Upcycled fabric scraps
Organic hemp
Tencel
Econyl
Clothing for underserved demographics
Fashion businesses are typically seen as retailers that sell clothes to young, average-build people. The competition in that space is fierce.
However, there are plenty of underserved demographics, such as senior citizens, plus-sized people, those who are super short or super tall, etc.
It might be easier to break into niches like that because there's likely less competition. So look into that as well!
3. Select a business model
Remember our technology gospel earlier? Time to get back to it for business model selection.
Today, you have plenty of options for sourcing and manufacturing apparel products. Here are the top ones to consider.
Dropshipping
Dropshipping is an ecommerce business model where the seller doesn't carry any inventory.
Here's how it works:
A customer buys a product on your website.
You forward that order to your supplier.
The supplier ships the product to the customer.
The main advantage is that you don't need to invest in the inventory upfront. It drastically reduces the financial risk of starting a clothing business.
However, suppose you source your products on popular dropshipping platforms such as AliExpress. In that case, you'll likely have to compete against many other online stores selling those same products (e.g., 25+ brands offering the same t-shirt).
Another challenge associated with this business model is the lack of control over product quality, packaging, and shipping.
That's not to say that you shouldn't consider this business model. It can certainly work well for companies that can find unique suppliers. But what's important is that you understand both the pros and cons of dropshipping.
Beware of the "easy money" hype around it. Building a sustainable small business this way is much harder than it might seem at first glance.
Reselling
Reselling is a business model where you buy a secondhand item and then resell it for a higher price.
It can be a great option if you can source rare items such as vintage clothing or collectible sneakers.
The downside is that your stock levels can be unpredictable. Plus, you gotta constantly cultivate new product sources or ambush retail locations to get your hands on the latest "drop."
Reselling is a nice side-hustle to start from, but it may be hard to scale.
On-demand manufacturing
Technology such as print-on-demand allows you to offer your designs on various apparel items without investing in inventory upfront. There are also no minimum order quantities (MOQs)!
Here's how it works:
The customer buys an apparel item on your online store.
The order is forwarded to the print-on-demand company.
The print-on-demand company produces the item and ships it to the customer.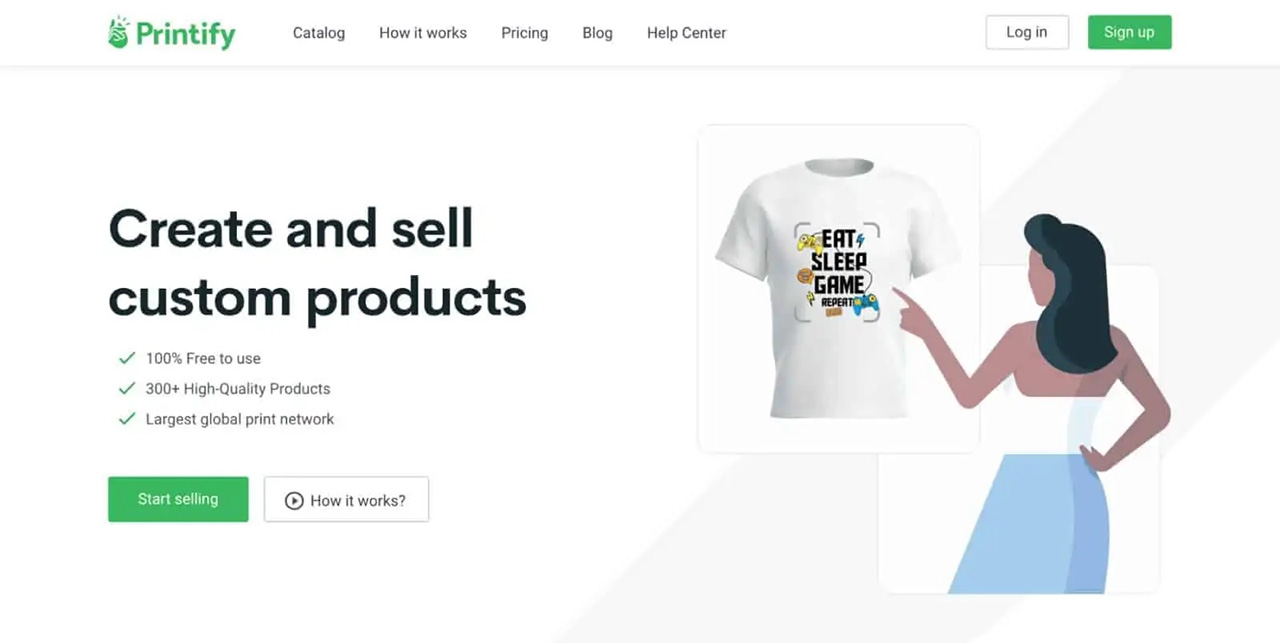 Printful, Printify, and Teespring are some of the most popular print-on-demand providers.
Some people have raised concerns about this business model because print-on-demand products tend to be cheaply mass-produced in countries where work conditions in factories are often questionable.
It's best to stay away from print-on-demand if your brand promotes values such as sustainability, supporting local communities, craftsmanship, etc.
On the other hand, some startups are going a step further and offer upcoming designers an opportunity to place on-demand orders for fully custom garment designs.
In this case:
You create and list sample garment models in your online store.
When the customer makes a purchase, the manufacturing order gets dispatched to an on-demand company.
The manufacturer ships finished products after production is complete.
ShareCloth, Kornit, and Through6 provide on-demand clothing manufacturing services.
Custom wholesale
Another option is to buy inventory from wholesaler clothing manufacturers and then distribute it in your store.
It probably isn't such a great idea when you're starting because investing in inventory upfront dramatically increases financial risk.
However, if you go the dropshipping route, then buying proven products wholesale from your dropshipping suppliers might be the logical next step.
Custom wholesale can give you more control over packaging, shipping, and branding. Plus, improve your profit margins.
Private label
Private label is the traditional way to launch a clothing business.
Here's how it works:
You design the clothes.
You source the materials.
You hire professionals to make the clothes.
The main benefit of this approach is that it allows you to position your clothing company as a premium brand and charge premium prices.
It also gives you complete control over the entire supply chain, from materials to manufacturing to warehousing, packaging, and shipping.
However, it's also the most expensive path.
It might require a substantial amount of startup capital. You might want to look into crowdfunding.
Alternatively, you might be able to finance those initial pieces with credit cards or a business loan. Just be careful and don't wreck your finances.
Of course, if you can produce the clothes yourself (e.g., knit a sweater, sew a dress), this is much more doable. But scaling will be more challenging.
How many pieces do you need to start a clothing line?
It's subjective and depends on your business model and startup capital.
A typical clothing line for a small brand features 10-15 pieces.
It can be either unique clothing items or different styles of the same model (e.g., 5 pieces in 3 different colors).
Surely, you can go with more if you're sure you can sell out a collection.
But it's best to start with fewer pieces and invest in extra production after seeing the demand. This approach can help reduce the financial risk associated with launching a private label clothing company.
4. Write a short business plan
You need a business plan if you want to give your fashion brand the best shot at success. Also, potential investors and lenders might want to see one if you plan to raise capital early on.
To craft an effective business plan for your clothing business, answer the following questions:
Who is your target audience?
What kind of products are you going to sell?
What business model are you going to use?
How are you going to differentiate yourself from the competition?
How will you source your products?
How will you get your products in front of your ideal customers?
What will be your shipping policy?
What will be your returns policy?
How much starting capital will you need to launch your business?
What will be your ongoing expenses?
How many sales do you need to make each month to break even?
How many sales do you need to make each month to pay your bills?
Note that the value of writing a business plan isn't so much in the plan itself but in the fact that it forces you to think things through.
The truth is that you won't know whether your business idea is viable until you pitch your products to your ideal customers.
How much does it cost to start a clothing line?
It all depends on the business model that you choose.
But overall, you should budget around $1,000 if you don't plan to hold inventory (e.g., drop ship or use on-demand manufacturing). And north of $5,000 if you plan to purchase inventory from wholesalers or manufacture your garments.
Here are some costs that you need to take into account:
You'll also need to use paid advertising to drive traffic to your online clothing store at the beginning. Set aside at least $1,000 for this (more would be better).
And then, of course, you have the inventory or production costs. $3-5K is a feasible sum for putting together a small clothing line.
5. Create an online store
While having a brick-and-mortar boutique is appealing, it's best to start selling online because there's less financial risk.
Here are the options that you should consider:
Your own ecommerce website. It's a must for any serious fashion brand.
An Amazon storefront. You can also sell products on Amazon.
An Etsy storefront. It can work well for hand-made, organic clothing.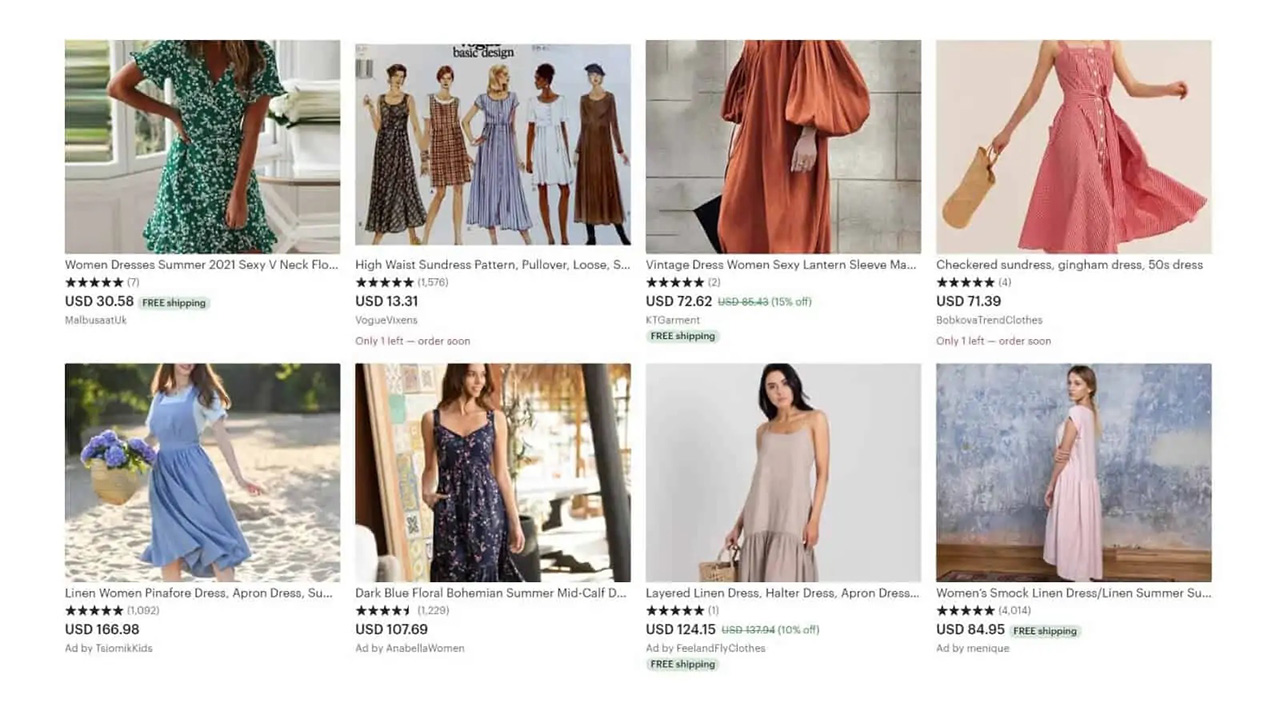 You can consider expanding into brick-and-mortar retail if your online business takes off.
6. Determine your pricing strategy
How much should you charge for apparel?
The most important factor here is profitability. What profit margin should you aim for?
According to Vogue:
The industry standard for a profit margin is between a 2.2 and 2.5x markup, meaning a dress that costs a designer $100 to produce might be sold to a retailer for $220. That retailer has to mark it up by 2.2x again to make its own profit, bringing the final price up to $484.
Of course, clothing line business owners need to strike the right balance between profitability and affordability, especially given the current economic situation. So how can you do that?
Your best bet here is to position your brand as a premium brand that offers high-quality clothing. It can help you justify high price points.
7. Start building your clothing brand
Simply launching an online clothing store is not enough. You need to build a brand that resonates with your ideal customers.
You can think of your brand as the overall "vibe" of your company.
What are your values?
What is your aesthetics?
What makes you different from others?
You should tailor all that to appeal to your ideal customers. You want your business name to evoke positive associations in their minds immediately.
Unless you promote your products, no one will buy them because they won't know they exist.
Here are three marketing strategies that can work well for fashion brands.
Paid advertising
It's the most straightforward approach to getting a new business off the ground. Experiment with Facebook, Instagram, Pinterest, Amazon, or Etsy ads to get on the prospects' radar.
Influencer marketing
This approach can also work well for clothing brands. Pay an influencer to give you a shoutout on social media. Just make sure that the influencer's audience is primarily made up of your ideal customers.
Search engine optimization (SEO)
You can attract organic search traffic from Google by publishing relevant content valuable to your ideal customers. Keep in mind that it's a long-term strategy, so don't expect quick results.
Commonly asked questions (FAQ)
Here are answers to some of the most frequently asked questions about starting a clothing business.

Last updated:
Mar 2023
Start your LLC the easy way
Forming your LLC is a checkbox that needs to be ticked. Easy, fast and worry-free. We reviewed the 13 most popular LLC formation services to figure out who truly understands what new founders need. Our recommendation:
LLC Formation: $39 + state fees
Pricing:
Turnaround Time:
Help & Support:
Customer Satisfaction:
Ease of use:
Best LLC Service 2022

Formed 1,000,000+ LLCs
$39 formation includes registered agent service
Fast formation & same day filing
Exceptional customer reviews

Last updated:
Mar 2023