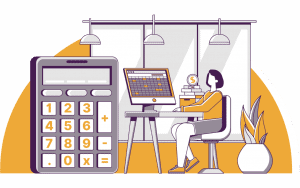 Want your small business to thrive?
Then you need a solid understanding of your company's finances, namely cash flow management.
Also, make sure to set aside money for taxes and pay them on time. Otherwise, you might find yourself in a world of trouble. The IRS doesn't play around!
But when you don't have an accounting background, doing the spreadsheets can be oh-so-boring and time-consuming.
Did you know that one in three small businesses spend 40 hours each year on federal taxes alone? That's crazy!
You don't have to go through this. There are plenty of small business accounting software options out there to rescue you from endless data entry and account consolidation.
In this post, we review the 11 best small business accounting software apps on the market.
Table of contents
---
The right accounting app can help you save both time and money. Not to mention your sanity.
Ready to get your company's finances in order?
Let's dig in.

Last updated:
Mar 2023
Start your LLC the easy way
Forming your LLC is a checkbox that needs to be ticked. Easy, fast and worry-free. We reviewed the 13 most popular LLC formation services to figure out who truly understands what new founders need. Our recommendation:
LLC Formation: $39 + state fees
Pricing:
Turnaround Time:
Help & Support:
Customer Satisfaction:
Ease of use:
Best LLC Service 2022

Formed 1,000,000+ LLCs
$39 formation includes registered agent service
Fast formation & same day filing
Exceptional customer reviews

Last updated:
Mar 2023
Essential features for small business accounting software
Running a cleaning business isn't the same as providing photography services. Your invoice schedule, monthly expenses, and income differ a lot. Doing eCommerce or dropshipping is a whole different story since you also have to carry inventory and logistics costs.
Each business has somewhat unique bookkeeping needs. Respectively, some small business accounting software can lack the features you need. Or offer too many unnecessary extras.
That being said, there several non-negotiable features for small business accounting apps:
Digital estimating (quoting) and invoicing
Integrations with other market options with popular payment processors (PayPal, Stripe, etc.)
Business income and expense tracking
Report generation and analytics
Bank transactions reconciliation
Cash flow management tools
Customer management suite
Tax preparation and planning tools
Beyond the feature set, you should also pay attention to the user interface. Is it easy to understand?
Doing your own accounting is hard enough as it is. There's no need to make it harder by picking mind-boggling software that is impossible to navigate.
Best accounting software for small business owners
Most small businesses opt for cloud-based SaaS (Software as a Service) tools that offer a great cost-to-value ratio when it comes to accounting software.
Purchased as a monthly or annual subscription, such accounting apps offer access to a host of bookkeeping and accounting tools and online services.
The best part?
Most also provide customer onboarding and feature a ton of resources for learning the baseline accounting best practices.
Arguably, cloud accounting is also more secure since such providers have more resources to invest in cybersecurity and data protection than the average small business.
That's why this list of the best small business accounting software options features mostly SaaS apps.
1. FreshBooks
FreshBooks is one of the most popular small business accounting apps, catering to freelancers, independent contractors, sole proprietors, and small to mid-market companies.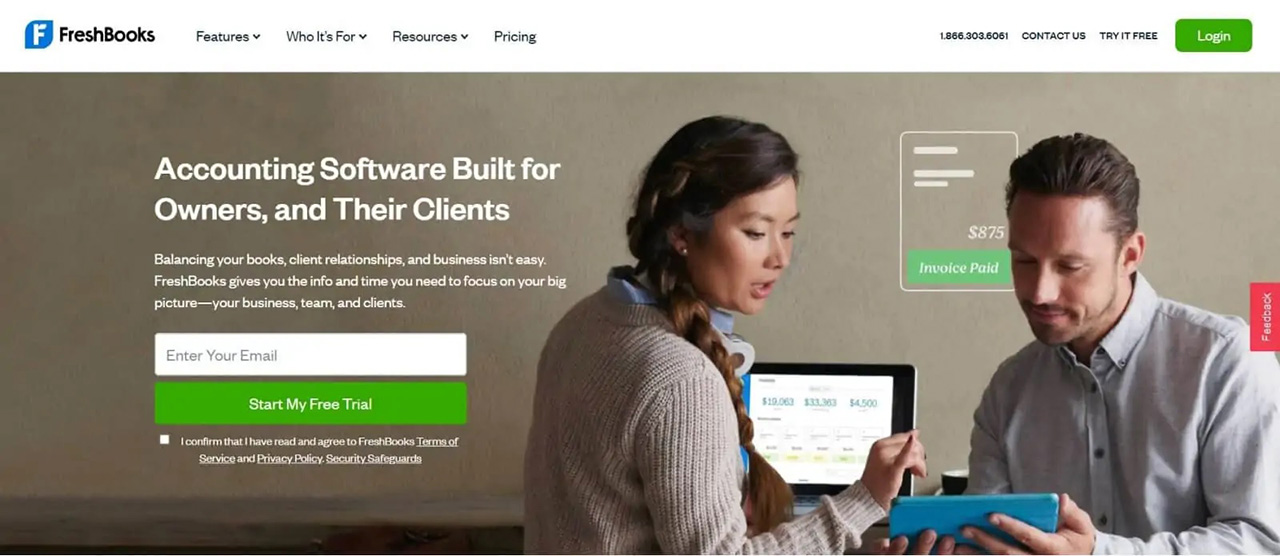 Their biggest sell? A promise to save you over 190 hours per year on accounting.
To deliver on this claim, Freshbook proposes an array of double-entry (accrual) accounting features that can help you ensure accuracy, prove compliance, and protect yourself during audits.
Various features are helpful for self-employed freelancers, such as time-tracking and payment reminders.
This app is the best bookkeeping software option for small business owners who don't have any previous experience with accounting.
Pros
Easy to use.
It has all the major accounting features you'll need.
Integrates with popular payment processors and allows you to accept credit card payments.
Offers lower payment processing fees ($0.50 per invoice) if you use it with PayPal Business.
Excellent customer support.
Cons
Can be buggy.
The mobile app isn't as great as the web app.
The company recently did a complete user interface overhaul without giving their customers the option to continue using the old version. Will they do it again in the future? It can be disruptive.
Price: Starting at $15/month.
2. Xero
Xero is another accounting app catering to SMBs. However, it also has some advanced features, which means that you can continue using it if your business grows from small to medium-sized.
These advanced features include:
Expense claims functionality that allows streamlined employee expense management and reimbursement.
Xero allows you to view financial transactions in real-time by connecting your bank account to your account.
Set up a multi-currency accounting to pay and get paid in 160 currencies. It's especially valuable for businesses that target a global audience.
Xero also offers 1,000+ integrations with various web apps that make it easy to incorporate this software into your existing workflow.
Pros
Powerful enough to accommodate a growing business.
You can automate various tasks to save time.
Allows you to see real-time financial transaction data.
Cons
Takes more time to master than simpler alternatives.
Doesn't connect with some banks, which makes certain features unavailable.
Customer support can be slow compared to that of other companies in the same space.
Price: Starting at $20/month.
3. Holded
Holded positions itself as a business management app.
It reflects in the native feature set. Holded comes equipped with various sub-tools for accounting, inventory management, project management, and customer relationship management (CRM).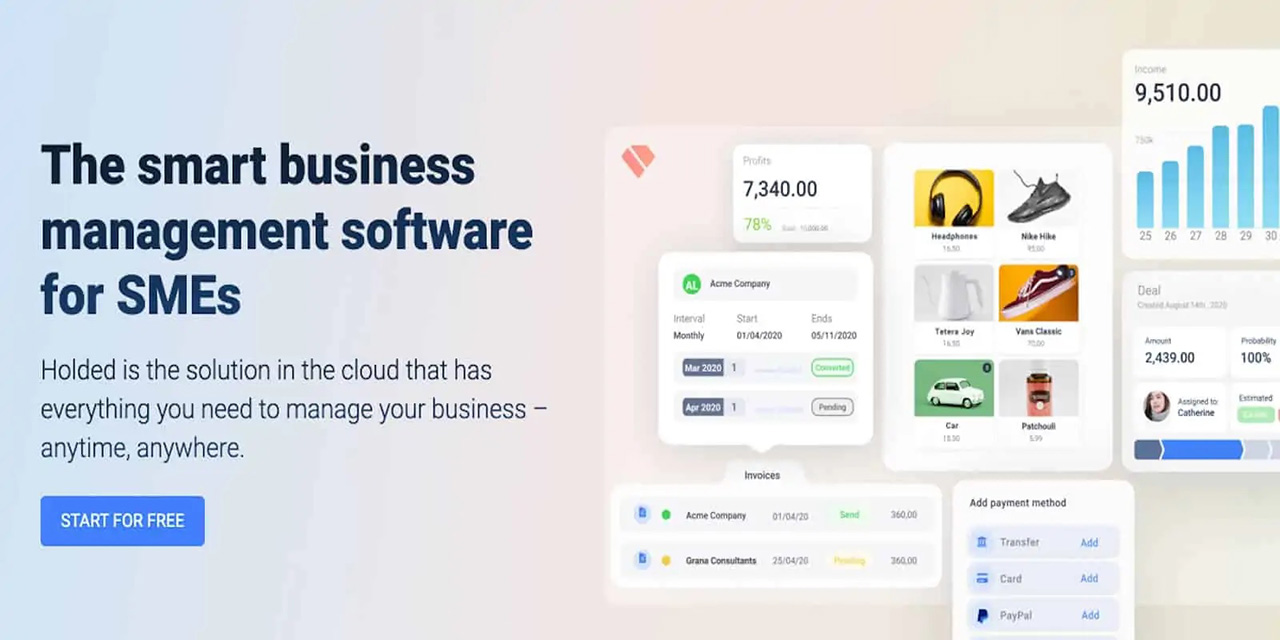 On the one hand, this is convenient because you get all those tools for a single subscription fee. That's more affordable than paying for similar apps separately.
But if all you need is accounting capabilities, then an app offering only that functionality may be a better choice.
Moreover, there's also a "Jack of all trades, master of none" concern here. Typically, when a company is trying to do so many things at once, they end up with many okay features but don't excel at anything specific.
That being said, if you run an ecommerce business, you should consider Holded because its inventory management functionality can make your life easier, especially when combined with Shopify or WooCommerce integrations.
Pros
A wide variety of business management features for a single subscription fee.
Ecommerce inventory management functionality.
Integrations with Shopify and WooCommerce.
Cons
Holded features are good enough to get the job done. Still, you'd likely get better functionality if you'd pay separately for dedicated solutions (e.g., an accounting app, a project management app, a CRM app, etc.).
Price: Starting at €29/month (around $34/month)
4. Sage
Sage is a software company that offers a variety of business management solutions to small and medium businesses.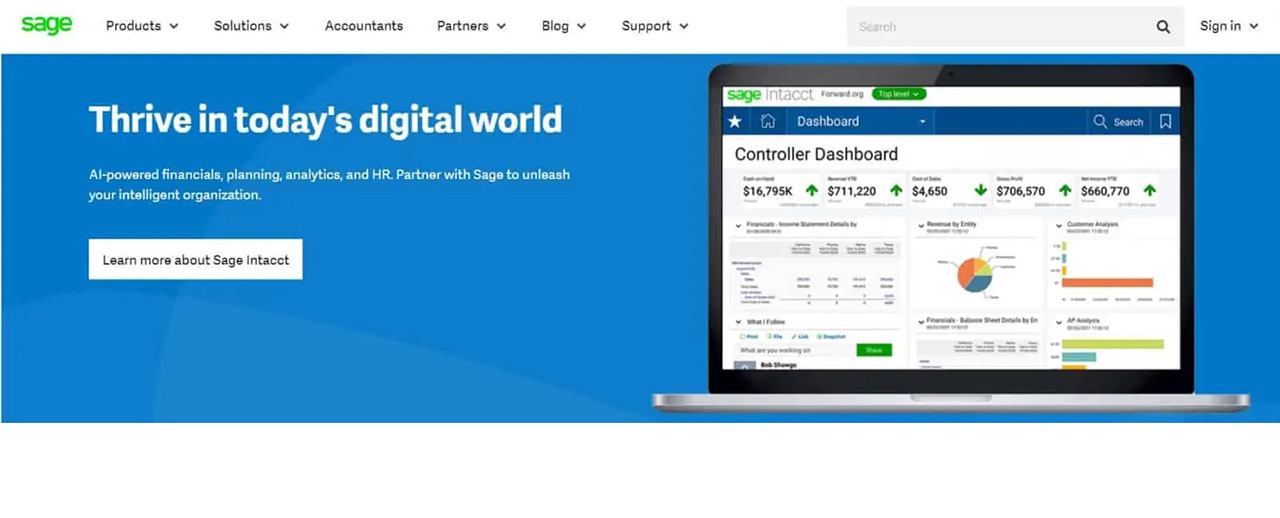 The company, however, sells each product separately instead of charging one subscription fee for access to all of them.
Sage Accounting is their core bookkeeping app for small businesses.
The main features include real-time cash flow tracking, automatic expense tracking, automatic invoice sending and tracking, and more.
Automation appears to be Sage Accounting's main strength. It can save you a ton of time.
Pros
Easy to use.
Powerful automation features.
Remote access for team members.
Seamless integration with Stripe enables you to accept online payments.
Educational resources for customers.
Cons
Can be slow.
Customer support seems to be hit-or-miss.
Price: Starting at $10/month.
5. Kashoo
Kashoo claims that they offer "the world's simplest accounting solution."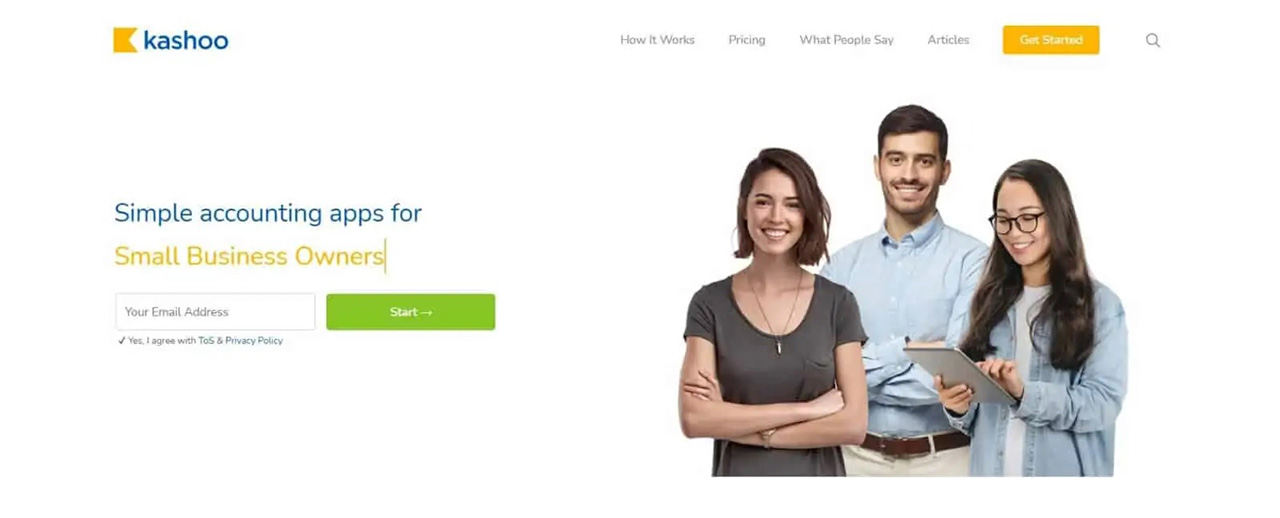 Upon a deeper look, you'll find that Kashoo offers three different accounting products:
trulysmall.invoices is a super simple invoicing app for micro-businesses and solopreneurs.
trulysmall.accounting is a complete accounting solution for micro-sized businesses.
Kashoo is an advanced accounting solution for mid to larger small businesses.
Alright, but where do I fit?
According to the SBA, a "small business" can have up to 1,500 employees, depending on the industry.
Of course, there's a world of difference between the accounting needs of a solopreneur and those of a company with 1,500 employees.
By providing three separate apps for small businesses of various sizes, Kashoo allows you to get the accounting functionality you need without paying for a bunch of unnecessary features.
Pros
Free invoicing app.
Inclusive pricing and customized offerings, depending on its size.
Switch to a more advanced solution from the same company as your business grows.
Cons
Even the Kashoo app that is supposed to be advanced seems quite basic compared to other market options. It appears to lack automation, connection with banks, real-time cash flow tracking, etc.
Price: Starting at $0/month.
6. QuickBooks (by Intuit)
QuickBooks is another popular accounting app. Many consider it to be Freshbook's best rival.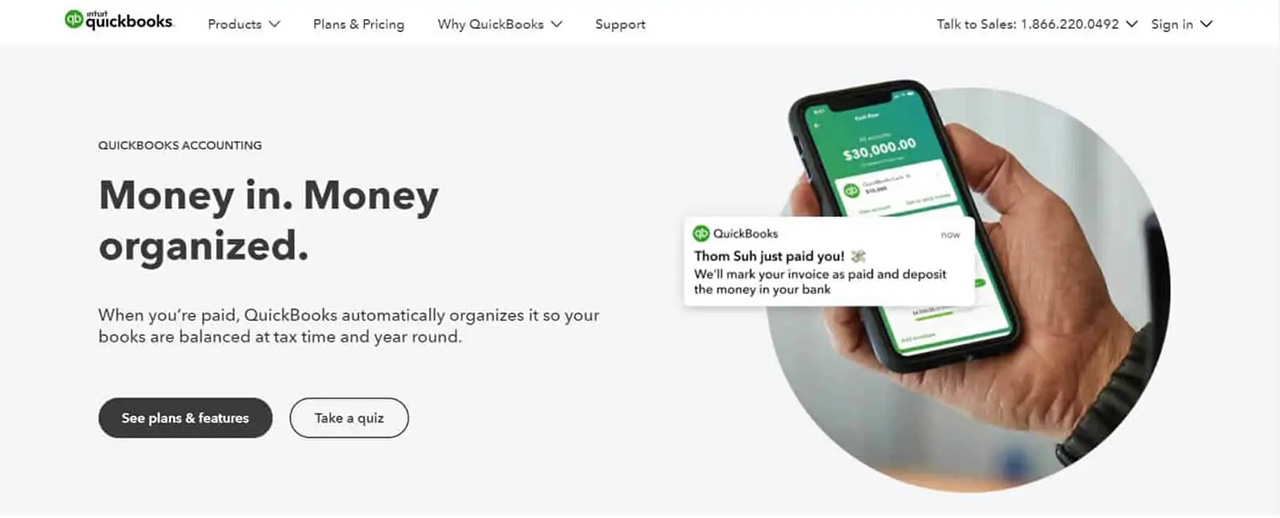 You can use QuickBooks to track business income and expenses, create invoices and accept payments, manage contractors, see accounts payable and accounts receivable, calculate sales taxes, etc.
This software also helps you to visualize everything with graphs and charts. So even if you don't have a mind for numbers, you can still understand what's going on in your balance sheet.
Compared with Freshbooks, QuickBooks is a more powerful accounting system but also takes more time to master since the user interface is harder to navigate.
However, if you have previous accounting experience, you will likely appreciate the sophistication of this product.
There's also a ton of add-ons available that provide endless customization opportunities.
By the way, there's both a QuickBooks Desktop version and a QuickBooks Online version, so you can pick whichever works best for your business.
Pros
Can work well for new businesses, small businesses, and medium-sized businesses.
Has all the functionality that you need to manage your company's finances efficiently.
Considered to be a household name among online entrepreneurs.
Cons
The learning curve is pretty steep. Mastering this app can take a while.
It's more expensive than other popular solutions on the market.
Price: Starting at $25/month.
7. Wave
Wave offers a suite of financial products designed for entrepreneurs from all backgrounds.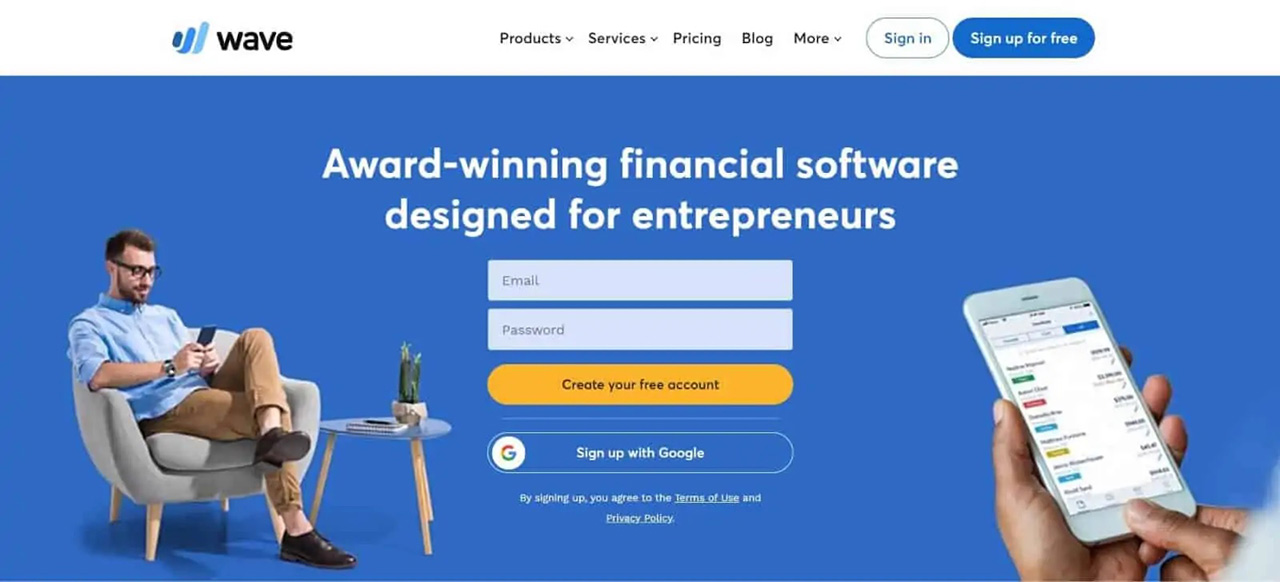 The app features accounting, invoicing, payroll, and payments functionality.
Wave is easy to use due to the company's straightforward approach to user interface design.
And you know what's best?
Accounting and invoicing features are free.
There's no catch. These features are legitimately 100% free. You don't even need a credit card to sign up.
You will only need to pay if you want access to payroll and payments functionalities which is how the company makes money.
Pros
Free
Robust bank feeds
Intuitive reports and easy transaction splitting
Cons
Rather basic compared with other accounting solutions on the market.
Some steps are unnecessary laborious (e.g., marketing an invoice as paid)
Price: Starting at $0.
8. Zoho Books
Zoho is a software company with a bunch of tools under the hood — from image editing apps to CRM software and an email client. Amongst them is Zoho Books.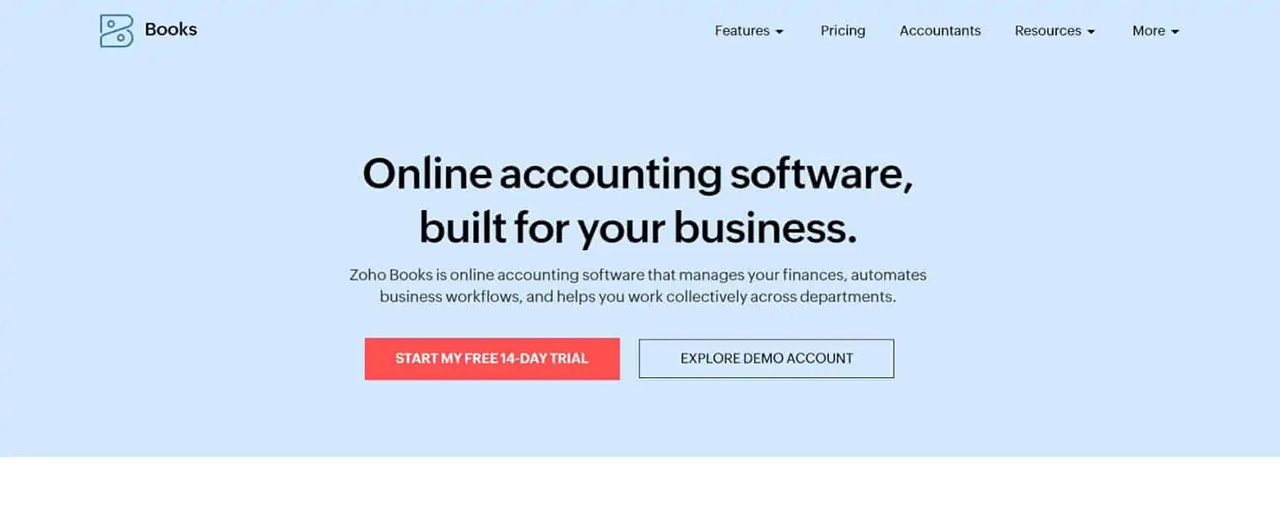 According to the company, Zoho Books is "the best online accounting software for your business in the USA."
We wouldn't necessarily go that far, but it can certainly get the job done. Zoho Books has all the features you would expect from an accounting product — from invoicing to automation to bank connections.
That being said, it isn't particularly impressive, especially when compared to solutions like QuickBooks.
Pros
Free for businesses with annual revenue below $50k.
Easy multi-account access from any location — no need to purchase extra seats.
Great video tutorials for almost every feature.
Cons
Customer support can be slow to respond to inquiries.
Surprisingly complicated integration with other Zoho products.
Payroll taxes are limited to only several US states.
Price: Starting at $0.
9. ZipBooks
ZipBooks offers a simple and elegant software that the company calls a "complete but dead simple" accounting solution.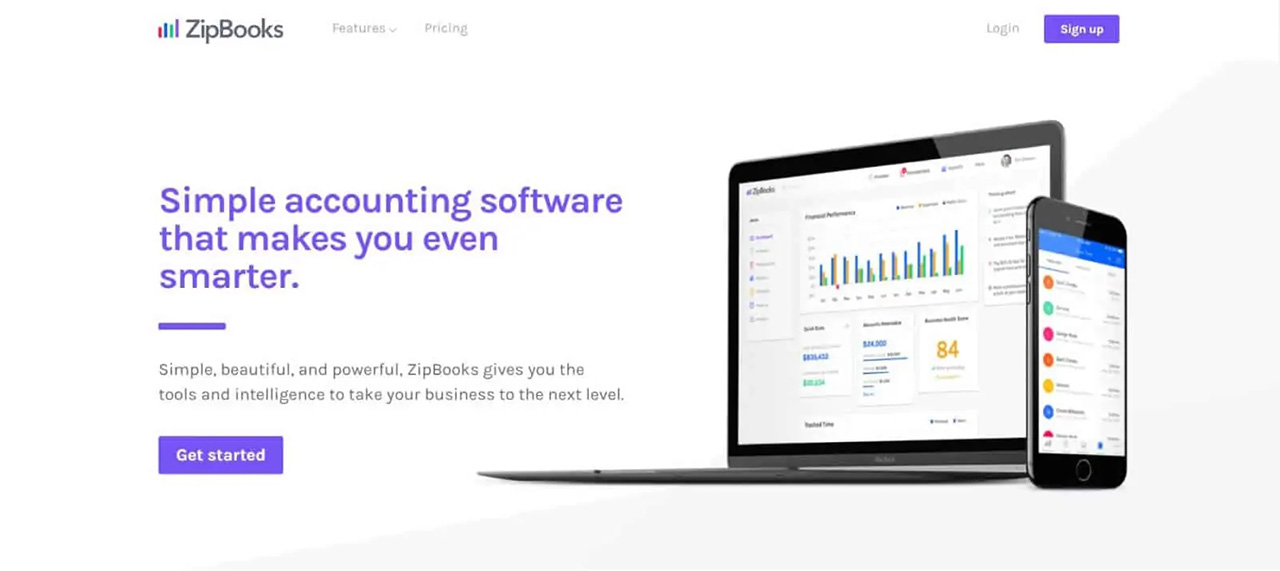 For something "dead simple," it's surprisingly powerful with features like auto-categorization, bank connection, and bank reconciliation available.
You can also use ZipBooks to track expenses, manage one-time and recurring billing, and generate financial reports.
ZipBooks is advertised as a free accounting and invoicing software. And they indeed have a free Starter plan.
However, its functionality is quite limited, so you might want to go with the Smarter plan that costs $15/month if you consider this app.
Pros
Simple and UX-friendly.
Free Starter plan for small businesses.
Automated invoice generation.
Very proactive customer support.
Cons
Lack some of the more advanced features that you can find in other solutions such as QuickBooks.
Slightly less pleasant mobile experience with occasional glitches.
Only supports American bank accounts.
Price: Starting at $0.
10. CS Professional Suite (by Thomson Reuters)
Alright, but what if you love the numbers and have prior accounting experience?
In that case, you'd probably go for a more "hardcore" solution, designed specifically for
accounting and tax professionals.
Thomas Reuters CS Professional Suite offers a comprehensive suite of software tools and services.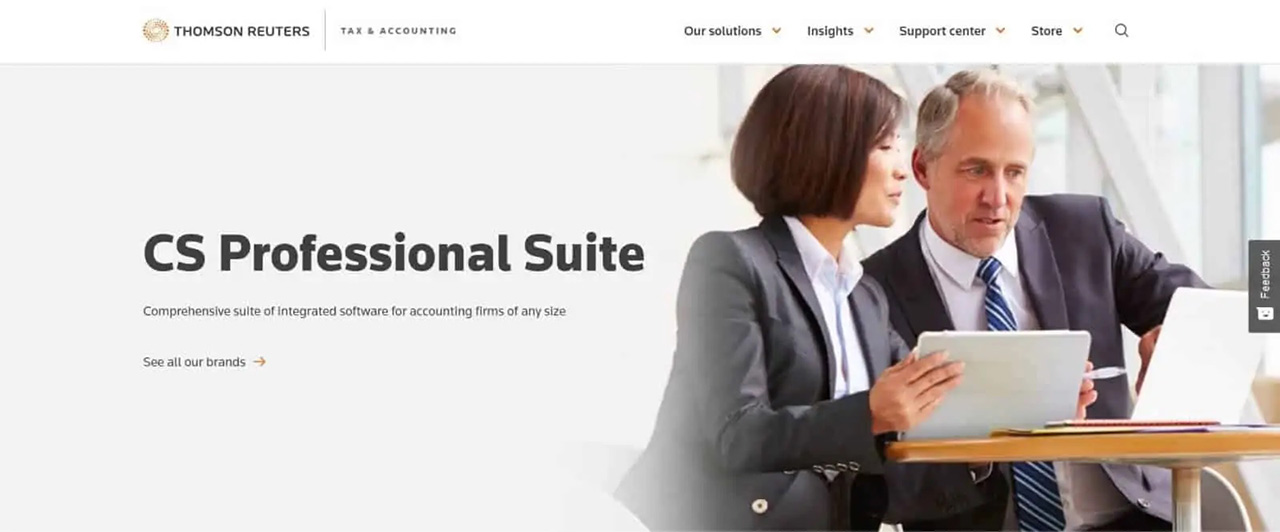 It includes accounting tools, payroll services, tax and asset management functionalities, among other features.
The company serves accounting firms, corporations, and governments, so their software is probably too complex for a tiny business (under 50 people).
Pros
Advanced software designed for accounting and tax professionals.
Includes tax workpaper and trial balance software, which other apps don't provide.
Allows setting a dedicated client portal.
Advanced tax and asset management tools.
Cons
Slow.
Outdated user interface design.
Overkill for a small business.
Price: Contact the company to get more information.
11. Accounting Seed
Accounting Seed is an accounting platform that promises to supply you with a 360° view of your business.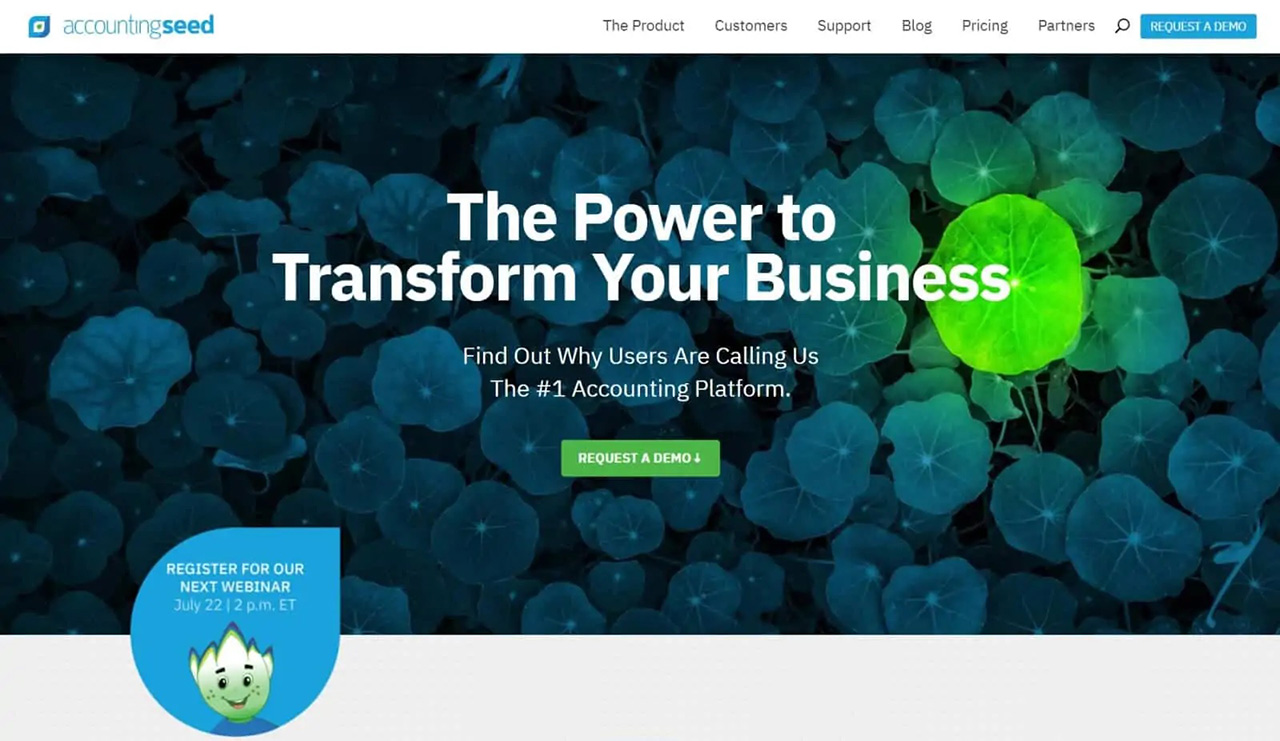 It has an easy-to-use interface, powerful automation features that can help you save time on data entry and other repetitive tasks. Plus, various integrations with third-party apps (most notably with Salesforce CRM).
The company's main strength is its innovative approach to accounting, making its software more customizable than other solutions on the market.
Pros
Provides open APIs for integrating the product with other business software.
More customizable than other solutions on the market.
Connections with 14,500 banks and credit card companies.
Cons
Might be overkill for a regular small business.
Occasionally restricts processing massive data records from Salesforce.
Somewhat basic functionality for bank accounts reconciliation.
Price: Starts at $3,960.00 per feature per year.
Using accounting software vs. hiring a CPA
It's worth noting that just because you can do your own accounting doesn't necessarily mean that you should.
Here are three things to consider:
Your time. As a business owner, your primary responsibility is to lead your company, so you might want to spend more time on strategy and less time on chores like accounting. Hiring a bookkeeper can help you do that.
Your personality. While anyone can do accounting, doing it well requires specific personality traits, such as being organized, detail-oriented, and good with numbers. Does that sound like you? Be honest with yourself. Outsourcing accounting might make sense if you're more of a creative type of person.
Your knowledge. Hiring a Certified Public Accountant (CPA) can help you avoid legal trouble. When you're doing your own bookkeeping, it's easy to make seemingly small mistakes that can have severe ramifications for your company. It's especially true when it comes to federal, state, and local taxes.
So if you don't have the time, the personality, or the knowledge required to do accounting properly, it probably makes sense to hire a CPA.
Commonly asked questions (FAQ)
Here are the answers to some of the most frequently asked questions about small business accounting software.

Last updated:
Mar 2023
Start your LLC the easy way
Forming your LLC is a checkbox that needs to be ticked. Easy, fast and worry-free. We reviewed the 13 most popular LLC formation services to figure out who truly understands what new founders need. Our recommendation:
LLC Formation: $39 + state fees
Pricing:
Turnaround Time:
Help & Support:
Customer Satisfaction:
Ease of use:
Best LLC Service 2022

Formed 1,000,000+ LLCs
$39 formation includes registered agent service
Fast formation & same day filing
Exceptional customer reviews

Last updated:
Mar 2023