Starting a new small business? Then you obviously need a website and a domain name to boot.
A domain name is a textual address (such as SimplifyLLC.com) that hints visitors to what your small business is all about.
Users can easily connect to other computer IP addresses through domain names by simply typing in an address.
Instead of using the numerical IP address, users can use the domain name, making everybody's lives a lot easier.
From popular top-level domains (TLD), also known as domain name extensions, like .com, .net, .org, or .biz to practical and new domains like .cafe, .photography, or .florist — coming up with the perfect domain can be a hit-or-miss task.
Why? Because over 363.5 million domain names were registered during the first quarter of 2021 alone.
This data tells us two things:
Registering a domain name has never been easier
A lot of good domain names are taken
But hey, we've got help.
This guide will show you how to register a domain name from any top domain registrars authorized by the Internet Corporation for Assigned Names and Numbers (ICANN).
You'll also learn about coming up with a meaningful and catchy domain name for your small business.
Table of contents
---

Last updated:
Mar 2023
Start your LLC the easy way
Forming your LLC is a checkbox that needs to be ticked. Easy, fast and worry-free. We reviewed the 13 most popular LLC formation services to figure out who truly understands what new founders need. Our recommendation:
LLC Formation: $39 + state fees
Pricing:
Turnaround Time:
Help & Support:
Customer Satisfaction:
Ease of use:
Best LLC Service 2022

Formed 1,000,000+ LLCs
$39 formation includes registered agent service
Fast formation & same day filing
Exceptional customer reviews

Last updated:
Mar 2023
Why a good domain name is important for a small business
Your domain name represents your business's identity online. It's a crucial branding decision.
It strongly drives brand recall, credibility, authority, and professionalism. Moreover, a domain name is a lesser but still good search engine optimization (SEO) method for improving your online presence.
Many entrepreneurs use their brand or business name, while others use descriptive or distinctive words to create their domain name.
While there's no exact science behind making a good domain name, here are some guiding principles that you can follow.
1. Make it easy to spell
Avoid punctuation such as hyphens and avoid repeating letters.
Also, skip numbers as many people will struggle to decide if they should use a numeral 6 or the word "six" for instance when looking up your business online.
2. Keep it short and memorable
You can either opt for an acronym or words with less than ten characters so your visitors can easily remember your domain name.
3. Choose a proper domain extension
Select .com or at least a .co as your domain extension. Because this is the first combination, most people will try. Also, .com domains are seen as more professional by many.
You can also choose a local extension to indicate where your small business is located. For example, .co.uk is the country code top-level domains (ccTLDs) for the United Kingdom.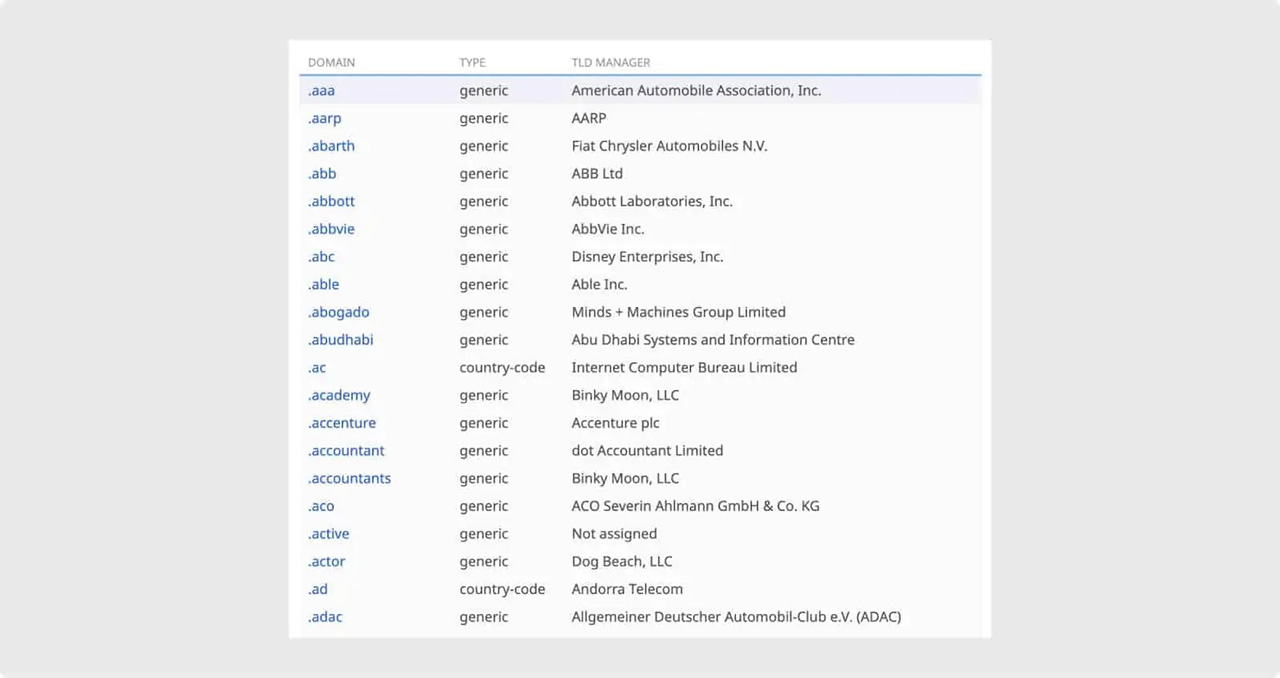 You can check the Internet Assigned Numbers Authority's Root Zone Database for a complete list of generic TLDs and country-specific TLDs.
Note: in most cases, you can't register a country-level domain unless you operate in the region.
Also, some domain names such as .gov, .edu are reserved for specific types of entities only.
Should you trademark your domain name?
To protect your small business from theft and brand identity, you can trademark a domain name.
Although, not every domain name can be qualified for trademark protection. Common or generic domain names will not usually meet the trademark criteria by the authorities.
A domain name trademark applies to a domain name if it's distinctive or the domain name owner was the first to use it in association with the sale of goods or services.
With a domain name trademark, the registrant has the right to forbid the use of similar names or misspelled names by others.
ICANN details the steps you can take for Trademark Infringement.
Where to get a domain name for a small business
The easiest way to get a domain name for a small business is to snatch one from one of the popular domain registrar services, handling the reservation of internet domain names.
Here's a small-biz-friendly selection of domain registrar services.
1. GoDaddy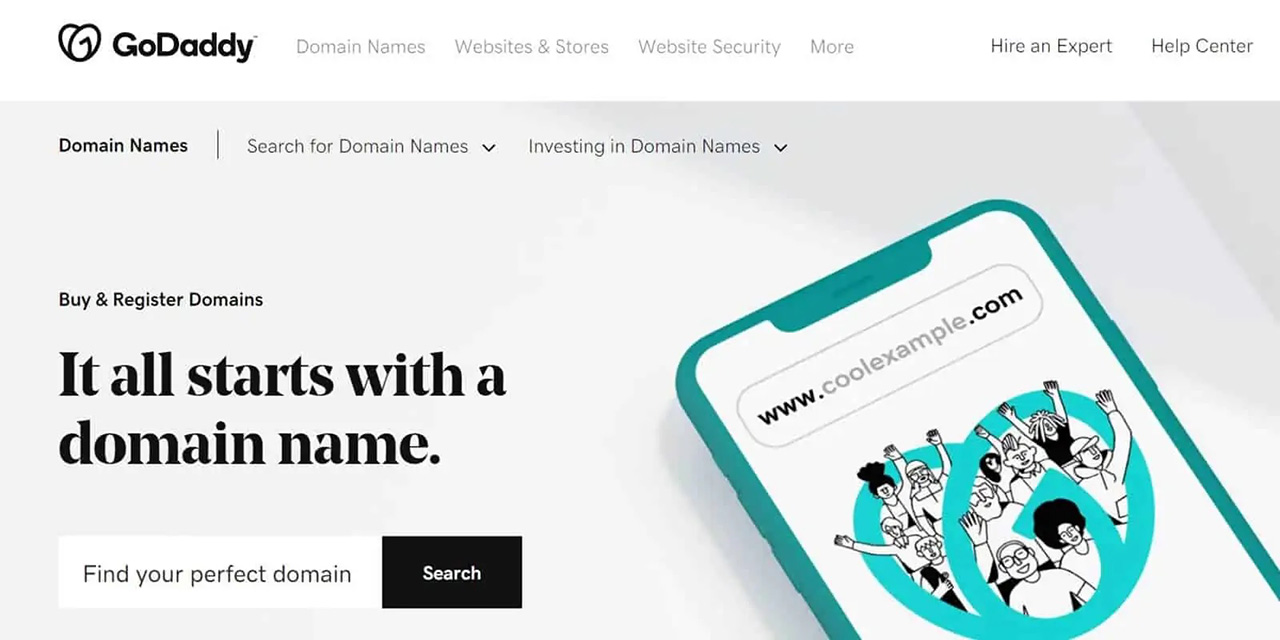 GoDaddy is one of the world's largest domain name registrars trusted by 20+ million customers globally. It also doubles as a web hosting provider and website builder with several available plugins.
2. Namecheap
Namecheap is an ICANN-accredited domain name registrar that provides domain name registration with a handful of add-ons like web hosting plans and security services like SSL certificates and domain privacy.
3. Domain.com
Domain.com is another reputable service with over 1.2 million website registrations under its belt. It also offers domain privacy and protection, web design, and web host services.
4. Google Domains
Google Domains has simple pricing, email forwarding, domain privacy protection, secure Google Cloud DNS (Domain Name System), and smooth integration with other Google services.
5. Hosting providers (e.g. Bluehost)
Some web hosts such as Bluehost, HostGator, and DreamHost, among other web hosting services, bundle a domain name into the hosting price. Some also offer a free domain name for one year as part of the plan.
Mind the fact that your hosting provider may surcharge domain renewals for the subsequent years of usage.
6. Website builders (e.g. Squarespace or Wix)
An alternative to getting a free domain name is registering with a hosted website builder such as WordPress.com (not self-hosted WordPress.org), Wix, Shopify, or Squarespace.
Each one allows you to purchase a custom domain name from them or bundles one into your monthly/annual subscription.
For more options, check the ICANN's List of Accredited Registrars.
How to register a domain name: step-by-step instructions
Anyone can purchase and register a domain name with relative ease (as long as it's not taken by another business or individual).
Here's how to register a domain name for your small business:
1. How to come up with a domain name for a small business website
A domain name consists of TLD (Top-Level Domain), also known as the suffixes or domain name extensions like .com or .org, and the SLD (Second-Level Domain), which is the name of your website.
When brainstorming your SLD, ask the following questions:
Is it relevant to my brand or small business?
Will it describe what my small business does?
Does it sound catchy and easy to remember?
Most small business owners use their business name as an SLD. But if this is a bit generic or not that easy to pronounce, it's fine to select a snappier alternative.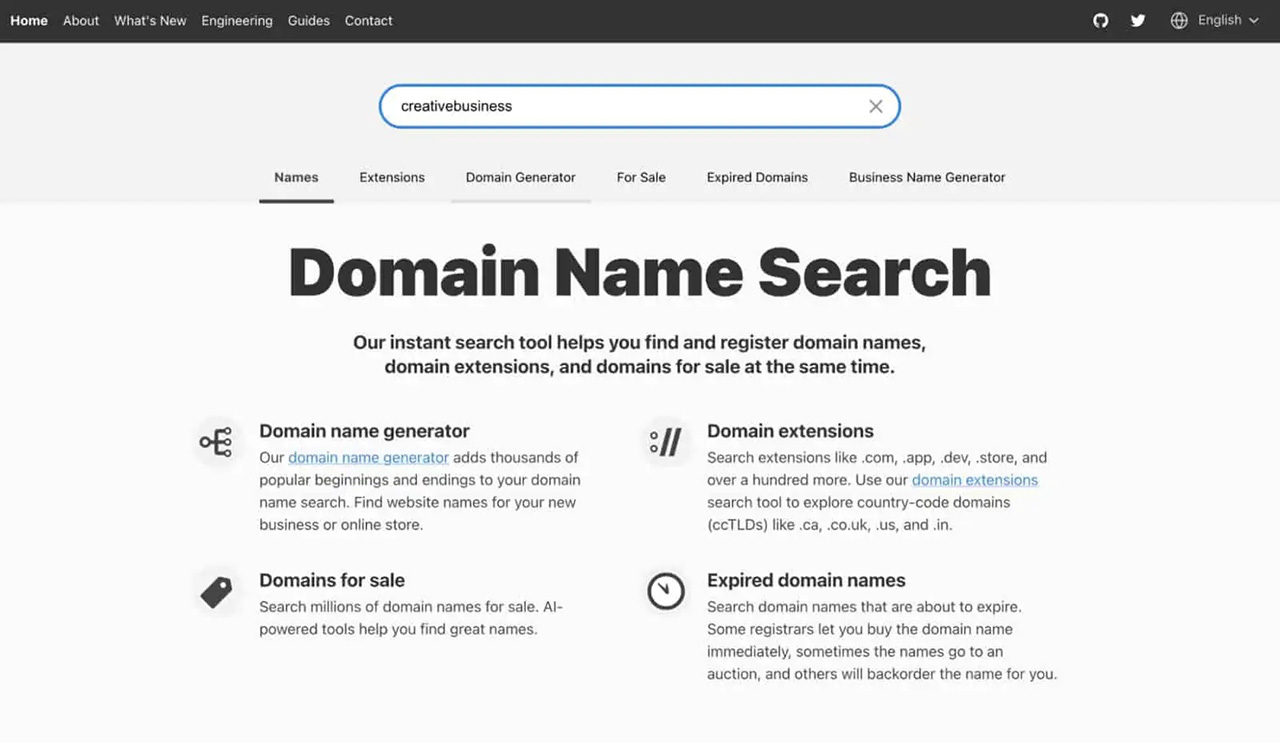 Not a creative type?
Try one of the following domain name generator tools to get some ideas:
2. Verify domain name availability via a registrar
To check the availability of your new domain name, you can run a search with an ICANN-approved online registrar.
We'll use GoDaddy as an example of how to do a domain name search.
Once you enter your chosen domain name, the provider will show you if it's available for registration. You'll also get the monthly price (domain registration fee).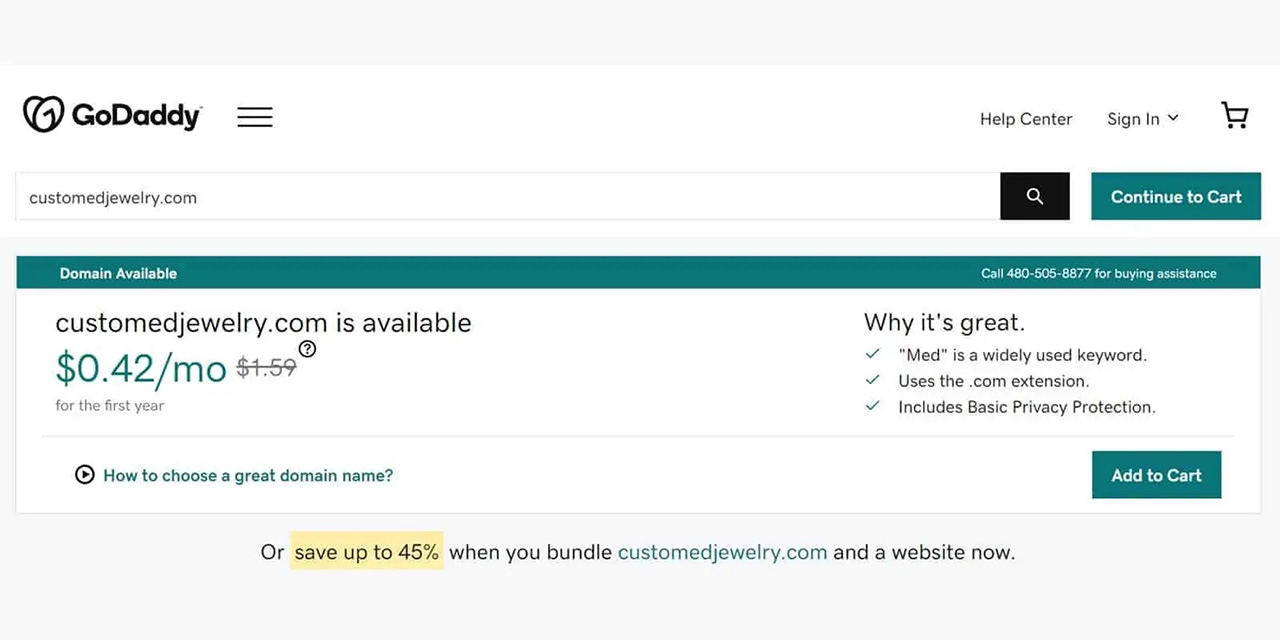 GoDaddy, for instance, offers a variety of pricing options from basic to premium plans. It's introductory pricing, called "Starter Plan," comes with a one-page website, a domain name with total domain privacy and protection.
The more expensive pricing option called "Ecommerce Plan" is perfect for those small businesses that want to set up a secure online store.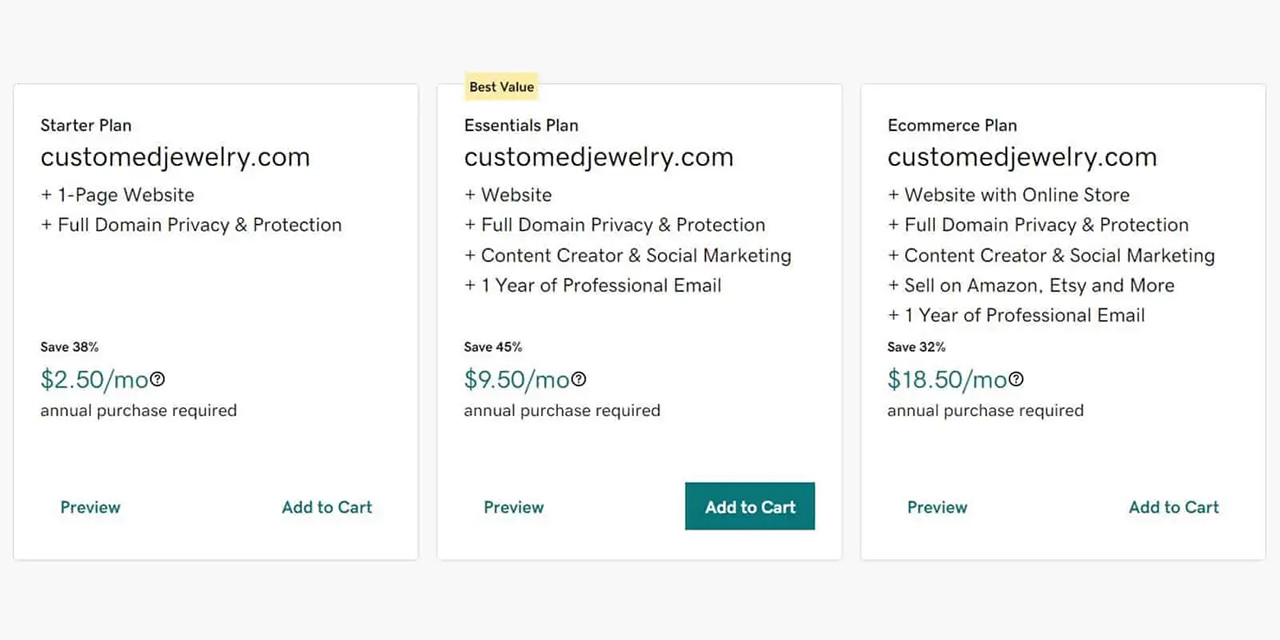 If the desired domain name is already taken, you can try to negotiate a sale using a broker service. GoDaddy, for instance, can try to negotiate a deal on your behalf for a fee.
Alternatively, you can approach the domain owner directly. It's easy to determine the owner.
A search on ICANN's WHOIS lookup tool will retrieve the registrant's contact information (unless it is private).
How much does it cost to register a domain?
Generally, a .com domain costs between $10 and $20 annually.
The pricing mainly depends on which domain registrar and what type of domain you are looking for. Different registrars provide different packages, upfront costs, and add-on prices.
Some registrars also charge higher monthly than annual rates. Also, many surcharge domain renewals.
Others may also impose add-on costs such as auto-renewal fees (when your registrar renews your domain name annually without you having to authorize it) and privacy protection fees.
Always make sure to read the fine print.
3. Select your payment plan
Typically, you can register a domain for 1 to 10 years maximum. The cost of a domain name will vary accordingly. A common practice by registrars is they will charge the domain name for a year, after which you can renew your registration.
For instance, the price of a .com domain with HostGator will jump from $12.95 to $17.99 after the first year.
How long should I register a domain for?
Short answer: the longer, the better, depending on your business goals.
An expired domain poses a huge risk for small businesses that haven't gone through the proper copyright and trademark procedures.
You can lose access to your website or have your brand bruised by a domain name squatter who takes over your website.
4. Choose domain name registration add-ons
Several domain registrars offer add-ons on top of domain name registration. You can choose to include an SSL certificate, email address, website builder, premium DNS, and malware protection. These extra features help secure your website.
While you may be tempted to buy a domain name with a hosting plan, it's not always a good idea. The reason is, sometimes, even though you're getting a discount for the first year, you'll end up paying more after that.
5. Check out and connect your domain to your website
Once you are confident of your choice and price, follow the checkout process. In most cases, you'll be asked to provide a debit or credit card (some registrars also accept PayPal), fill in your contact details, and once again — review the final order and price.
Once you purchase the domain name, you're ready to connect it to your website. Both website builders and domain registrars provide prompts on how it's done.
Note: Unless you've purchased a domain name privacy add-on service, the contact information you used to register your domain will become publicly available.
What is the next step after buying a domain name?
If you bought a domain name for your small business, the next step is linking it to your website.
To do that, you'll need to learn which name servers your web host uses (given that you already have one). Then you'll need to type in the name servers into your registrar's settings for the purchased domain.
Save everything and wait for 48 hours. It's the maximum time required to update records.
Commonly asked questions (FAQ)

Last updated:
Mar 2023
Start your LLC the easy way
Forming your LLC is a checkbox that needs to be ticked. Easy, fast and worry-free. We reviewed the 13 most popular LLC formation services to figure out who truly understands what new founders need. Our recommendation:
LLC Formation: $39 + state fees
Pricing:
Turnaround Time:
Help & Support:
Customer Satisfaction:
Ease of use:
Best LLC Service 2022

Formed 1,000,000+ LLCs
$39 formation includes registered agent service
Fast formation & same day filing
Exceptional customer reviews

Last updated:
Mar 2023